When it comes to making formal hairstyles for long hair, each woman has her own opinion. It's safe to say that most people understand that a formal hairstyle shouldn't be messy. The untidy hair with stray locks sticking out can ruin any formal image. A formal dress mixed with a wild hairstyle just doesn't look good.
Of course, in the contemporary world, many options are possible; women still prefer more or less traditional styles for formal occasions. If you have long hair, you need to put in some extra work to create a proper formal hairstyle. We offer you some ideas to work with.
Long Hair Styling Tricks for Formal Dos
When you have a special occasion coming up and you need a formal hairstyle, you can take advantage of these long hair styling tricks. They can make your hairstyle even more stunning.
1. Don't Keep It Down
If you want to create a formal hairstyle, you can allow too many of your locks to stick. While it might look very nice when you just make it, it's bound to turn into a disaster once the wind blows or the humidity spikes. The tighter you can arrange your hair, the better.
2. Use Braids
Braids might not look formal when they are hanging down from your head but they can become an imperative tool when used correctly. Arranging braids around your head, in a bun or in various patterns can help you create a great hairstyle while keeping the hair neat all day long.
3. Don't Save on the Gel
Hair gel is compulsory to keep the formal hairstyle looking neat on long hair. Splurge on an expensive bottle of hair gel in order not to worry about touch-ups during the day. A formal hairstyle without a gel may fail at any time.
Women's Best Formal Hairstyles for Long Hair
A long formal hairstyle doesn't need to be complicated. In fact, most businesswomen prefer doing something simple with your hair. Even though simple and hairstyle are the two words that usually don't appear in one sentence when it comes to long hair, there are a few things you could do.
Taking the right approach to your long locks can help you come up with the right hairstyle for any occasion. Formal styles are often sleek and chic. Take advantage of some of them. If you have short hair, try these short formal hair ideas for women.
1. Elegant Side Braid
It is important to look decent at formal events. Twist back the side-parted strands at the front while the remaining long hair is styled in an elegant side braid falling on one shoulder. The caramel highlights contrasting with the dark base shade surely add up to the look.
2. French Roll
Flaunt a French roll hairstyle for a sophisticated appeal. Spare the front fringe and tease the crown area creating a voluminous puff while the remaining long mane is pulled on one side and rolled inwards. The side-parted front strands are also pinned back topping off with a pearl headband.
3. Simple Low Bun
Keep it simple and classy with this hairstyle that can be achieved in a flick. Ladies with natural curls can style them in a low bun sitting on the neck and pull some strands loose at the front to accentuate the face. Finish off with a floral headpiece.
4. Front Puff
This is one of the best formal hairstyles for women with long hair who like to wear their mane loose. The front chunk is styled into a bubbly puff using a comb and hairpins while the remaining hair falls loose on the shoulders giving you an instant office look.
5. Oversized Updo
Turn around some heads on a formal occasion with this bold look. The sectioned chunks at the front are twisted back to merge into the twisted updo at the back. Black women can use extensions to create an oversized bun as the key to this look is its jumbo proportion.
6. Retro Victory Rolls
A retro-inspired hairstyle can also be worn formally. Go for a middle parting and wrap the hair around the fingers to roll it inwards on both sides and secure it with pins. The remaining hair at the back is also styled in a rolled updo completing the vintage look.
7. Get Creative
Love a French braid but find braiding difficult? Achieve a similar look by opting for this simpler option. The top front strands are secured in rubber bands at equal intervals while the remaining sections are pulled through this bubbly ponytail till the end creating an artistic hairstyle.
8. Chic Side Bun
A simple side bun is easy to achieve and looks effortlessly chic. Side-tousle the hair and use a donut to style it into a bun. Don't leave any strands loose to keep up with the formal attire.
9. Rolled Updo
Here is another vintage-inspired hairstyle for a formal event. Place a hairband on the head and tuck in the sectioned chunks from one ear to the other creating a roll-like look. Secure with pins and pull the strands loose while finishing off with a pearl hair chain.
10. Artistic Fishtail Braid
Creativity is off-limits when it comes to styling long hair. Take a chunk of hair at the front and plait it into a simple fishtail braid. Separate out sections of hair along both sides of it and pull them through the braid recreating this distinctive look exactly.
11. Classic Beehive
A neatly tamed hair makeover is ideal for a formal office party. This beehive hairstyle reminds of the 70's hair fashion featuring a voluminous updo at the back separated from the middle-parted face-framing fringe at the front with a silk bow headband.
12. Half-Up Side Braids
Braids come in handy when styling long tresses. This look features a side-swept braided front and sides that are pinned back creating the half-up half-down hairstyle that will keep all the strands away from the face while they dangle loosely at the back.
13. Wedding Vibes
A wedding event is a perfect chance to show off long blonde tresses. Add bouncy waves to the hair and pin it back while leaving the ends loose. Tug out some strands at the front to frame the face and finish off by adding a delicate headpiece.
14. Bold Look
Display your wild side with this hairstyle. Go for a side parting with a retro victory roll on one side and braids on the other. The remaining hair is divided into two parts and rolled in an updo with the spiky ends sticking out for a bold finish.
15. Sleek Ballerina Bun
Here is another stunning formal hairstyle for your long hair. Twirl around with this hassle-free look by slicking back the mane and using a hair donut to style it into a simple chic bun. Wrap the remaining strands around it securing them with hairpins. Top off with some hairspray.
16. Formal High Ponytail
A formal ponytail for long hair will look fabulous if you're aiming for that sleek effect for the top. Give the hairstyle an elegant note whit a wrapped strand at the base of the pony. Use bobby pins to secure the lock used for covering the hair elastic.
17. French Braid with a Bun
Build a formal long blonde hairstyle by creating a French braid that starts from the forehead. Knit the whole mane, roll the nape hair inwards to obtain a small bun and use bobby pins to secure the hairdo.
18. High Updo
Even if you have pale hues of orange and pink in your hair, that doesn't mean you won't be able to pull off a formal updo for long hair. Spare the temple hair and sideburns and use the rest of the mane to style a big loose bun on top of the head.
19. French Thick Formal Braid
We know they are very time consuming and require a lot of patience, but intricate braids really worth the effort, making them probably one of the best formal hairstyles for long hair down. Combine different braids, knot them, and add flowers to decorate the whole hairdo beautifully.
20. Jumbo Formal Braids
Every time you want to extend your hair, Jumbo hair is one of the most inexpensive, requested, and gorgeous options. Pull off a formal hairstyle for long thin hair by splitting the mane in two and creating two braids by gradually adding the Jumbo hair.
21. Half Updo for Long Hair
This half-up formal hairstyle for long hair can be done within minutes! All you need to do is backcomb the ends to obtain more volume and split the top hair and secure it with a hair clip.
22. Four Strand Braid
A four-strand braid will certainly place you in the spotlight! Use this knit to obtain two French braids that end up in two low rose flower buns. Get a marvelous long formal brown hairstyle with simple techniques!
23. Formal Hairstyle with Low Bun
When you want to look presentable and professional, a long formal hairstyle for office that keeps the mane into a low bun is a stunning idea. Gain that sophisticated touch with two strands from your bangs that are destined to elongate your face.
24. Fake Bangs with Socket Bun
When you wish to try something new and don't want to cut the hair to obtain a side-swept fringe, you can easily pick a long formal hairstyle with fake bangs. Pin your hair in a bun but don't complete the roll, spare the tips, and arrange them on the forehead.
25. Long Twisted Braids
A long formal hairstyle for black girls will keep those rebel coils in place and beautifully tamed. Use cuffed beads to decorate some of the braids and gain the desired length with hair extensions.
26. Formal Braided Hairstyle with Bun
A very long formal hairstyle like this one is simply mindblowing. It will also reek sophistication with a simple French braid used on one side and a knitted top bun. Pull off a few hair strands from the temples and sideburns to gain that astonishing face frame.
27. Formal Gray Ombre Braids
Even box braids can look formal and provide a fabulous touch-up. The right approach for a look for the office will be a braided bun on top of the head, with ends that create a one-sided tossed fringe.
28. Neat Braiding
A neat braid is the best and the easiest formal hairstyle for any woman with long hair you can come up with. Just make sure you do a good job keeping all the hair inside the braid. Use hair gel to smooth the loose hair.
29. Curl up for prom day
This prom day formal hairstyle involves neat arranging your curled locks into a big bun. The best way to go about this style is to ask for professional assistance. At least invite a friend over to check if you did a neat job.
30. Intricate braiding
If you master the intricate braiding technique, you can create a stunning formal hairstyle on the hair of any length. If you want to go further, consider dyeing your locks different color to make every braid look different. Temporary sprays are sufficient for a one-time occasion.
31. Pin it up
If you have unruly curly hair, there are only a few ways to deal with it. Use plenty of hair gel and pin the hair up to create a voluminous updo. You can use bright hair accessories to complement the look and outline the volume.
32. Low coils
If you have fine hair, such a low hairdo can add it some volume while making sure none of the fickle strands get out. You have to make a ponytail and then create the coils to pin them up later. Use hair gel for the top part.
33. Fine lines
If you take a close look at this formal hairstyle for long hair, you can realize that there is absolutely nothing hard about making it. You don't even need instructions. Just a few bobby pins and some patience.
One of the few formal hairstyles for long hair that can look messy is a high bun. The secret is that the hair is so high and tightly arranged that no matter how messy it is, the strands won't slide out. Take advantage of this one when you are running out of time.
35. Wedding curls
This is a wedding hairstyle that can easily be sported on any other occasion. The only downside of this truly beautiful do is that it takes a lot of time to make. It's better to ask for professional help instead of trying it on your own.
36. Creative approach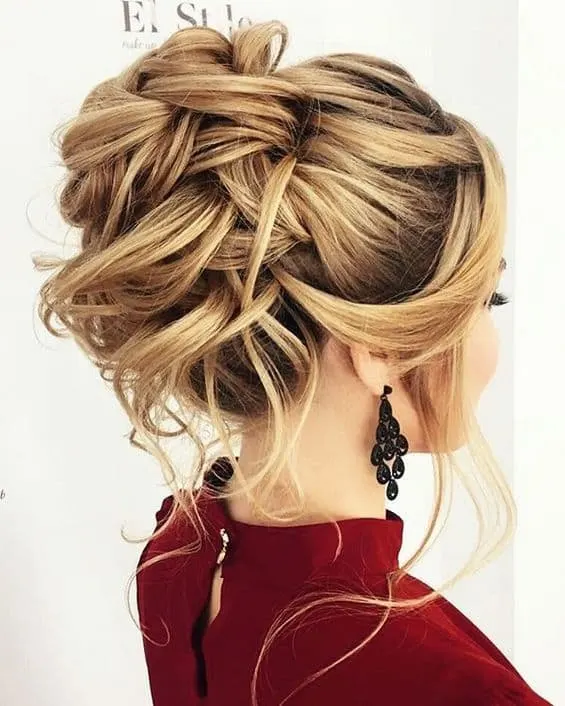 If your stylist is famous for his or her creative approach to hair, you can bring this picture with you. While the hairstyle seems somewhat wild, the arrangement is very well thought out and can be used on a formal occasion.
37. Thick braiding
Any type of thick braiding is great for a formal occasion. No matter which braiding technique you choose, even if its cornrows, you are bound to get a very neat style. While it might take some time, the result is priceless.
This braiding technique is a fail-safe way to create a stunning hairstyle. Whether you have curly or straight hair, fine or thick locks, such braiding will look fabulous. Meanwhile, it's fairly easy to make without assistance.
39. Tasteful bun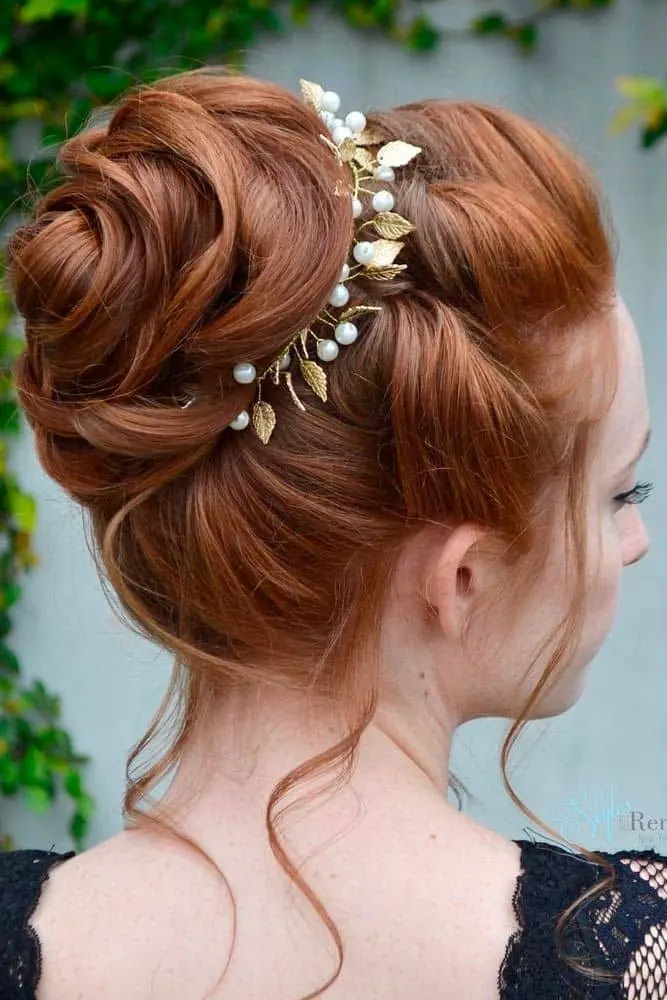 This amazing bun is a real masterpiece. While it appears quite simple at the first glance, once you take a closer look, you realize how it's incorporated into the style. This formal hairstyle for long hair is perfect for weddings.
40. Twist and turn
Curly hair looks great when twisted. This allows them to stay as neat as possible. Divide your hair into several strands and twist each one. Pin them up to create a stunning hairstyle. Easy as one, two, three.
41. Hair flowers
Making your hair look like a flower basket is a wonderful idea for a special occasion. Make a barber appointment and take the picture with you. These flowers take some time to make but the result is fantastic.
42. Braids and buns
Mixing different formal hairstyles for long hair can bring about a wonderful image. Braiding on the sides coupled with a bun on top creates a fabulous hairstyle without too much hassle. Give it a try!
43. Twisted Bun
While this bun seems fairly easy to make, the main problem is keeping it intact. You'll need plenty of hair gel and bobby pins to keep it in its place. Consider pushing it to one side to it looks grand on photos.
44. Huge and beautiful
If you have really long and thick hair, it would be a crime not to flaunt it. Consider making a big fishtail braid to add even more volume to your locks. You'll be the most beautiful girl at the event.
45. Voluminous bun
Long length formal hairstyles look amazing when you can add a little volume. What's the best way to create a voluminous bun? Curly the hair! After making a ponytail, divide it into strands and curl each one separately.
46. Smooth and stunning
Such smooth hairstyles look easy to make but, in reality, require a lot of effort. Don't hope for the final result to look just as good as on the picture. But if your hairstylist is a professional, he or she can get very close.
47. Subdue the locks
Thick hair is often hard to subdue so it needs plenty of effort. Using braids to keep the volume down is a great idea for the top part of your head. Meanwhile, the rest of the hair can be arranged in a bun.
48. Loose Braid
Girls with long hair can take advantage of this simple hairstyle. It looks beautiful and elegant without requiring too much effort. All you have to watch is the neatness. Use some pins to attach the lower part of the braid to the rest of the hair so it doesn't move around.
49. High hair
High hair seems to be making a comeback. It has become a frequent guest at formal occasions. So why not give it a chance? Just don't make it too high. The days when extremely high hair was in style are long gone.
50. Keep it simple
Sometimes the simpler you make a long formal hairstyle, the better you look. This low bun is simple, elegant and striking. It takes only a few minutes to do as well.
Wedding Guest Hair Styling Ideas
These women's formal hairstyles like prom etc can be worn with long hair. Browse whenever you have a special occasion or event coming up. Each one of these options is suitable for virtually any occasion. So don't hesitate to try them!