Have you been stuck recently trying to find a pretty formal updo for a fancy occasion you're attending? Feel like you're short on ideas? For both short and long hair and wavy or straight texture, you'll want to save this list for inspiration. Whether you want something easy like a coiled bun or something fancier with twists and waves, there's a hairstyle perfect for you.
Fabulous Formal Updos
You'll be actively looking for the next place you can wear one of these stunning updos after you see them!
1. Formal Updo for Long Hair
Your pretty blonde hair will look super romantic gathered up in a loose coiled bun. Free up a few tendrils to make them frame the face with their delicateness.
2. Formal Updo for Medium Hair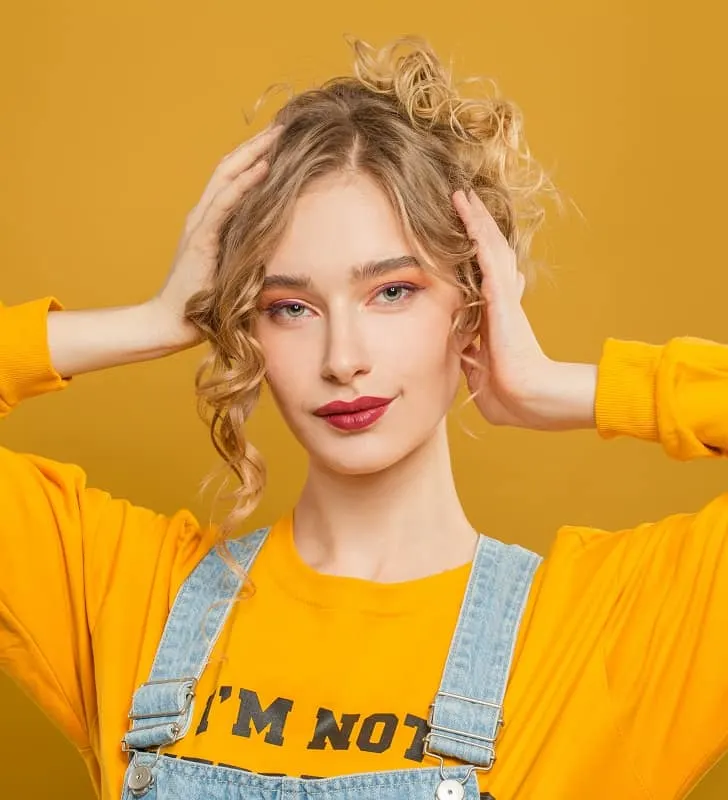 On medium hair, try parting the hair in the middle before gathering it into a ponytail or high bun. Leave out a good section of hair on either side of the face to frame it.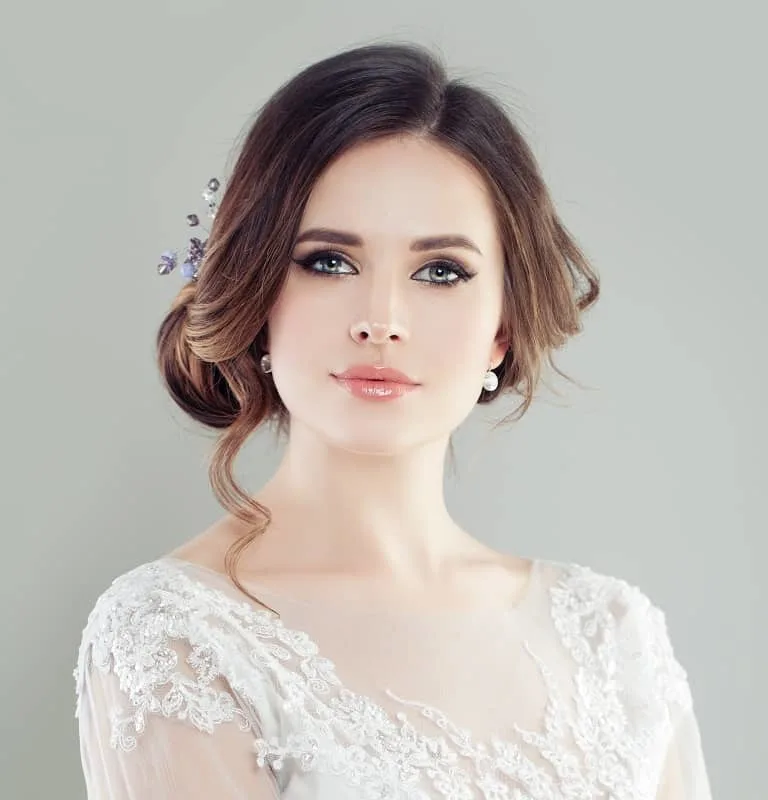 To get a soft formal updo hairstyle, add long loose waves. Then loosely secure it in the back with a pretty clip or faux flowers. As usual, loose pieces around the neck keep the style soft.
4. Formal Low Updo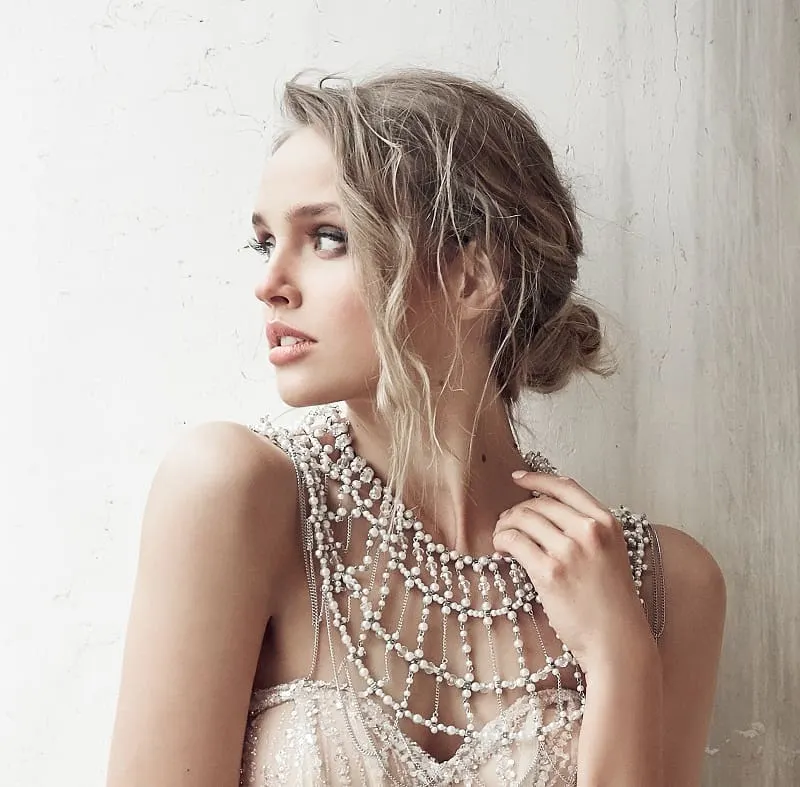 A slightly messy updo is great for women with long hair. With pearled or flowered clips, the style becomes boho and romantic, great for that outdoor evening wedding.
5. Formal Updo with Short Hair
To make a formal updo with short hair, tease the hair at the crown of the head before securing it at the nape of the neck. Make sure the hair smooth for perfection.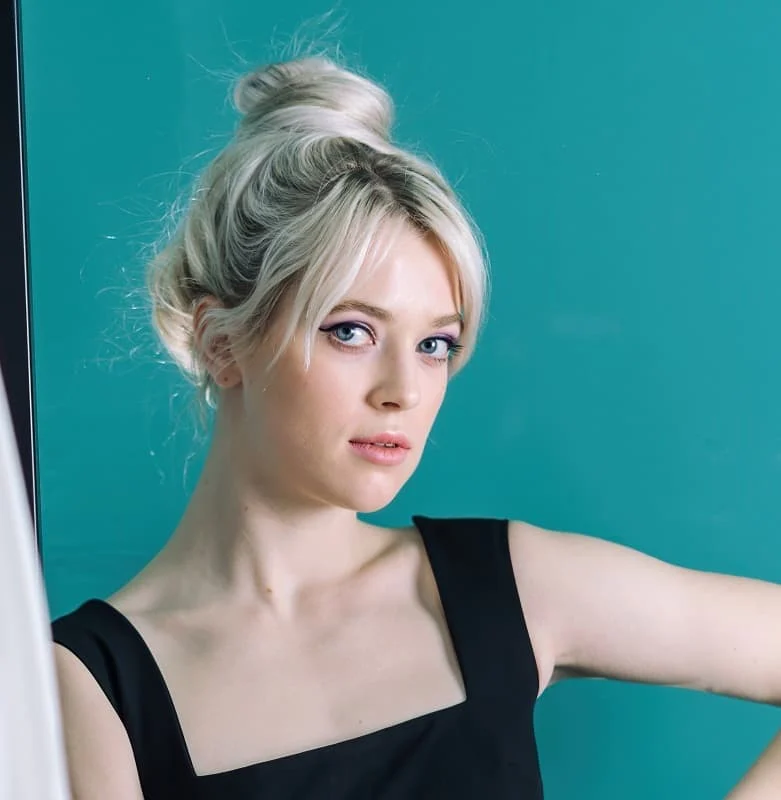 Why pin bangs back when you can make them look super pretty on a formal updo? Leave them slightly wavy on either side of the face and gather the rest of the hair in a high loose bun.
7. Formal Updo for Thick Hair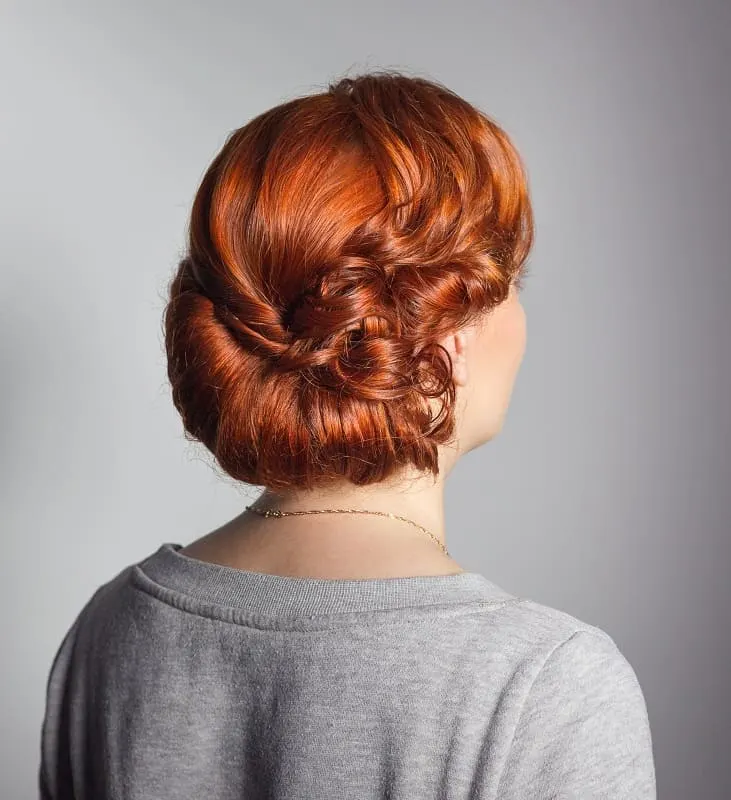 With curls and waves loaded to the max, you can make a loose hairstyle secured at the neckline. Tuck in a colorful flower in a contrasting color to make the style dressier.
8. Formal Updo for Fine Hair
No one will notice your hair is that fine when it's in this pretty formal updo. Just make a small coiled bun and clip it in with a special barrette – simple yet stylish!
9. Formal Updo for Black Women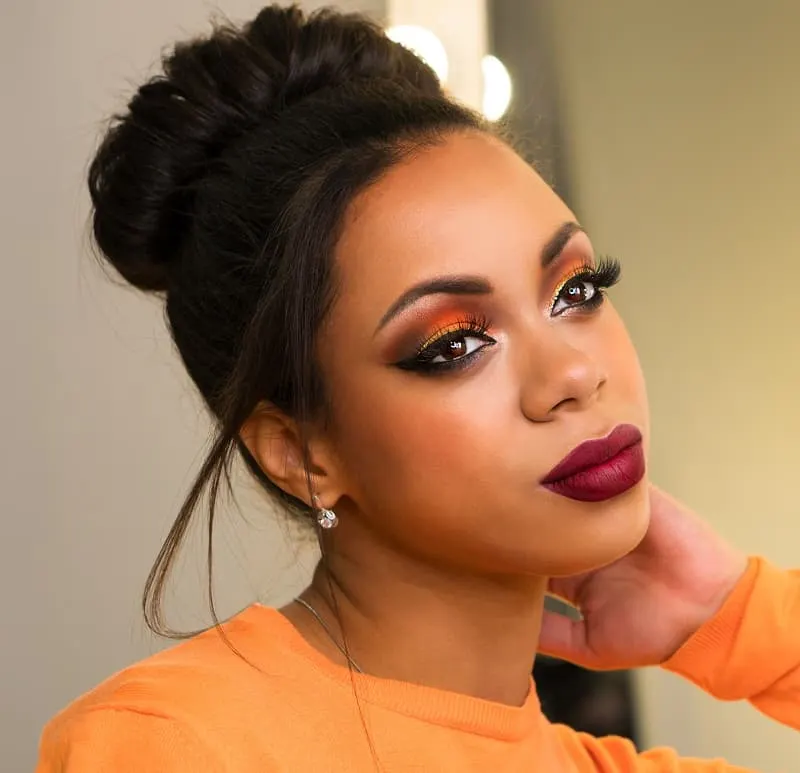 Black women can also rock updos on any occasion. A sock bun, or a skinnier version of it, is always a classic choice for formal updos. With hair wrapped in a loose or tight bun, you'll feel like a romantic ballerina!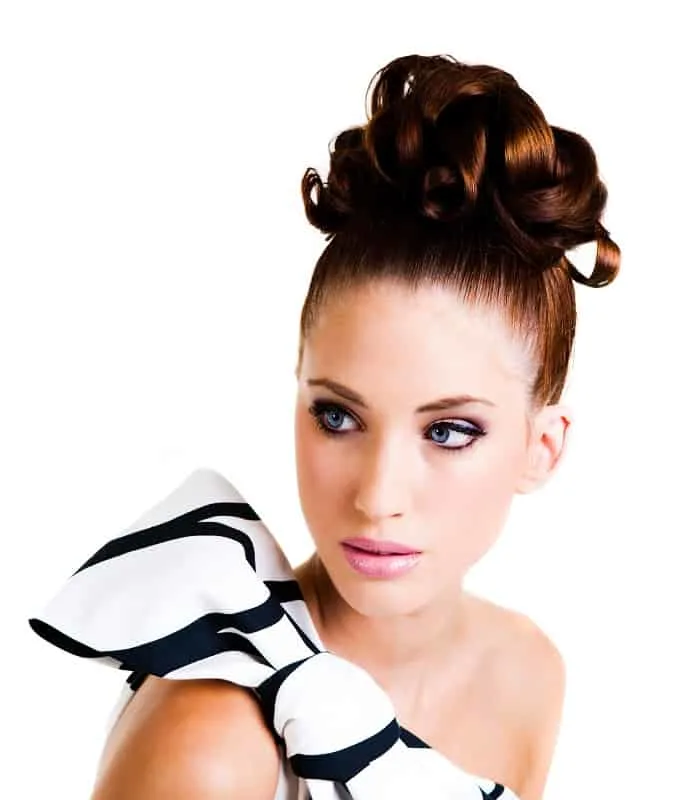 You'll probably need some help with this polished updo, but the result is a high bun with smooth waves billowing out of it. Smooth away frizz for a neat, sleek style.
11. Formal Bun Updo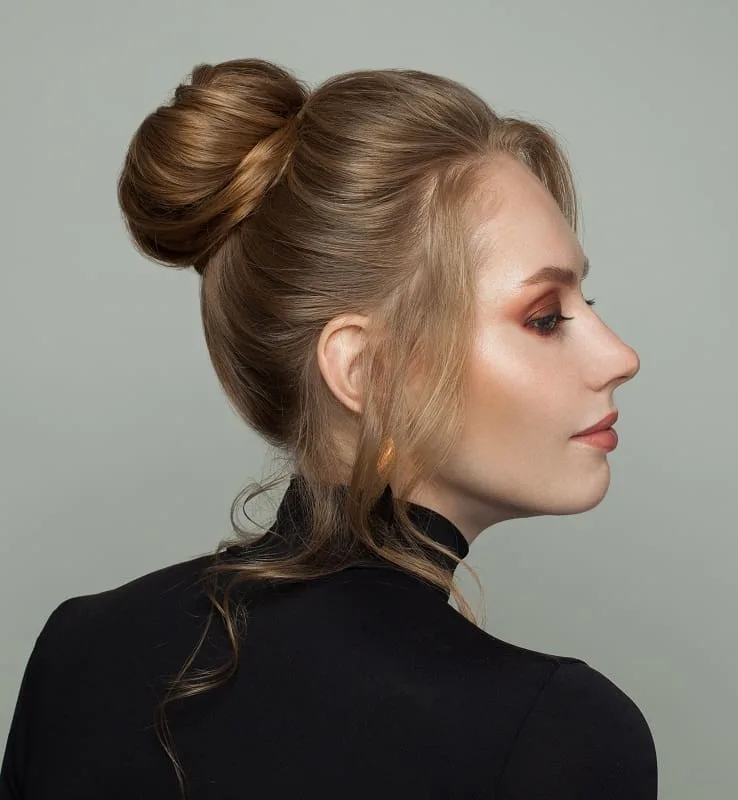 Looking for a simple yet gorgeous updo for your long hair? This bun hairstyle is great for women with long hair. Instead of a bland hair tie poking out, a section of hair is used to disguise it for a consistent, beautiful look. Loose tendrils around the neck make it soft.
12. Formal Half Updo
Looking for a formal updo that doesn't involve pulling all the hair up? Try a half updo – this one teases the crown and secures a small ponytail right below for a style that's subtle yet still pretty.
13. Formal Ponytail Updo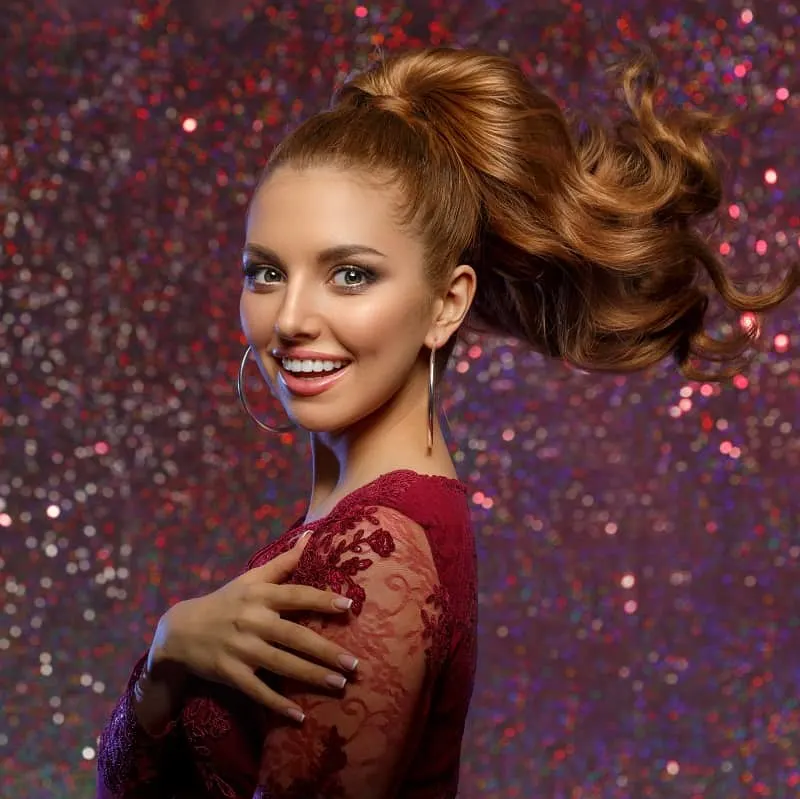 Make a plain ponytail fancy occasion ready but smoothing it sleek and shiny, and filling the body with rich waves or curls. A shiny pair of earrings completes the style.
14. Formal Side Updo
If our queen Marilyn Monroe were still around, we're sure she'd approve of this side formal updo for platinum locks. If you have short hair, use bobby pins to secure it at one side and fill with tight waves.
15. Formal Bouffant Updo
A bouffant is one of those formal updos you can wear to the office or to dinner dates. The smooth swirled sides look best when hair is straight before styling.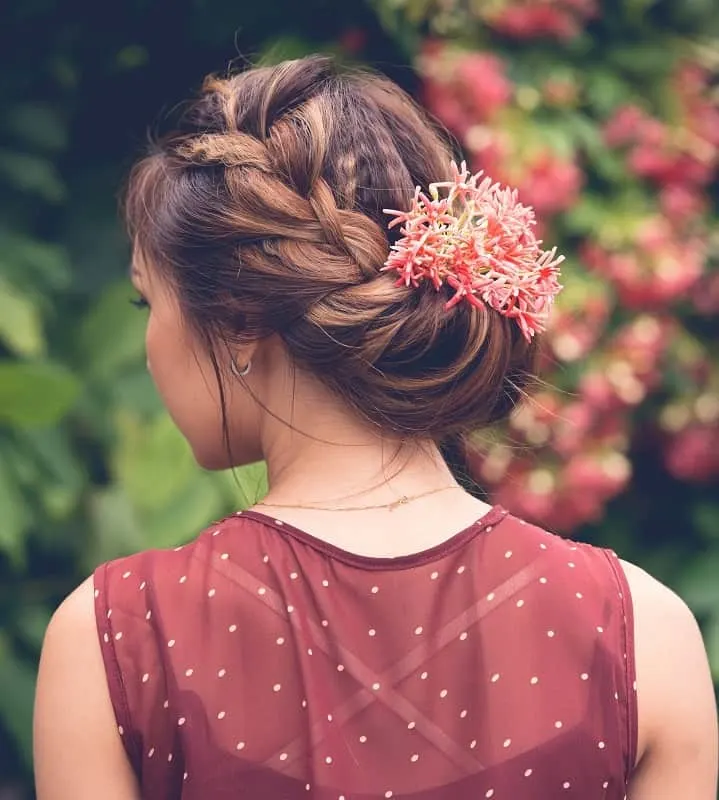 Braided updo is very popular these days. While hair is still down, make a jumbo braid at one side. Then wind it around to the other side and tuck it in with faux flowered clips.
17. Formal Updo for Asian Women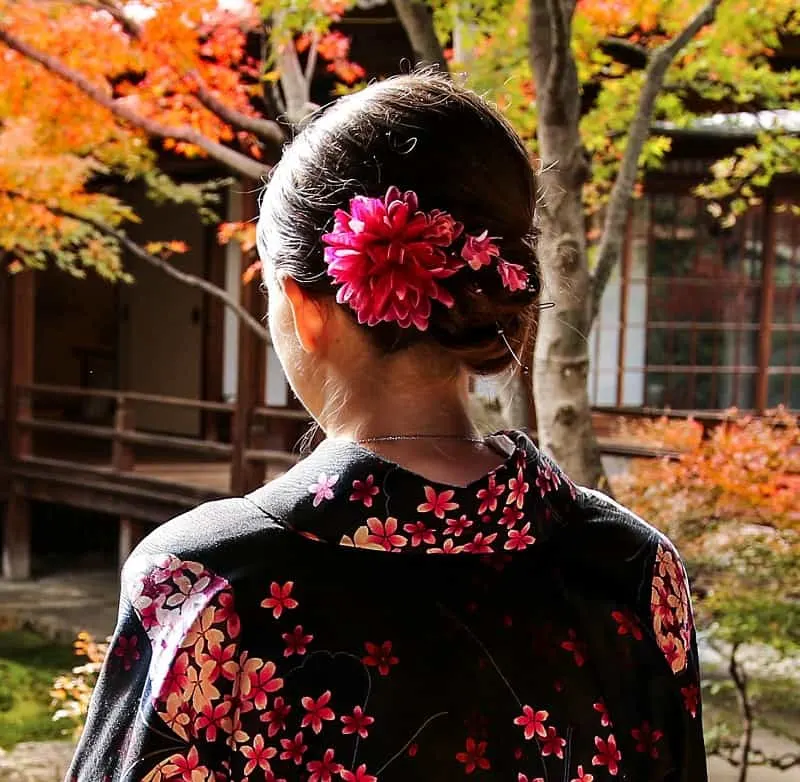 Asian women don't need to worry anymore about finding a hairstyle for their long black or brown hair. A perfectly rounded bun with a flower detail tucked in is classy and chic.
18. Formal Updo for Older Women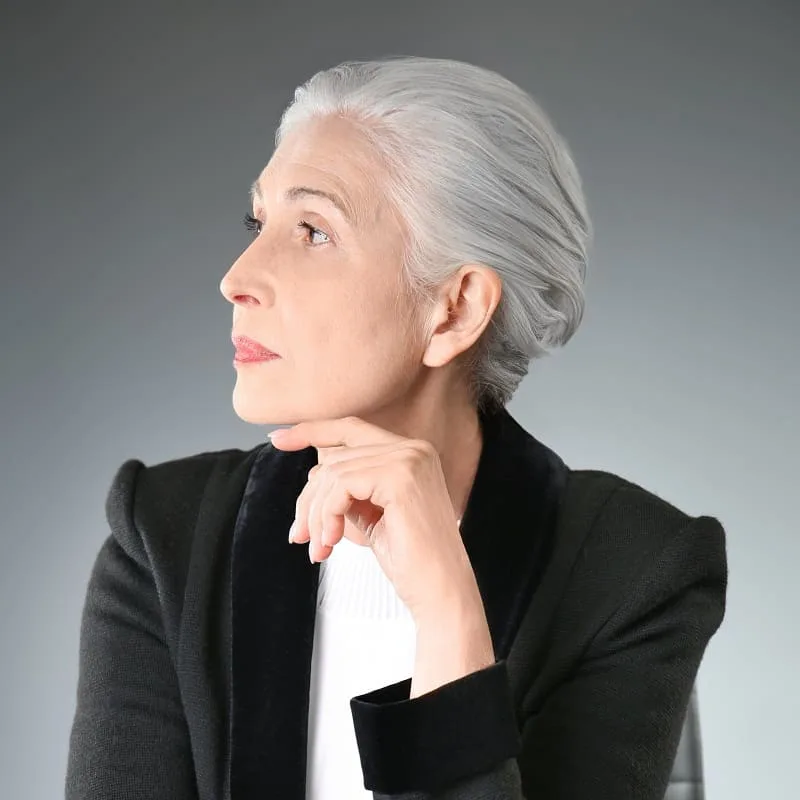 For older women that need a formal updo, try combing the hair back without slicking it smooth. Use a barrette or patterned hair tie to secure it at the nape of the neck.
19. Vintage Formal Updo
Searching for an old-fashioned or vintage updo? With straightened short bangs, a high ponytail or bun with thick curls, and a headband or scarf to top it off, this style is full of detail.
20. Updo for Prom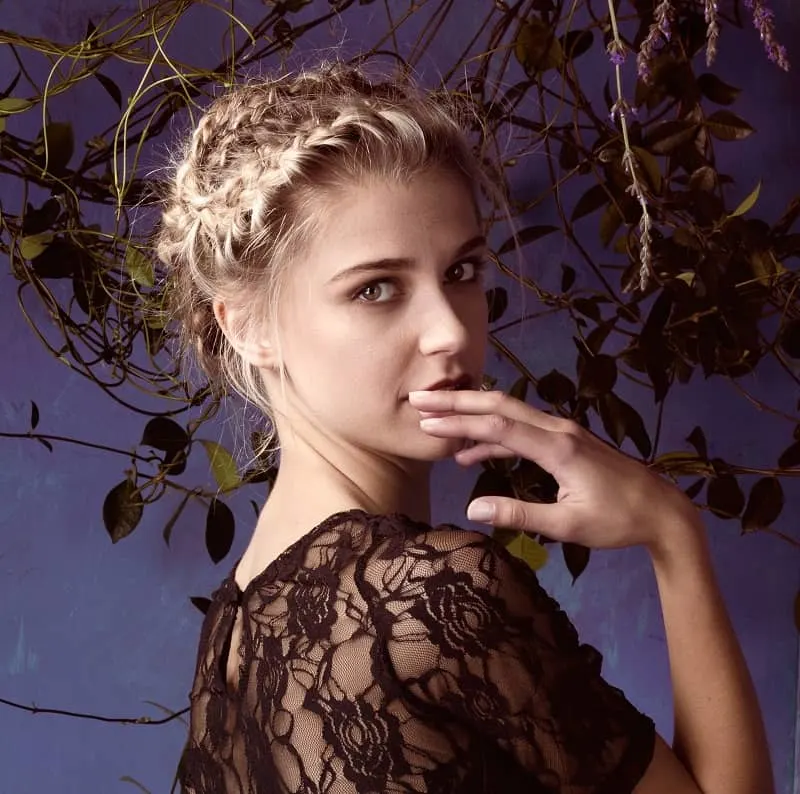 If you're a woman who likes the way braids look, there's no reason you can't load up your hair with a bunch of thin or thick ones. Afterward, gather them into a low or high bun.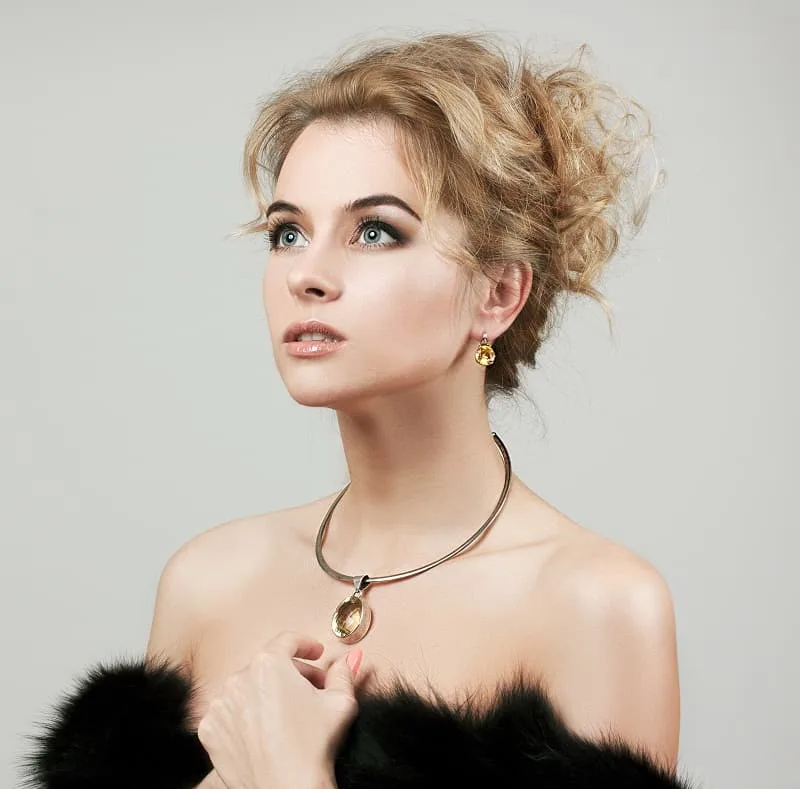 For a high ponytail, you can't get too messy! Loose strands make this one look full of texture and volume. Avoid harshness by leaving sections around the face loose.
22. High Updo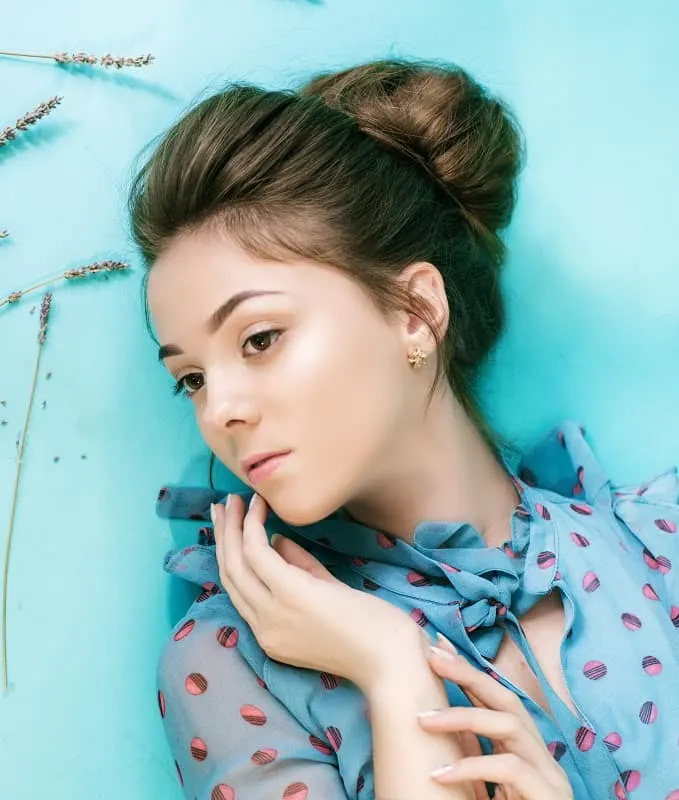 It's simple yet chic, this loose rounded bun. By not pulling the hair straight back and smoothing it close to the head, a softness is maintained which is exactly what you need for a formal updo.
23. Blonde Braid with Bangs + Updo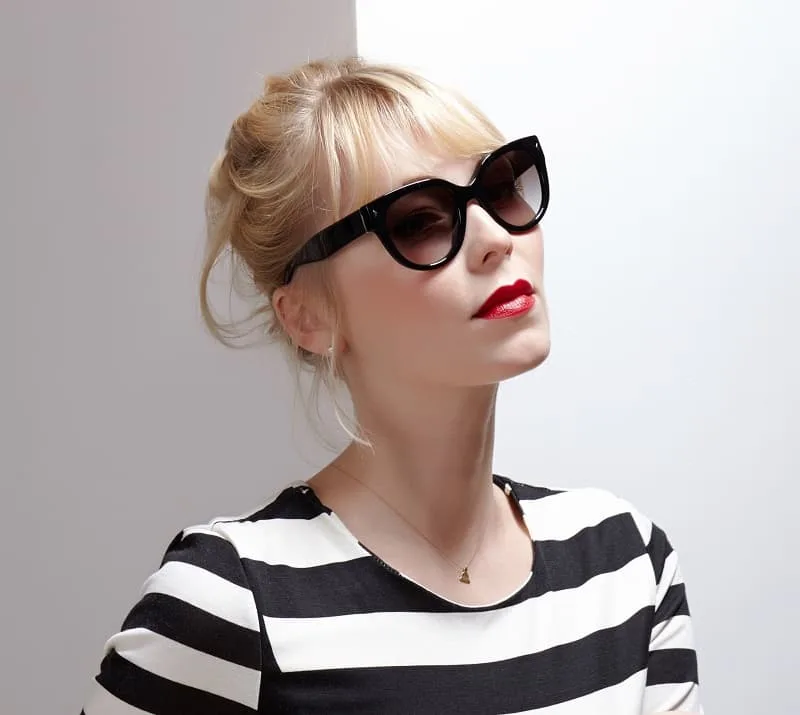 It may not look like it from the front, but in the back there's a gorgeous braid keeping these blonde locks together. Bangs are straight and smooth, cool contrast to the fancy formal updo.
When deciding on your formal updo, consider how much work you're willing to put into it. The more detailed, the more work. But all of them will have a gorgeous result!