Formal events are a great place to show off your style and fashion choices. Many of the formal haircuts which are promoted at the hairstylist are for women with long hair. However, we have lots of formal hairstyles for short hair that you can try out if you don't wear your hair long.
The Best Short Formal Hairstyles for Women
Formal hair looks especially good when it has been matched up with the right accessories. The accessories that you choose may depend on what the formal occasion is.
Tiaras look amazing on wedding hairstyles and you will find plenty of choices in wedding boutiques. Beaded clips and bands are a wonderful choice for balls and proms.
1. Low Messy Formal Bun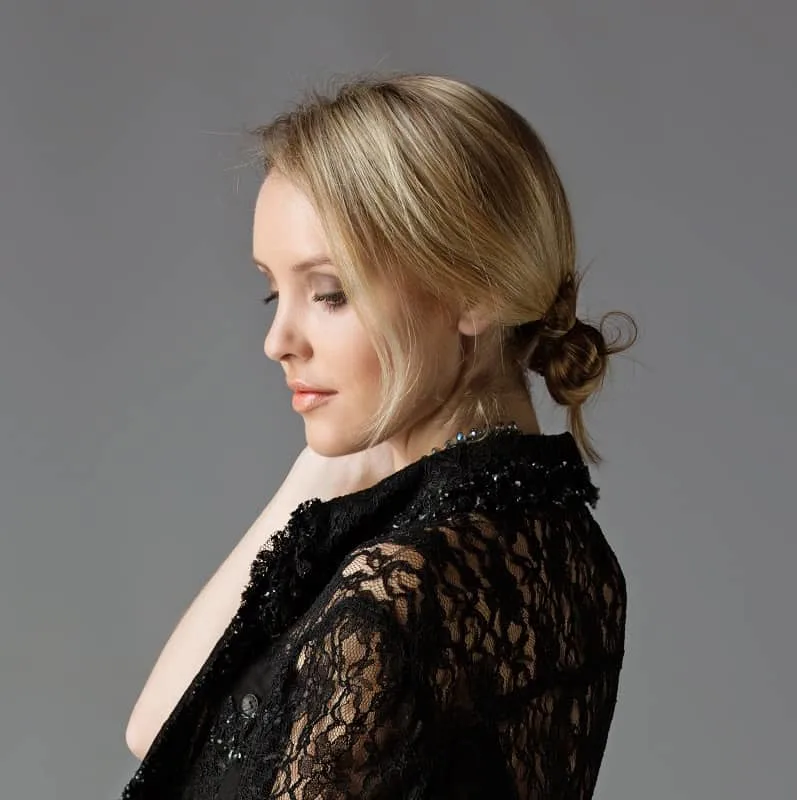 There are so many short formal hairstyles for weddings, from braids to ponytails and buns. Some women like it glamorous, some want a more relaxed updo, and if you're going to pull off that messy but intricate hairdo, a low braided bun is all that you need.
2. Dark Curly Formal Hairstyle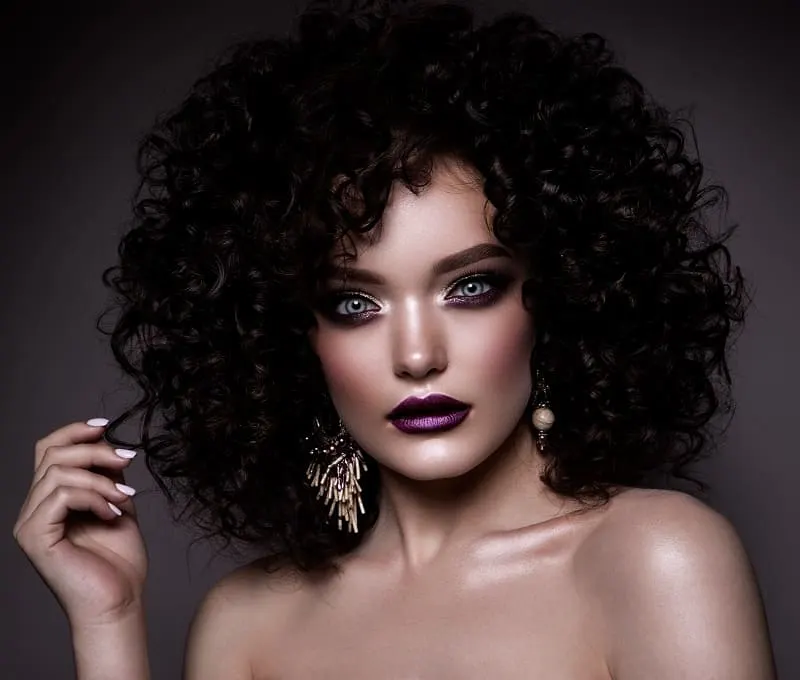 When going for a short formal curly hairstyle, you can expect loads of compliments. Make sure you layer your tresses to obtain that marvelous rounded shape.
3. Short Braided Formal Updo
Do you want to glow and look breathtaking for an upcoming event? A short braided formal hairstyle can be the ace upon your sleeve. Go for a silver ombre and create three braids on one side of the head.
4. Formal Hairstyle with a Low Bun
A bun is a short formal updo that can be pulled off for several occasions like parties, days at the office, or meetings. To give the hairstyle some volume, use your fringe or top hair to build a hair bump.
5. Short Inverted Bob Hairstyle
This easy formal hairstyle for short hair can make you also look professional. The inverted bob works so well with your glasses, and it amazingly frames the face.
6. Wavy Formal Hairstyle
Get a gorgeous blonde ombre by keeping the roots dark and the tips in a yellow blonde hue. Create waves and use bobby pins to tuck the hair over the ear, on one side of your head.
7. Retro Formal Hairstyle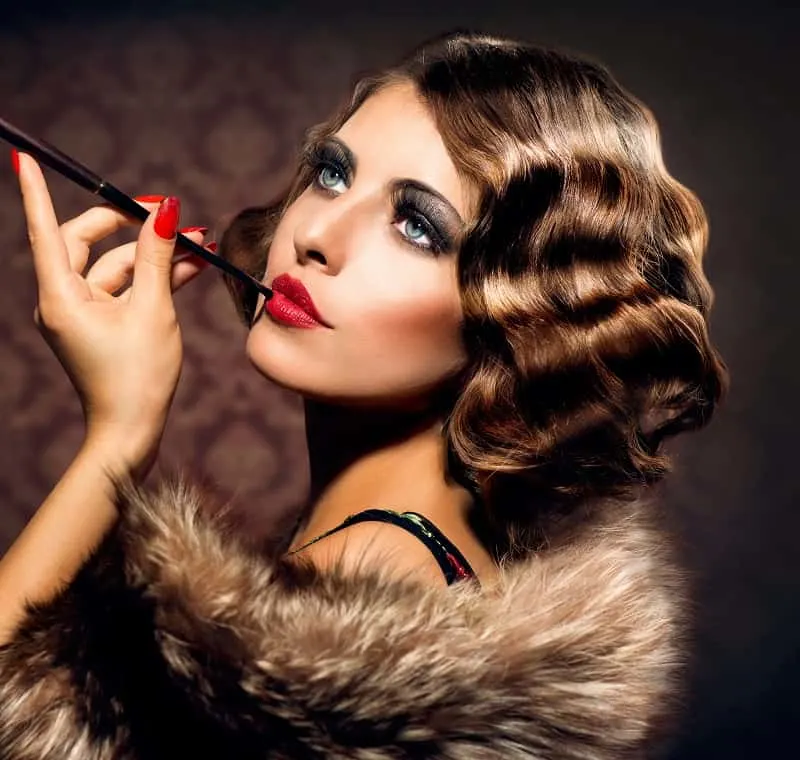 A retro formal hairstyle will look marvelous if pulled off on short hair. Vintage looks will instantly transform you into a glamorous diva, and those waves will undoubtedly make you glow!
8. Bob with Large Curls
Big curls always look really beautiful, but they are particularly effective on a short bob. This retro look can be enhanced further with a single jeweled band on the forehead.
9. Platinum Pompadour
Androgynous looks are so on-point that there are dozens of formal hairstyles for short hair designed to create a contrast between the masculine and the feminine. Pair a pompadour with menswear-inspired details in your ensemble, such as a tie or a tailored suit.
Short Hairstyles for Round Hair
10. Pretty in Punk
The spikes, tousles, and different textures create an edgy, punk rock style that's ideal for any woman who feels like being a bit rebellious. It's absolutely formal, but at the same time, it doesn't conform to the traditional image of how a formal 'do should look.
Watch this tutorial: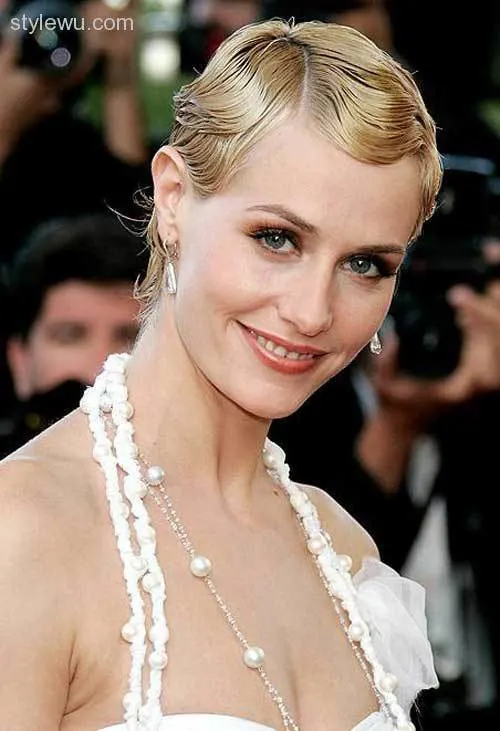 Many formal hairstyles for short hair appeared—or reappeared, perhaps—in the 1920s. During that era, short hair was in fashion for women. It likely was at other points throughout history, as well, but the 1920s is the first period in modern memory to popularize short hairdos.
The point is, finger waves were all the rage back then, and they're just as stylish today. Splash out with a vintage-inspired hairstyle, and don't forget the pearls.
Short & Sexy Teen Girl Hairstyles
12. Business in the Back, Party in the Front
The haircut seen here is kind of like a reverse mullet, being that it's shorter in the back than it is in the front. It's also sizzling—this is an effortlessly sexy formal 'do. Not only is it surprisingly simple to style, but it also looks good on the daily. You can—and should—wear your hair this way whenever you want.
13. Braided Bob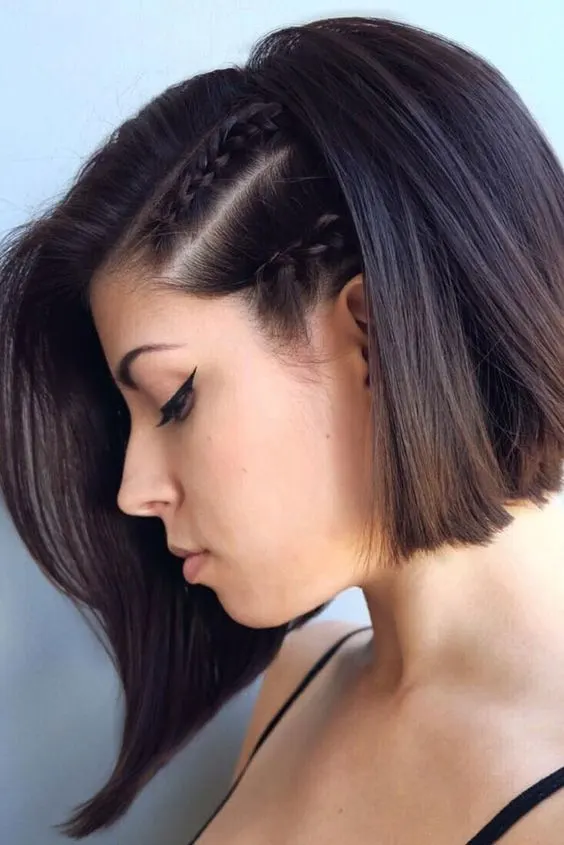 Bobs count as short hair—at least, this one does. It's easy to make a bob look formal, whether it's a standard one or asymmetrically cut—and, no, you don't have to wrestle your hair into an updo. A few well-placed, perfectly woven braids create the right amount of formal flair.
14. With a Flip
Sometimes, all you need is some volume and a strategically placed flip. Women's formal hairstyles for short hair don't have to be complicated or intricate. The coiffure she's working here is alluring on several levels. Her hairdo gives her an air of mystique, and her visible eye smolders, so you don't know if she's serving looks or shade.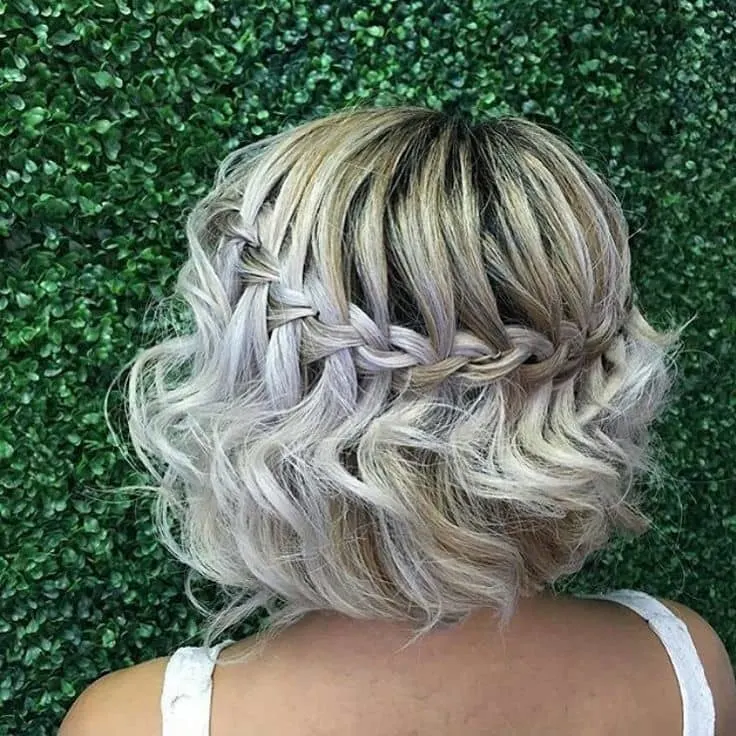 There are all sorts of hairstyles at your disposal if your hair is neck- or shoulder-length. A waterfall braid isn't just formal, it's whimsical, and you'll get compliments all evening long.
Curls help the braid hold its shape, plus sometimes curly hair is easier to plait, so if your hair isn't naturally wavy or curly, you might break out the heat tools or hot rollers.
Dark and Curly Ombre Hair Colors
16. Formally Accessorized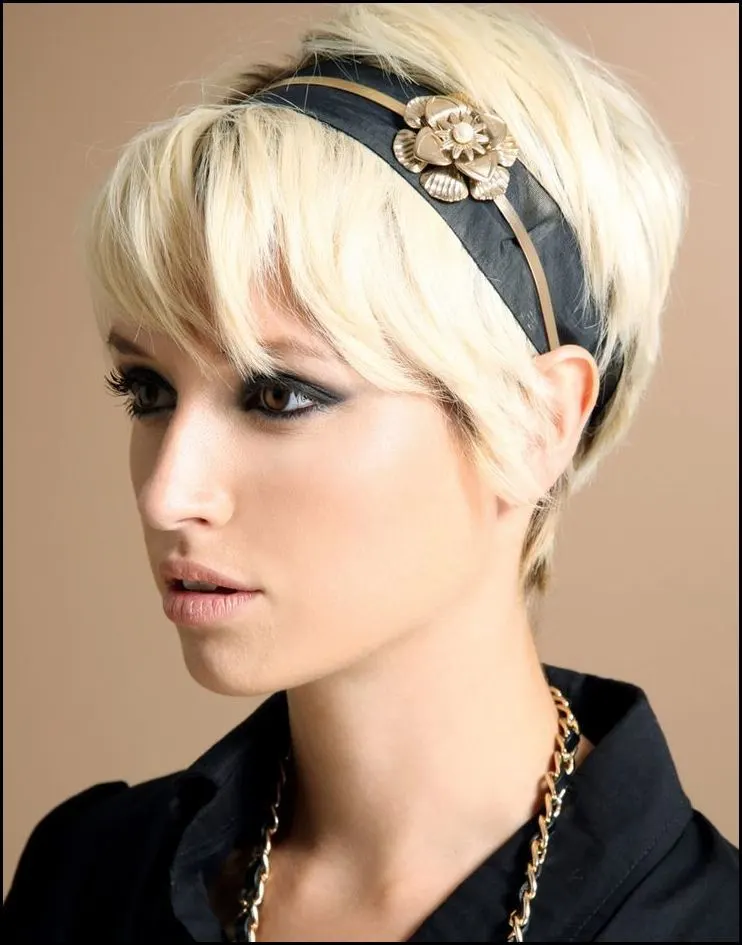 Hair accessories are often utilized when it's time to dress to the nines, but only if they add to your hairstyle and overall appearance. Here's a divine example of a hairband that actually makes the style.
It's a retro-inspired 'do, this one dating back to the mod trend of the early to mid-1960s. The pale lip and dramatic eye makeup are on-trend, too.
17. Short and Slick Formal Party Hair
Formal hairstyles for short hair that have an androgynous edge really are sexy. As you can see, all it takes is a subtle slick back, a faint side part, and the barest hint of a pompadour. Flawless.
Delightful Short Hairstyles for Teen Girls
Gorgeous Formal Hairstyles with Short Hair
Way too many people are of the opinion that unless a woman has long hair, she can't do anything dressy, but that misconception ignores the vast world of formal hairstyles for short hair of all lengths. Short hair is more versatile than you can imagine unless you a. have short hair and b. have ever tried to style it.
Short hair is far from boring, and the hairstyles associated with it are all over the board. After all, "short" is subjective, so short hair can refer to a pixie, a crop, an undercut, or cuts that fall the nape of the neck, such as bobs and pageboys.
Since prom season is upon us and wedding season is fast approaching, arm yourself with possible 'do ideas as early as possible—and if you're thinking about getting the big chop, let this serve as the assurance that you can rock a fierce but formal short hairstyle.
Short formal hairstyles can be mindblowing, however, you have to think outside the box. Don't look at the sea of braided updos covering every fashion and beauty website and magazine. Don't pine for long locks to such an extent that you forget how to appreciate your short tresses.
Short hair, don't care, girlfriend—make that your philosophy because there is nothing lovelier than a short, curly bob, nor is there anything sexier than an androgynous punk rock crop.
Show off your personality and your impeccable style with a formal hairstyle that brings out your inner fire.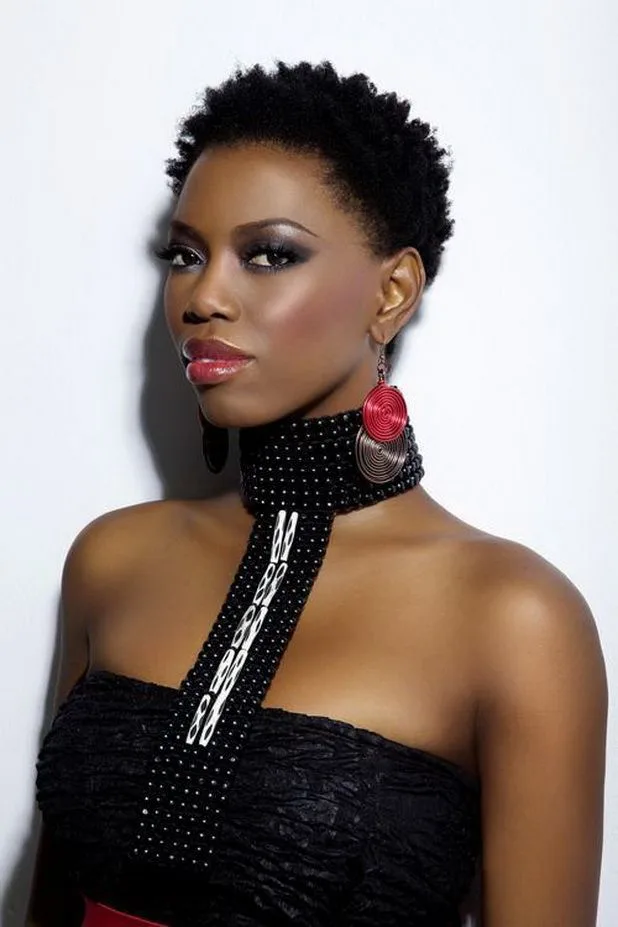 Formal and natural aren't mutually exclusive. Embrace your natural hair for your next formal event. Let your curls stand out, each one beautifully shaped, the finished product sculpted to perfection. Try to say this whole look doesn't slay. Just try.
19. Punk Fringe
A punky fringe can easily be created for a short formal haircut. Use soft hold hair gel to give the style a little extra stiffness which will prevent it from going floppy.
20. Braided Crown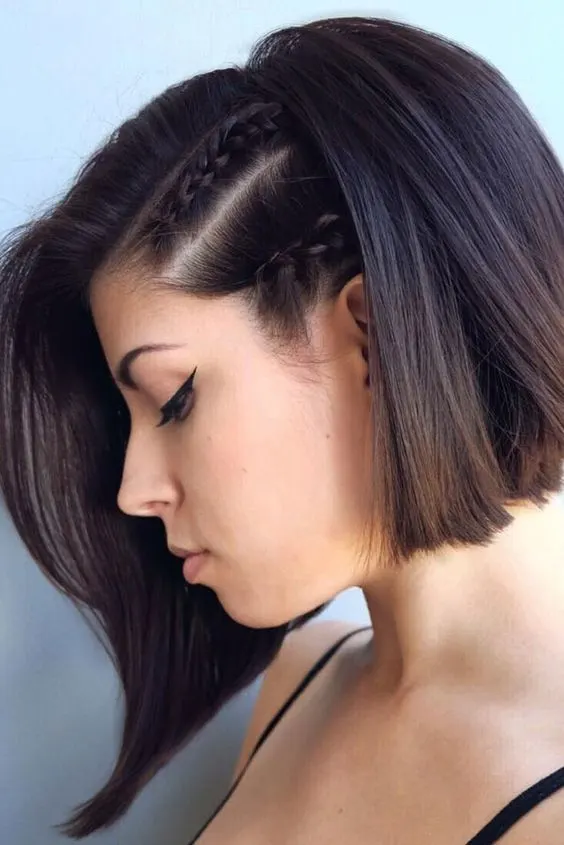 Create a crown out of your own hair by using braiding techniques. Bring the braids around the front of your head and then around the rear too.
21. Messy Chic
It is possible to create a messy formal hairstyle for short hair. Start by backcombing to add volume at the roots. Take a few strands of your hair down and drape them around your face.
22. Chin Length Straight Bob with Accessories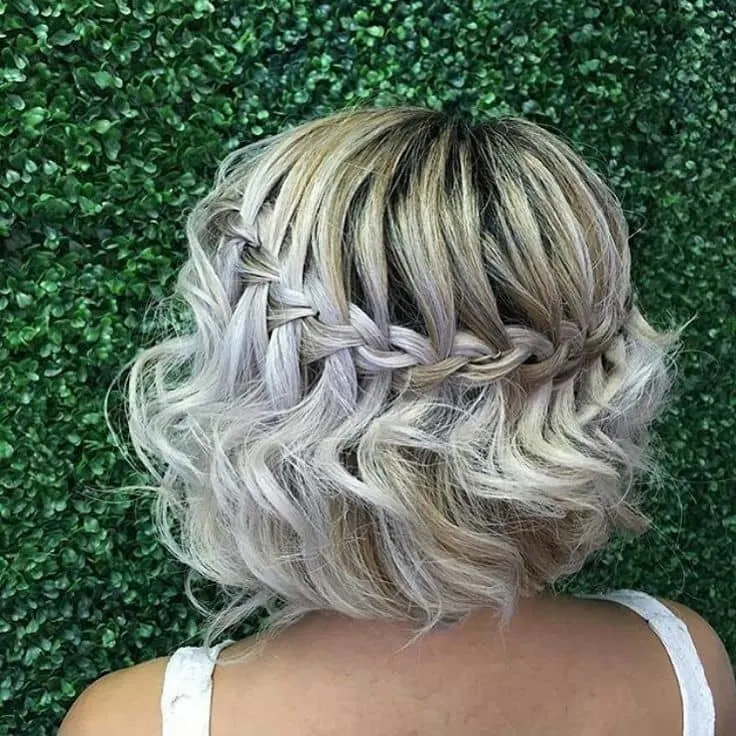 A chin length straight bob is a gorgeous and cute formal haircut. Jazz your straight bob up with plenty of hair accessories. Beads and pearls create a vintage 1920s hairstyle.
23. High Pony with Hair Bow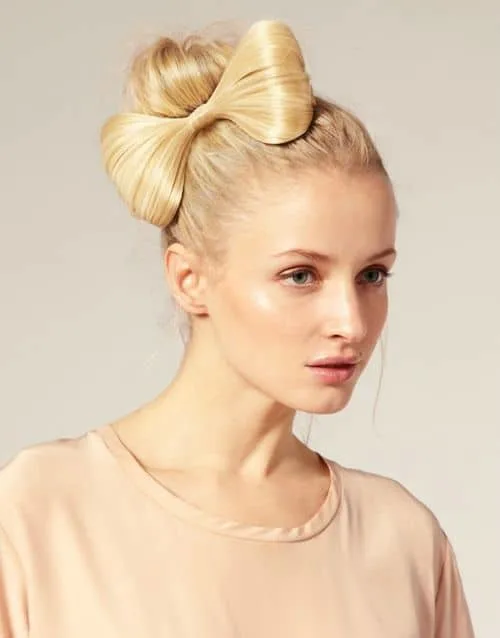 You can make a short hairstyle seem longer with an artificial hair bow in the same color as your haircut. Pull into a high short ponytail. Clip a large hair bow onto your hairstyle to complete your look.
24. Finger Waves
Finger waves are a popular formal hairstyle for women with short hair. This look is soft and retro, with a wonderful vintage charm. It looks great with strong lip makeup. If you are growing a long hair, you can try finger waves with long hair too.
25. Asymmetrical Cut with Waves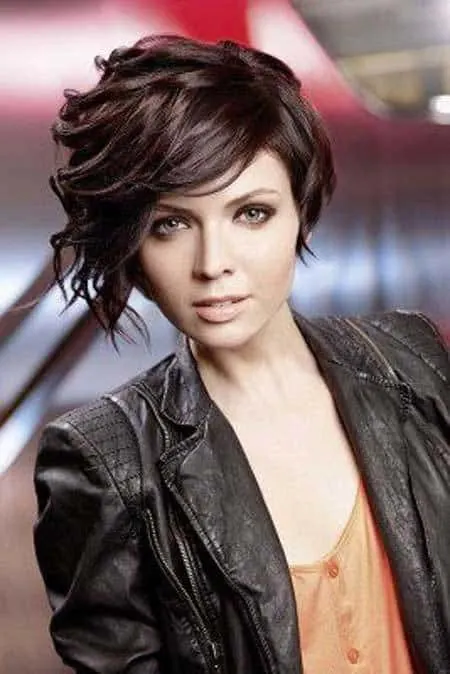 Asymmetrical haircuts are a lovely style for women with strong facial features. The loose waves add a gorgeous formal touch to short asymmetrical hairstyles for women.
26. Bob with Decorative Headband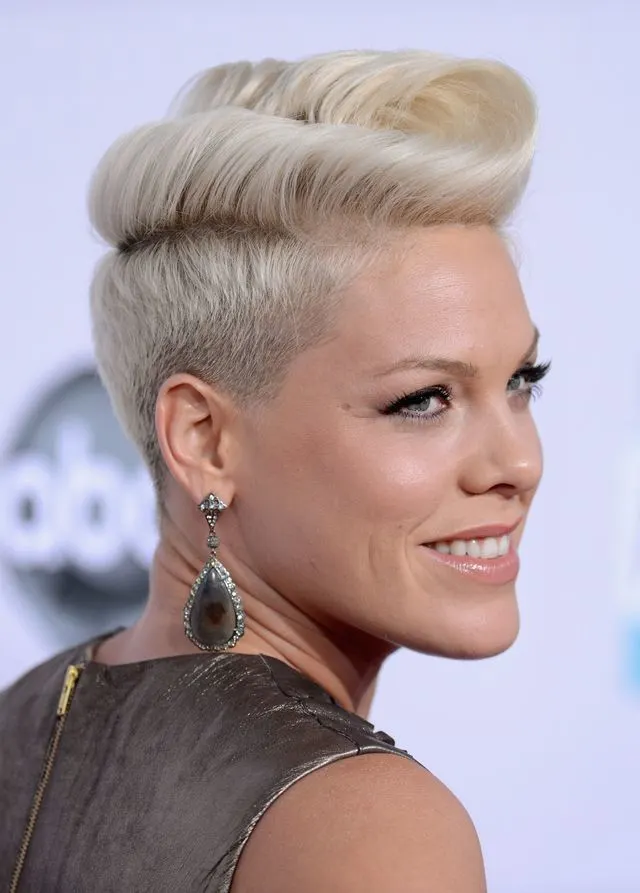 Use a decorative headband to help to push your short bob or stacked bob hairstyle into a face-framing shape. The band will help to keep your hair in place all day long.
27. Clipped Under Bob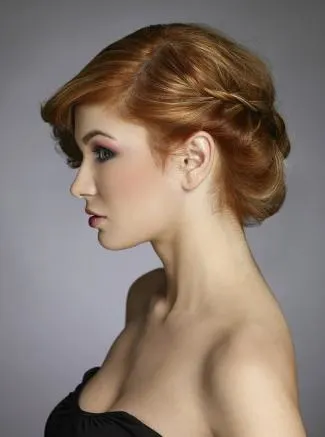 To help to create a nice shape for a formal bob hairstyle, clip your hair underneath at the bottom. This helps to give a soft and rounded shape to the ends of the hairstyle.
28. Dark Hair with Highlights
Copper and bronze highlights look fantastic on short dark haircuts. These highlights help to catch the light and give the wearer an added touch of luxury.
29. Side Parting
To change the natural weight and movement of a short haircut, style in a side parting. A heavier side fringe can really change the look of your face.
30. Big Glamorous Curls
Large perfect curls are a popular look for formal haircuts. Use heated rollers to create uniform curls in short hairstyles. Set each curl with hairspray.
Formal occasions can be great fun. Many women enjoy the preparation as much as the event itself. Browse through all of our lists to find the perfect hairstyle for your next formal event.
More Fashionable Formal Hairstyles for Short Hair
Since women's formal hairstyles for short hair come in various shapes, sizes, and lengths, there's no way you won't find a cropped coif that you love. Remember, you don't have to hack off all your hair—but you can rock a fierce look if you do. What's your favorite way to style short hair?