The solution to getting rid of a boring haircut is to add long layers on short and medium hair. This trend has been popular among top celebrities like Emma Stone, Victoria Beckham, and Jennifer Aniston. Today we will be showing you how you can easily cut long layers in your hair at home, as well as gorgeous hairstyles for hair with long layers.
How to Cut Long Layers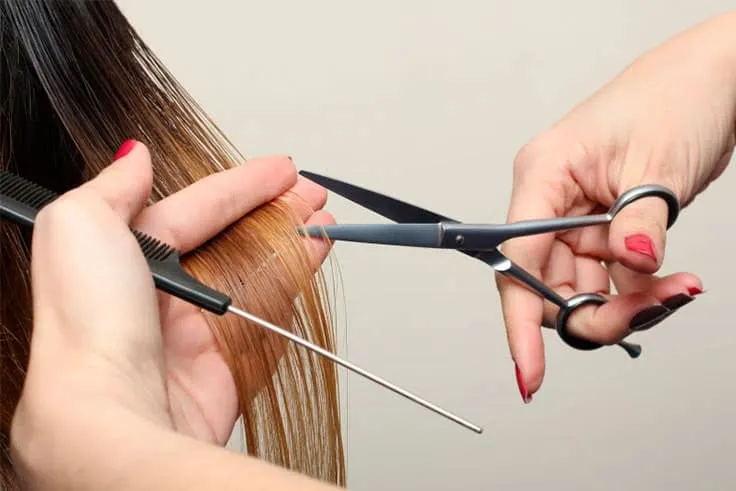 Visiting a salon is always a great way to get a professional looking haircut with long layers, but what if you don't have the time or money? Here is an easy way you can cut your hair into layers at home at no cost.
Start by washing your hair, and letting it air-dry until it is damp. Use a wet brush or a fine tooth comb to brush out any tangles in your hair. You are now going to section off the hair at the top of your head. Hold your hands at a 90-degree angle, and cut the ends of your hair off. (Cut the amount of hair you want your layers to be.)
You will now be using this newly cut section as a guide to cut all the other sections of your hair. As you grab new sections of your hair, line it up to your first section, and cut the new section until it matches the length of the first section.
Watch The Following Video of DIY How to Cut Long Layers on Hair
Why Do you Need Layers in Your Hair?- Here is Why!
Layers look amazing on short to medium hair because they take away the look of a flat and dull haircut. When you have shorter hair it is harder to create volume and hairstyles like women with long hair, but by adding long layers your hair will look like it has more dimension and volume.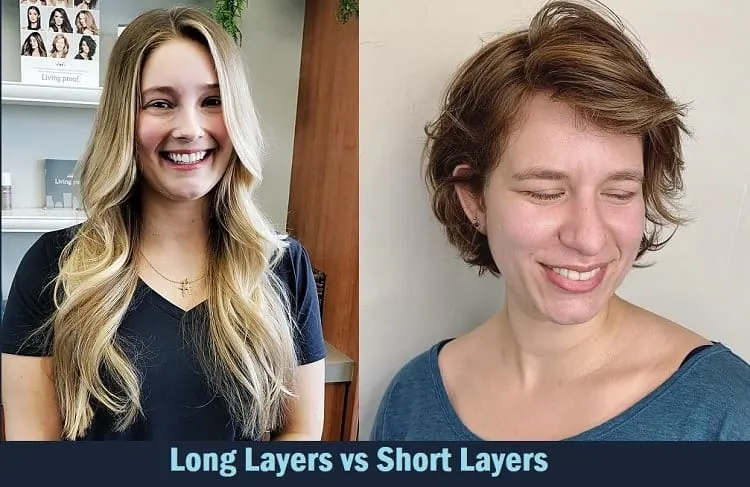 Many women prefer long layers over short layers because long layers elongate the face, giving women the highly desired oval shape face. Short layers do the exact opposite and are good for women who want to round out the appearance of their face.
Short layers are harder to blend and can create a mullet-like appearance in your hair. Many women prefer getting long layers because if they ever decide they want to remove them they have to cut off less hair to get rid of them. The also look natural and effortless, even when you don't have time to style your hair.
Long Layers on Short and Medium Hairstyles
These are the 10 most trendy ways to wear long layers on short and medium hair for women.
A balayage is when your hair is painted with bleach so that you have an ombre effect with no harsh roots. This natural medium hairstyle looks even better when long layers are added because it helps blend the colors seamlessly with no harsh lines.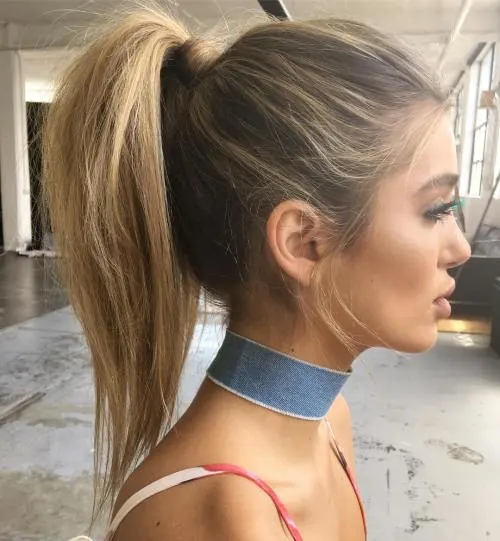 Medium length hair with long layers looks amazing and gorgeous in a high ponytail. To achieve this look simply take a small piece of your hair and wrap it around the base of your ponytail. Secure the wrap with bobby pins to ensure it stays in place.
A lob is a long cut bob just above the shoulders. Lobs look stunning with long layers because it gives the medium hair more texture and volume. To achieve a style similar to this picture, give your hair a blowout and brush the ends inwards towards your shoulder blades.
When you have shorter hair it can get frustrating that you cannot create updos. Fear not, this gorgeous style for short hair with long layers mimics the look of a classic formal updo. To get this look simply use a one-inch curling wand. Wrap your hair around the wand super tightly to create tight ringlets.
Now take a two-inch section of hair from the front, and create a traditional braid that ends above your ear. Secure the braid with a hair-clip with bling to add something extra special to this look.
To add some edginess to your long layers on short hair, consider getting bangs. These sexy shaggy bangs bring out the blonde lowlights in your hair and add more personality to your look.
A traditional bob can look flat and lifeless, which is why this spin on the traditional bob is becoming more and more popular. To get this look, part your short hair to the side and cut long layers into your hair. Next, run your fingers through your hair and mess up the sides. This will give you an edgier style with more volume.
7. Short Rainbow Hair with Long Layers

This medium layered hairstyle is the modern twist on rainbow hair. The medium length hair, long layers, and brown base make this hairstyle more wearable than traditional rainbow hairstyles.
In order to achieve this look get green, purple, pink, and blue temporary hair dyes. Take a paintbrush and paint the layers in your hair different colors.
One of the benefits of having long layers on medium hair is how gorgeous they look when they are curled. To achieve this look you will need a curling barrel that is one inch wide. Simply take small pieces of your hair and wrap it around the curling wand without using a curling clamp.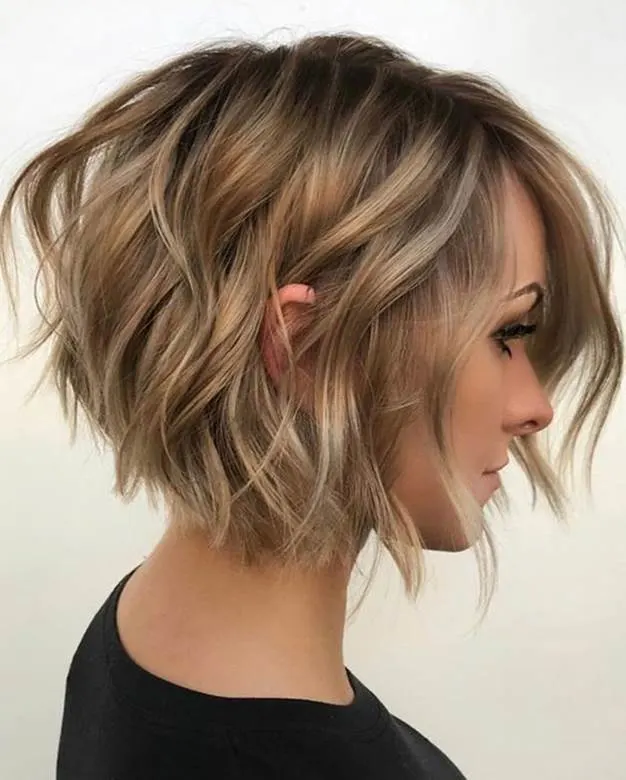 To avoid having short, dull hair, long layers in a short haircut add dimension and style. To achieve this wavy look take a heated hair waiver, and clamp small one inch wide sections of hair. The smaller the sections of hair you take, the wavier the hair will look.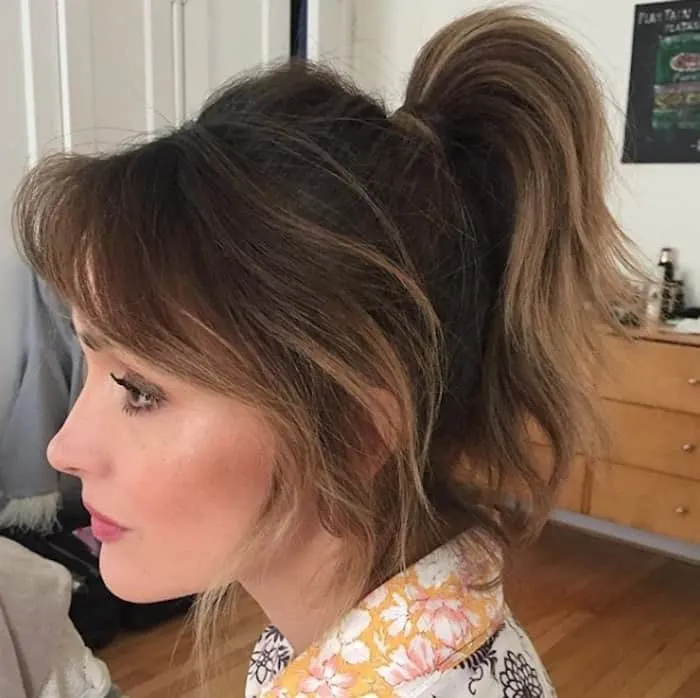 This cute puff ponytail takes less than 30 seconds to create and gives off major retro vibes. In order to get this look, you will need short to medium hair with long layers and long side swept bangs. Spray your hair with sea salt spray to give your hair a nice and natural wavy texture, and tie your hair into a high ponytail.
Long layers in both short and medium hair look gorgeous and give the hair more texture and personality. Long layers are easier to create than short layers, require less blending, and avoid looking like a mullet.