If you have a busy lifestyle, chances are you don't have much time to style your hair. But that doesn't mean you can't have the fabulous haircut you love! This just means you need a low-maintenance haircut that is easy to style and still looks great on your face shapes.
Also, you want your haircut to complement your face shape, and a square face shape is no different. For instance, you can use bangs to hide a large forehead and make your face look rounder.
If you're looking for great low-maintenance haircuts for square faces, you've come to the right place. You can adapt these ten styles to match any lifestyle and add your own personal flair to each.
Ideal Low Maintenance Haircuts for Square Faces
How you style your hair also makes a difference: pulling long hair forward over your shoulders can make you look taller, and side parts cause your hair to cascade over your head and soften your jawline.
Here are some of the best low-maintenance haircuts for square faces.
1. Long Hair With Bangs
A tried and true hairstyle, long hair with bangs, is a classic choice for anyone looking to soften their square jaws and hide a more prominent forehead.
The easy-to-maintain hairstyle accents your eyes and can be pulled forward over your shoulders to make you look taller.
2. Voluminous Layered Curls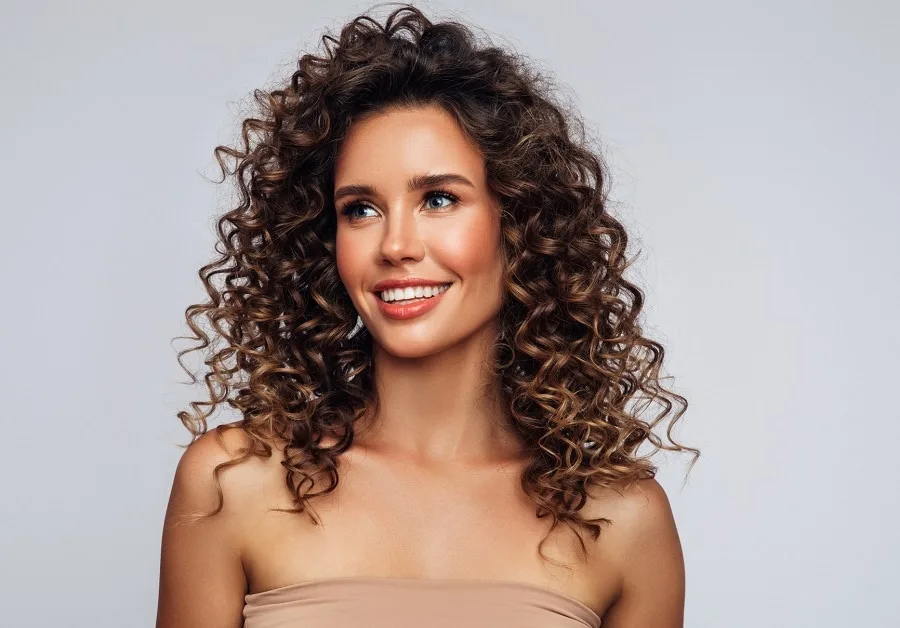 A lob with crazy curls adds volume to your appearance and makes your face look slimmer and trimmer.
The layers only add to the curls' effects, creating a beautiful cascade of hair across your back and shoulders, grazing the side of your face to soften the feature.
3. Platinum Buzz
A butch cut is slightly longer than a buzz cut but often fades into a buzz as you go down the neck and sides of the face.
The effect is a longer-looking face that draws attention to the square cheekbones and eyes. Going platinum blonde is a bonus that accentuates your eyebrows' natural color.
4. Layered Waves
Layers help make your square face look slimmer, and curled layers look beautiful when you add highlights. The side part draws attention to the upper part of your face and eyes.
You can leave a few strands of hair a little longer around your face and tightly curl them for an added effect.
5. Long Bangs
A thick lob with bangs is a great way to look professional with minimal effort.
This low-maintenance style is especially great for square-faced women with a longer forehead, as it can make a face look more rounded and softer.
A lob is a great way to look professional. You can still pull it back if you need to.
6. Pink Waves With Side Part
Pink is a statement hair color that attracts attention anywhere you go. The waves add volume to your hair, and you can achieve them with a flat or curling iron.
The side part encourages your hair to fall naturally across your face, creating an overall waterfall effect.
7. Brushed Out Curls + Side Part
If you're looking for volume, this low-maintenance hairstyle is for you. Brushed-out curls are some of the bushiest hairstyles you could ask for and look great on those with squarer faces.
The rings accentuate your jawline and make your face look smaller in comparison.
8. Long Wavy Hair
You will turn heads with this incredible haircut. The curling can take some time, but they'll hold all day when you use hairspray.
After preparing your hair, pull it forward to hang over your shoulders. This motion frames your face and can make you look taller when you block out the shoulders.
9. Center Part
What could be easier than long hair with a center part? This hairstyle is excellent for those with thick hair and square faces because the hair frames your face in a way that makes it appear longer and leaner.
Makes it an excellent low-maintenance haircut for square faces.
10. One Side Pulled Back
This gorgeous easy-to-maintain square face hairstyle neatly pins one side of your head away from your face, exposing your cheekbones and jaw, while the other side allows hair to flow over your shoulders.
This effect makes your face look longer and more defined. You can lightly curl your hair or twist it with a flat iron to achieve this effect.
There are many incredible low-maintenance hairstyles for square faces for those of us that don't want to get up every morning and do our hair for an hour.
Whether a lob with pink highlights or long hair with bangs, these ten hairstyles are great for anyone with a square face. You can always mix and match colors to switch things up!