Square faces require specific hairstyles to soften harsh lines and accentuate natural, beautiful strength. If you have a square face, you're probably aware that your jaw has strong, angular features. These face shapes are as wide at the jaw as they are at the cheeks, though this feature means you'll look better in the photos!
The Best Hairstyles For Square Faces
Read on to see the 55 different hairstyles that perfectly suit a square face shape.
1. Thick Fringe On Long Hair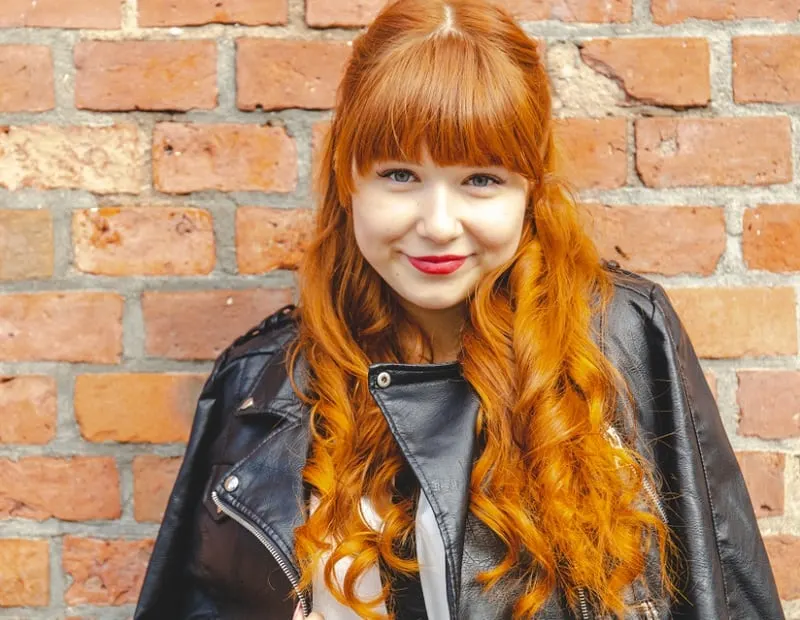 Thick bangs for square face shapes are a great tool for reshaping the appearance of your face. A thick fringe elongates the face when paired with long hair that draws the eye downwards. Consider wispy or long bangs that feed into layers if your hair is medium or short.
2. Asymmetrical Bob
Throw off the balance of your jawline with a bob for square face. This asymmetrical option is great for the babe who isn't afraid to stand out. Create layers that curl slightly inwards to conceal a prominent jawline.
3. Long Side Braid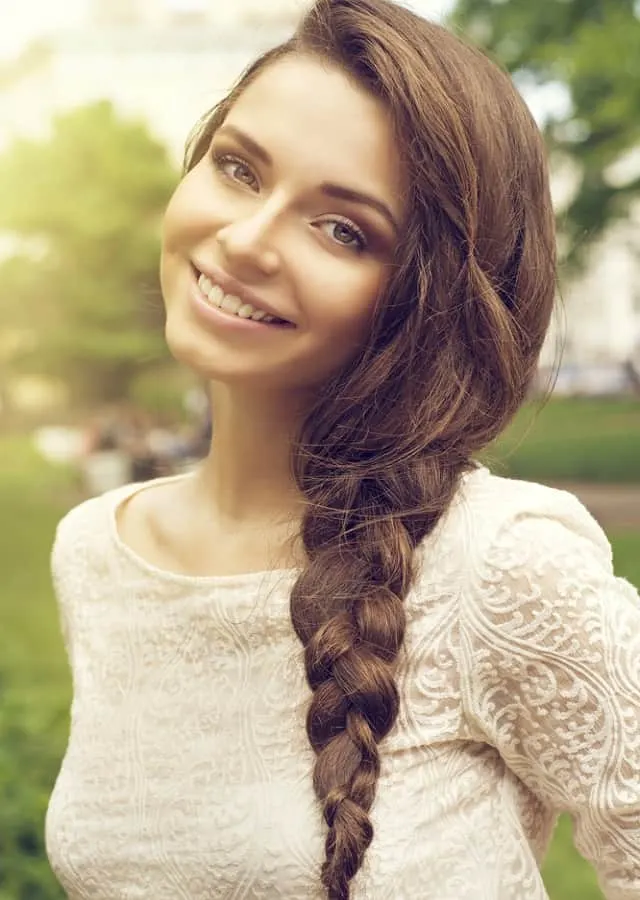 Braids soften any look, so why not try this braided hairstyle for square face? A thick and textured side braid is stunning, thanks to its face-framing effect.
4. Long Frizzy Curls
A curly hairstyle for women with square face works when it adds touchable softness to that sharp jawline. Long styles lengthen the face and appearance of the neck as well. Swoop your hair to the side or create a side part for the final sexy effect.
5. Ombre Hair With Layers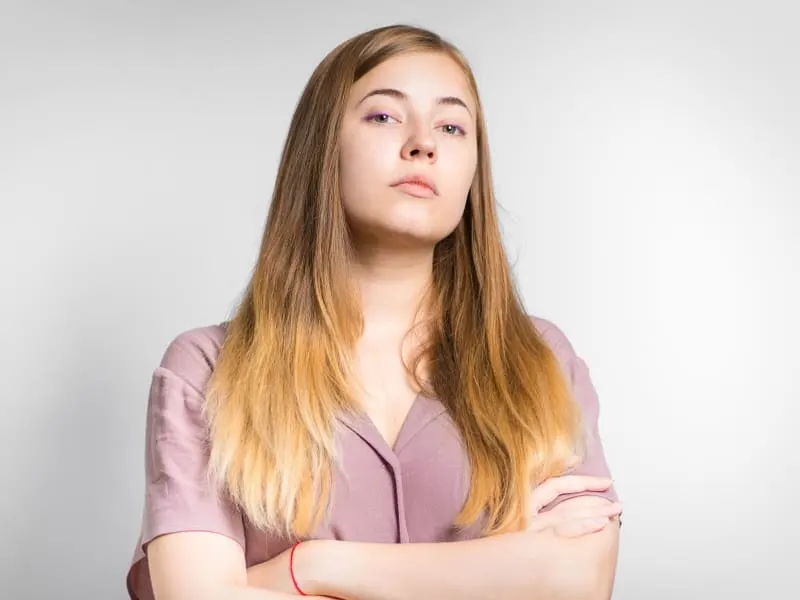 Layered haircut on a square face works best when concentrated to conceal the back corners of a harsh jawline. Ombre hair avoids highlighting a wider face by elongating your look and drawing the eye downwards, instead of horizontally.
6. Bob for Mature Women
Many women prefer shorter hair as they age. Bobs work to the advantage of women over 50 with square face shapes. Side parts and long bobs always soften and slim the face, especially when added to delicate layers.
7. Face-Framing Bob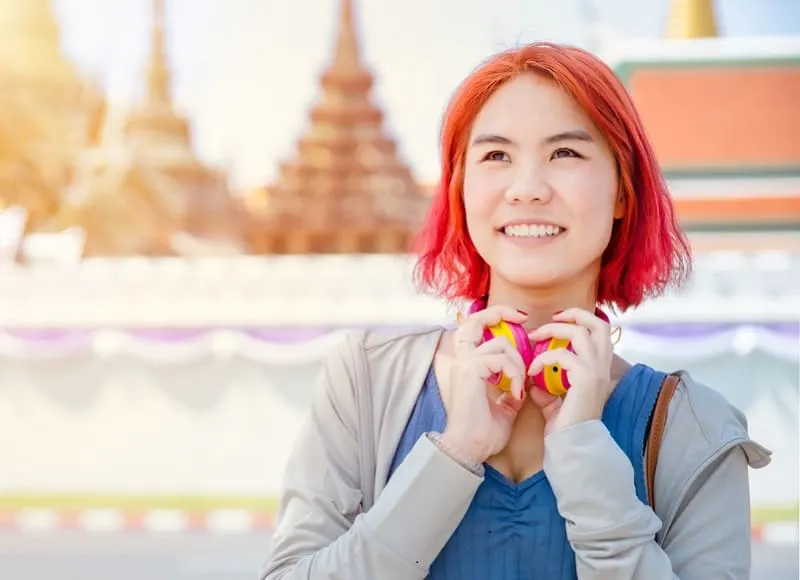 Try this lovely little bob, a perfect haircut for an Asian woman with square face. Cutting hair just below chin-length gives your face a full, round feeling that softens up your look.
8. Subtle Off-Center Ponytail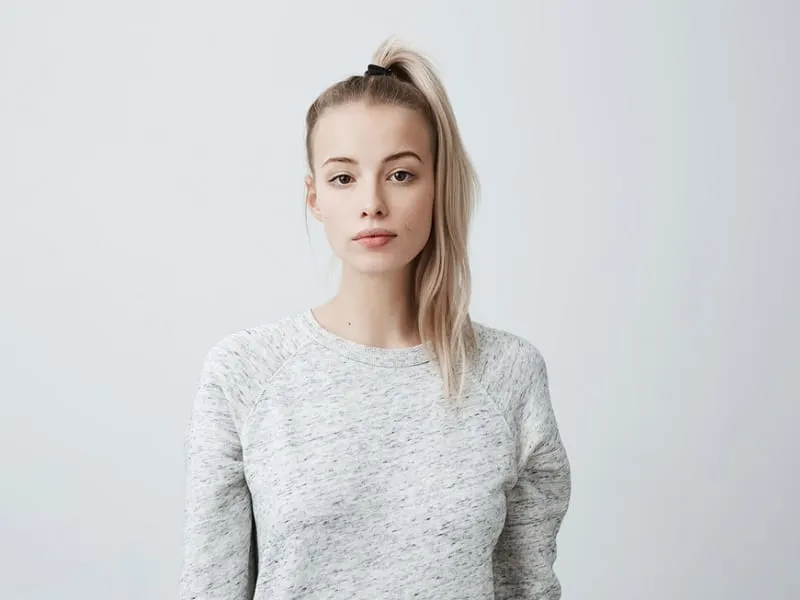 A ponytail for square face might seem complicated, but it doesn't have to be! Create a high ponytail tilted to one side and worn over the shoulder to smooth out your jawline.
9. Braided Side Up-do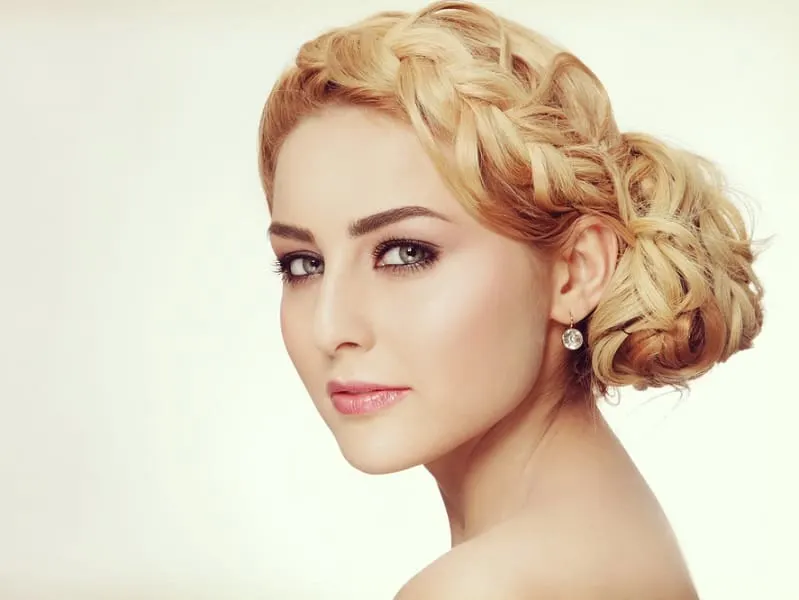 Looking for a long hairstyle for square face that works as an updo? This ornately braided style adds delicate beauty to strong jawlines. Throw off the balance of your face by gathering the majority of the up-do under one ear.
10. Long Feathered Pixie
Soften up your look with a short haircut for square face. Long, swooping layers and bangs texturize thin hair and add essential roundness to your overall look.
11. Long Box Braids
Mixed-race girls can flaunt their wide jawline with stylish box braids. They are a protective hairstyle that can be rocked in several ways. Incorporate light brown strands while plaiting the hair and go as long as you want. Complete the look with oversized spectacles and voila!
12. Short Fluff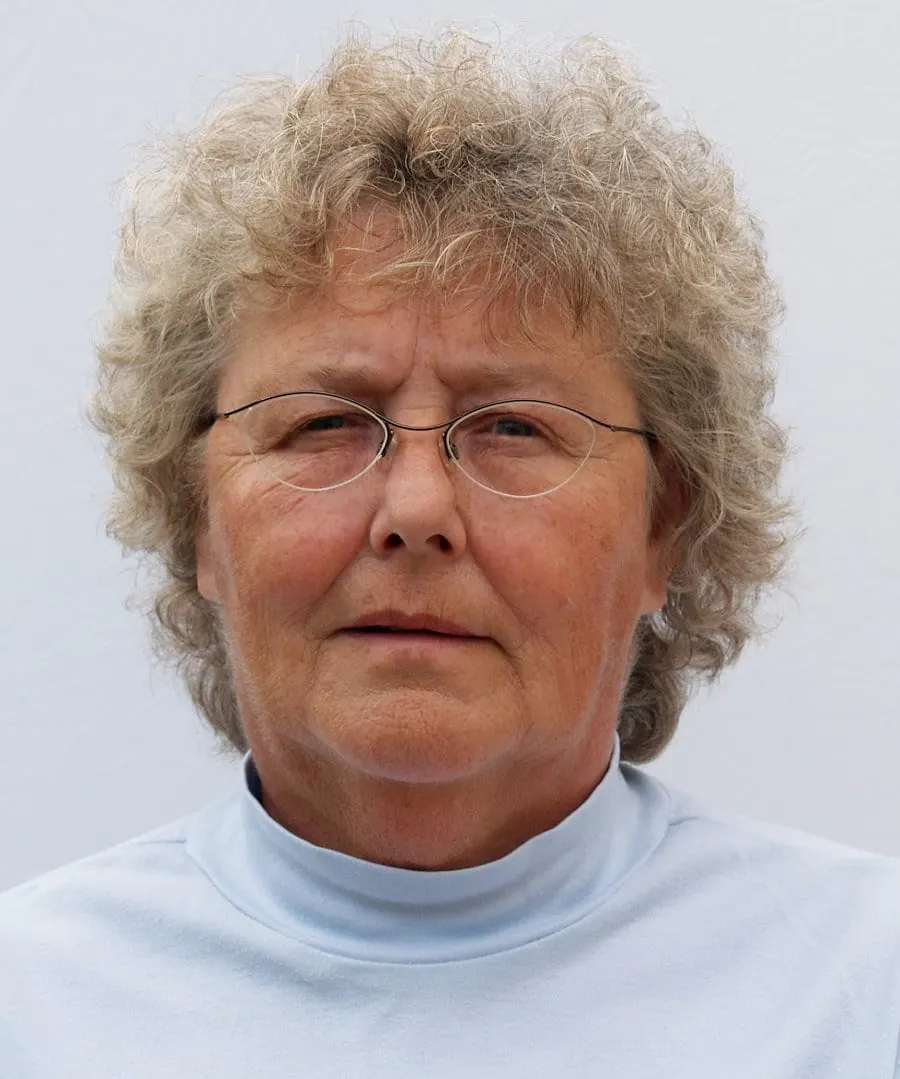 The shorter, the better! Ladies getting on in years can show off their grays by chopping their fluffy curls into short layers to fall around their faces softening their features. This look is easy to maintain as a hand-tousle is enough to style the strands.
13. Braided Faux Hawk
This braided faux hawk is the perfect hairstyle for square faces as it elongates them making them appear slimmer. Start plaiting top sections towards the back with a top knot bun at the end. Add waves to the remaining locks, sprinkle on some glitter and get ready to party!
14. Side Part + Bun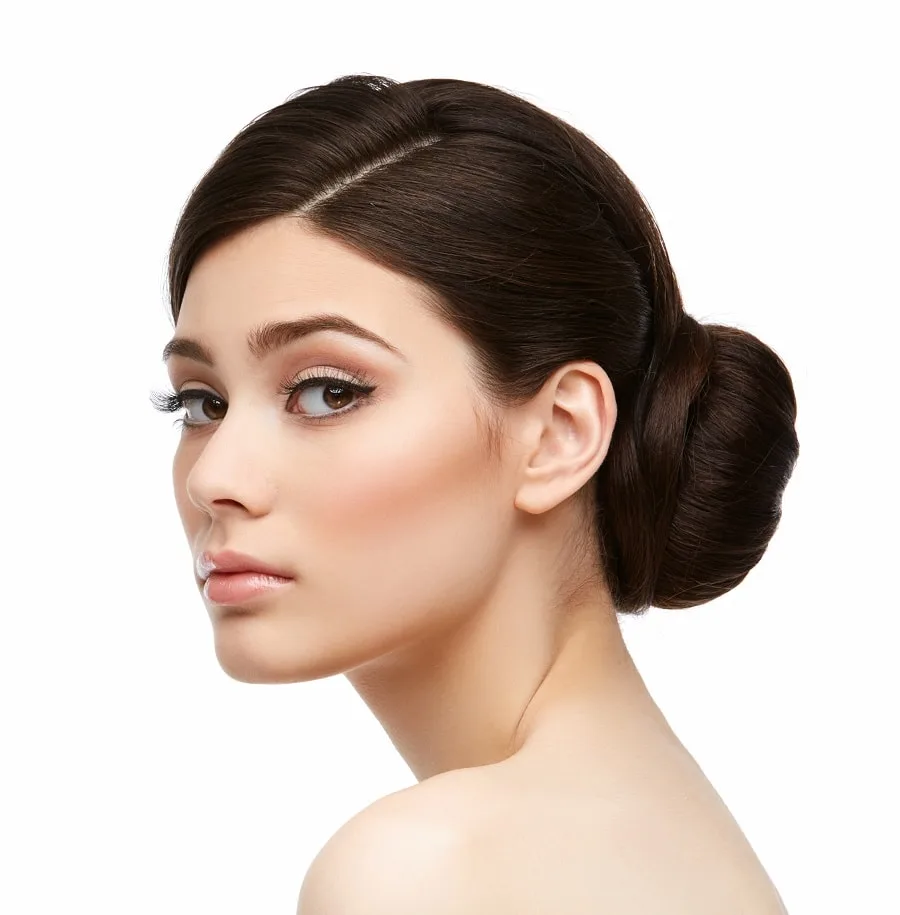 Looking for something more elegant? Consider this style for your next formal event. Opt for a deep side parting and create a perfectly round updo at the back using a hair donut bun maker. Pull some strands loose to frame the face or keep them neatly tucked away for a sleek finish.
15. Angular Fringe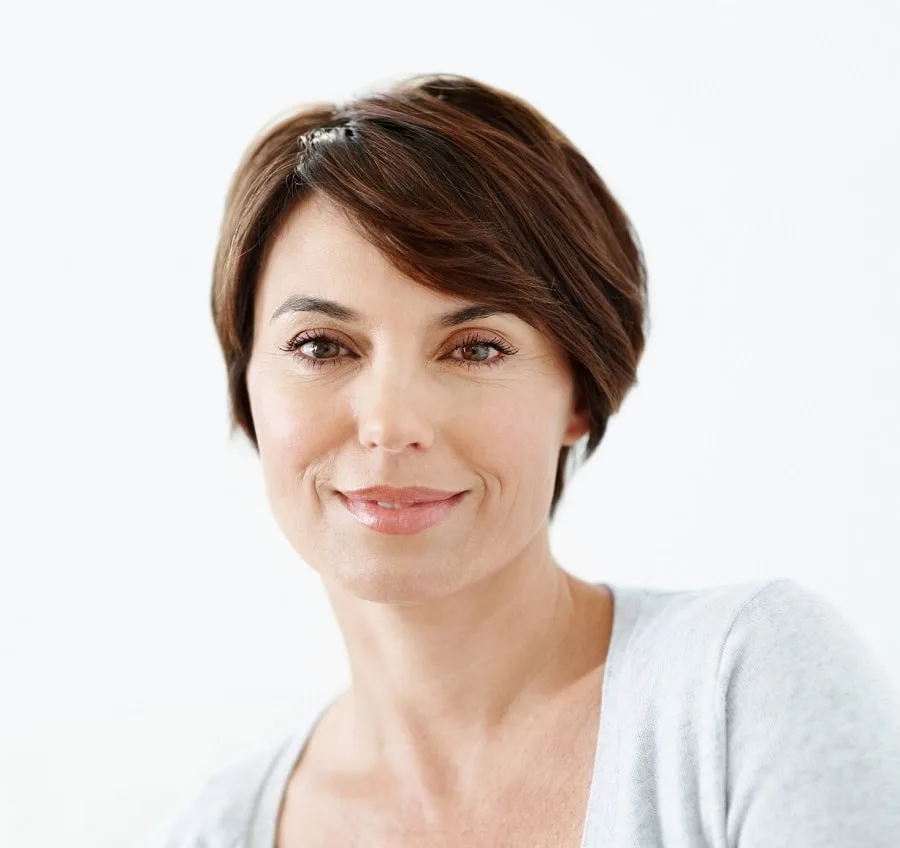 An angular fringe looks flattering when coupled with the sharp features of a square face. Ask the hairdresser for a pixie cut with layers while the long fringe reaches the chin at the front. Sweep the strands away from the face for a change resulting in a softer look.
16. Half-Up Look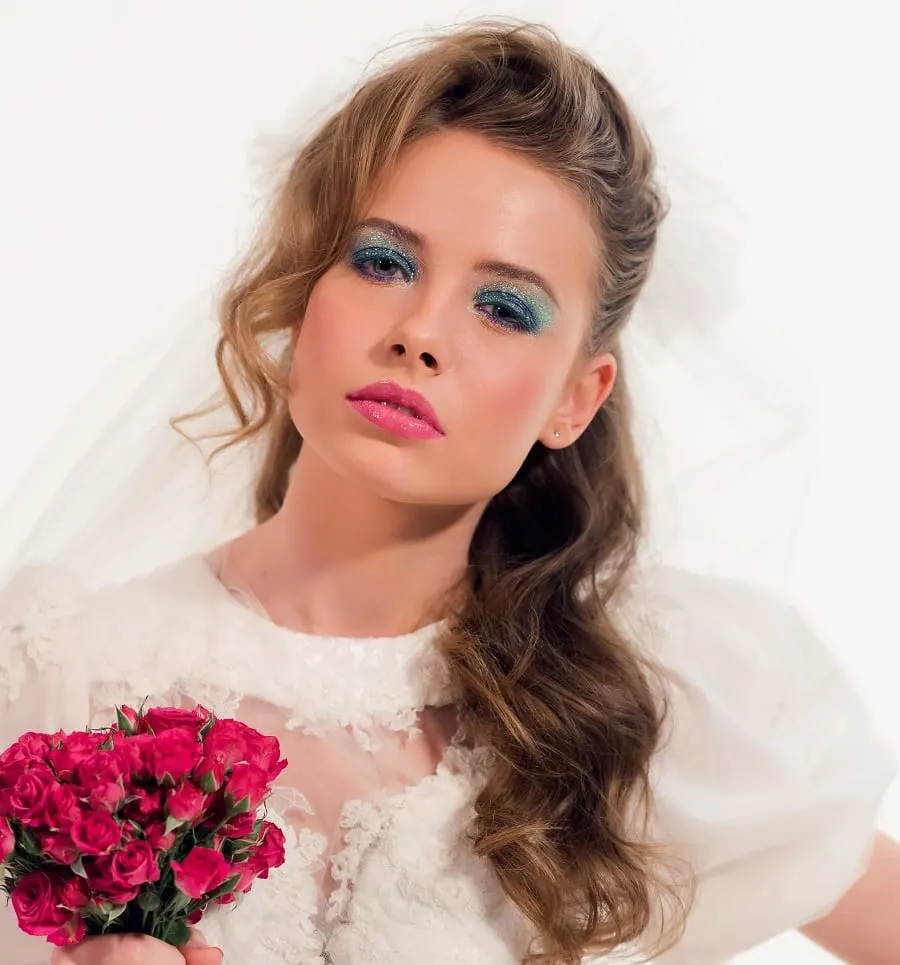 Brides-to-be can sport a classic half-up, half-down hairstyle on their special day. The key lies in a curly long fringe swooped on one side with some volume near the roots making a broad face appear much slimmer. Finish off with loose waves and a veil and off you go!
17. Braids and Curls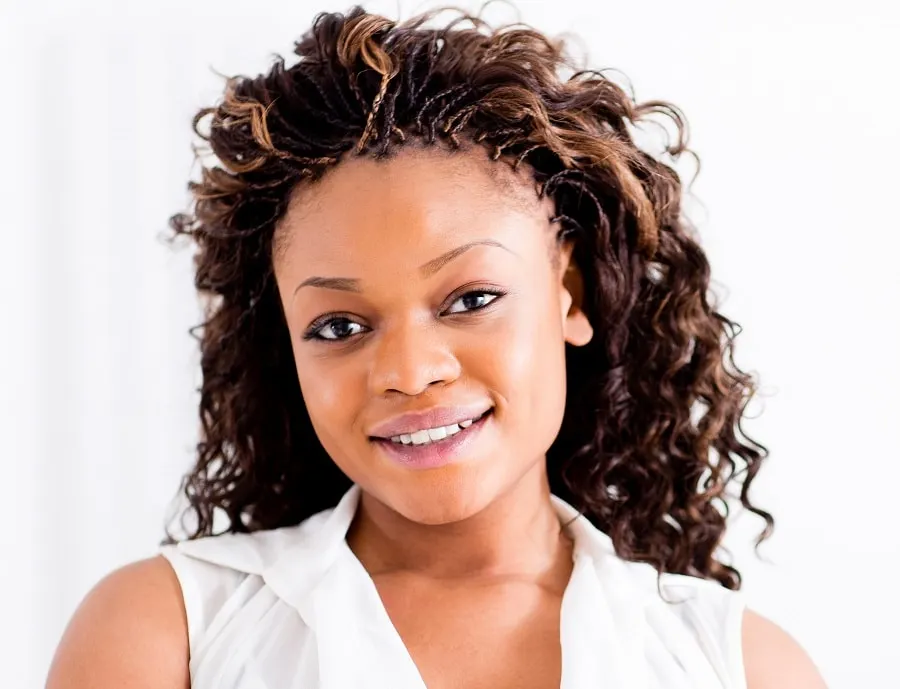 Those who want to show off their broad head and jawline rather than concealing it can go for delicate micro braids. Plait the strands a few inches while adding tight curls on the remaining length. Take a step ahead and add lighter chunks in between for a highlighted appeal.
18. French Girl Bob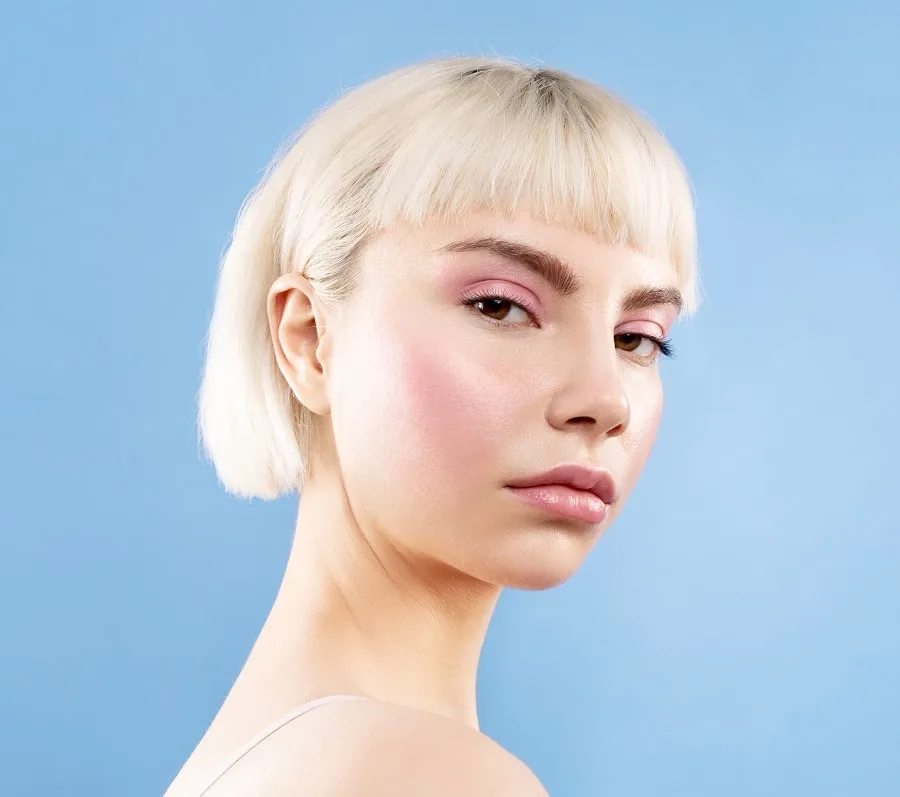 Look like a French Madame by rocking a short bob with micro bangs that are ideal to cover a wide forehead keeping all the attention towards the eyes. Cut the strands straight across the back at jaw length and dye the mane in an icy platinum blonde hue to turn around some heads.
19. Senegalese Twists
Inspired by African tribes Senegalese twists are ideal to protect the hair from any damage. Achieve a desirable length by adding extensions keeping all the attention on the long mane. Leave the strands loose or style them in a jumbo bun and decorate with shiny hair cuffs.
20. Chic Lob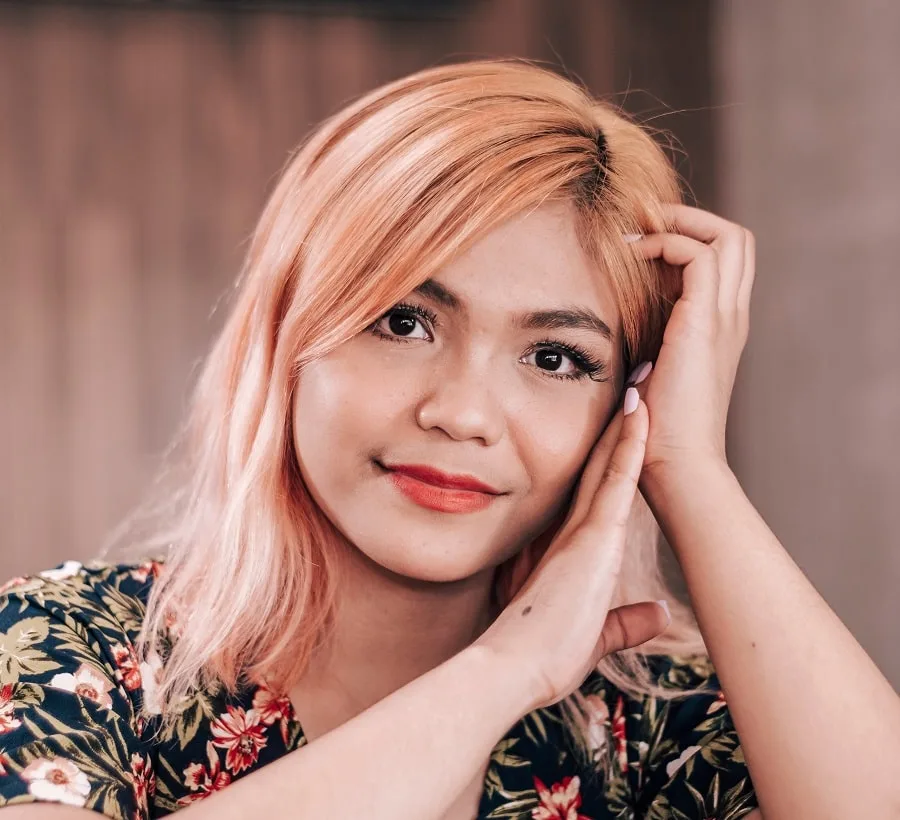 Consider this chic lob as the next hairstyle for your square face. The soft layers and side-swept fringe cover sharp angles and edges of the face making it appear rounder. Set the look on fire by dying the shoulder-length tresses in a pastel orange tinge with dark roots. Eye-catching!
21. Front Puff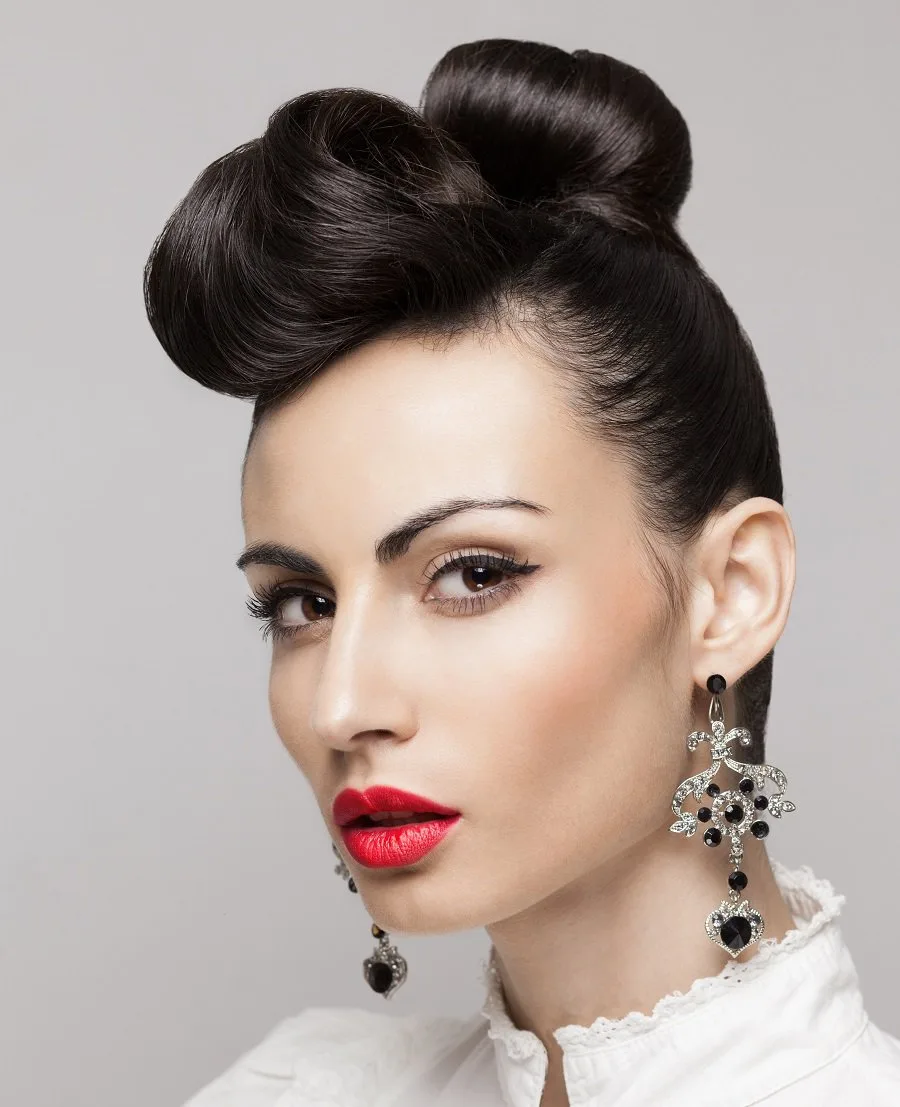 A high puff at the front is suitable to elongate a broad face. Swirl around the tresses in a top knot bun sparing the strands at the front to be rolled inward towards the updo and secure in place with pins. Finish off with chic earrings and red lips.
22. Space Buns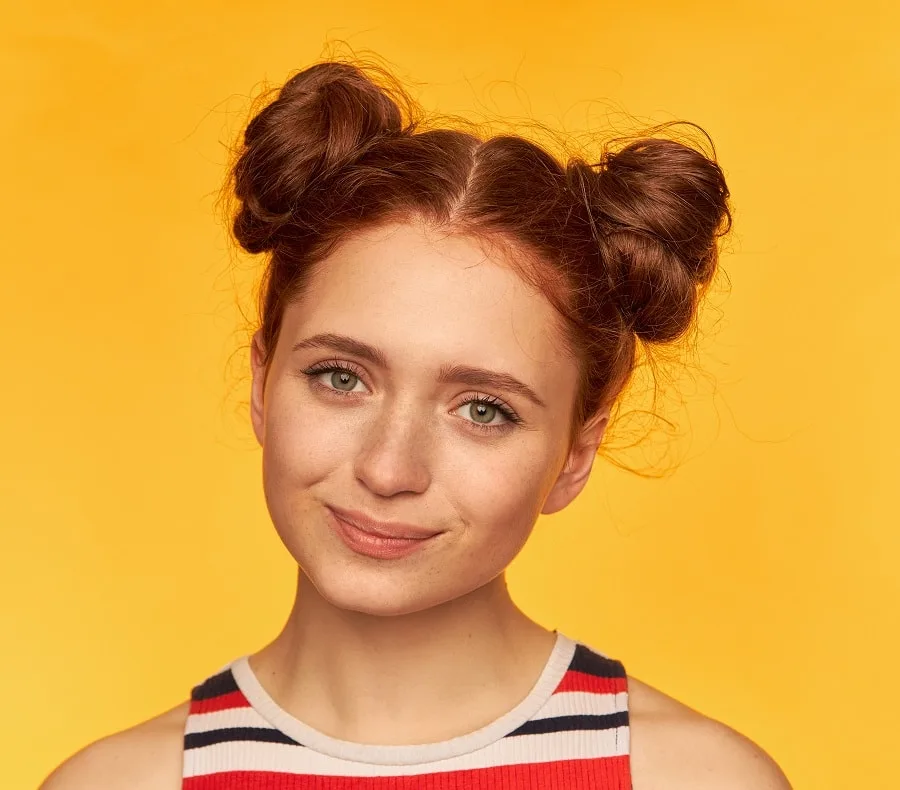 Funky and playful, space buns are a versatile hairstyle that goes with all face shapes and hair textures. Style the hair into two high ponytails with a simple or zigzag middle parting and wrap them around into buns. Don't worry about the flyaways as they create a cute carefree appeal.
23. Elegant Updo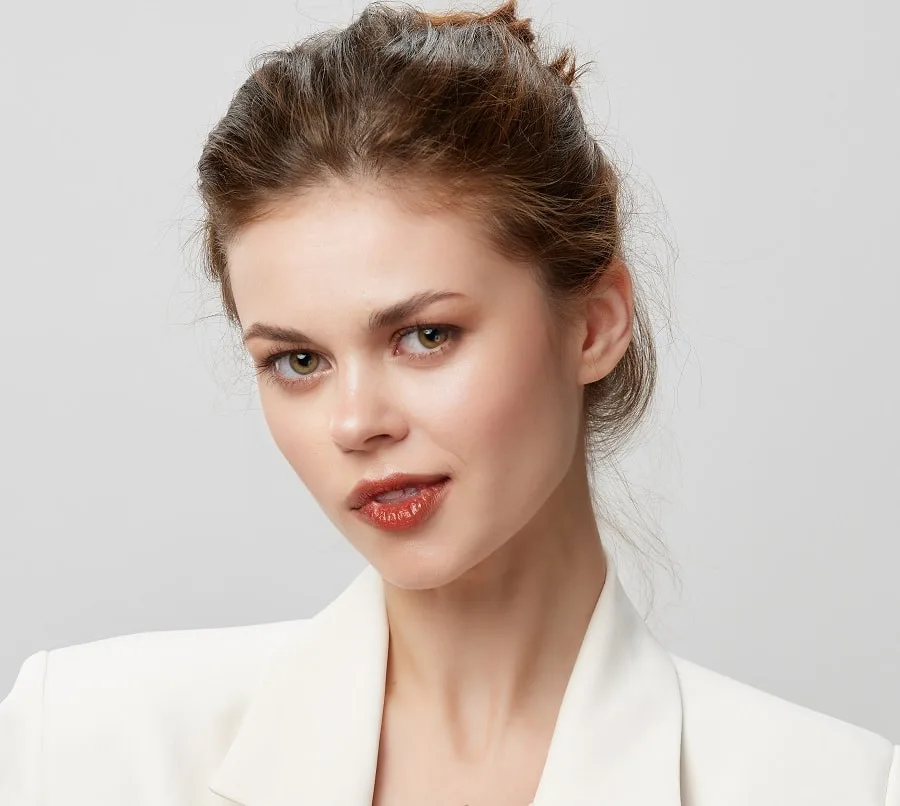 Styling short locks in an updo can be a bit tricky but the result is an elegant everyday office look that is sure to attract some attention. Pull the strands back in a simple bun diverting all the attention towards the face and finish off with a spritz of hairspray.
24. Sexy Top Knot
Make jaws drop wherever you go with this ultra-modern hairstyle ideal for square face shapes. Assemble the strands in a tight bun sitting on the top of the head and swoop away the baby hairs for a sleek finish. Couple the look with bright eyes and dark lips and get ready to rock.
25. Deadly Dreads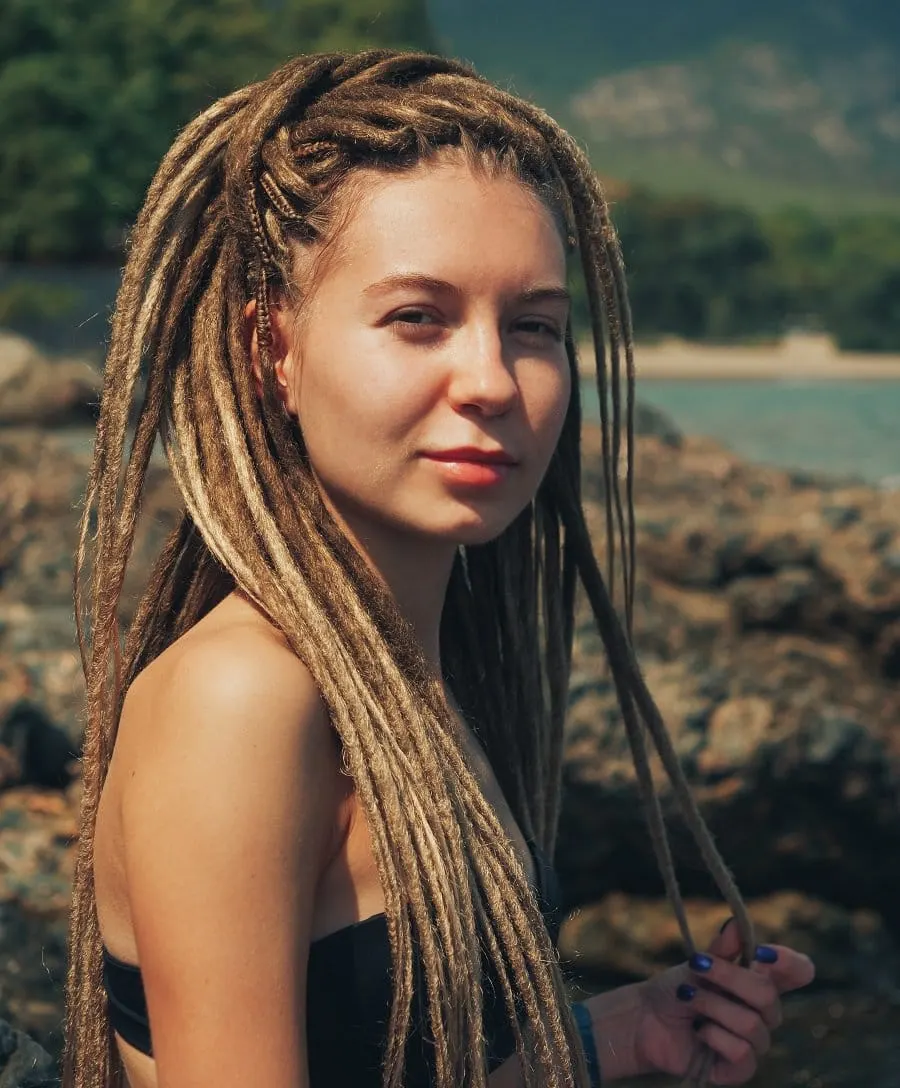 Bold ones can express their wild side with long dreadlocks. Tease and twist the strands creating locs with some braids in between and add streaks of blonde to shine through the darker chunks. Finish off with a half-up hairstyle and done!
26. Natural Beauty
Black ladies blessed with natural kinky afro curls can create a lively appeal by chopping their hair at equal length all over the head resulting in a messy fluff that accentuates the face while softening its sharp features. Spice up the look further with silvery gray highlights.
27. Vintage Victory Rolls
Flaunt your sharp jawline with these vintage victory rolls. Wrap the strands at the front around your fingers rolling them inward towards the parting and fix in place. Add curls to the remaining locks or style them in a rolled bun at the back. Your call!
28. Deva Cut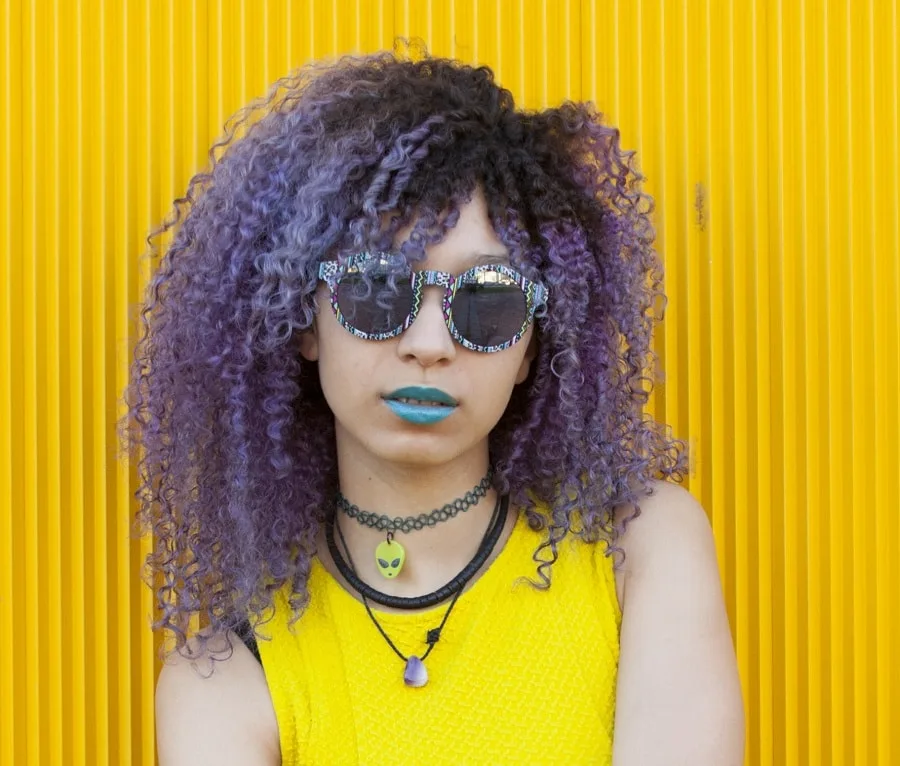 Breathe some life into those boring natural curls with a deva haircut. Each coil is styled individually to fall flawlessly around the face with side-swept bangs reaching the eyes. Add a pop of color by dying the strands purple keeping the roots dark for a two-toned appeal.
29. Half-Up High Ponytail
Make a square face appear longer with this chic look. Gather the locks in a half-up high ponytail with two long strands framing the face at the front. Set off the style with bouncy curls and you won't regret it!
30. Side-Swept Updo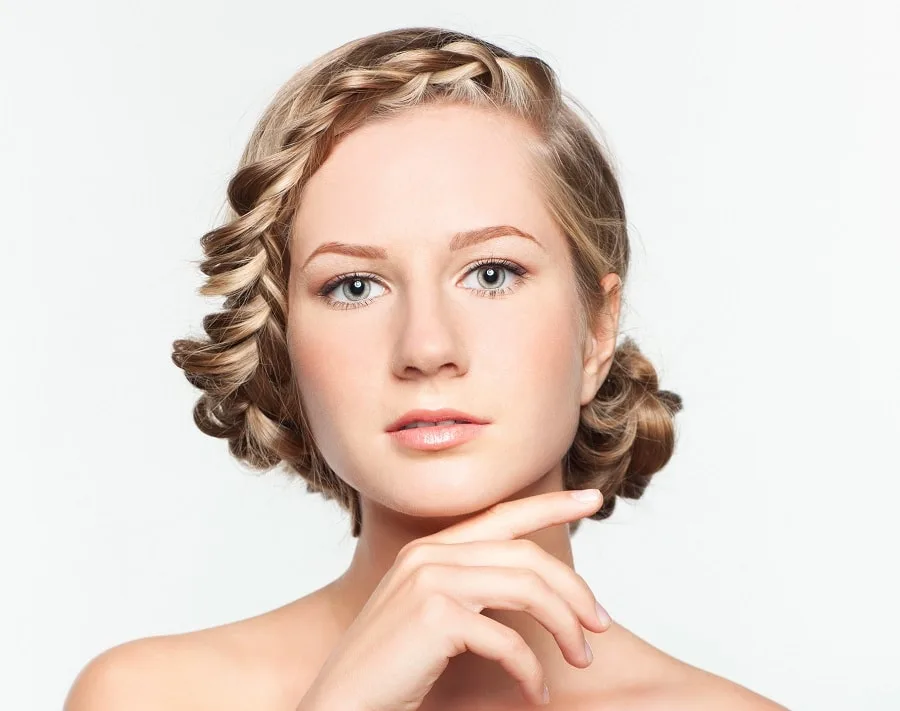 Another asymmetrical hairstyle to bring your square face under the spotlight. Choose a deep side parting and start plaiting towards the face creating a French lace braid moving around from one side to the other. Wrap the knit in a flower bun behind one ear and add some fancy hair gems.
31. Majestic Lace Braids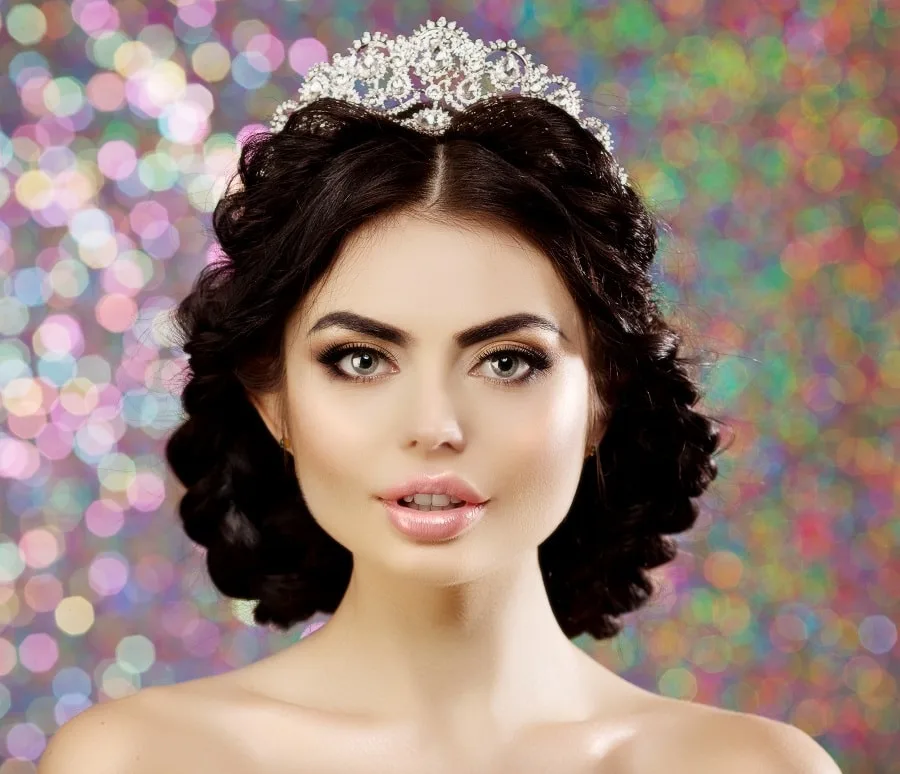 Look like a queen at your prom party with this dreamy hairstyle. Show off your broad jawline with lace braids on both sides of the middle part that are pinned near the base of the head creating a false bob. Don't forget to add the crown!
32. Wispy Bangs + Layers
Talking about square face shapes, set step into the world of bangs with a light wispy fringe to soften your look. It is characterized by feathery ends grazing the brows concealing most of the forehead. Cut layers into the remaining mane and add curls.
33. Front-Row Braids
Proud of your angular face cut? Make it prominent with chunky front-row braids and an updo at the back. Depending on the event put on a fancy floral headband, soft makeup, and some delicate earrings to steal the show. Simply wow!
34. Pineapple Puff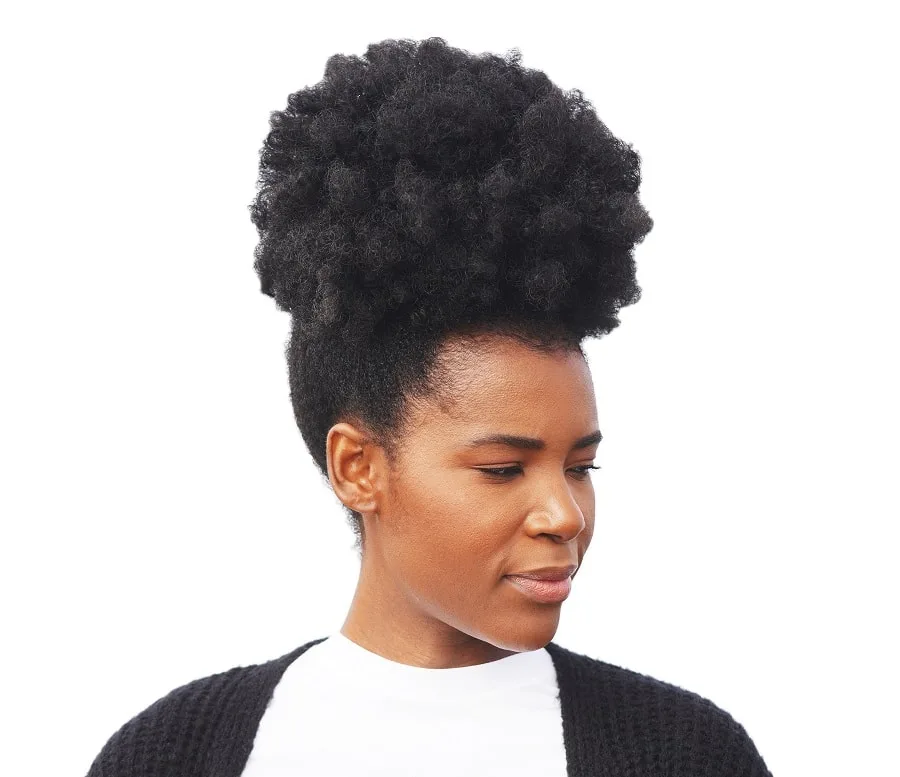 The pineapple puff is without a doubt another befitting hairstyle for square faces. Keep the strands away from the face using the drawstring method or get an extension instead and swoop down the edges. Simple, easy, and chic what more to ask for?
35. Retro Vibes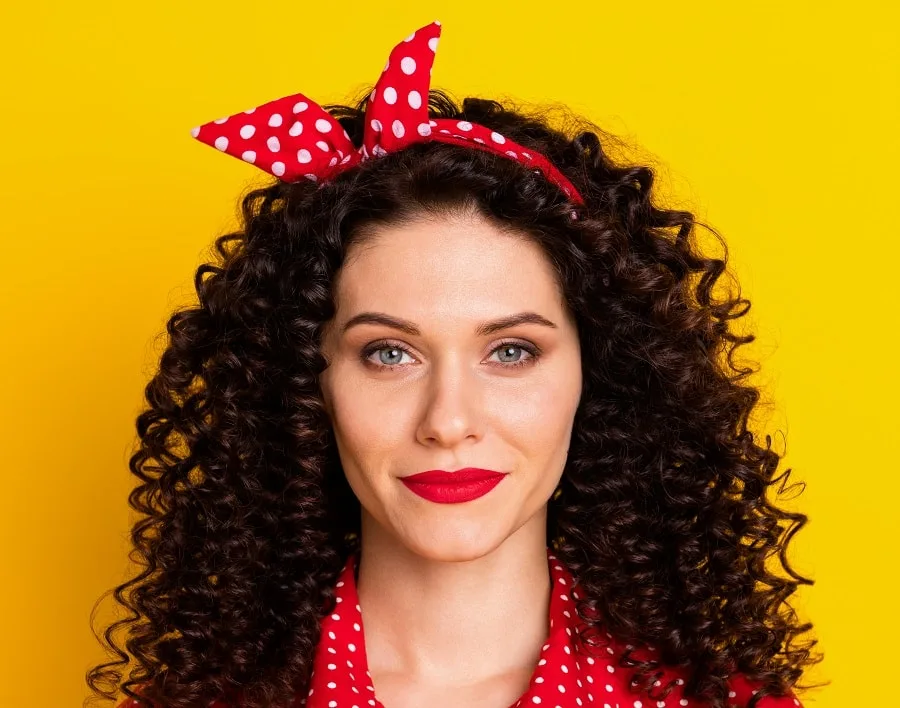 Women with long straight tresses can sport tight curls for a change by using a small curling wand. Give off retro vibes by rocking a polka dot print bow headband matching the outfit and bright red lips while preventing the strands from covering those angular cheek and jaw bones.
36. Sleek Medium Hair With Bangs
A straight medium haircut for square face works best with straight-across bangs. This look causes your face to appear smaller and the long length helps to frame your chin.
37. Cute Topknot
Up-dos can be tough for a fine hairstyle, but a topknot is a trendy way to do the trick. This look will open up your eyes while the high bun will elongate your forehead, chin, and cheekbones.
38. Luscious, Wavy Locks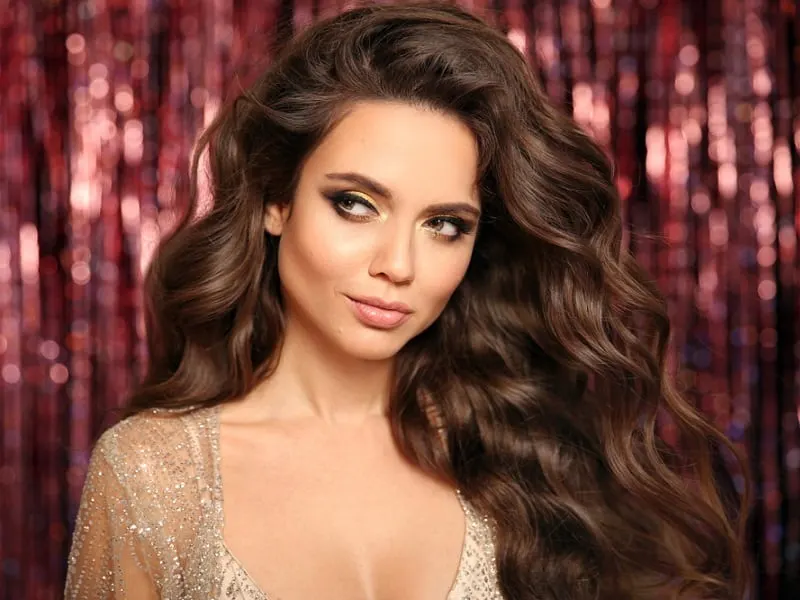 No thick hairstyle for square face is quite as good as big, bombshell waves. Draw your hair into a side part so your hair can act like a curtain to conceal severe lines yet artfully illuminate the apples of your cheeks.
39. Side Pixie With Artful Undercut
A square face with undercut is a great idea for the edgy babe! Artful details draw attention to the area over your ear and next to your eyes to length your overall appearance.
40. Medium Hair With Deep Side Part
These youthful face types are lucky, yet creating slim lines never hurts. A side part and shoulder-length locks shrink and define.
41. Long Beach Waves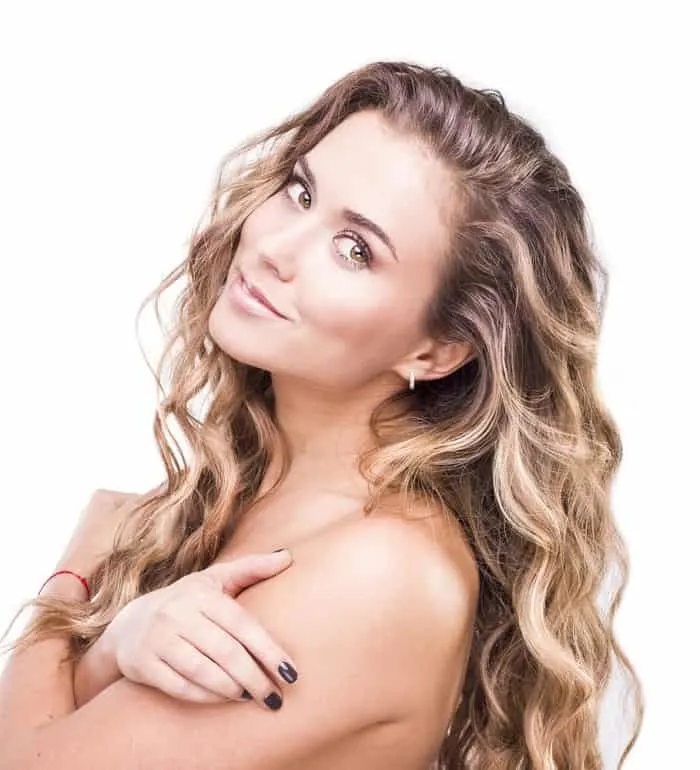 Show off your laidback style and try this wavy hair on your square face. Loose waves soften up your angular face. Add a swooping side part and your sexy style is ready to go!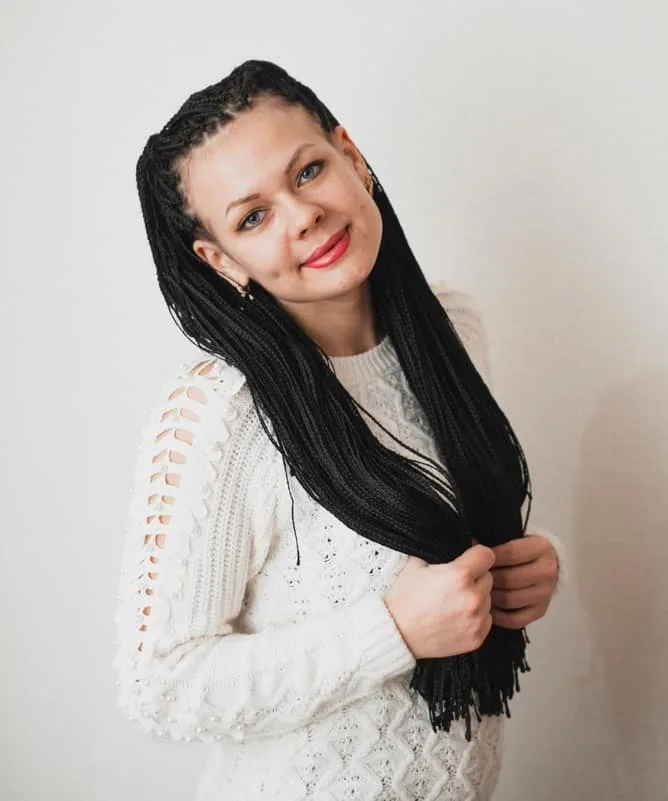 Add height at each side of your head with an extra layering of braids. This look has small braids, but larger braids can work as well.
43. Elegant Wedding Chignon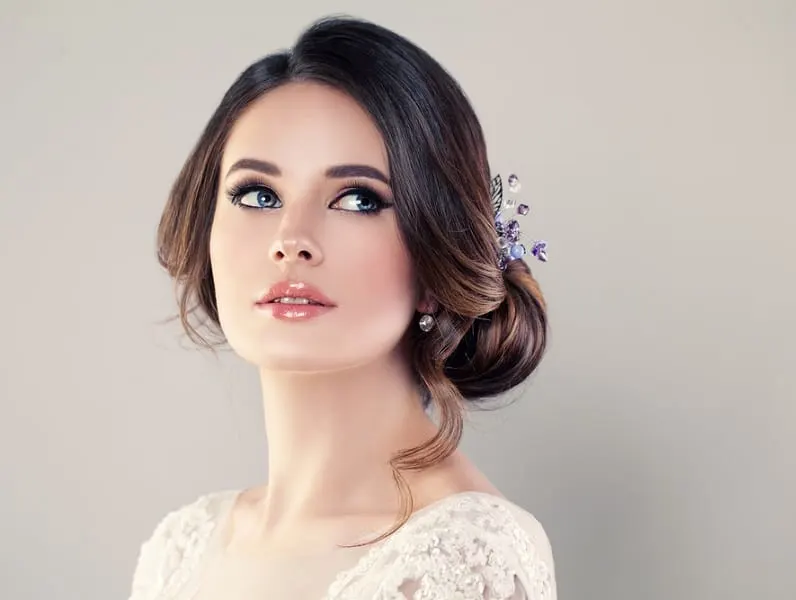 Make your jawline more subtle with this low bun wedding hairstyle. Creating imbalance is key, so leave some hair down and curly while tilting the chignon to one side.
44. Big Bun With Braid
Offset a strong jaw with a large bun look. It makes the perfect prom hairstyle for women with square faces but works for any other formal event. Wrap a section of braid around the hairband for a touch of style.
45. Long Hair With Side Part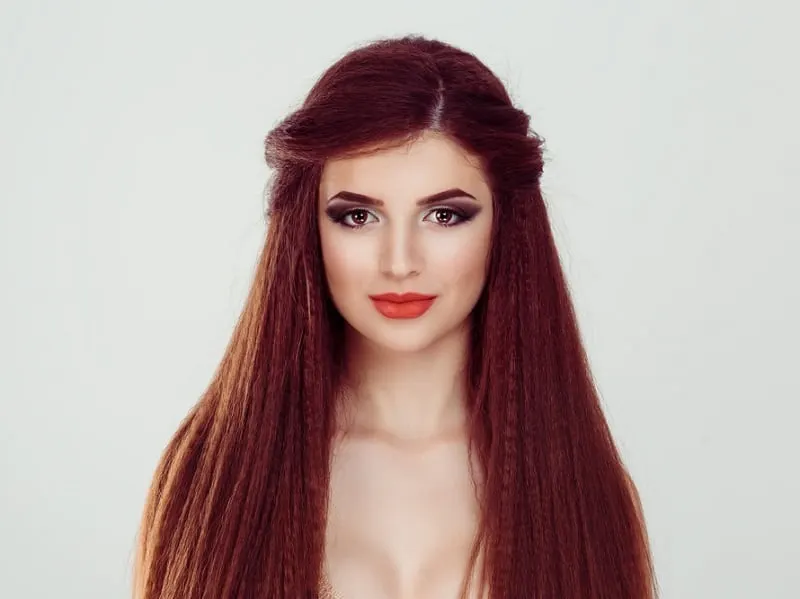 Curly hair can distract from a harsh, square jaw. For straight hair and square face, a side part can help immensely. It happens to be our favorite softening effect! Pull hair into a half-up style to help open up your eyes.
46. Messy Low Bun With Layers
Cut short layers to length your chin and smooth out rough corners. This works especially well if you leave those face-framing layers down when you tie your hair into a low bun so they can work their magic!
47. Double Fishtail Braids
Double fishtail braids take the braided effect on square faces to the next level! A side part is best for this face shape. Try leaving some of your hair loose and curly at the end of the braids to soften your look.
48. Medium Natural Hair
Round natural hair, like small Afros, are perfect for softening up a square jaw. Plus, they open up and reveal your face so beautifully!
49. Long Fringe Pixie
Create roundness with long, eyebrow-skimming bangs on a pixie cut. If you're unafraid of a chop, a short crop with bangs will elongate and frame the face for an ultra-feminine appeal.
50. Up-do With Forehead Braid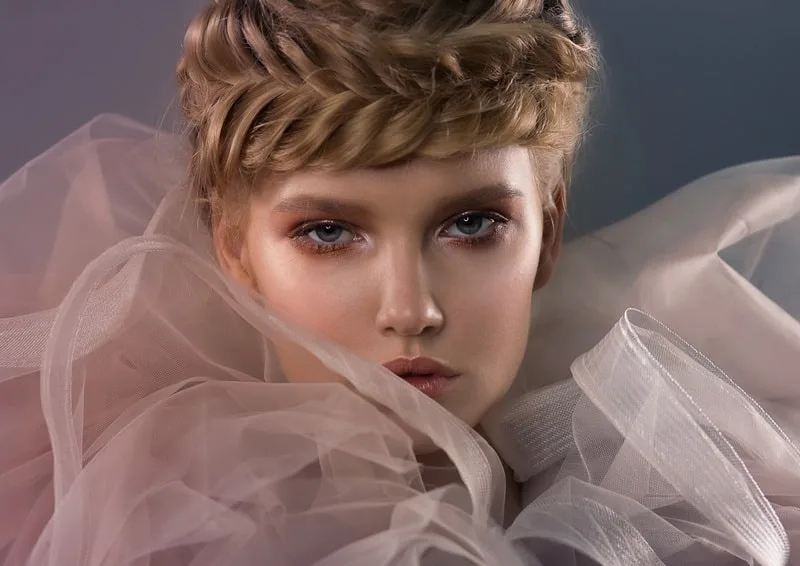 Wrapping a braid over your forehead can make your face appear smaller and draw attention to your eyes. This updo look is a strong, specific look, but for that special occasion, it's a winner for square face shapes.
51. Vintage Bob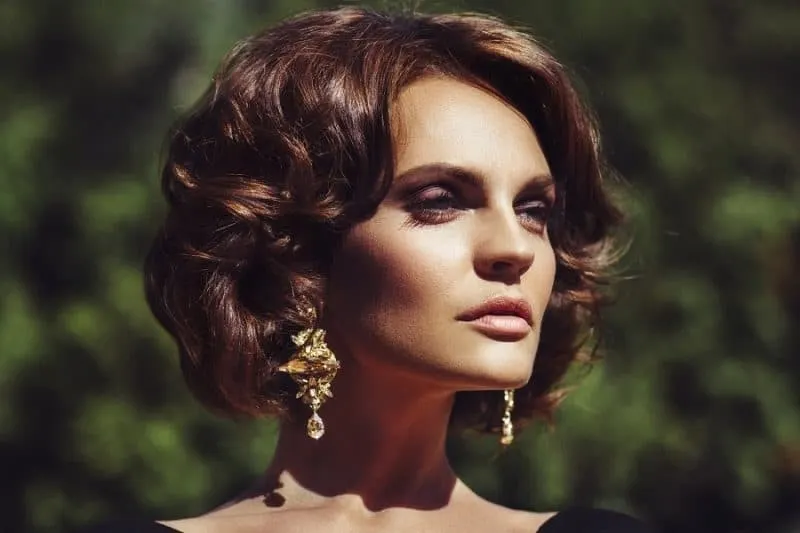 To get a vintage look, go for this soft bob cut just a few inches below the jawline. Pair this cut with short thick curls to soften up the features. By pairing this style with long earrings and a black dress, you can get an elegant look and wear this look to any special occasion.
52. Wavy Bob With Bangs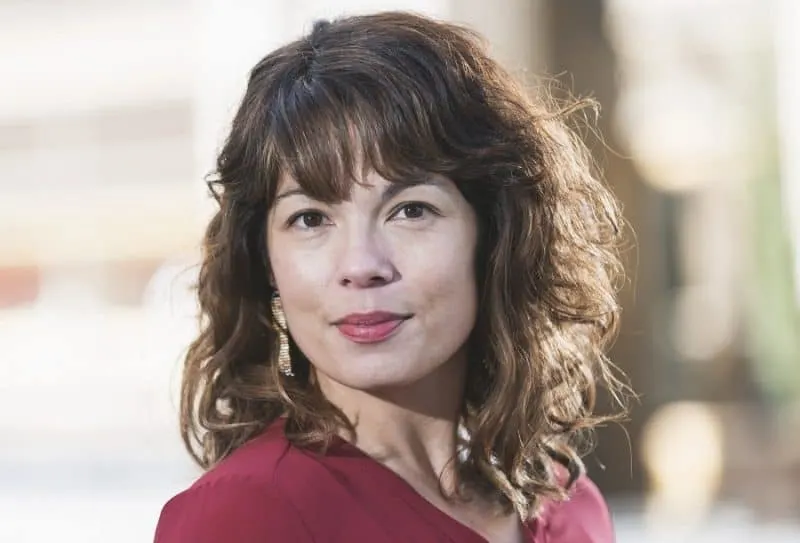 A layered shag with bangs is also a lovely hairdo. This style opens up the corners of your jaw with bangs elevating the look. It highlights your jawline's sharpness and leaves soft hair around the face. This style is most likely to suit women in their late 30s.
53. Light Auburn Wavy Hair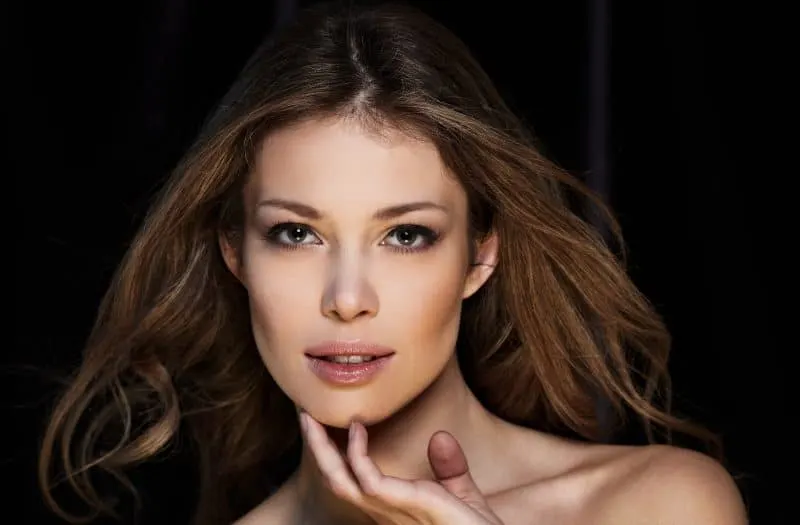 Adding some volume to your hair with the help of a blow dryer is highly recommended to get a stylish look. Creating a wavy look with the volume on the sides lengthens the face and balances square faces.
54. White Blonde Bob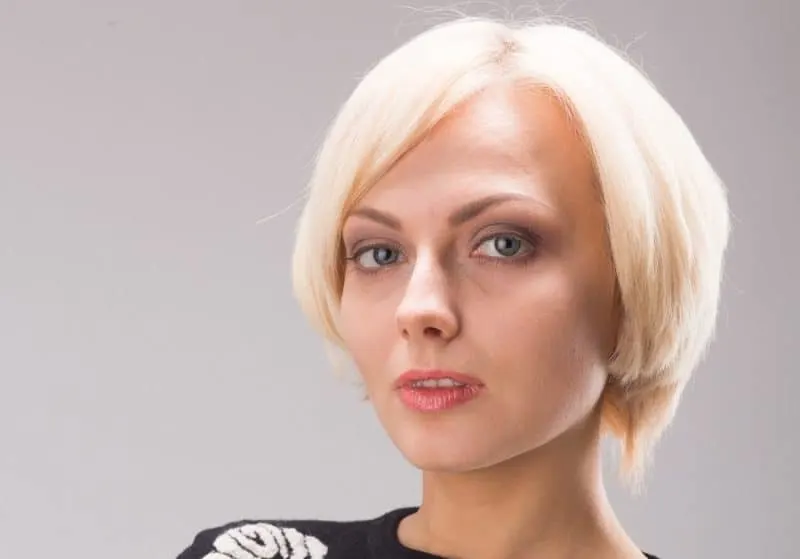 Another great short hairstyle for square faces is the sharp bob short from the front and a few inches long from the back. This bob looks great when paired with a white-blonde hue.
But, this shade is most suitable for light skin tones. A great tool for styling this cut is a heated brush which is a fast way to get sleek hair.
55. Short Messy Curls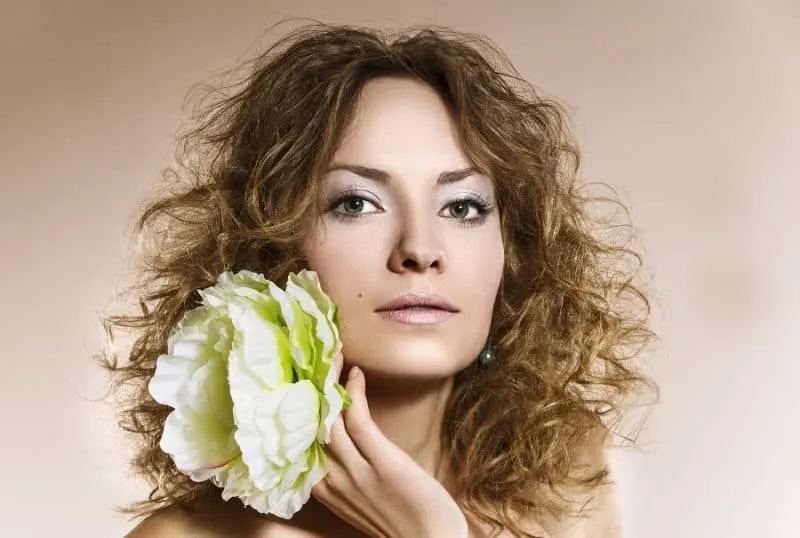 A curtain bang with messy curls is an incredibly flattering hairstyle. The messy curls are a great way to get a stylish and fancy look. Here, the bangs are on the sides and blend softly with the rest of the hair.
Frequently Asked Questions
Where should I part my hair for square faces?
Square faces feature a beautiful, strong jawline that can work well with many hairstyles. If you want to soften your bone structure, try a side part. Side parts distract from any asymmetry and can make your face look rounder and more balanced.

Avoid wearing an extremely deep side part, as this can make the angles of your face look more sharp and severe.
Which haircuts to avoid for square face shapes?
Since square face shapes have strong jawlines, the haircut you choose depends on whether you want to emphasize or soften your bone structure. To emphasize your strong chin, try a blunt, chin-length haircut.

If you would rather soften or round your bone structure, avoid blunt haircuts and aim for a style that falls past your chin and has lots of light, texturizing layers.
What hair length suits the square face most?
Many hair lengths look nice with a square face. Long, layered bobs that extend past your chin are a great option for a shorter hair length. If you prefer a longer hair length, consider getting face-framing pieces that emphasize your eyes and cheekbones, as this will bring balance to your face.
Can I wear a pixie cut if I have a square face?
You can wear a pixie cut if you have a square face. A good pixie cut for a square face will be light, layered, and wispy. Ask your stylist to keep your pixie cut soft and textured, with front pieces that emphasize your cheekbones.
Do bangs look good on square faces?
Bangs look good on square faces as long as they aren't too blunt. Square faces have dominant chins, so bangs look best when they softly graze the eyes and cheekbones, creating light texture and facial balance.
Can a square face wear a wolf cut?
A square face can look beautiful with a wolf cut. Wolf cuts look good on this face shape when the bangs are nicely blended into the rest of the haircut, avoiding the severity of a more traditional mullet.
Square face shapes may require certain hairstyles to look best, but so does every other face shape. Incorporate braids, side parts, and soft, face-framing layers to smooth out that jawline and help you put your best foot forward.