Wash and wear haircuts are popular in this fast-paced world for a reason, they are easy to maintain. And if you're over 70, nothing is better for you than low-maintenance wash and wear haircuts, as you won't need to spend much time on styling!
We all love how our freshly-styled hair looks as we step out of the salon. Everything looks amazing until the first wash, and then creating the same look takes a lot of time and styling effort.
As women age, they tend to prefer hairstyles that are easier to manage and maintain, but this does not need to mean that they cannot flaunt the latest trends.
We are here to solve this problem for you with our recommendations for easy style, wash-and-wear haircuts for women over 70.
Low-Maintenance Wash and Wear Haircuts for Ladies Over 70
In this post, you will find the top wash-and-wear haircuts for women over 70. All these hairstyles are low-maintenance and will have you looking your best every single day.
1. Face-framing Bob with Bangs
For women over 70, bangs are your best friend as they are easy to maintain and you have the option to choose from different types of styles.
Here is one inspiration – a simple and cute face-framing bob with bangs. A few brushstrokes are all you need to set your hair every morning.
2. Voluminous Lob with Wispy Bangs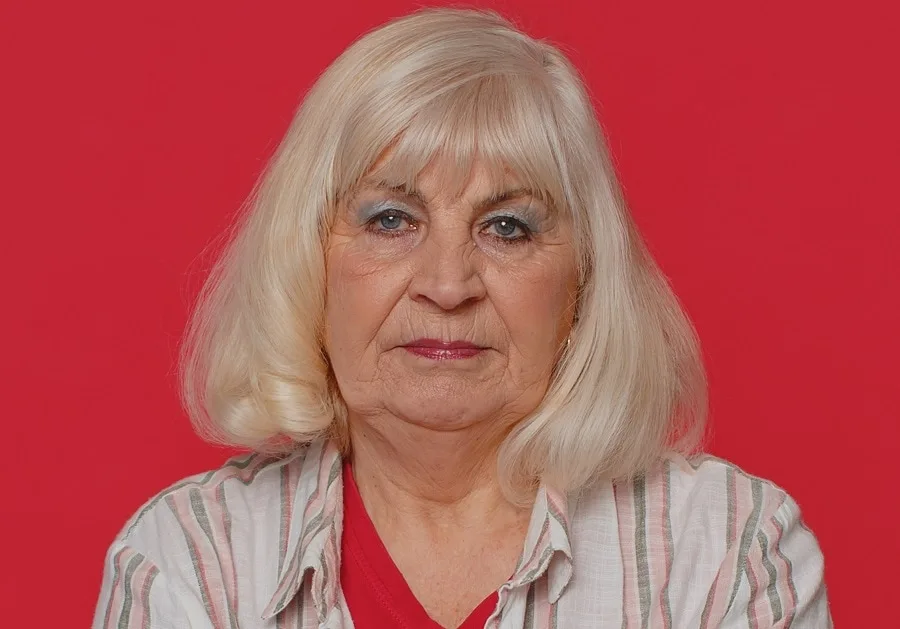 Blessed with voluminous bangs hair even in your 70s? Then, you must try this lob hairstyle with wispy bangs. Add more volume by using a round brush to style the ends of the hair.
Finish off the look by opting for some wispy bangs that fall softly on your forehead.
3. Simple and Classic Blunt Cut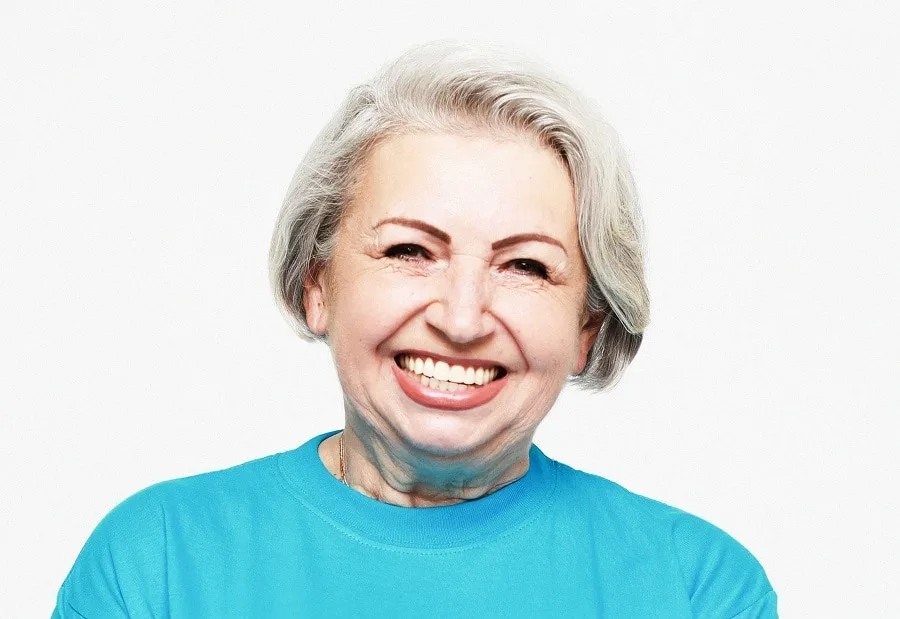 Blunt cuts are one of our favorite wash-and-wear haircuts for women over 70. Apart from combing your hair, there is nothing much that you need to do to flaunt this simple and classic hairstyle.
We recommend a side partition to maintain the overall style.
4. Soft Waves and Curtain Bangs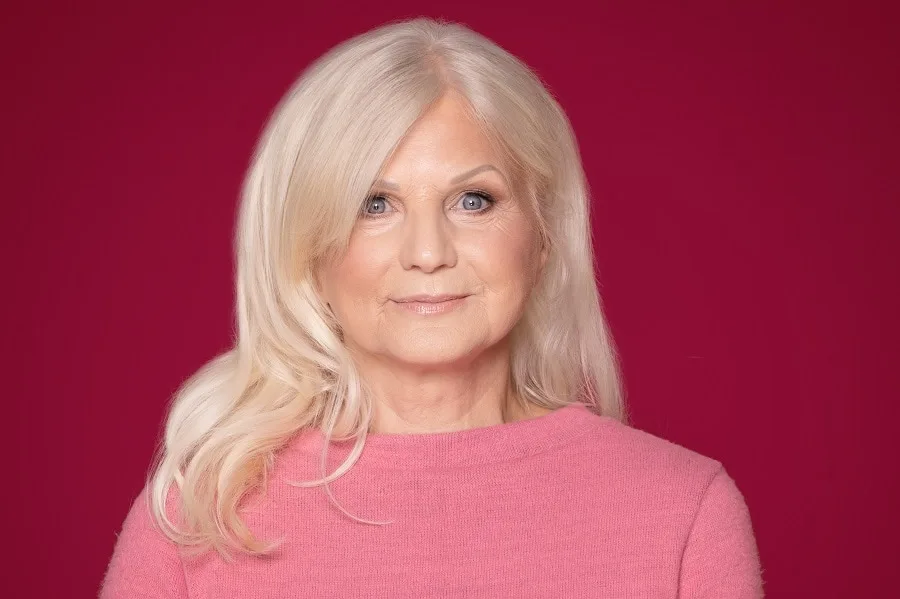 Soft, long wavy hair with curtain bangs is a classic combination and one of the best wash-and-go hairstyles. To look your salon best, just comb your hair and let it gently fall over your shoulders or on your back.
5. Low-Maintenance Pixie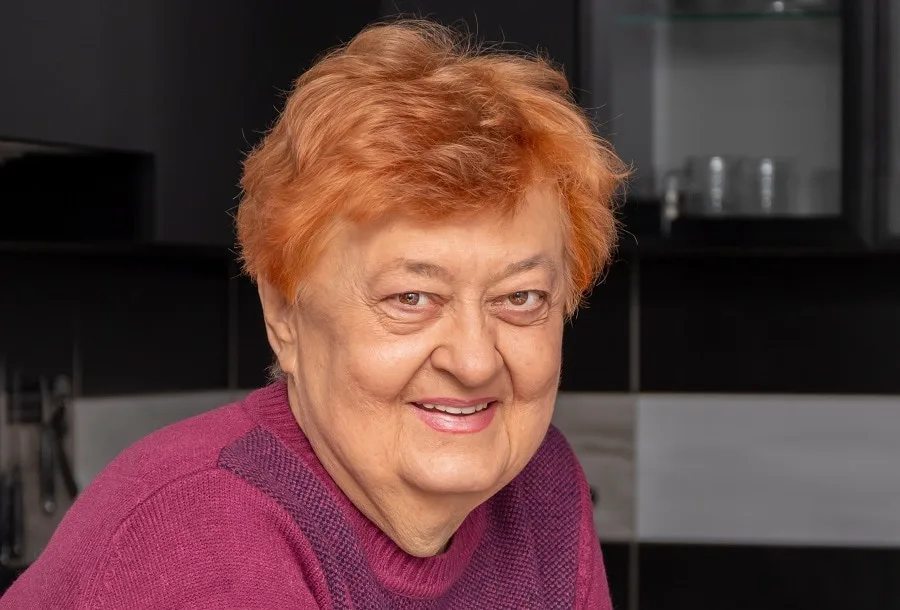 A pixie has become the go-to haircut for many women over 70. This is a low-maintenance haircut that is a great example of a wash-and-wear cut.
You can either let your natural hair color shine or even opt for different hair color for a change.
6. Sophisticated Inverted Bob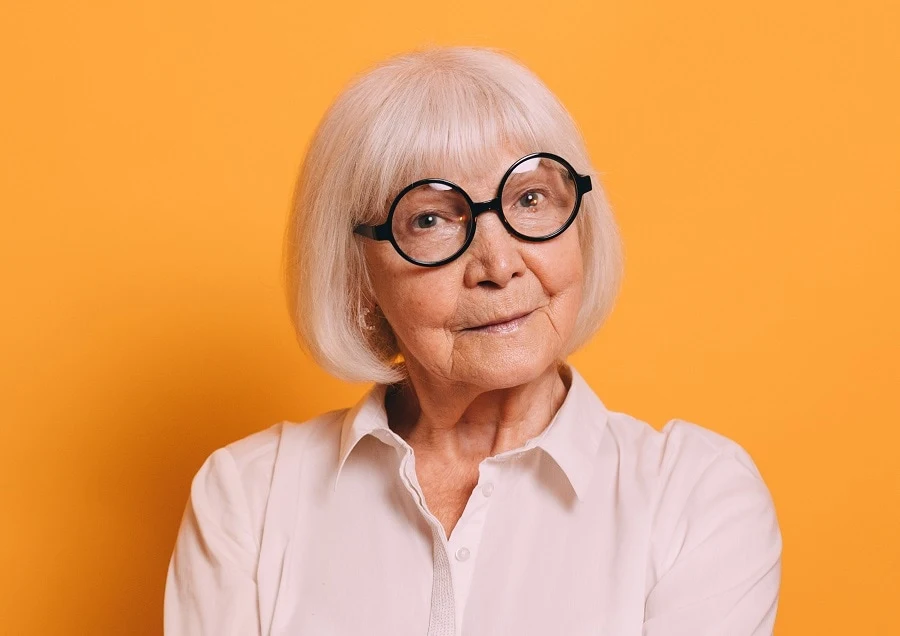 Classy and sophisticated is what comes to mind when we look at this inverted bob with bangs. Ask your hairstylist to give you uniform edges and you can play around with the length of the bangs. Check out these bobs for senior women.
7. Half-up, Half-down with Swoop Bangs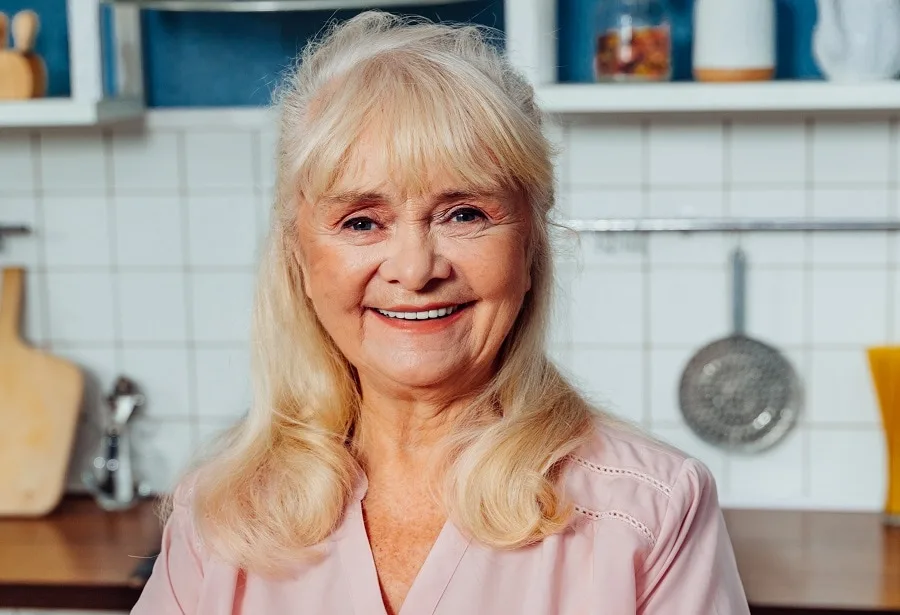 This minimally styled hairstyle looks beautiful on women over 70 with round faces. To achieve this hairstyle, ask your hairstylist to give you swooping bangs.
You can then tie your hair in the classic half-up, half-down style and let the bangs enhance your stunning eyes.
8. Face-framing Natural Curls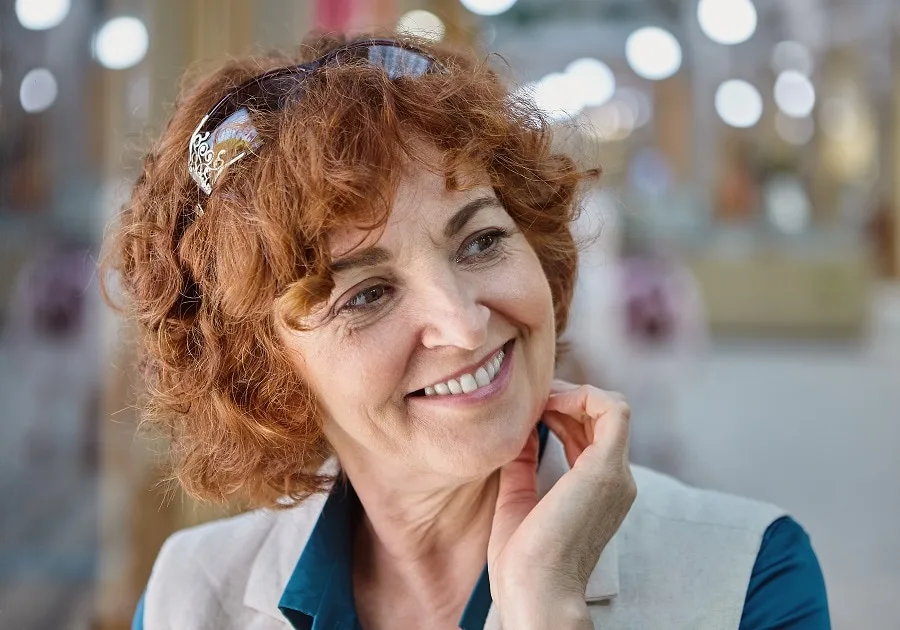 Older women with naturally curly hair should try this bob. This wash-and-wear haircut, with its stunning face-framing curls, looks beautiful at all times.
You can use a cute hair accessory to keep the curls from being all over the place.
9. Vintage Bob with Bangs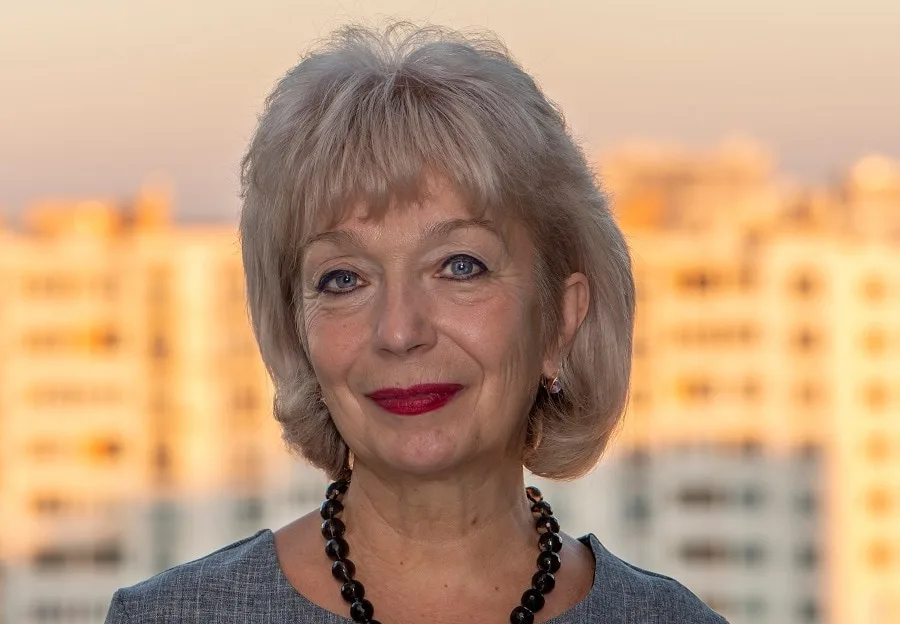 We are sure that this vintage bob and bangs style will have a lot of takers! The tucked-behind-ears bob with cute bangs is one of the easiest and most classy wash-and-wear haircuts for those over 70 years old.
10. Long Gray Locks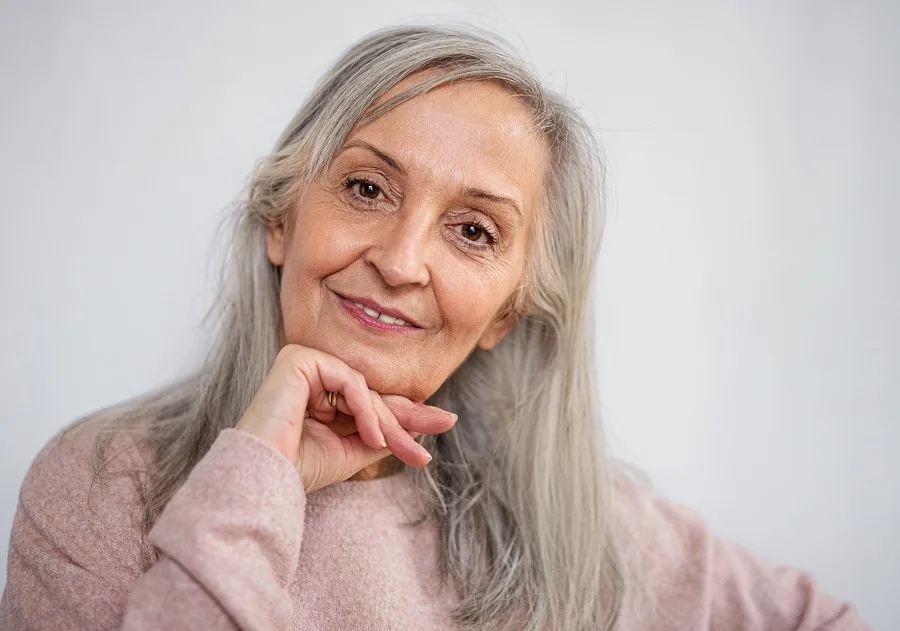 If absolutely no styling effort is your requirement, then this long gray hairstyle has to be your next no styling haircut inspiration. You can elevate the look just by opting for some curtain bangs.
11. Short and Sweet Curls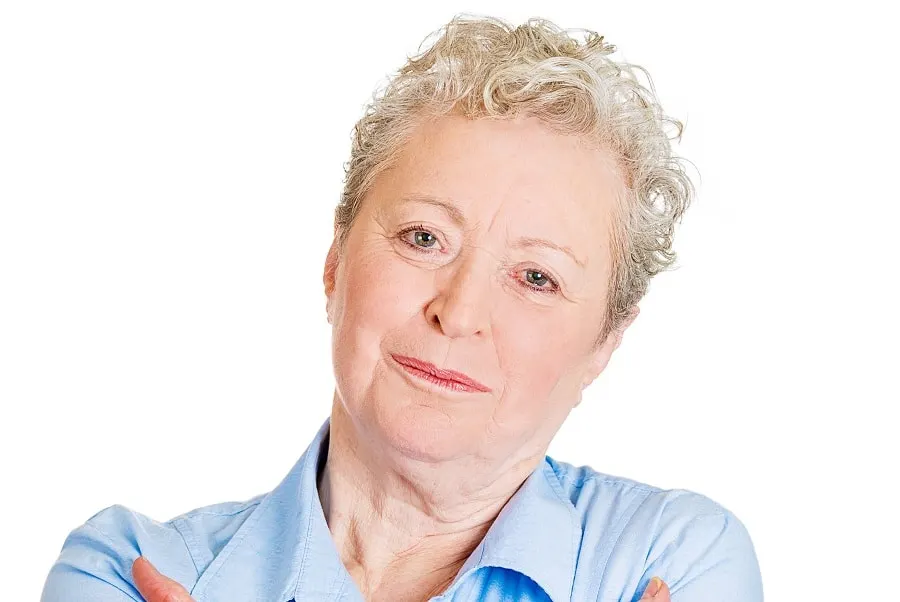 We understand that for women over 70 having a low-maintenance short hairstyle is one of the primary requirements.
This short and sweet curls option for a wash-and-wear hairstyle is definitely in our top five choices, as it looks fantastic with zero styling efforts
12. Voluminous Wavy Bob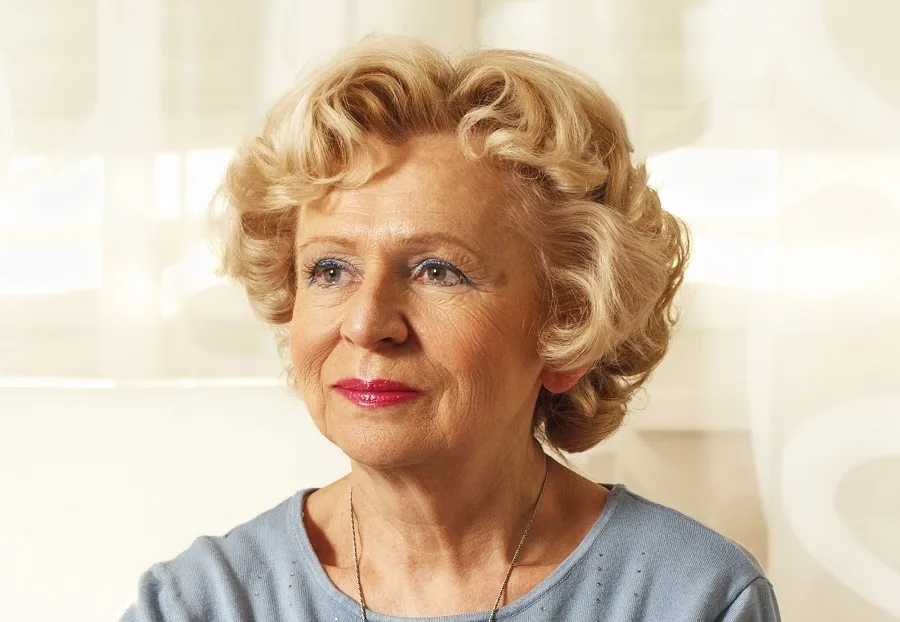 Having a good crop of hair, even in your 70s is truly a blessing, and if you do have good, voluminous, and wavy hair, ask your hairstylist to give you this wavy bob.
This style looks amazing on women with all face shapes.
13. Short and Messy Curls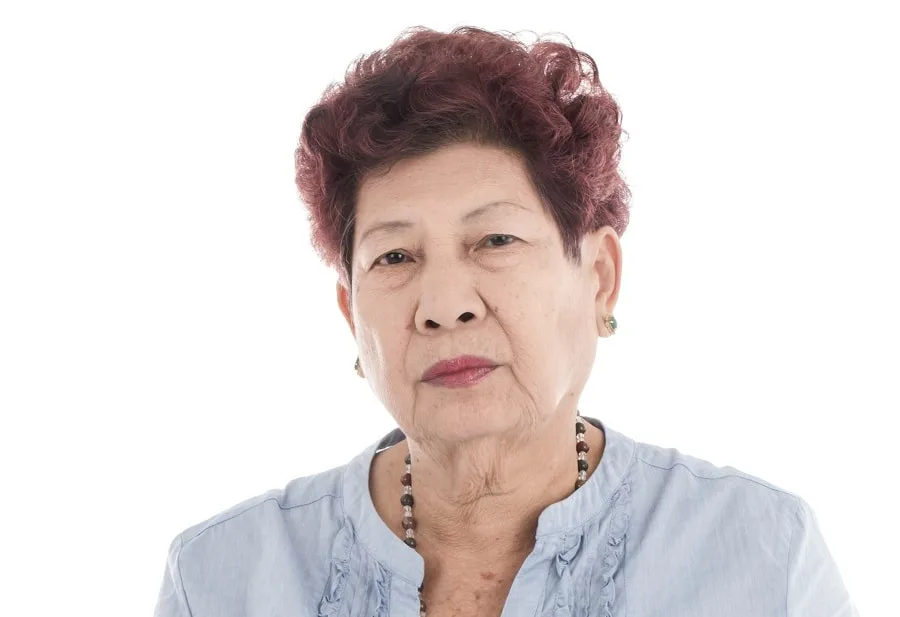 This short and messy curls hairstyle is quite popular among Asian women over 70. We highly recommend this one as it looks sweet and sassy and also lets your facial features shine.
14. Blonde White Bob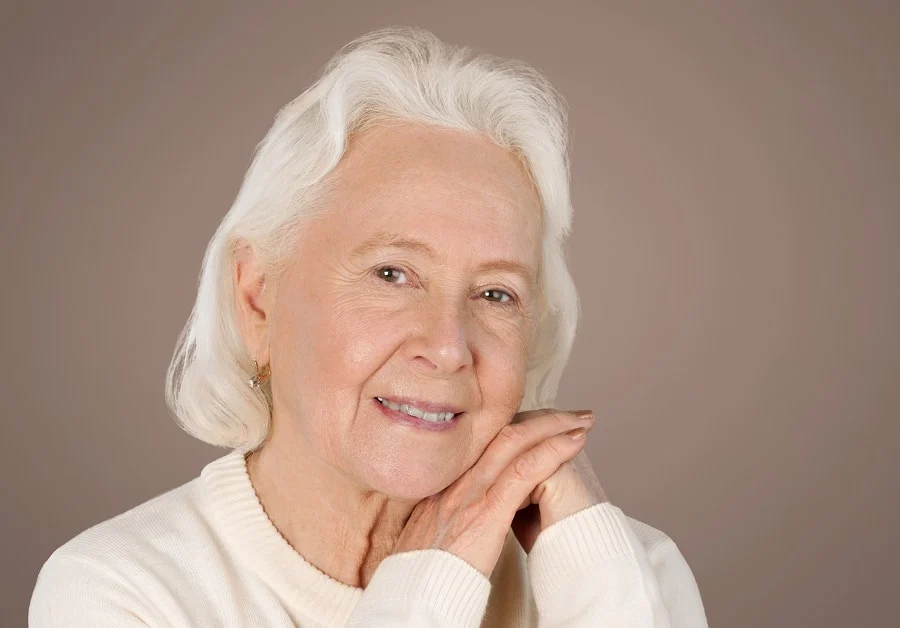 This blonde white bob wash-and-wear haircut looks so beautiful and dreamy. It is an elegant hairstyle for women over 70 that can be styled easily by combing your hair and tucking it behind your ears.
15. Edgy Pixie Cut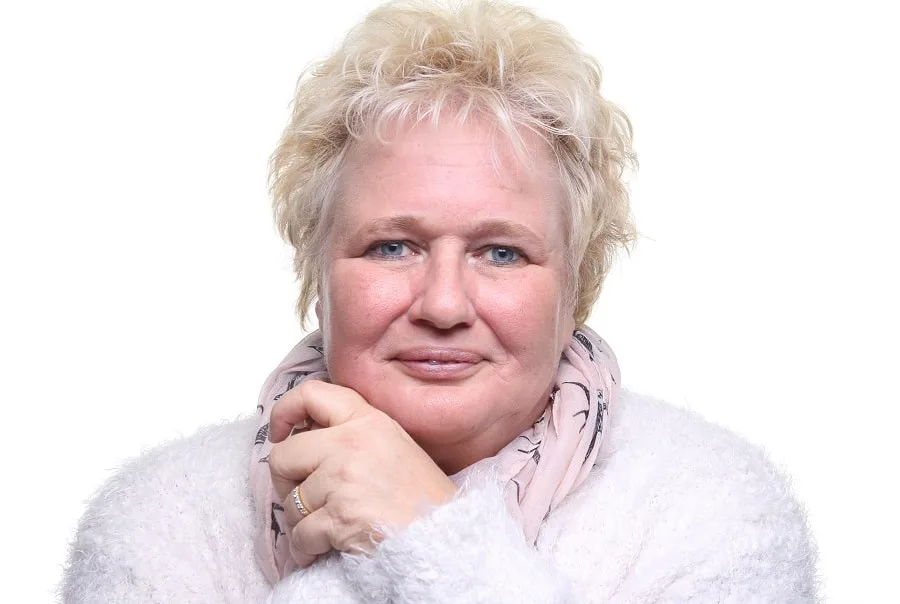 If sassy and edgy is how you want to look in your 70s, we think this edgy pixie cut is what you should try.
Whether you have a round face, long face or oval face, this pixie cut will have you looking fantastic with minimal styling efforts.
16. Natural Curly Updo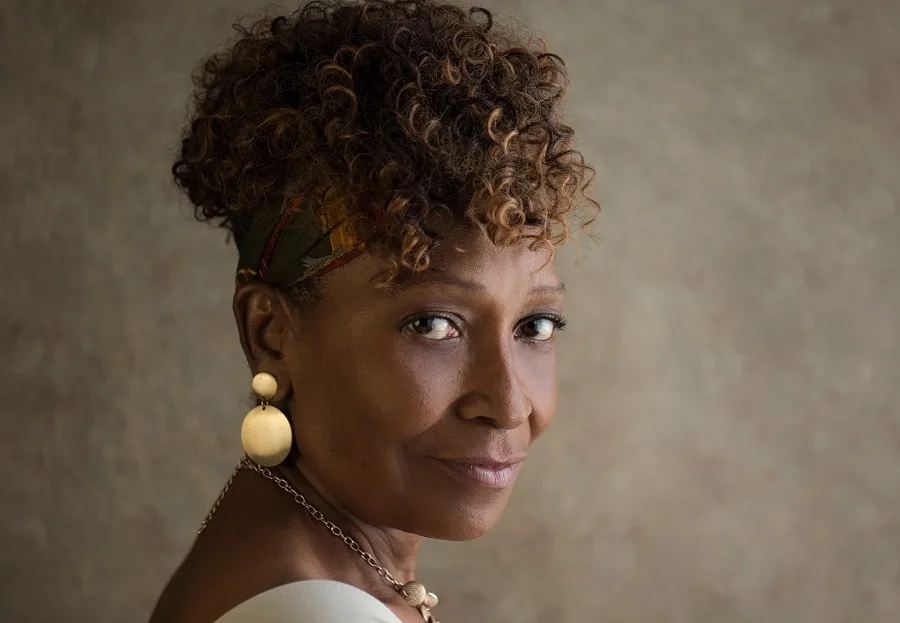 Curly updos are everyone's all-time favorites and this naturally curly updo shows how you can go from drab to fab within no time.
To achieve this wash-and-wear style, just gather all your hair and put it up by securing it with a bandana.
17. Salt and Pepper Slicked Back Hair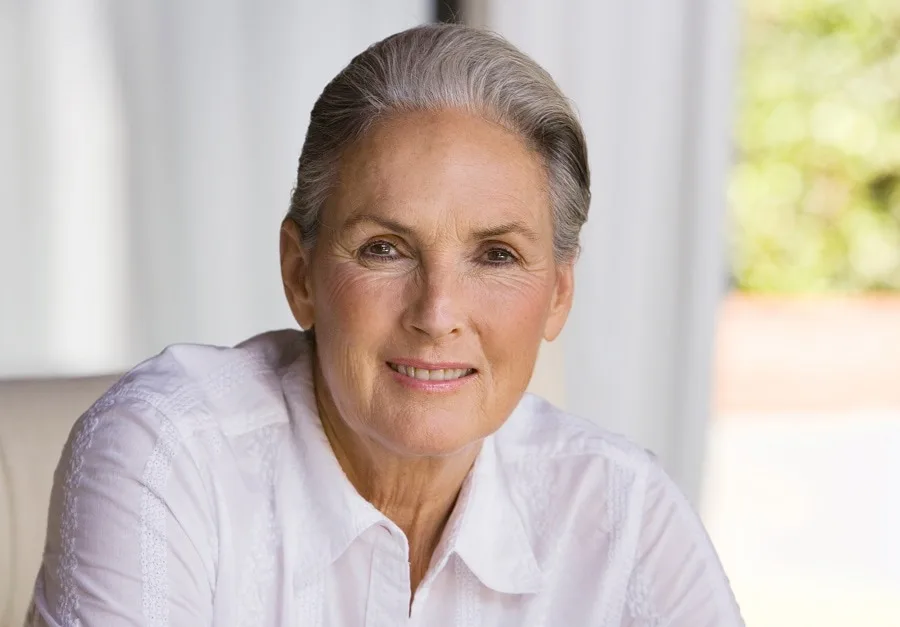 With many women over 70 preferring to rock their natural hair, the salt and pepper hairstyles are making a huge comeback. If you are a fan, too, then this slicked-back hair is just the right hairstyle for you.
18. Tapered Wavy Bob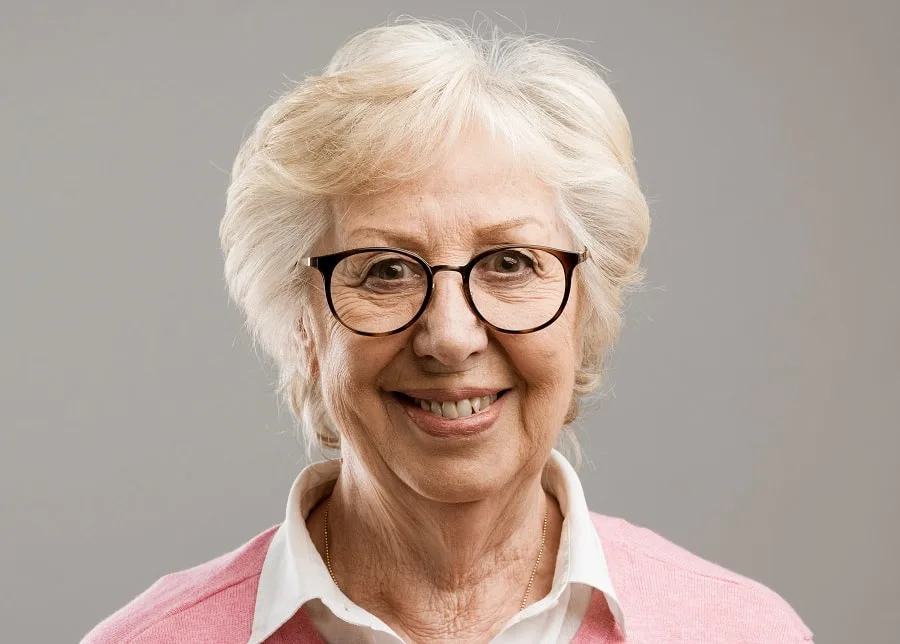 Try this short tapered look if you use glasses. Tapered hairstyles also look amazing on older women as it can not only cover your receding hairline but also bring your facial features into focus.
This tapered wavy bob shows you exactly how to look elegant with minimal effort.
19. Bright Red Updo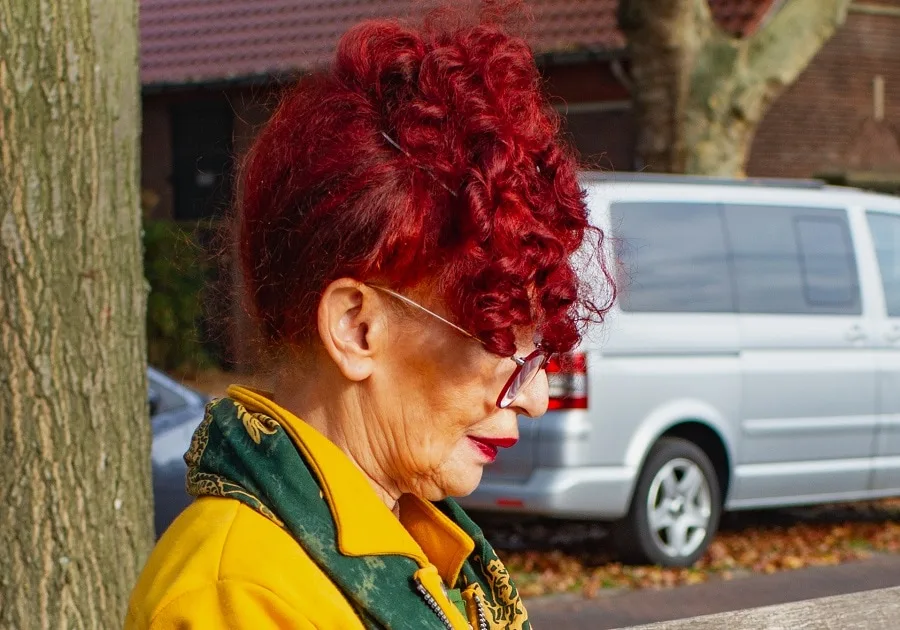 Those gorgeous red curls in a messy updo like this model's will definitely make you stand out among the crowd. Just make sure you use enough pins to secure the curls in place, and rock this wash-and-wear hairstyle.
20. Bob with Flipped Out Ends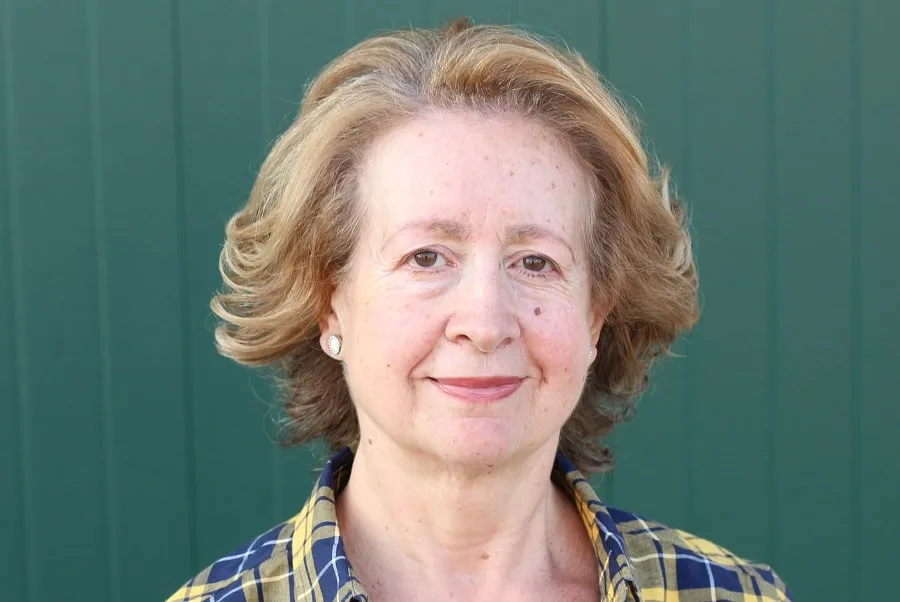 A bob is definitely one of the most common wash-and-go haircuts for older women.
However, there are different ways to make your bob look unique, such as this one with ends flipped out to give the hair more volume.
21. Two-toned Blunt Cut with Wispy Bangs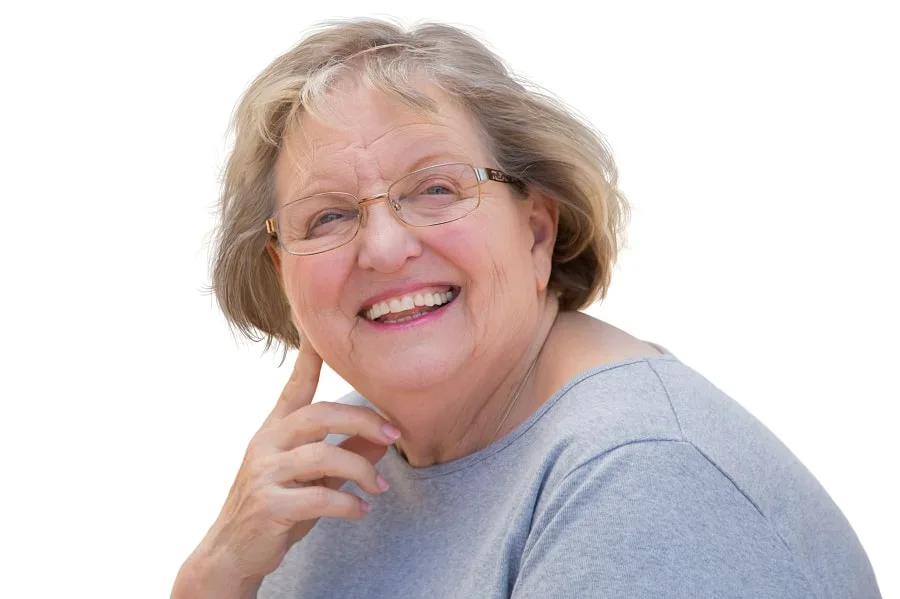 And here we have another cute blunt haircut to end our list of the best low-maintenance wash-and-go haircuts for older ladies above 70.
The uniqueness of this hairstyle is its two-toned hair color with darker roots and lighter-colored strands on the top.
As women age, it is important to take extra care of our hair to maintain its strength and health.
Hence, women over 70 should ideally stop using all the heat styling tools and curling irons and ask their hairstylist to give them any one of these fashionable and trendy wash-and-go haircuts.
With any option from our list of top 21 wash-and-wear haircuts for over 70, you can sport a salon-worthy look every day. These will help you maintain your gorgeous locks with minimal effort.