Many women over 70 find themselves choosing short haircuts. They're easier to manage, encourage healthy locks (especially if the hair is thinning), and there are a variety to choose from to flatter every face shape. If you're feeling stuck on styling options for your hair, just check out the many ways you can look amazing with short hair!
Ideal Short Hairstyles for Older Women
When it comes to short haircuts and hairstyles for women over 70, choose one of the below trendy styles!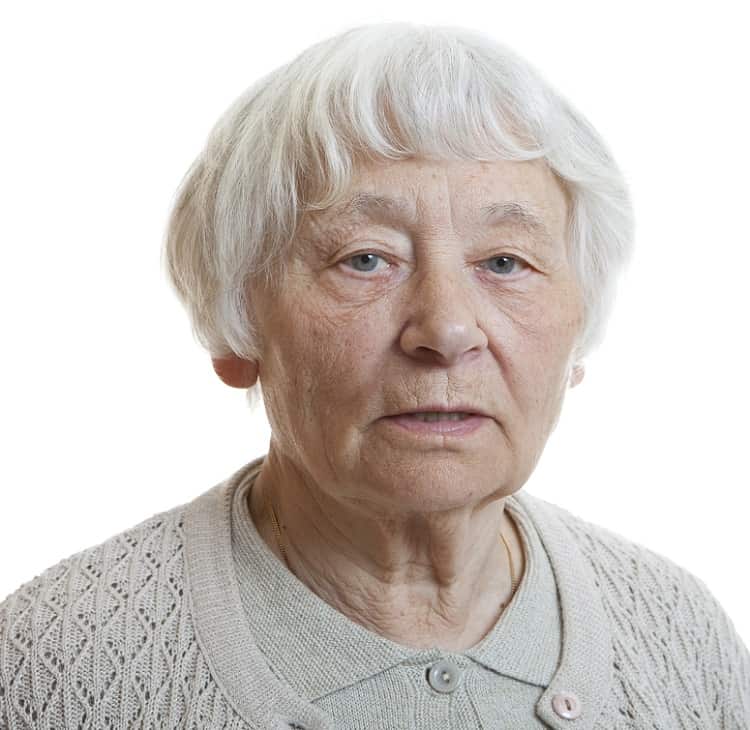 Cut your hair to the jawline and leave product alone, encouraging soft curls to curve in toward the face on their own. Short curly bangs ensure all attention is on your eyes.
2. Choppy Hair
This short choppy pixie is a less voluminous version of Theresa Caputo's famous hairstyle. Bangs are short and slightly curled while tendrils on the outside of the face are to chin-length.
3. Short Curly Hairstyle
For older women with naturally curly hair, it's nice to just let it air dry after washing and conditioning it. Leave sides long to cover ears but bangs short for face-framing.
4. Short Hairstyle for Thin Hair
If you're over 70 with short hair, your hair may have thinned out like most older women. A side parted pixie is perfectly neat and chic with hair cut to one to two inches in length all over. Comb everything smooth and seal with hairspray for all-day style.
5. Women Over 70 with Glasses
Another way to style your short hair is by combing hair straight back from the bangs so there's no center part. Fill the bangs with a large curl that stops just above your glasses.
6. Short Perm Hair
If you're a woman over 70 and your hair has lost its texture, there's a quick way to add some that will last a couple of months: a perm! Perms add soft or tight curls and on short hair, they'll frame a face beautifully.
7. Short Hair Look With Thick Hair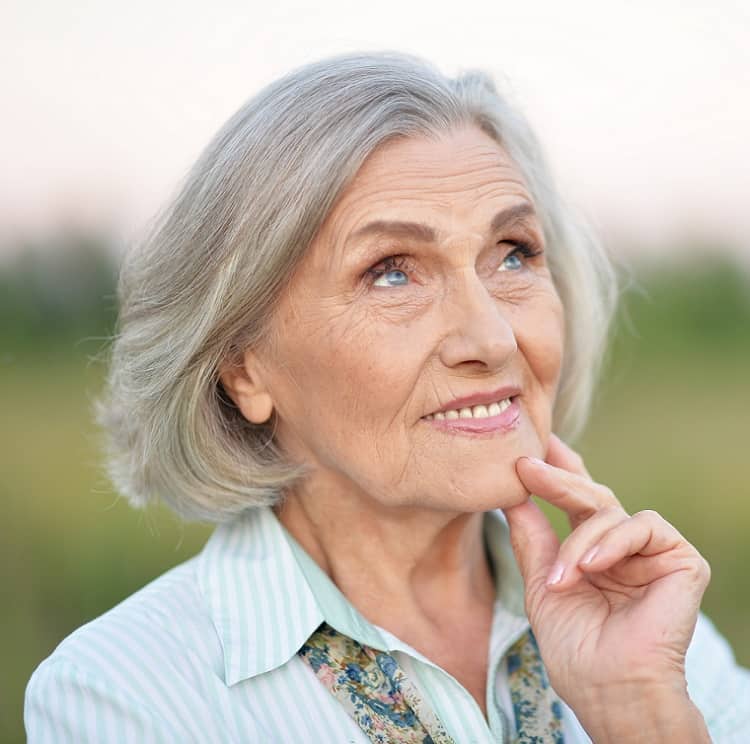 Not into curls or waves on your short hairstyle? This chic style features straight locks smoothed of any fly-aways. A center part adds symmetry for a quick look that'll do wonders.
8. Short Hairstyle for Fine Hair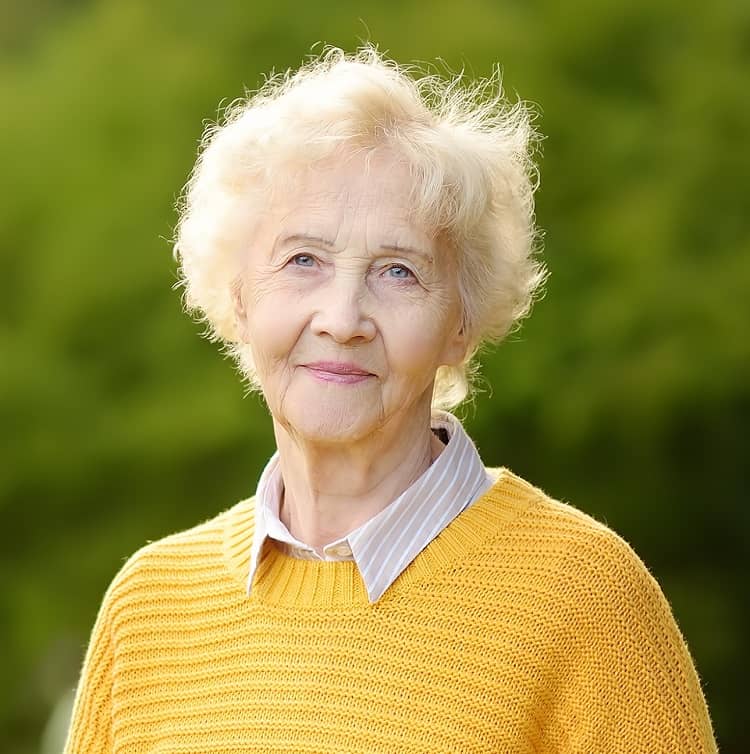 Has your hair thinned out as you've gotten older? Your stylist will know the best way to make hair appear thicker is by cutting it short to instantly add textured shape. Try a soft shade as blonde as well to brighten the look up.
9. Pixie Haircut for Woman Over 70
While younger women tend to wear their pixie haircuts straight and piecey, hair on women over 70 will look its best with curls all over the head and short thin bangs.
10. Short Highlighted Hairstyle for Women Over 70
Even if you're over 70, you definitely can go for colorful hair. As if the long messy hairstyle wasn't cute enough for your older self, purple highlights look beautiful on white hair and pop even more with a purple lip.
11. Ombre
Many women have either gone completely white by the time they're in their 70s or the majority is white. Either way, an ombre addition of unexpected color like turquoise will look awesome.
12. Very Short Hair for Oval Face
The long top and short sides look is popular for older women over 70 with oval faces. This chic style on light and medium skin tones is stunning with ginger red hair color.
13. Red and Orange + Straight Bob
When you want a more dramatic hairstyle, you need to try straight bob with blunt-cut bangs. A mix of dark red and orange hair color will surely liven up your look and your personality.
14. Purple Curly Short Hair
Curls are stunning on women over 70 with short hair, but with light purple hair color added to grey or white hair, they'll really stand out. Pair hair at the side and clip one side back with a pin to dress up the look.
15. Black and White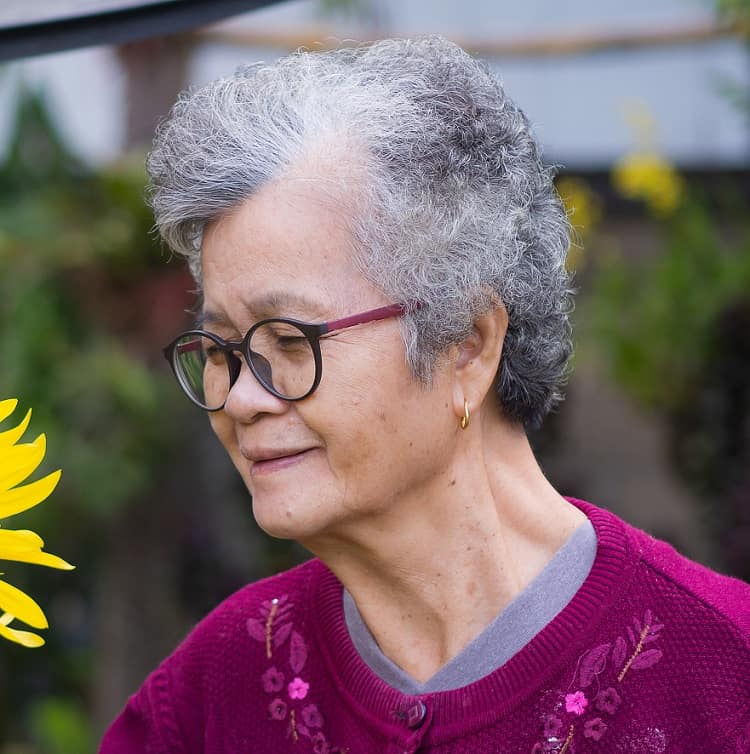 Struggling to style your short fine hair? You've got a couple of options: have a stylist cut in short layers or go for a perm to get tie curls that will eventually soften out to this look.
16. Short Mullet
While many mullet hairstyles are typically longer, this one features short hair on a woman over 70 with all the body and short layers up top forming a V at the hairline. It's truly a wash-and-go hairstyle.
17. Short Hairstyle with Headband
Just because you're getting older, that doesn't mean you need to give up hair accessories. Comb your short hair back and slip on a headband for quick, effortless style.
So, which of these short hairstyles for women over 70 will you choose? Try one or try them all – that's the only way to find out which one will work best!