Who said if you have layered hair, you can't create astonishing braids? Because the hair is gradually trimmed, when styling a knit, you won't obtain that flawless hairstyle, but you'll have the option to go for a messy hairdo. This way, you'll style bohemian within minutes, without too much of an effort!
If you also have highlights or an ombre, the braided layered hair will beautifully combine that tremendous texture and volume with an outstanding knit. These types of hairstyles are ideal for long but also short hair, and you can discover in the article some fabulous ideas that will help you build a gorgeous look.
1. Halo Braid With Layered Hair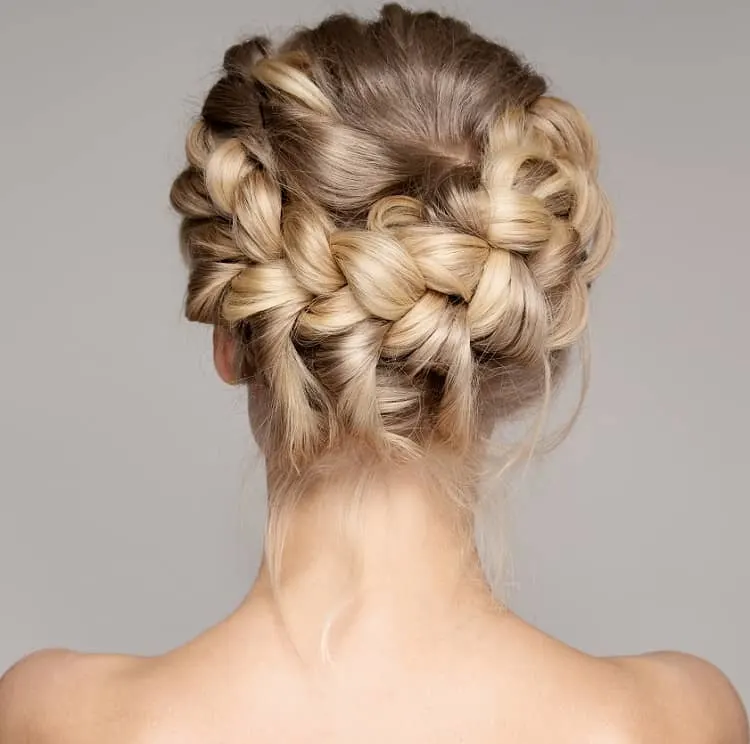 When you have gradually trimmed locks, and you want your French braid for layered hair to look perfect, bobby pins are your best friends. Use them to create that gorgeous chunky crown knit.
2. Messy One-Sided Braided Hairstyle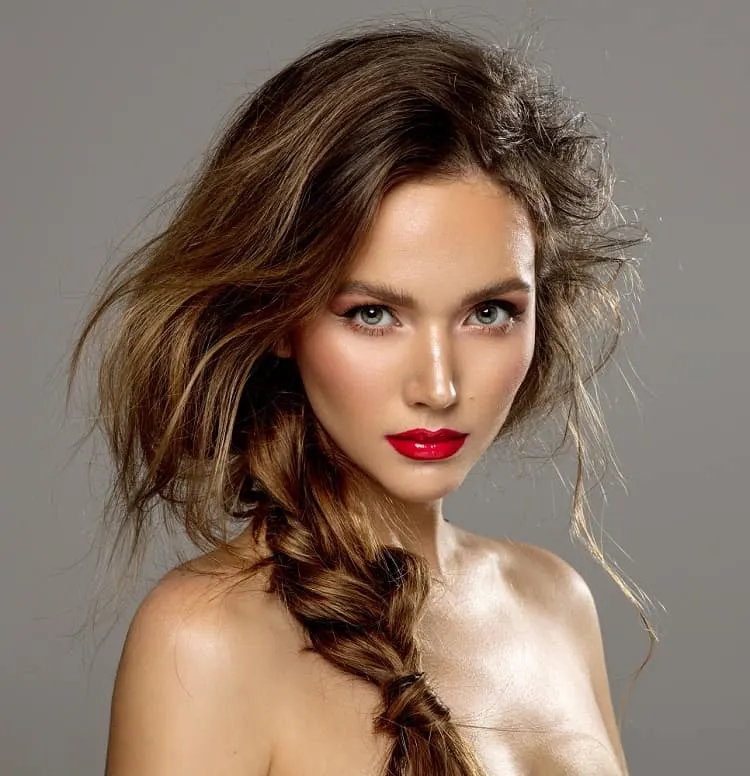 Long braided hair with layers will certainly help you obtain a ravishing look. That imperfect knit that has multiple threads sticking out is your key to a fabulous hairdo.
3. Side Braid + Ponytail
A side braid for layered hair will provide a tremendously good looking hairdo that you can build when attending all sorts of events. It is really straightforward and has such an impact.
4. Waterfall Braid + Ombre + Layers
Play with a straightening iron and style wide smooth waves if you need a layered waterfall braid that will work its spells on any outfit. Start knitting from one side and go for a braid that ends on the other part of the head.
5. Braids for Layered Short Hair
If you want a braid for short layered hair, you undoubtedly need to recreate this glamorous look. Get a bob haircut, style blonde highlights, and toss your bangs on one side. Create two small braids on the uncovered side.
6. Braided Fauxhawk Ponytail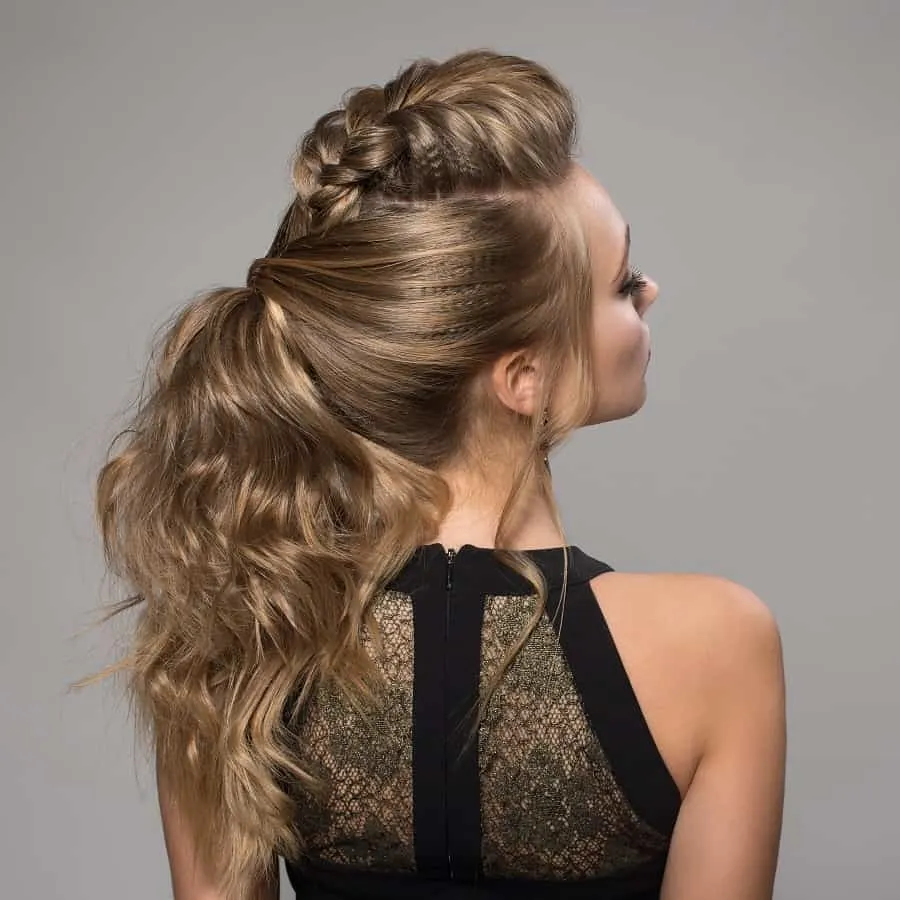 Make a style statement worth remembering by rocking a fauxhawk ponytail. Crimp the hair for some texture before separating and braiding the top part. Slick back the sides in a high ponytail leaving some strands to fall on the sides of the face. Chic without a doubt!
7. Bohemian Appeal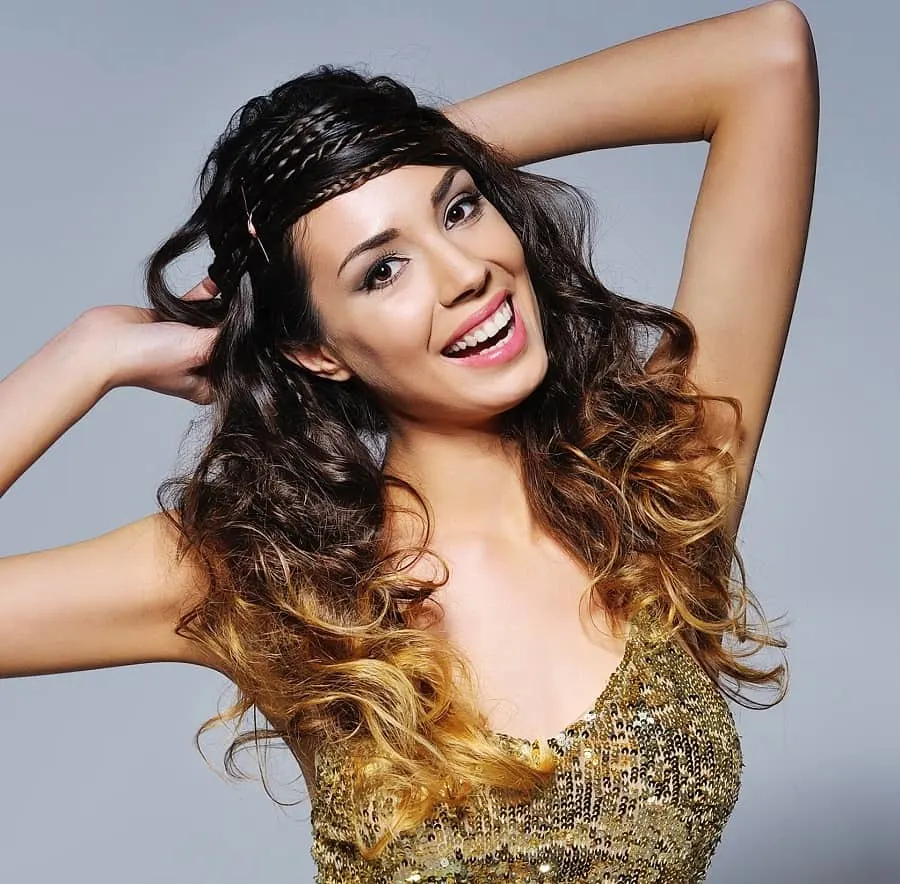 An unusual lively look like this is sure to turn around many heads. It features a dark brown to golden blonde ombre. Plait the strands on one side of the face and pin them on the opposite side to cover the forehead with messy curls falling forward for a carefree appeal.
8. Cute Baby Braids
Consider these delicate baby braids on short layered tresses for a soft adorable look. Braid three to four chunks from both sides of the middle part with a flip twist ponytail and a flower hair accessory. Try the hairstyle with dip-dyed hair and you won't regret the result.
9. Pin Up Style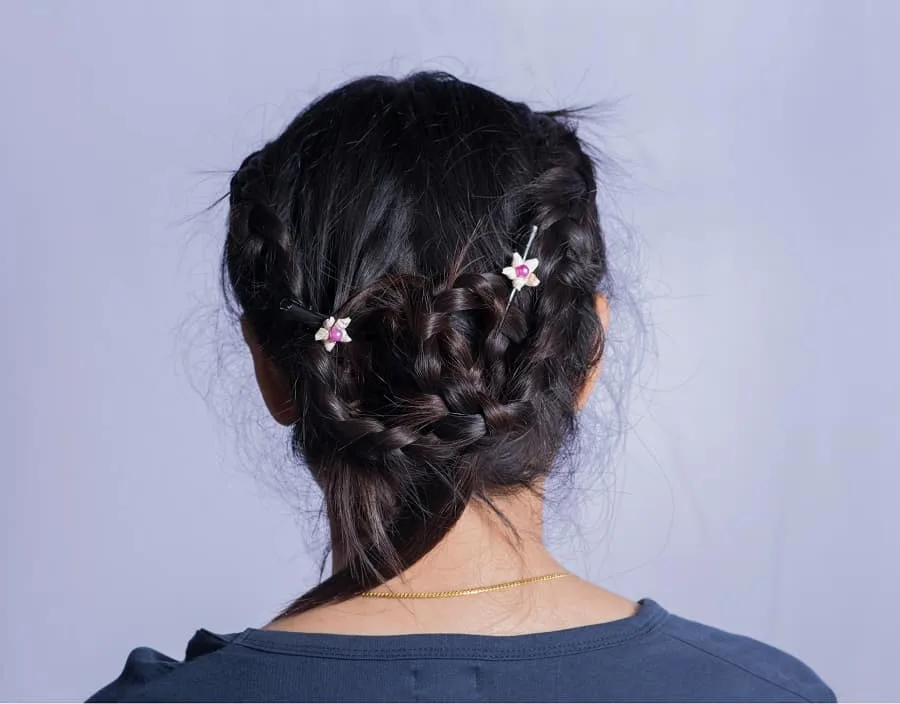 Pigtail braids never go out of style and suit all hair lengths but those who find the dangling braids too girly can wrap and pin them to the back of their head creating an updo hairstyle. Spice up with colorful pins or shiny hair cuffs. Tada!
10. Side Cornrows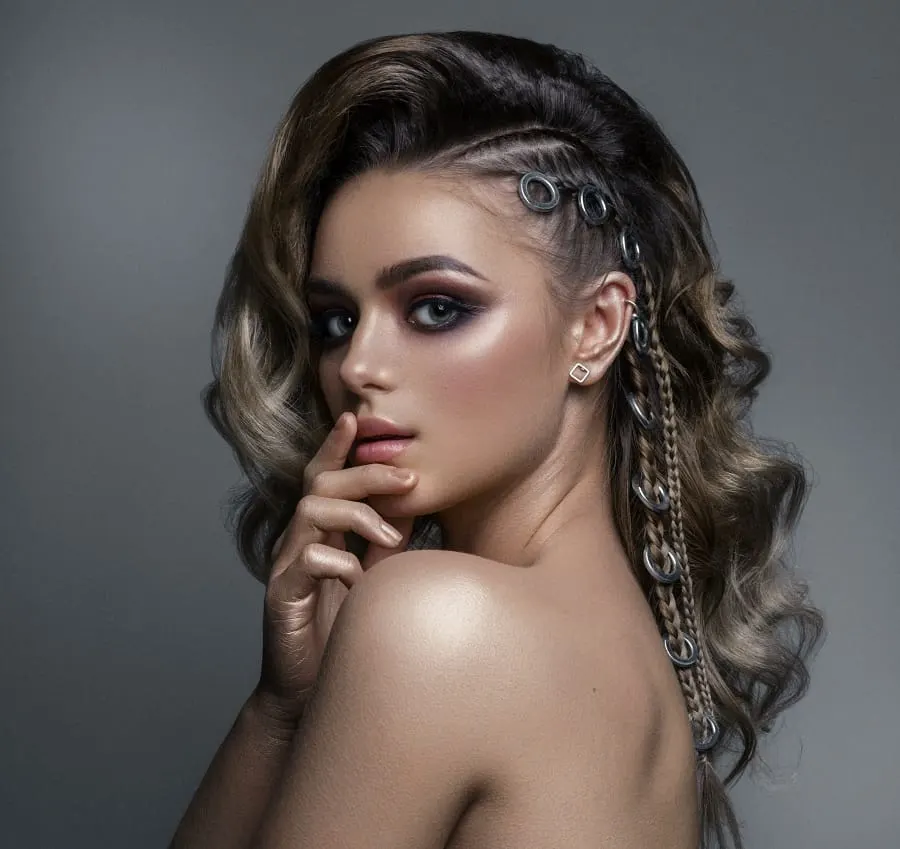 Here is yet another way to rock braids with layers and steal the show wherever you go. The blonde tresses are crimped near the roots with loose curls that are swooped on one side with cornrows on the other side. Add hair rings when plaiting the strands recreating this funky look exactly.
11. Wedding Vibes
Women with long locks can drop jaws on their big day with this dreamy hairstyle. The side locks are twisted, plaited, and wrapped around the central fishtail braid along the length. Don't fret about perfecting the style as a bit of a mess adds up to the look too.
12. Elegant Updo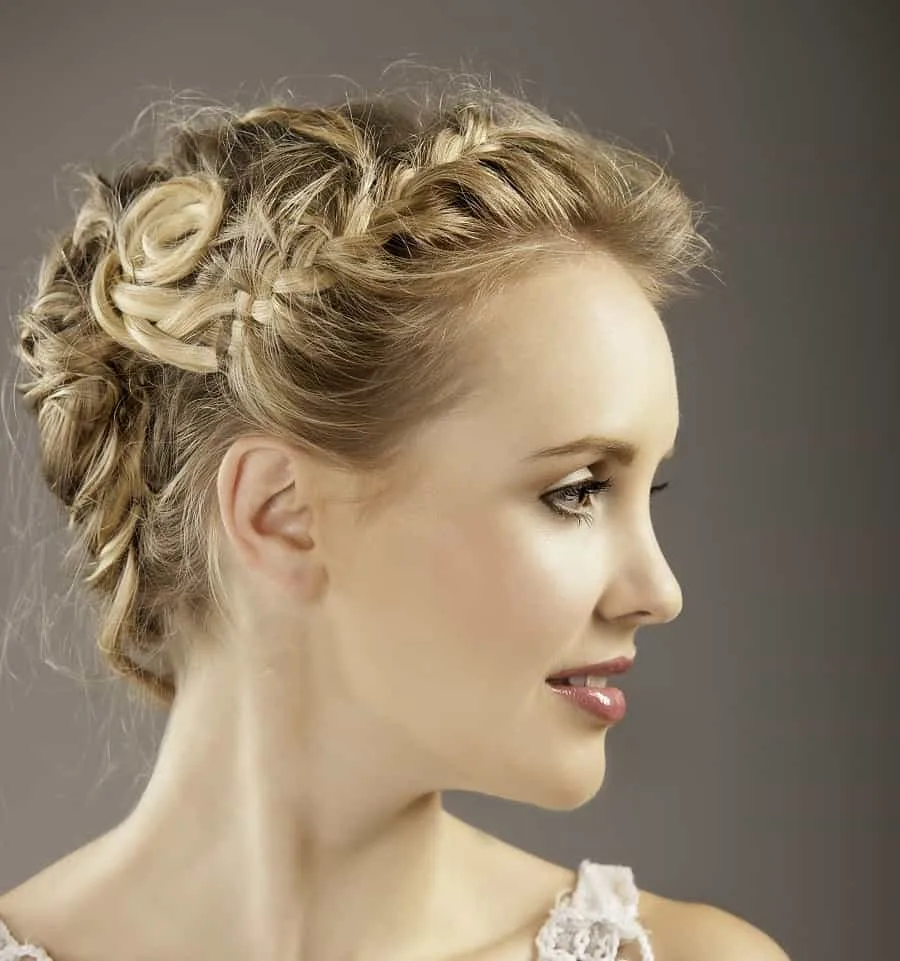 Updos are versatile and ideal for formal events. Braid the front strands creating a plaited headband while the remaining hair is wrapped in a messy French roll at the back. Use pins and hairspray to keep the look intact all day long.
13. Knitted Top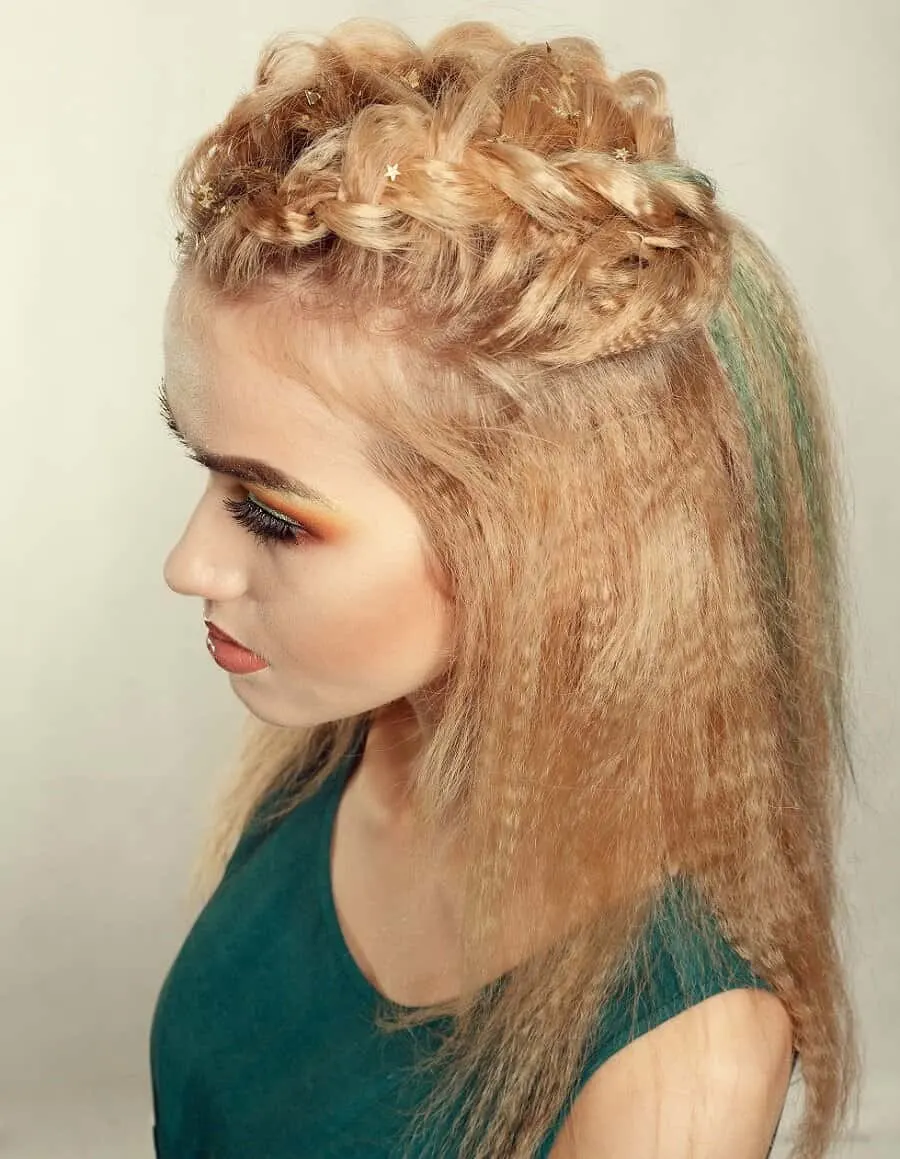 Bold is beautiful and this style proves it. Crimp the mane for a fun texture and style the top into double Dutch braids. Finish off with star-shaped glitter and add temporary highlights using hair chalk for a pop of color on the head. Get ready to party!
14. Double Dutch Braids
Dutch braids never disappoint! They are cute, classy, and cool all at the same time. Braid the hair from the front with some strands framing the face. Continue to the end or add hair ties near the base resulting in pretty twintails. Don't forget the flowers.
15. Intricate Plaits
Fishtail braids come in handy when creating intricate hairstyles. The side locks are plaited and secured at the back with another fishtail braid in the center. Pin the remaining strands in an updo while incorporating a single vibrant-colored clip-in extension and leaving the curled ends loose to dangle.
16. Half-Up, Half-Down
Ladies! Show off your long layers with a half-up braid hairstyle. Knit the side-parted strands at the front in chunky fishtail, Dutch or French-style braids depending on your choice, and pin them back with a puff on the top. Finish off with soft waves and flowers. Romantic!
17. Retro Look
The simpler, the better! Here is a retro hairstyle to keep you looking stylish even on busy days. Knit a thick chunk of hair behind one ear and secure it on the opposite side creating a gorgeous braided headband at the front with a simple low ponytail at the back.
18. Flower Braid
Love flowers? Create one using the hair. This look features a horizontal waterfall Dutch braid on crimped hair extending from one side to the other. Continue plaiting to the end and secure with a rubber band. Roll the braid into a spiral and secure with pins. Voila!
19. Two Braided Ponytails With a Scarf
Split your hair into two parts and knit two ponytails on each side. Use a scarf and knot it on top of the head to obtain a modern look that will make you appear so much younger.
20. French Braided Bangs with Ponytail
On your wedding day, make sure you pull off a look that will get anyone's attention. If your party is relaxed, with less fuss, a French braid that starts from one side of the forehead and reaches the ear, on the other side, will certainly look fabulous. Continue the hairdo with a knitted ponytail.
21. Chunky Fishtail Braid for Layered Hair
A fishtail braid for layered hair will look flattering, especially if you have brown hair and blonde highlights. Start knitting it from the middle of the head and orient it on one side. Secure it with a thin translucent rubber band.
22. Braid for Wedding
If you're attending an event where you need your curly layered hair to stand out, style a loose braid that will show off your loops. Decorate it with white artificial flowers and pin it wherever you need with bobby pins.
23. Heart-Shaped Braid for Layered Hair
Get a fabulous look by creating a different style of crown braid. After each knit, secure the braid with thin elastics until you reach the end of your mane and roll it around the head. If you have delicate highlights, the whole hairstyle will look even more mesmerizing.
When creating a braid for your layered hair, there are a few things you might consider before starting, and one of them is curling your ends. This way, once the hairdo is done, your threads won't stick out and make the whole thing look messy. Tell us in the comments which are your special tricks when creating knits for layered hair.