Who said if you have layered hair, you can't create astonishing braids? Because the hair is gradually trimmed, when styling a knit, you won't obtain that flawless hairstyle, but you'll have the option to go for a messy hairdo. This way, you'll style bohemian within minutes, without too much of an effort!
If you also have highlights or an ombre, the braided layered hair will beautifully combine that tremendous texture and volume with an outstanding knit. These types of hairstyles are ideal for long but also short hair, and you can discover in the article some fabulous ideas that will help you build a gorgeous look.
1. Halo Braid With Layered Hair
When you have gradually trimmed locks, and you want your French braid for layered hair to look perfect, bobby pins are your best friends. Use them to create that gorgeous chunky crown knit.
2. Messy One-Sided Braided Hairstyle
Long braided hair with layers will certainly help you obtain a ravishing look. That imperfect knit that has multiple threads sticking out is your key to a fabulous hairdo.
3. Side Braid + Ponytail
A side braid for layered hair will provide a tremendously good looking hairdo that you can build when attending all sorts of events. It is really straightforward and has such an impact.
4. Waterfall Braid + Ombre + Layers
Play with a straightening iron and style wide smooth waves if you need a layered waterfall braid that will work its spells on any outfit. Start knitting from one side and go for a braid that ends on the other part of the head.
5. Braids for Layered Short Hair
If you want a braid for short layered hair, you undoubtedly need to recreate this glamorous look. Get a bob haircut, style blonde highlights, and toss your bangs on one side. Create two small braids on the uncovered side.
6.
7.
8.
9.
10.
11.
12.
13.
14.
15.
16.
17.
18.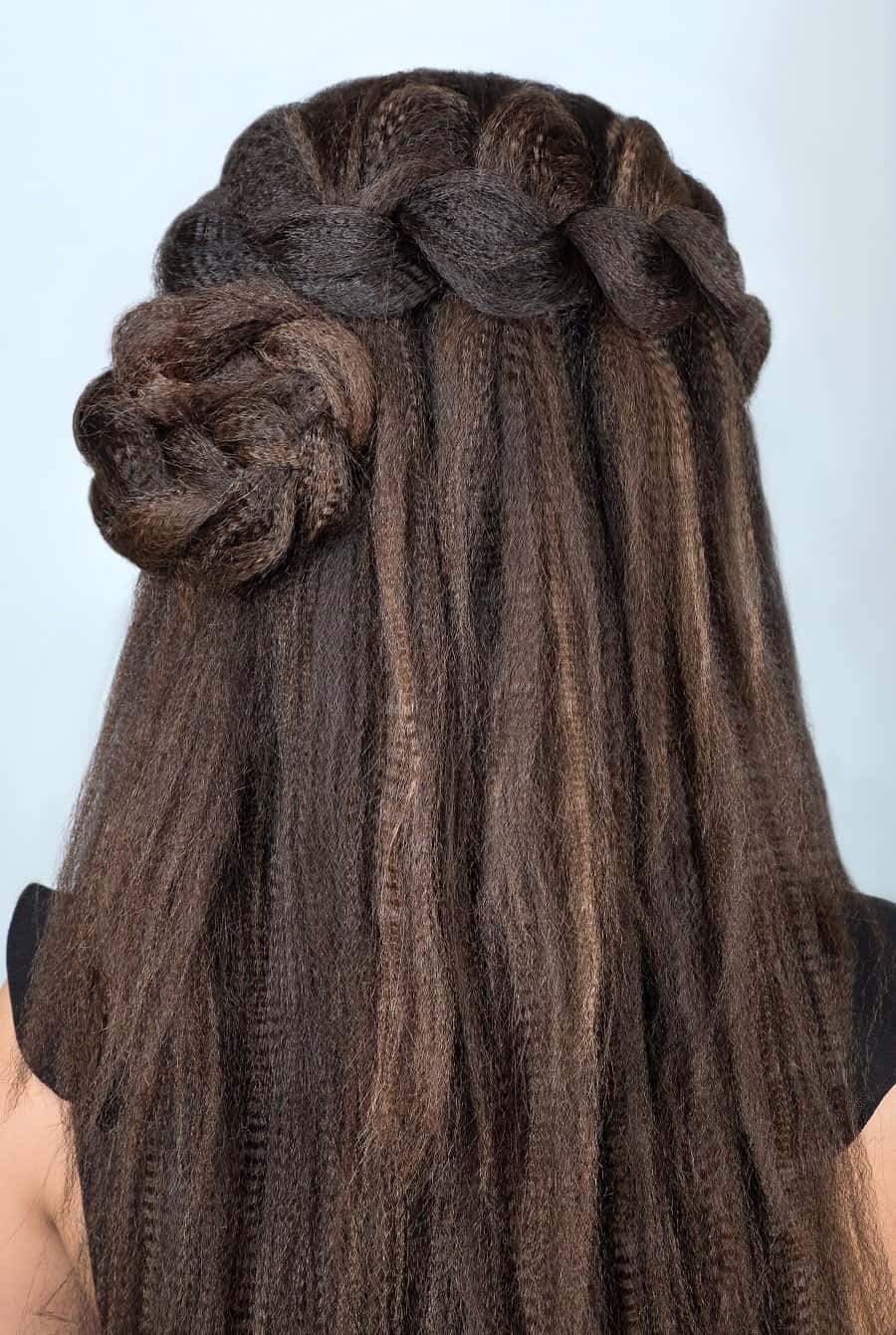 19. Two Braided Ponytails With a Scarf
Split your hair into two parts and knit two ponytails on each side. Use a scarf and knot it on top of the head to obtain a modern look that will make you appear so much younger.
20. French Braided Bangs with Ponytail
On your wedding day, make sure you pull off a look that will get anyone's attention. If your party is relaxed, with less fuss, a French braid that starts from one side of the forehead and reaches the ear, on the other side, will certainly look fabulous. Continue the hairdo with a knitted ponytail.
21. Chunky Fishtail Braid for Layered Hair
A fishtail braid for layered hair will look flattering, especially if you have brown hair and blonde highlights. Start knitting it from the middle of the head and orient it on one side. Secure it with a thin translucent rubber band.
22. Braid for Wedding
If you're attending an event where you need your curly layered hair to stand out, style a loose braid that will show off your loops. Decorate it with white artificial flowers and pin it wherever you need with bobby pins.
23. Heart-Shaped Braid for Layered Hair
Get a fabulous look by creating a different style of crown braid. After each knit, secure the braid with thin elastics until you reach the end of your mane and roll it around the head. If you have delicate highlights, the whole hairstyle will look even more mesmerizing.
When creating a braid for your layered hair, there are a few things you might consider before starting, and one of them is curling your ends. This way, once the hairdo is done, your threads won't stick out and make the whole thing look messy. Tell us in the comments which are your special tricks when creating knits for layered hair.