Wolf cuts are not only a great hairstyle for women but also for men. The cut is versatile and a combination of mullet and shag hairstyle.
Wolf cuts can be styled to suit all tastes and personalities and can be accommodated on both short and long hair. It fabulously works with waves, and you will only need a quick tousle before going out.
However, these styles are not recommended for those who have thin hair. So, if you're a man with thick hair and want a haircut that can be quickly styled without styling the locks perfectly, go for the wolf cut .
Cool Wolf Cut Hairstyles for Guys
We have a list of bold wolf cut styles that are sure to inspire your next look. Get ready to find your new style and join the wolf cut wave!
1. Wavy Wolf Cut for Asian Men
Wolf cuts were created in South Korea and Asian men fell in love with this trim irremediably. The trim has volume in the top section and side bangs give an angular look.
If your hair is naturally wavy, you can draw all the attention to that textured hair by creating some burgundy highlights.
2. Wolf Cut with Highlights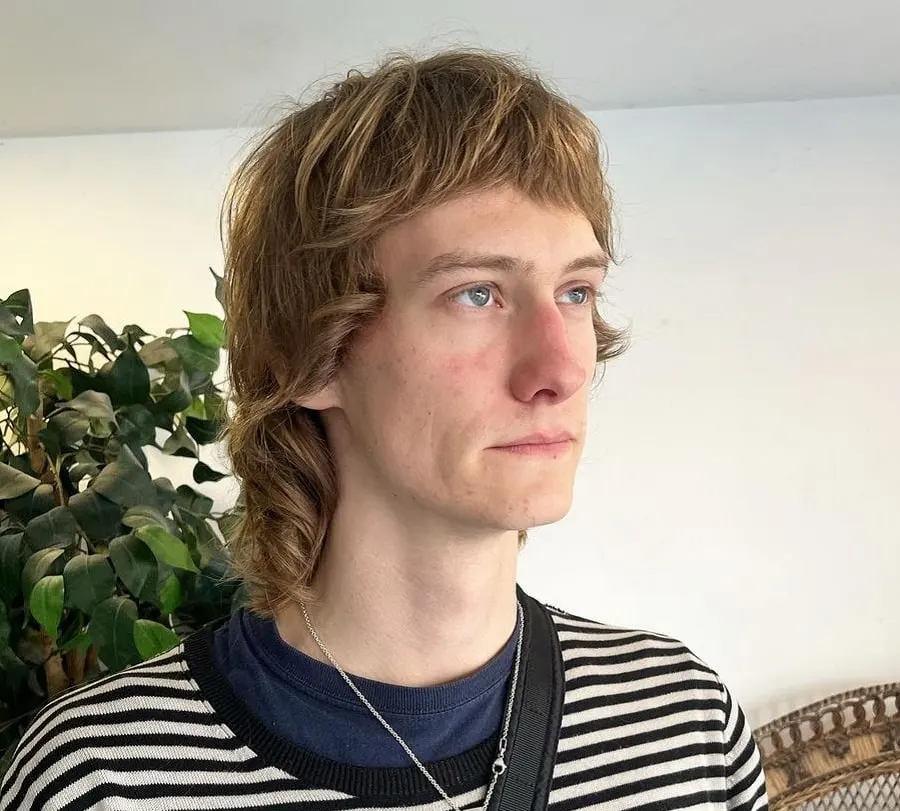 men's wolf cuts can vary so much from one another because they need to be adapted to your face shape. If you want to frame your facial features and also highlight your jawline, choose short bangs.
You can soften your look by creating waves, curls, and thin blonde highlights.
3. Wolf Cut with Long Sideburns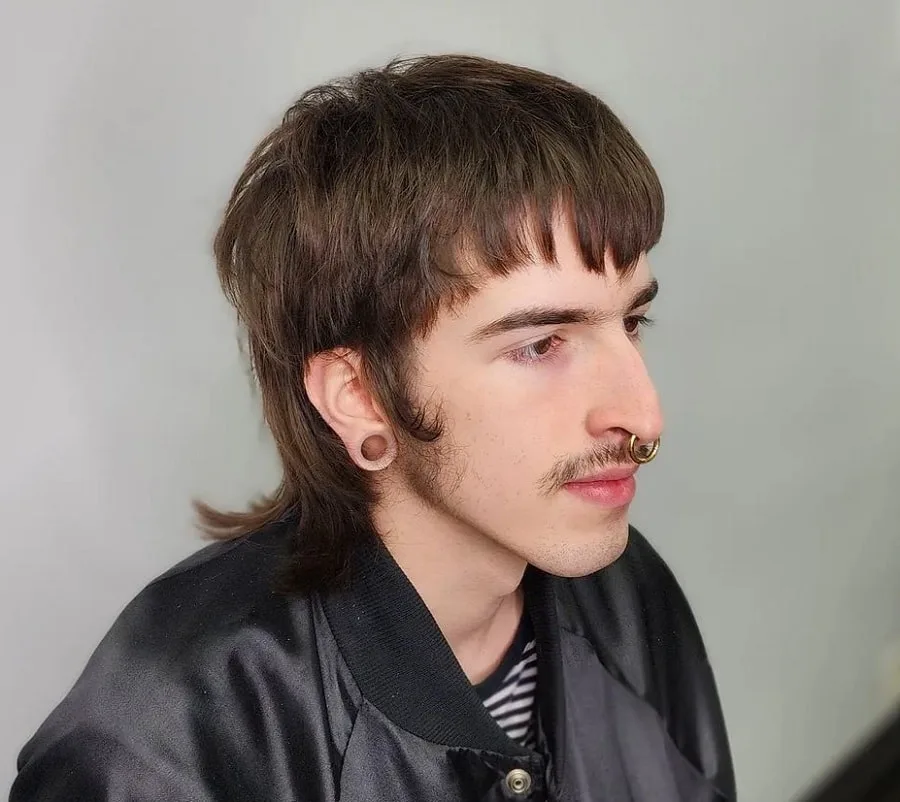 If you're looking for a long hairstyle for men without going longer on the front, this wolf cut is a fantastic option. A wolf cut has loads of layers and a well-known mullet. Create a layered bowl cut for the top and as you go down, towards the nape area, style longer pieces.
In this case, the mullet is more visible with flipped-out ends. Also, the sideburns are long and connected with the facial hair.
4. Curly Wet Wolf Cut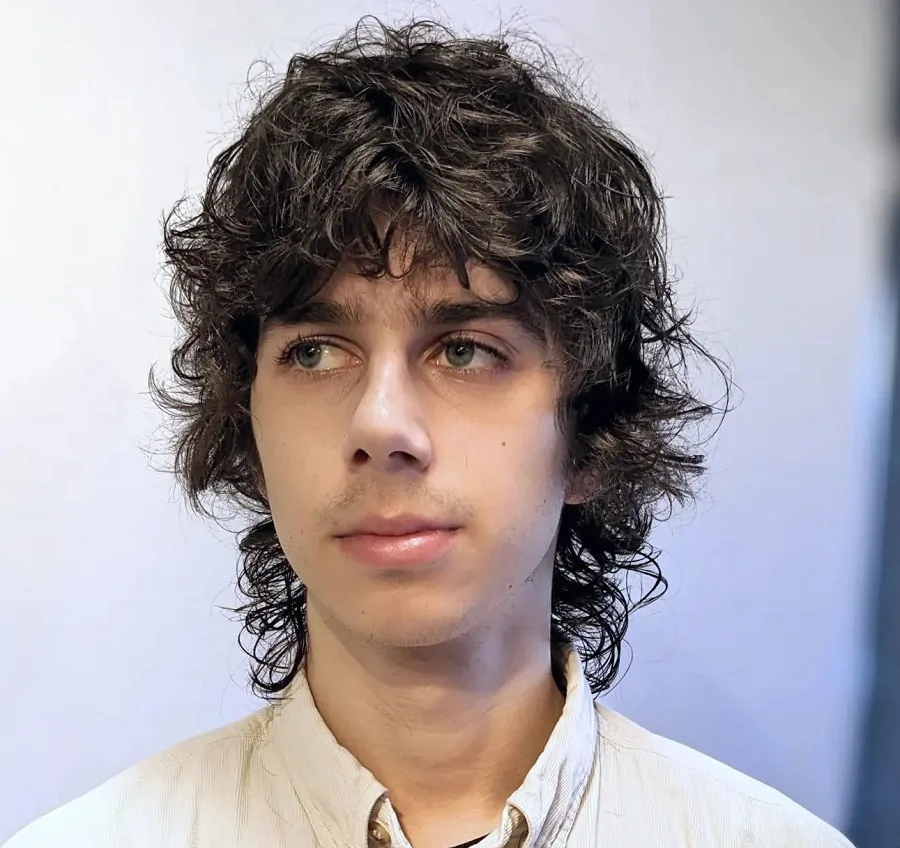 When you have curly hair and want a haircut that is quite low-maintenance, choose a wolf cut. It has loads of layers that keep your curls bouncy and falling one over the other.
Add hair gel to separate the ringlets and give them a wet look.
5. Flipped Out Ends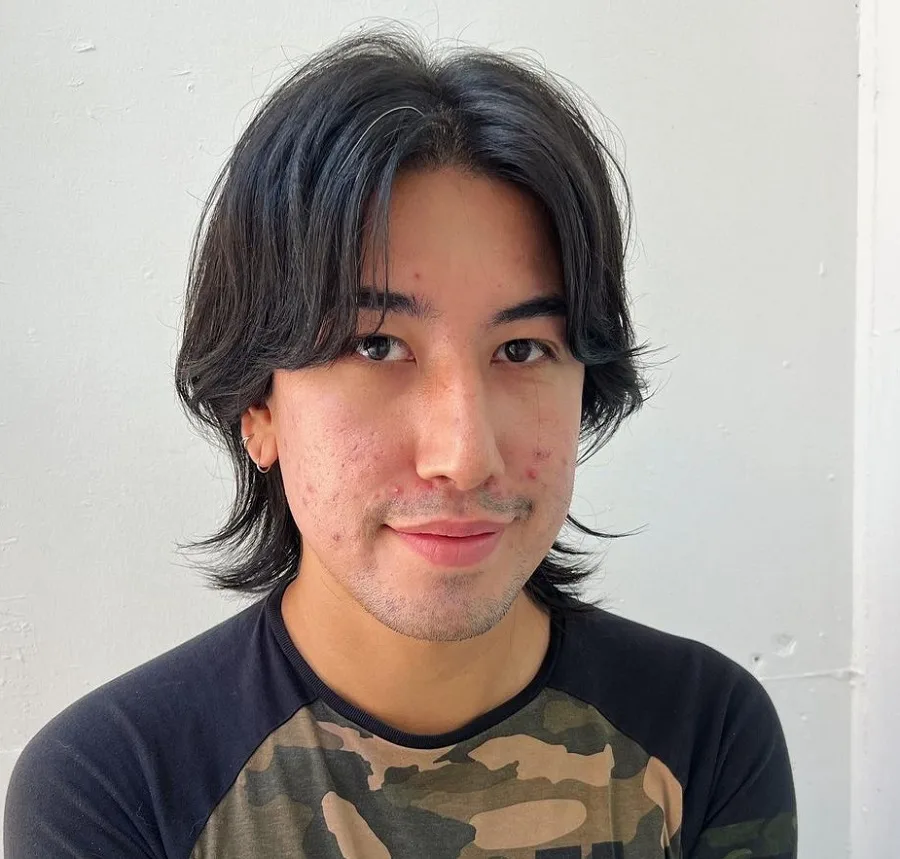 Combine curtain bangs that you will style with a round or rotative brush. As for the longer pieces in the back, use the same tools and flip out the ends.
Keep a shaved face that will make you look young and hip.
6. Short Layered Hair with Undercut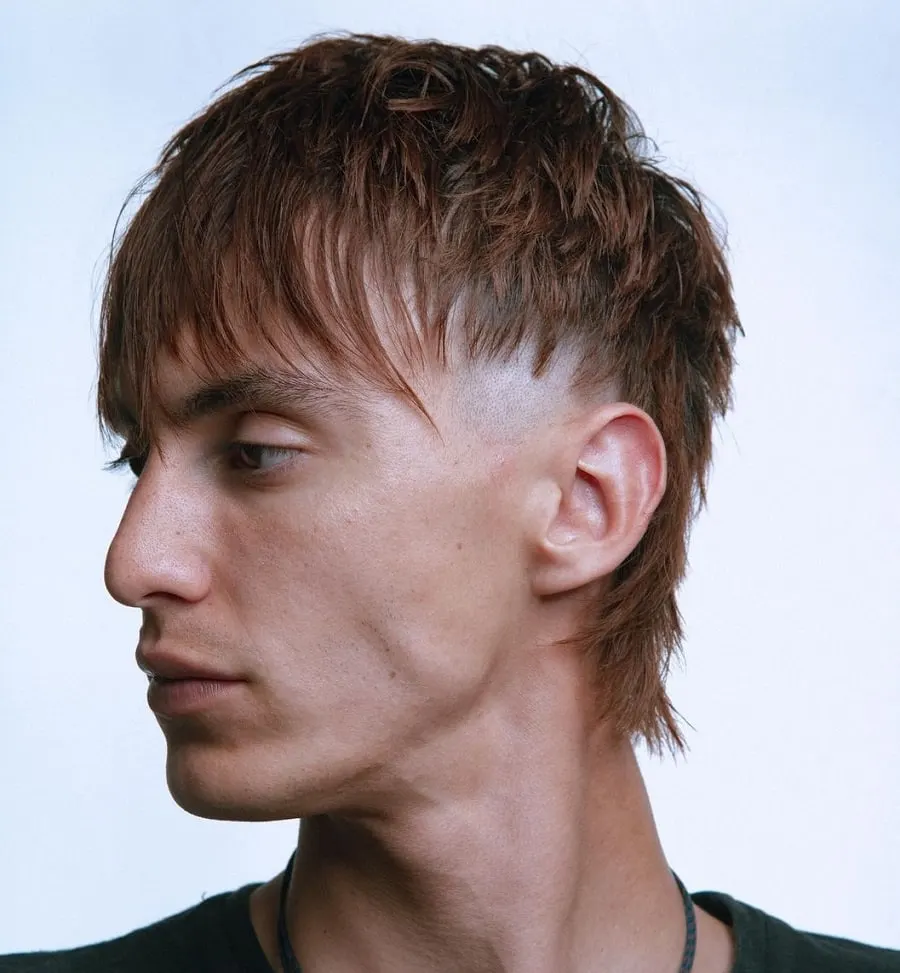 For this choppy hairstyle, you will need to create loads of edgy layers. Keep your bangs feathered on the forehead and create a small mullet.
On the sides, go for a bald trim that will emphasize the center layers.
7. Dark Burgundy Ombre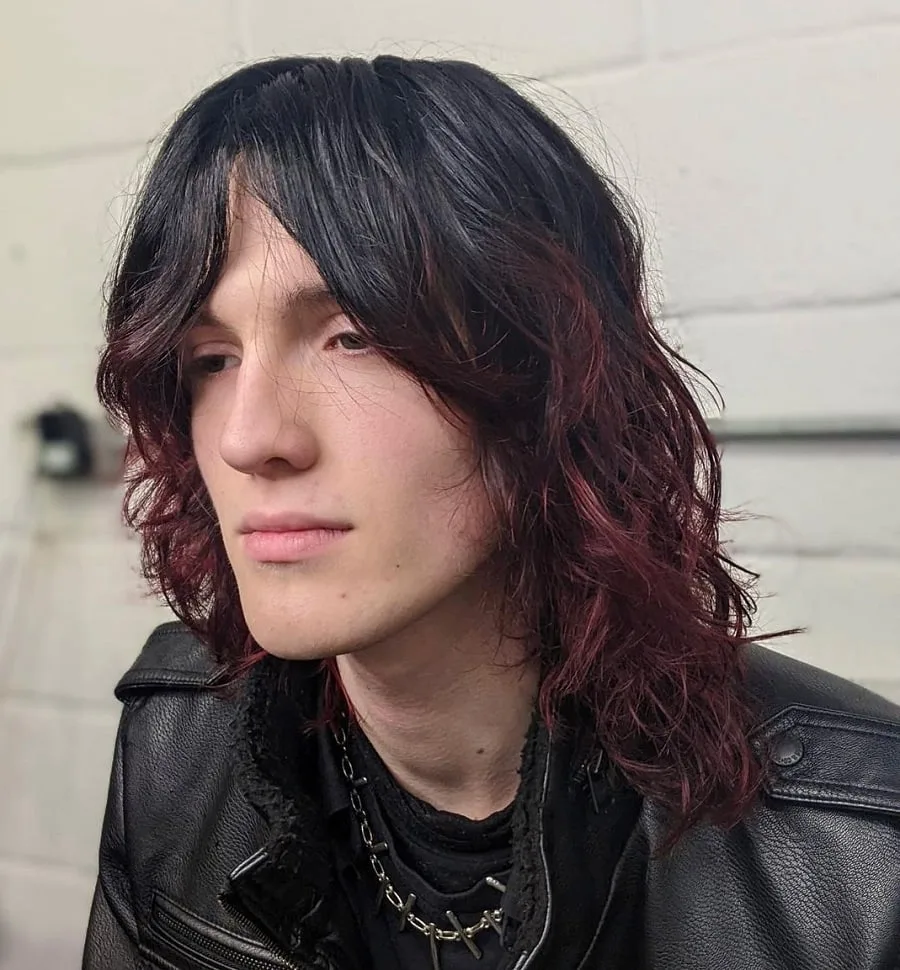 Combine curtain bangs with medium-layered hair that will give your curls more texture. If you love a grunge look, you can create a cool ombre.
Keep the roots in a dark color that will transform into a burgundy shade for the ends.
8. Messy Short Layered Cut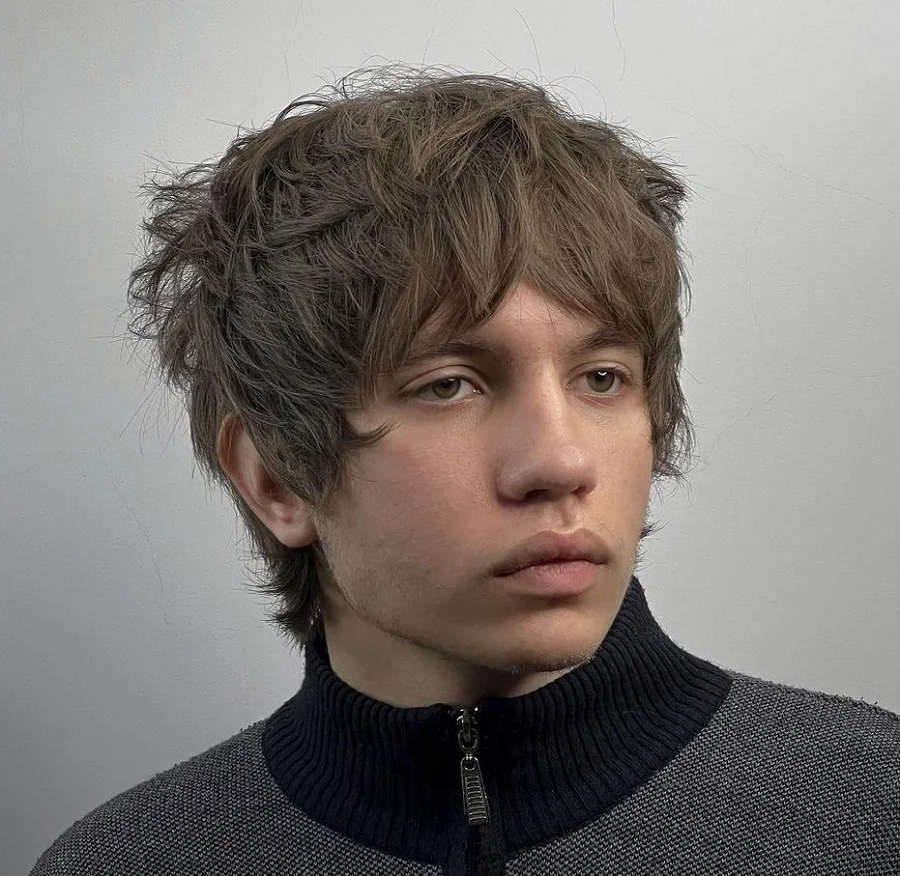 Wolf cuts can be short, becoming even more versatile when it comes to styling. Go for layers that you can direct with your hands to the forehead.
Bangs can be split in the middle in the lower part. Also, mess up your sideburns by bringing them upfront.
9. Tennis Wolf Cut with Aviator Sunglasses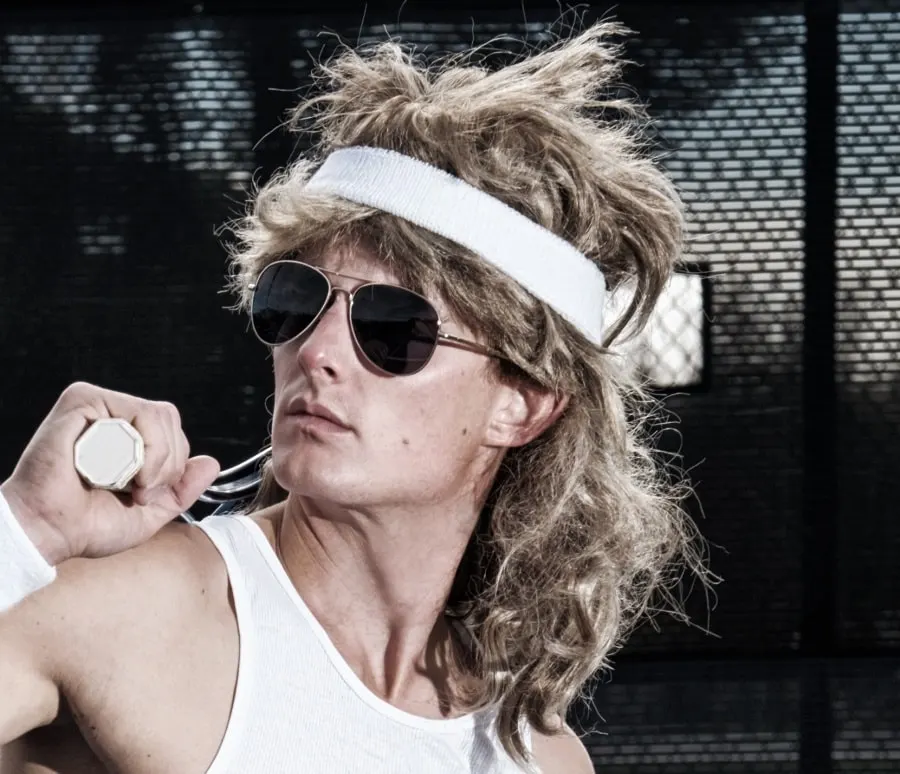 If you are having a themed party, then you should choose a goofy wig like the one above.
Go for one that includes a mullet, part your bangs in the middle, and place a white headband. Add some aviator sunglasses and you will rock this old-school tenismen look.
10. Curly Layered Hair with Side Taper Fade
Combining a mohawk with a mullet will result in a cute and trendy wolf cut for men.
If you need volume, you must have naturally curly hair or create some ringlets. Shave the temples and style a line undercut that will become the delimitation between the rich curly hair and the bald section.
11. Icy White Highlights
Build your messy layers in the back and go for a middle part with curtain bangs. If you have naturally black hair, then you will love some contrast.
Create some thick icy white highlights on the sides and flip out the ends to create more volume.
12. Ginger Wolf Cut with Beard
When your hair has a lot of volume and dimension, it would be such a shame not to take advantage of this distinctive hair characteristic.
Moreover, as a natural ginger, many girls will be jealous of your hair color so it would be cool to preserve it and go for a hairstyle that makes your trim and unusual nuance pop out. Shave the sides, and concentrate the volume on the forehead and in the nape area.
13. Retro Wolf Cut for Curly Hair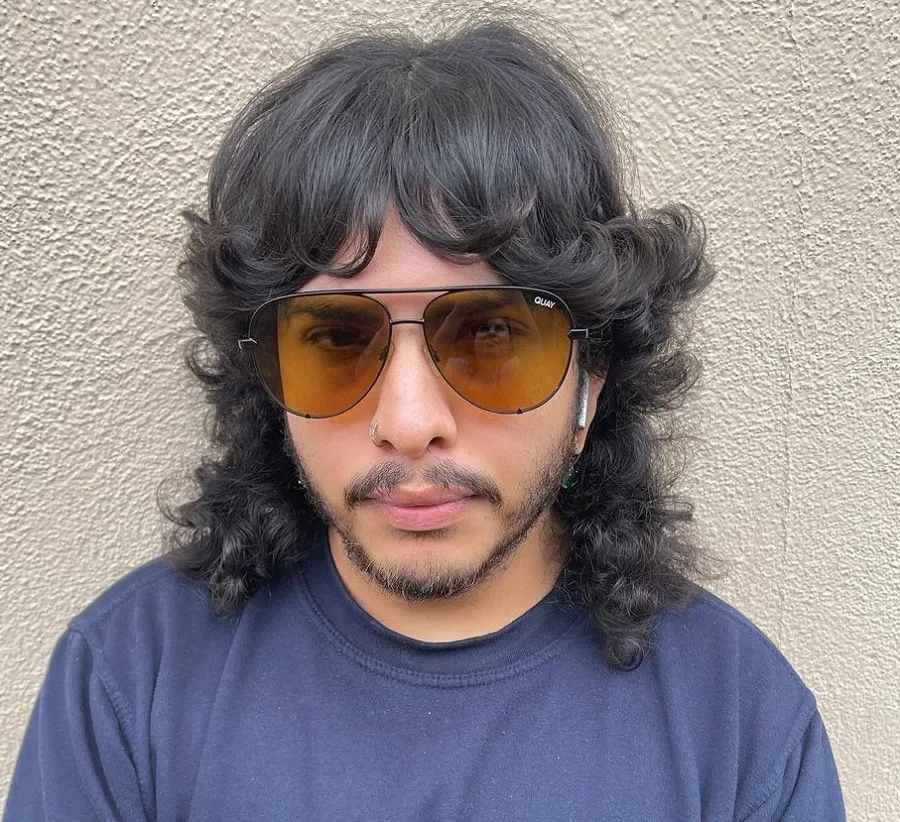 For this hairstyle, you will need to add texture to the lower part. Layer your hair so those ringlets can get the bounce and shape they deserve.
As for the crown, choose curtain bangs, flip out the ends, and create some continuity.
14. Punk Cut
Depending on your personal style, you can adapt a male wolf cut however you like.
If you want it to suit your musical tastes and overall look, then arranging your cut in a more punk-oriented way will certainly work well for you. Go for short bangs, lifted crown, and low nape curls.
15. Blonde Wet Waves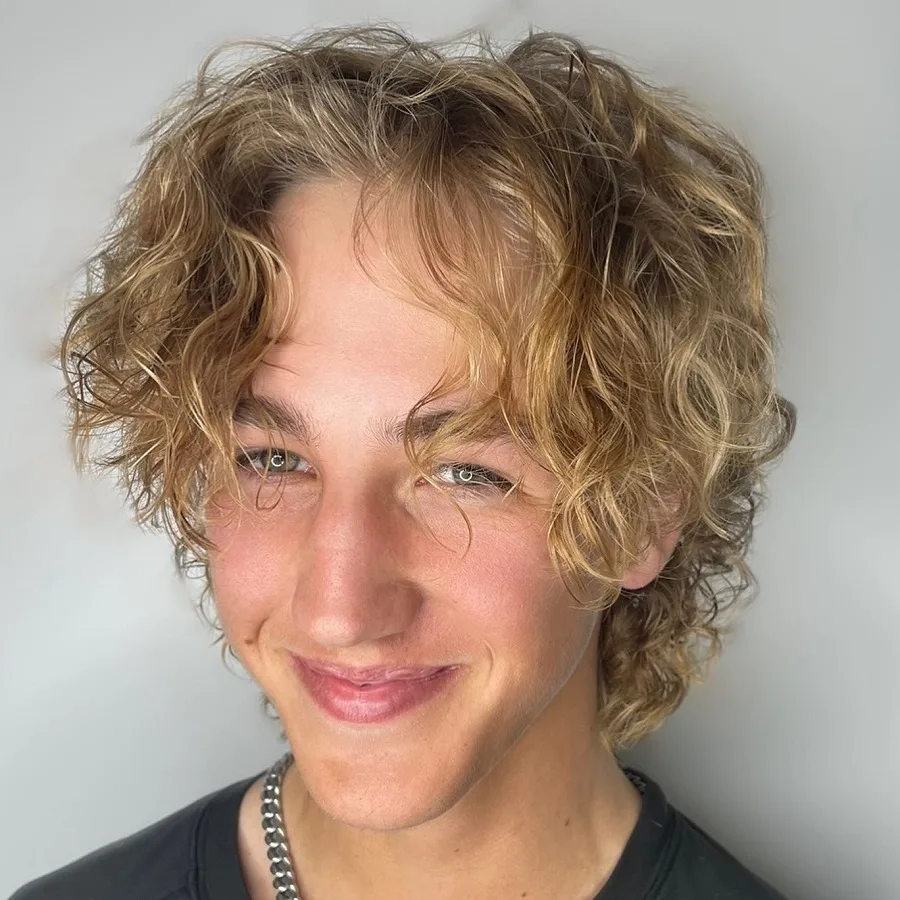 Surfer looks can be also achieved with a cute wolf cut. First, you will need to create layers that will suit the wavy texture of your hair, then set the length of your bangs.
Use a hair foam that doesn't load the hair, and just gives it a wet just got out of the ocean look.
16. Caesar Mood Haircut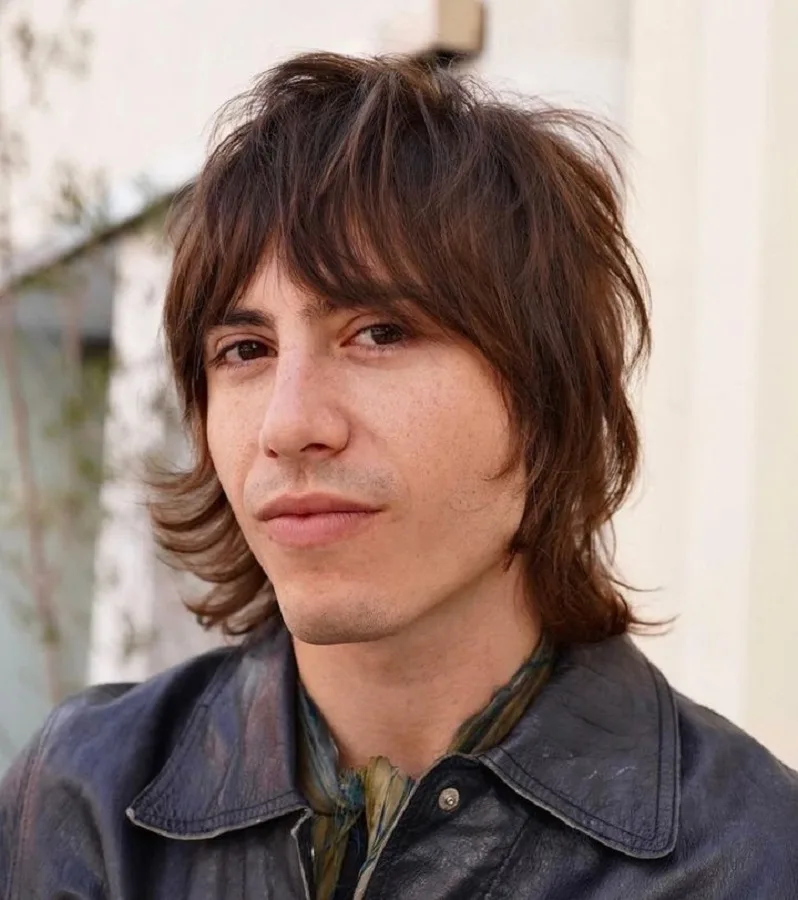 Noel Gallagher, the Oasis singer is probably the face for this Caesar Mood haircut. He wore this in the early 2000s and many asked themselves why he chose such an unaesthetic look.
However, in 2023, this haircut is more popular than ever and it features long layers in the nape area and a shorter, yet voluminous crown.
17. Temple Fade with Disconnected Beard
When we're talking about a wolf cut, the secret to getting a successful hairstyle lies in how well you adapt those layers to your face shape and combine them with beards or undercuts.
For this example, you will need a side taper fade, wavy hair that is combed over, and a short contoured disconnected beard.
18. Layered Soft Spikes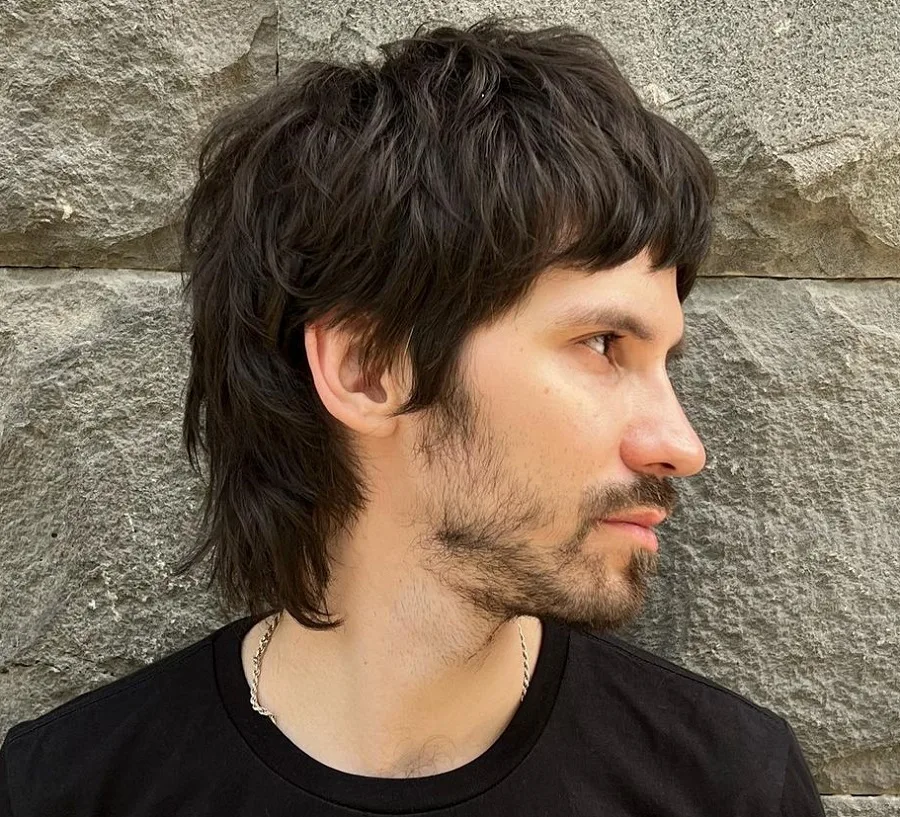 This soft spikey look features short bangs, long nape hair, and sideburns that are messily styled in front of your ears.
Even if it looks slightly messy, the hairstyle is well composed, and with thin strands pointed as spikes.
19. Mullet Wolf Cut with Goatee
For this wolf cut for men with curly hair, the part with more texture and volume is in the nape area. The top features layers and side-swooped bangs, while on the side there is a wide undercut.
This highlights the long curls and creates an elongated aspect of your face.
20. Short Mullet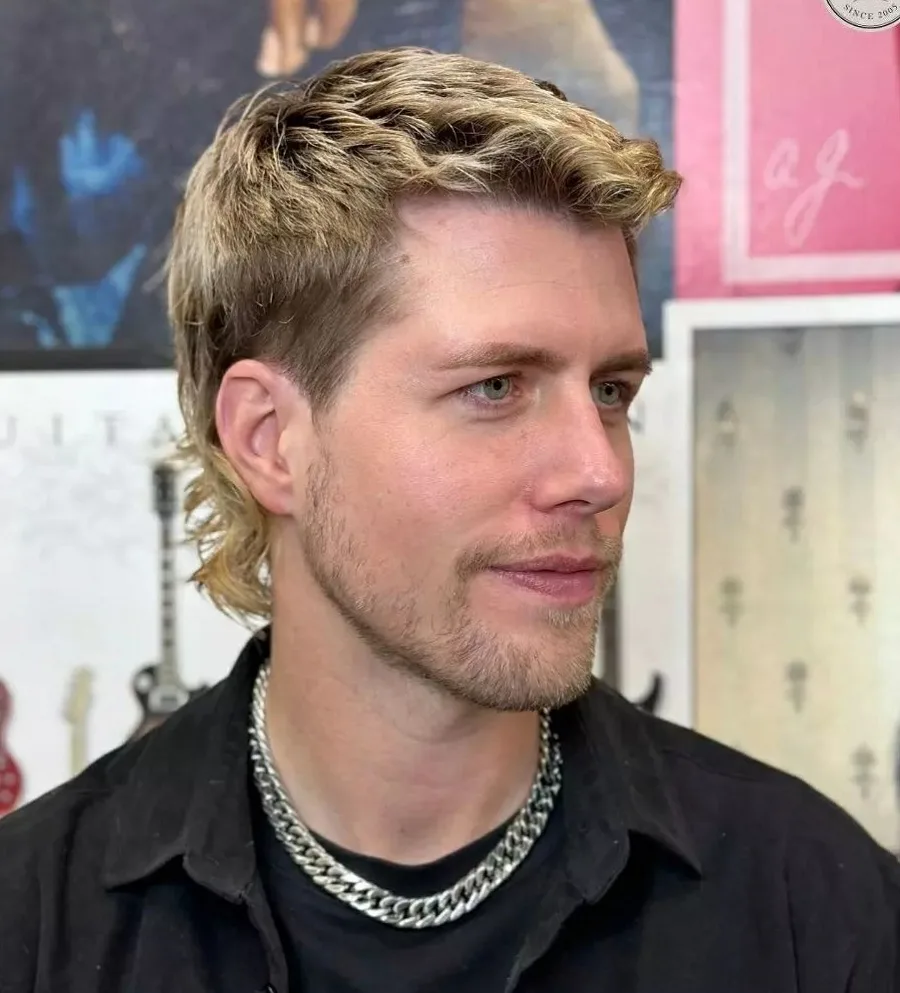 A short mullet can give your haircut a more interesting and intriguing aspect. Go for a simple mid fade for the sides, and a well-defined top with a few ringlets for the pointy bangs.
Also, curl the nape pieces and keep a short stubble beard.
21. Curly Bangs and Wet Look
Wavy hair is the best canvas for a wolf cut, especially if you don't want to invest too much time in styling your locks.
Go for a middle part and curtain bangs and apply some foam to define the hair texture. A stubble beard and a short mustache will help you complete your look.