You don't see nearly enough Asian men long hairstyles, or for any other guys. Cropped coiffures are de rigueur, but you have the opportunity to be a trendsetter.
Adopt a "Long hair, don't care" philosophy and start to style your hair to its best advantage. Throw it up into a ponytail. Pull back half of it. Braid it. Twist it into a bun. It's your hair, my guy.
Hot Hairstyles for Asian Men with Long Hair
There are plenty of Asian guys with long hair, and it's time to highlight the hairstyles that complement their lengthy tresses.
Wearing it loose is always encouraged. Inspire others with your long, lush, thick hair. Bring long locks into the office. Show off on campus. Leave your Friday night date swooning. I guarantee you'll find a style you love on the list below.
One of the things you'll notice about many men's Asian long hairstyles is their simplicity. An elegant and timeless side part manages to strike an irresistible androgynous balance. Also, check out all that movement and bounce—woof!
Handpicked Long Hair Undercut for Men
#2: Longer than Rapunzel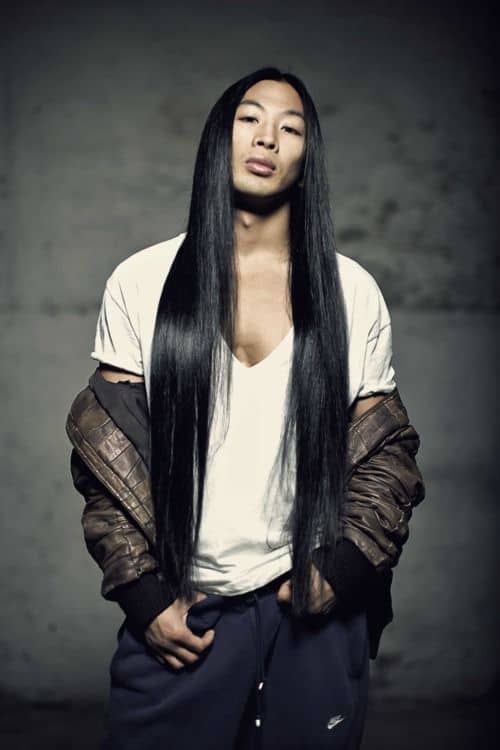 Who else is suffering from hair envy all of a sudden? As if the length isn't impressive enough, you can practically admire your reflection in that shine. Double woof!
#3: Loosely Looped Ponytail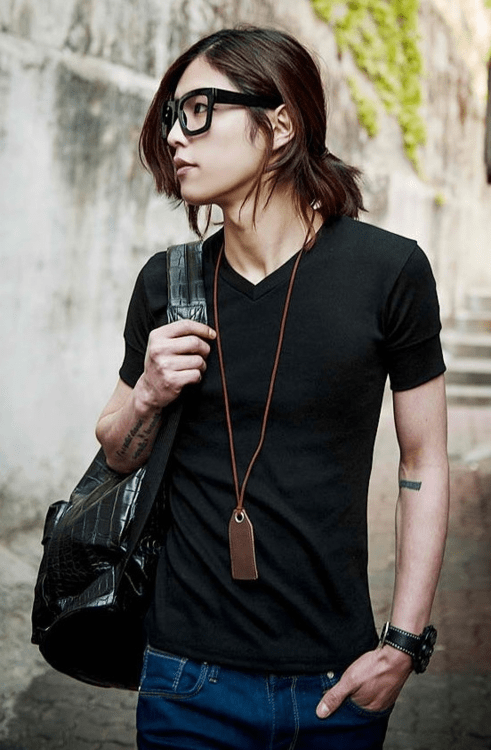 Looping a ponytail into a loose bun never goes out of style for Asian fellas. Moreover, it's phenomenal—and fashionable—on both men and women. Frankly, this whole aesthetic pony style works for me, from the glasses to the t-shirt to the ponytail.
#4: Highlights and Curls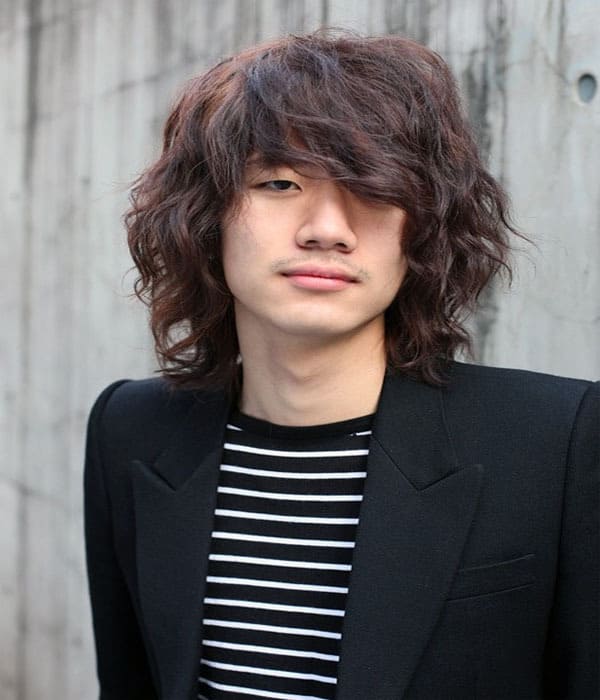 This is a fantastic Asian men's long hairstyle who don't want to wear their hair extremely long but still want a bit of length. The waving curls create volume, texture, and thickness, while the highlights brighten up the dark brown base.
#5: Tousled Just So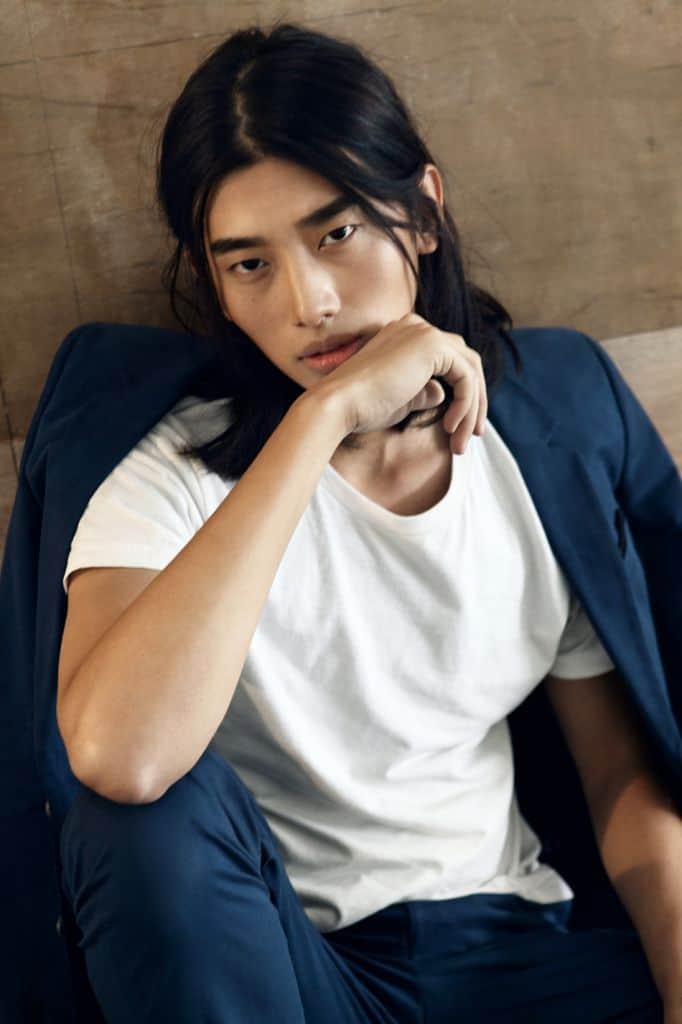 Sometimes, the only thing you need to do to step out like a 10 is to tuck your hair behind your ears. For real, fellas, a casual tousle is often better than something that takes hours to style just so. Ain't nobody got time for that.
#6: Subtly Shagged
Adding layers will take away some of the heaviness of long hair without sacrificing inches. From the side-swept fringe to the flipped up ends, this Asian long haircut for guys is hot stuff all the way around. Notice how it frames the face, accentuates the cheekbones, and sharpens the jaw.
Gentlemen! Be A Dapper In Long Curly Hair
#7: Curly Pony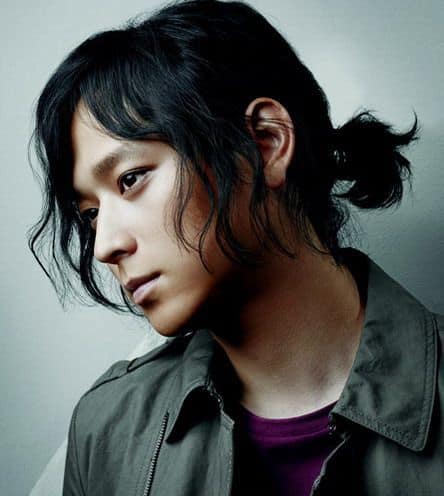 Any Asian guy who's in the market for semi-long hairstyles ought to take a second—and third—glance at this coiffure. A short ponytail, a few curly tendrils, an appealing lack of perfection—what's not to love?
Who says that bedhead and business suits don't go together? Don't worry about styling your hair into a helmet that won't move. Walk around with hair so soft and free that everyone will want to run their fingers through it.
#9: Gone Gray
This Asian guy with long hair has done more of a platinum dye job, but it goes beyond platinum. Allowing bleach or a lightening serum to set for a long time, particularly on dark hair, creates a gray patina. You know you want to be a silver fox.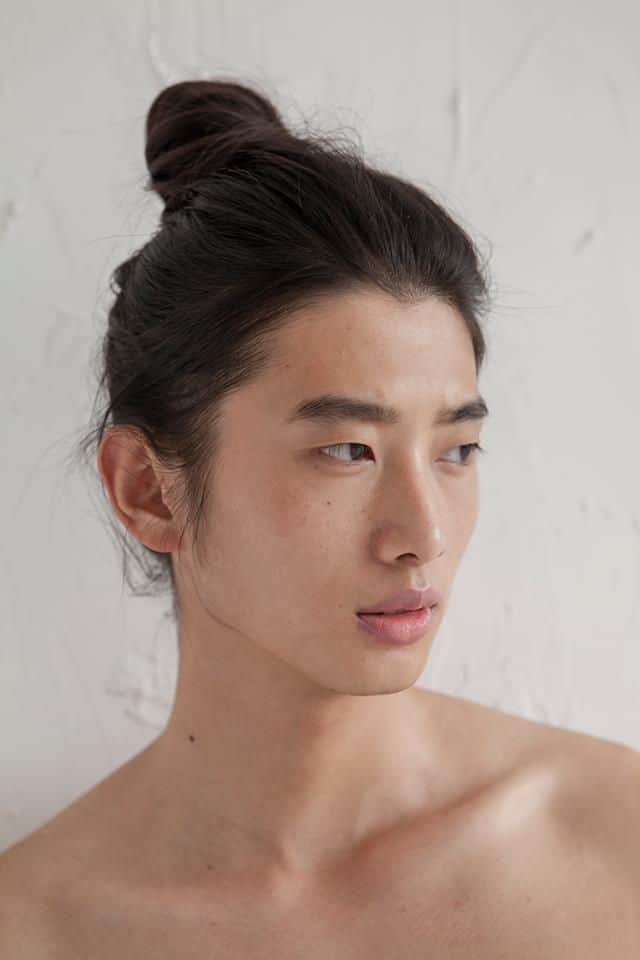 Not all long hairstyles for Asian men focus on the length. As anyone with long hair knows, sometimes you just want to toss it up and forget about it. Copy a bun like this, and no one will ever forget your style. Seriously, scope that twist.
#11: Casual Flow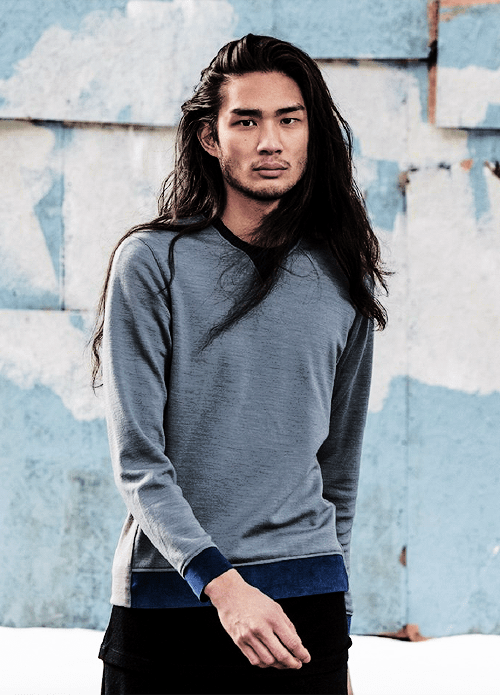 Occasionally, a messy 'do is just the right aesthetic. Honestly, being an Asian guy with long hair like this, you don't need to do anything. Just run your fingers through it and kindly allow people to stare at you.
#12: Half Back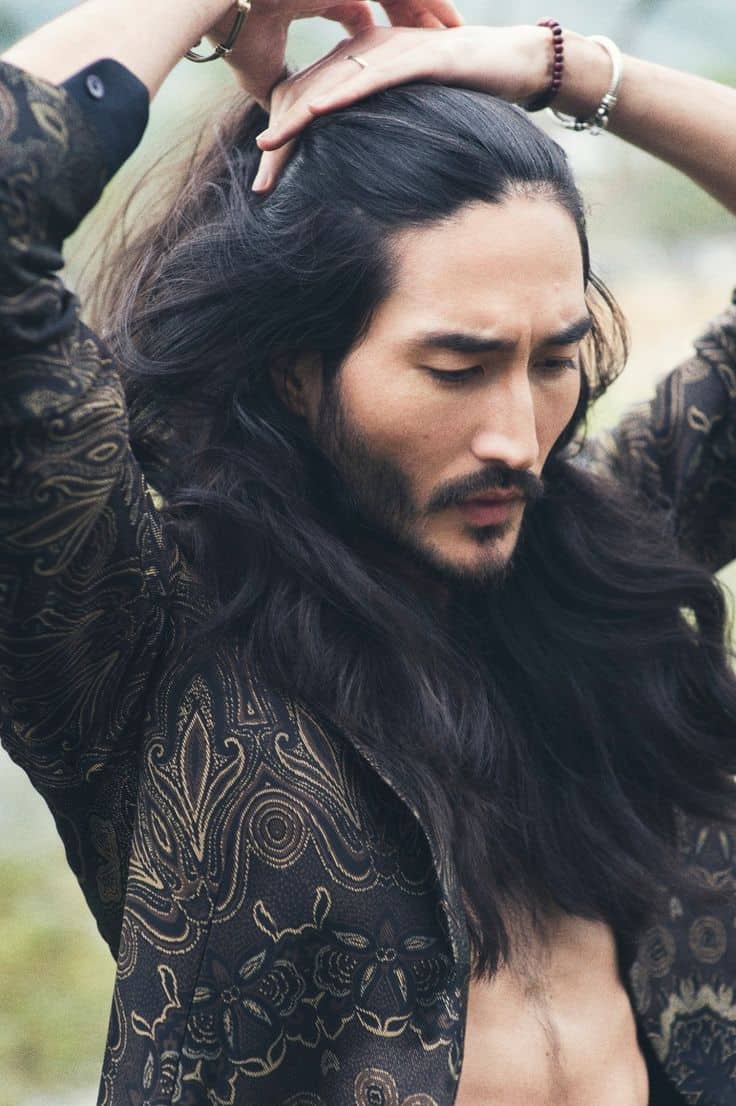 Eager to show off your length but dying to get your hair out of your eyes? Pull back half your hair, and you get to have the best of both worlds—plus you can reveal your handsome face for the world to see.
Trendy Beard Styles For Asian Guy
The array of Asian men's long hairstyles is varied, versatile, and always revolutionary. Don't worry about masculine versus feminine; focus on what flatters your face and puts your hair in its best light.