Planning a dramatic change of looks? Then maybe you can start by chopping your hair and getting a trendy micro bob haircut. It can be hard to make such a decision, but this short haircut can encapture your beauty, highlight certain facial features and save you a great amount of time from styling.
Cute Micro Bob Ideas
Micro bobs are low maintenance and if you don't necessarily love it, remember that hair grows faster when it's short, healthy, and recently chopped. Check out our examples and discover amazing ways to style your micro bob!
1. Asymmetrical Pink Bob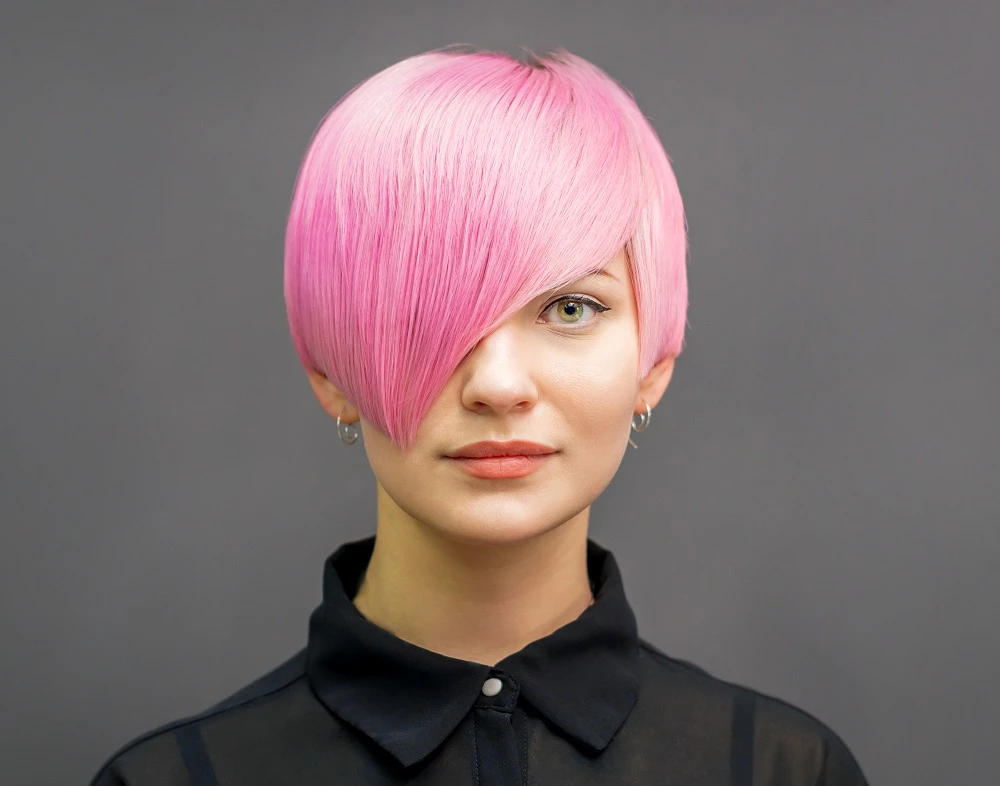 Sleek looks can be pulled off in many different ways, including gluing your hair on the sides and then styling the bangs covering one of the eyes.
This bob cut is not too practical, but it will look fabulous and have quite an impact at a photoshoot or hairstyle contest.
2. Blunt Micro Bob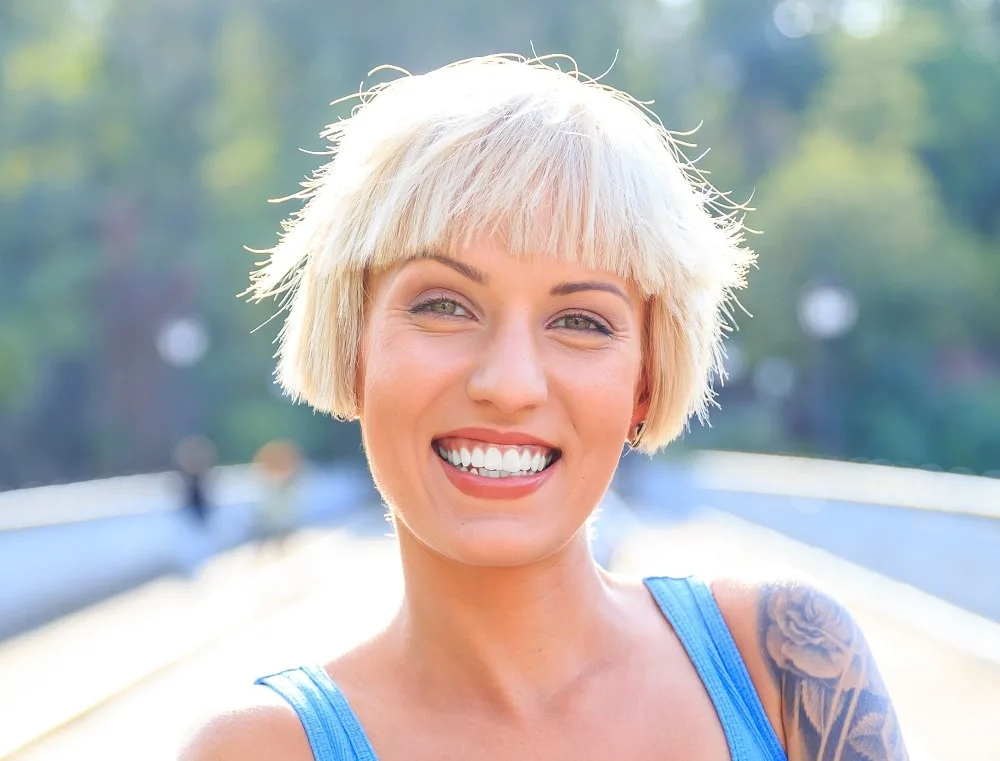 If you have a lovely jawline that you want to highlight, all you need to do is get a blunt cut just below the ear level.
Also, choose a straight cut for your bangs and use an iron to keep your locks flat.
3. Asymmetrical Brown Bob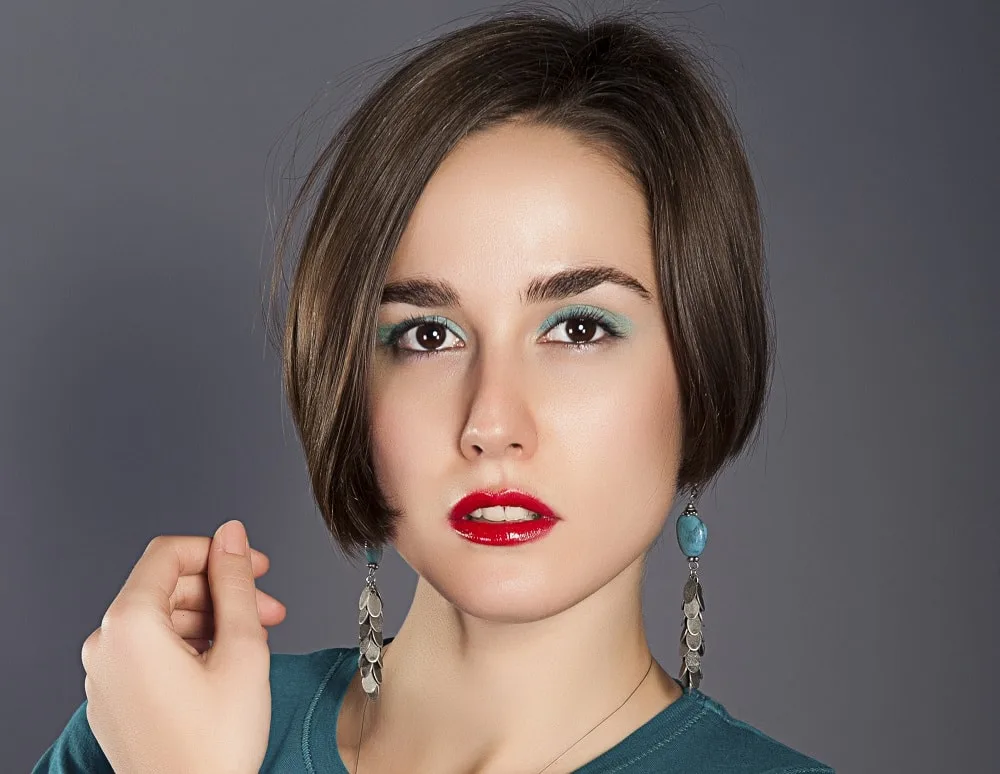 This flattering micro bob hairstyle is perfect to give a glamorous look. When you adore natural looks, then all you need to do to make a dramatic change is to cut your hair into a micro asymmetrical bob.
Your bangs will be parted slightly on one side and one lateral will have more length than the other.
4. Copper Curly Bob
This amazing color and trim will emphasize your curls and give them a lot of movement and bounce.
The hairstyle works fabulously with oval glasses with metallic frames, giving you a retro yet cool new look.
5. Platinum Bob for Older Women
Platinum blonde colors are perfect for women over 50 who want to hide their white threads but still get a fashionable look.
Keep your hair short with layered bangs that you elegantly swipe to the side while still covering the forehead.
6. Light Golden Bob with Side Bangs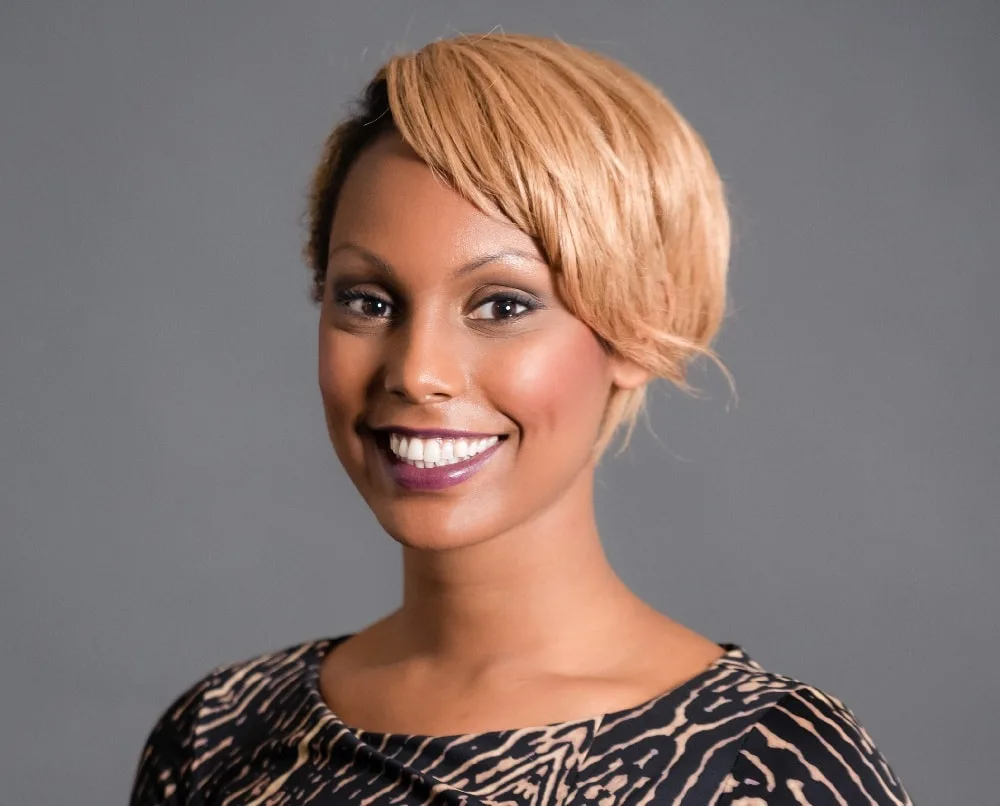 This amazing colored micro bob will work amazingly with your rich melanin skin. If you are a mixed woman, then you can go for a marvelous light golden hair color.
Get an asymmetric bob with bangs swiped to the side.
7. Gray and Dark Wine Bob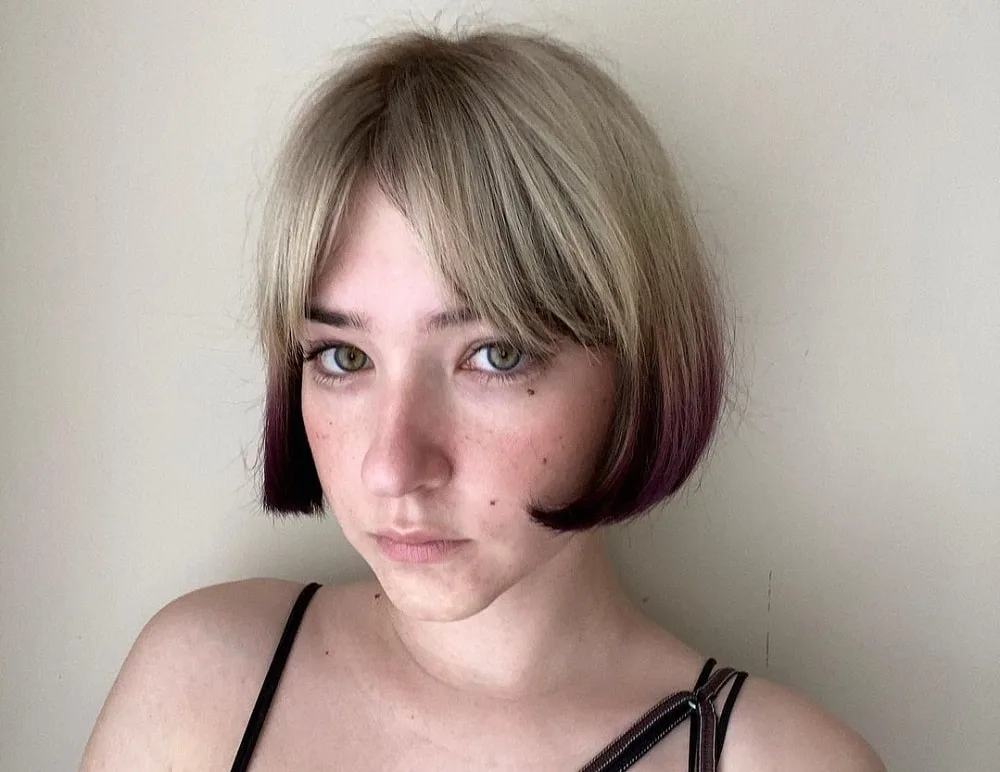 This is a reversed ombre that starts with a dusty sandy blonde color which transforms into a dark wine color.
The bangs cover the eyebrows and are parted in the middle, while the ends of the micro bob have a slightly curved shape.
8. Retro Bob with Short Bangs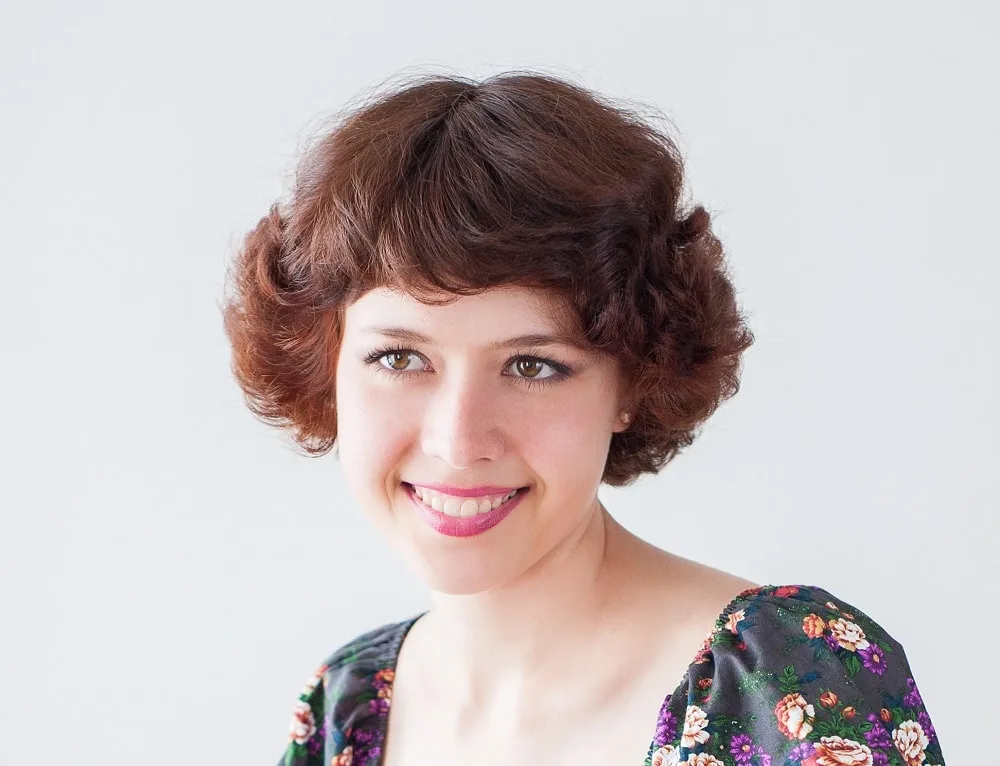 Getting a layered bob with short bangs is the right approach when you crave a dramatic change.
And you can easily achieve this with a digital perm that offers your hair texture and gives your look a retro touch with flipped ends.
9. Electric Lime Green Micro Bob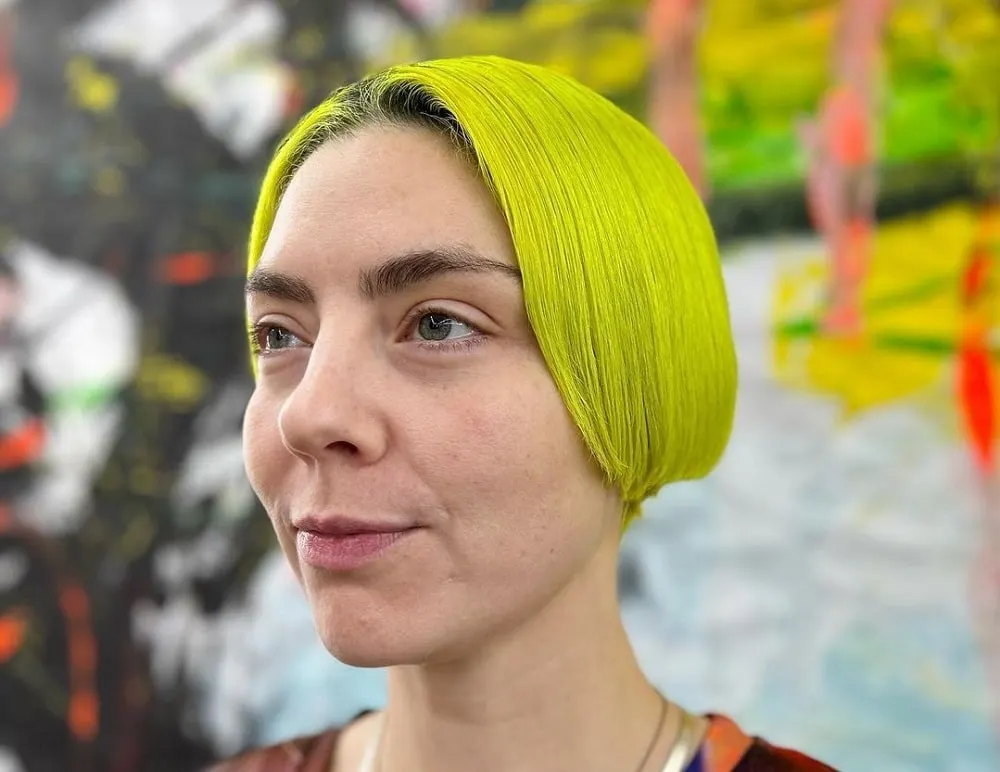 Tired of dull cuts that need a lot of maintenance? Then a micro bob with a middle part is exactly what you need.
Go for a blunt cut, stacked layers in the back, and a vivid lime green color that will definitely get anyone's attention.
10. Diagonal Blunt Cut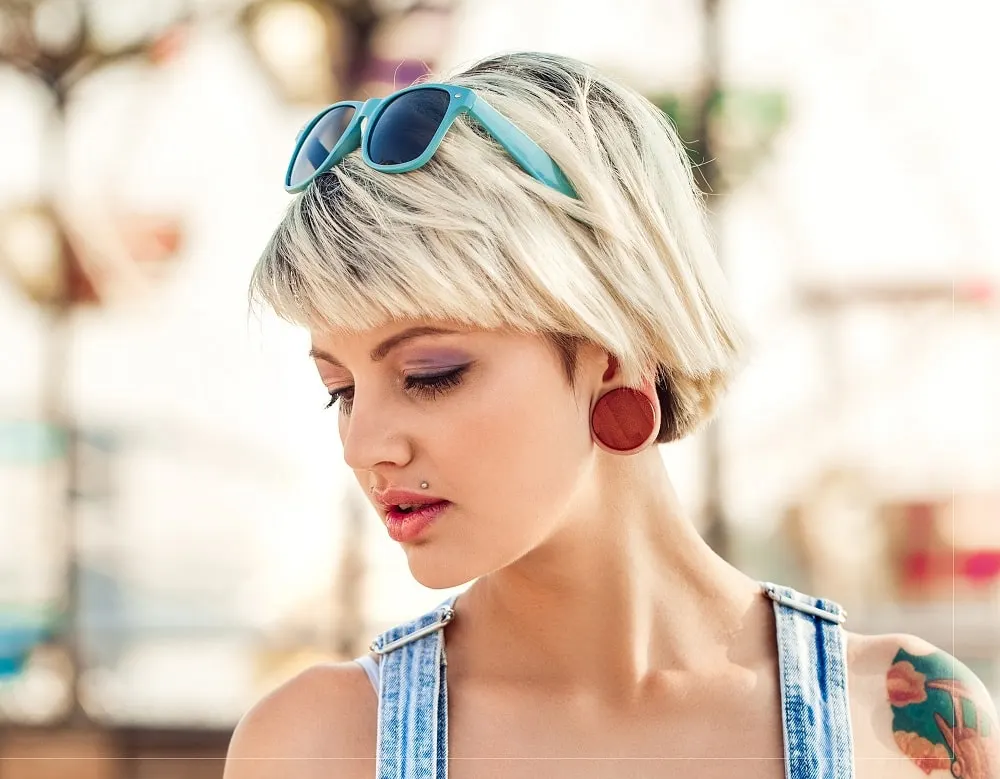 A diagonal cut that starts from the fringe and continues on the side, resembling a bowl cut is a great approach for those who want to give their micro bob a cool twist.
Opt for black roots and a platinum blonde color with black peek-a-boo lowlights that you will sprinkle in the nape area.
11. Layered Copper Bob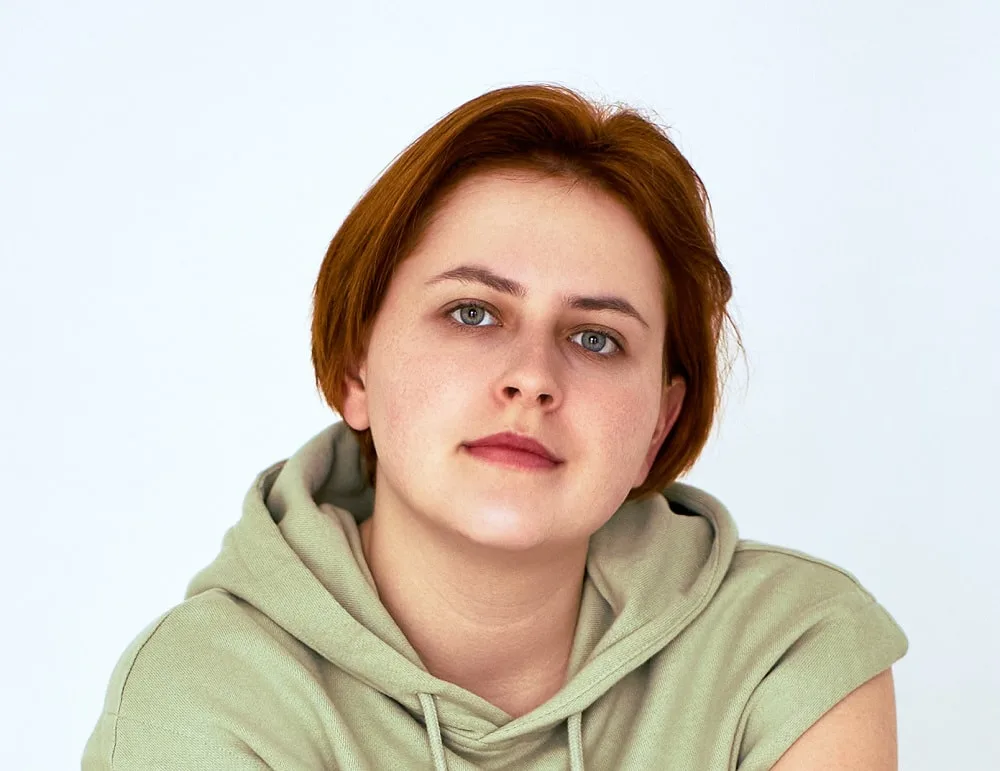 This everyday micro bob haircut features layers and is ideal for women with fair skin with pink undertones.
Go for a dark copper color, especially if you have blue or green eyes.
12. Side-Swaped Bob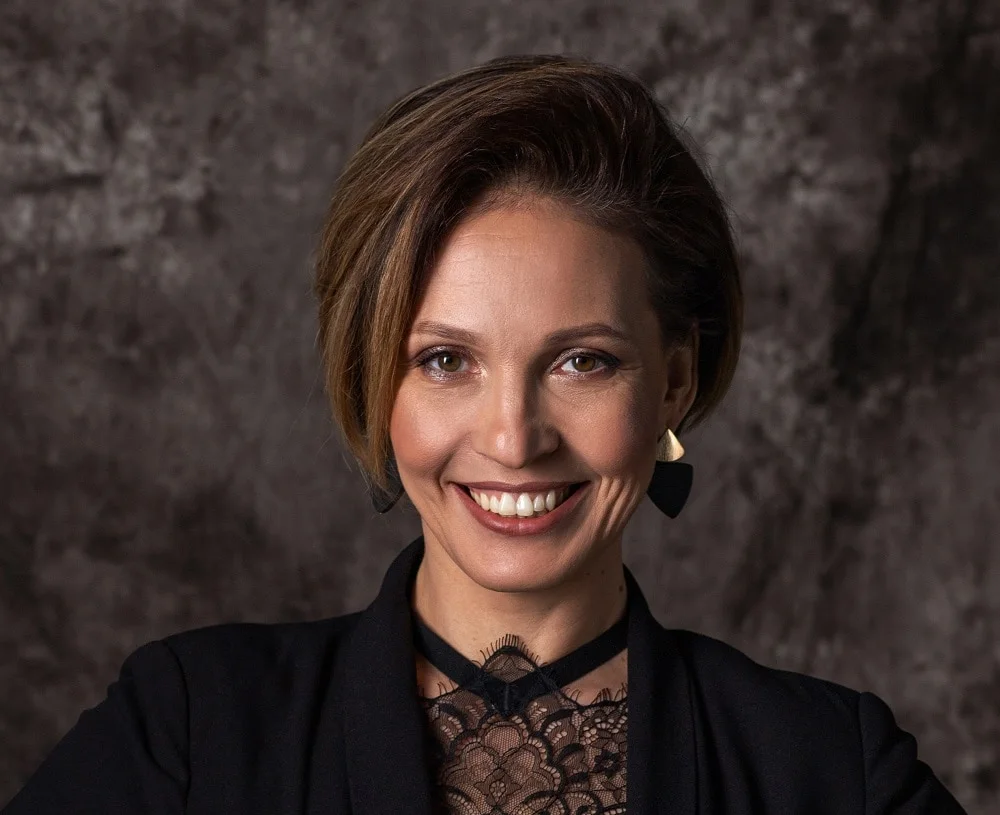 To gain that amazing volume for the roots, you need to do a little bit of styling. First, get a golden brown sombre and give your hair a curvature and bounce.
Moreover, the centerpiece is the top. To gain that height you will need to tease your hair and then comb it to make it look elegant and with an outstanding shape.
13. Feathered Bob with Curtain Bangs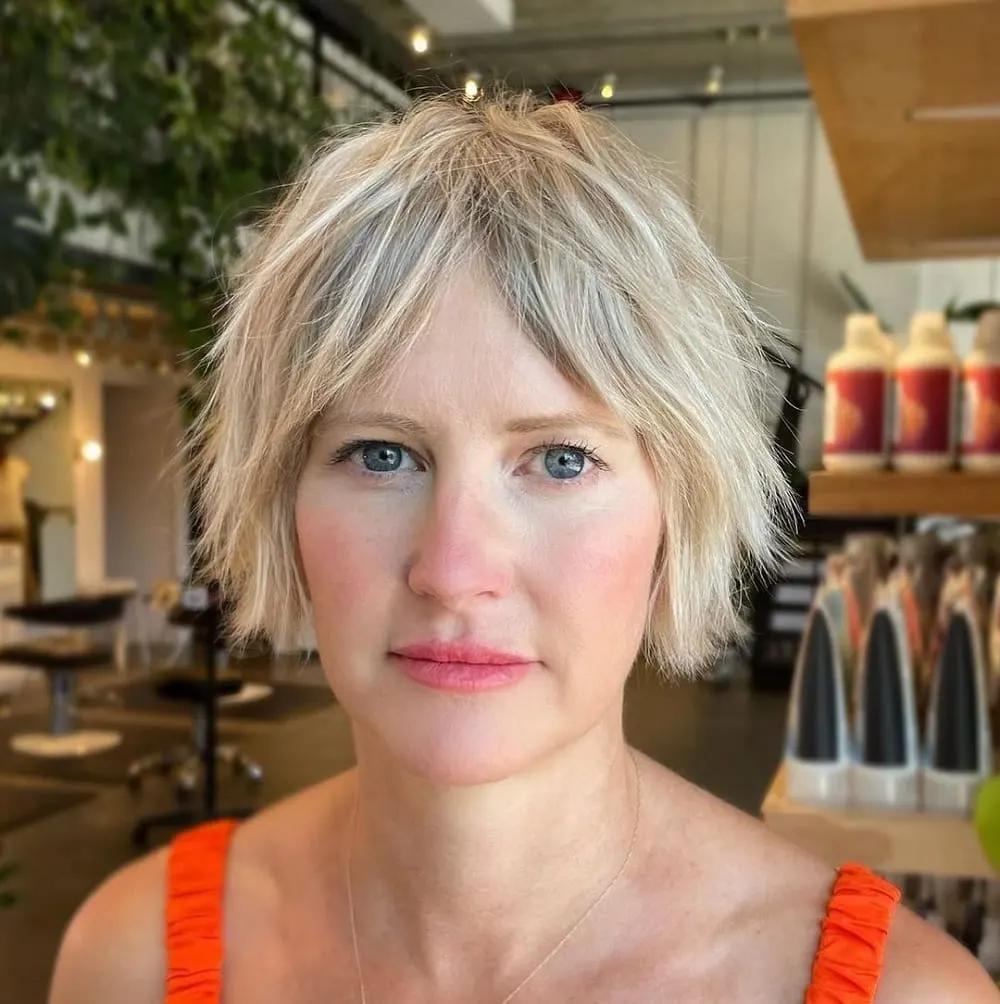 A feathered bob provides more volume and it makes a fabulous pair with curtain bangs. Choose a sandy blonde color and brown lowlights to give your hair that messy cool vibe.
You can style some of the ends, by flipping the out and tousling the top.
14. Messy Wavy Deep Blue Bob
When your eyes have such an unusual yellow green color, some copper blonde highlights and roots will help you complete your look.
As for the rest of your hair, go for vivid blue nuances and combine them with teal pieces. The final effect will be outstanding.
15. Spiral Permed Bob
If you want to avoid getting a triangle shape for your micro bob, then you must style some layers that will make your ringlets beautifully fall one over the other.
As for your bangs, make them asymmetrical and swipe them to the side.
16. Razor Cut Bob
You can achieve a stunning micro bob by getting a razored trim with layered side bangs and an emphasized crown.
Swipe the top and bangs to the side and opt for a mix of copper and a golden brown color.
17. Curly Bob For Square Face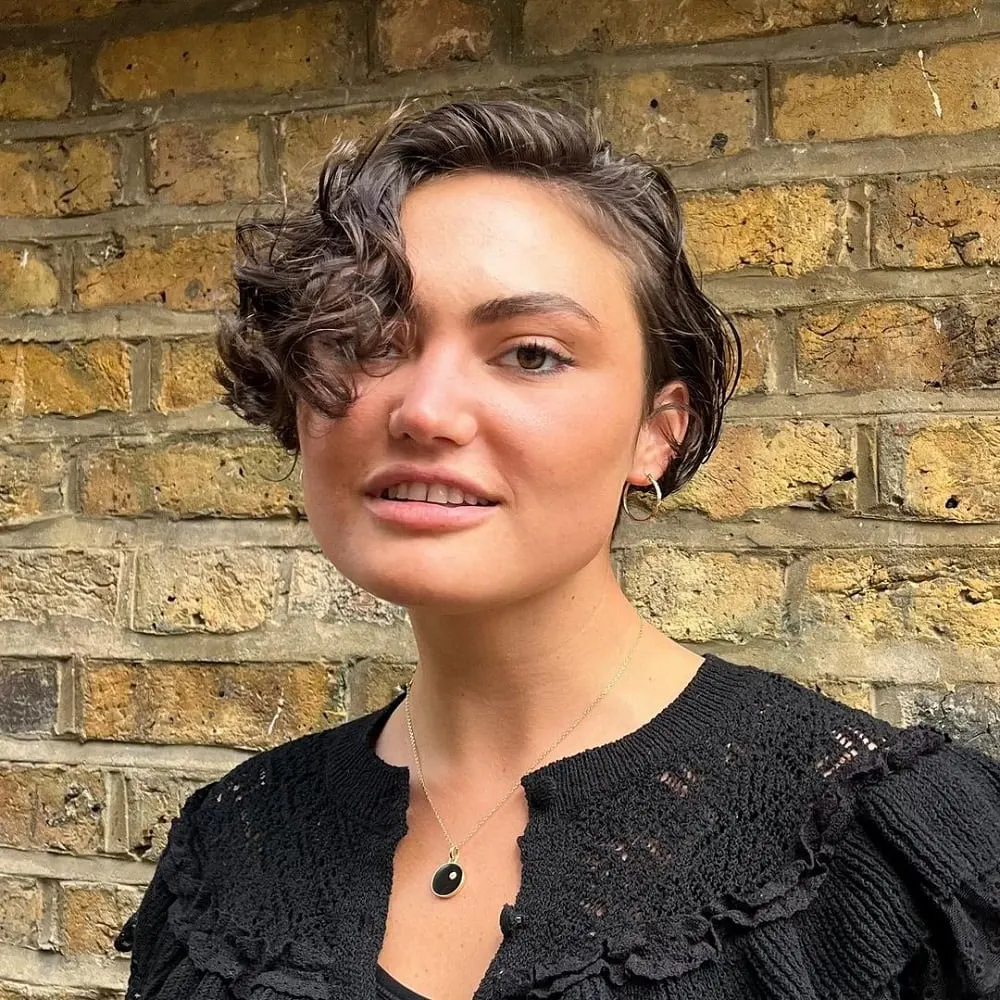 If your hair is naturally curly then, if you choose a short cut, each ringlet will be tighter.
To gain that wet look, you should use styling foam that preserves the shape and gives your locks even more texture.
18. Straight Icy White Bob
Icy white colors require a lot of attention and frequent touch-ups. There's bleaching to be done, toners, and hair treatments so your locks won't get damaged.
So before you choose this nuance, make sure you can commit. You can also go for a short bob with bangs swiped to the side.
19. Green Baby Bangs
Micro bobs are great when you want to highlight your jawline and create a great contour to your face.
Go for a jet black color and a green side highlight. For a more funky look, color the ends of your baby bangs.
20. Layered Waves
However you choose to create and style your waves, they will add such a sweet romantic note to your hair.
It would be ideal to create layers, since they beautifully pair with textured hair. Also, add some brown lowlights for some depth.
21. Violet Stacked Bob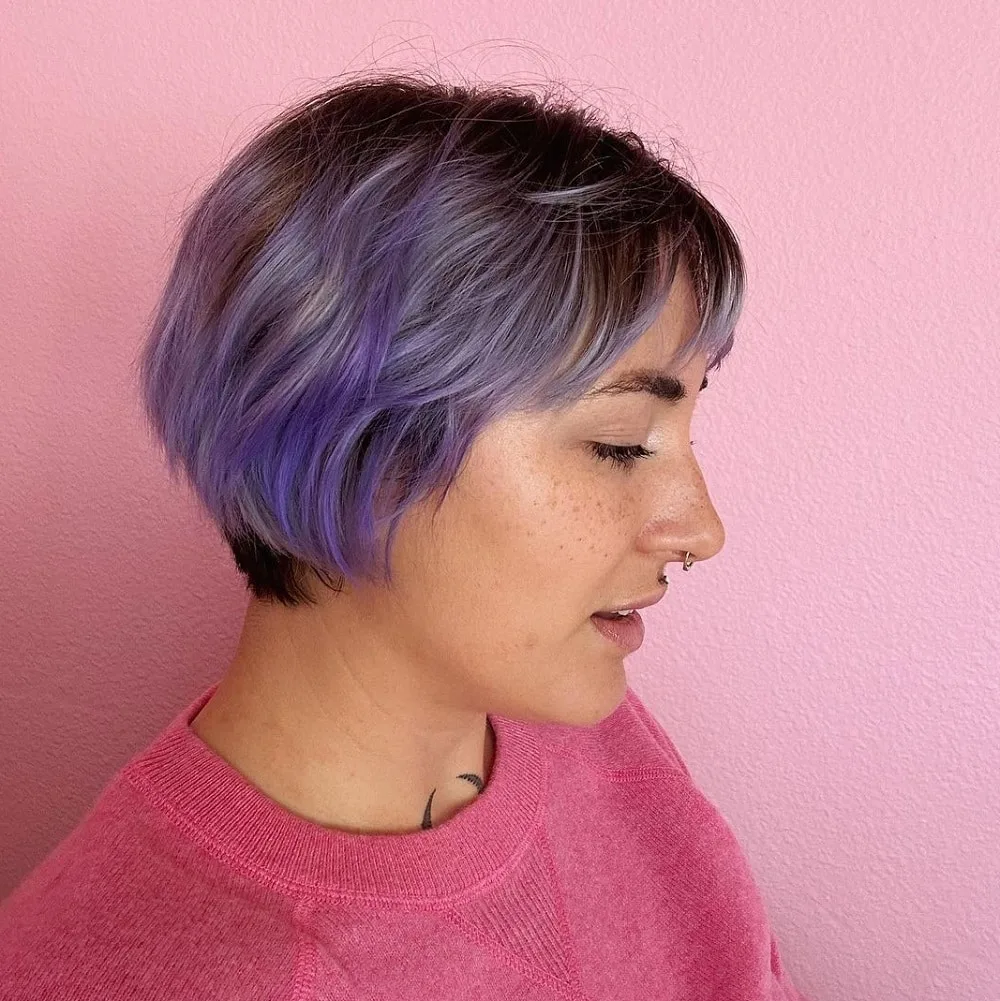 Stacked bobs feature multiple layers in the back, where the hair is shortly trimmed. They help you build more volume and dimension.
Also, layers will do such a fine job on the sides too. The micro bob cut is ideal for fine hair , and for those who want to add a pop of color to their look.
22. Blunt Bangs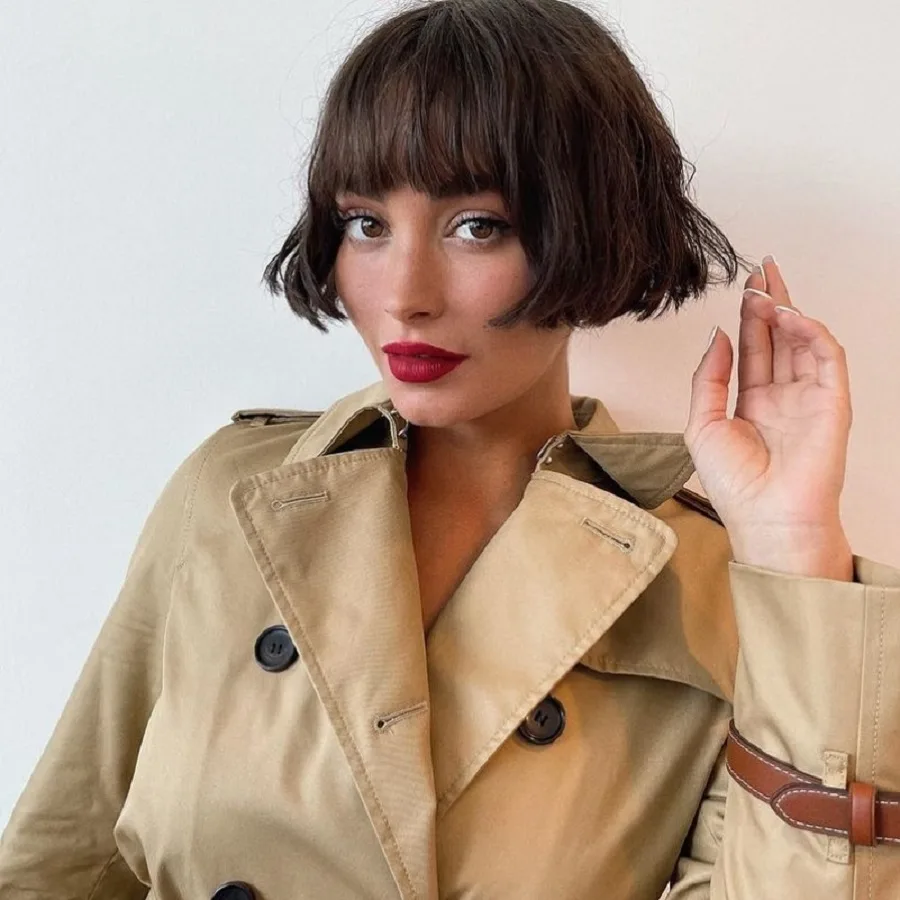 Short chops don't make you look less feminine; on the contrary, they can help you get a romantic look and highlight your facial features.
Go for blunt bangs that cover the forehead and eyebrows and a straight cut that goes just below your ears.
Micro bobs can efficiently work to your advantage if you chop them according to your face shape. And don't worry, there's a suitable option for everyone out there; you just need to find the one for you.