Bobs always look stylish and respectable on women over 50 years old. Hair typically thins with age, so if you're looking for a short haircut to conceal the loss of volume, there's no better option than a bob. It can be constructed to suit both your face shape and hair type, making it one of the most versatile haircuts ever.
Bob hairstyles are easy to manage, maintain, and style. Feathery cuts and stacked layers for mature women can make hair appear fuller than it actually is.
Bobs for Fine Hair Over 50
We've cherrypicked 25 classy bob hairstyles suitable for women with fine hair over 50 years old.
1. Layered A-Line Bob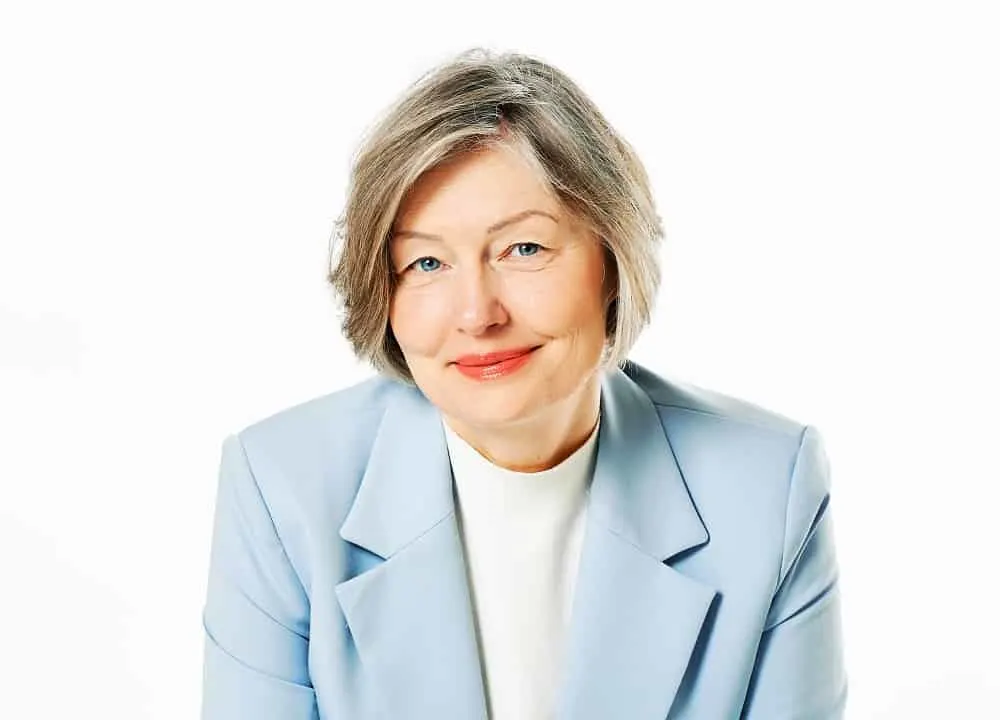 An a-line bob can be bluntly cut or it can be softer and feature feathered or wispy layers. For women over 50 with fine hair, layers will only help in giving your hairstyle gorgeous body.
2. Curly Bob for Round Face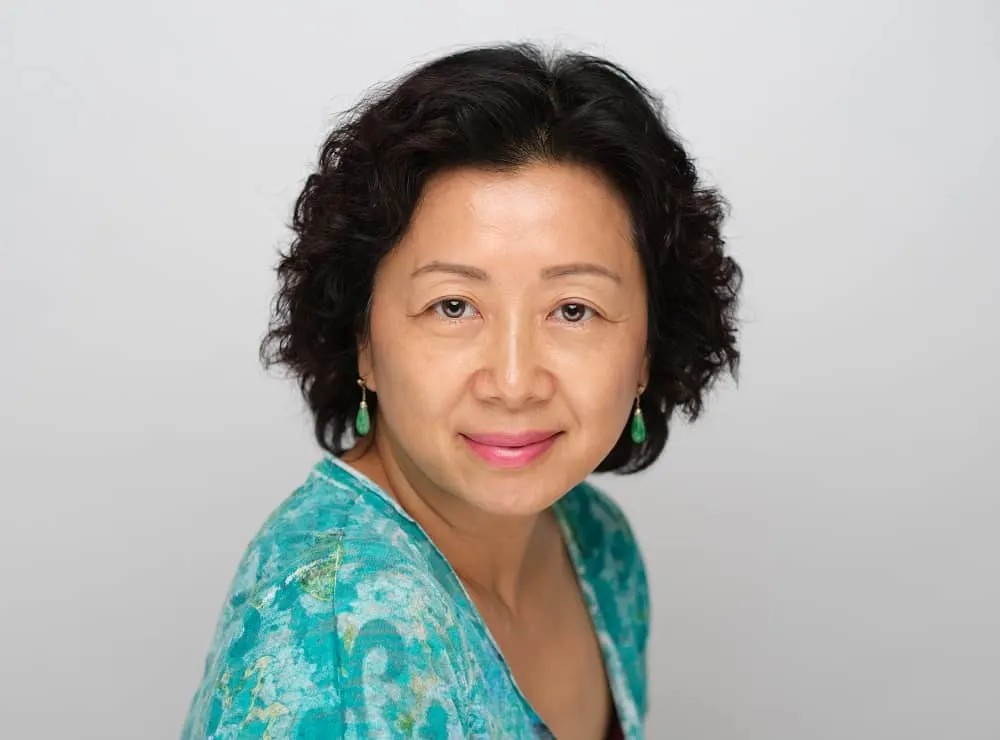 If you have a round face and naturally curly or wavy texture, a chin-length bob parted in the middle will suit your face shape and fine hair just fine. This style also shows how youthful a bob can make women over 50 feel.
3. Sleek Bob for Natural Black Hair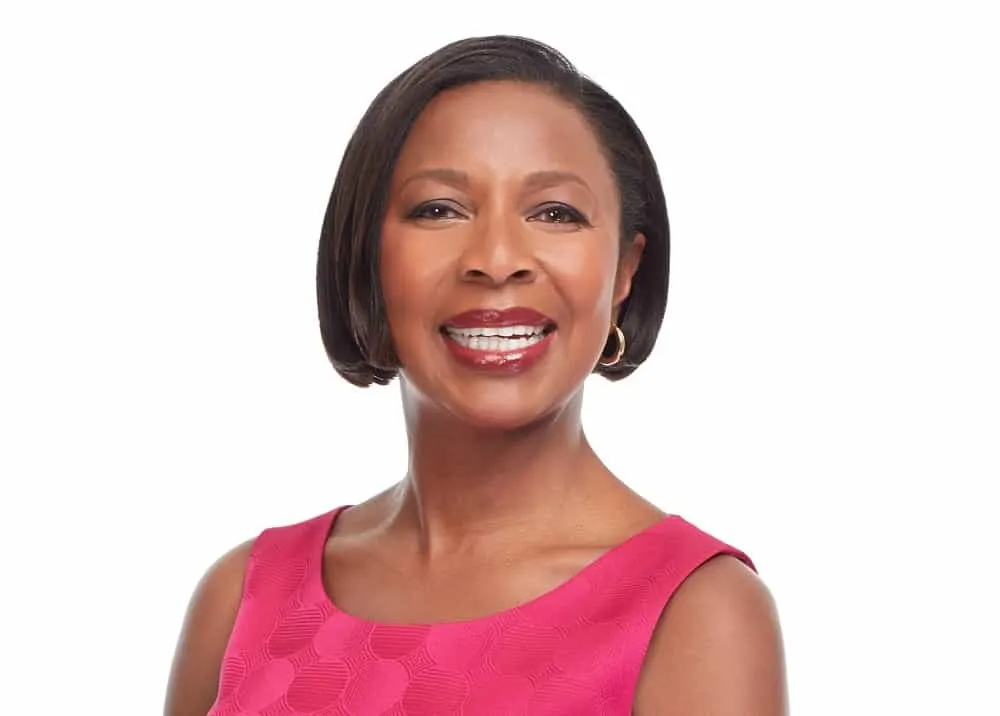 Prefer sleek and chic when it comes to your hairstyle? If you're a natural haired lady, tame your locks into a stylish bob with a subtle off center part. Having your hair relaxed by a professional stylist will give you this smooth mane.
4. Choppy Bob with Bangs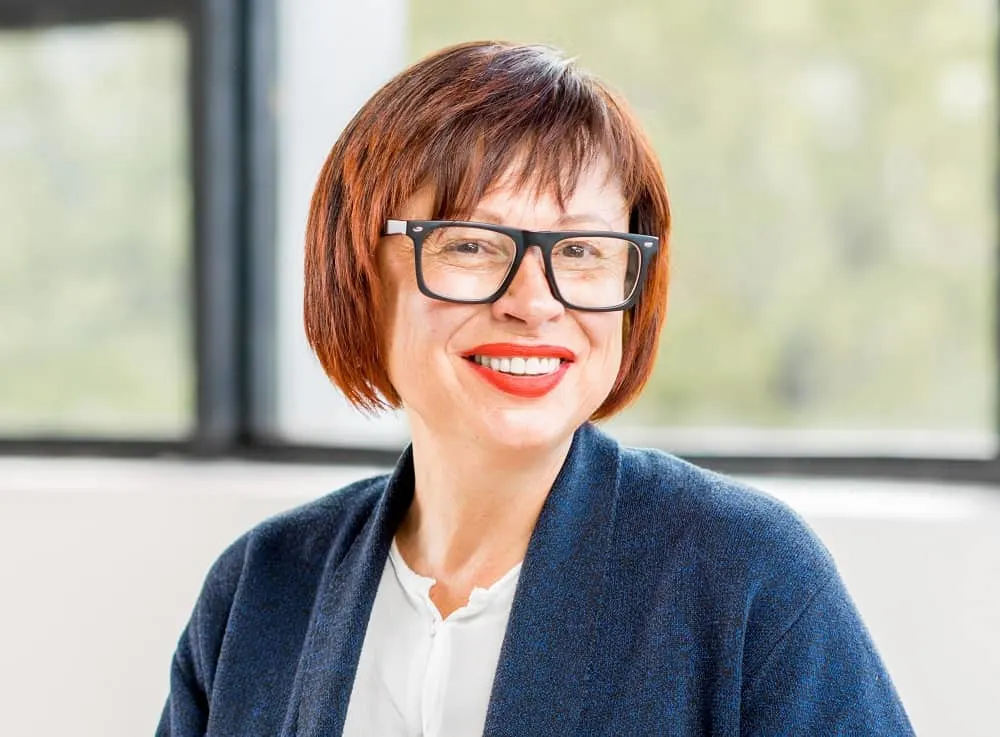 Another great way women over 50 can make their fine hair look fuller is by opting for a choppy bob. This style features chunky layers and uneven cutting, so your haircut will boast shape all over. A soft side bang or minimal fringe is a great way to round out the look.
5. Wavy Bob with Piecey Bangs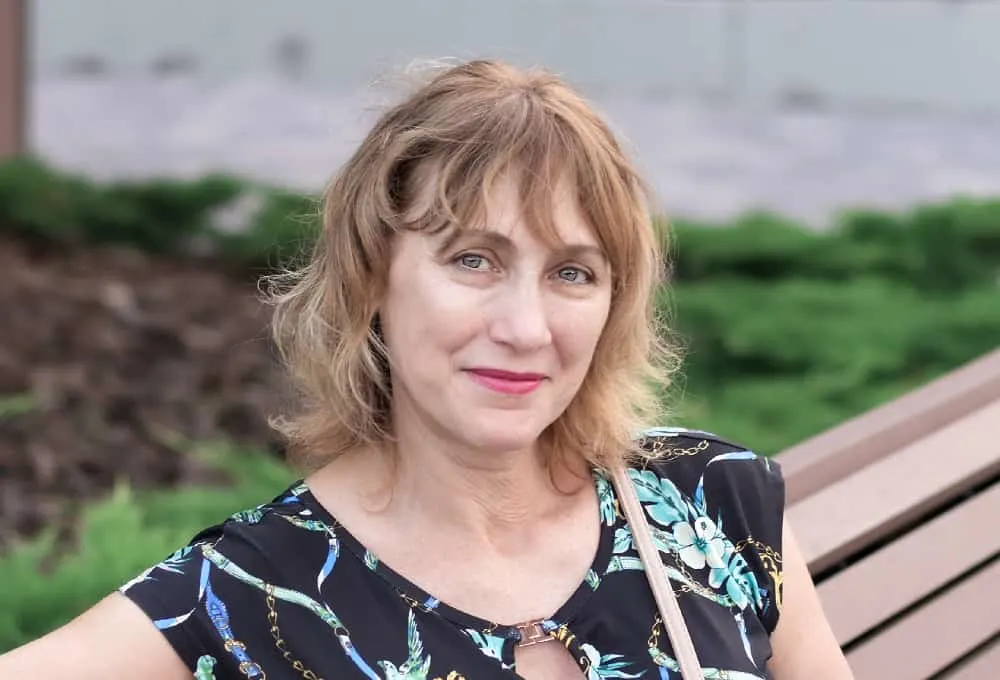 Some women look better with a softer hairstyle. If that's you and you have wavy hair, a bob will highlight your fine hair by enhancing waves as layers. Paired with piecey bangs, this look is ideal for soft-spoken older women.
6. Asymmetrical Bob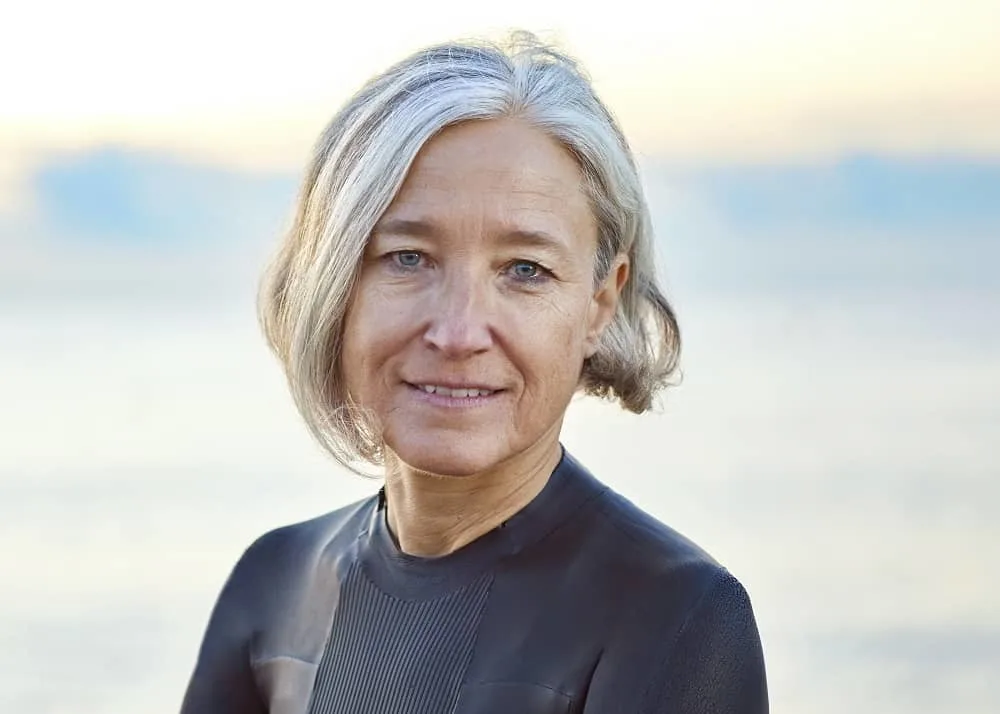 If you're feeling brave enough to switch up your face dimension with a short haircut, an asymmetrical bob is just your speed. The opposite lengths distract from fine hair and flatter a multitude of face shapes.
7. Burgundy Bob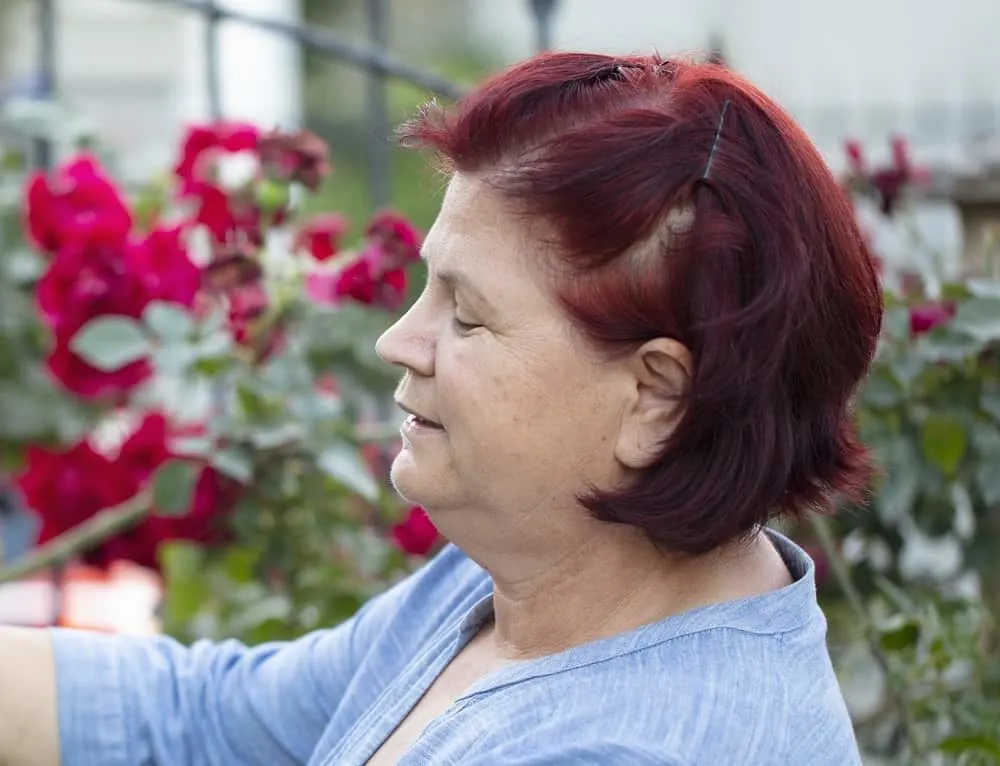 Want a great way to accentuate your eyes? When styling your bob, pin back the sides of your hair using neutral bobby pins for a beautiful casual look. This playful style distracts from fine hair by pulling it in different directions.
8. Straight Blunt Bob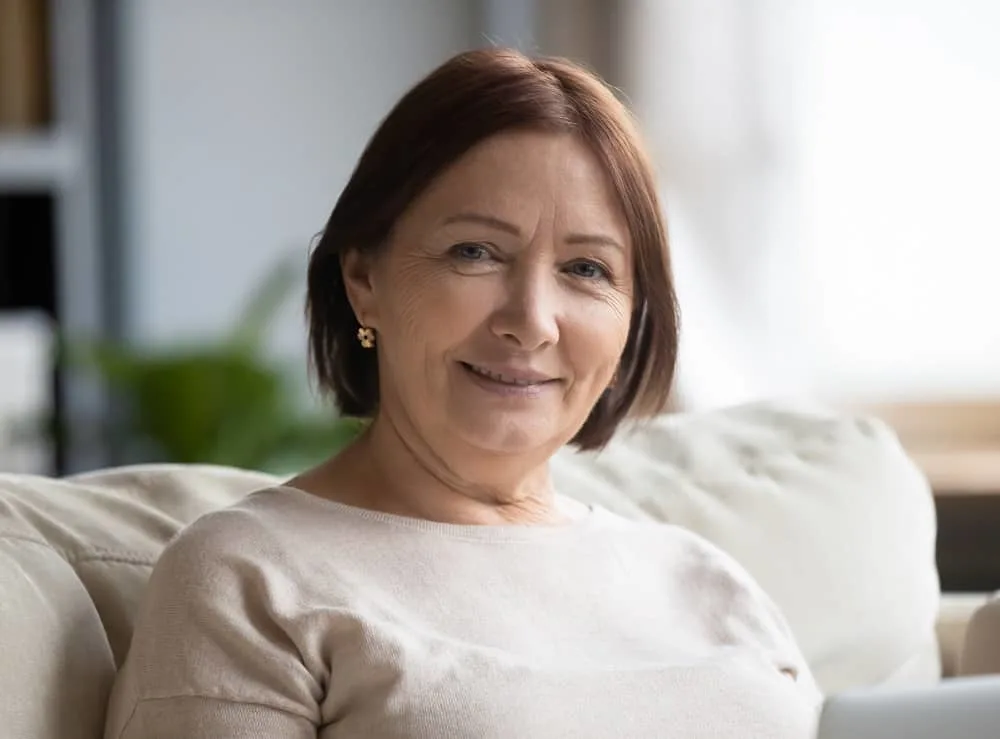 For women over 50 with straight fine hair, a great low maintenance hairstyle includes a simple bluntly-cut bob. If you desire, you can ask your stylist for face framing layers, but otherwise all you'll need is a middle part.
9. Wavy Bob for Oval Faces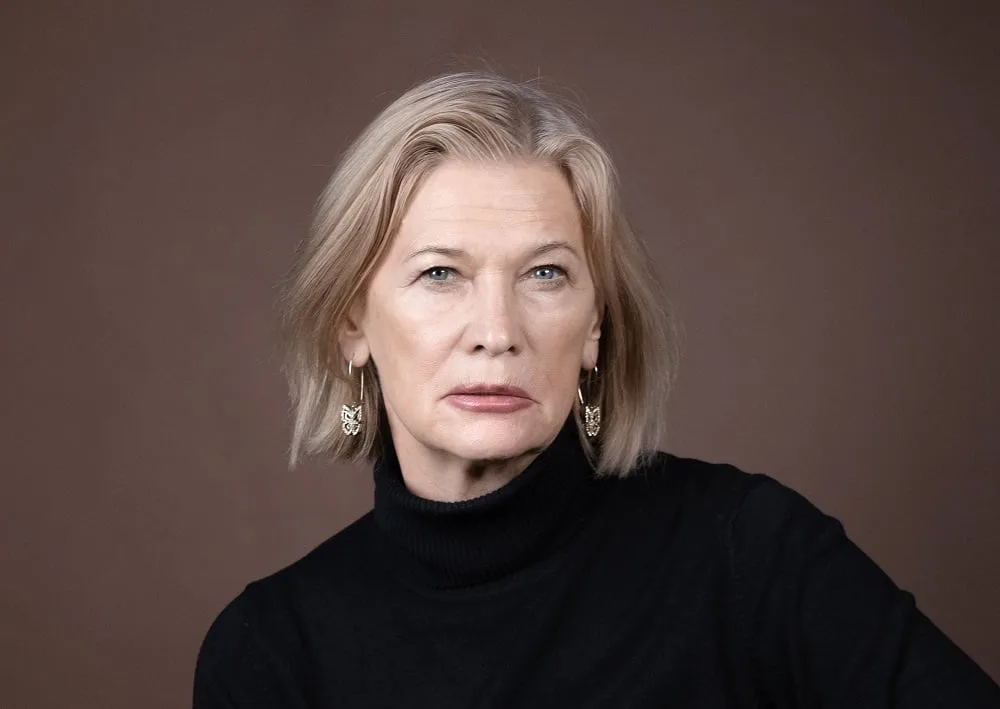 Oval and square-faced women look especially beautiful with bobs that include face-framing layers. On wavy fine hair, scrunch in a little product to pump up volume.
10. Round Bob with Side Bangs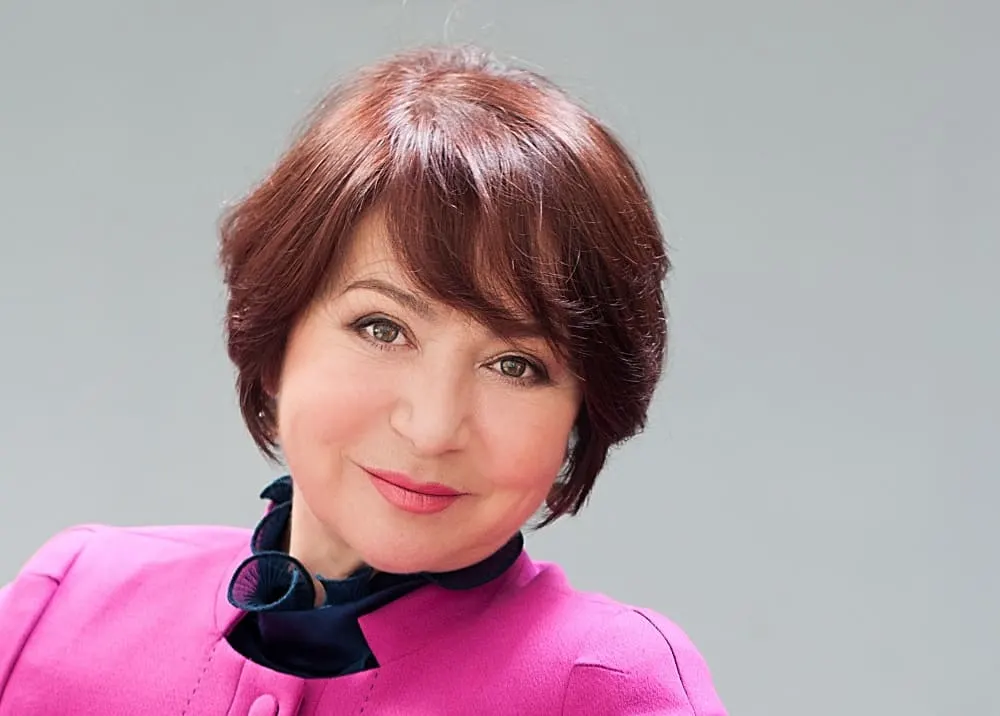 Not only does a rounded bob take just minutes to style, it also gets a youthful refresh when glossed with a rich color, like medium or dark red. No one will be paying attention to your fine hair when you've got this bright beauty.
11. Medium Bob with Fine Hair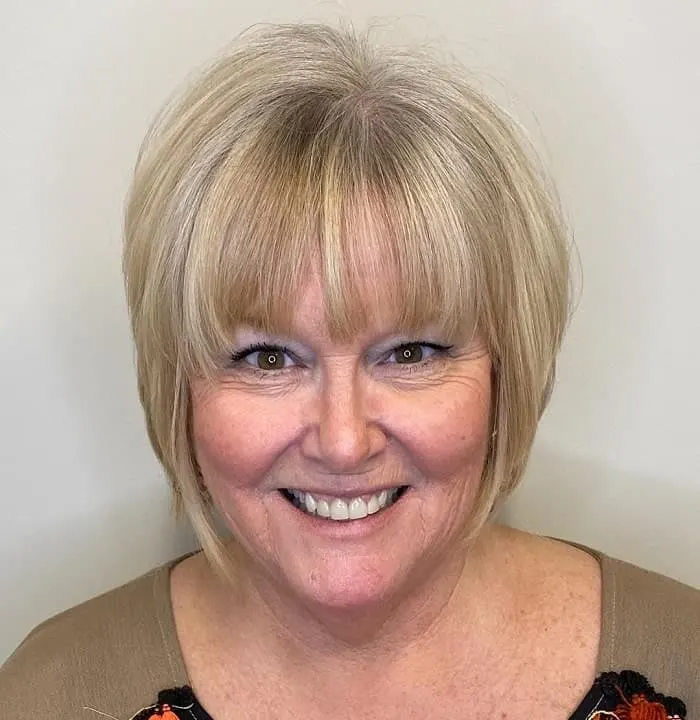 Soft and bright highlights are the icing on the cake for this youthful, round cut with soft bangs.
Ideal For: Creating volume around the apples of the cheeks and higher, to the top of the head, draws the eye upwards. Counteract gravity for a perfect look for the round faces that lends the overall youthful feeling you've been missing.
How To Style: Focus layers to the midway point of the hair for a smooth, round appearance. A soft blow-dry and touch of smoothing serum are all you need to create this look each day.
12. Thin Bob for Over 50 with Round Face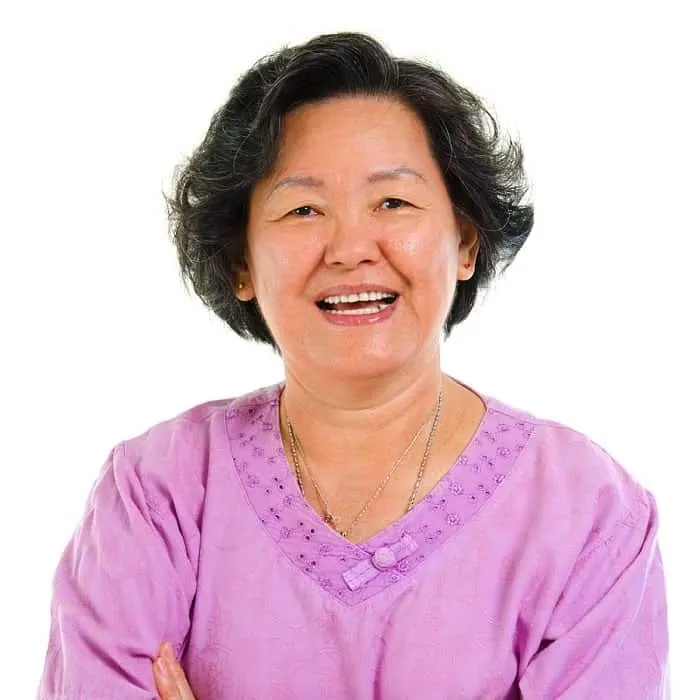 A cropped bob with side part and short, flipping bangs add structured elegance to this look.
Ideal For: Thin hair types with natural body can rock this style.
How To Style: Lengthen the chin on a round face by cropping your style to just under the ears. Thin hair needs a little texturizing, so use a round brush liberally as you bow-dry your hair.
13. Fine Bob with Glasses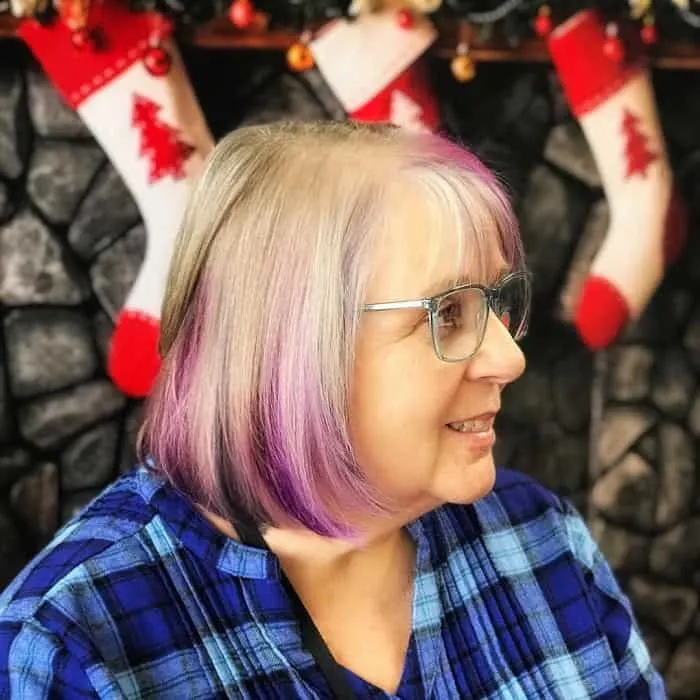 Let's face it, glasses are a reality for many of us, so why not work your hairstyle around this accessory?
Ideal For: Women who wear bangs should be aware of how they fall around your specs. This cut is great for full, round face shapes looking to thin things out.
How To Style: Ask your stylist for a classic, delicate bob that narrows your face shape. Wispy bangs create volume for thin hair, so long as they are cut to the top edge of your glasses.
14. Stacked Bob for Woman Over 50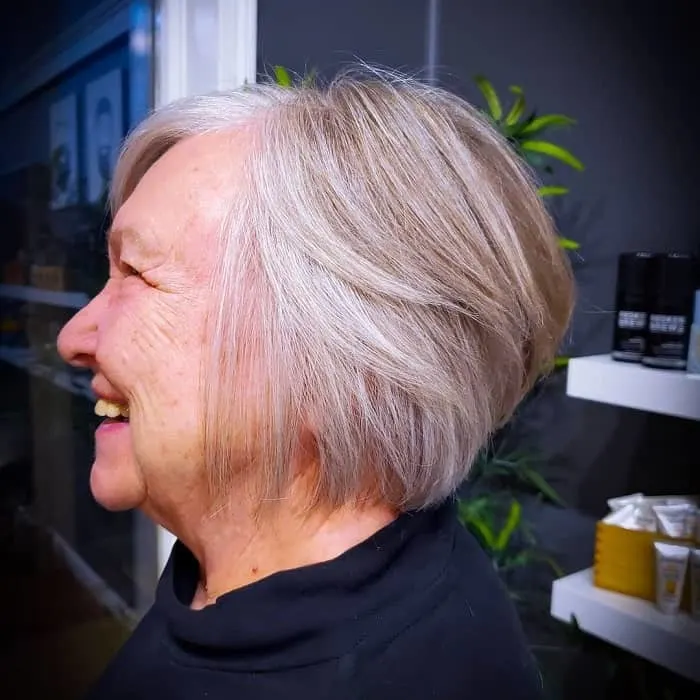 Creating the illusion of height should be a main objective when creating this look on mature women.
Ideal For: Even the thinnest of hair benefits from this lift. Nearly every hair type can wear this cut, except for extra thick locks.
How To Style: A lovely stack of layers concentrated at the lower back portion of the head creates this stacked style. A quick blow-dry is all you need.
15. Rounded Fairy Bob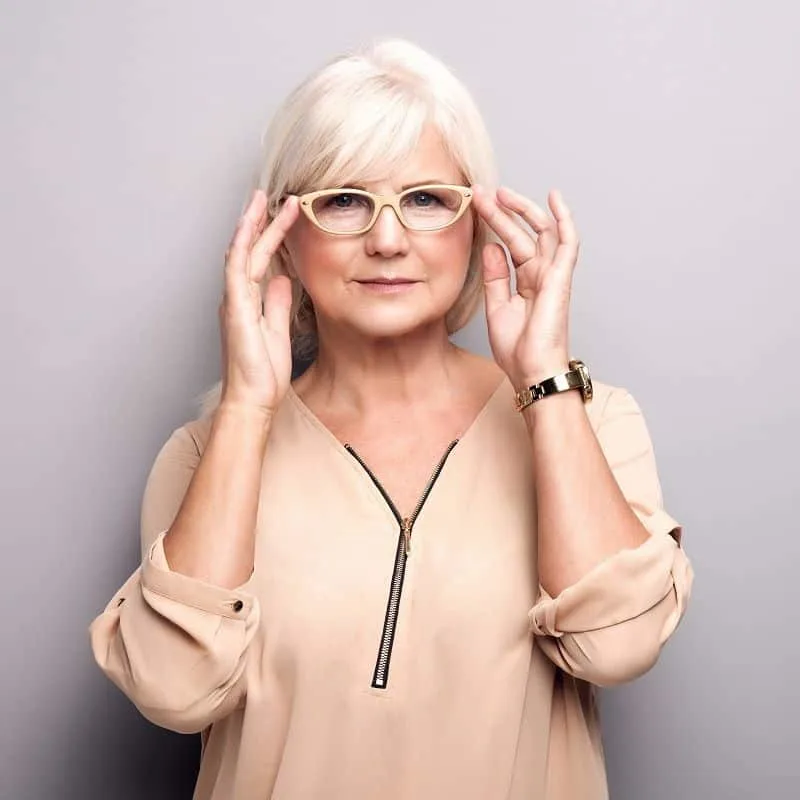 A simple round bob haircut for thinning hair is a popular choice for a simple and stylish look.
Ideal for: These bob hairstyles suite square face shapes. Trendy side bangs help to soften and complete the look to give mature women with fine hair a little artistic flair.
How to style: Brush and blow-dry hair so it curves under lightly for an elegant lift. Because your hair type may be thin, don't worry about using a ton of products. This will only weigh hair down and bring it closer to the head. We want fluffy height!
16. Wavy Pearl Bob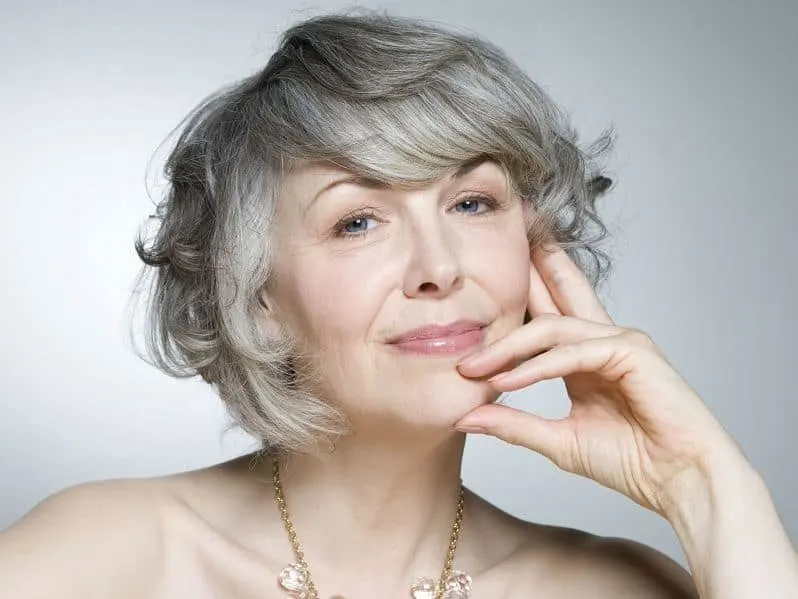 Just like a pearl, this gorgeous salt and pepper style contains a spectrum of rich, earthy tones. Talk about adding some seriously envious dimension!
Ideal for: Naturally, this look is suited for wavy hair textures that contains some body. The short layers cut throughout lift the face upwards and defines to plump up the appearance of the cheekbones.
How to style: This look is all about setting straight layers into curlers and lightly brushing them out once they've set. Don't forget the bottom layer of the bangs, either. They will need quite the lift!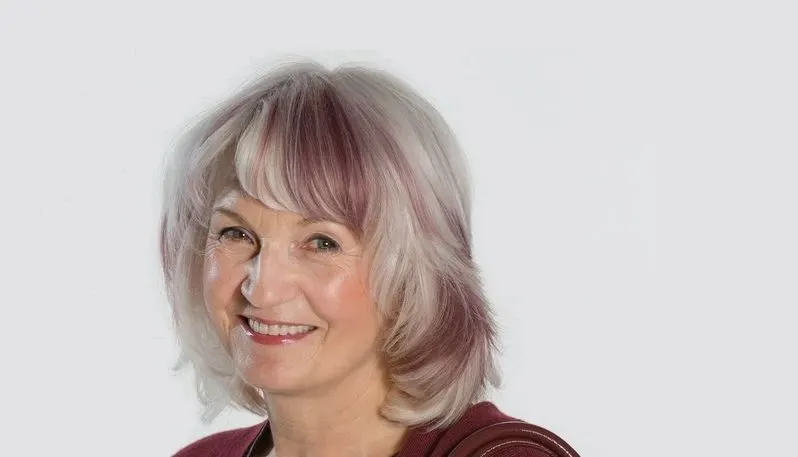 Why not add a pop of color to your look to brighten your face and your mood?
Ideal for: Artful, bold color like this raspberry hair, is ideal for anyone who craves the look. These rounded, side-parted bangs and multiple front-facing layers are ideal for round or square faces.
How to style: Focus on creating height and volume when styling this haircut. Use a lightweight yet moisturizing serum before beginning. As for placing the highlights, this type of job is best left up to the professionals, so head to the salon.
18. Sassy Bob with Fringes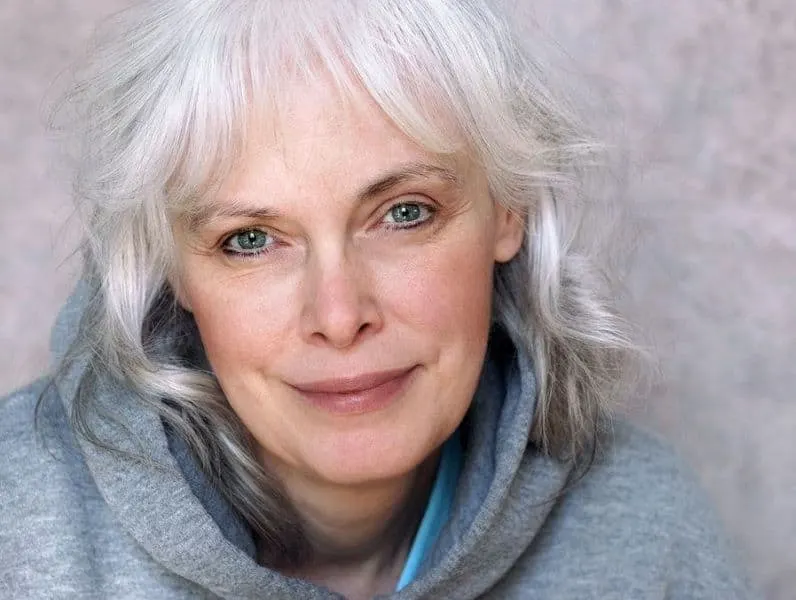 Fine bangs that are shortest in the middle are great for opening up the face. A soft dark gray ombre fade adds beautiful dimension.
Ideal for: This look is best suited to oval or round faces equally well. If you're looking to add a touch of personality to your elegant yet fine hair type, then this longer, loosely tousled bob is for you.
How to style: Bangs and layers should be blow-dried while the bulk of the hair can be set in curlers or given a few bends with a curling wand. This style has a casual, sexier appeal, so don't overwork hair.
19. Soft Curls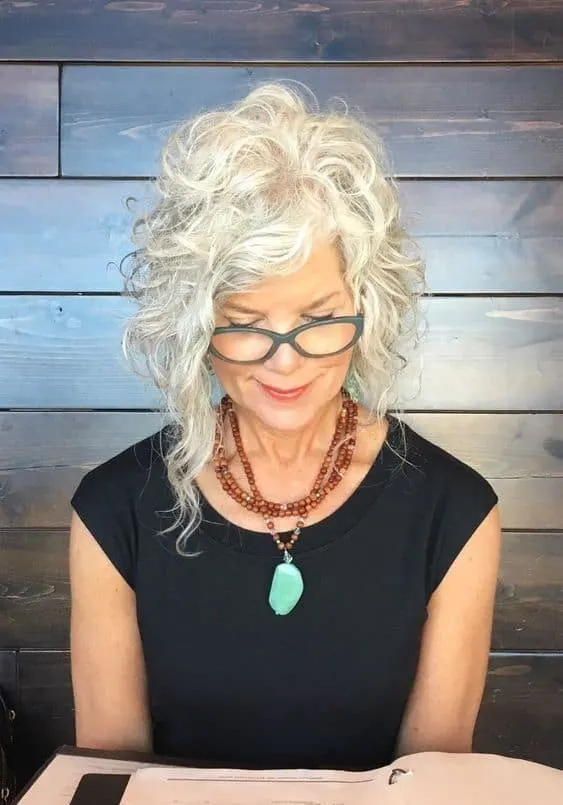 Long curly hair can handle a little textured tousle. A more daring asymmetrical chop is definitely a great option.
Ideal for: This style is meant for naturally curl hair with body. A more free-flowing style is for the light at heart, not for someone looking for sophisticated elegance. The asymmetrical front pieces shows off creative style that isn't so easy to find.
How to style: Keeping those curls rich and hydrated instead of aging and brittle is the key to this look. Be sure to create height at the crown of the head when styling.
20. Short Wavy Layers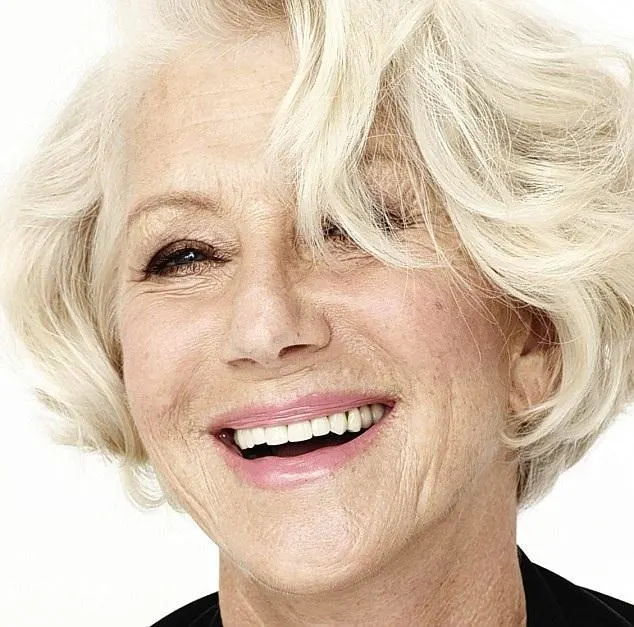 Cheekbone level curls are a go-to for women over 50 with short thinning hair.
Ideal for: Oval face shapes are perfect for this look, though round faces benefit from the space given to elongate the chin. The short length also pads the cheekbones and knocks years off of your look.
How to style: A gorgeous, sweeping side part lays the foundation for this glamorous bob. Use curlers or a curling iron to create these waves. Don't forget to brush them out though, for luscious, bouncy texture.
21. Shaggy Perm Look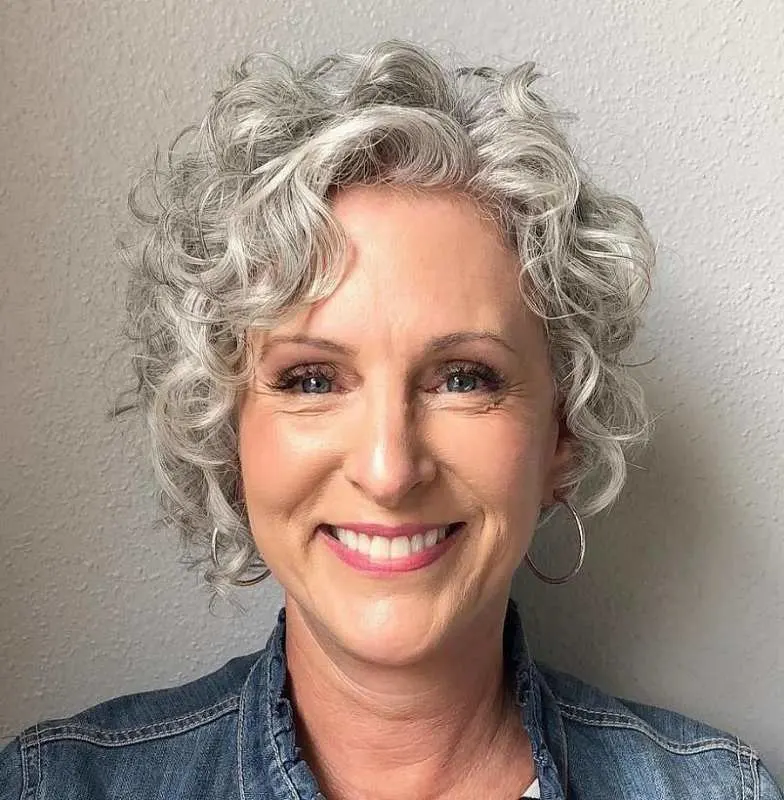 Short and neat cuts make an ideal curly hairstyle for thin hair.
Ideal for: Adding interest to a symmetrical, oval face shape is easy if you sport naturally bouncy ringlets like these. Again, the focus is instantly concentrated at the cheekbones for a youthful glow.
How to style: Short side bangs throw off the perfect balance of this face shape. Moisturize those ringlets and create texture using your fingers. Frequent trims are a must if you find your hair breaking more than usual. This is unfortunately a common feature of aging hair.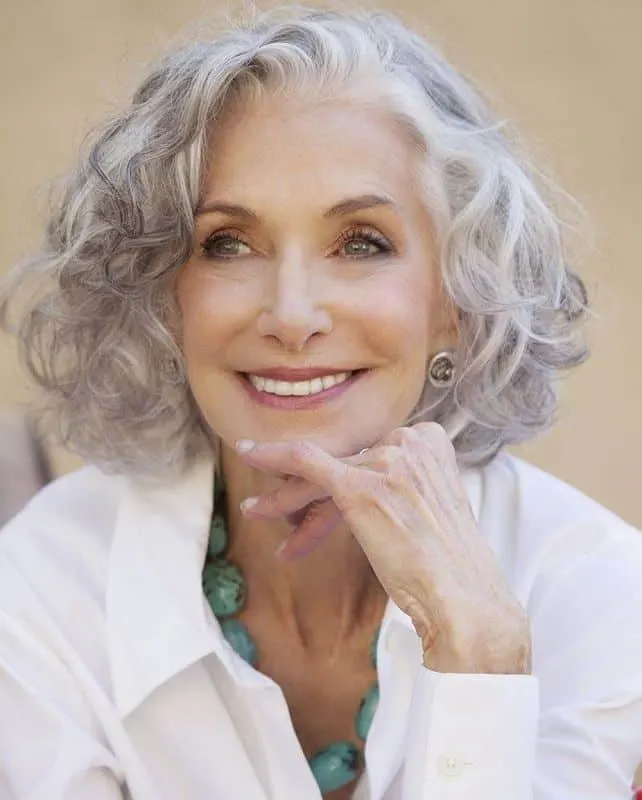 It's hard to beat the elegance of short wavy curls. It's the perfect sophisticated look for women over 50.
Ideal for: This short thin haircut is ideal for square or round faces. It has fine layers that set in dimension and brighten the face.
How to style: A subtle side part is the most glamorous for this hairstyle. It also highlights a sharp jawline and opens up the overall look of your face. Define your curls with soft layers.
23. Layered Round Bob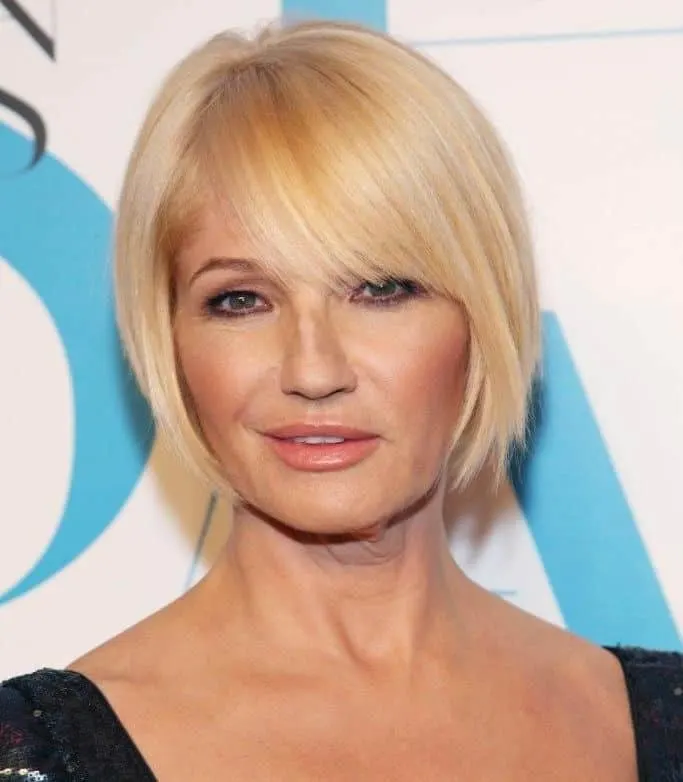 This is the most popular pixie look for short hair if your hair is naturally straight and fine. In fact, this look is actually trendy among younger women.
Ideal For: This look is perfect for round faces with subtle features or symmetrically shaped faces. Again, straight locks that lack body should try this look out.
How to style: Cut longer bangs to elongate the appearance of a round face shape. Soft, fine layers concentrated at the ends of the hair bulk up fine texture. This bob hairstyle for women over 50 looks best with a side part and a quick blow-dry.
24. Sophisticated Wavy Look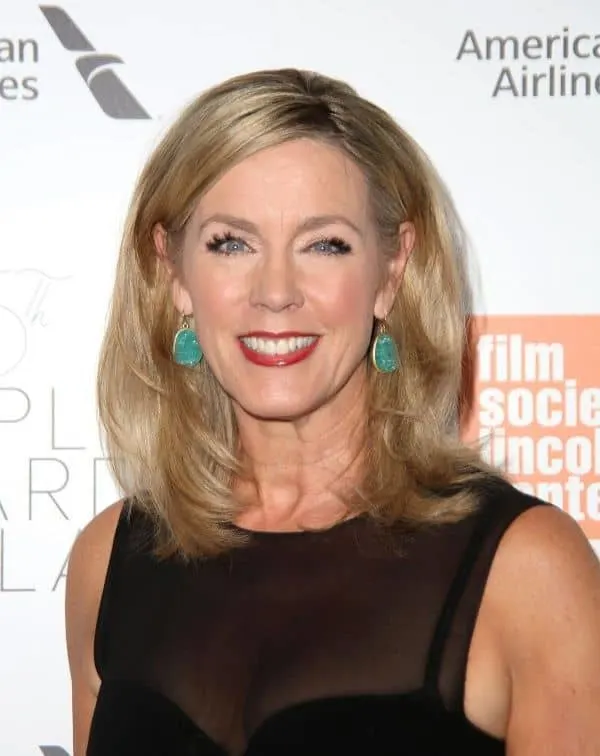 Lobs are essentially defined as shoulder length hair. If you want to grow hair long but because of thin hair, you find it difficult, then a longer bob with layers may be the answer.
Ideal For: Oval or square face shapes can handle this longer length best. If hair is medium to thick in volume, then this length may be for you.
How to style: A side part is best for softening and taking years off of your appearance. Root growth grounds this look for a bit of dimension if you're not fighting to cover up grays just yet!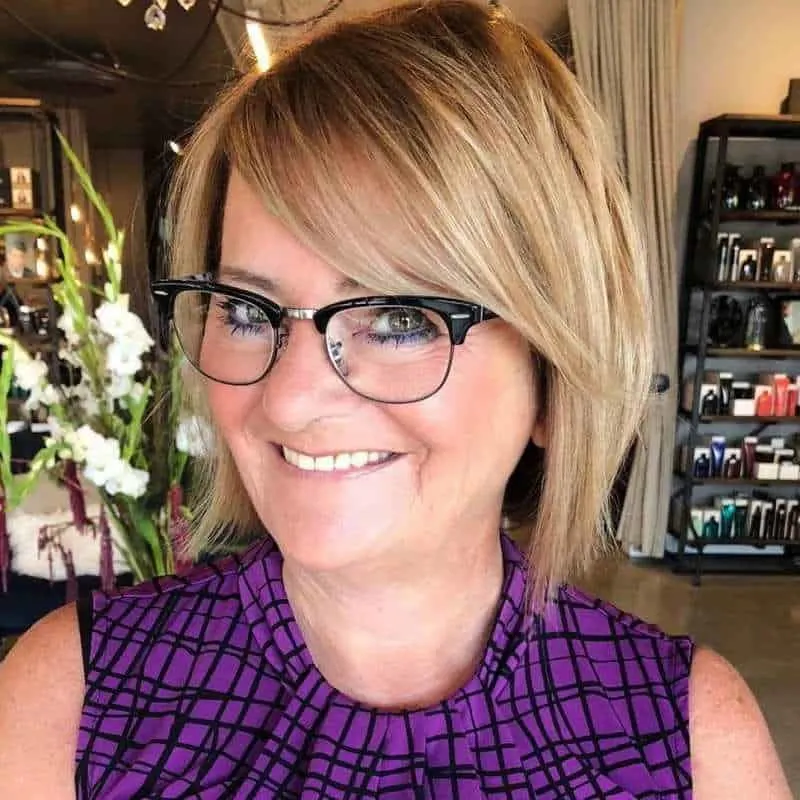 If you're wondering what a classic long bob with side bangs looks like, then you've come to the right place.
Ideal for: This look is best for square or oval-shaped faces with defined features. Side bangs suit truly everyone and soften the appearance of these blunt-cut ends.
How to style: This look is incredibly easy to style, regardless of your hair type. Either give your hair a beautiful blow-out, smooth down fly aways, or brush through locks to bring out their luster.
Creating a bob hairstyle on women over 50 is all about maximizing volume, height, and drawing the eye forever upwards for a youthful glow. Hair should be easy to style, so work with your texture and face shape for the most effortless cut for you. Which look will you choose?