Choosing a hair color is one of the most fun things about stylish hair. Bob cuts are easy to maintain and when combined with color, they can just give you the perfect short hair look.
No matter whether you prefer neutral hair colors such as brown or blondes, or be daring and bold with the more colorful end of the spectrum by choosing blue, pink, or purple… colored bob hairstyles can give you a fresh and vibrant appearance.
Colored Bob Hairstyles
Whether you're experienced with having color in your hair or not, one thing is for sure: colored bob is one of the best hairstyles to experiment with color. Check out these beautiful color shades to see why one of them is your next look!
1. Purple and Pink Ombre Bob

Chopped bob with hints of pink and purple look great. This style is for you if you like to wear simple inverted looks and are a fan of elegance. Women who need a sleek, cool look will also enjoy this option.
2. Blonde Bob

A colored bob is a common hairdo for which most girls like to go. If you're a fan of icy and modern looks, then consider this bright blonde. It will take around an hour and a half to achieve this look that can be worn to any big event or even small gatherings.
3. Orange Colored Bob
If you're into bright, loud hairstyles and orange looks, then you will surely love this orange bob cut that will suit fair skin tone and oval-shaped face. Just make sure that you take some tries and give it enough time to achieve this loud colored bob look.
4. Blonde Afro Bob for Dark Skin
For all the black women out there, this is the perfect option to go ahead with. Go for this super frizzy shoulder-length bob to achieve a model look.
Pair it with golden brown color and a dark lip shade to get that perfect chic look. You can wear this look to any casual as well as a special event.
5. Pink Edgy Bob
This hot trendy color will never go out of trend. If you're into classy, fashion-forward ideas, then you're going to love this look.
Pink is a common feminine color and is ideal for going with the trend and trying new looks. This chin-length colored bob cut is edgy and easy to wear.
6. Pastel Blue Bob Cut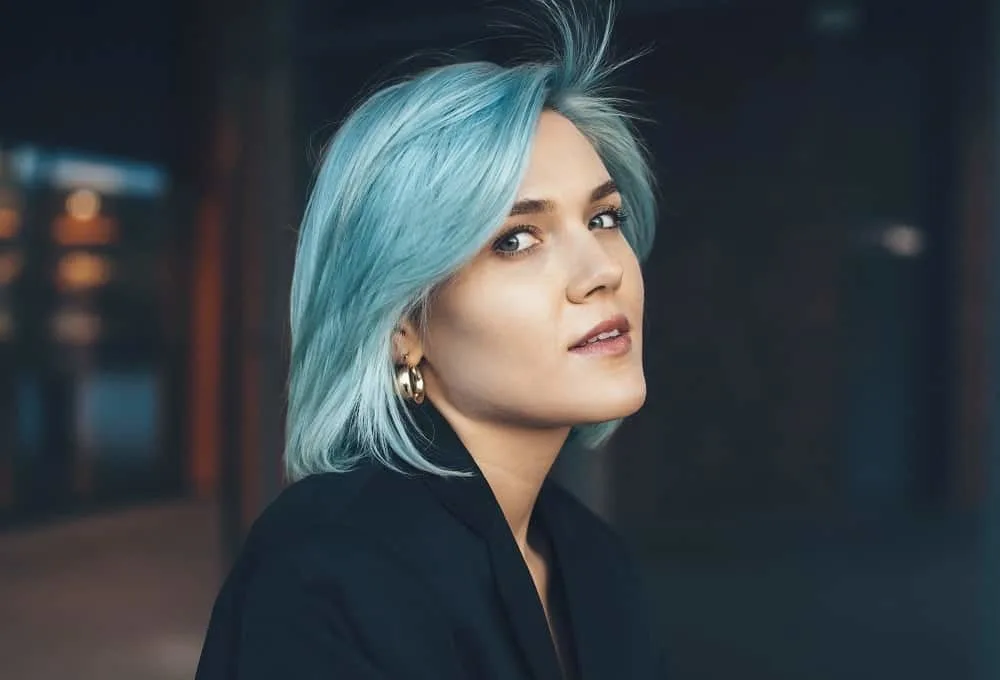 For all those into pastel hues, this is the perfect option to go for. The pastel blue shoulder-length cut is ideal for someone who enjoys a retro look. It is a unique outcome, perfect for anyone with thin or medium textured hair and fair skin tone.
7. Asymmetrical Red Bob
Red is a popular pick for the fall season. If you enjoy retro ideas and are a fan of bold looks with a feminine vibe, then why not try this look. It will take less than an hour to achieve this look and is ideal for thick to medium hair and fair skin tones.
8. Shoulder Length Split Hair
Split your hair color into pink and yellow to achieve this cute hairdo. This bob hairstyle with color is so retro that it will take you 1-2 hours at a salon. This easy-to-style hairdo is ideal for casual occasions and will go well with medium to thick hair.
9. Colored Bob with Weave
Turquoise and yellow blend beautifully on a wavy graduated bob. No fancy tricks here, a simple part is all you need to be on your way for the day.
10. Bob Haircut with Two Colors
Brave enough to try a unique short hair color combination? A stark red and deep black give a bob an edgy lift. Use heat protectant when straightening locks and smooth flyaways with hairspray. A blunt bang completes the ultra-mod hairstyle.
If you prefer the more feminine hairstyles, a wavy graduated bob with a side part looks absolutely swoon-worthy with purple and magenta color. Subtle gray highlights are an unexpected touch of style.
12. Sew in Bob
For the sew-in bob hairstyle that catches everyone's eye, go for a bright orange. The uncommon color looks good whether dressed up with a leather jacket or down with daily work attire.
13. Braided Bob with Color
When you have a fancy event to attend, no need to stress: a straight textured bob with baby bangs and a couple long stray pieces is your best friend. The blend of pink and warm yellow makes for a sherbert-rich color that a side braid will show off well. See more multicolored hairstyles here.
14. Blonde Bob
A center-parted bob is simple to style and has a medium blonde color that works with all skin tones. Insert lighter pieces near the front of your haircut for a glow around the face.
15. Caramel Hair Bob
If you're an active woman who spends a lot of time out and about and you don't want your hair in the way, choppy bob with summery waves and caramel blonde hair color is all you need to feel like a princess.
16. Red Bob
We're pretty sure Rihanna has pulled off this straight center-parted bob. The dark red is a definite must-try for women who love an edgy look.
17. Pink Bob
Baby pink hair color works wonders when you want to express your soft and sweet side. Bangs that stop just above the eyebrows and an off-kilter side part add volume.
18. Long Colored Bob
Long layered bobs are a great choice if you want added built-in style. For women with thin hair, layers create body. This baby blue color with subtle darker blue streaks at the bottom is a fun way to change up your look.
19. Short Bob with Color
Super short bobs stop just at the jawline which is especially flattering for women with oval face shapes. Piecey bangs help to make the chic style not too overwhelming.
20. Side Part Bob
Here's a gorgeous take on the mom's curly bob look: a yellow-blonde wavy bob with a side part. Control the texture with the heaviness of your part and the number of waves you put in. This is a great day or night look.
21. Box Braided Bob
A box-braided bob can be worn by women of all ages, even children! Baby pink woven in-between natural black hair color is a fun color all year around.
22. Blunt Cut Bob with Color
An ultra-mod hairstyle is this cropped bob with a blunt bang and sideburn detail. When work rules don't allow you too much freedom with color, subtle dark green color will help you out.
23. Colored Stacked Bob
This stacked bob features dark purple at the longer layers near the front of the face with the color fading as it nears the short pieces at the back. There's no shortage of style here!
When it comes to picking colors for your bob hairstyle, choose ones that will complement each other for the best result. Pinterest is a great resource as are lookbooks or your favorite celebrity's past hairstyles. But be careful, if your work has rules about what's appropriate, don't get carried away. However, remember you can still have fun with color: just use faded highlights or under color!