Miranda Lambert is a famous country singer and songwriter whose popularity can't be underestimated. That's why Miranda Lambert's haircuts are being copied by girls all over the world.
A person who has a Grammy just can't have bad hair. Many Miranda Lambert fans came to the same conclusion. Thankfully, there is nothing complicated about Miranda's hairstyles. She likes simple long and wavy bobs. But sometimes with the help of her stylists, Lambert comes up with some extraordinary images. A girl whose albums go platinum and top the charts does a great job always looking her best.
Miranda Lambert Haircuts
If you have long straight hair, you can choose any Miranda Lambert haircut you wish. But even if your locks are not too long, there are variations that you can enjoy as well.
We have collected 5 of the easy-to-make Miranda's hairstyles to help you get an idea of what one of the most beautiful singers can offer the world style-wise. Even if you are not a big fan of Miranda, you can still pick up some tips from the way she styles her hair. Don't be afraid to be a copycat. It's a perfect way to come up with a personalized image.
1. Beach Waves
Beautiful beach waves are a great everyday hairstyle for the Miranda Lambert fans. You don't need to use a curling iron to create them. Just braid your hair overnight and the great result is guaranteed.
5 Multifaceted Miranda Lambert Haircuts
If you are following the fashion, you know that ombre is one of the most popular hair coloring technique. If you are naturally blonde, you can easily create the same amazing color with the honey blonde shade on top and golden blonde on the bottom.
Redheads rarely sport blonde highlights, that's why by creating such a mix, you are sure to stand out of the crowd. Take a look at how amazing this Miranda Lambert hairstyle looks and don't be afraid to copy it.
4. Long bangs
Long bangs often seem like a hassle to many girls, but the effect they create is priceless. There are so many things you can do with them. Consider growing the bangs longer than your chin length.
5. Blunt ends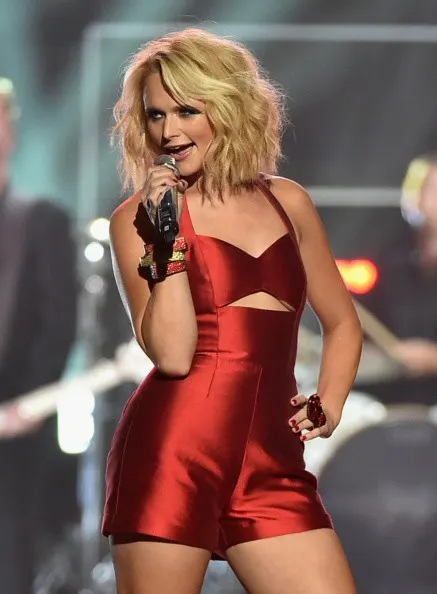 Blunt ends look fantastic with straight, wavy or curly hair. They immediately create the impression of a certain neatness, even if you mess the rest of your locks up. Consider blunt bangs as well.
The Hair Colors Katy Perry Wore Really Well
These haircuts by Miranda Lambert should help you come up with a new and appealing style. You can even make a hairstyle mix, using some of these ideas. Whatever you choose, you will look glamorous!
More Celebrities to get Hairstyle Inspirations: