With all the shoulder-dusting hairstyles that Julianne Hough has shown us, it comes to no avail denying that they did not suit her. Every style she tried made us see her in a different light, and gave off a different vibe to her personality.
Julianne definitely proves the ones who think that styles for short hair are limited, wrong. Here we'll see 18 different and famous Julianne Hough short hairstyles, which will come in handy when we cut our long hair short.
#1: Blunt Cut Bob
Julianne's simple hair look is a bluntly cut bob hovering above her shoulders. She hasn't gone for any hair accessory instead she flaunted golden glitter on her side part to accentuate her sleek look. The hair is neatly tucked behind the ears exposing the jawline.
#2: Eyebrow Grazing Bangs
The American actress went for a jaw-length chop and flaunted a French girl bob haircut with middle-parted bangs grazing her eyebrows. This is one of Julianne Hough's most famous short hairstyles. It is easy to maintain and ideal for women with naturally blonde hair.
#3: Loose Waves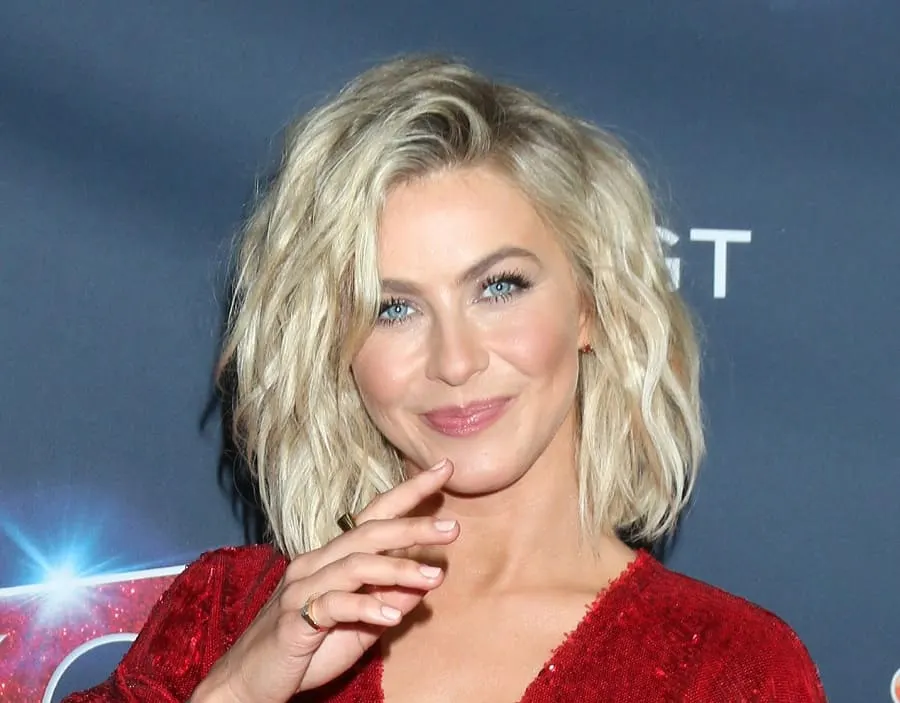 The Safe Haven heroine flaunts wavy hair equally well. The neck-length bob is dyed in a light champagne blonde hue with subtle layers and a side part. Curl the strands and brush them to create similar loose waves. A hand-tousle is enough to maintain this style all day long.
#4: Wet Look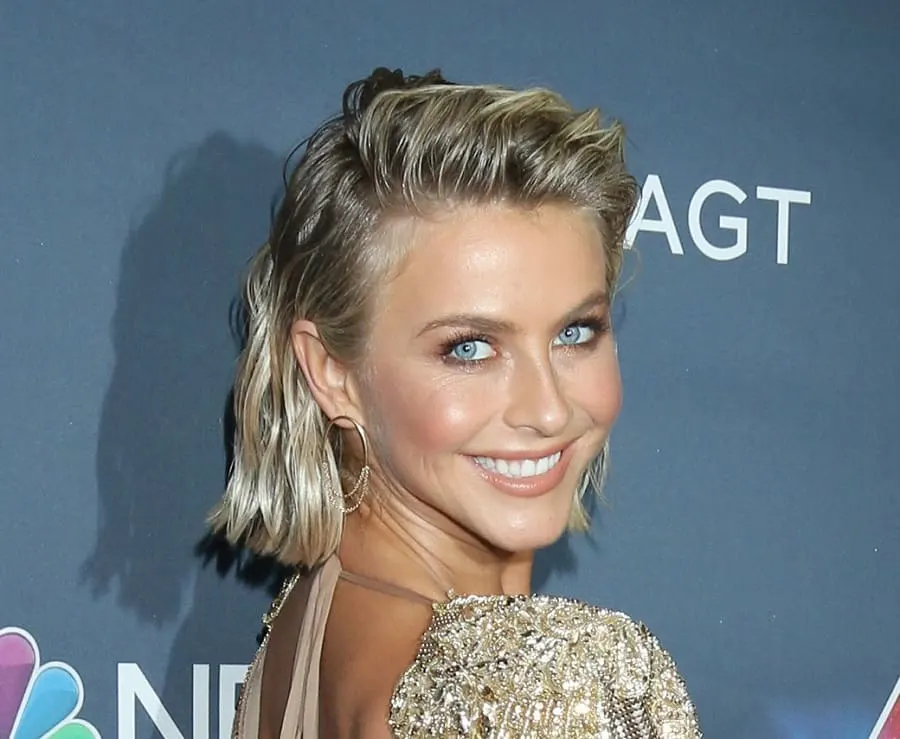 Julianne has pulled off the wet look glamorously. The blunt-cut bob has dark roots with blonde highlights creating a balayage effect. The hair is combed back with a deep side part using a lot of pomade to create the wet appeal.
#5: Light Blonde Babylights
Although the light blonde babylights are hardly visible they give the blonde locks an entirely different dimension. The naturally dark roots accentuate the look of the blunt cut medium-length bob. Bouncy waves with a middle part create a fun look.
#6: Asymmetrical Pixie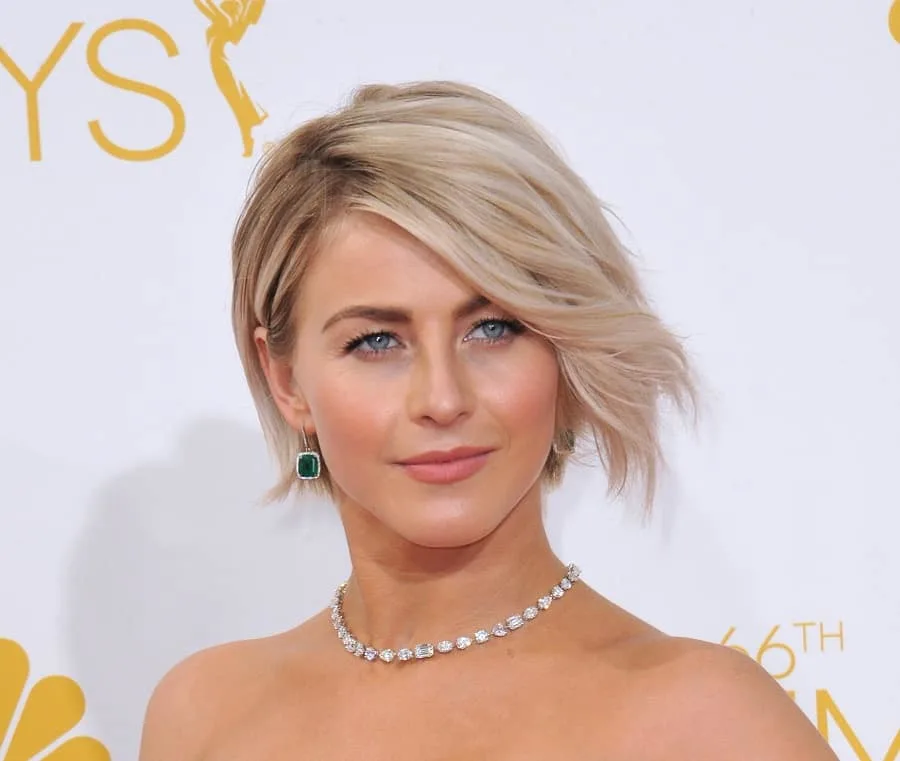 Julianne Hough is a pro when it comes to short hair. The hair is dyed in a vanilla blonde shade with light blonde highlights. The strands are chopped into a layered asymmetrical pixie hair cut with a jaw-length side-swept fringe framing the face.
#7: Julianne Hough's Blunt Bob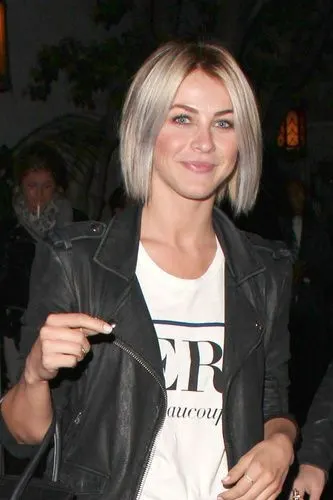 Even when Julianne tries to be casual in her looks she still knows how to make it look unique and personalized. With a grey dyed blunt bob you will always rock any short hair game.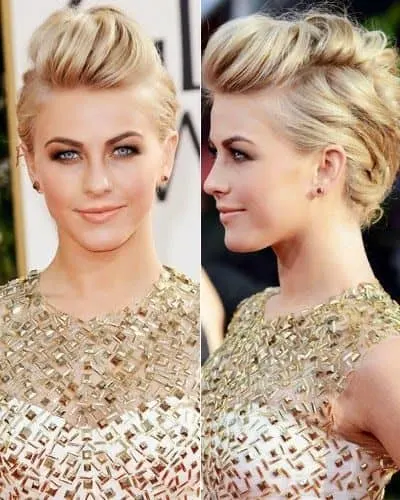 Who says short hair can't be styled? Julianne Hough is a great example that shows how short hair can have a wide variety of styles just like tall hair. With your short hair braided into a Mohawk, you're all ready and set for a fancy event. Check these short and cute braided hairstyles.
#9: Sweater Weather Hair Style
When you're in a hurry you can easily cope with your short hair by wearing your short hair into a high ponytail. Ponytails are the epitome of simplicity mixed with coziness, especially in sweater weather.
#10: Pink Ombre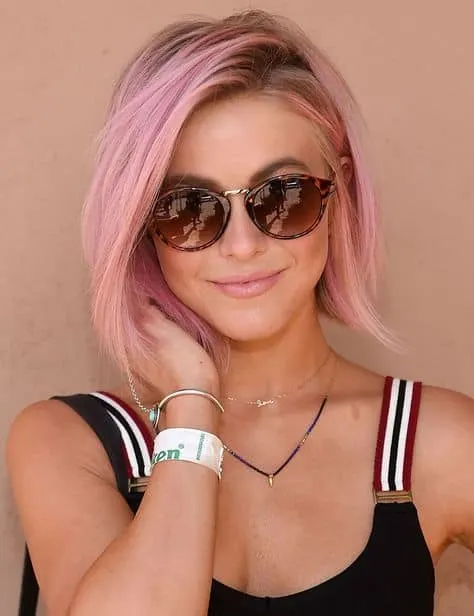 Tried several styles with your short hair yet you still aren't satisfied? How about a change in the color? A cotton candy pink ombre gives an ultra-contemporary and feminine style and just like Julianne will make you a feast for the eyes.
#11: Pixie Dust
Short hair draws extra attention to the face nevertheless a pixie cut is an edgy hairstyle that'll make you look sharper and more daring. To add more volume than a traditional pixie, try keeping the sides a little bit longer.
#12: Feathered Hair
With an out-of-the-bed look, you'll be oozing off indifference about looking proper and demure. With your short hair ruffled in a neat manner all you have to do is literally nothing to look as carefree and confident as Julianne Hough. Have a look at the feathered bangs styles.
Try to give your short hair a life by upgrading it from plain and straight to a shaggy and funky haircut and let it speak for you wherever you go. This is a style that Julianne rocks whenever she wears and can definitely turn you into eye candy. You can also try her 'Safe Haven' movie hairstyles.
#14: Fedoras with short Haircuts
When going from long hair to short hair, try to find which look suits you the best. Try out different kinds of hats and hair accessories until you find the look that's personalized with your character. Julianne Hough's short hair worn all the way to the side with a black fedora are simple ingredients in a recipes of an adorable and a feminine mix.
#15: Julianne Hough's Slicked Back Hair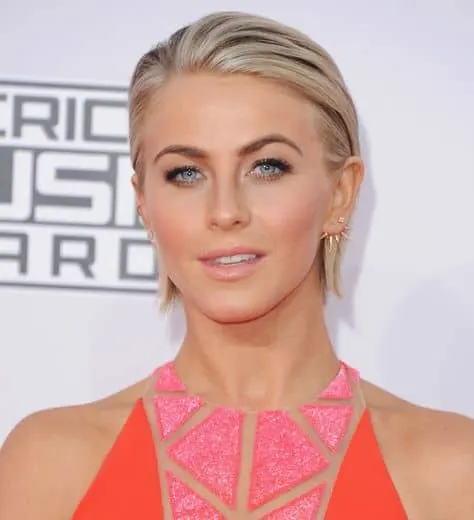 There's an event that you want to look glamorous at yet you have a short hair? There's no need to look further than slicked back hair that gives off a serious and a wise vibe. With a strong eyebrow game like Julianne's you'll be red carpet ready.
#16: Half Bun by Julianne Hough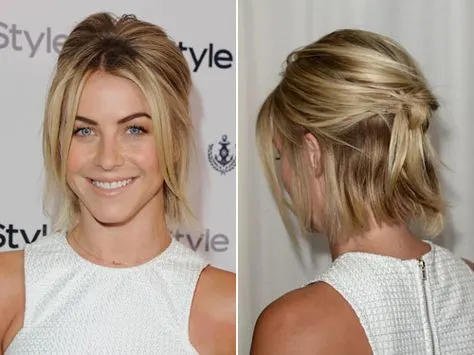 An easy do-it-yourself half bun on the back with a few strands of hair framing your face are an adorable way of kicking your day off with. All that's left for you to do is wear a smile and nothing will ruin your good hair day.
#17: Curls Updo
Spice up an otherwise plain short hair by curling them into an updo that goes from the top all the way backwards with the sides kept straight. This hairstyle Julianne is wearing (in the picture below) is styled in a voluminous tone making the look all the way fancier and awe-inspiring.
Boldest Short Hairstyles for Women
#18: Perfect Poof
For a voluminous yet humble hairstyle, try taking your front hair strands and making a front poof, and let the rest of your hair fall freely. That's an easy way of styling your short hair into a retro-chic poof hairstyle and turning it from a traditional to a modern one.
After going over those various hairstyles of Julianne Hough I think we'll all itching to cut our hair short. Even lob haircuts can be styled in different forms like sleek, curls, fancy updos and down do's or simply natural. When it comes to hairstyles, there's nothing to lose, just give those styles a try and opt for the one you like the most.
More Celebrities to get Hairstyle Inspirations: