Natural African-American hair has a different structure, and that makes it most of the time pretty hard to manage.
A short hairstyle for black women is something you must get if you are sick of taming that rebel hair all the time. Also, hairstyles for short hair are genuinely fashionable and come to you as a great option if you want a gorgeous look that suits you.
Short Hairstyles for Black Women
The options for black women's short hairstyles are limitless, and we are here to prove that! Whether we're talking about bobs, mohawks, or very short trims, you can make them look fabulous with so many designs, razor cuts, or even highlights and hair color mixes.
#1. Two Level Box Cut
Box haircuts look fabulous on guys, but did you know they can beautifully suit a woman? Add a bit of change, and instead of getting a flat top, level the haircut. This black woman's short hairstyle reveals the face, adds height, and highlights facial features.
#2. Dark Violet Hair
Take a look at those stunning violet reflexes! Black hair dye can be too harsh for your complexion, but a dye with such tones will certainly look mindblowing! Get some volume for the roots, straighten the hair and mess it up a little.
#3. Lofted Roots
What a great way to get more volume and dimension! And the outcome is quite impressive! Use rounded brushes to get that fabulous volume for the roots, both on sides and for the top. You'll have a professional classic and elegant black women's short hairstyle.
#4. Pink and Purple Hair
Love all those bright colors and blends, but you don't want to ruin your hair with bleach? Why not get a wig? It's a great option of hairstyle for black women. You just need to create a bun in the back, and the wig will cover any signs of natural hair.
#5. 3C Coils with Dark Roots
Are you embracing your ultra curly hair? Here are some tips to make it look perfect all the time: keep the hair nourished, carefully brush it and use the right products. You can also opt for a blonde hair color and black roots. Style the baby hairs with a toothbrush and a strong fixing hair jam.
#6. Small Rope Braids
We all know protective hairstyles are probably the best way to keep afro hair in good shape. However, that doesn't mean that you can't combine a practical hairstyle with great looks. Because you have short hair, these rope braids won't be as time-consuming as they usually are.
#7. Red Balayage
Why settle for a regular blonde or brown ombre when you can opt for a color that spices things up? If you're feeling fierce, why not choose a red nuance? Create a balayage and flip your curls on the back, revealing the forehead.
#8. Teal Short Hair
Love an edgy, colorful look? What about a short cut for black women? In this case, why not mix the two. Bleach your coils and go for your favorite color. There's no doubt about the attention you'll get! Make sure you use shampoo and conditioner to preserve the color for a longer time.
#9. Curly Mohawk
Black women's short hairstyles are so fun! Love a hairdo that highlights the curly hair? Look no further because this mohawk has all you need. It creates height and, at the same time, builds volume. You don't necessarily need to trim the sides shortly. Use bobby pins to arrange the hair.
#10. High Top with Fade
Who said boy hairstyles wouldn't suit women? When making a huge change like the one above, you might want to consider this short hairstyle for black women. What can you want more from a cut? It's short, adds value to your texture and is so low maintenance.
Bob hairstyles for black women are ideal if you want a feminine look that is both short and stylish. Moisturize your curls to keep them tights and beautiful as they are. Split your hair in the middle and let those ringlets frame your face.
Whenever you want a hairstyle for black women that is out of the ordinary, choose a pixie cut for curly hair and make some astonishing blue highlights. This way, your curls will have a formidable texture.
A very short hairstyle is ideal if you are a black woman over 50 that needs a low maintenance haircut. It not only looks pretty lovely but is also a convenient haircut.
This low maintenance hairstyle for black women looks adorable. It draws all the attention on your face features and can it be easily recreated. Cut your hair very short and dye it in a platinum blonde color.
Make your face look longer by choosing a haircut that is slightly shorter on sides and with more dimension on top. Choose a brown color that suits your skin tone, and you won't need much styling for your length.
#16. Very Short Haircut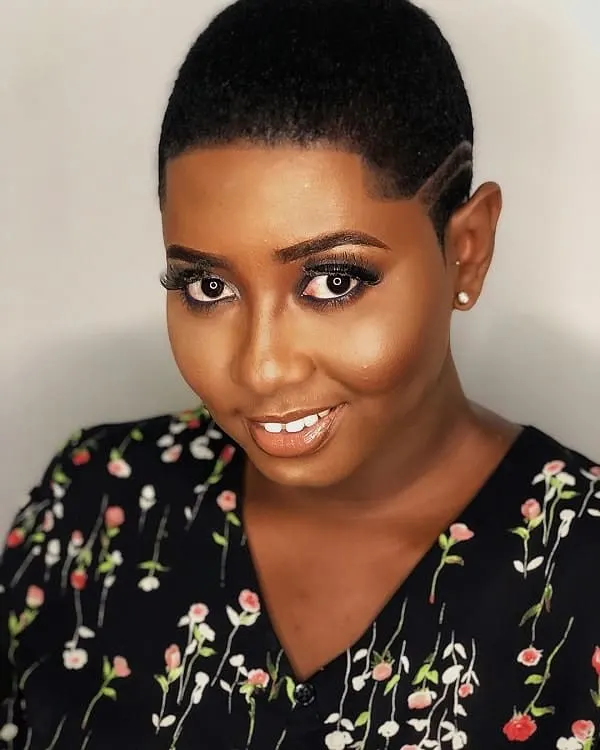 Even if this is an extremely short hairstyle, you can make it look eye-popping with a double razored line design that you can create on one side. Also, give your forehead a fabulous framing with a squared razor cut.
The concept of the mohawk cut is pretty direct to the point: trim off the side bangs and keep the hair going in a straight line from your forehead to the back of your neck.
However, you can spice it up by using a wave effect. To sum it up, you can definitely say that it's one of the most daring short haircuts that African American women can get.
If you're seeking black girl short haircuts that combine both low maintenance and fabulous looks, then this design might be the one for you. Because all you have to do is:
Cut your hair to a minimal length.
Maintain the natural frizz by blow-drying using the diffuser extension.
Flaunt your exceptional style.
Tips:
Using the diffuser enriches your curls and makes them look more voluminous.
Go for a dab of hair pomade through your hair as an insurance policy for a longer time span and an inner glow.
Undercuts are mistaken to be manly – only. However, we live in the rising age of technology and nowadays women can literally do anything. So, without out further – a – do an undercut ranks next on the daring short haircuts list. In addition to that, make sure to flat iron your side bang for a sleek appeal.
Quick Tip: The more confident about your hair choices, the more you can pull them off and the better they look on you.
Rocking Undercut Hairstyles for Women
If y0u are torn between getting a curly bob or some freeform locks, then why not settle it by going with both? After all, if anyone deserves to be treated with the best of both worlds, it is you! Thus, don't hesitate in mixing it up a little and combining two of your top choices especially if they show that much juxtaposition.
#21. Top Only
A lot of business women don't have the time to take care of their hairstyle first thing in the morning. Because they barely have time to rush out of the door before their boss starts being all over them with paperwork.
So, tapered undercuts are a really big hit nowadays. Because, this way, you will only need to worry about styling a very little portion of your hair. Or, you can just go out au naturel and still look fetching.
Bobs for long hair can be demanding. Because they need to be washed twice a day and absorb too much heat for your scalp to bear. Despite all that, curly bobs have been proven to make you look irresistible. Therefore, you can always go with a short curly bob to get a solution that is in between.
If you are wondering why dreadlocks are probably one of the most popular Afro-American black girl short hairstyles nowadays, then here's your answer. It's because they can adapt to any face shape without any exception. And styling it is summed up in one step: use wax to form the locks.
#24. Asymmetrically Awesome
Another standard "thinking outside the box" move for African American women might be the asymmetrical short hair. Because it offers a lot of contradiction which can be translated as something visually attractive. So, go ahead and add that to your bonus features!
#25. Tapered Mohawk
Seeking and edgy and badass look can be tricky and challenging. Because one wrong choice can make you end up with totally the opposite. And don't forget that when you are trying out for some colorful highlights, you need to choose a color that will compliment both your hair color and skin complexion.
Quick Tip: Arched eyebrows and freaky tattoos can add to the big bowl of hard edge appeal.
#26. Biker Girl
Undercuts can be flattering to a girl as much as it can be to guys. After all, shorter hair with fade-out effects are the latest trends out there. Therefore, get ready with some bold makeup options.
#27. Texture Variations
Creating contrasting appeal within your hair can be by changing textures. For example, whimsical waves can give you a more picturesque look like the one shown in the photo above.
#28. Short Black Curls
When you decide that you want to go with a relatively extremely short black women haircuts, you have to use hair products to help flaunt your courageous cut. So, don't forget the mousse or wax to help fix your hair in place.
#29. Swiftly Swept
Adding the final touches is what actually makes black women short hairstyles even better than they already are. For instance, the swift swerves touch at the tip of her forehead hair added life and dynamic movement to this design. And that's exactly what we need in every style.
Tip: Using a round bristle brush while blow drying might help to form that flawless curl.
#30. Messy Curls
Another bonus feature from the endless list of great things about short haircut black women is that messy is actually "in" right now. So, say goodbye to your endless styling on early mornings and get down with the " I just rolled out of bed" look!
Bold Short Curly Hairstyles for Black Women
#31. Young And Stylish
For short hairstyles black women, maintaining disobedient curls can be a super tough task. So, why not save yourself all the trouble and just go with flat ironing and fixative hairspray?
#32. Loose Curl Pattern
If you've got a loose curl pattern that grows upwards, then you should have your stylist get rid of the backs and sides and trim the tops to a minimum.
#33. Short Twists
This is one of the designs where you are allowed to go all crazy and artistic about it. Mashup between twists and a simple pixie. Despite the confusion, you will end up with a pixie cut featuring twisted strands!
#34. Uniquely Chic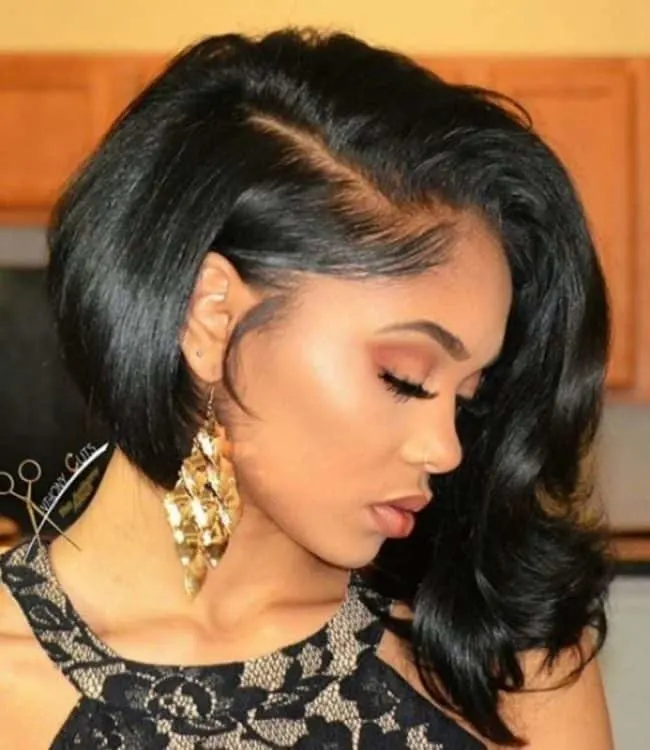 Even though African Americans have thick and bulky hair, you can end up with a smooth texture. All you need to do is pair up blow-drying with flat ironing to get this elegant look. And don't forget the moisturizer to help soften the tips and protect them from split ends.
#35. Short Pixie Cut for Black Women
Another additional feature that comes with shorter hair for black ladies is that you finally get to show off your new pair of earrings (presumably long ones). Because they don't get the chance to shine when a lot of hair gets in the way.
#36. Spikes Up
Hard rock 'n' roll has never been worn better than the girly undercut shown in the photo above. And that's probably because the top is styled by using hair wax to spring them up in the hair like thrones. Therefore, it is basically a rebellious act to convey a message.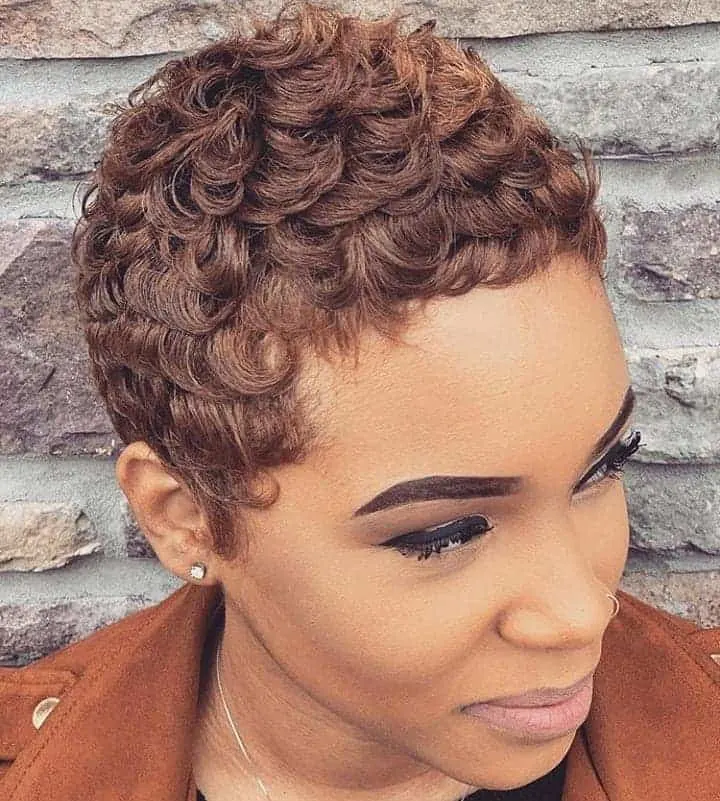 Nowadays, short hair is no longer a threat to a girl's femininity. After all, some girls start booming only when they get to try African American black women short hairstyles. Therefore, don't hesitate and just pick one of the designs that you think will go optimally with your preferences.