Opting for a bold color beyond your basic blonde, brunette, and black can be a little intimidating. Luckily, red violet have proven time and again to be approachable and creative. Perfect for pale skin, variations on this cool color combination can add a fantastical touch to your new hairstyle.
An inspired hair color deserves some extra creativity, so aside from honoring your skin, let any of these style be a jumping off point for cool-girl glamour.
Red Violet Hair
Read on to see what each of these 30 unique red violet hairstyles have to offer.
1. Red Violet Brunette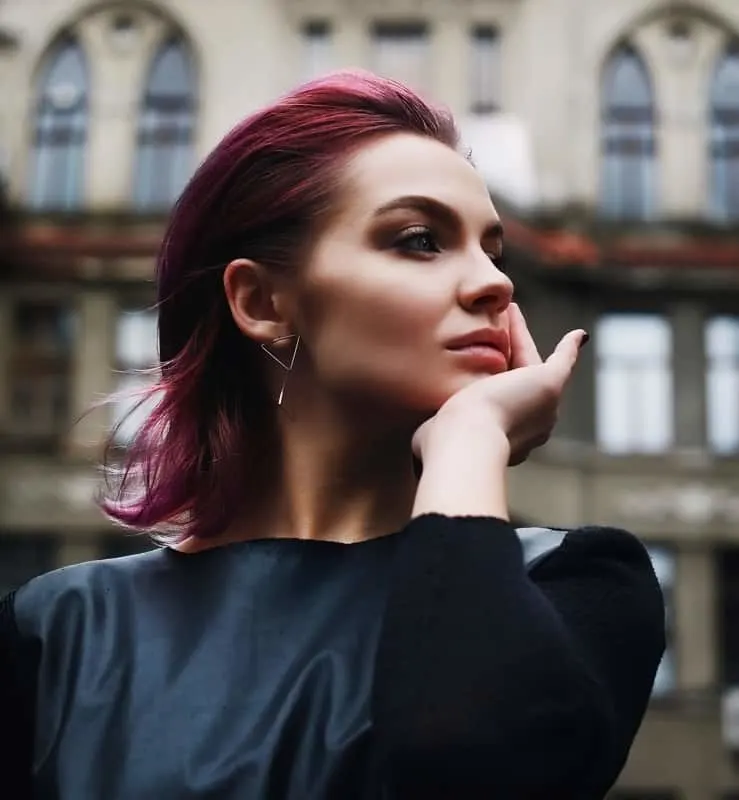 Don't worry about embracing dark red violet hair as a solid style, leaving touches of your natural brunette locks strategically throughout the hair is very popular right now. Hints at the temple feels edgy and fresh.
2. Magenta Red Violet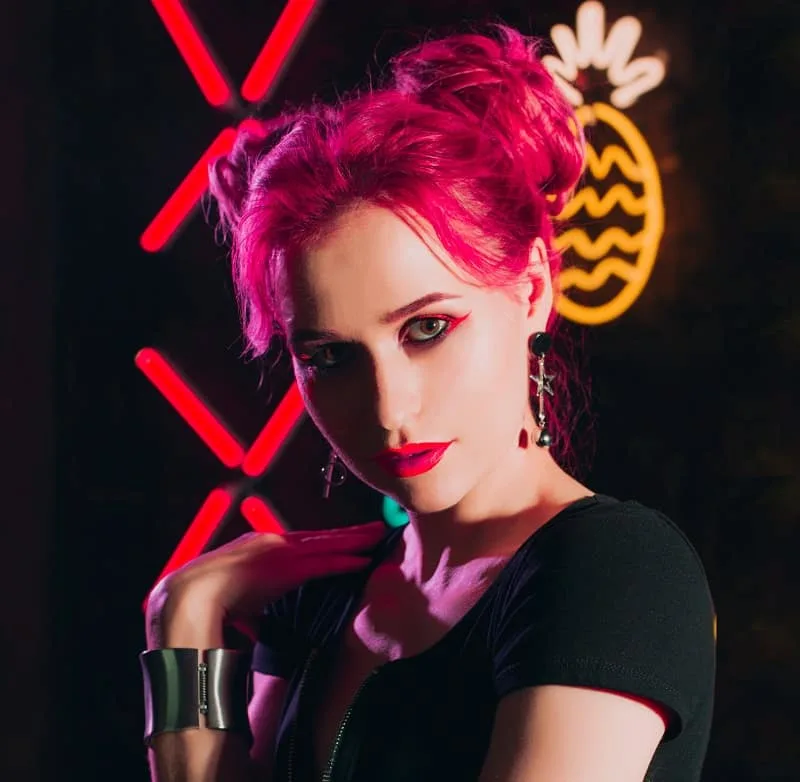 Bring out your inner Harley Quinn and try rocking deep red red violet hair. Choose a base that is more hot pink red than purple for the ideal compliment for light skin containing pinkish undertones.
3. Red Violet on Medium Hair
Medium red violet hair doesn't need too much dimension if your hair has natural texture like curls, as this hair will create depth all on its own. A center part has a toned-down and smoothing effect for ideal balance.
4. Red and Red Violet Blend
Take orange-based red and violet hair highlights and create a sexy blend. Perfect on cool, neutral skin, this two-toned style will set your red violet apart from all of the rest.
5. Raspberry Violet Swirl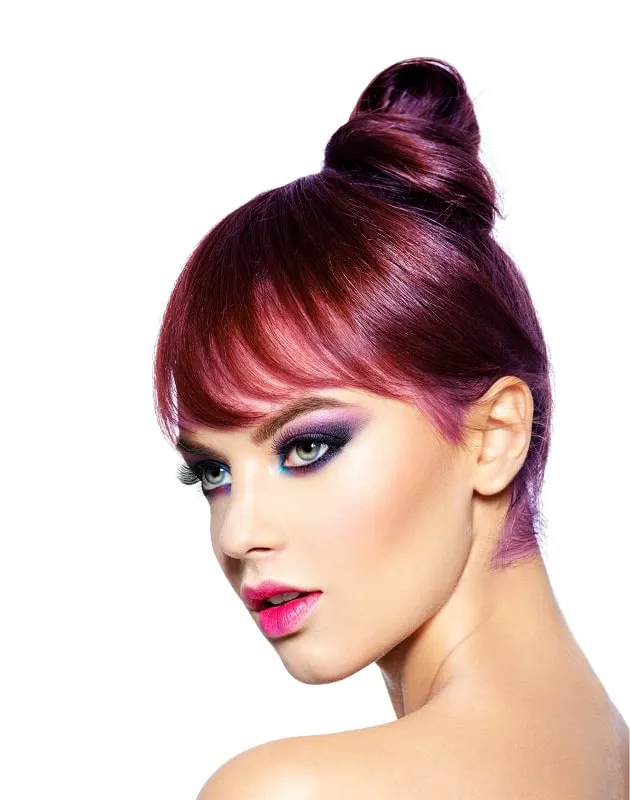 Instead of blending red violet brown hair color, make it two-toned for a dynamic approach. Focus the red color to the bangs and front of the hair if your skin has olive or yellow undertones.
6. Violet and REd Ombre
Focus the purple portion of your red violet ombre hair on the top of the head to contrast with your skin containing pink undertones. The color that best compliments your skin tone should be around the face and eyes.
7. Wild Red Violet
Fantasy sometimes provides surprising inspiration when it comes to curly red violet hair. This color takes advantage of darker lowlights to create much-needed jewel-toned depth.
8. Hot Pink and Burgundy Blend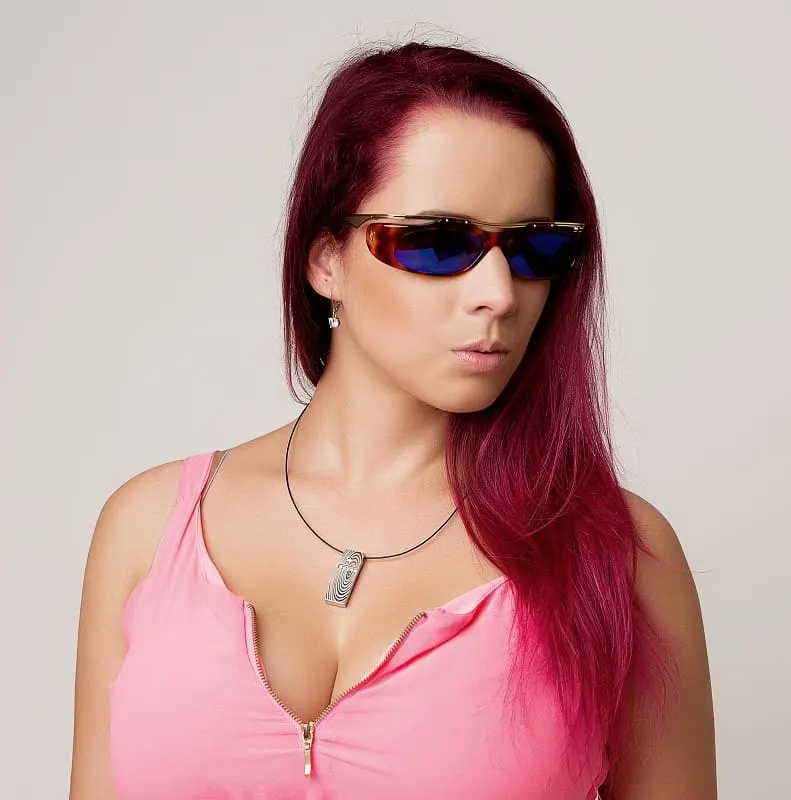 Focus on the pink tones for a change. This red violet burgundy hair ombre style is deep at the roots and electric pink on the ends, making it perfect on light golden skin.
9. Sleek Plum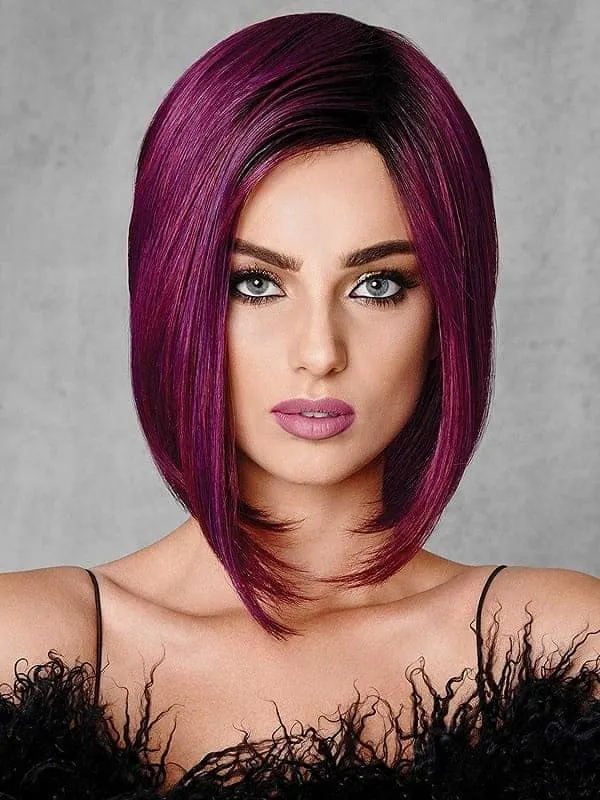 Showing a little root is super chic on red violet bob hair. A dark brunette or light black color adds a moody depth that will grow out well if your natural color is already dark. An angled bob adds to the fashionable intensity.
10. Vivid Violet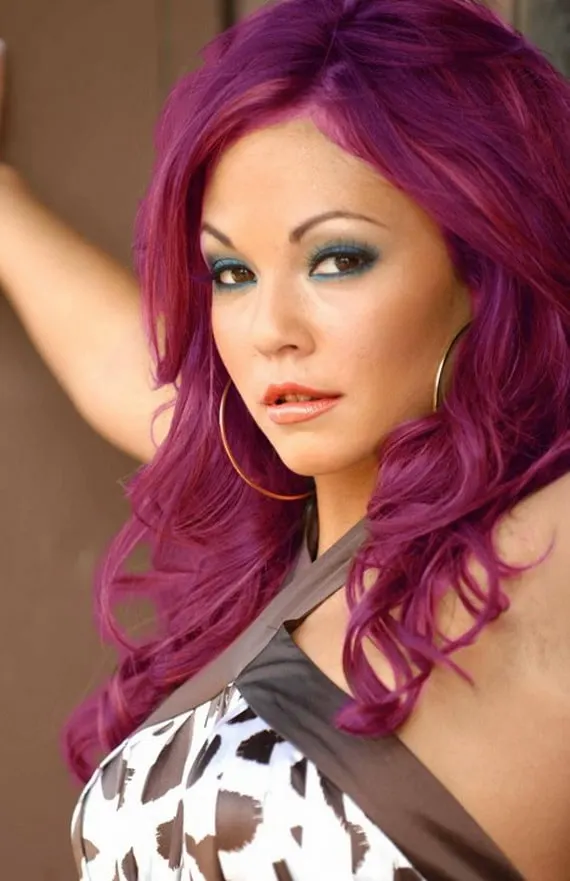 A vivid violet hair color is a very eye-catching choice for women. Layering around the face can help to soften the style to give a very feminine look.
11. Highlights and Lowlights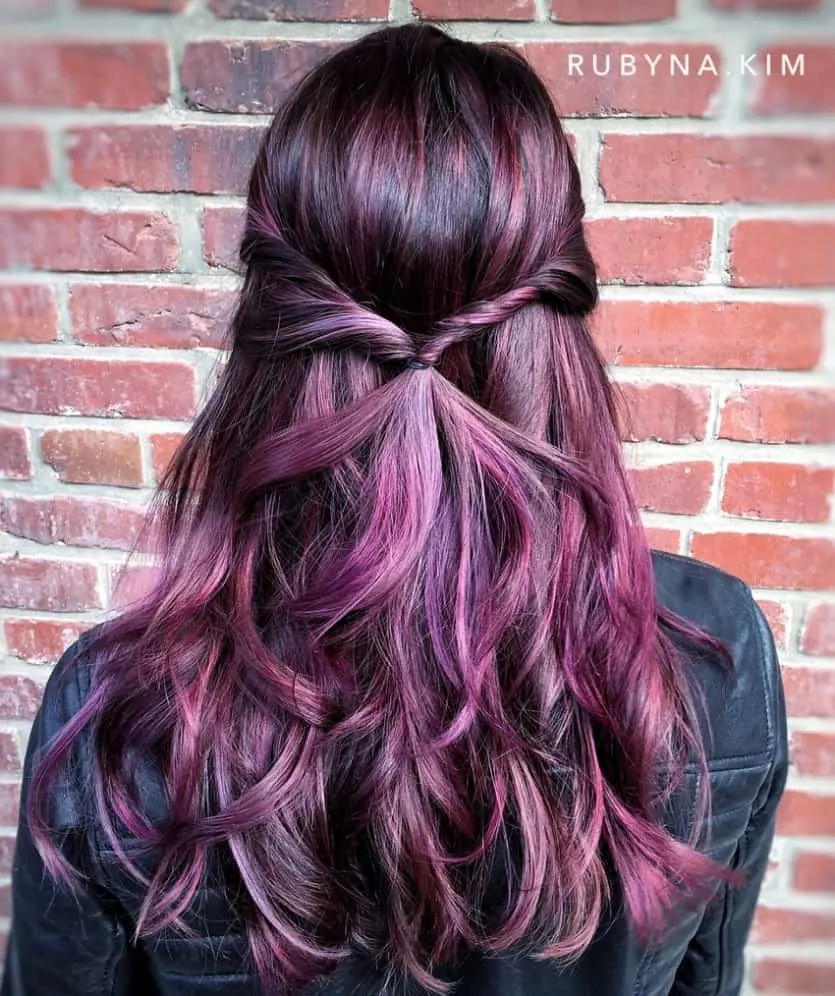 Highlights and lowlights help to create variety in a hairstyle. In a violet hair color, highlights and lowlights might be black or pale pink to balance the violet color scheme.
12. Dark Red
Darker reds are becoming more popular over time. These red violet hair colors are really appealing because they work for lots of different fashion styles. Short bangs look great with a diagonal parting.
13. Sleek Red Violet Hair Color
Sleek hairstyles are a lovely idea for colored hairstyles. Perfectly straight hair really allows the vividness of the color to shine through.
Choppy side bangs are a great way to cover a large forehead whilst drawing attention to the areas that you do love. Choppy layering also helps to create a fun and flirty look.
15. Intense Red with Dark Roots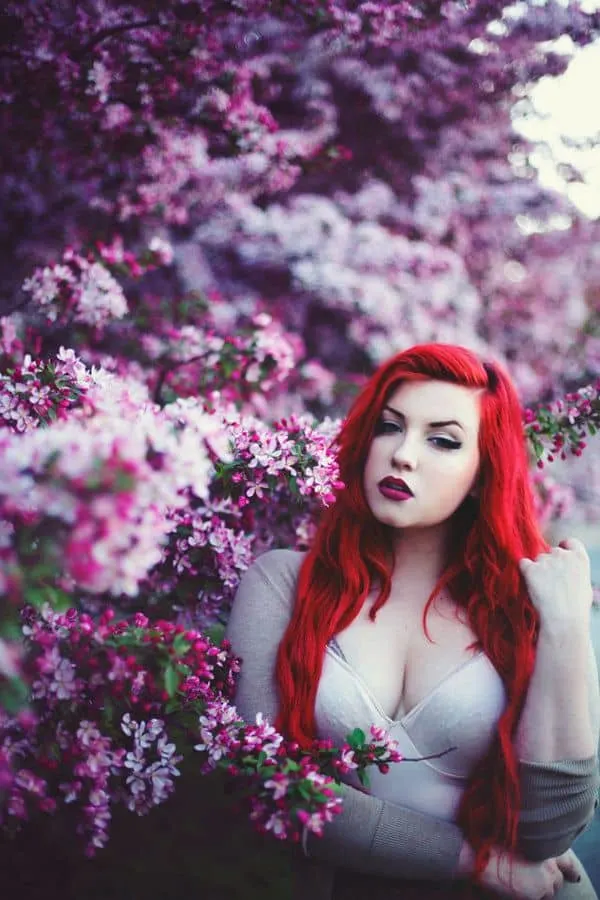 Postbox red is a really vivid and intense shade. Give your hairstyle a smoldering glamour by leaving your roots dark black to show the thickness of your hairstyle.
16. Glamorous Side Swept Style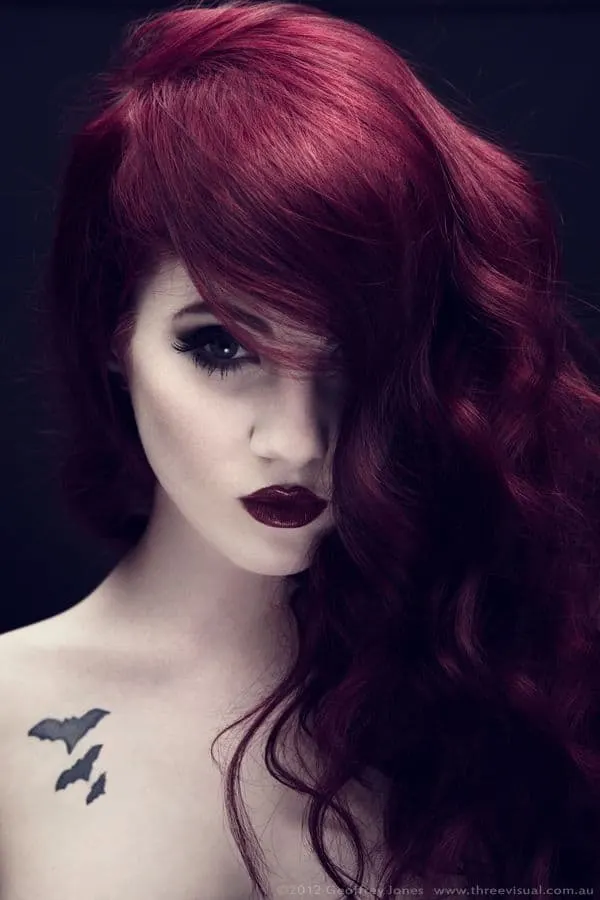 To make your hair look extra voluminous, you can sweep the whole style from one side to the other. Dark violet hair gives the side-swept style a super glamorous emo look.
17. Soft Side Swept Bangs
Soft side swept bangs complement many different hairstyles, regardless of the color. You should regularly comb through your bangs to keep them soft and free from tangles.
18. Short Wavy Bob with Highlights and Lowlights
A short wavy bob is a really effective hairstyle. Give your hairstyle more texture and depth by mixing different colors together to create highlights and lowlights.
19. Retro Rainbow
A long, smooth, frizz-free bob with rolled tips has a wonderful kind of retro charm. Rainbow red violet hair dye techniques add another unique dimension to this look.
20. Perfect Plum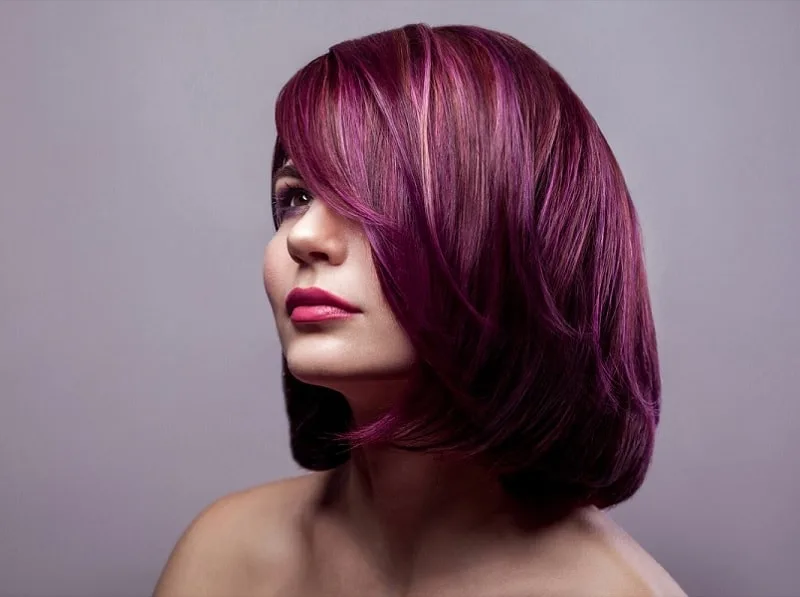 Create a style that is good enough to taste! We love this plum tone on a medium sleek bob. The slightly reddish tones are ideal on skin with gold undertones. Add side swept bangs for a finishing touch.
21. Hot Pink and Electric Purple Blend
These loud colors make an impression, so we only recommend it for the boldest of babes. To really make it work, head to a professional salon to help you achieve that perfect blend. A color combo like this one is ideal on cool, icy skin tones.
22. Maroon Red
Deep maroon hues look so lovely on medium warm skin with golden undertones. Brush this bold color onto your short natural pixie cut for a spark of creativity. Make it all pop with a swipe of true blue eyeliner.
23. Brunette Fade
Just a faded splash is sometimes all you need to partake in a trend. Put your own spin on wine-dipped locks while protecting your natural brunette curls.
24. Raspberry Chocolate
A warm, rich blend is all your brunette hair needs for unique vibrancy. Add mocha lowlights to the bottom half of raspberry hair and leave several inches of root for the perfect-lived in feel.
25. Ultra Violet Bob
Choosing red as your base color is typically safer than purple because most women naturally have darker hair. Add a magenta purple splash, giving a cute a-line or inverted bob the touch of fun that you've been looking for.
26. Red Violet Ombre
Fall-inspired tones are huge on Instagram. Try it on your red violet hair in a soft balayage blend that always feels classy. Head to the salon for this look, though. Styles like these deserve a professional.
27. Curly Burgundy Bob
Pale skin with golden undertones looks best with a burgundy that is based in brown. We love the way it enhances soft curls. Add a braid crown around the forehead for a sexy short up-do.
28. Black and Cool Burgundy Fade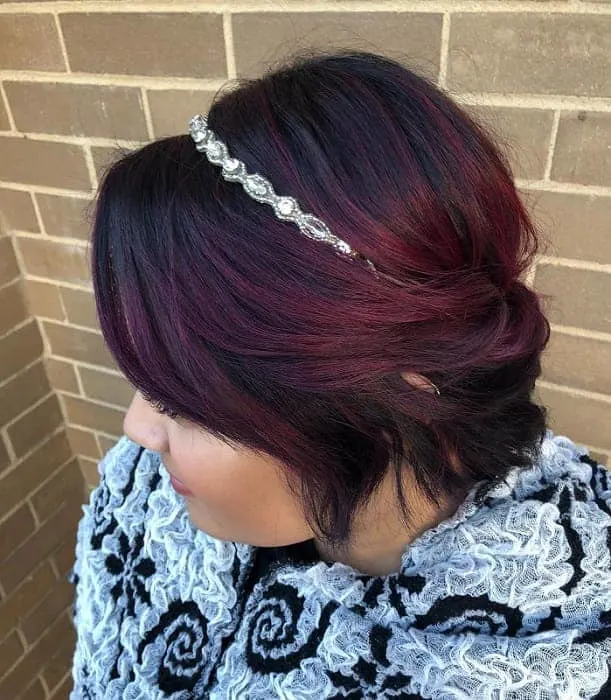 Burgundy compliments jet black hair like a ruby charm. Soft ombre is the way to go on both long hair and bobs. Adding a jeweled headband to a half-up side sweep is the perfect wedding look.
29. Violet Ombre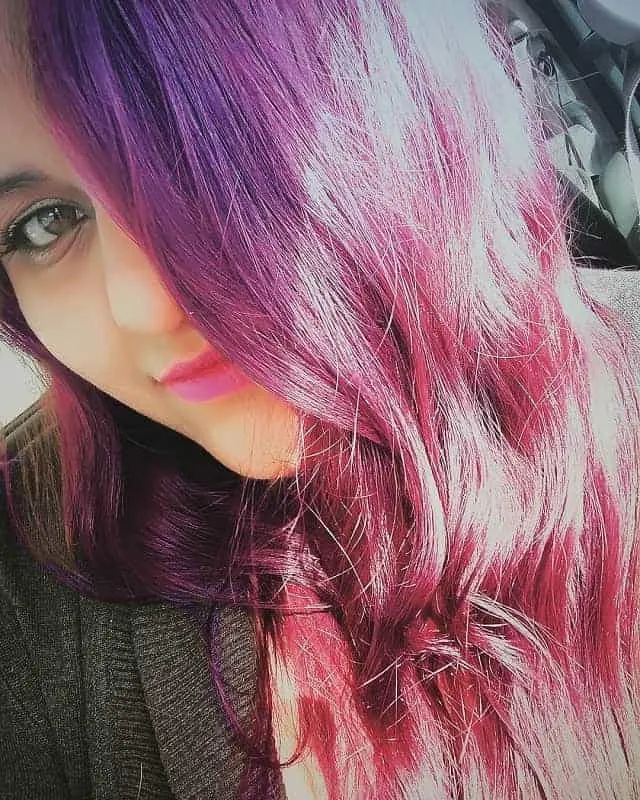 Ultra violet doesn't have to pair with hot pink or magenta. If you prefer raspberry, burgundy or rhubarb tones, pair it with a violet tone that is closer to plum.
30. Dark Rhubarb
A soft, red-based color looks so elevated on long, thick hair. Add it to dark chocolate or another cool-toned brunette color using the balayage technique for stunning dimension.
There are so many different tricks that you can play with red violet hair color. You can really strive to create your own unique hairstyle with different hair dye techniques.