In this era, there are infinite hairstyles for short hair that anyone can achieve at home with the least effort. There are many Indian women who love short hairstyles just to get rid of the long hair maintenance and also to look classy.
Beautiful Short Hairstyles for Indian Women
From Pixie to bob to lob, all these haircuts can be styled effortlessly in countless ways to completely transform your look instantly. To help you achieve the perfect hairstyle according to your liking, we are here with different Indian hairstyles for short hair so you can effortlessly upgrade your look.
1. Natural And Voluminous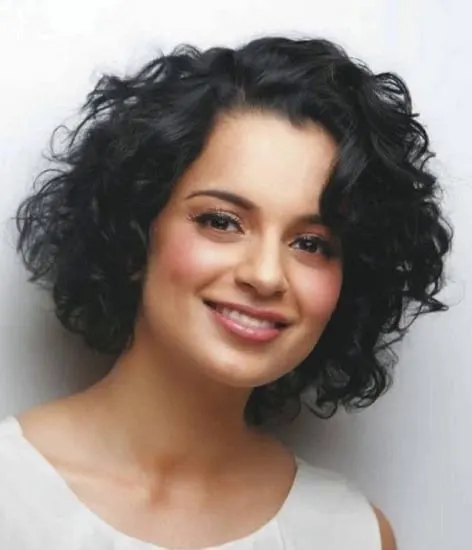 Indian teenage girls who love short haircuts will definitely love this hairstyle. Natural hair texture never goes out of fashion. Whether your hair is long or short, you can always sport your natural hair texture and look absolutely gorgeous. Add a little bit of volume to the crown of your head for giving it a glam look, every so subtly.
2. Low Side Bun
Style your short hair in a low side bun without having to deal with long locks and countless bobby pins. Gather all your hair in one place and tie them into a small ponytail. Take a 1-inch curling barrel and curl your ponytail in outwards direction. Pin the stray hair in place and voila! You are done.
3. Natural Waves
Unique Indian women look with short length hair. Effortless yet sexy! Natural waves in your hair will elevate your overall appearance in an instant. Whether you are going out for a lunch with your friends, heading out to the mall for a shopping spree, or attending a wedding, naturally wavy texture in your hair will make you look irresistibly gorgeous without a doubt.
Most Inspiring Short Weave Hair Ideas
4. Blunt Fringe
If you have a big forehead then this Indian hairstyle is the best option to go for. Getting bags will hide your forehead and frame your eyes beautifully. Especially when paired with short hair, bangs can take years off of your face and make you look even more beautiful and youthful.
5. Faux Cornrows
Sleek bob is one of the most popular short hairstyles for Indian women. There are countless ways to style a sleek bob, but the chicest way to amp up your bob is by adding faux cornrows right above your ear on one side. This short hairstyle for Indian women will add an instant edge to your overall look and make you look fashionably up to date without overdoing it.
6. Minimalistic Top Knot
For a polished and sleek look, tie your hair up into a high ponytail and roll it up into a knot. This hairstyle does not only look classy and minimalistic but is also very practical for work and formal events. Pair it with a trendy yet classic outfit and you are ready to steal the show.
7. Half Fishtail Braided Updo
Incorporating a fishtail braid is the best way to add texture and detail to any hairstyle. A low updo that is embellished by a number of fishtails is the ultimate feminine hairstyle that you can rock to any wedding, festival, or a party. Decorate it with jewels or followers to suit the occasion.
8. Messy Updo With Gajra
Indian women love the gajra looks. Are Indian weddings complete without a gajra? We don't think so. Add a touch of festivity and feminine appeal to your hair by adorning your textured, messy updo with fresh Jasmine gajra. Apart from adding life to your hairstyle, it will leave your hair smelling divine for the whole night.
9. Defined Vintage Curls
Can we appreciate the beauty of vintage curls especially when created on short hair? Add defined pin curls to your hair and brush them out gently to create that perfect vintage appearance. That finely disheveled hair will make you look straight out of the 50s in an instant.
Brightest Short Hair Looks for Women With Thick Hair
10. Feathered Out
A beautiful and clean short haircut that'll suit most of the Indian women. Bring back that 70s glam with a voluminous feathered out hairstyle. Loose curls with tons of layers in the hair that are facing outwards are the best way to revive that trend. Wear it with a middle part, side part, or bangs, your hair will earn you hundreds of compliments, we bet!
11. Bouffant On Point
Bollywood and bouffant hairstyles walk hand in hand. Add a dramatic volume to your hair by generously backcombing the hair on the crown of your head accompanied by a good amount of hairspray. Embellish this hairstyle for short hair in accordance with the occasion and you are ready to make a statement.
12. Twisted Down Do
Textured and disheveled hair always grabs attention no matter how you style them. Spritz some texturizing spray on your locks and curl big chunks of your hair in alternate directions. Accent your hairstyle with a few messy twists that are pinned back and camouflaged under your sexy hair.
13. Slick Back Ponytail
There is nothing classier than a slick back ponytail without any fly-aways. Part your pin straight hair from the middle and tie it into a minimalistic, low ponytail. This simple Indian hairstyle for short hair will earn you hundreds of compliments and keep you looking polished all day long.
14. Blunt Bob
A blunt bob is always flattering for women in India who love short hairstyles. It does not only make you look younger but also a lot more polished. For extra smoothness, straighten your hair with a flat iron and rock the sexy yet sleek look to every occasion possible. For added volume, Blow dry your hair instead of straightening and you will be turning heads.
15. 70s Broad Head Band
This time, let your hair do the talking with this beautiful and simple headband hairstyle. Headbands go particularly well with short hair whether they are straight, curly, or wavy. So, bring back the 70s hippie look and own the show with your unmatchable style.
16. Sleek And Face Framing
Short hairstyles like this will never go out of fashion in India. A face-framing hairstyle is the safest option to go for if you want to look like you are ready to hit the party at times. It can instantly add tons of glamour and beauty to your face shape and overall appearance. To level up this hairstyle add a funky hair accessory and you are good to go.
17. Bohemian Braided Updo
Add an accent braid to your hair and tit the rest of your hair in a textured updo. Pull out a few stray strands of the hair to frame that can beautifully frame your face. Amp up the look by adding statement earrings and necklace and finish it off with a bold makeup.
18. Seductive Curly Bob
Bob haircuts look absolutely attractive and eye-catching with loose and voluminous curls. If you are looking for Indian hairstyles for short hair for weddings then go for a seductive curly bob and make all the jaws drop at the wedding. Pair it with a bold lip and make a grand entrance at the wedding.
Curly Hairstyles for Indian Women
19. Sleek Pixie Cut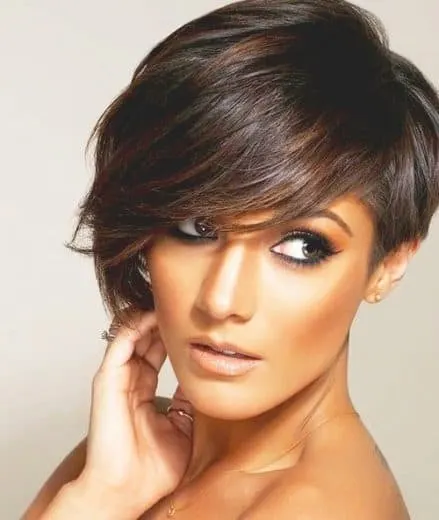 Pixie haircuts are suitable for all age groups. For a casual and sophisticated look, keep your pixie sleek and natural. Brush your hair thoroughly to one side so they frame your forehead just the way you want. Add a shine serum to your hair for added gloss
20. Retro Pixie Cut
Not into a sleek pixie haircut? Do not worry! You can always style your pixie haircut with voluminous curls. Take inspiration from Marilyn Monroe or Kangna Ranaut for the perfect glam pixie hair and steal the spotlight like a diva. Complement your hair with a retro dress to have all eyes on you.
Experiment with something daring and sport this hairstyle to the next event you have to attend. Gather your hair up into a messy Mohawk and be the center of attention in the best way possible. Make sure to set your hair with a generous amount of hairspray to lock the edgy hairstyle in place.
One of the prettiest short hairstyles recommended for Indian women. It is the natural beachy waves with massive volume and texture. Indian women are known to have beautiful texture naturally but if your hair is straight then do not shy away from adding a few loose curls here and there that you can mess up later to create the beachy waves texture
Teenage Girls Love These Striking Hairstyles
23. Bright Ombre
Ombre hair colors are back and they are here to say. No matter what hair length you have, a vibrant colored ombre will give your hair the dose of fashion it requires. So, hurry up and freshen up your look to look fashionably up to date anytime and anywhere.
Short haircuts and hairstyles are popular among Indian women regardless of their age. You can see countless Indian celebrities and fashionistas rocking these Indian hairstyles for their short hair and making headlines every now and then. Your hair is one of the best assets that you carry yourself with you all the time and everywhere, and you can work it many different ways to create a style that would make you the spotlight at any event.
So, without further ado, style your hair in the most stylish, polished, and eye-catching ways and make a statement that no one will be able to forget.