You're probably thinking that beach waves for short hair don't exist since short hair is, obviously, short. Stop thinking that way—it's self-defeating, not to mention limiting.
Short bobs, shags, and lobs can all benefit from beautiful beach waves, and you can add them in any number of ways. From texturizing products to straight irons and curling wands, there are about a billion ways to make your cropped locks wavy.
How to Get Beach Waves On Short Hair
Best Short Beach Waves Hairstyles
If you have the patience to braid your hair into several sections and let it dry, that's a surefire way to create beach waves in short hair. You can use your straightener to flip the ends, or you can sculpt full-body waves with a curling iron, or a round brush and your blow dryer.
Take a look at the styles with which you can experiment, and the techniques you can use to perfect them.
1.
Asian short hair with beach waves
2.
beach waves for short thin hair
3.
short beach waves hairstyle with bangs
4.
short beach waves hairstyle for wedding
5.
6. Bouncy Waves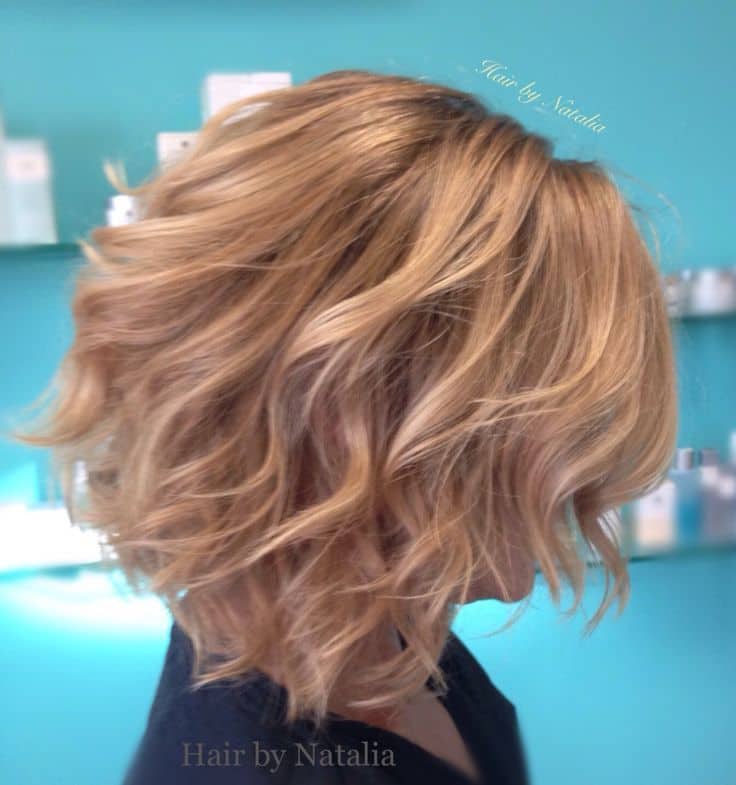 Bouncy beach waves for short hair create lift and volume. As you can see, the waves are almost curls—almost, but not quite. You don't have to be nearly as precise with waves. Even if they fall, they still have some shape.
Don't Miss out Best Wavy Hair Tutorial on YouTube
7. Just a Hint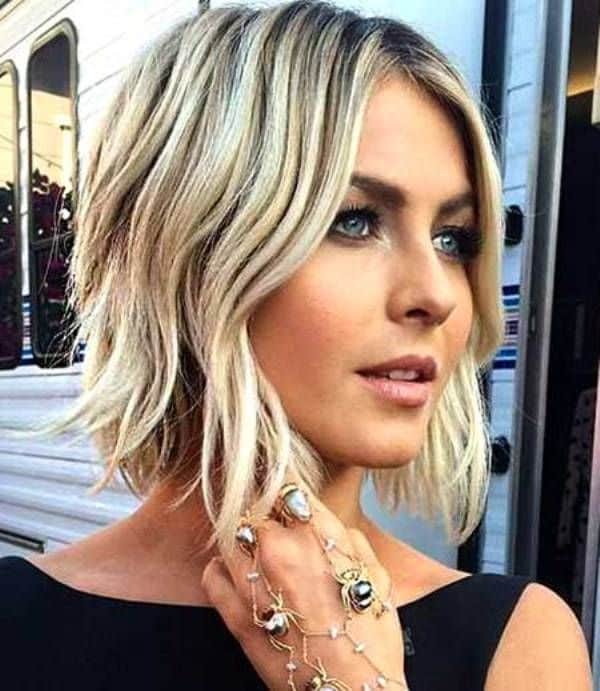 It doesn't take a lot of effort or even a lot of wave to make you look as if you spent the entire day on the beach. All you need is a bit of texture and a slight wave, just like this. Saltwater will do it for you.
8. Chunky Waves
See how the waves in this 'do are clearly defined, matching the chunky highlights? Cover your fingertips with a light layer of gel, mousse, or wax and run your fingers through your hair from root to tip. You can spray your hair with a bit of salt water first—not enough to saturate it or even get it damp, but just enough to give your tresses a faint dusting of salt.
Watch the below tutorial on how to style a gorgeous beach wave hairstyle.
One of the easiest ways to create beach waves in short hair is to incorporate layers. They help to take the weight off your hair, which allows your waves to stay in place. You also get more bounce for your buck.
10. Blunt Cut Waves
Of course, you could always take the opposite approach. A short haircut with blunt ends can appear boring and plain on its own. Create a few waves to add texture and shape.
11. Flat Iron Waves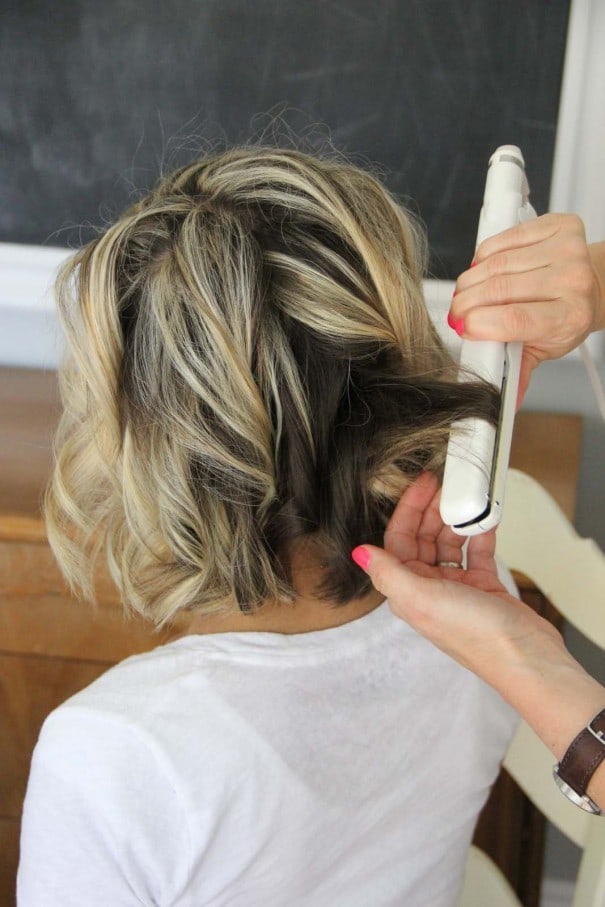 You don't need a curling iron to put together a beachy 'do. You don't even need to braid your hair. Do you have a straightening iron? Girl, then you got this. A flat iron creates the perfect waves—never too wavy, always flawlessly sculpted.
12. Wispy Waves
Adding beach waves to short hair is beneficial if your hair is also a bit thin. The waves add fullness and volume, yet the fine texture of your hair will make them wispy and feminine. Take a cue from this coif and allow some of your curls to frame your face.
13. Sexy Spirals
How about these spirals? I'm going to let you in on a little secret: you can even use your flat iron to create fuller, curlier waves such as these. Start out with those spirals and you can go a few days without washing your hair. By the second or third day, you'll have casual, relaxed waves.
Create Wavy Curl at Home Easiest Way
14. Flirty Flip
A bit of wax, gel, or even hair spray on the tips of your fingers is the only thing you need to flip the ends of your 'do. That way, your waves will still have movement and your hair will retain flexibility—it won't look sticky, tacky, or immobile.
Weave a few braids into your hair, leave them overnight, and unplait them in the morning for glorious beach waves in your short hair. Afterward, create another braid—like the one here—and splash out with a beautiful Boho aesthetic.
16. Edged Out
Taking a razor to the ends of your hair is the perfect way to get jagged edges and stylishly uneven layers. Just make sure you get a professional stylist to do the job for you unless you know how to work a stretch edge yourself.
17. Wavy Bob
A wavy, curly bob is an ageless, timeless coiffure. It transcends both trends and the age of the woman wearing it. Whether you're 16 or 60, a bouncy bob will lend a youthful vibe and a laid back aesthetic to your look.
Shoulder Length Wavy Hairdo Ideas
18. Sun-Streaked
There's no rule saying that beach waves for short hair have to be blonde, but the image of the beach is almost always accompanied by visions of tousled, messy hair bleached blonde by the sun. Even if you layer bright highlights over a base of dark hair, why not go all out with the carefree beach aesthetic?
19. Sweet Shag
A shag cut with multiple layers cut in at different lengths is interesting and unmistakable. The addition of full-body waves will keep the cut from looking a little too Carol Brady. Nobody wants that—except maybe Carol Brady herself.
20. Almost Straight
Waves don't have to be all out there to look phenomenal. Add just a bit of texture with salt spray and a lightweight gel, mousse, or wax. By doing that, your hair will have a hint of a wave, but nothing too extreme.
21. Bedhead with Body
Styling beachy waves in short hair are effortless. Sometimes, it takes nothing more than running your fingers through your hair to create an irresistible bedhead coif.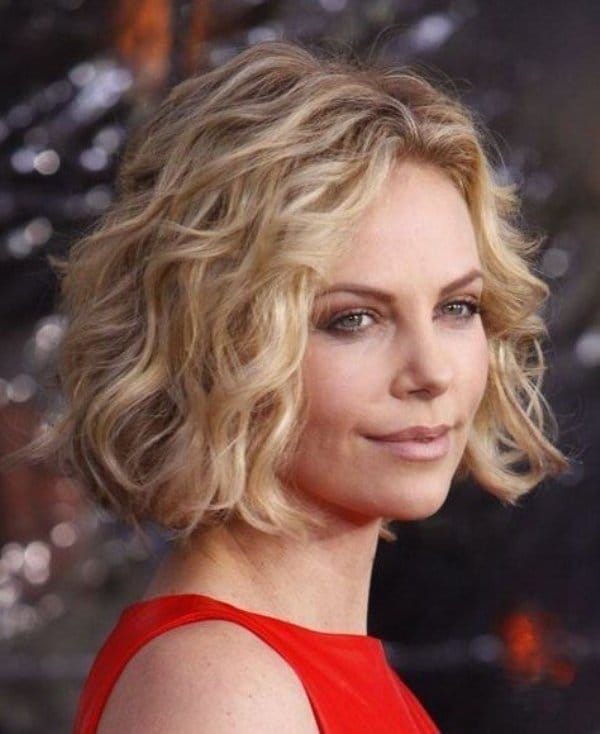 Tame your waves with the right product. You can get even more definition by letting your curls air dry instead of using the blow dryer. By cutting your hair short, there's nothing to weigh down the curls. You'll end up with a pretty profusion.
23. Faint Waves
Just because your waves aren't outrageous, that doesn't mean they aren't stylish or beautiful. Use a flat iron to flip just the ends of your hair, and don't go crazy with it. A faint curl is all you need.
24. Nearly Stick Straight
Believe it or not, you can combine beach waves with short hair while still keeping some of your tresses stick straight. Again, when you add waves, just incorporate them at the ends of your hair. Because your part is sleek, they'll stand out even more.
25. Short and Sassy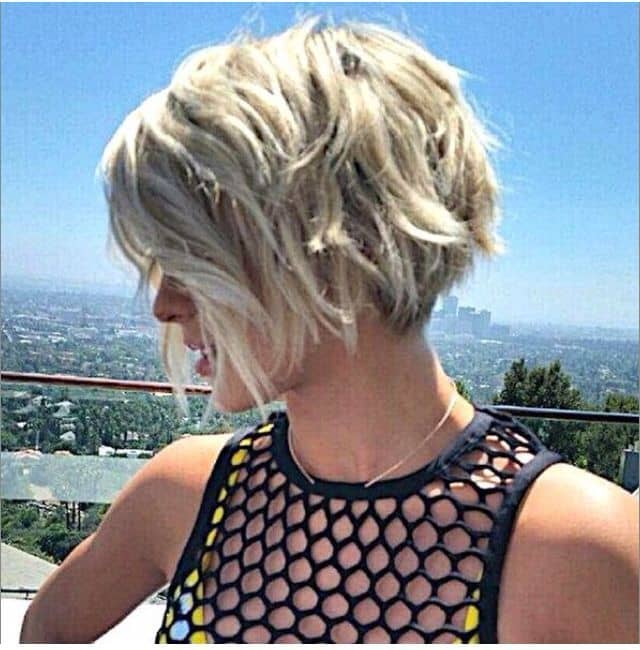 Eager for a seriously short crop? Add waves with a product that adds texture, such as salt spray, or loosely braid your hair the night before. You might need to sleep on a dozen small braids overnight, but the results are worth it.
Quick & Easy Short Weave Hairstyles
26. Natural Brown
You don't always have to make efforts to look good! Beach waves for short hair will give you a simple yet elegant look. Let the light brown loose waves fall beside your face naturally. The side partition gives an appearance of side bangs falling on one side.
27. Classic Bottom Wave
Keep your black hair almost straight for the entire length. At the ends of the hair, add a little twisty wave to perfect the look. Dark ombre highlights on the hair edges look lovely too!
28. The Salt and Pepper Wave
Who doesn't simply love the salt and pepper look for the hair? Go for the look, crop your hair short and add mild waves to complete the above look. And, you are all set to create a statement with your short cropped, slightly wavy hair.
29. The Magic of Violet
Go for a bob or lob cut as your short hairstyle. Color your hair the perfect violet and do simple, moderately loose beach waves for the hair. Start at the top and loosen the waves towards the bottom. This look is very charming with a hint of purple and naturally wavy at the same time.
30. The Blue and Blonde Chic Look
Go for moderately loose beach waves for the short hair couples with bangs in the front. For a unique touch, add a hint of dark blue color to your golden or blonde hair. A streak of dark grey adds a little more perfection to the hairstyle.
Far too many people believe that beach waves for short hair are impossible because they don't think you can do anything with a cropped cut. Isn't that silly?