Short and spiky are two things you wouldn't usually use in describing hairstyles for women over 50. But if you're one of those women who loves all things edgy, then short and spiky is the way to go.
With a short spiky hairstyle, you can certainly let out your feisty and fiery side. However, this can look too retro if you don't choose your hairstyle wisely.
To make it easier for you, we've compiled some of the best short spiky haircuts for women over 50 with a youthful twist.
Modern Short Spiky Haircuts for Women Over 50
If you're over 50, it's time to embrace your bold, vivacious spirit. What better way to do that than with a short, spiky haircut? We have handpicked some fashionable short spiky haircuts for women over 50.
1. Blonde + Dark Brown Lowlights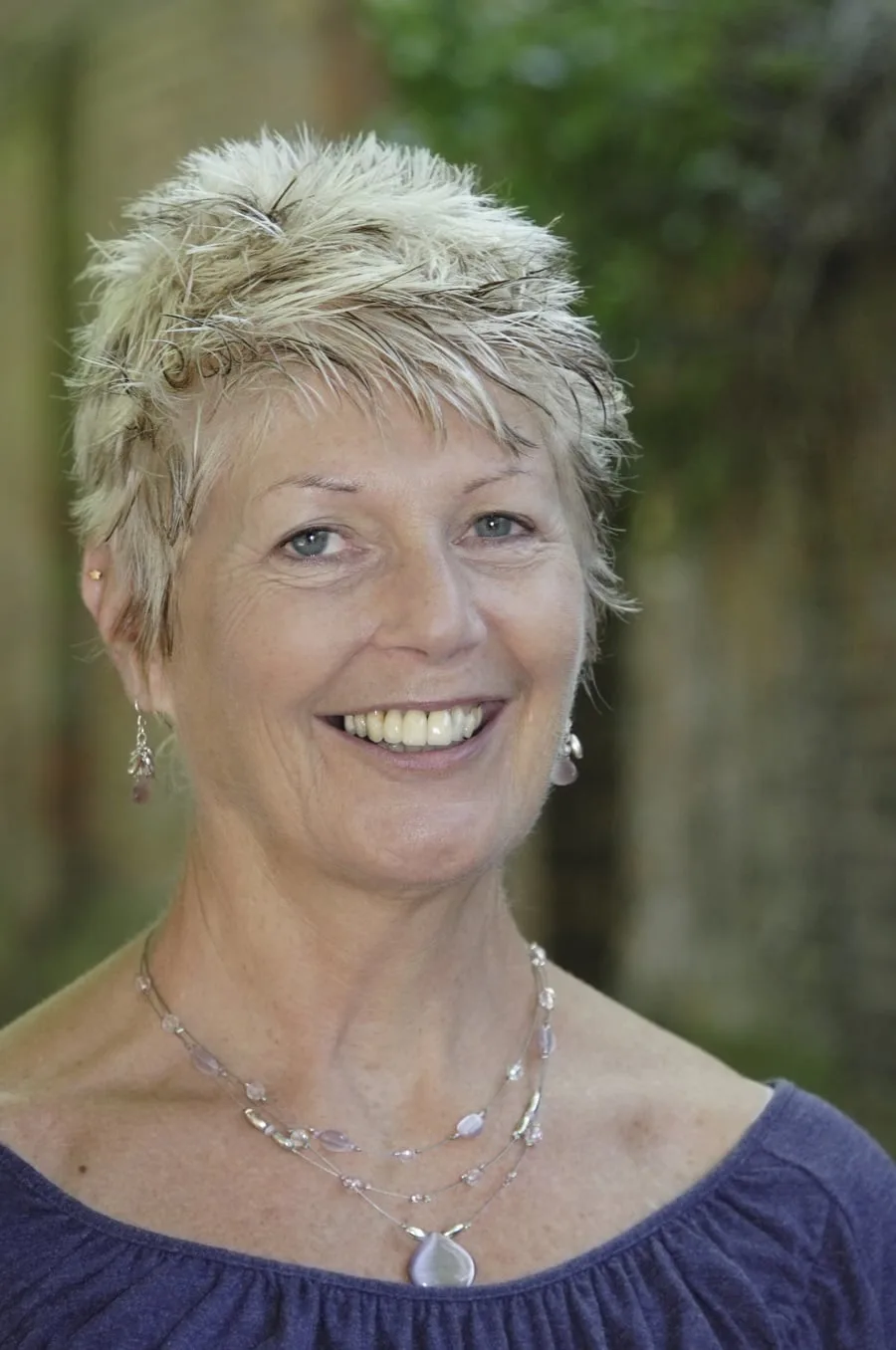 The spiky short haircut is the trendiest way to show off your beautiful graying hair. You can give it a modern update by adding a few dark brown streaks. The added brown lowlights will also add warmth to your overall look.
2. Platinum Blonde Spikes
But if you want to keep things simple, then stick with an eye-catching platinum blonde. Aside from its edgy vibe, this light hair color can easily blend into your naturally gray hair.
Try incorporating a few warm blonde streaks into your look to prevent your skin from looking too pale.
3. Dark Roots + Headband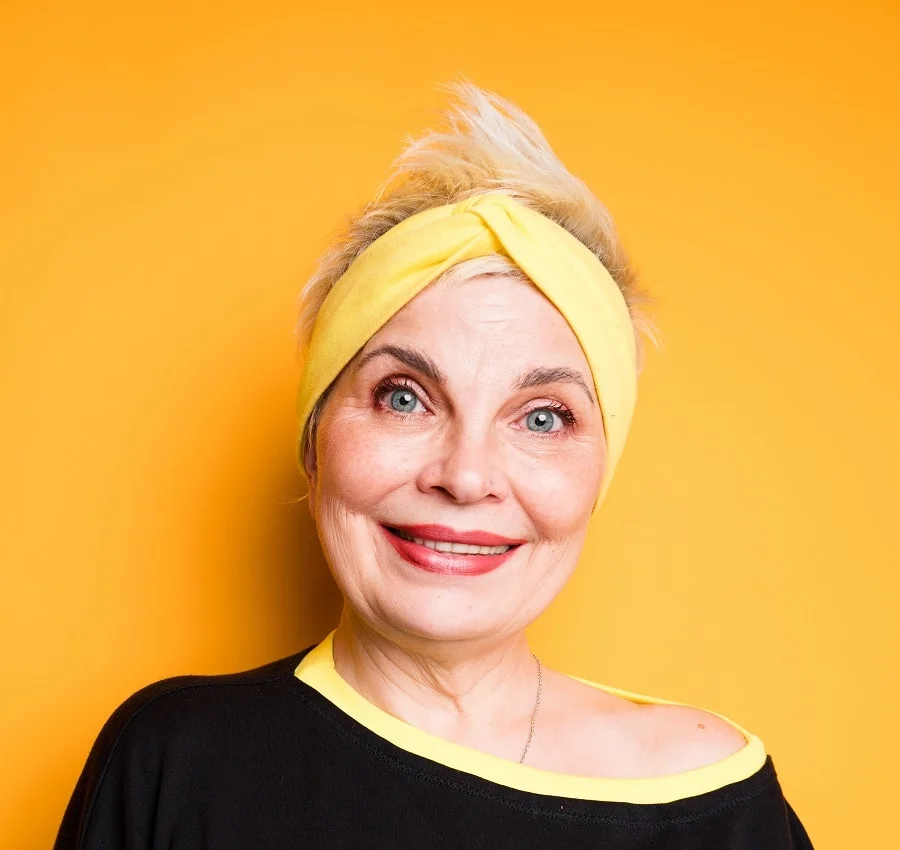 Let's face it. Short spiky haircuts for women over 50 are difficult to style, but they will look extra fabulous when done right.
Give your look a stylish and youthful twist by putting on a bright-colored bandana. Balance out your entire look by keeping your roots a bit darker for a natural touch.
4. Messy Spiky Cut
This unique haircut is all about having fun, and this messy spiky cut is the best way to show it off. To achieve this look, tease your hair sidewards instead of upwards.
For best results, use a thin styling comb to create this haircut.
5. Salt and Pepper Curls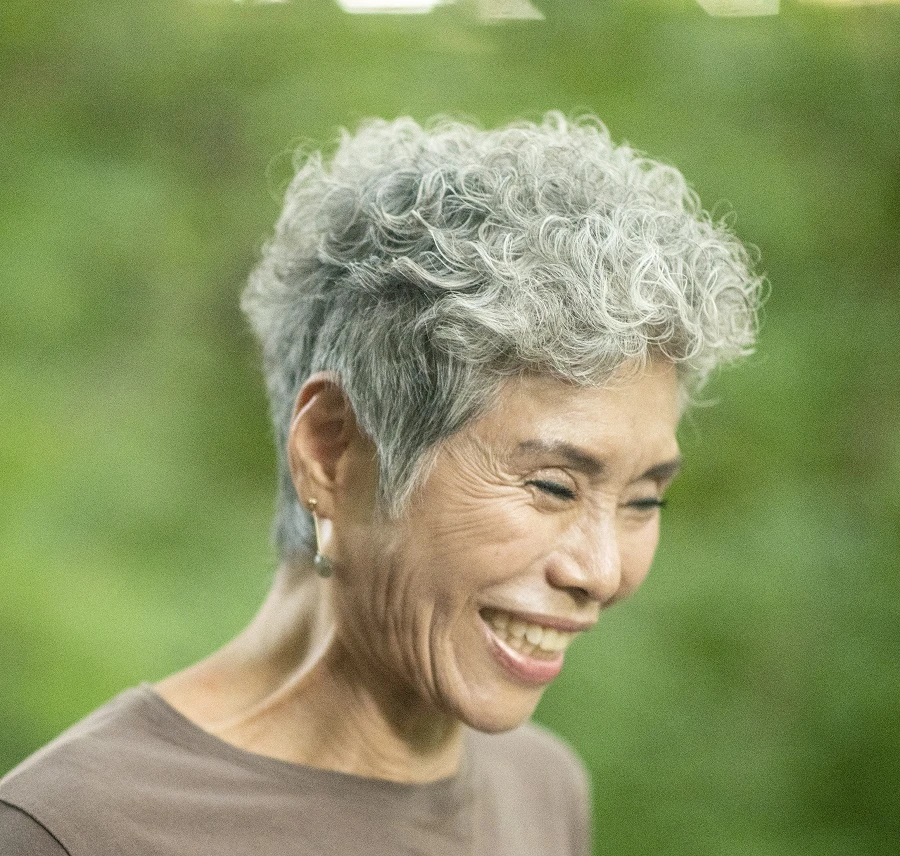 If you thought spiky haircuts would never look regal on women over 50, this hairstyle will prove you wrong. The wild curly strands create an air of elegance while still giving that fun and carefree look.
On the other hand, the salt and pepper hair color is a modern way to show off your beautiful graying hair.
6. Platinum Fohawk
Show everyone that you can still rock edgy hairstyles even at your age with a unique fohawk haircut. This hairstyle is shorter at the sides and a lot longer at the top, giving you added height and air of authority you can't get from any other hairstyle.
7. Long Spikes + Short Sides
If you want to make your short hairstyle stand out, then the longer your spikes are, the better. But to keep the spikes from getting out of hand, it's best to keep the sides a lot shorter to give the hairstyle better structure and balance off the entire look.
8. Silver and Black Short Spikes
When it comes to choosing short spiky haircuts for women over 50, you shouldn't just focus on the cut but you should pay attention to the hair color as well.
A case in point is this side-parted haircut with face-framing silver highlights. The added highlights not only emphasized the spikes but can brighten your complexion as well.
9. Curly Short Bangs
If you're conscious about your wide forehead, this is the hairstyle that you should consider. Instead of teasing all your hair strands upwards, style a few hair strands at the front downwards to create micro-bangs. This will conceal a portion of your forehead, making it look smaller than it really is.
10. Short Spiky Hair with Ombre
Ombre is another hair technique that can take your hairstyle to the next level. By dyeing the tips of your hair in a different color, you can make the spikes come to life and become more noticeable.
11. White Blonde Mohawk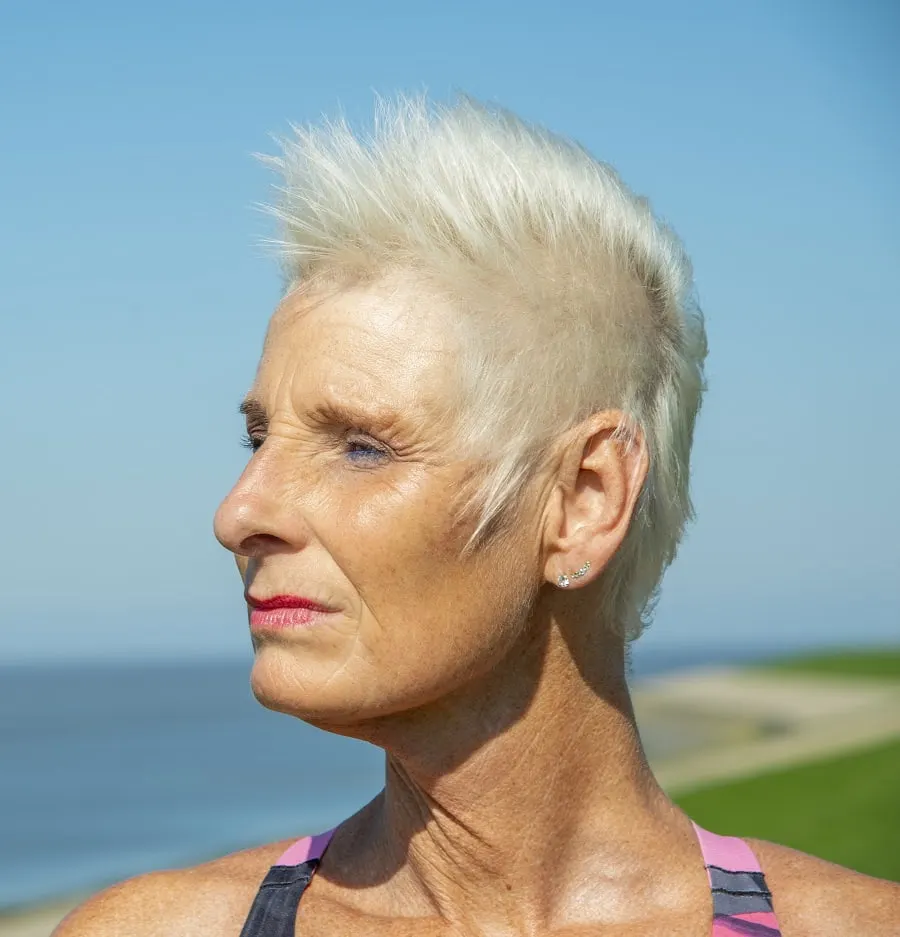 Mohawk is definitely not for the faint of heart, so only go for this hairstyle if you have the guts to pull it off. But of course, donning this hairstyle comes with great rewards.
You can achieve this by leaving your sides shaved or ultra-short and opting for longer spikes at the top and back.
12. Side-Part Spiky Pixie
While there's no doubt that short, spiky haircuts for women over 50 are trendy and eye-catching, they come with one downside. It may look too masculine when done wrong.
You can easily solve this problem by going for a side part that creates a warm and feminine vibe.
13. Spikes in Different Directions
In this fashion-forward hairstyle, you have the freedom to style your spikes in any way you wish. If you're feeling a bit playful, try teasing your hair on different sides to add a youthful twist to your overall look.
14. Brushed-Up Spikes
If you're a fan of short hairstyles in your 50s and want to look taller, this brushed-up hairstyle can help! Brush up the hair at the top of your head, then backward to create added height to your head.
Make sure to comb the sides to the back of your hair to create a balanced look.
15. Spiky Wavy Hair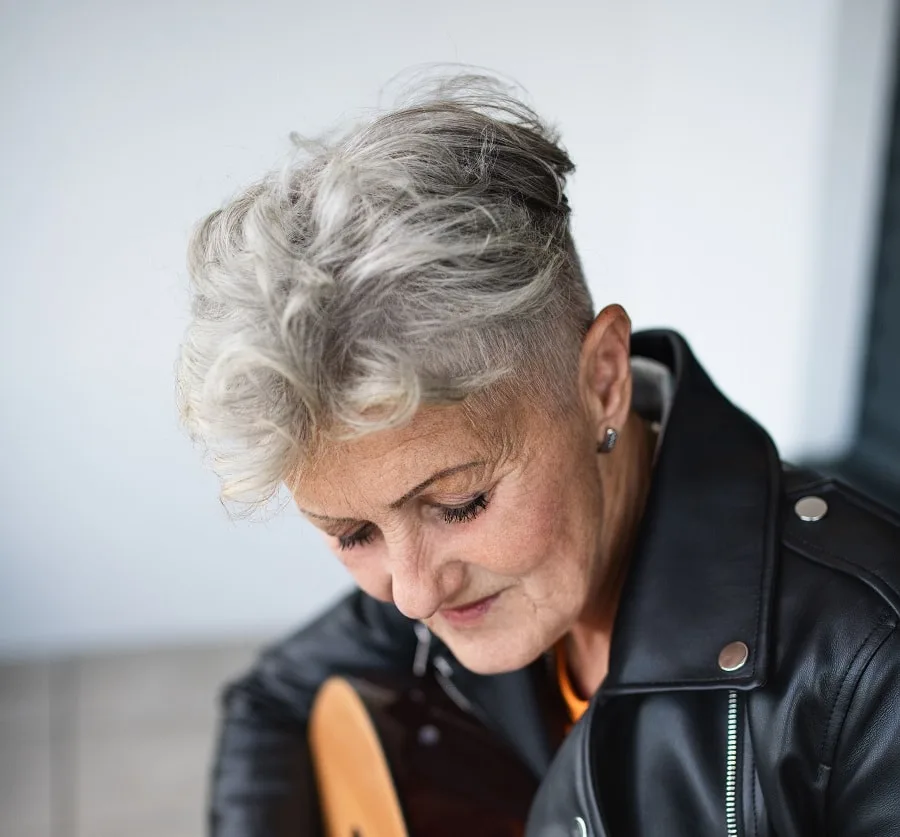 If you have naturally wavy hair, congratulations! You're one of the chosen few women who can pull off a spiky, wavy hairstyle. The sexy curves of your hair will add a feminine and classy touch to this supposedly masculine cut.
16. Messy and Wispy
Women with fine hair will look extra amazing with messy hairstyles since their strands will look thicker and more voluminous. And if messy is what you want, we suggest that you keep it short so it can look good and be easy to manage at the same time.
17. Spiky and Kinky
Long kinky hair can get out of hand, so it's a bit of a challenge when it comes to styling. On the other hand, kinky hair that's cut short looks chic and fabulous. Most of all, it's extremely low-maintenance, so it's a win-win for you.
18. Curly Spikes + Micro Bangs
Spiky hair is not just for women with straight hair because you can always go for curly spikes. These are a wispy and more ladylike version of the edgy straight ones. Add in micro bangs so you can also enjoy face-framing layers.
19. Gray Wavy Spikes
Add dimension and boost your hair's movement by styling the spikes in waves. To create this look, it's best that you use a straightening iron with curved sides. That's the only way you can perfectly achieve those sexy spikes.
20. Spiked Front
Go for the front spiked hair if you want to go for a hairstyle that's subtle yet still edgy. The spiked front keeps your hair away from your face and opens it up. Keeping the spiky area only at the front makes this hairstyle a low-maintenance option.
21. Fine and Straight Spikes
If you have fine hair, the best thing that you can do is to go for a simple spiky haircut like this one. It has no muss and no fuss. All you need to do is ask your hairdresser to leave the top of your hair only a bit longer than the sides.
22. Sideswept Spikes
One issue with a spiky hairstyle is it lacks face-framing benefits. The addition of side-swept bangs is a fabulous solution to this dilemma. The bangs don't just add a feminine flair to your look; it also frames your face beautifully.
23. Colored Spiky Hair
As if a spiky hairstyle is not edgy enough, let's throw in an eye-catching hair color to the mix. Of course, there's no better option than a reddish hue that's vibrant yet still looks classy.
The addition of this shade highlights the spikes and makes them more noticeable.
24. Gray Spiky Pixie
If you're looking for classy short haircuts for women over 50, a spiky pixie haircut is the way to go. With its soft texture and fabulous layers, a pixie hairstyle is an elegant choice. Add in a few spikes and you can amp up its style factor.
25. Spiky and Curly Mullet
If you're a woman over 50 with a diamond face shape, you should try a mullet hairstyle. This cut is shorter and thinner at the sides and longer and thicker at the back and top of the head.
Add spikes and curls to add a modern twist to this trendy look.
Going for an edgy haircut may seem daunting, especially at your age. But with all these amazing ideas for short spiky haircuts for women over 50, you can take advantage of this amazing look and show it off in the best way possible.
Trending Topics