Every woman loves to flaunt thick and lush hair. But as we age, this seems more and more difficult because our hair also starts aging and tends to become thin and brittle. Women, especially those who are over the age of 50 may notice that their hair is becoming finer with each passing day.
If you are someone who falls into this category and is looking for some inspiration for women over 50 to style their thin hair – we have got you covered!
Trendy Hairstyle Ideas for Women Over 50 With Fine Hair
We have curated the 30 best hairstyles that women over 50 with fine hair can sport with style and flair. So, read on and find several hairstyling inspirations right at your fingertips.
1. Wavy Layered Hair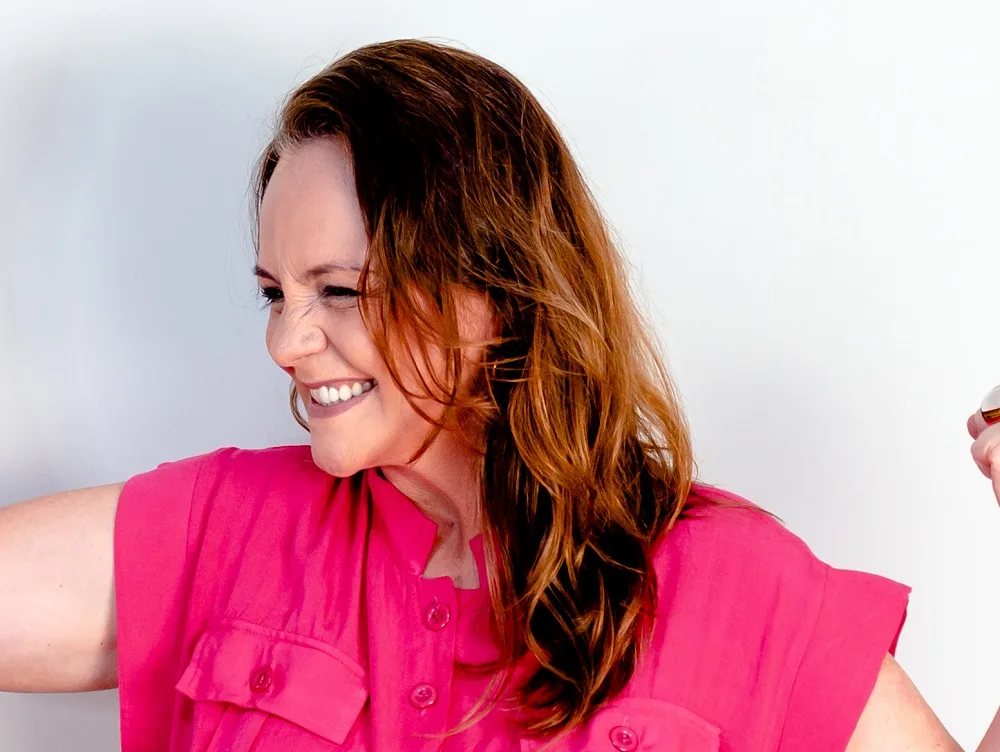 Women over 50 that struggle with fine hair can choose a long layered hairstyle that enriches the hair aspect. Your hair will look amazing, especially if you also go for a copper ombre that warms up your entire look.
Build loose careless waves that provide texture and more volume and dimension. Swipe the top to the side to get some height for the apex.
2. Short Layers with Uneven Bangs
If you have fine hair, it would be a great idea to get more volume for the top area. Get short layers and opt for short baby bangs that have a slightly rounded shape.
Give them an extended length for the corners and choose a blonde copper color.
3. Side Bangs
Switching to a black hair color is a great idea when you are slightly chubby or have a rounded face shape. Go for side bangs, creating angles and cutting off the chubbiness of your cheekbones or jawline.
If you want to add volume, you can do it in the lower part by twisting the ends outwards.
4. Messy Updo
If you are having a busy day and need a hairstyle that you can pull off in just a few seconds, comb your bangs to one side and gather your hair in the back. Use a large hair clip, twist the hair, and secure it with the clip.
5. Feathered Hair with Bangs
Messy feathered bangs that go just above the eyebrows will help you mask that fine-looking aspect of your hair.
This short layered hair is ideal for women over 50 with fine hair who want a hairstyle that makes all heads turn, looks elegant, and is also low maintenance.
6. Half Up Half Down
Keeping your hair short will definitely help your curls look tighter and gain more movement and bounce. With this hairstyle, you will reveal your face and draw all the attention to your facial features.
Section the top and comb it to the back, and secure it with a hair clip or elastic.
7. Low Ponytail with Bangs
If you have fair skin, this bright platinum-blonde color will definitely suit you like a glove. Get bangs and layer your tresses.
If your hair is not naturally wavy, you can gain that texture with a curling iron. Comb it thoroughly to loosen them up, then secure your mane in a back ponytail.
8. Back Comb
This simple yet elegant thin hairstyle is so easy to recreate for ladies over 50. Comb all your hair to the back and slightly on one side, and use bobby pins to secure the hair in the back of the ears.
To get more volume in the nape area you can curl the ends and keep the hair loose.
9. Twisted Ends
When you are a woman over 50 with fine hair, getting a dark hair color will make your strands look thicker and denser. Opt for a layered medium hairstyle with long bangs that you will wear on one side.
Concentrate the layers in the lower area, and using a rotative or a round brush, style the ends outwards.
10. Curly Bob
If you have fine hair, then feathered bangs are the way to go. Opt for a short blunt bob that gives your hair thickness and gain more texture by creating relatively tight curls.
As a woman in her 50s, you can accessorize with a fashionable pair of glasses that you will wear on your head.
11. Simple Shoulder Length Bob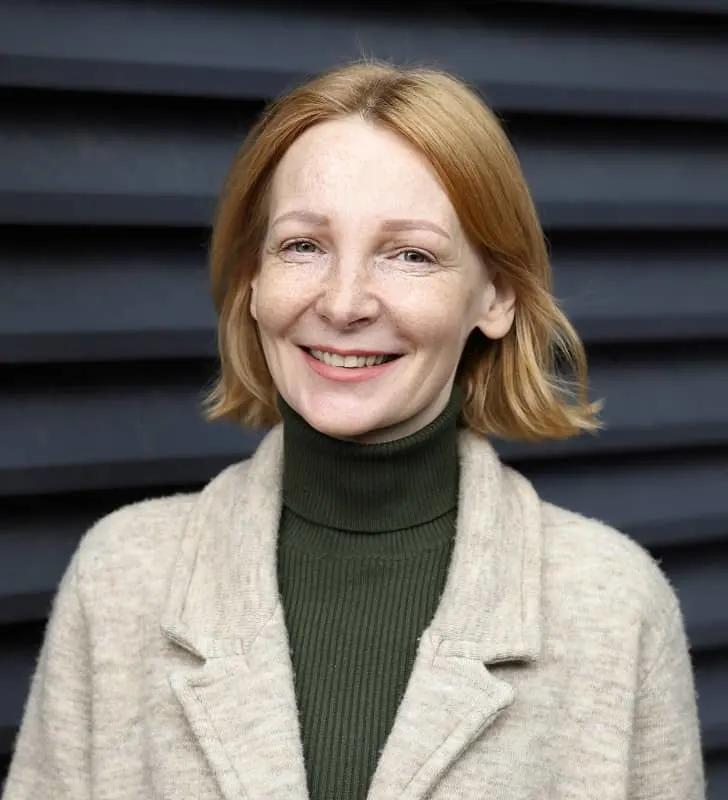 A shoulder-length bob is one of the best hairstyles for women with fine hair, irrespective of their age.
This no-fuss hairstyle is easy to maintain and style. Just comb it through and tuck a few strands behind your ears – you are ready to go!
12. Layered Lob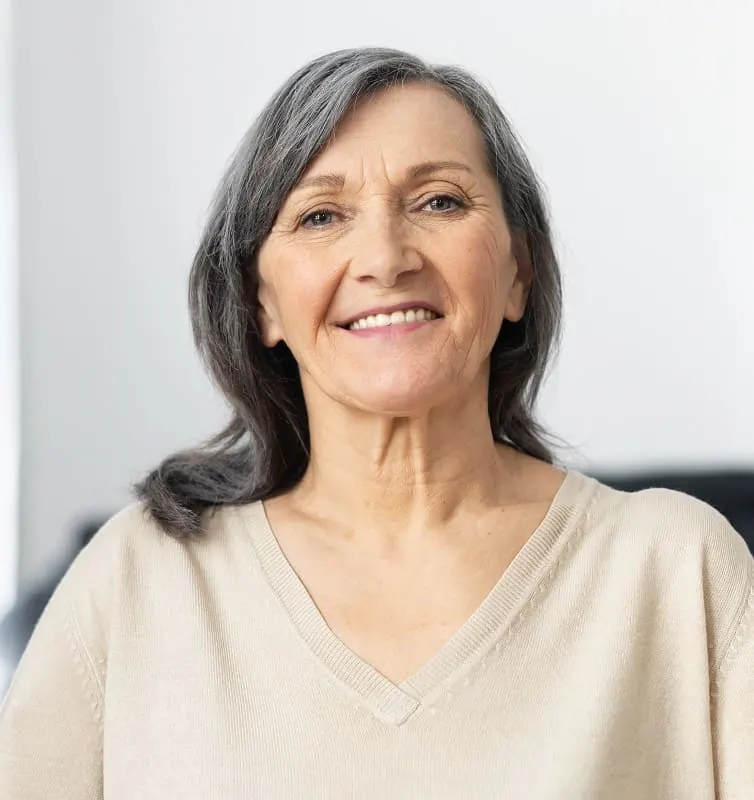 A layered lob looks beautiful and goes well with all face types too. The different layers will add some depth and dimension to your hair, and you can let the layers fall naturally over your shoulder so that you do not have to spend a lot of time styling your hair.
13. Sophisticated and Modern Look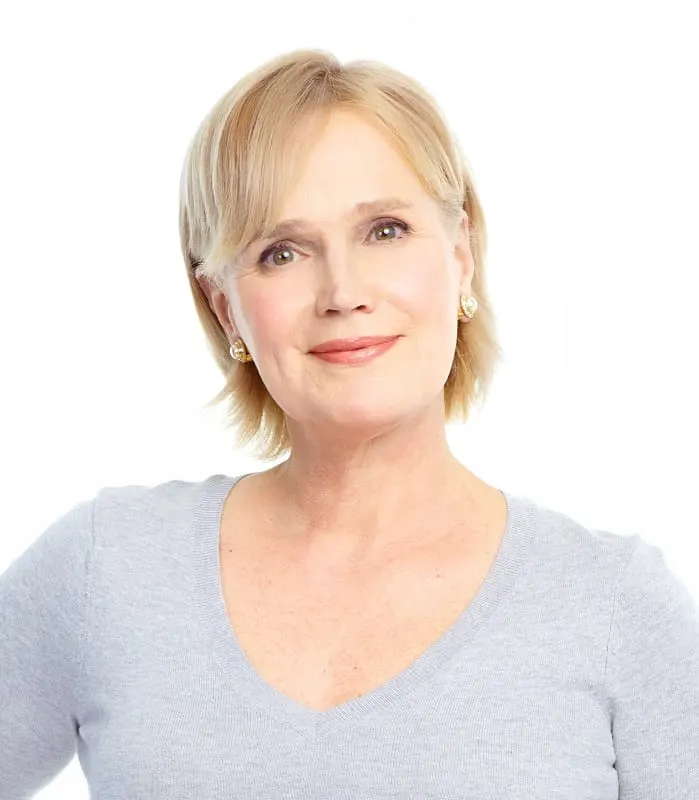 If elegance, sophistication, and modern are your top criteria for the perfect hairstyle, then we recommend this cute, no-nonsense, short bob.
This short hairstyle works well for women with thin hair and also allows your face to be more focused. Again, all you need is a couple of minutes to set your hair in place.
14. Mess it Up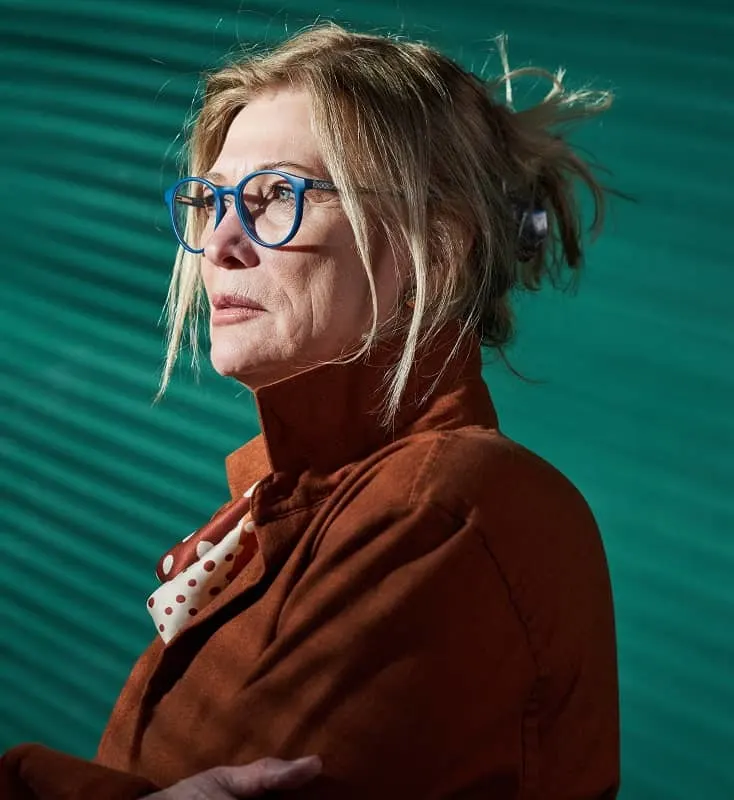 If you are someone who doesn't like spending too much time setting your hair, a messy hair bun is a way to go!
Just pull your hair in a regular bun and leave some strands loose on either side. This is a great look for a casual evening out with your family and friends.
15. Low Maintenance Beachy Waves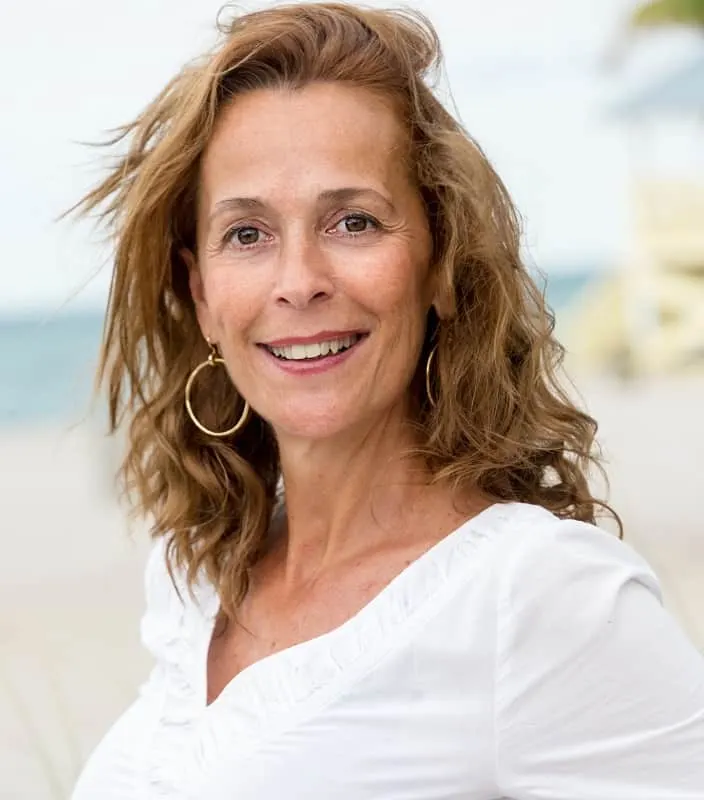 If you have medium-length thin hair and prefer a low-maintenance hairstyle, we recommend you ask your hairstylist to give you some beautiful beachy waves.
This is a simple yet stunning hairstyle that suits women of all ages and face types. You can play around with the layers and texture that come with this hairstyle.
16. A Closed Cropped Look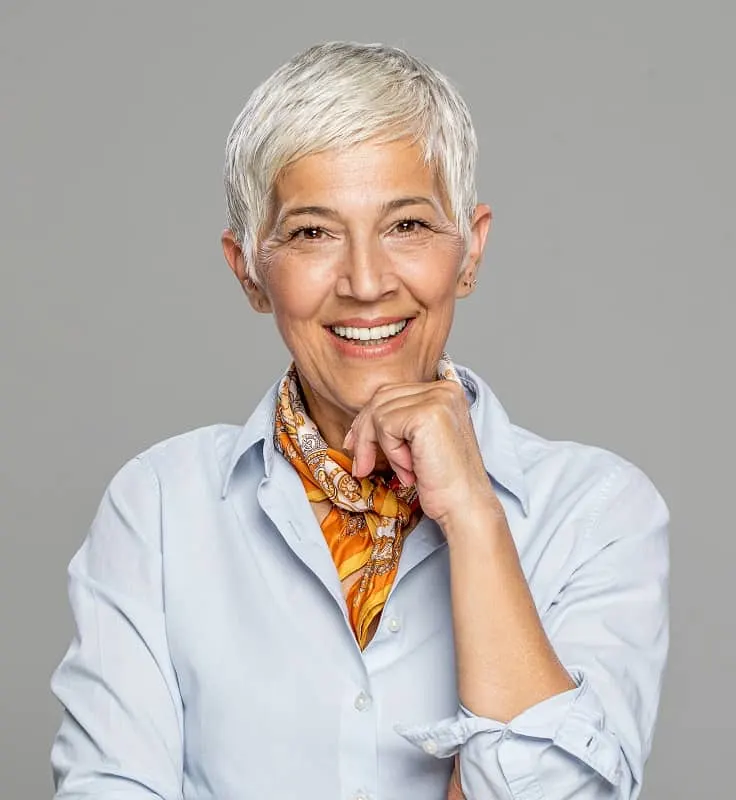 Now, here is a fun yet mature hairstyle for women over 50 with thin hair. This stylish look is perfect for women who have fine hair as the close-cropped look appears as if you have enough density and hair volume.
You will need just a couple of minutes to style this look every day.
17. Short Bob with Layers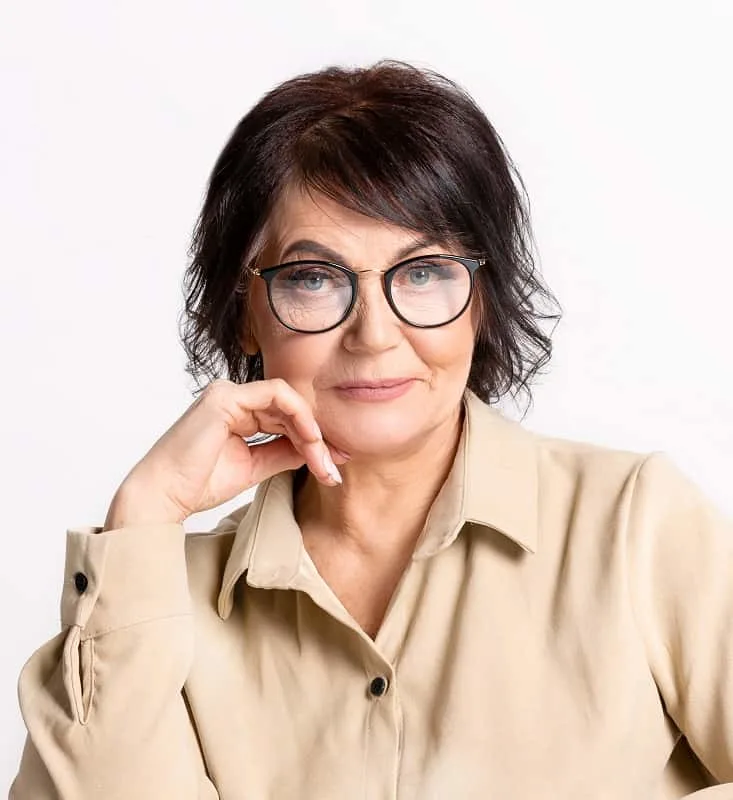 If you are worried about how to style your fine hair, you can get a simple, short bob haircut with layers. This style adds a lot of volume and texture to your hair, especially the side fringes at the forehead.
This hairstyle suits most face shapes and you can experiment a lot with this look in terms of color, layers, style, etc.
18. Low Bun with Mid-partition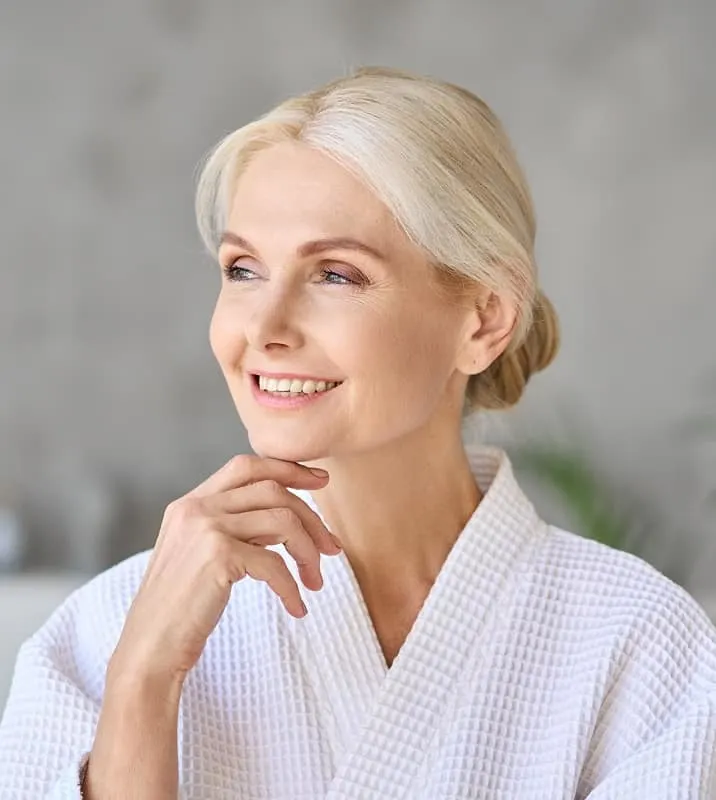 Many women over the age of 50 prefer a more distinguished and elegant-looking hairstyle. If you're blessed with long hair still at this age, this simple low bun with a center part hairstyle is your best choice!
This hairstyle works well to keep all your hair pulled away and allows your face to be in focus. Make sure to tie a loose bun so that it appears as if your hair has a lot of volumes.
19. The Sleek Bob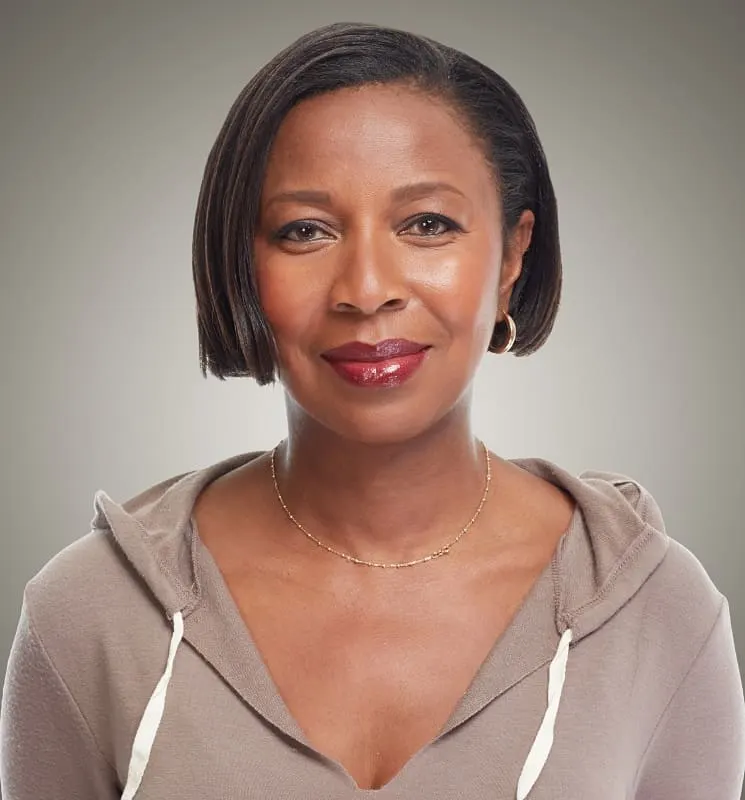 If you are a fan of sleek and sexy, we suggest you chop off your extra hair length and opt for this super cool, sleek, short bob.
This is a very minimalist short hairstyle for women above 50 that will require you to spend just a couple of minutes on setting your hair every morning, especially if you already have naturally straight hair.
20. The Classic Side Swept
No matter what your age is or what the volume and texture of your hair is, there are some classic hairstyles with which one can never go wrong.
Here is a beautiful example of one such classic look – the side-swept hairstyle. If you are not too keen on chopping off the length, you can opt for this side-swept look with a slight puff at the top to give your hairstyle more oomph.
21. Cute and Short Spikes
Spikes are not only about looking edgy and uber; some spikey hairstyles can also look really cute such as this one.
This is probably one of the easiest hairstyles to maintain which also gives off a truly fun and chic vibe. The short spikes will also create the illusions that you have a lot of volume in your hair!
22. Two-toned Half-up Half-down Hairstyle
Women over 50 are wholeheartedly embracing the natural color progression of their hair from natural black or brown to grey.
This two-toned half-up half-down hairstyle is a great example of how you can flaunt the different tones in your hair. Just follow the mantra of 'keep it simple' and you will look gorgeous as ever, even in a simple hairstyle!
23. Short and Messy Shag
Shags have become quite a popular hairstyle and they suit women of all ages.
This is an amazing hairstyle for women who have thin hair as the messy look gives an illusion that you have a lot of volume and depth in your hair. Also, a messy shag will ensure that your hair doesn't look too flat on the top.
24. The Brushed Back Hairstyle
If sophisticated and elegant is the look you are aiming to flaunt in your 50s, we suggest you try this casual yet graceful hairstyle.
All you need to do is just brush your hair back and use hairspray or a hair gel to keep it in place. Though the look is simple, it oozes elegance and refinement.
25. A Cute Little Ponytail
Here is a cute hairstyle that women with fine hair can try out. Just gather all the hair at the back of the head and make a nice little ponytail.
This hairstyle works well to hide the fact that you have thin fine hair. Also, it's a great hairstyle to use when you are in a hurry and have no time to style it.
26. Dark and Light Toned Highlights
One of the best ways to add density and dimension to your fine hair is to get some highlights done. Here is a beautiful example of dark and light-toned highlights which look stunning as they frame the face.
You don't really need to style your hair in any particular way and just let it fall freely over your shoulders.
27. Classy Layered Hairstyle with Fringes
Layers work very well for fine hair and a classy layered haircut with fringes looks absolutely refined and elegant on women over 50. The short haircut looks chic and the fringes add a touch of feminine vibes to your overall look.
28. Go Bold with Colored Curls
Here is a hairstyle that is sure to grab some eyeballs! Who says women over 50 have to stick to only classic looks – check out this stunning hairstyle with messy colored curls.
The light purple-colored curls look absolutely cool and of course slightly edgy as well. A must-try hairstyle if you don't mind opting for a bold look.
29. Short Bob with Loose, Tumbling Waves
Having a short bob with loose waves is another great way to camouflage your fine hair. You can flaunt an easy, messy look with this hairstyle which will save you a lot of time and effort in styling and maintaining your hair.
30. Curl It Up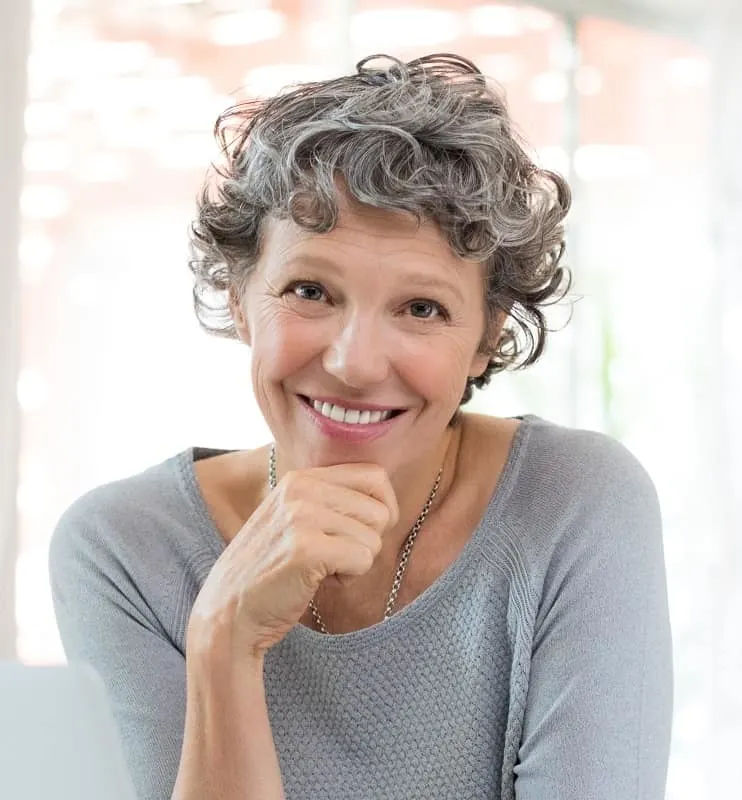 A pixie haircut is a fantastic hairstyle for women over 50 with thin hair. You can try various hairstyles with this cut, such as this one with the loose curls flying all over. This hairstyle gives off a very fun and chic vibe, and suits all face shapes.
These were some of our favorite and highly recommended women's hairstyles if you're above 50 and struggling with fine hair.
We assure you that no matter which hairstyle you take as inspiration from this list, you will definitely have heads turning back to admire your hairstyle!