Finding the best bangs for a diamond face might seem tricky. But that shouldn't stay in your way of getting the crop you desire for your fringe or the new look you always wanted.
However, before you make the decision, you must know that a diamond face is defined by a sharp forehead and jawline and prominent features.
The best hairstyling elements that will help you soften these features are bangs, waves, long bob haircuts, and layers.
Trendy Bangs for Diamond Face
To make it easier for you to find a crop that is suitable for a diamond face, check out the examples of bangs we have prepared for you below!
1. Straight Bangs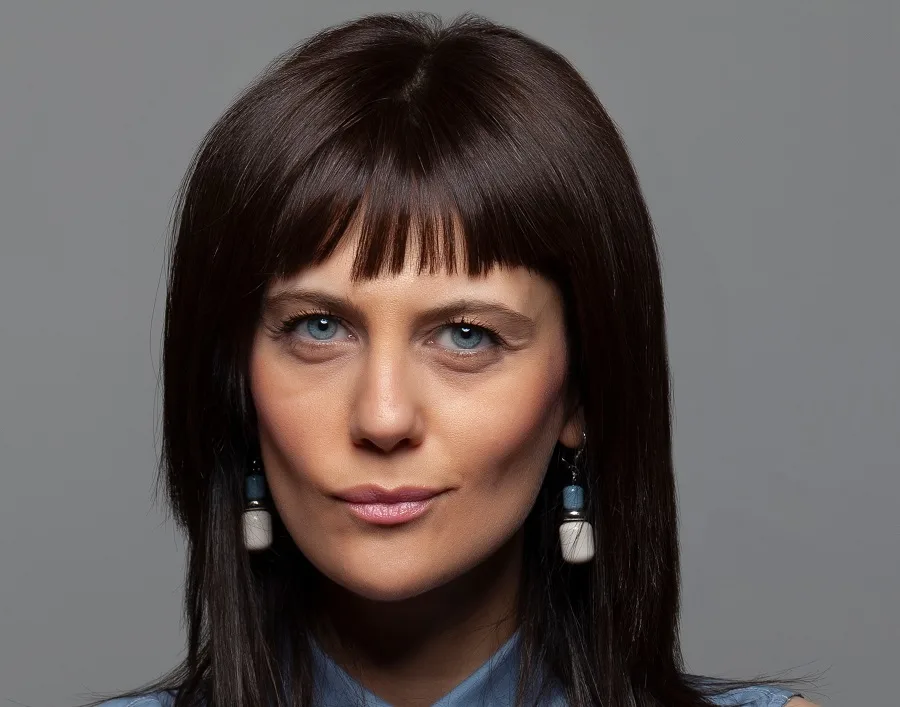 Blunt bangs are a great idea for a diamond face as long as they are not too thick.
Otherwise, this fringe tends to accentuate the cheekbone area and make your face look wider. Keep them thin and spread them on the forehead.
2. Curly Bangs
As a woman with curly hair, layers should always be on your to-do list when getting a new haircut. Also, it would be best if you add a short haircut and a middle part for your bangs.
You might also want to accentuate those layers around the jawline so it will appear less prominent.
3. Abstract Bangs
Bob haircuts can become real pieces of art if you choose to leave your hair in the hands of an experimented hairstylist. Layers that start from the jawline will look amazing when paired with asymmetrical bangs and two contrasting colors.
4. Long Wavy Bangs for Diamond Face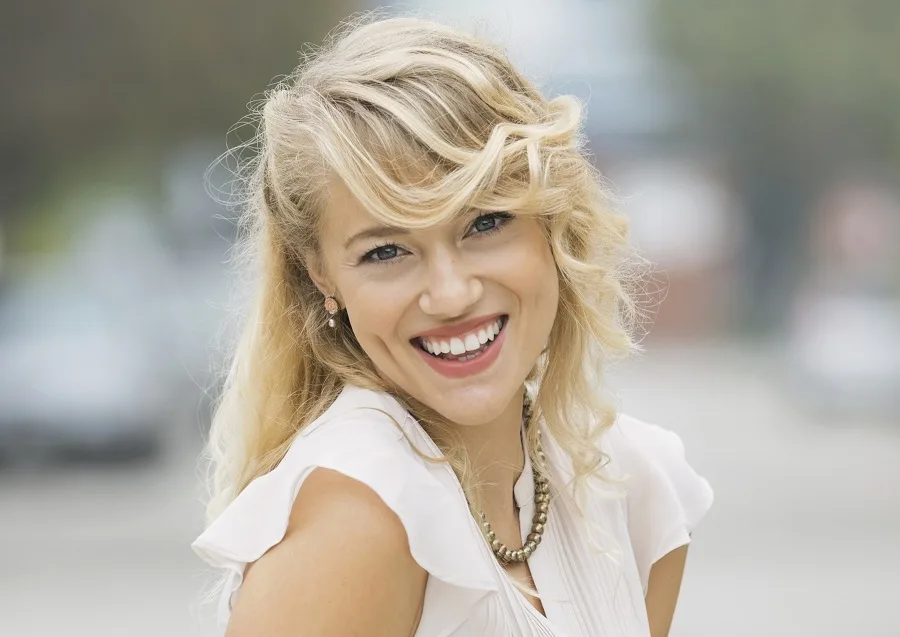 A warm blonde hair color with loads of layers, waves, and curls can make real wonders. You should provide your hair with more texture under the chin because you need to diminish those angular features. Your goal here is to widen those areas and soften them.
5. Asymmetrical Bangs
Long asymmetrical bangs that you toss on one side will cover the forehead and make it look less pointy. These bangs for diamond-shaped faces will draw attention to the laterals, instead of the chin and forehead.
6. Wispy Bangs
Feathered wispy bangs that have a slight middle part, that also thicken on the sides, are a good option when having a diamond face. Pair them with layers that you will build lower than the chin level.
7. Blunt Eye-skimming Bangs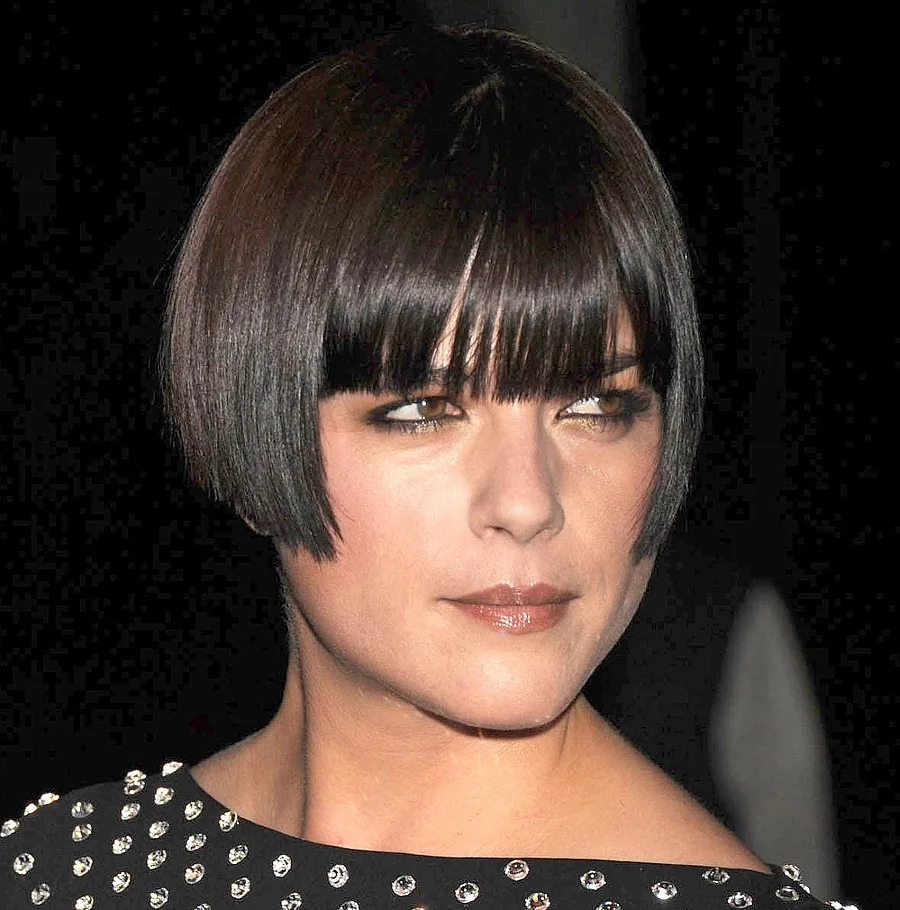 This is probably one of the few hairstyles where you can get blunt bangs. They tend to accentuate the cheekbones, hairstylists usually recommend avoiding such a fringe.
However, because the hair is short and black, it creates a well-shaped contour, diminishing the broadness of the face, and works to your advantage, allowing you to get that blunt cut.
8. Eyebrow Covering Fringe
Layers and waves give you that most wanted softness that cuts off the pointy look of your chin and prominent cheeks.
If your skin has a golden bronze touch, then you should definitely try a light chestnut hair color.
9. Champagne Blonde Bangs
Some women love prominent cheekbones and search for hairstyles that highlight them. In this case, blunt bangs will do you justice and gorgeously emphasize them. If you have fair skin and blue eyes, combine platinum and honey-blonde nuances.
10. Bottleneck Bangs
A middle part with layers is exactly what you need when you crave for bangs. However, you should combine your bottleneck bangs with waves and layers for a stunning overall look.
Get a bob haircut, some light brown highlights and pin some of your hair in the back, keeping the lateral pieces untied.
11. Side Bangs For Black Women
Side bangs will help you diminish the angles from the center of the forehead. Cut them slightly asymmetrical and let the hair cover the eyebrow and eye. Keep the fringe long enough so you can toss it over the ear when it gets in your way.
12. Jennifer Lopez's Bangs
Jennifer Lopez is a real force of nature on stage and she always looks flawless during any performance, TV show, or red carpet moment.
She is also a great inspiration when it comes to hair styling for diamond face shapes and she prefers getting long layers, middle-parted long feathered bangs, and amazing color blends and ombres.
13. Blonde Bangs
For this bangs hairstyle for diamond faces, you will first need to prep your hair because it involves using heated devices.
First, apply a spray that preserves hair's natural condition while using a curler. As blonde hair tends to deteriorate faster, it is a must to protect your tresses while styling.
Create some waves for that feathered fringe and curl the longer pieces from the nape area, wearing them on your back.
14. Side Part
Waves, layers, and asymmetrical bangs; this hairstyle has all the right ingredients to suit a diamond face and get all the attention it deserves.
The color is great if you love warm tones like these bright and honey blondes. Creating a sombre will give you that sun-kissed look that we all search for during summer.
15. Dark Teal Fringe
Combining a stunning teal color with a jet-black nuance is going to create such a stunning contrast. Also, it will beautifully contour your diamond face shape, while the choppy bangs fully cover the forehead. You will look slimmer and your eyes will definitely stand out.
The best bangs for a diamond face will soften your prominent features like that sharp jawline, prominent cheekbones, and angular forehead.
To make a hairstyle work to your advantage work with waves, layers, and warm colors, and try these examples from above. Let us know in the comment section which worked best for you!