Dark hair colors are especially striking on short hair. Lighter hair is just fine, but black, brown or deeply colorful tones really pop against light skin. Striking, electric hair colors like blue and red look great on dark skin. There are tons of ways to use dark hair to punch up your appearance.
Dark Hair Colors for Short Hair
Short dark hair on women looks so edgy and sophisticated. Adding various colorful highlights will make these hairstyles even prettier. There are tons of ways to use dark hair to punch up your appearance.
So, if you're looking to try a dark hair color on your short hair, the below styles are to help you get the look you want.
1. Brown Pixie Cut
Against pale skin, even short, dark brown hair stands out. A hazelnut hue will draw eyes to you, but it's this short pixie that will reveal your dark eyes and the beautiful face underneath. Try a side part with short, swooping bangs.
2. Blonde Balayage
Balayage on short dark hair is the stylish way to lighten your appearance without having to lighten all of your hair. Focus honey-colored blonde highlights on bangs that swoop towards your cheekbone for a face-brightening effect.
3. Navy Blue Bob
Short dark blue hair is striking against fair skin with warm undertones. Pick a perfect navy blue color for your chin-length bob hairstyle and ask your stylist to put an ash toner on the ends of hair for a faded denim look.
4. Eggplant Purple Hair
Short dark purple hair may be bold, but it will look fierce on a pixie bob. Make it edgy and add a pop of purple magenta over one ear. Short layers cut throughout the hair add plenty of bouncy volume.
5. Red Asymmetrical Bob
Roots aren't just for blondes. We love the way these dark burgundy roots look on short dark red hair. Cut your bob in a slightly asymmetrical style for an elevated vibe.
Streaks of red look super hot on short dark hair color with highlights. A bright color contrasts beautifully against black hair and dark skin. At highlights to the bangs of a chic pixie bob.
7. Dirty Blonde Pixie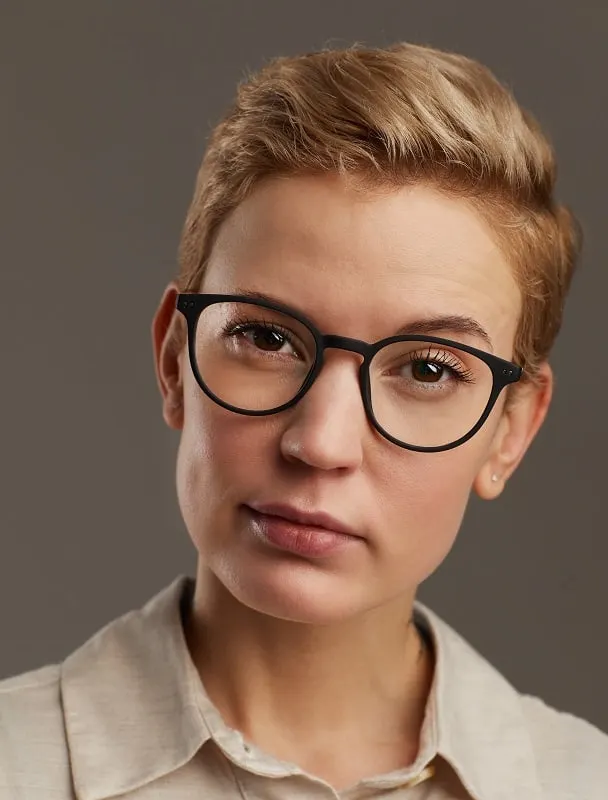 So, this hair might not be dark, but it is if you're a blonde! Instead of giving your dirty blonde pixie a total overhaul, add a few lighter blonde highlights to the top and front of the hair to brighten the appearance of your face.
8. Highlights and Lowlights
Short dark hair with highlights and lowlights is an easy way to create a tonal dimension. Uniform color can be boring! Whether you've got a bob or pixie, incorporating both will look fabulous.
9. Blue Ombre Style
Short dark ombre hair makes it easy to maintain dark colors on most of your hair while adding a fun one to the mix. Create long side bangs and add blue ombre color a few inches out of your part.
10. Electric Magenta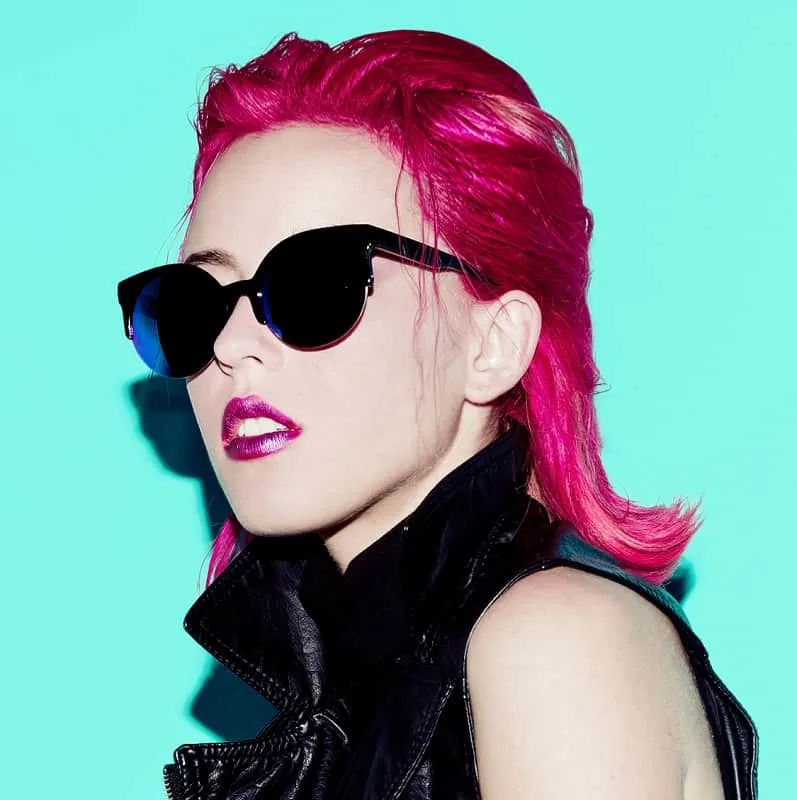 Go for something bold and try short dark pink hair. This deep magenta works like a charm on pale skin. If you're feeling edgy, try a slicked back rocker look for a fun night out.
11. Dark Green Pixie
Short dark green hair is easy to wear when you've got a spunky pixie cut. Add some baby bangs to make styling your hair a breeze. It works especially well for light green eyes.
12. Burgundy Bob
This dark burgundy short hairstyle combines deep purple and red tones to create a rich hue. Short layers and a slightly A-line cut will give your hair the illusion of thickness and full volume.
13. Caramel Bob
Punch up the brightness on your regular brunette with short dark caramel hair. These warm, yellow-toned highlights will catch the light and make your pretty bob shine.
14. Chocolate Bob
Rich like chocolate, this short dark bob is striking against fair skin. Textured, wavy style is a great way to dress up hair without having to fuss with expensive highlights.
15. Long Bob with Short Bangs
Thinking about bangs? Short dark hair color with bangs is easy when you've got a cute, spunky bob. To keep your face opened up, create them short and a little choppy, or long, yet somewhat piecey.
Short Dark Hairstyles with Highlights
If you are looking for a subtle yet pretty makeover then you need to go for highlights, and today, we are going to show you our top ten short dark hairstyles with highlights for you to pick and try.
Amongst the short hair highlights, this particular style is a classic, without a doubt. To get this asymmetrical bob you will have to ask your stylist to cut down your dark hair to your shoulders. It's very important for the back part of your hair to be shorter than the front part of it.
Once that's done simply ask for regular blonde highlights, almost as if you were getting an ombre done. Make sure, however, that your dark roots are visible and not hidden by the highlights.
This is another classic, and it's both very easy to do, and very easy to maintain. Again, you will have to cut down your hair right where your shoulders are, but this time it should be an equal length.
As to the highlights, they should be done with a caramel tone, not a blonde one, and your stylist should give you two front face-framing highlight pieces that fall right on your forehead to really put the whole look together.
18. Short Wavy Bob with Highlights
If you are looking for dark short hair with highlights, then this is the right style for you. To get it, your hair will have to be short, barely surpassing your shoulders.
The highlights should cover your whole head, however, your dark, natural color should be visible even with the highlights on.
This style is a twist on the classic dark pixie with highlights and it's very easy to do. You will need to cut bangs to go along with the look, and the blonde highlights should reach to the whole part of your hair and blend with your natural dark hair color and put it all together.
If you are looking for a much more subtle style instead of something more dramatic, you can try asking your stylist to cut your hair above your shoulders and give you subtle highlights ONLY on the very tips of your hair, letting your darker natural hair color show off more.
Who said all the dark hair with highlights styles have to be with blonde highlights? You can still get blue highlights all over your short hair in case you are looking for more of a risky, messy look instead of a classic one.
This short dark brown hairstyle seems long because the top front part is longer than the rest of the hair, which should be significantly shorter.
Remember to ask your stylist to give you some brown highlights on the longer part as well to attract light and attention to your natural features.
This hairstyle is for those who want a more classic, tone down transformation. To get it, you simply have to cut your black hair straight in a blunt bob and get golden blonde highlights to give the whole cut a little bit of depth and movement.
This hairstyle is basically a short straight cut with subtle highlights. You should style your naturally dark hair by parting it in the side and then make a wave to get the same effect you see on the picture.
We love this hairstyle because it's a classic example of highlights on shorter and darker hair. Your hair should be cut into an inverted bob (the front part being longer than the back) and the highlights should only be done on the bottom part of your hair.
There are lots of ways to wear bobs and pixie cuts in stunning dark colors. Maybe it's time you tried something fun, like streaks of red or blue ombre. Even if you're looking for basic brunette inspiration, we have it here.