Two ponytail hairstyles remind us of all those good times when we used to play outside, and we had nothing to worry about. Every time you want to feel like a child again, this hairstyle is incredibly easy to pull off.
Of course, not all two ponytails need to look childish. Combined with proper makeup and styling, by opting for this hairdo, you can achieve a sexy naughty look. No matter the direction you want to go with this hairstyle, check the examples below, and you'll decide which double ponytail hairstyle suits you best.
1. Two High Ponytails
Two high ponytails will look gorgeous on any girl that wants a simple childish look. One of the best things about this hairstyle is that it instantly erases a few years and makes you look a lot younger. In the end, isn't that what any woman wants?
2. Two Low Ponytails
Two low ponytails are perfect for Asian girls with a heart-shaped face. Part the hair in the middle and secure the ponytails with hair elastics. Braid them overnight or create the waves with an iron.
3. Two High Braided Ponytails
To recreate this look, part your hair into two sections and style two ponytail braids. Secure them at the base and at the tips, and you will get a fresh look that is ideal for walks in the park or casual Sundays spent with your friends.
4. Two Low Ponytails with Curtain Bangs
Black Asian hair does such an excellent job at framing the face, and it will be such a shame not to pull off at least once two ponytails with bangs. For the fringe, keep the corners longer and decorate the hairstyle with two crisscrossed bobby pins.
5. High Curly Ponytails
When you have gorgeous curly hair,  two half-up ponytails will undoubtedly make your precious voluminous mane stand out. Part the top into two sections and style two side ponytails. Maintain a natural look by wearing only some eyeliner.
6. Two High Sombre Ponytails
Before you style two long ponytails on top of the head, make sure you already have a brown gorgeous sombre.  If you want to spice things up a little bit, go for red lipstick and a pair of glasses with blue frames.
7. Two Short Ponytails with Sided Bangs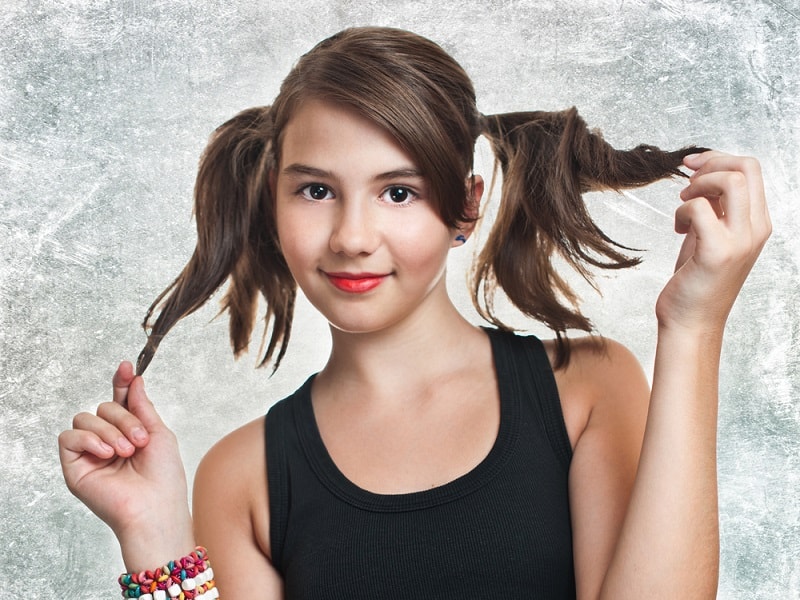 Two short ponytails are ideal for little girls that go to school. They will keep the hair out of the way, and those sided bangs will give the hairstyle a modern touch. Braid the hair overnight to obtain that slightly waved hair.
8. Two High Curly Ponytails
When you are an African American woman, two curly ponytails will draw all the attention on you and your coils. If you are a student and want to look diligent, complete the look with a pair of rounded glasses.
9. Two Space Buns with Ponytails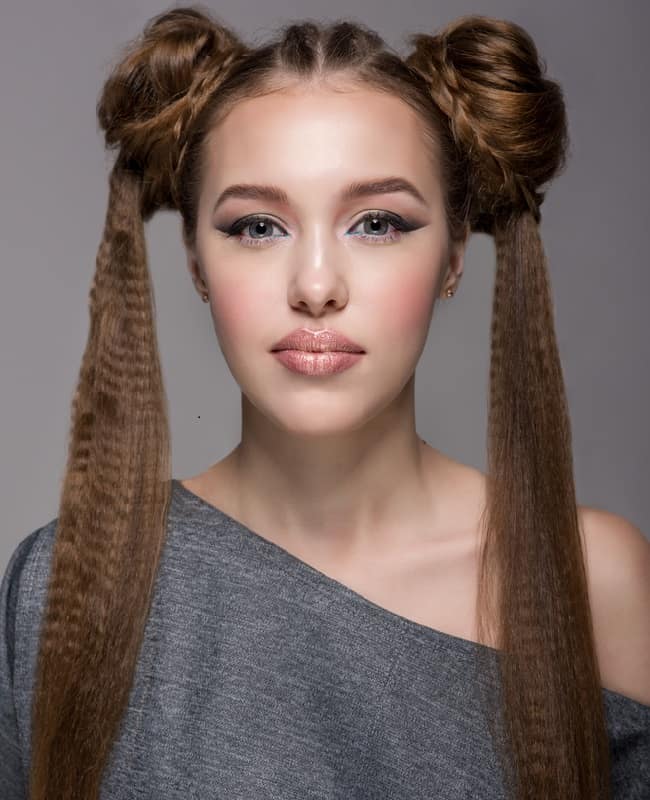 Take the ponytails and space buns to a whole new level by combining them and creating a mesmerizing look. These two ponytails with weave will indeed become attention grabbers, and you will fall in love with this new look.
10. Two Natural Ponytails Hairstyle for Black Women
Two natural hair ponytails are certainly going to make you look lovely if you already have textured coils. Make them shine even more by styling some caramel highlights and pulling off some dark purple roots.
Every time you want to look younger, opt for a two ponytails hairstyle. By magic, this hairdo will make a few years fade, and you will adore the way they suit you.