Blunt cuts are not the only choice for mid-length hairstyles. V-Shape haircuts give a variety of lengths to women's hair so that the back is longer than the front.
A V cut is a great option for women who want their hair to frame their face at the front, but who still want a lot of lengths. Our list will show off some perfectly V-shaped haircuts for girls.
Who Should Try A 'V' Shape Haircut?
Although any woman can choose a v-shaped hairstyle, this cut actually looks better on some types of hair than it looks on other hair types. For example, soft and sleek hair helps to show off the v-cut in a better way.
Women who have naturally thicker hair may want to use more layering techniques to make the shape of the cut look better too. Women with curls can choose a V shape, but it looks better with big curls than with kinky curls.
1. V-Shaped Haircut for Long Hair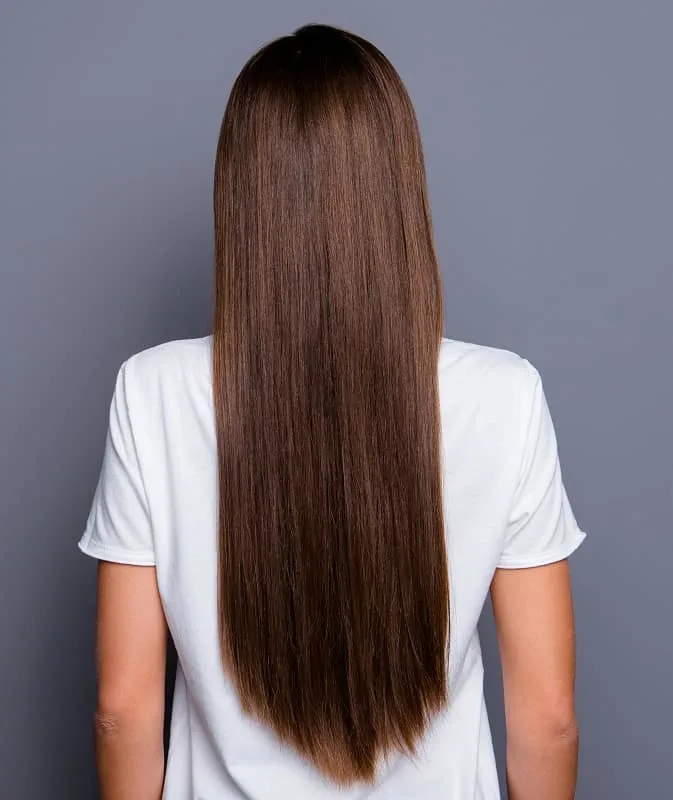 V-shaped haircuts layer your long tresses on your back, and if you straighten your mane, you will have loads of movement. Who says a long hair must look boring a dull?
2. Choppy V-shaped Layers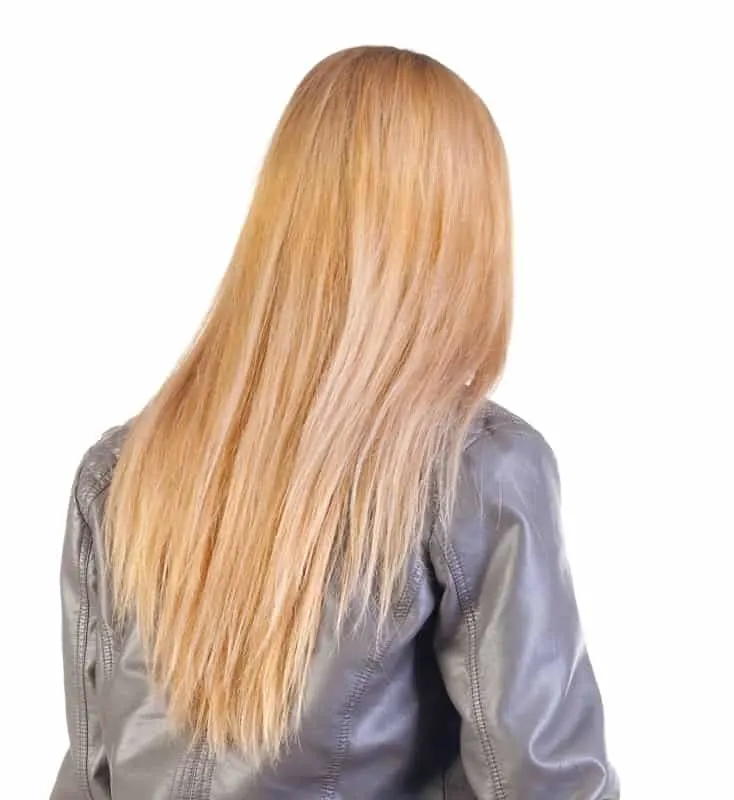 A V-shaped straight haircut will marvelously work on your long blonde hair. It will give it a fresh air that you will simply adore. Forget about those one length haircuts and opt for something new!
3. Wavy V Shaped Hair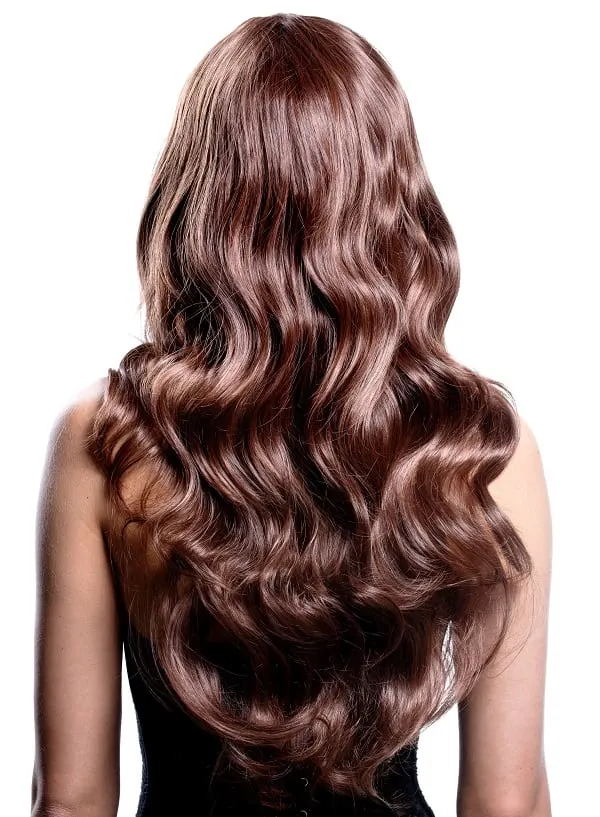 If you want to make your mane look marvelous, highlight it with a V-shaped haircut for wavy hair. Your curls will beautifully fall on your back and will have a lot of bounce and movement.
4. Intricate Bun for V-Shaped Hair
A V-shaped haircut for long curly hair is all you need to make your mane look fabulous at any event. Section your hair in two parts and, for the upper side, build an intricate braided bun in the shape of a flower.
5. Half Up Half Down Hairdo for V-Shaped Mane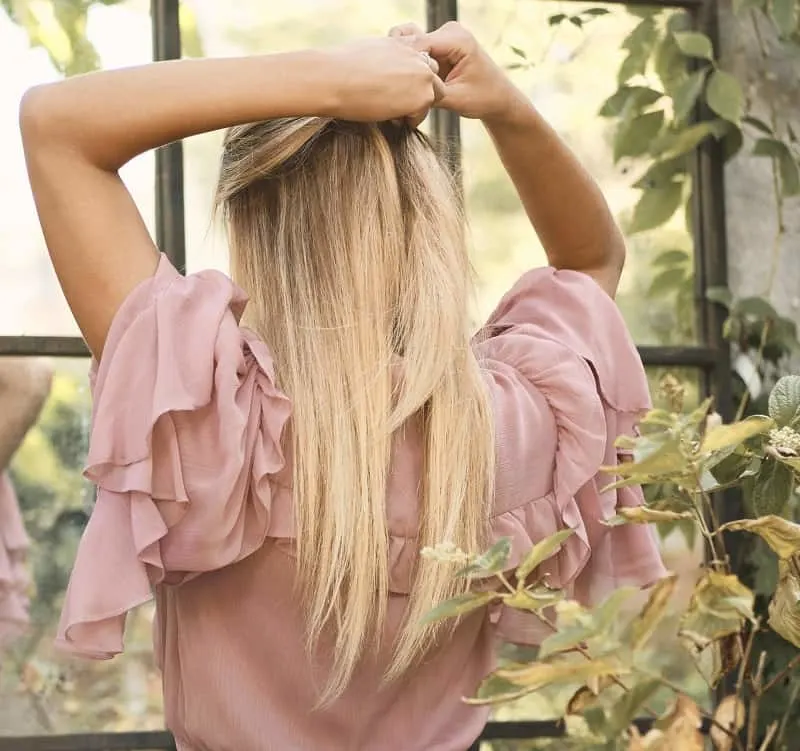 A sandy blonde ombre is ideal for all those women who love looking trendy all the time. Create a small ponytail for your top hair, and you'll get a simple but beautiful hairstyle for your mane.
6. Blonde Highlights for V-Shaped Hair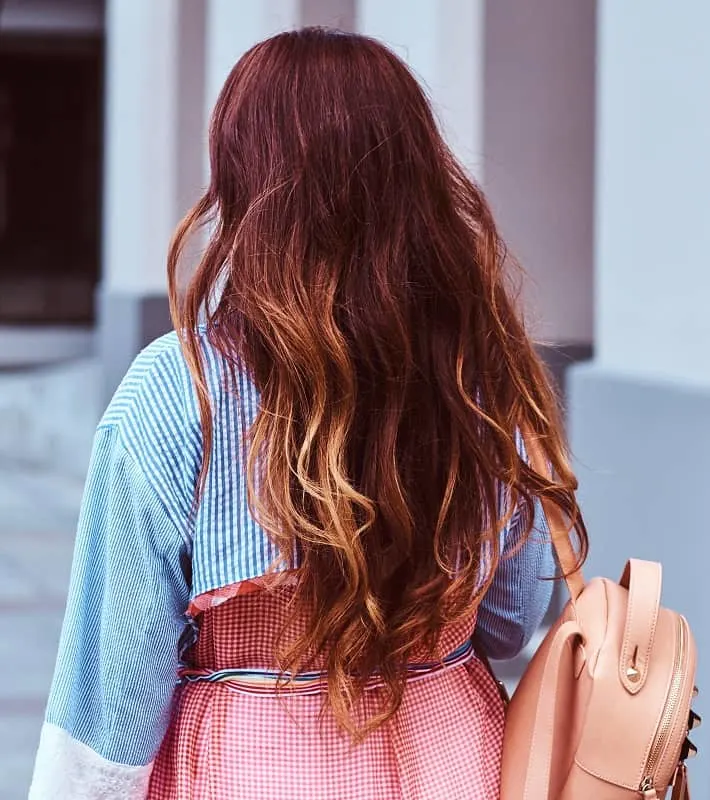 Impress with a messy long mane that is cut in a V-shape. Go for a red auburn hair color and create some blonde highlight for the tips and extremities. Loosely wave your hair, and you'll look like you just got off the catwalk.
7. Half Black, Half Red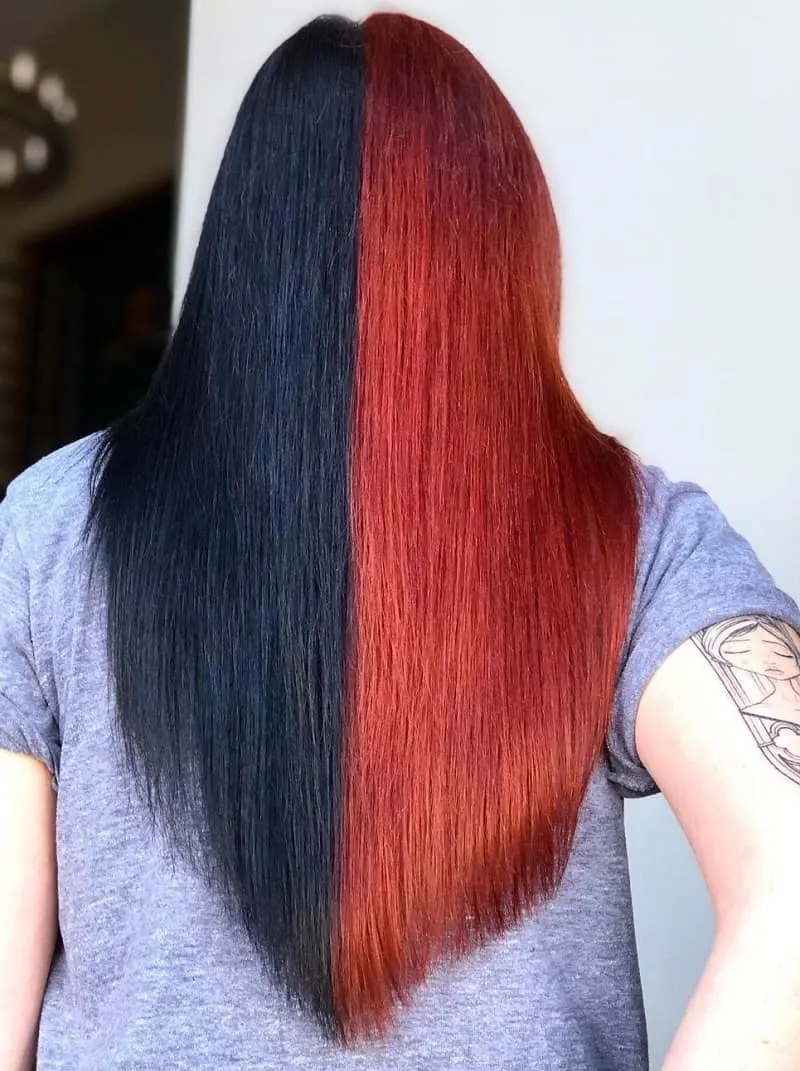 Keep all the eyes on you with this daring hair look. Half of the long mane is dyed black while the remainder is colored in a rusty-red hue. A V-shaped haircut finishes off this bold style.
8. Blonde Babylights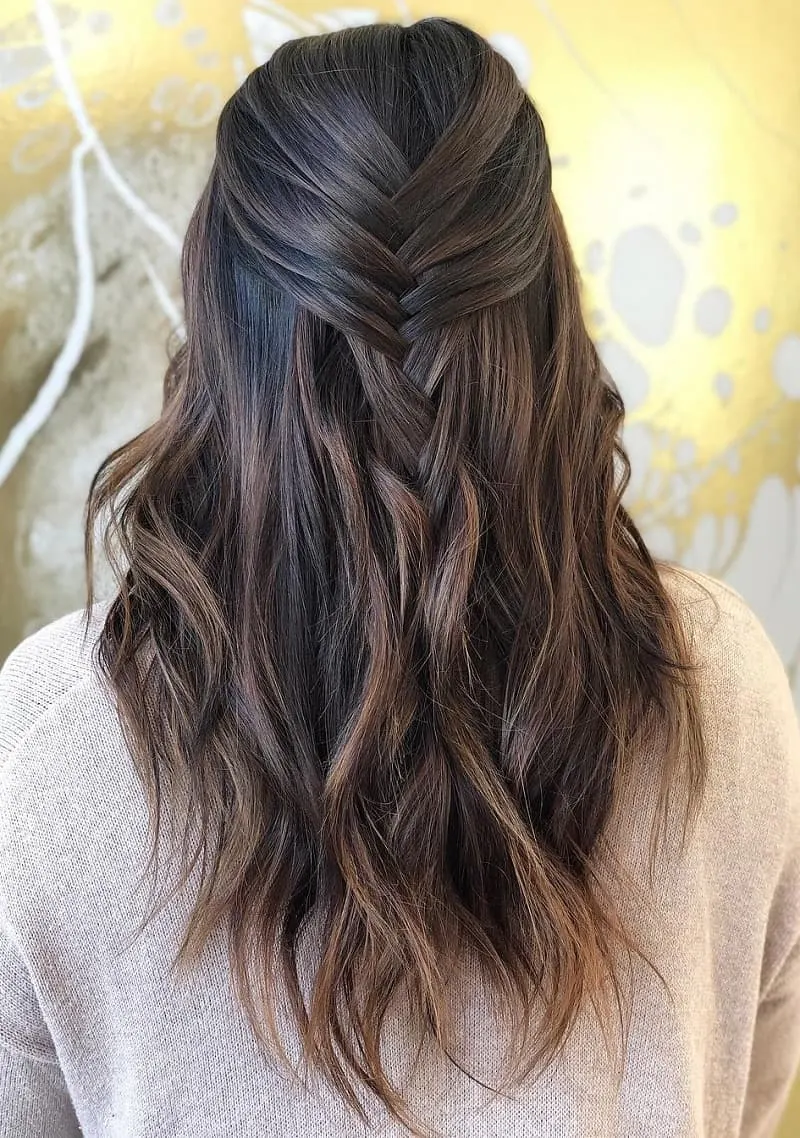 Blonde babylights on dark brown hair give it a different dimension. The hair is cut into a V shape with subtle layers. Half of the wavy hair is styled in a fishtail braid leaving the rest loose.
9. Dark to Light Ombre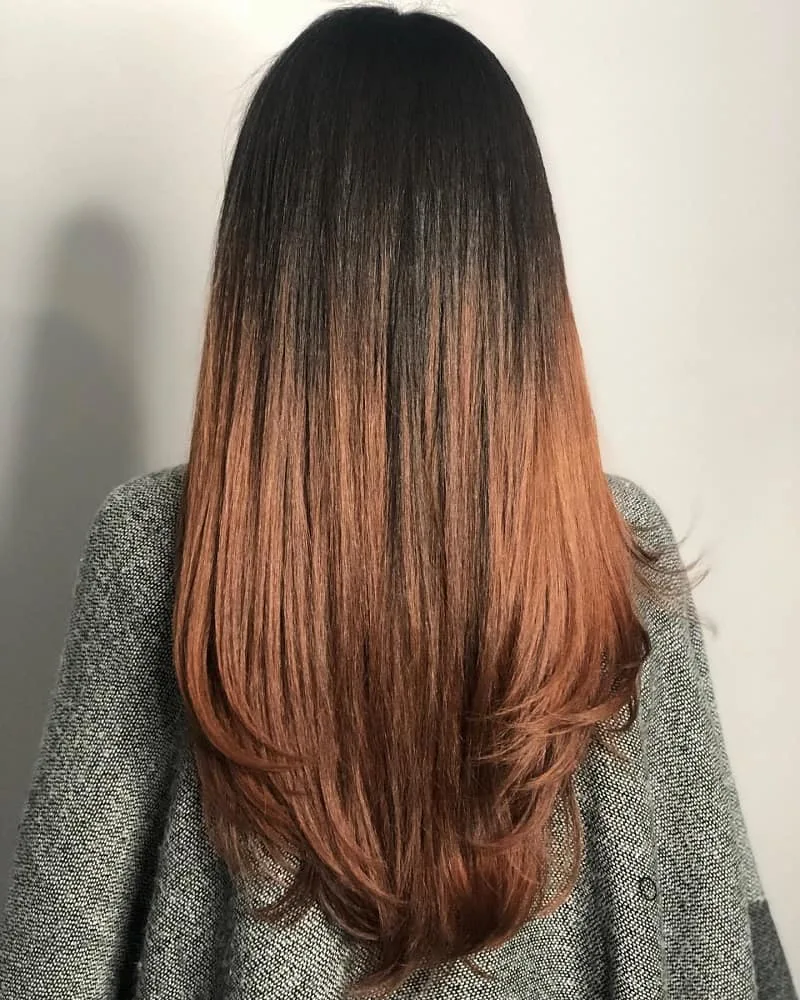 This is the best way to get the V-shaped haircut trend with a twist. The dark black-brown top fades into a rich copper hue reaching the ends. Curl out the tips to completely copy the style which is ideal for ladies with naturally dark hair.
10. Feathered Layers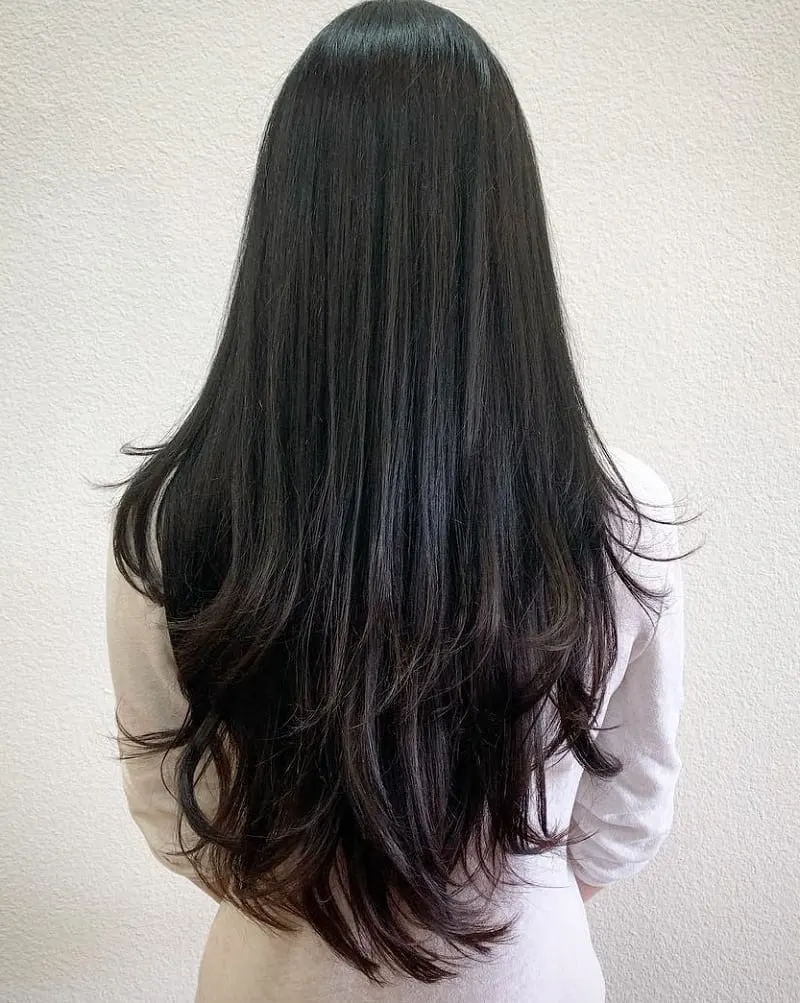 Bring life into your boring long locks with a feathery haircut. The feather effect is achieved with layers starting from the shoulders. The ends are trimmed into a V shape and curled out for a sharp edgy appeal.
11. Peekaboo Hair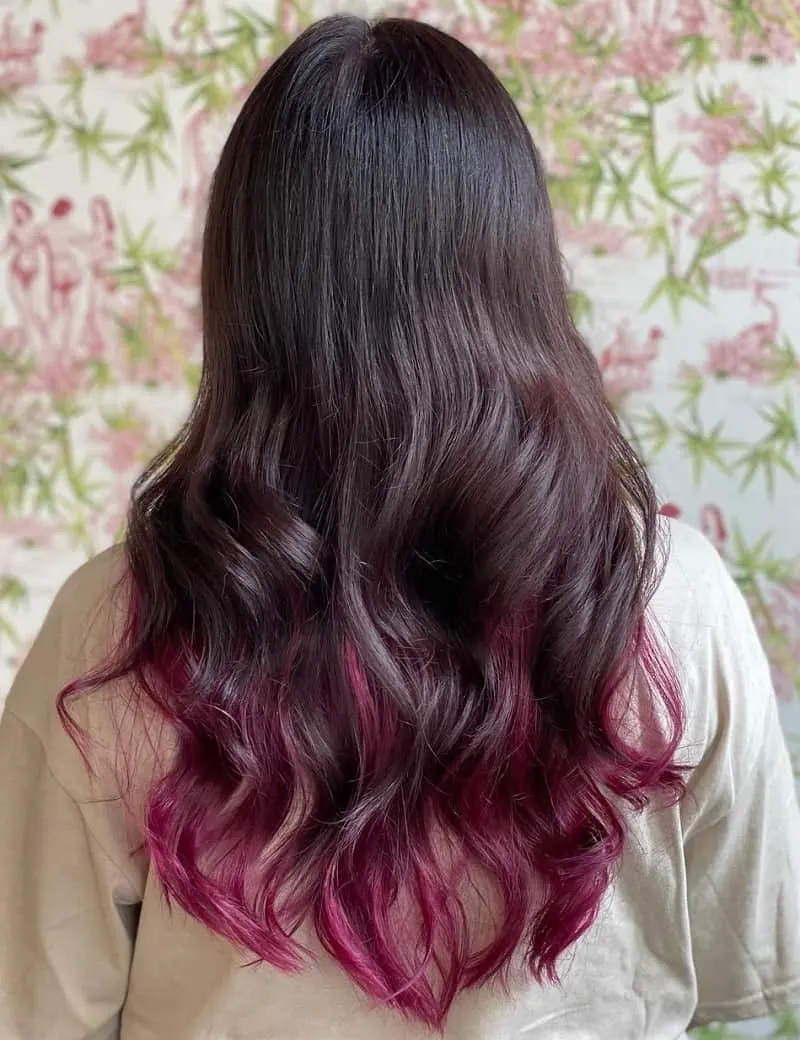 Peekaboo hair gives you the chance to experiment with any color without overpowering the natural base shade. This style is created by dying the hair in a vivid plum hue emerging beneath the darker waves. Top off the look with a subtle V cut.
12. Senegalese Twists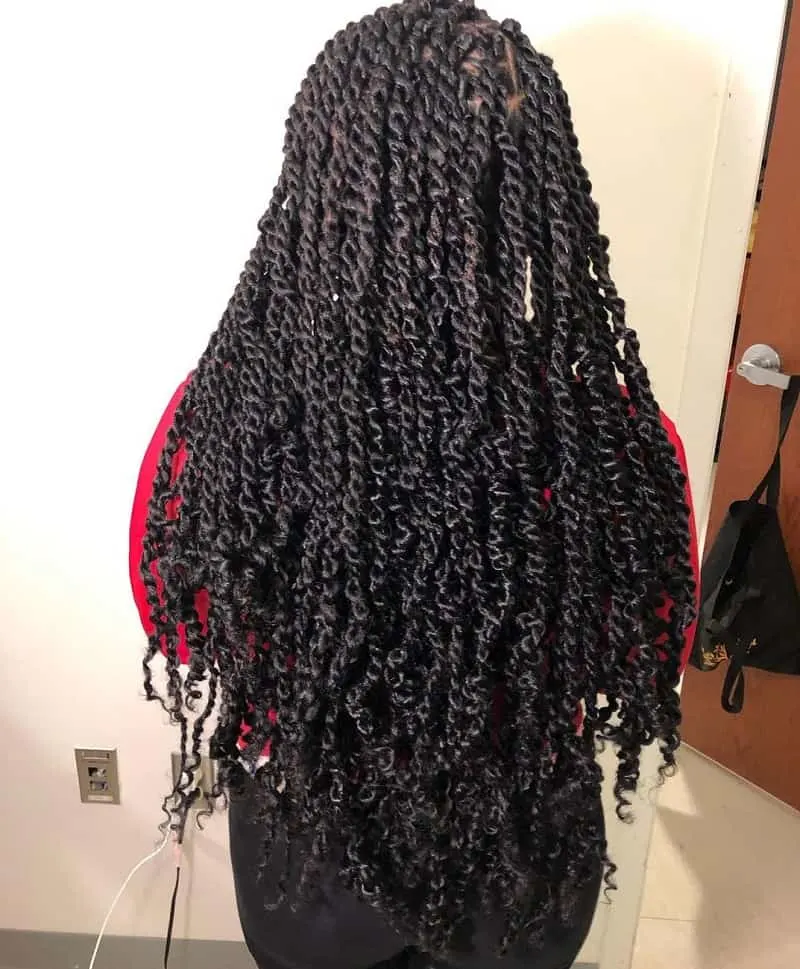 Dark-skinned women with thick curly black hair can pull off the V cut trend too. The long hair is sectioned and styled into Senegalese twists. This look requires a visit to the hair salon but is low-maintenance thereafter.
13. Burgundy Highlights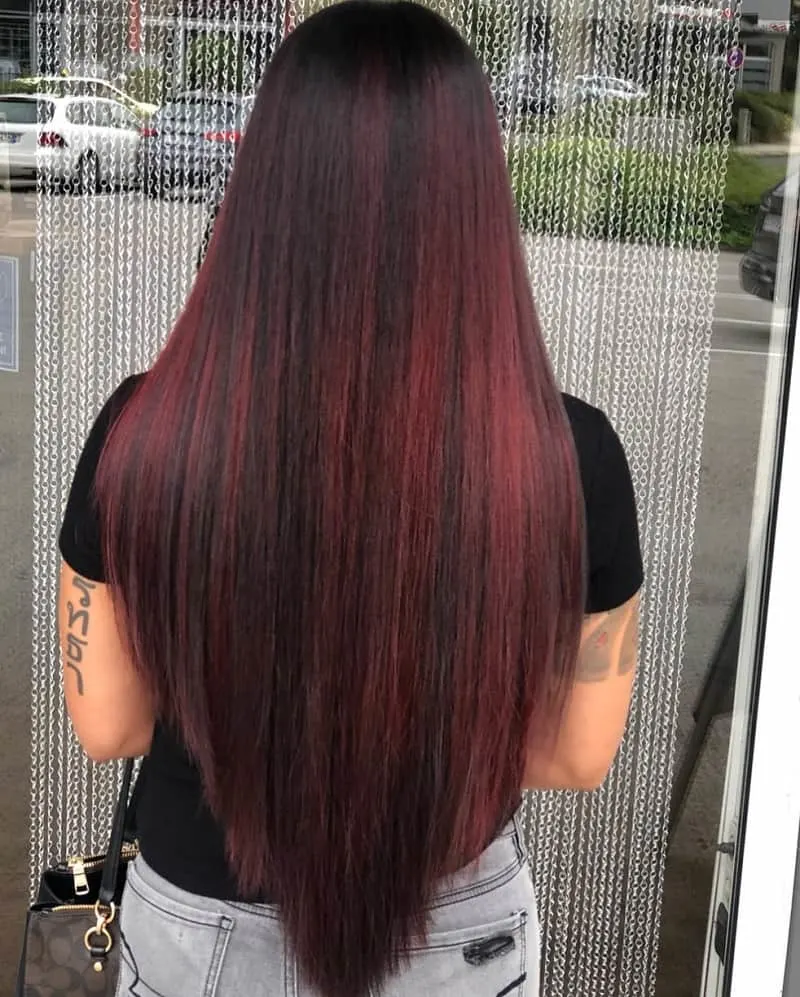 Looking to highlight your dark mane but want to keep it low-key? Try burgundy highlights on black hair. The colored chunks in between the darker strands add richness to the hair which is cut into a sharp V shape to set off the style.
14. Simple V-Cut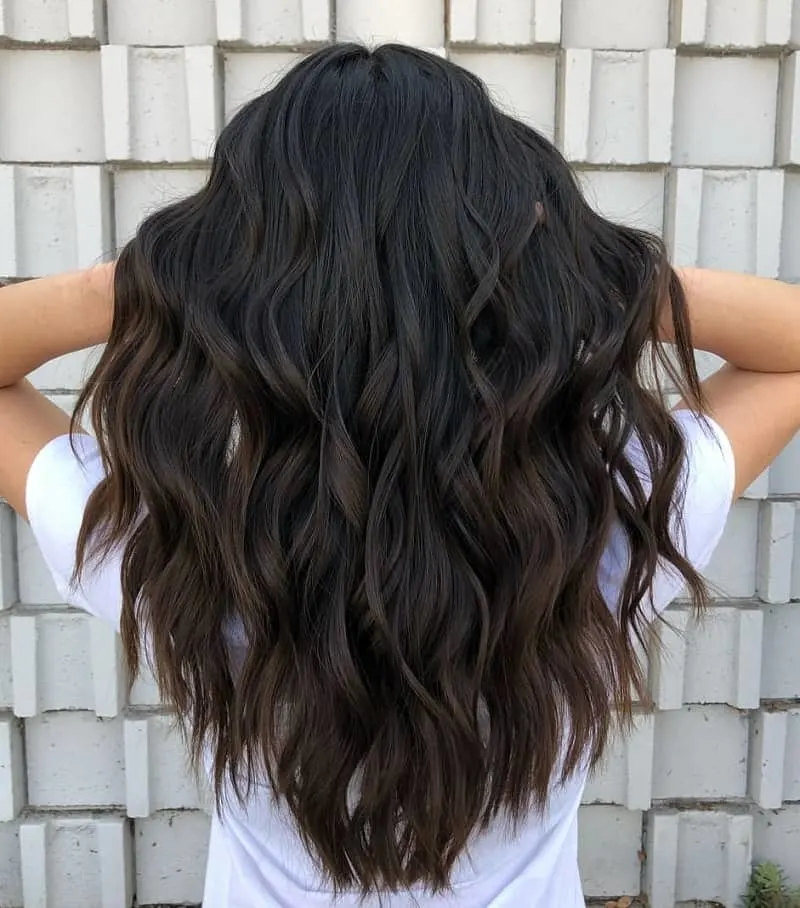 Get into the V-shaped haircut trend with this look where the hip-length strands are trimmed delicately. The black hair has a touch of dusty brown reaching the ends to create a subtle balayage effect. Curl the hair and brush it out creating luscious waves.
15. V-Shaped Blue Electric Hair
Nobody will be able to take their eyes away from this eye-popping blue electric color. It provides a lot of texture and vibrancy, and a V-shaped cut hair will have a lot of texture at the ends.
16. V-Shaped Curly Hair with Crown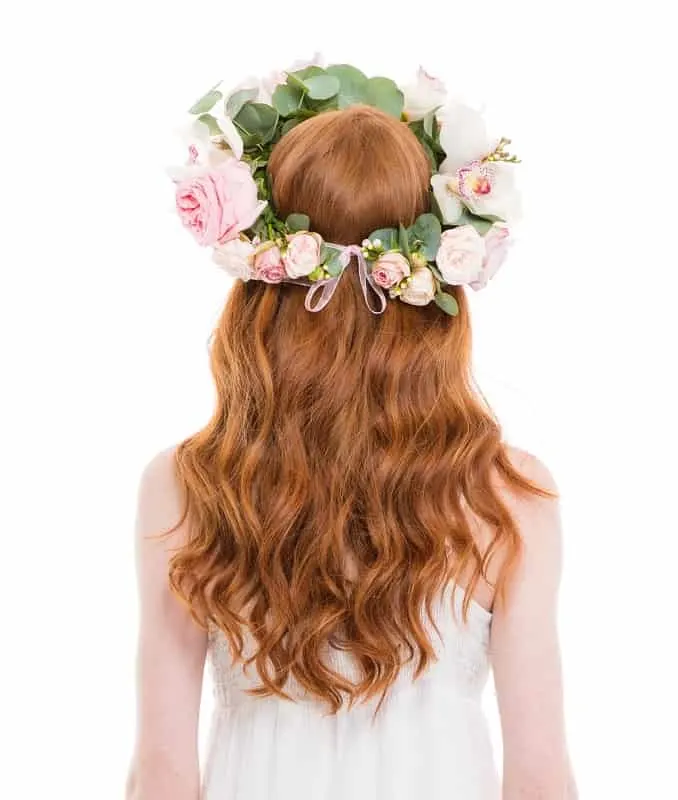 Whether you want a simple but breathtaking look for your wedding day or just love to adopt boho looks, a V-shaped hairstyle with messy waves will get anyone's attention. Place a big flower crown on your head if you're going for a fairy diaphane look.
17. Long Red V-SHaped Hair
Red hair can never look dull because the chosen color is so powerful and vivid. Also, a V-shaped cut will add texture to your ends and if you want your long mane to look flawless, all you have to do is straighten your strands with an iron.
Choppy layers can take all shapes and sizes, and they make a fabulous pair with V-shaped haircuts. Style a sombre that keeps the upper part of the hair in a white chocolate color and the ends in a platinum blonde hue.
By going for a sandy blonde with thin gray highlights you will get a marvelous modern color that is very popular in 2023. Give your ends a V-shaped cut with loads of layers and you discover a brand new look that really flatters you.
When you are a girl that adores autumn color like brown and auburn, a mahogany shade might be the perfect idea for you. Make your hair get a gorgeous shape on the back by styling a V cut.
21. Gorgeous Curly V Cut
When you have long hair, your styling options are limitless and it's up to you to find the ones that flatter you most. Get a natural brown hair color and make wide blonde copper highlights to gain more texture. Also, cut your hair in a V-shape and build wide loose curls.
22. Subtle Rounded V Shaped Hairstyle
The V-shape doesn't always have to be edgy and well defined. You can go for a smooth way to define your ends because it will beautifully suit your mild blonde hair with creamy highlights.
23. Layered Cut with Highlights and Lowlights
Nobody will be able to resist your glamorous look and all for the right reasons. Go for a black hair that gradually enlightens once you reach the ends. Obtain this warmth by styling blonde and light brown highlights.
A 'v' shape hair looks flattering, whether you choose a subtle V shape or an extreme shape. Ask your stylist to help you with this cut.
FAQs
Are a V-cut and a layered haircut similar?
No. Most V-shaped haircuts have layers, but they aren't looking at the same part of your haircut. It refers to the shape of the back of the hair.

A layered haircut is about how many lengths or 'layers' make up the body of the hair. You can have V-cuts and straight-across cuts with or without layers.
What's the difference between a U-cut and a V-cut?
A U-cut is similar to a V-cut, but it's less bold. V-cuts typically come to a point at the back, like a 'v' shape. A U-cut is still longer in the middle than a straight-across cut, but the slope is less dramatic.
Is a V-cut good for curly hair?
It depends! A V-cut looks great on loose curls and straight hair, but a V-cut does not look as good if your curls are incredibly tight.
Related Topics