Medium length hair is mainstream nowadays while the popularity of the blonde hairstyles can't be overlooked. Medium hair seems to take the best of both worlds by allowing you to sport any hairstyle you choose without the hassle of long hair.
Not many women can wear long locks. Besides being hard to manage, not everyone's body has enough resources to keep the long hair fed. As a result, you get weak and thin ends and a ruined hairstyle.
Many women with medium haircuts choose to dye their locks blonde. These beautiful blonde styles are fashionable and timeless.
Try Medium Blonde Hairstyles with Various Highlights
You don't have to stop yourself at one color. There are so many shades of blonde on this planet that lifetime won't be enough to try them all.
But you can trick the destiny and try various blonde shades as highlights. Most blonde shades look terrific together. The classic highlight mix involves two shades. Nowadays, girls go for 3, 4 and even 5 hues!
Beautiful Medium Length Blonde Hairstyles
If you have medium length hair and are thinking about blonde hairstyles, you can easily get lost among the option. Every woman tries to sport a blonde hairstyle at least once in her lifetime.
Celebrities change their medium hair every day. So how do you pick the right one for yourself? We spent some time collecting the best options to make your choice simpler.
Just take a look at how different yet fantastically looking these hairstyles are and you can surely find something suitable for yourself. You can also use a combination of a few for a unique hairstyle.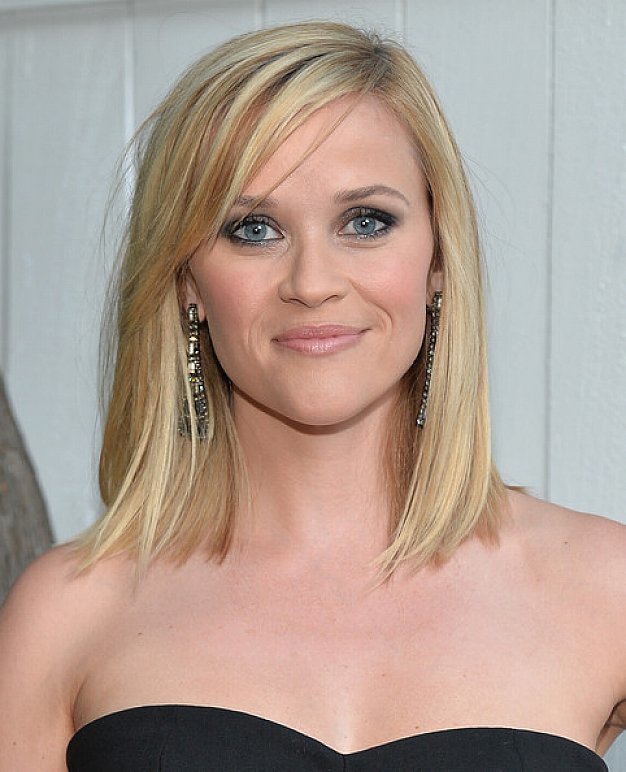 This blunt bob with side swept bangs can easily be called the classic of the medium hairstyles. You can create this style no matter how old you are and which blonde shade you prefer. This hairstyle is great for thin hair.
Complement your blonde hairstyle with yellowish highlights. If you are after ash or dark blonde colors, yellowish highlights can give them style some extra shine. The ends can be blunt or asymmetrical.
3. Bleached Blonde
The lighter your blonde hair is, the more stunning it looks. If you have naturally dark hair, you'll need to do some serious bleaching in order to achieve lighter shades. But once you are done, you'll look awesome.
If you have medium length hair, you can take advantage of this ombre hairstyle. Besides dyeing the bottom part of your ombre honey blonde, you can arrange your hairstyle to emphasize the color changing layers.
5. Long Side-swept Bangs
Long side swept bangs do a great job hiding most of the forehead wrinkles while making you look younger. You can play around with different shades of blonde too. You can make the bangs lighter or darker than the rest of the mane.
6. Rounded Bob
This blonde hairstyle is a wonderful choice for girls with thin hair and long faces. You'll need to maintain the shade on a daily basis, but it's truly worth it. You can change this hairstyle to an a-line bob if you wish.
7. Long Golden Bangs
Golden blonde hues look wonderful on medium length hair if it's arranged the right way. Consider creating long bangs that fall down on both sides of your face in a careless manner. Use a side part.
8. Malibu Blonde
If you have thin hair, a slightly wavy medium length mane is exactly what you need. Consider using a darker shade of Malibu blonde to avoid frequent root touch ups. You can also create long bangs.
9. Windblown Bob
This beautiful blonde hairstyle is achieved by making layers. The layers are then arranged in a careless manner. They can stick out almost any way you wish for a windblown look. Use the light shade of blonde for this image.
Best Short Hairstyles for Teen Girls
10. Ombre Mix
Ombre is a fail-safe way of making your medium length hair shine. Start with your natural locks on top and then consider making two or three blonde layers. Make sure that the color gets gradually lighter.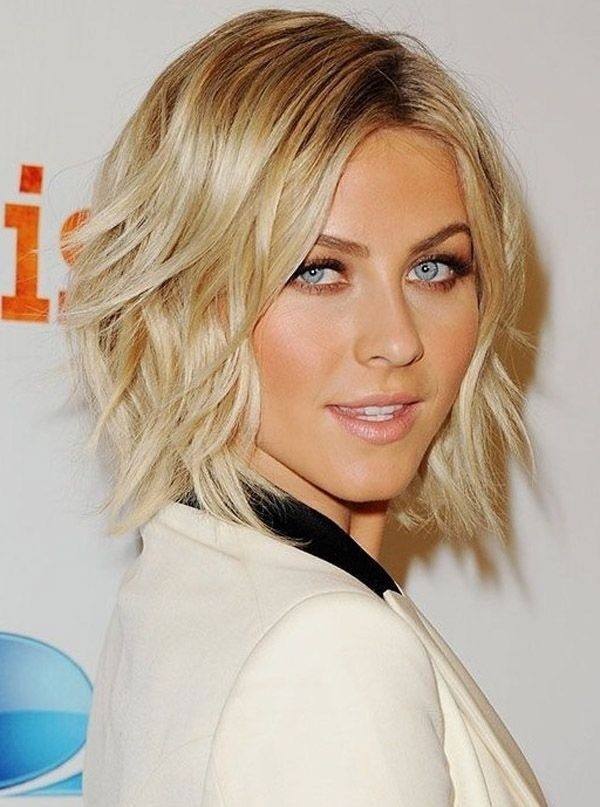 A-line bob is a wonderful hairstyle for girls of all ages. Don't make it too stacked in the back in order to avoid any extravagant look. You can either dye the whole bob one color or use ombre or even balayage coloring technique.
12. Keep It Longer
If your teenage girl's medium length hairstyle seems to look fantastic, you can consider growing your hair a little longer. Check out the way it looks when it's reaching your chest. If the appearance gets duller, get a haircut.
13. Wavy Hair with Hairpins
Medium length blonde hair can look gorgeous like this with just a bit of your time in the morning. You will need a curling wand, a bit of a hair spray and a few hairpins. Hairpins are on the peak of their popularity the moment, so don't hesitate to try them on. Pick a few with a different pattern – that is how you can make your hairstyle look super trendy!
What a lovely way to spice up this lob hairstyle – with dark roots and blonde hair everything looks better and more beautiful. You can style this hair with beach waves or leave it straight – it is on you to choose.
Hairpins are something that you shouldn't miss this summer. They look very chic, especially those decorated with pearls. You can combine a few and add your hair a whole new vibe. They look like this is great for all kinds of special celebrations.
If you are bridesmaid-to-be, then look no further than this medium twisted hairstyle. You can also curl your hair, turning it into lovely medium beach waves. By adding some fresh flowers as a crown, this hairstyle will get a fantastic bridesmaid upgrade that you won't be able to resist.
17. Pink Blonde Combination
Medium blonde hair is fine, but how to make it look even more appealing? Add some pink highlights and stop worrying! While your roots are still dyed blonde, the rest of your hair should be in lovely pink undertones. This is just one more type of strawberry blonde hair, which took the internet by storm.
Combination of dark and light blonde highlights is always a good idea. You can absolutely enjoy having this type of shoulder-length blonde hairdo, and not worry about overgrown hair. With a blend like this, you can be absolutely sure that the time between dyeing will be prolonged.
The lob is one of the most popular medium hairstyles. No surprises there, since it is practical as well as super stylish. Instead of cutting your hair layered, cut it straight, and make these gorgeous beach waves. You can only ask your hairdresser to use special scissors to chop your hair ends.
Ash-blonde is great for all women that don't like honey or golden undertones on their hair. The point is to protect your ash-blonde from washing out by using the purple shampoo. The highlight blend will only enhance the beauty of this lovely medium hairstyle.
21. Golden Blonde
Unlike the ash tones, golden ones can look great on every occasion. Women with warm skin tone are more prone to wearing this kind of hair dye, but it is not a surprise to see fair-skinned women wear it too. Golden locks like these can be achieved with a wide curling wand. However, make sure to protect your hair before heating.
This combination is absolutely great if you like unusual combinations and styles. This medium length blonde hair is great for day to night wear since the waves will provide you with a chic look, no matter where you go.
Braids make every hairstyle different and unique. They are not only practical – braids are a timeless addition to any hairstyle. You can braid your hair completely or do an elegant half up half down hair, like in the photo above. Blonde highlights will make your braid even more enhanced and so beautiful.
24.. Peach Highlights on Blonde Hair
If you are tired of blended and blonde highlights, then think outside the box and add a few summer colors to your hair. You can be sure that these peachy tones won't pass unnoticed.
Platinum blonde is a perfect shade for medium length hair, especially with highlights or done with blonde balayage technique. This medium hairstyle is great for all those girls who like something classy, yet casual and ready to wear for day to night events.
Medium Blonde Hairstyles for Women Over 50
The main advantage of the medium length blonde hairstyle is that they suit women of any age. If your hair is vibrant enough to bear the medium length, you can easily create any of the below options on your locks.
We would recommend you to pay close attention to the hairstyles that feature bangs. They hide the wrinkles on your forehead, focus attention on your eyes, and can take up to 10 years off of your age. Women over 50 will like our medium bobs with some asymmetry. Or simple shags.





If you are into a medium blonde hairstyle, you now have a few more to choose from. Don't forget to experiment with sets of colors, asymmetry, long bangs, and smart highlighting. Good luck with becoming even more beautiful!