So you're getting ready for vacation – congrats! Along with the perfect wardrobe for your destination, you'll need the perfect vacation hairstyle for your black hair.
You'll want something easy to throw together so you can spend more time on sight-seeing rather than styling, but you'll also want a look you easily transition from day to night. Keep your black hair healthy while on vacation by trying one of the below gorgeous vacation hairstyles perfect for any length of locks.
Perfect Vacation Styles for Black Hair
Before you head out on your relaxing vacation, be sure to take along one of these 25 vacation hairstyles!
1. Dreadlock Ponytail
Locs are a popular Black hairstyle because they're both stylish and easy to maintain. On vacation, all you'll have to do to be ready for the day's adventures is gather them up in a high ponytail. You can even wrap them in a beautiful bandana.
2. Afro Ponytail
Letting your hair have a rest is important for maintaining their health. Take your vacation as an opportunity to let your hair go natural, embracing their afro texture by rocking them in a super high ponytail at the top of your head.
3. Straight Short Bob
A short bob is just the vacation hairstyle for Black women heading to more upscale destinations. Be ready for the fancy clubs with a sleek, straightened bob in an asymmetrical or a-line cut.
4. Space Buns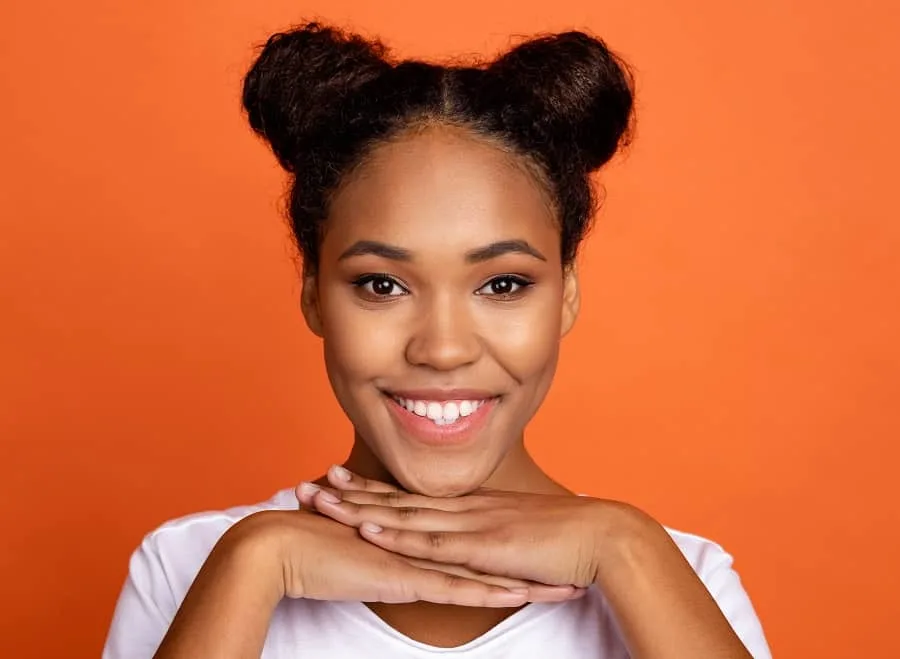 Fun space buns will bring out your creative, spunky side on vacation. They take only minutes to style: simply comb hair, part it into two sections, then make two high ponytails and wrap the hair around the base. For a little color, consider bright hair ties.
5. Slicked Back Low Ponytail
Another gorgeous vacation hairstyle for Black women heading to those fancier vacay spots includes this long ponytail for straight hair. It's slicked back and secured at mid-height. Instead of a hair tie, a section of hair is wrapped around the base.
6. Kinky Twists
You'll look gorgeous in all those Instagram shots you're guaranteed to take on vacation with kinky curly twists as your hairstyle. Wear these long locks down to show off the full texture, or make a high jumbo top knot for cute and casual style.
7. Short Afro with Fade
For Black women who prefer shorter haircuts, a beautiful natural afro is the best vacation hairstyle for you. Your curly texture is easily seen up top, and faded sides provide flattering edgy definition for any face shape.
8. Shoulder Length Curly Bob
If you plan to make an appearance at fancy restaurants or outings, consider a romantic vacation hairstyle. This curly bob barely touches shoulders and is insanely luxurious with its full body. Part it off center and tuck a strand behind the ear on one side for easy styling.
9. Short Nubian Twists
Another beautiful Black hairstyle for women who want their mane off their shoulders: these short Nubian twists are still long enough to style up with a bright, colorful head wrap. We love how their kinked curly ends are easily noticeable.
10. Layered Short Curly Hair
A vacation is the perfect time to have fun with different hair colors. For example, if you're rocking short hair, accentuate curly texture with a dramatic burgundy color and lots of short layers up top.
11. Waist-Length Twists
Those beautiful beachy vacation shots don't stand a chance without waist-length twists for Black women. We recommend medium to large-sized twists for a fuller look. Wear them down and draped across the shoulder or in a high jumbo bun.
12. Bantu Knots
How utterly chic are these Bantu knots as a vacation hairstyle for Black women? They're perfect for that girl's trip to the big city. For a neutral look, use black hair bands. To give your hair a pop of color, try bright pink hair bands or match them to your outfit each day.
13. Twist Pixie with Fade
A peppy pixie haircut is another vacation hairstyle that will bring out your playful side, especially if you opt for light or platinum blonde. If you're rocking twists or locs, give them a total refresh before your trip by shaping them into a short pixie with faded sides for a dash of edge.
14. Blonde Ombre Afro Twists
You'll fall in love with these afro twists for Black women. Their ultra kinky curly texture is to die for, while the short length is ideal for a vacation where you'll be on the go constantly. Lighten up with blonde or caramel ombre and round out the look by smoothing baby hairs softly along the hairline.
15. Jumbo Braids with Highlights
Another must-try when you're going on vacation is adding highlights. These large braids beautifully display different shades of blonde highlights. They'll make any Black women's hairstyle a true 10.
16. Beach Twists with Bandana
Lots of tiny twists is always a classy choice when it comes to taming and treating your natural black hair. You can wear them down with no styling or use a colorful bandana to style a beach updo.
17. Short Black 'Fro
One of the best things about having short black hair is that you can wear it natural and it will always look great. For this vacation hairstyle, just bring some hair oil with you to shape curls and tame frizz.
18. Two Slick Braids
Another classy choice for Black women going on vacation is two simple low braids. No matter where you are, your hair will be stylish and out of your face so you can focus on traveling!
19. Box Braid Jumbo Bun
Before taking off on vacation, have a stylist or friend put in long braids. This mix of thin and thick braids can be worn down or up in a tall jumbo bun for quick style.
20. Medium Cornrow Braids
Box braids begin at the hairline on this vacation hairstyle and wind back against the scalp down to the ends. Black women often choose this style because it lasts several weeks and is great for warm climate vacations.
21. Protective Ponytail Twists
Twists are one of the best protective hairstyles a Black woman can choose because of its ability to thicken up thin hair. It's also easy to get shape and texture as seen on this high ponytail with kinked twists.
22. Rainbow Microbraids
With a little time in the salon chair, a weave with waves is another gorgeous vacation hairstyle. While you can choose neutral colors like blonde or brown, this particular style is gorgeous with every color of the rainbow.
These long braids combine caramel with dark and light brown. Braids are accented sporadically with hair hoops and beads. It's an overall lively look for your carefree vacation!
24. Thick Ridged Braids
Six ridged braids start out thin at the hairline but become thicker as they follow through to ends. These braids are another hairstyle that will last the length of your vacation and then some!
25. Micro Braids and Natural Hair
For any beach or tropical vacation where you want to be able to show off your natural hair but still have some detail, you need to try this mixed hairstyle featuring braids on the top half of the hair and sexy waves underneath.
As always, to protect your black hair while having fun, use a leave-in conditioner, especially if you'll be getting some rays! It's clear that with one of the above 25 hairstyles, any black woman can rock the vacation!