Short straight hair is one of those trends that never go out of style. While it's easy to think short hair doesn't allow you to experiment and spice things up a little bit the reality is different. Women and girls with short hair have a lot of options at their disposal to try out different looks.
In this post, we're going to focus on short hairstyles for straight hair that are bound to amaze you.
How to Style Short Straight Hair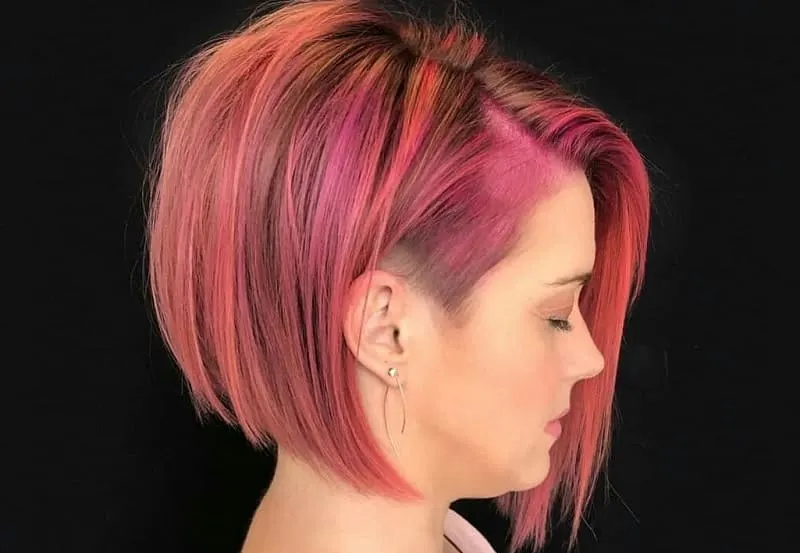 Hairstyling is like an art form that everyone can master. Use your imagination to experiment, try different things, and learn more about likes and dislikes.
We often limit ourselves to one particular hairstyle and are too afraid to experiment thinking there's no way we would be able to pull off different looks.
When it comes to short straight hairstyles, there's a lot you can do to rock this look. For instance, you can create braids of different kinds. Top knots are always a good idea as well. Let's not forget undercut and shaven sides which bring out your edgy attitude.
Another styling option is to get bangs which you can wear straight and blunt, part in the middle, or sweep aside. Length of bangs varies from short baby bangs to long bangs.
Tiny ponytails are also workable, depending on the length of your short hair of course. Using bandanas, scarfs, headpieces, bobby pins, and other accessories can also help you style your hair.
Following Video Shows How to Style Straight Short Hair in Different Ways
What to Wear with Short Straight Hairstyle?
You've probably wondered about outfit choices that perfectly match your lovely short hair. We've all been there, and it's perfectly okay.
Ideally, you should avoid loose and baggy clothes. Instead, opt for figure-hugging outfits that flatter your body type and bring out the femininity your hairstyle has to offer.
It's important to mention that chic skirts, dresses, and cute tops look great with short straight hair, but rock chicks can also pull off this look with leather pants and jackets. It all comes down to your personal style and how you wear it. Don't rule out hats which give your look a whole new dimension.
Trendy Hairstyles for Short Straight Hair
Need inspiration for short straight hairdos that you can pull off easily? Scroll down to see them all.
Some women and girls are reluctant to get bangs thinking it would be difficult to style them. Sure, they require a bit of maintenance, but their benefits outweigh everything else.
The main purpose of bangs is to frame your face and accentuate your eyes, face line, and induce the slimming effect. There's a perfect type of bangs for every face shape, and they are particularly amazing when paired with the straight bob haircut.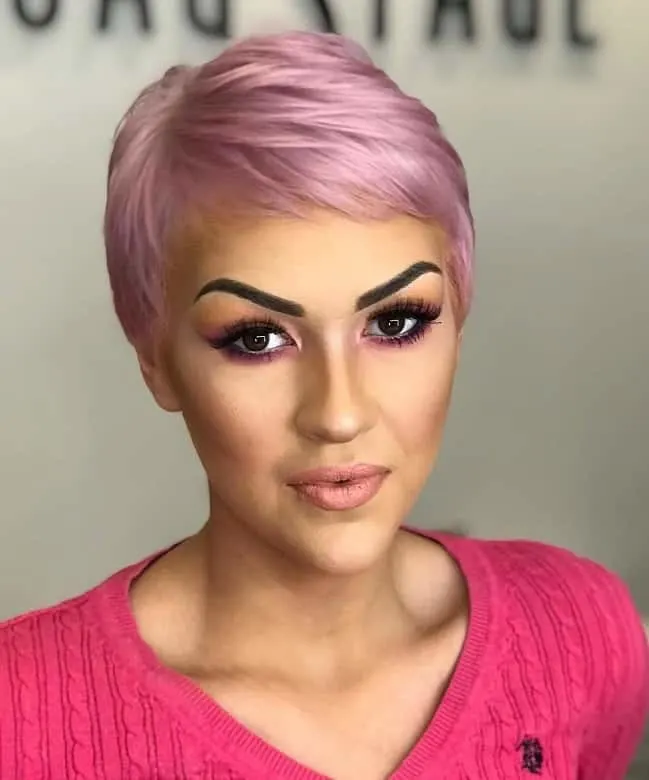 Speaking of short hairstyles for straight hair we cannot forget pixie cut. Pixie is yet another timeless haircut that gives us a Parisian chic vibe. Regular pixie is great, but if you want to have more edge, you can dye the hair to some unusual color such as pink. Looks great, doesn't it?
Graduated bob is subtle and ever so stylish. Blow dry your hair, apply a product that protects it from heat, and use mousse to give your hair more volume while creating the signature shape. You can combine this cut with bangs or just pull it off without them, depends on your choice only.
Are you looking for elegant short straight hairstyles for women with the heart-shaped face? Then you may want to try this one. Short hair reaching just below your ears is styled perfectly to define your jawline, but it doesn't over-emphasize it like other hairstyles. Hair color depends on your likes and dislikes; options are endless.
5. Undercut for Short Hair
Are you a tough girl who knows exactly what she wants and isn't afraid to act and get it? Then your hairstyle needs to demonstrate your decisiveness and bravery. A great cut for that purpose is a pixie with shaved sides. Even without curls and locks, this style is still bouncy and lovely thus showing that short straight hair truly is versatile.
6. Extra Short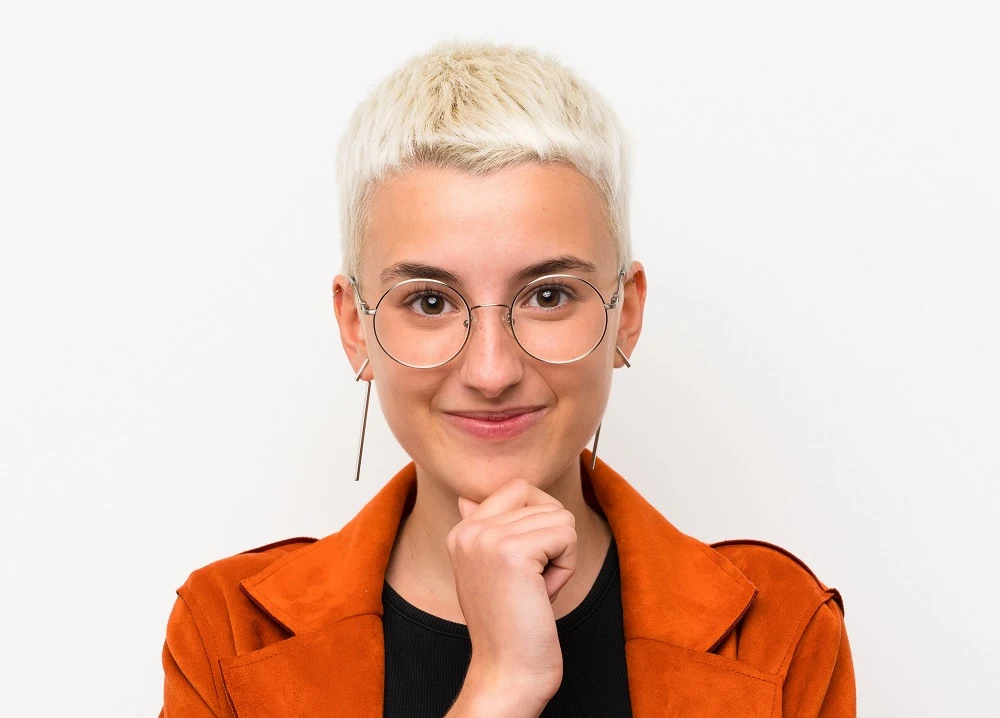 Give yourself a break from styling those straight locks daily by chopping them in a boy haircut with trimmed sides and a slightly longer top. Finish off by dying the hair in a platinum blonde hue and style the strands with your hands. Done!
7. Caramel Highlights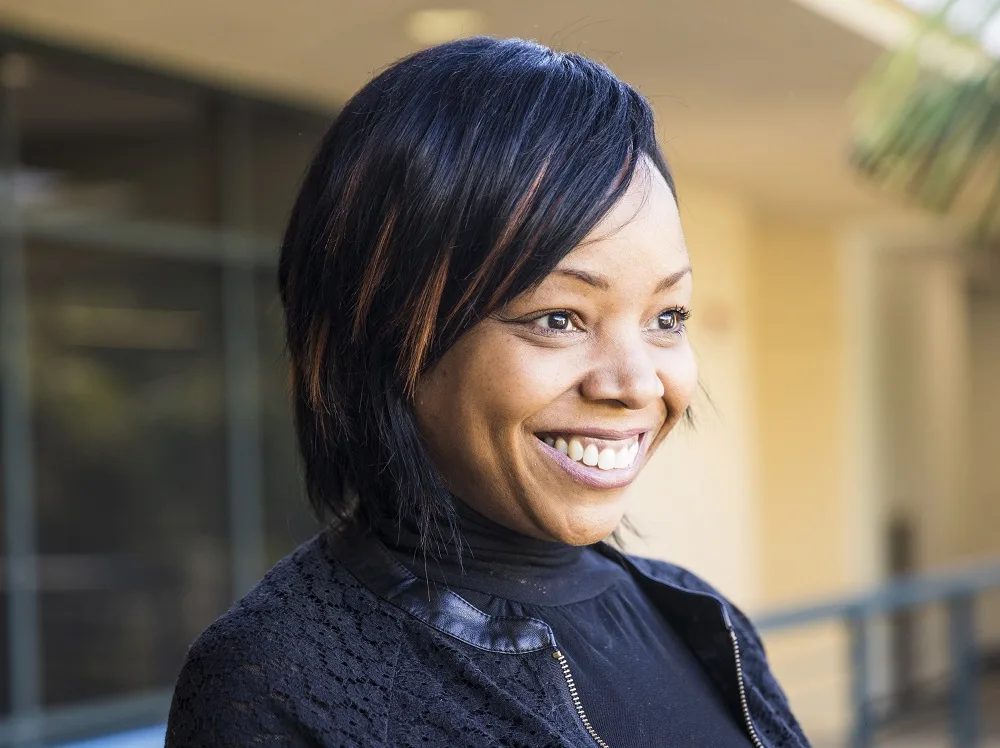 African-American ladies can cover their wide forehead with side-swept bangs coupled with a layered bob dangling above the shoulders. Spice up the look by adding caramel streaks to stand against the black hair. Tuck the strands behind one ear recreating this style exactly.
8. Edgy Pixie-Bob
Here is another trendy hairstyle for short straight hair. Platinum and white blonde shades have taken over all hair colors this year. Go for a layered pixie bob with side-swept bangs framing the face. A delicate hairband tops off the style.
9. Sleek and Straight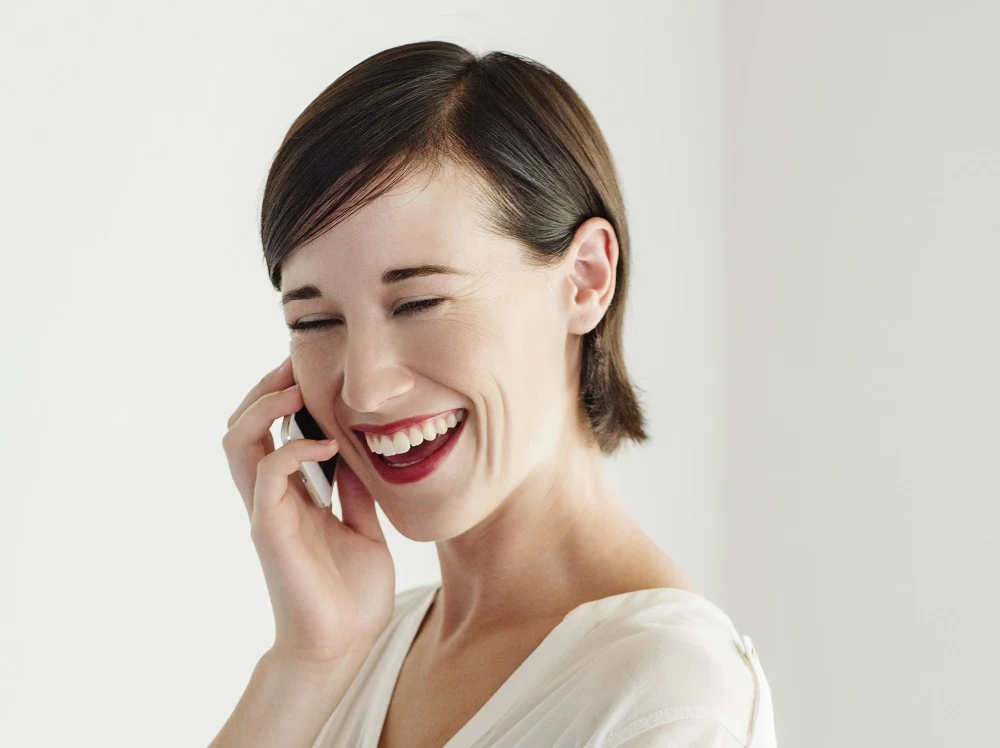 Ladies with fine straight hair can consider this look to add some life to their dull mane. Color the strands in a rich chestnut brown hue and cut them short into a jaw-length bob. Use pomade to tuck the hair behind the ears for a sleek office look.
10. Retro Finger Waves
The classic finger waves are perfect for short hair and never go out of style. Use an ample amount of hair mousse, a tail comb, and your fingers to create these S-shaped waves on the head. Jumbo hair clips take this straight hairstyle to another level.
11. Spike It Up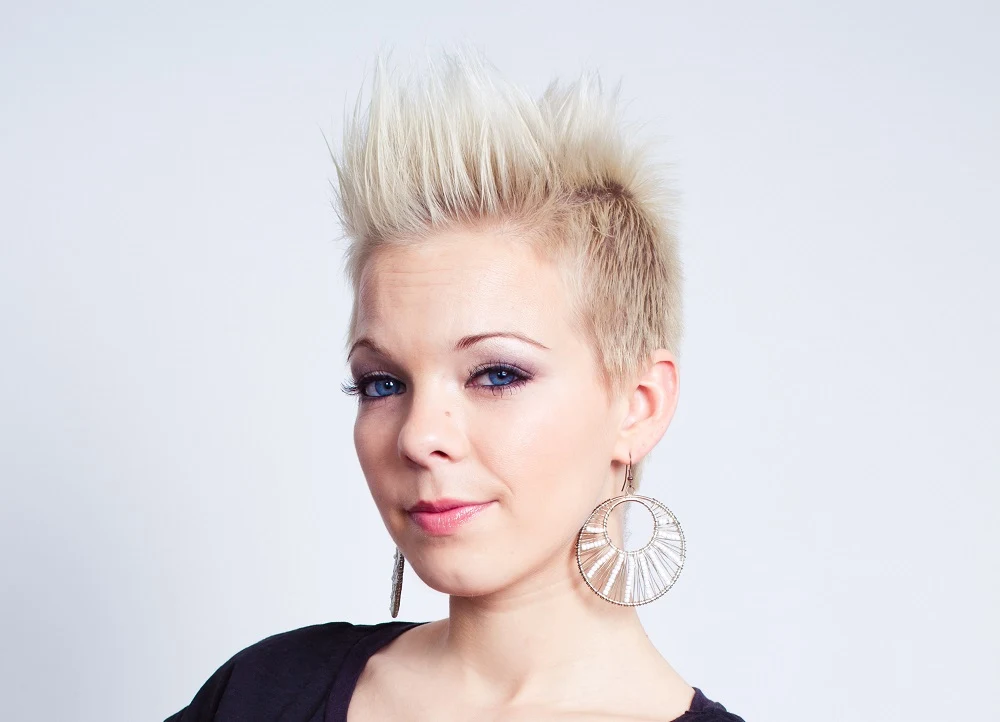 Accentuate those beautiful blue eyes with an icy blonde hair color to turn around some heads. Trim the sides short while keeping the top long enough to be styled into sharp spikes using some pomade and creating a bold look that won't be ignored.
12. Soft Mullet
The modern mullet has become much softer as the variation in length is not as sharp as it used to be. Defined by short sides and a long back with bangs covering the forehead, this short shag is easy to maintain. Amp up the straight hair with blonde ear loop highlights.
13. Pop of Colors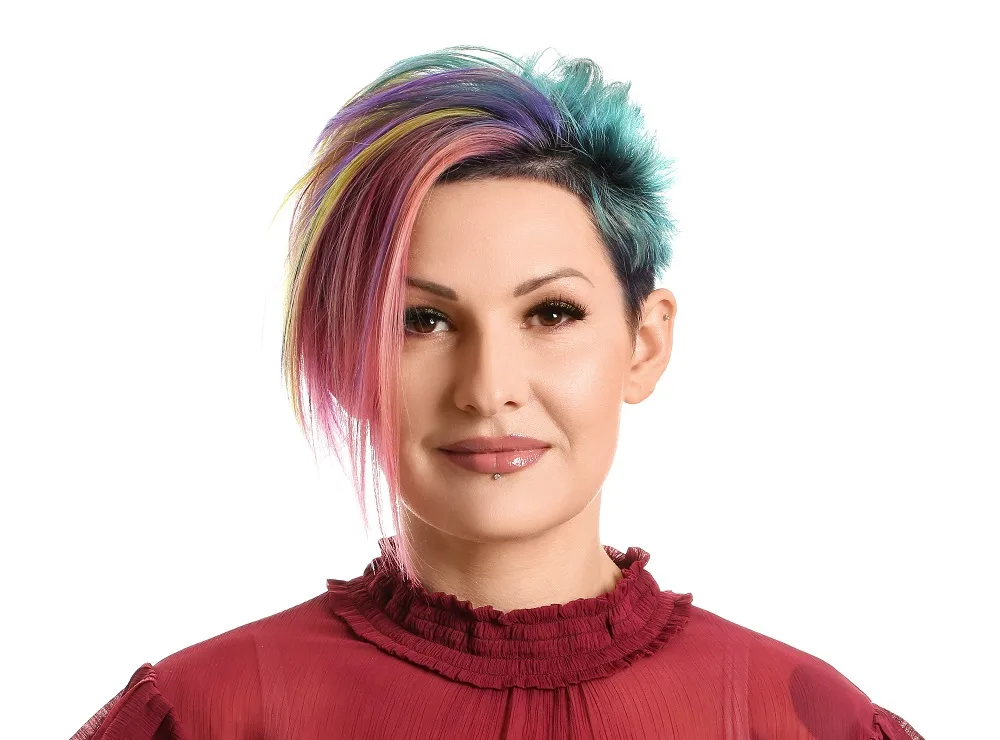 Get noticed from a distance by getting an asymmetrical textured pixie cut with a side-swept fringe reaching the chin. Add pastel pink, purple, blue, yellow, and as many other shades as you want to create a fun pop of colors on the head. This style is however high maintenance.
14. Short Ponytail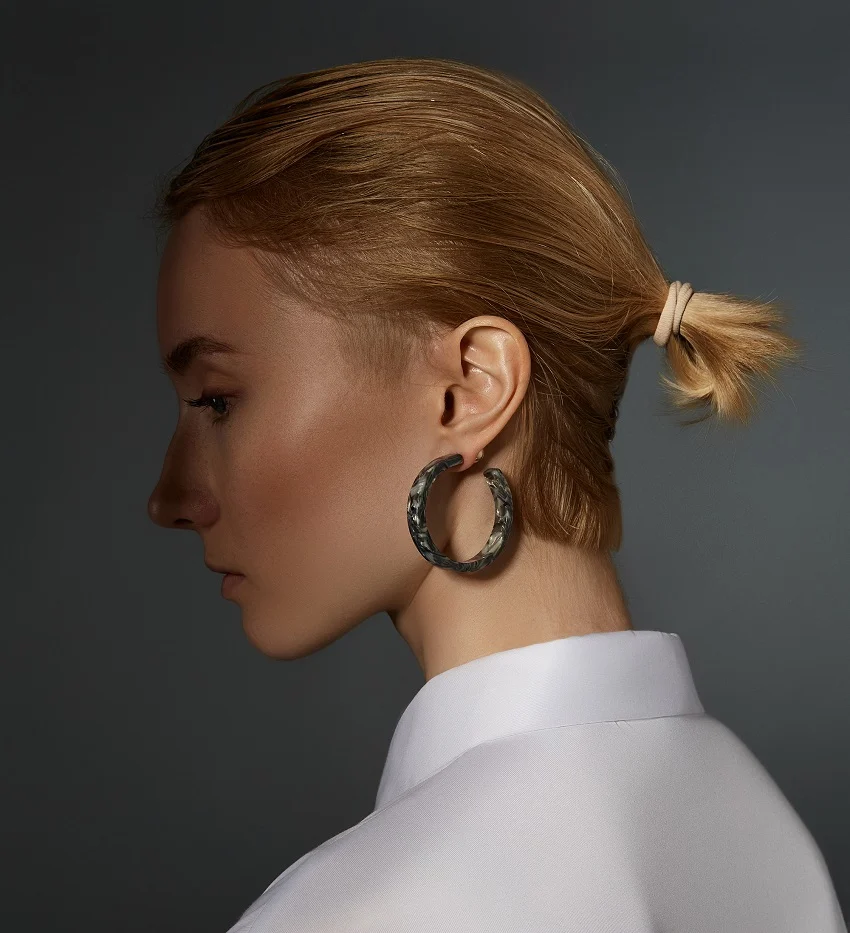 Ponytails are versatile as they go with all hair lengths and textures. Slick back the blonde bob using pomade and secure it in a short ponytail at the back using a hair tie. Rock some hoop earrings to complete this chic yet casual look.
15. Pixie Shag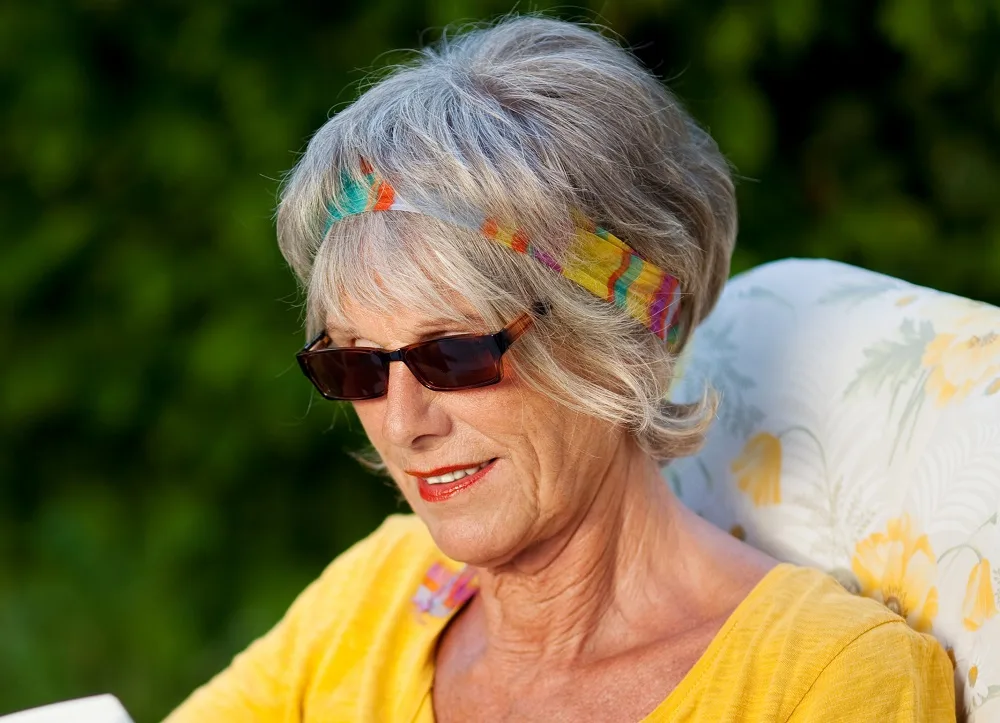 The shorter the hair is the easier it is to style for women over 50. Ask the hairstylist for a shaggy pixie haircut leaving some length at the top making the strands appear fuller. Flaunt those greys with a colorful headband matching the outfit.
16. Straight-Cut Micro Bangs
Micro bangs look bold and stylish and are perfect for straight hair. Chop the hair short at jaw length with micro bangs cut straight across the forehead just above the eyebrows. The auburn hue at the top stands against the remaining dark brown hair underneath creating a beautiful contrast.
17. Blue Beauty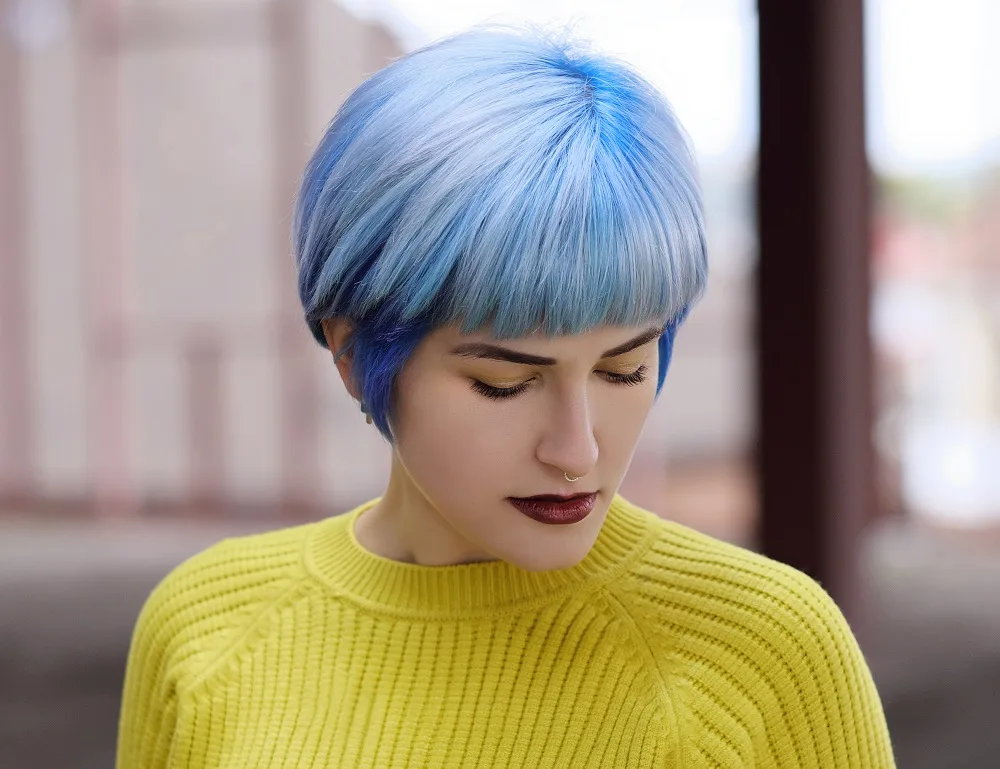 Make your short straight hair look spectacular with this look. The haircut is a mix between a bob and a mushroom cut featuring short bangs elongating towards the back. The electric blue under-layer pops through the top having a mix of powder and pastel blue hues.
18. Long Top + Undercut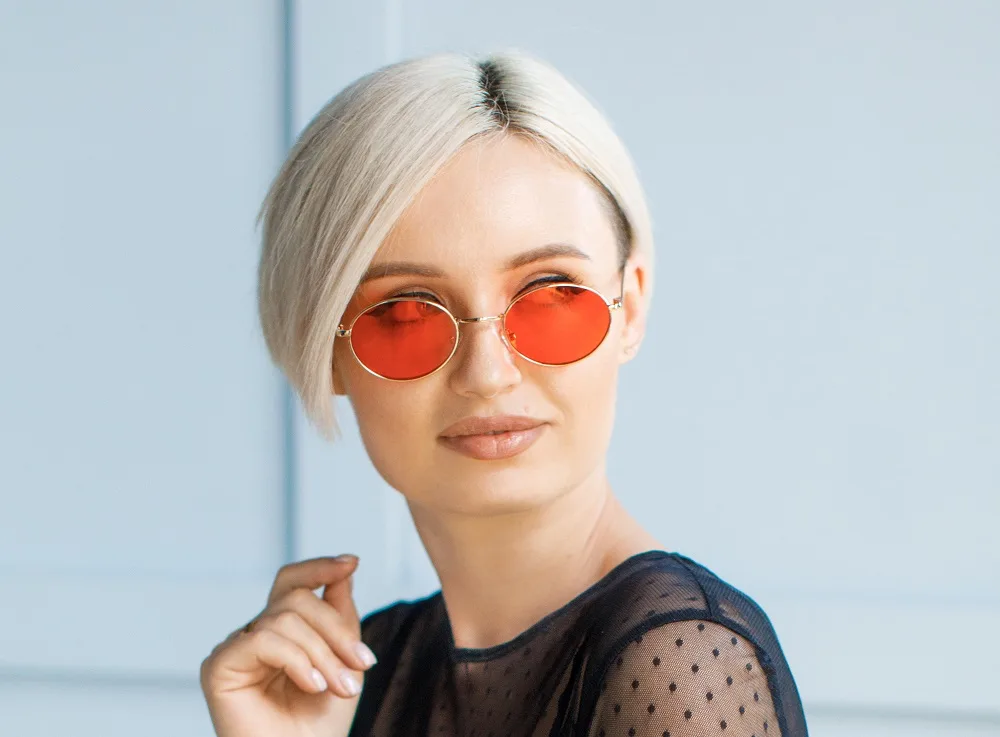 Make jaws drop everywhere with a bold short haircut. The long ear-length top is sleek and straight and is tinted in a cool platinum tone to fall over the buzzed sides. Get ready to rock by tucking the strands behind one ear and topping off with punk sunglasses.
19. Dark to Light Ombre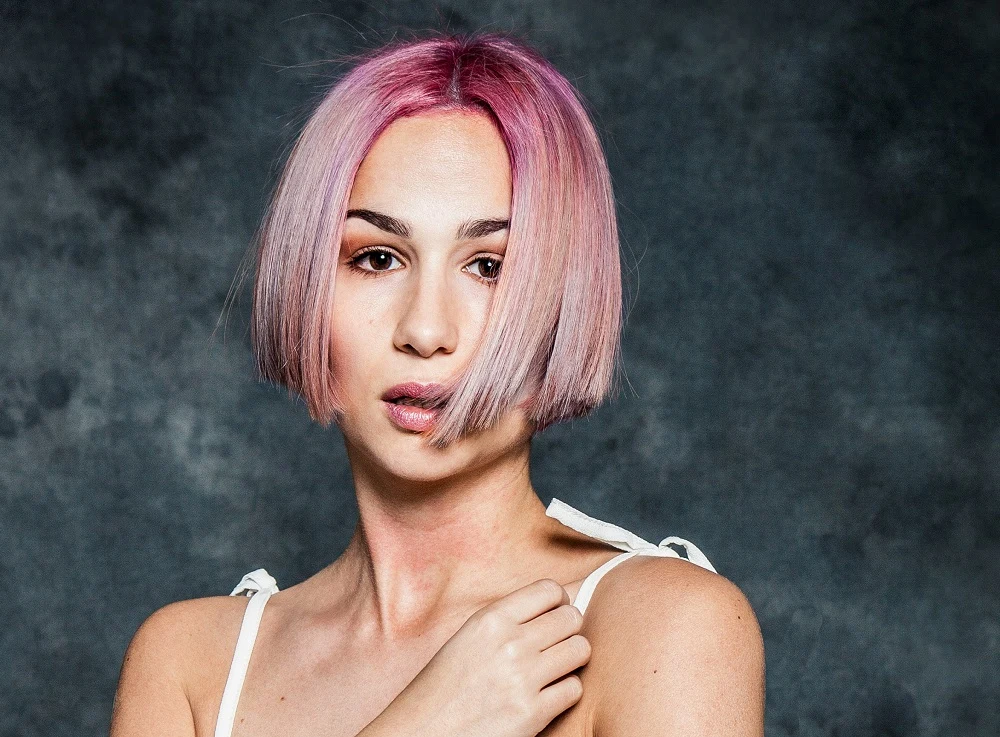 Opt for a French girl bob without bangs with the strands falling at chin length. Take things up a notch by dying the roots in a raspberry pink shade that lightens into a pastel pink hue reaching the tips creating a stylish ombre effect that will surely turn around many heads.
Do you love bob haircuts, but would still like to experiment and try something edgy? If so, you may want to try this bowl cut with an undercut. This unique style will make you stand out, and it's not that difficult to pull it off.
21. Straight Short Hair with Highlights
Short straight hair isn't boring, but highlights keep your cut from looking plain. For a natural appeal, try balayage highlights or go for the thin and fine babylights that mimic the natural highlights in children's hair.
22. Short Straight Ombre
It's time to have a little fun with your short straight hair! What your hair might be lacking in texture can be made up for with a fun ombre style. Keep your colors consistent or go for something bold, like pink ends.
23. Short Straight Hairstyle for Over 50
Short hairstyles are ideal for women over 50. Create a beautiful shape with your straight hair with lots of layers. Stacking hair at the nape of the neck will give your hair a full, round shape.
24. Short Straight Hair for Round Faces
Flatter the full cheeks of your round face with either a pixie cut or a sweeping bob. Part your pixie to the side to throw off the balance of your face and make it appear longer. Bobs with sweeping side layers act as a curtain to frame and conceal round cheeks.
25. Straight Short Hair for Oval Faces
Oval faces are the most symmetrical face shape, so how you choose to wear your hair is really up to your mood. If you go for a middle part, however, cut your bob just below chin length or shorter so your face doesn't appear elongated.
26. Short Asian Hair
Asian hair is typically naturally straight, so creating a short straight style is easy. If your cheekbones are particularly bold and angular, a round bob that frames the chin will add much needed softness to your look.
27. Short Braids
Short straight hair may not have much curl, texture, or wave, but you can certainly add in fun details. Braids add interest to a short hairstyle, whether you add just one or go all in with pigtail braids with ring charms.
28. Short Straight Dreads
Dreadlocks aren't for everyone, but they certainly add texture to an overall straight hairstyle. Short dreads are perfect if you're looking to grow out your hair or prefer to frame your face without a lot of upkeep.
29. Half Up Half Down
Half-up hairstyles are not only trendy, but they make for a great up-do style for short straight hair. A messy bun makes the look casual, especially with a few loose strands left out to frame the face.
30. Short Straight Ponytail
You can't expect to have a long ponytail with short straight hair, but a sweet low ponytail looks great, especially with a soft and chunky scrunchie. Beautiful bangs and layers give these ponytails a soft sophistication.
31. Straight Blonde
Short, straight styles are so cute on blonde hair and have a mature yet trendy vibe. Try a sweet side part and add layered side bangs if want to add some sophistication to your look.
32. Short Pink Tresses
Have a bit of fun with your short straight hairstyle and choose a color that is bold and fun. Hot and candy colored pink is surprisingly approachable, as are pastels and other subdued yet bold hues.
33. Straight Brown Hair
Show off incredible shine on your brunette short straight hair. If your color doesn't have natural highlights, you may want to paint a few natural caramel or honey blonde highlights for dimension.
34. Short Undercut
Dress up your short straight hairstyle with a funky undercut. With this look, hair has plenty of height and length on top for styling while the sides of each head is shaved to show off that gorgeous face!
35. Straight Hair for Black Girls
Create the short style you've always wanted with gorgeously smooth straight hair. Bobs with side parts are a popular look. Add layers at the ends of hair if you're into a soft, rounded appearance.
36. Short Straight Shag
If your straight hair has lots of natural texture, then you're lucky! A messy, shaggy look will be perfect for you. Go for a mini shag or a bob cut with choppy bangs.
37. Short Straight Side Part
Side parts are such an easy way to dress up a short straight hairstyle. Take them as shallow or deep as you desire and rock it on any face shape.
38. Middle Part
Middle parts on short straight bob hairstyles are statement makers. This look conceals the sharp corners of a square jaw and complements oval shapes perfectly.
39. Short Messy Straight Hair
Let your inner punk babe shine with more abstract short, straight hairstyles like these. Contrary to sleek and smooth bobs, these messy looks only ask for your creativity and a couple of rough, edgy chops!
40. Short Straight Crochet
Create your ideal short straight hairstyle with crochet hair. This style attaches synthetic hair to your natural hair with a crochet hook and voila! Your gorgeous bob style is complete.
Prefer cute and girly hairstyles? Then you'll absolutely love this one. Simple, short and straight blonde ombre bob got a playful note with a tiny braid that acts as a headpiece hair accessory.
We love the fact this hairstyle for straight short hair is casual and fancy at the same time. You can wear them when the home is getting things done or when attending some special event.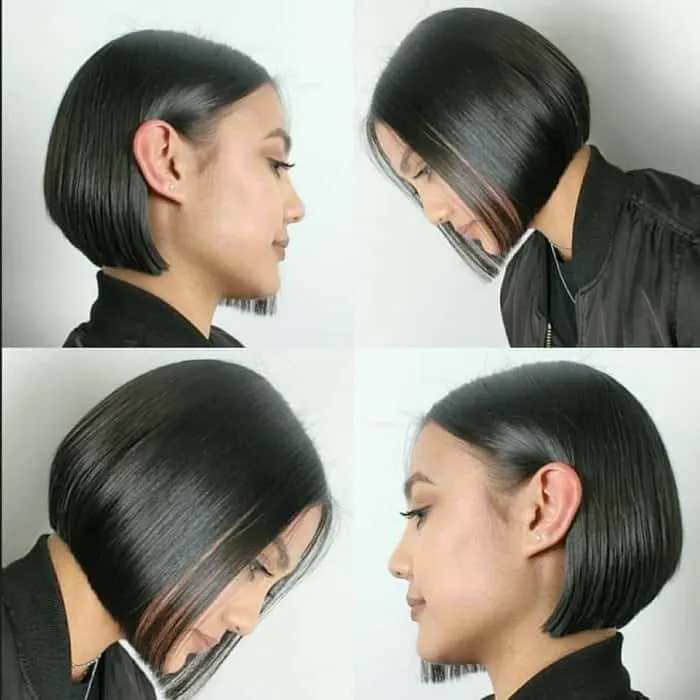 Simple and chic – sometimes we just want a minimalistic haircut that still oozes elegance and power. Is that too much to ask? Not at all! One of the easiest ways to style your hair is to get a short bob, without bangs. No need to use the iron curler, just use a nice brush or straightening iron to keep your hair straight and sophisticated.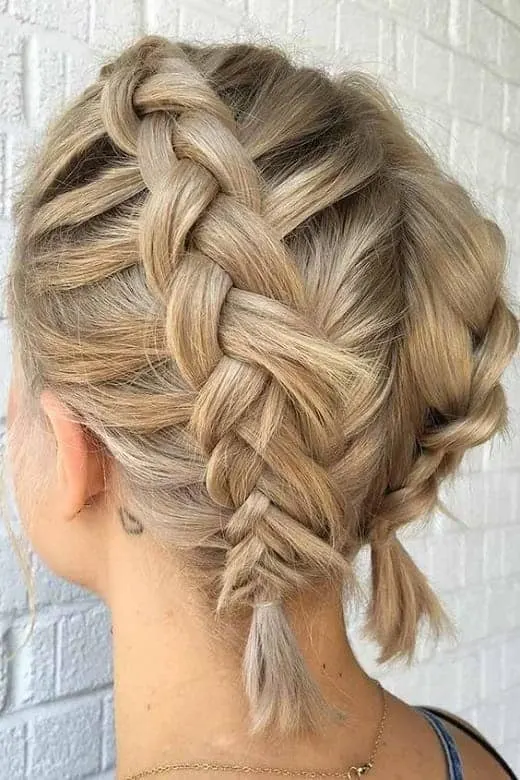 Braids are trendy right now, but women with short hair often think they can't jump on the bandwagon and rock this style. You can make braids even when your hair is short and straight. It will require some practice, but once after a while, you'll be able to create this hairstyle with ease. Practice makes perfect, remember.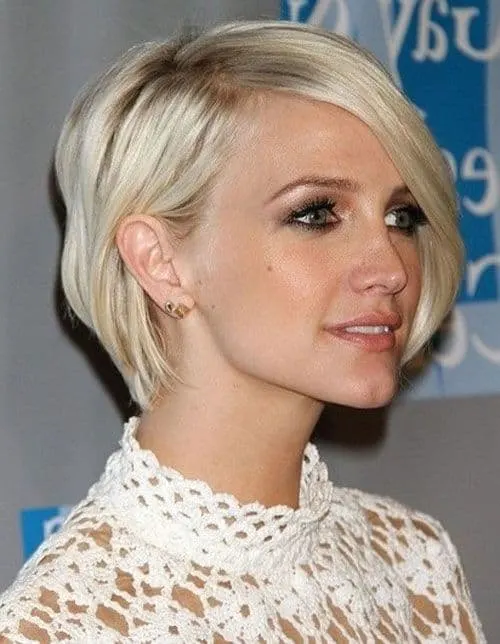 Girls with oval face are lucky because they can choose just about any short hairstyle for straight hair they want. This ice blonde bob is a super chic choice, but you can go for any other hair color.
After all, it all comes down to your personal likes and dislikes. The best effect is achieved when parting isn't straight in the middle, but when one side is "heavier" just like in the image.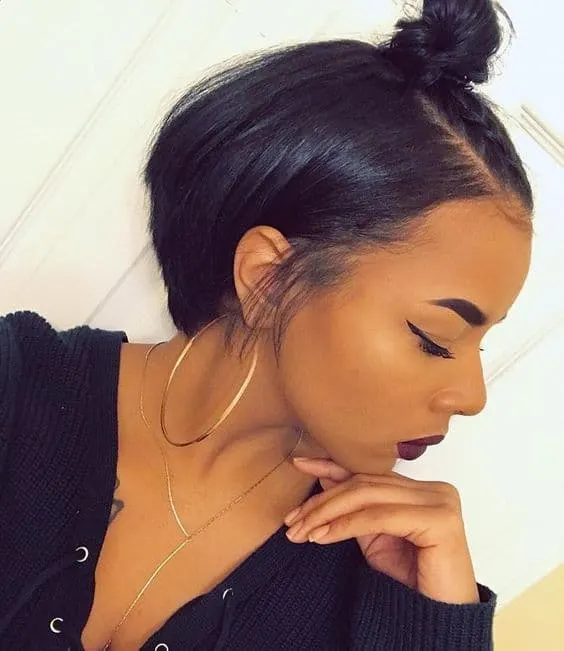 If you're aiming for a cute look, then you may want to consider creating a top knot. While girls with long hair usually do top knots nothing is stopping you from doing the same thing.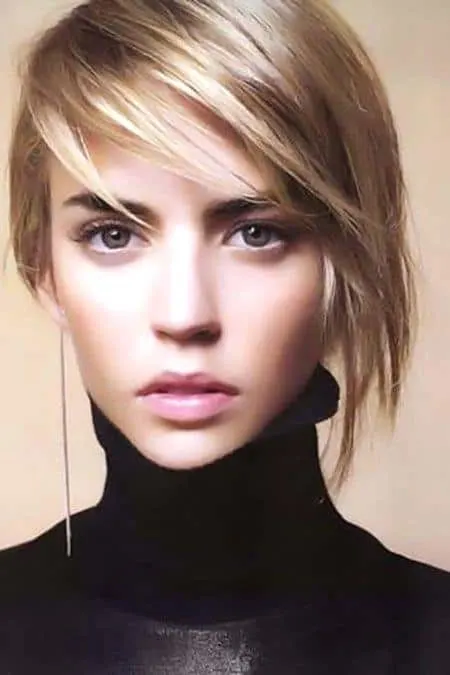 We spend way too much time trying to make everything symmetrical, yet asymmetry is beautiful. One way to rock short straight hairdo is to give an asymmetrical look a chance. There are no rules here; just follow your imagination. Sweep your bangs to the side, have some strands longer than others, no limits.
47. Feathered Bob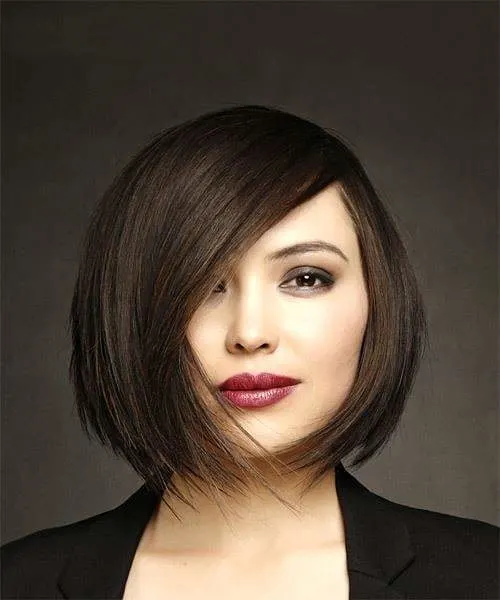 Feathered bob keeps your hair straight but adds more volume and fullness. Therefore, if you're looking for short haircut for straight hair that boosts the volume of your hair, this is the cut you need. To change things around a little bit comb most of your hair to one side for an asymmetrical appearance.
48. Choppy and Messy
When styled in the choppy way your hair appears chic and elegant, but in an effortless way. Let's be honest for a second, most of us want to achieve that look, to appear amazing even without trying. The choppy bob style is ideal for girls and women with short straight hair.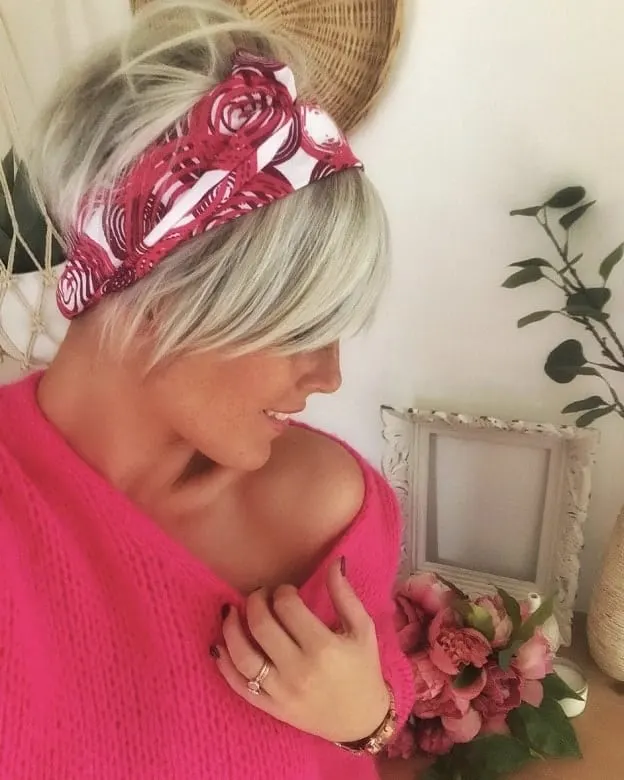 To bring more romance and drama to your short and straight hair it's practical to use headscarves, bandanas, headpieces, and other accessories which only emphasize the vibe we want to send. Not only are they cut, but these accessories are practical too.
50. Pins and Clips
To do something new with the straight short haircut, you can always try with bobby pins and clips which come in different shapes and sizes. They keep the hair away while looking cute and adorable. You can style them any way you'd like, including just lining them one next to another for a more dramatic effect.
Bright red or almost an orange hairstyle isn't something you should dismiss. In fact, one of the cutest short straight hairstyles is red hair with bangs that are parted in the middle. It gives you a chic look, but with an edge.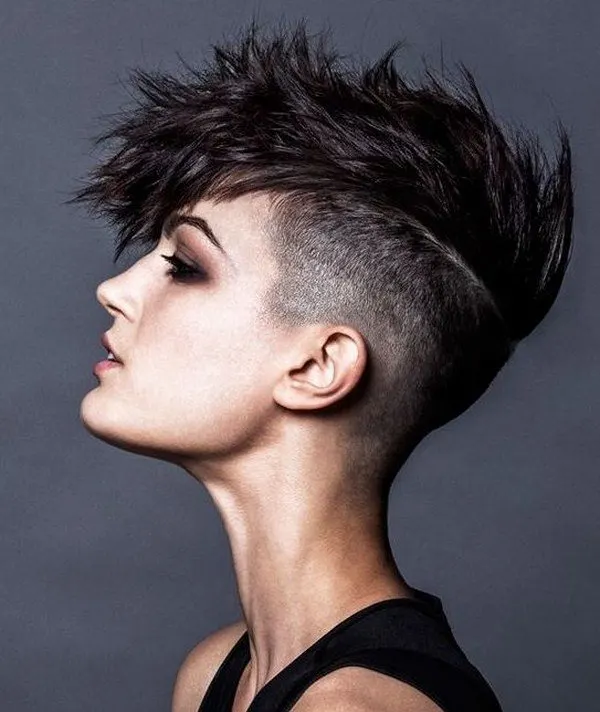 You're not into "conventional" styles and would love to try something new with your short hair? Then spiky Mohawk is the solution. Edgy, powerful, and confident – this hairstyle is suitable for bold girls who aren't afraid of experimenting with different looks.
When styling your short straight hair make sure you do not forget that sunglasses also serve as a great accessory. Wear them as you'd wear a headpiece for a cool girl look.
54. Ribbon in Hair
Girly girls will absolutely love this short hairdo for straight hair. Add more femininity and elegance to your hair with a simple ribbon that you'll play at a convenient place depending on the size of the ribbon of course.
55. French Braid Headband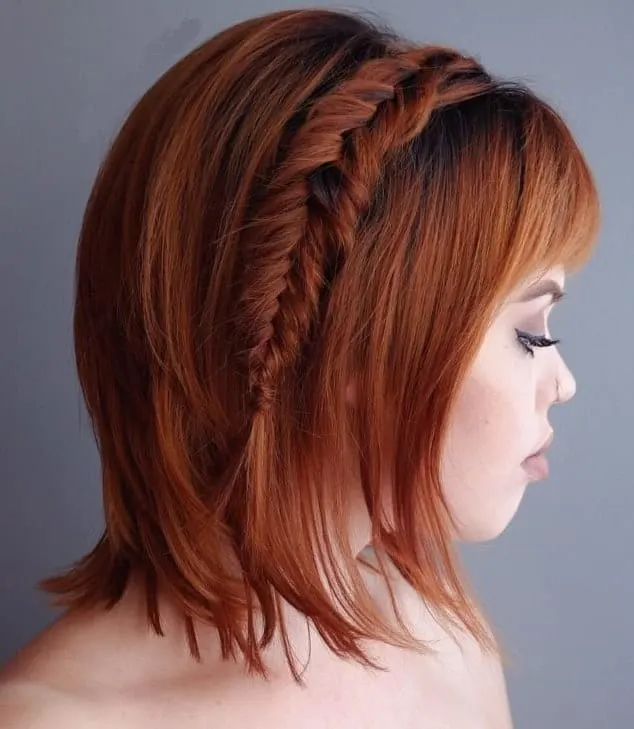 A simple braid can create a huge change which is why it's always a good choice. Create a braid in a way that it gently settles with the rest of your hair but also acts as a headpiece which adds your look a new dimension.
It's true that there are so many short straight hairstyles to choose from that will match your personality. Whether you're sleek and chic or utterly punk, you can flatter your straight style however you choose. Which look will be your next?