Platinum blonde can look cool when styled well. We love the glamorous look, especially in the shorter length.
The good news is, styling shorter hair is way less complicated than longer ones. If you are looking for beautiful short platinum blonde hairstyles, explore below.
Short Platinum Blonde Hairstyles
Here are some interesting and low maintenance platinum blonde short hairstyles. These styles can help bring out the platinum glow in your short hair.
This one is absolutely trending for short hair and especially with platinum blonde. It works in keeping the striking color palette intact and gives your face a cool, slick and attractive lift. It also helps highlight the natural wavy fall of your hair in a statement-making stylish way.
This asymmetric long layers on short platinum blonde hair is easy to maintain and looks cool. You will perhaps not believe it, but this needs very little care. But at the same time, it lends a gorgeous body to your hair and brings in an effortlessly classy look.
The beauty of the A-line bob on short platinum blonde hair is how beautifully the shades gradually move with the bob. It is a convenient and versatile style where you can also adopt a variety of hairdo depending on the situation. The icy steely shade of the platinum bob perfectly accentuates the A-line.
4. Blunt Straight
If you like your hair short and straight, this is one of the best options when you are looking for platinum blonde hairstyles.
50 Easy and Sassy Hairstyles for Women with Short Hair
5. Blunt Layered
Another classic for those with platinum blonde and short hair, it adds volume to your hair. It also offers you the versatility to wear your hair in a fashionable way. The more the layers you pack in, the better the impact.
This short platinum blonde bob style can totally transform your look. You can even add highlights to your platinum blonde for best results. The bangs also work at accentuating the platinum shade.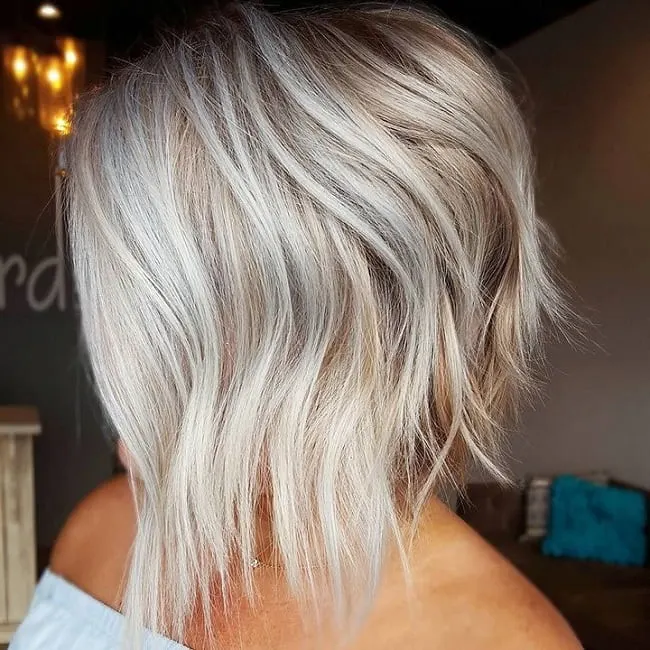 When you wear your hair short and you prefer the platinum blonde, there is nothing quite like the inverted layered bob. It is modern, chic and downright gorgeous. This is also something that stands out as prominently as the platinum color.
8. Pixie-Bob
It is naughty, understated and absolutely stunning. The platinum blonde color further accentuates the side swept bangs and brings out the best in you every time.
This is a rather modern take on the classic pixie. This trendy platinum blonde look with short hair dramatically lifts the crown and gives your face a much-needed volume.
It is hard to ignore a platinum blonde, but the pixie with an undercut can make your look even more striking and perhaps edgy at times. This trendy cut is very simple to maintain and does not need additional styling.
The name says it all. This is a trendy option when you like wearing your platinum blonde hair short. It highlights the hair's natural wavy fall and gives you a sexy sweet appeal.
How to Dye Short Hair Into Platinum Blonde
But first, it is essential to understand how to dye the short hair blonde and maintain the steely icy sheen. Platinum blonde is a high maintenance proposition. Hair serums, masks and, toning shampoos are an absolute necessity. You must remember that you need to completely remove existing tones of any color that you may have applied. The hair needs to bleach after this, and only then it is ready to take on the new shade.
For dramatic shades like Platinum, it is always better to visit the nearest salon instead of trying it at home. You may need a series of coloring mission to get the right shade.
The first step is invariably bleaching your hair completely
The bleach will help lighten the strands, and then you can take up the color better
You are then ready to choose the right shade. If you are doing at home, carefully read the instructions and apply accordingly.
But once you get the color, caring for platinum blonde can be exhausting
You need to follow a strict hair care routine for best effects
One of the biggest challenges after this is the need to adopt heat-free hairstyles. You need to make sure that the hairstyles you choose manage to offer definition, shape and, texture to your body. You will have to adopt steps to avoid frizz as much as possible for the best results.
Watch Following Tutorials for Dyeing Platinum Blonde Color on Your Short Hair at Home
Tips to Maintain Short Platinum Blonde Hair
Platinum blonde in general needs a regular care routine. Application of striking shades can help you stand out, but you need to work to keep the hair root strong. From the application of hair mask to hair serum, you have to maintain a proper schedule for best results. Therefore, if you like to wear your hair short.
Look for the style that does not need too much effort.
Go with the natural fall of your hair and highlight its accents.
Also, remember to opt for non-heat alternatives.
All of these will work towards keeping the natural moisture of your hair scalp intact. This is particularly important for this blonde shade. The icy sheen of the platinum blonde is best highlighted when the short hair is not frizzy and dry.