A chonmage is traditional Japanese hairstyle for men which dates back over 400 years. The style is widely associated with Samurai warriors and Sumo wrestlers. Men all over the world are now choosing to pay homage to these chonmage hairstyles by wearing their hair up in a high top knot.
Chonmage Hairstyles vs. the Man Bun
In Japanese culture, a chonmage hairstyle is carefully styled by a professional. The styling was very important because it helped to show a lot about the prowess and social status of the wearer. A man bun tends to be much scruffier than a traditional chonmage hairstyle. Most people who wear their hair in a man bun style will pull their hair up quickly and be ready to roll straight away!
Japanese Traditional Chonmage Hairstyle Options
Below are some of the most popular and trendy chonmage styles for men.
#1: Mohawk with Chonmage
Most of the hair has been shaven in the traditional style. The remaining hair is kept long and pulled up into the middle of the head in a Mohawk style. Pull all loose hair up into a Chonmage knot at the rear of the head to complete the style.
#2: Chonmage Ponytail
Chasing your Chonmage top knot with a super sleek ponytail is an ultra modern twist on the classic style. Use hair straightening irons to keep your ponytail looking perfect.
#3: Traditional Chonmage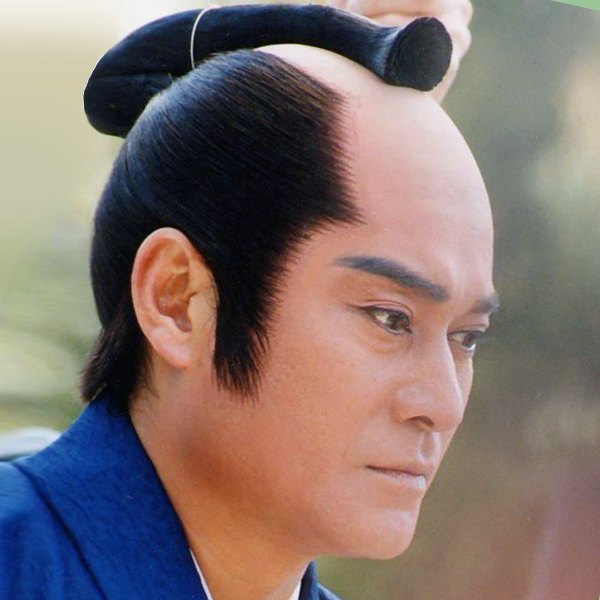 A traditional chonmage hairstyle will travel from the back of the head and run along the scalp towards the front of the head. Special measures are taken to enable the chonmage to fan out at the front.
#4: Hipster Knot
For a hipster version of the chonmage style, shave the sides of your head but leave the central part long. Shave your sideburns as well with your medium length trimmers. Finish the look off with a pair of cool shades.
#5: Half up, Half Down
Separate your hair into top and bottom sections. Pull the top section of your hair up into a scruffy man bun style or a short ponytail. Leave the rest of your hair down covering the nape of your neck.
Fantastic Faux Hawk Hairstyles
#6: Feathered Hair
If you have fine hair, you may find that you get a cool feathered look when you try to pull it up into a chonmage hairstyle. Encouraging your hair to feather out in different directions can make it look like your hair is much thicker.
#7: Chonmage Hairstyle with Beard
Traditionally, chonmage hairstyles would be worn with a clean shaven face. Many Western guys wear their chonmage hairstyle with a pointed beard to elongate their face in an aesthetically pleasing way.
#8: Super Sleek Style with Beard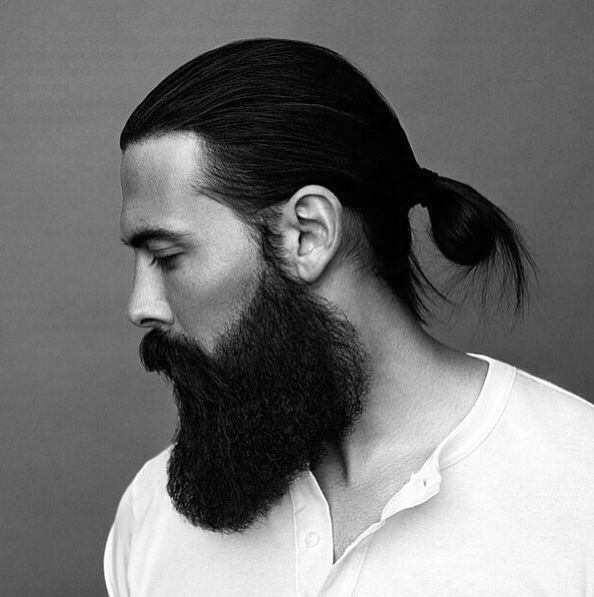 This super sleek chonmage style does not have a hair out of place. Keep the style free from tangles by regularly brushing your hair and straightening it with irons. Carefully trim your beard to complete the look.
#9: Chonmage with Lines
Create a clear separation between the top and bottom sections of your hair by adding tramlines to your style. Use a razor to carefully score strong lines into your hair. This type of styling looks brilliant with a big beard.
#10: Voluminous Top Knot
Back combing your hair can help to add more volume to your style. Give your hair volume and then pull it back into a man bun knot that is high up on your head.
#11: Twisted Top Knot with Zappa Mustache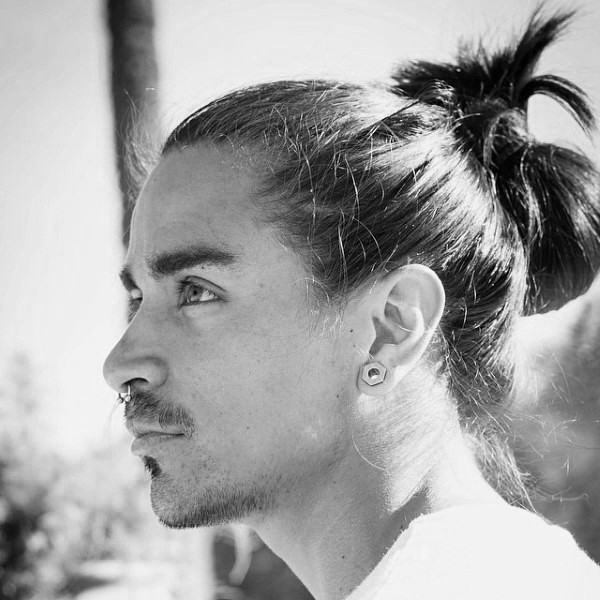 Pull your hair back up into a topknot but twist it around as you do this. Secure it into place with a hair elastic. Team the style up with a Zappa mustache and facial piercings if you want to.
#12: High Topknot with Beard and Mustache

Counterpoint a stylish topknot hairstyle with a big bushy beard. Give your look even more character by styling your facial hair with a large mustache. This is the ultimate hipster look.
#13: Intense Color

A topknot looks great when it is created using dark colored hair. Monochrome looks are very intense. A thick but well-groomed beard will also help to add to the intensity of the style.
#14: Sports Stars

Chonmage-style top knots are a favorite amongst sports stars because the knot helps to pull the hair out of their eyes. It is a really practical choice for those who need to remove all distractions whilst they are playing sports.
#15: Chonmage and Man Braids

Divide your hair up into three sections and style each section individually. Braid the two outside sections of hair so that you have a man braid down either side of your hairstyle. Pull the central portion up into a chonmage topknot.
#16: Fluffy Hair

If your hair is naturally fluffy, don't try to force it into a sleek bun without straightening. You can embrace your style instead of leaving your hair loose and allowing it to ripple a little.
#17: Chonmage with Petite Goatee

Although traditional Japanese chonmage styles were worn with a clean-shaven face, modern Japanese men have started to wear their hairstyles with a petite goatee. This type of goatee is easy to grow and helps to elongate the face to give more intensity to the style.
#18: Reverse Style

Straighten your hair to give the perfect sleek look and then pull the hair up into a high ponytail. Use another hair elastic to force the hair smoothly backwards onto itself. Secure the rest of the hair so that it sits neatly on the top of the head.
#19: Groomed Chonmage with Unkempt Beard

Juxtapose classically styled chonmage hair with a big bushy unkempt beard. Mixing and matching styles like this is a great way to show off different aspects of your personality.
#20: Samurai Style

Be traditional with your chonmage hairstyle and wear your hair like an Edo warrior. The top of the head should be kept completely clean-shaven so that most of the hair for the top knot comes from the side portions.
Are You a Teenage Guy? Try these
#21: Chonmage with Undercut

Trim the side portions of your hair so that they are much shorter than the strands at the top of your hairstyle. Leave the top section long so that you are able to pull it up into a man bun when you want to wear it up.
#22: Warrior Chic

It was important for warriors to keep their style under complete control. The top knot fastening should be as tight as possible and then the hair should be fanned out properly.
#23: Emo Style
For an emo take on chonmage hairstyles for men, you need to cut a lot of choppy layering into your hair. Include a sweeping fringe which falls across one side of your face. Pull the top section of your hairstyle up into a high chonmage ponytail.
#24: Sumo Stylings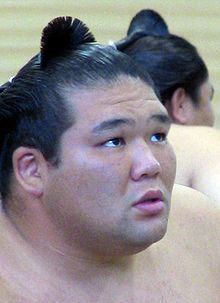 Chonmage hairstyles are important for Sumo wrestlers. In fact, many sumo stars will cut off their chonmage as a symbolic act when they eventually retire from the sport.
#25:High Style

In order to give your chonmage hairstyles more height, you should wrap multiple bindings around your top knot. This helps to give the style both strength and height.
Chonmage hairstyles are perfect for expressing your individuality. There are a lot of different ideas to try out, regardless of whether you want a perfectly groomed traditional style or whether you would prefer to try out a messy man bun instead. For inspiration about other hairstyles for men, check out some of the best lists on Hairstyle Camp.