Black girls with blonde hair have more fun. Contrary to some public opinion, black ladies and women of all shapes and sizes can wear blonde hair. From the darkest skinned to the lightest skinned black woman, there's a blonde shade out there that would rock.
Since most black ladies have naturally dark hair, there might be some concerns about going blonde and damaging your hair. But to rock most of these styles, you don't need to dye your hair blonde. Thankfully, there are weaves and wigs in nearly every hair texture so you can always find one that suits you.
But if you decide to take the plunge by dying your hair or your weave, we'd first recommend having it done by a professional. Otherwise, there are lots of tutorials you can watch on getting different shades of blonde.
Lovely Blonde Hair Ideas for Black Girls
If you still think blonde black girls don't bode well, let's show you otherwise with these images of blonde hairstyles for black girls.
1. Brown, Shiny Two-Toned Blonde
There's a blonde shade for every black girl, like this brown-blonde two-toned shade. This particular style can act as a safety net for ladies who are worried about taking the full plunge and going totally blonde.
But if you choose to rock this without the brown bits, you would totally kill it. In this case, a lace front was used to ensure total evenness in all parts of the hair, so if you are worried about dying your hair blonde, there's no need to fret because you don't have to.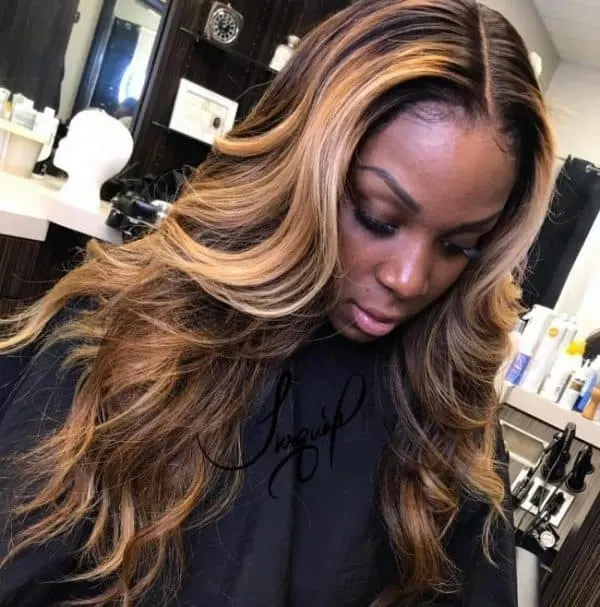 The balayage is quite similar to the ombre, but rather than dying only the lower parts a lighter color, the balayage includes tiny strands of hair from different lengths to create some dimension and body.
From afar it looks quite like an ombre hair but up close it is different from the conventional. This black girl's blonde hairstyle can also be achieved using a lace front that can be made into a wig for your own convenience.
This blonde beauty was achieved by playing with highlights. The blonde parts are one and two shades lighter than the brown parts, giving it a soft waterfall appearance. This is suitable for the ladies who want the blonde look without having it appear too loud.
Under certain lights, this might appear brown or blonde. And it's suitable for women who generally like to play it safe or work in situations where their choice of hair has to be kept modest. This blonde black girl look does all that without undermining your beauty.
Not all aspiring black girls want to try long blonde hair, and we get that. For the sisters who prefer teeny weeny afros, shaven cuts and other hairstyles on the low side, this clipper-styled short blonde haircut is both edgy and charming.
Of course, you can try this out with darker shades; it all boils down to what you like and what suits your face.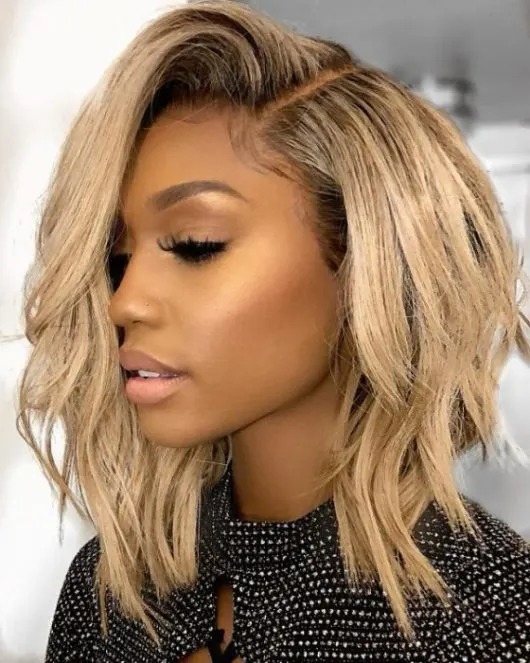 The long angled bob cut from the 90s has been making its way back onto our heads with a more stylish flair this time. The combination of the waves, the length, and degree to which this hair is angled plays nicely on the face.
If you're a black girl with blonde hair and a chubby face trying to make your face appear slimmer, this blonde bob hairstyle creates sharp angles on the face and hides away some features, making your face appear slimmer.
In order to maintain this look, you would need a good knowledge of how flat and curling irons work, in order to be able to maintain this look every day.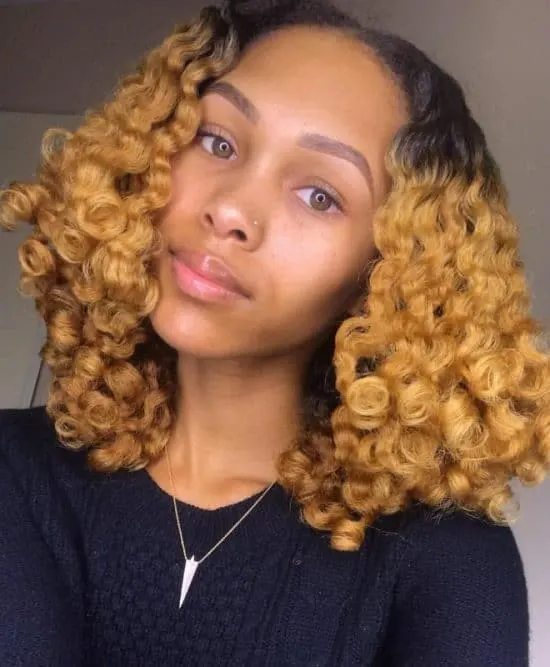 The honey/ golden blonde shade is often the safest yet vibrant go-to blonde hairdo for black girls of all shades. And this middle part curly hair can be achieved on your natural hair without as much damage as one that could be gotten from going platinum blonde.
These curls are also doable on natural hair and may not require a lace front/closure. A simple flexirod set, braid outs or bantu knot outs can create these same curls. But for ladies without natural hair, a curly weave should do the trick.
7. Bob Box Braids
Box braids are ideal to achieve a temporary hair makeover. Plait the hair while incorporating light blonde extensions reaching the jawline causing the braids to bend around the face naturally giving a short bob-like appeal. Finish off by dying the eyebrows to match the hair.
8. Retro Pixie Cut
Here is another lovely blonde hair idea perfect for black girls who love vintage-inspired hairstyles. Chop the hair into a pixie cut with shorter sides and a longer side-swept top. The hair is dyed in a warm golden blonde shade with finger waves topping off this retro look.
9. Platinum Blonde Mane
Black girls can enjoy a monochromatic moment by dying the long mane in a shiny platinum blonde shade. Straighten the hair with a middle parting and tame the flyaways with pomade to achieve a simple sleek look that won't be ignored.
10. Blonde Dreadlocks
Go for bold dreadlocks this season but instead of dreading the naturally dark tresses dye them in a soft honey blonde hue adding a subtle gleam to the face. Side-tousle the locks with the curly ends falling on the shoulders.
11. Short Lob
A short lob dangling above the shoulders looks effortlessly chic. Go for a straight cut with jaw-length bangs swept on one side and dye the hair in the lightest tone of blonde. This style is low-maintenance as the emerging roots add up to the look.
12. Senegalese Twists
Stare at this hairstyle for a few moments and you will surely get hypnotized. African-American girls can recreate it by dividing the long hair into hexagonal sections and twisting it to the ends while adding blond extensions in any tone you like.
13. Pop of Colors
Bored of your platinum blonde mane? Don't worry as this is the look to go for. Take two chunks of hair at the front and add pink, yellow, coral, green, and blue hues along the length to peek through the remaining hair. These colors fade out beautifully too.
14. Dazzling Afro Curls
Afro young ladies can flaunt their fluffy afro with utmost confidence by choosing the lightest shade of ash blonde to stand against their beautiful dark skin. Match the eyebrows and eyelashes with the hair for a punk look requiring a touch-up every few weeks.
15. Honey Blonde Kinky Coils
Black girls can give their natural kinky coils a fresh makeover with this blonde hair look. Dye the curls in a warm honey blonde tinge and wear them with a simple center part for a carefree appeal.
16. Vibrant Money Pieces
Turn around some heads with this two-toned look. The hair is colored in an icy blonde shade with vivid yellow money pieces framing the face at the front. Straighten the hair for a chic and sleek hairstyle.
17. Short and Sassy
This look is ideal for the lazy black girls who want to spend little time styling their hair. Go for a short boy cut with a textured top and dye it in a beige blonde tone. A hand-tousle is enough to style this simple look on a day-to-day basis.
18. Top Knot Ponytail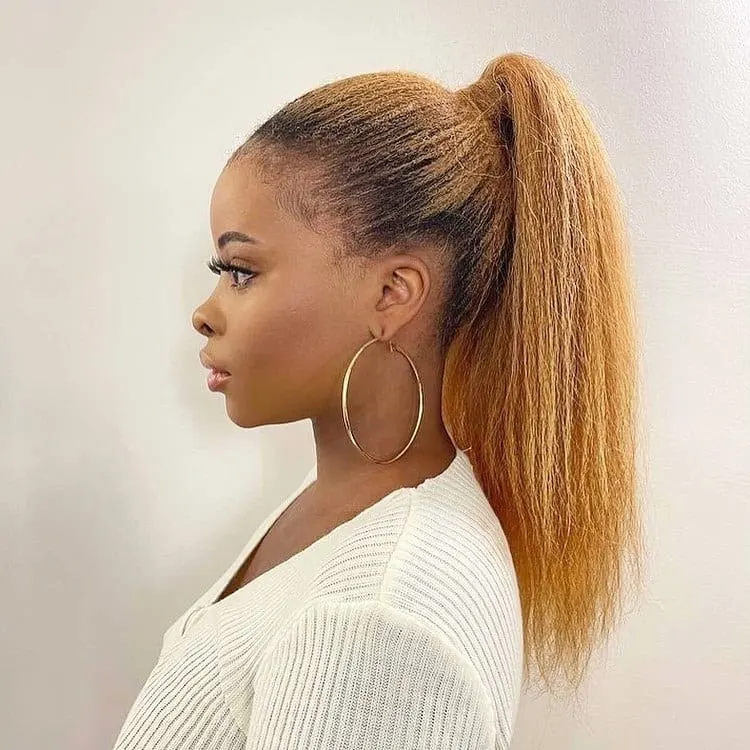 This high ponytail is the simplest and chicest blonde hairstyle of all. Slick back the caramel hair and secure it with a hair tie while wrapping a chunky strand around it to achieve the top knot look. The surfacing dark roots result in a two-toned appeal.
There's this myth that only fairer black girls can wear this shade of blonde, but that's all it is—a myth. This platinum blonde, despite being nearly too light, looks great on very dark skin tone.
It could be the beautiful contrast of light against dark, but we do know that it looks great and you should certainly try it. This was also achieved using a lace frontal with no defined parts.
Oh, look! It's a carefree black girl with blonde hair, wearing it confidently like she owns the world. This long curly blonde hair weave is perfect for summer when you can let your hair loose while having fun under the sun. Once again, you don't have to risk hair damage by dying your hair this color, just make use of some weaves.
For this, a lace closure was used but you could opt for a lace frontal or a 360-degree lace frontal if you want to be able to pack it up into a bun or ponytail when the weather gets blazing.
If you'd rather not use a weave and don't mind taking the risk of going a very light shade of blonde, then that's fine. Life is too short to have boring hair anyway. This blonde natural hair is an edgy and eccentric look which any aspiring blonde haired black girl can try.
In order to prevent damage, make sure to deep condition your hair before dying it. You'd also need to do a protein treatment to maintain the strength of your hair. Also, stack up on all things/products that moisturize your hair.
Blonde looks great on short black hair too like this tapered cut with bangs. This soft brownish shade accentuates well with the brown skin color, making it appear nude-ish. If you love soft and understated looks that still flatter your features, you should try this for your next blonde ambition.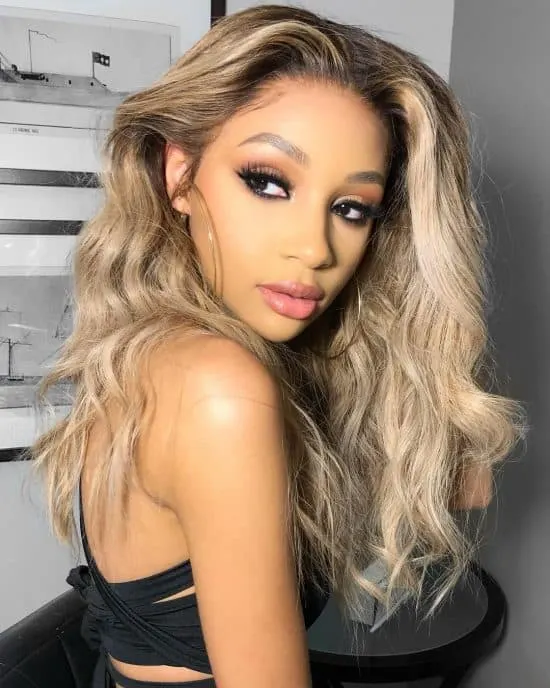 This black girl's blonde hair with brown roots gives the illusion of a natural blonde. To get this long and natural-looking blonde hair, you need to use a lace frontal. Lace frontals make the hairline appear to be growing out of your scalp.
It's also usually free of parts, although some come with parts. The advantage of having no parts is that they can be styled like this and parted any which way you want on any given day/occasion.
FAQs on Black Girls with Blonde Hairstyles
Which blonde shade is suitable for black girls?
Golden blonde, rich blonde, grey-blonde are suitable for black girls. Pink and platinum blonde also looks good on black girls.
Which natural hair shade highlights the blonde best?
Shades between light brown to darkest brown highlights the blonde best.
How long does it take to fade hair color?
It takes 4-6 weeks for the blonde or any hair color to fade if you use permanent hair dye.
Now, you've seen that blonde hair also suits well on black girls. It doesn't matter what is your skin color is, if you can carry, any black girls with blonde hairstyles will look amazing!