Black girls with red hair are just what the doctor ordered for a lack-of-glamour cure. It's a glamorous look that can be worn by different shades of black women.
Black women can wear any hair color and red is up there with other colors like black and brown. Although some shades might appear garish on certain skin tones, the thing about color jobs is that there are many shades, whether lighter or darker for every skin tone.
So there are no such things as black women cannot wear this or that color. Anyone who says that just hasn't found the right shade for their skin tone.
Speaking of shades, there's a tendency to go darker like auburn or burgundy in order to play it safe. Although that's wise considering those shades go well with every black skin tone, there's no need to feel guilty if you want to go lighter and wear actual red.
From this list, you'll find that you can wear red and not look like something out of a horror movie.
How to Dye Black Hair to Red
There are ways to get red hair for black women. Below, some of the ways are discussed:
Blonde Dye Plus Red Dye
If you don't want to bleach your hair, a similar alternative is to dye your hair platinum blonde. This would at least, lift the color of your hair to a very light brown. Follow up by dying this hair red to achieve the color you want.
The downside to doing this is that the outcome isn't always expected. The color might also be uneven and without a toner or professional help, you may not be able to nail that uniform redhead look.
Use A Direct Dye
To go bright red without bleaching your hair, you could opt for direct dyes. These are semi-permanent dyes that do not penetrate the hair shaft as permanent dyes do. So there's no risk of damage since the colors only stain the surface of your hair.
Henna
Henna is an old fool-proof method of getting red hair for black girls, more like the ginger type. You only need to buy pure henna, that is, 100% henna powder with no added ingredients. Be sure to check the pack of the henna to verify because some companies are known to add other ingredients to their henna powder even though the label says it's a henna powder.
Henna is an old fool-proof method of getting a black girl with red hair look, more like the ginger type. You only need to buy pure henna, that is, 100% henna powder with no added ingredients.
Be sure to check the pack of the henna to verify because some companies are known to add other ingredients to their henna powder even though the label says it's a henna powder.
Mix your henna with warm water in a plastic bowl. You could also substitute water with vinegar or lemon juice
Mix until it forms a thick paste
Cover with cling film. Make sure it's airtight.
Keep it in a dark corner for at least 12 hours before it's ready for use.
After 12 hours, it's bound to have lost some moisture so re-add some of the previously added liquid to make it become a thick paste again. do this slowly to avoid adding too much moisture
Wear an old T-shirt and line the edges of your head with oil or petroleum jelly to keep the color at bay and avoid stains
After applying it thoroughly, cover with a shower cap or plastic bag. keep it as warm as possible and let it sit for 4-6 hours
Rinse it out and condition it. Although conditioning it is optional, avoid using a harsh sulfate shampoo so you don't dry out your hair
Once dry, style as desired
This works best on lighter hair shades like light brown or blonde for black girls.
The conventional way to get your hair red is to bleach it first to its lightest shade before proceeding with a red hair dye. When done professionally, this makes your whole hair even, so you don't end up with some red parts, some blonde parts, and orange parts instead of full red hair.
Wig It
It's the year 2021 A.D and you don't have to color your hair if you don't want to because there are lots of extensions like sew-in weaves on the market in a wide array of colors.
Red Hair Color Ideas for Black Women
Every shade of color may not be suitable for every skin tone. So, it's important to choose the right hair color according to the skin. Here, we've collected some best shades of red hair that are perfectly suitable for black girls.
1. Deep Wine Fringe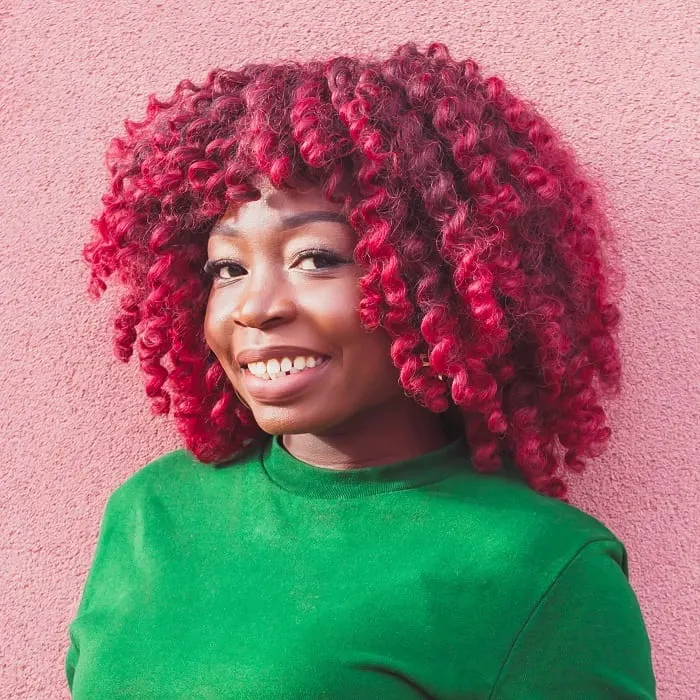 There is something so striking about the dimension in this wine-colored style. Cool red hair with bangs for Black girl is ideal to contrast golden skin tones, especially as some of these highlights are a bold ruby color. It looks amazing on curly fringes and on styles without bangs, too.
2. Fuchsia Ombre
Incorporate multiple fuchsia colors for a unique red ombre for Black girl. It not only makes your hair more interesting than with basic, all-over color, but dark, naturally-colored roots has a familiar effect on this hairstyle.
3. Chocolate Red
Think sensual, chocolate-covered cherries when envisioning this dark red hair for Black girl. Don't think you have to go bright to incorporate this trend. This beautiful hue pairs well with warm skin tones with golden notes.
4. Natural Orange Hair
Give your natural locks some flair with orange red hair! This color is close to lightened rust. A grounded, neutral color is a must so that hair doesn't feel like cartoonish. Add lightened wisps to the scalp along the hairline to brighten your beautiful face.
5. Ruby Red
A deep, true maroon with strong ruby undertones is ideal as medium red hair for a Black girl. Try it if your skin has yellow undertones for the perfect contrast. Whether your hair is curly or straight, this look will definitely do.
6. Poppy Red Space Buns
Amp up your medium-length fine dreadlocks by dying the hair in a vivid poppy red hue before dreading it. Style the locks in two high space buns to recreate the look exactly. This style is low-maintenance and ideal for laid-back black ladies.
7. Bold Undercut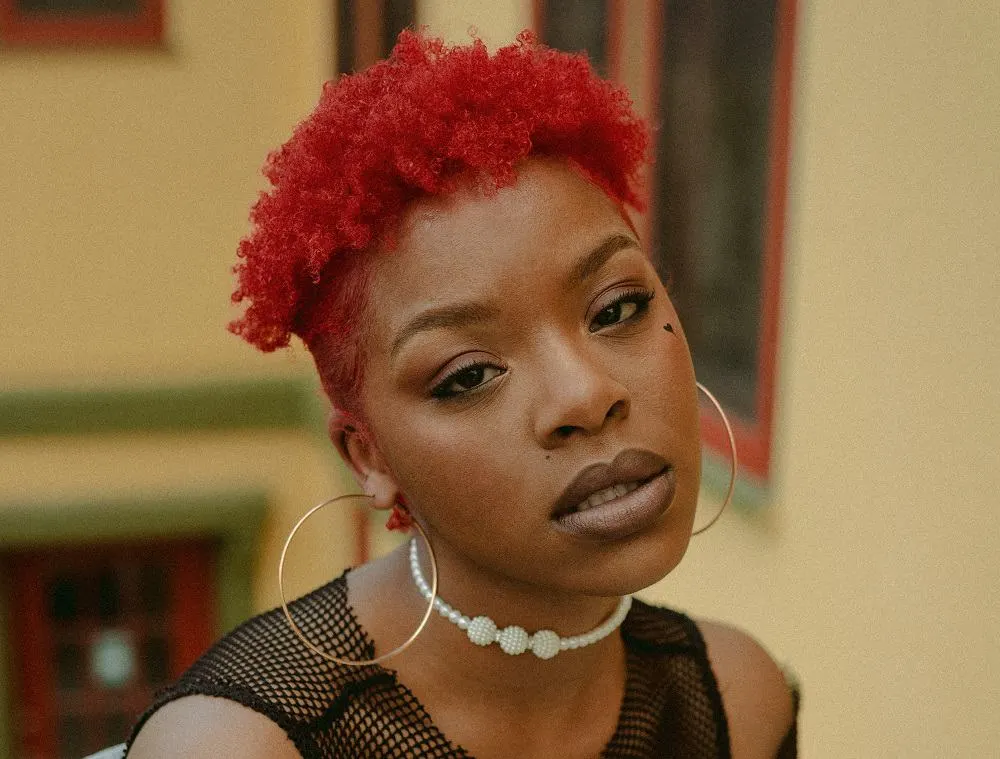 Black girls can show their wilder side by opting for this bold undercut look. The natural micro coils are colored in a rusty red shade while the sides are tapered finely creating a curly box top. Finger-tousle the top and the look is done.
8. Deep Coral Red Hair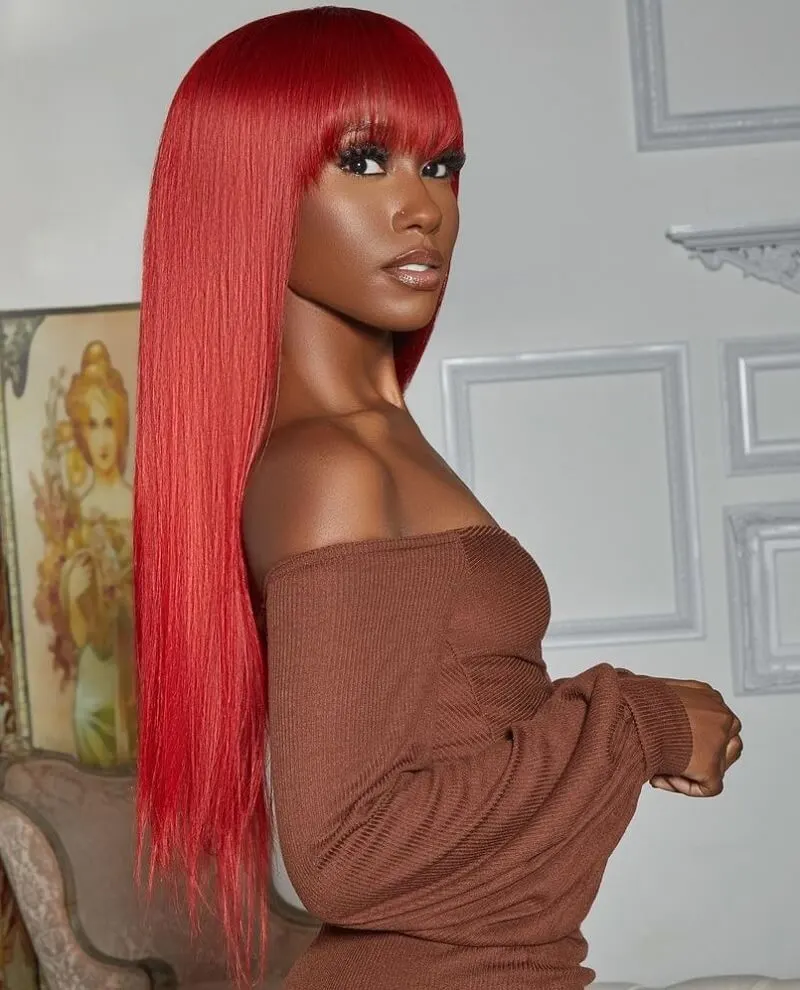 Young ladies can spice up their look by dying their hair in a deep coral red hue. Straighten the long mane while rocking eyebrow-grazing bangs at the front. This monochromatic look will surely turn around many heads.
9. Ombre Look
Black girls and red hair color combo looks fierce. Flaunt this combination by keeping the top dark and melting it down into a red hue midway to the ends creating an ombre effect. Top off by styling the curls in a puffy drawstring ponytail.
10. Mahogany Red Afro
Flaunt those curly coils effortlessly by wearing them as a layered afro hairstyle framing the face. Amp up the look by painting the kinky afro in a deep mahogany red hair shade. A hand-tousle is enough to style the curls.
11. Fiery Red Ponytail
Get noticed from a distance with these bright fiery orange-red strands. Style the hair in a sleek high ponytail with a side parting. Remember to condition the hair well as this look involves rigorous bleaching and is high-maintenance too.
12. Wild Box Braids
Here is yet another red hairstyle for black girls to take things up a notch. Use curly cherry red hair extensions to create box braids. Pull out some strands loose from the braids for a contrasting hair look. Top off the style with hair cuffs.
This red hairstyle is for the bold and daring black women who prefers to keep her hair short. This is ideal for relaxed hair. Straight red extensions can also be used if you want it longer than your hair is.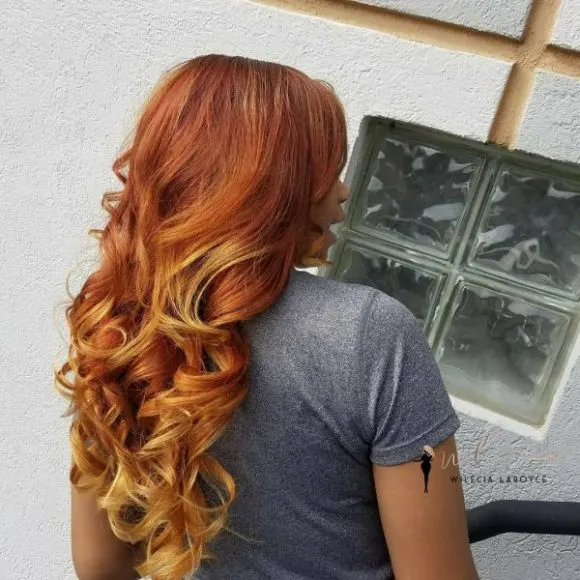 The ginger red is the closest to a natural-looking red you'll ever get and these golden blonde highlights on the tips add the right dimension and give it a lot more body. This black girl with red hair look is also somewhat achievable with henna if your hair is lighter, like a light brown.
The combination of this straight bob with red hair for black women is the recipe for a chic and suave look. Lobs are still in vogue and do not look like they will be going out of fashion any time soon, So, you have ample time to jump on the bandwagon with a red dye in hand.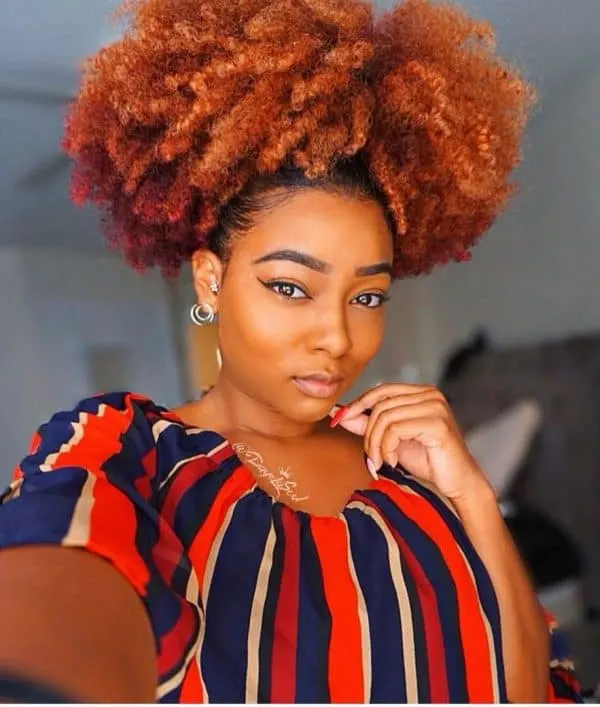 Red hair can be worn on natural hair. And as you can see from the image above, it looks good, breathtaking even. The play on both red and ginger red makes these afro puffs even more exciting. To prevent breakage from coloring, regular protein treatments and deep conditioning should be done on your hair.
This curly side-swept hairstyle will never be glamourless, not even when sported with a bright red hue. Since styles like this are usually styled with weaves and lace fronts, opt for a pre-colored weave.
Or if you are looking to get a custom color, buy a light blonde weave and take it to your colorist. It's easier to dye blonde hair red than dark hair because the latter often requires bleaching and that might ruin your weave and make it frizzy.
Red kanekalon braiding hair for Fulani braids? Yes, please! Your braids don't always have to be black, brown, or *insert other natural hair colors*. Have fun with, auburn red! It is a classic black women with red hair look that are trending.
Revamp your teeny weeny afro by going bright red. This color and buzz cut are just the perfect summer red hairstyles for girls you never knew you needed.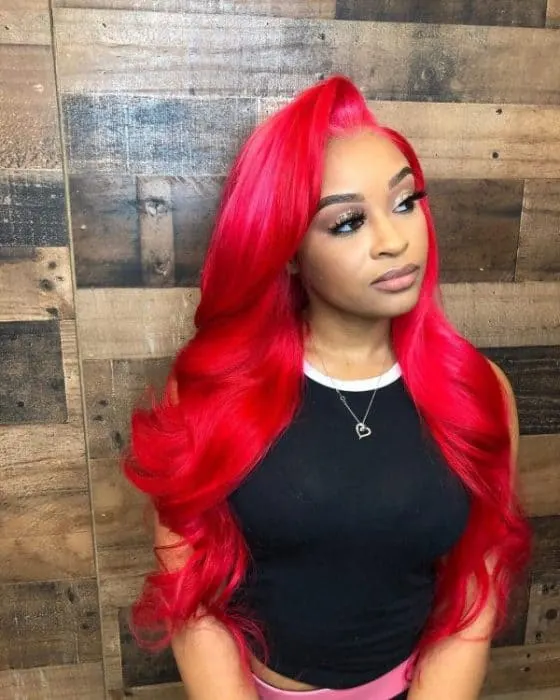 If you head out into the streets with hair like this, don't be surprised if people ask if you use a fork to comb your hair and sold your voice to an underwater witch so you could walk on land. Cause this black girl with red hair definitely gives Ariel vibe!
Black women often opt to go the usual route with loose hair but you can definitely do it with colored dreadlocks and get an amazing result like this. Honestly, redheads, or should we say, red locs do it better.
22. Soft Red Side Swept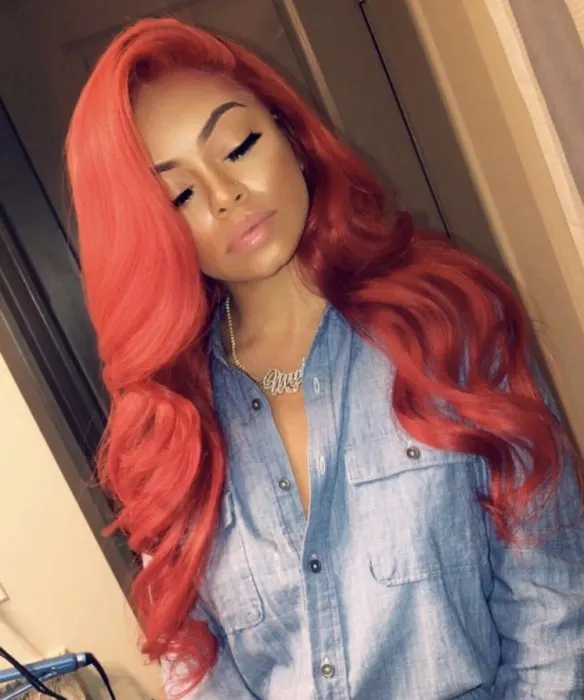 This black girl's red hairstyle also gives us Ariel vibes except it's a softer red, almost auburn. But like we said earlier, there's a shade for everyone, and this soft red would look good on just about any skin tone.
There's no limit to the styles you can do when you know any color can work for you. This red hair, the braids with beads, and the retro glasses are giving us the vibe of a confident black lady. Be confident, don't shy from wearing red hair.
Why follow the pack when you can lead it? This reverse ombre is different from what we are used to and certainly unexpected. If you're bold for it, go for it. However, if you work in places where your hairstyle needs to look professional, you might have to pass this up. But you can also get this as a wig if you want it so bad.
Frizz might get a bad rap in the natural hair community, but we all know it adds lots of volume to our hair. and who doesn't like good volume? Instead of a straight red hair for black women, try this frizzy mane to add some drama to your look.
Now that's a black girl with red hair. It's sleek, luxurious, cool and chic without seeming too 'loud' even though it's a bright red.
These side part curls are cute and sweet yet sultry and ravishing, making it a versatile red hairdo for any black women.
FAQs
What hair color is best for black girls?
Copper, Auburn, brown, and black are best for black girls.
Which red shades look great on dark skin tone?
Auburn hair color looks great on dark skin tones.
Red or Auburn which looks better?
Auburn red hair color is suitable on almost every skin tone but red hair color looks good on light skin.
Now you've seen that dark skin tone women look gorgeous with the red hair color. So, go for it & be the black girls with red hair look and style with charismatic bright hair color!