Highlights are a very versatile way to upgrade a hairdo, so we wanted to share 10 chic ways to do blonde highlights on short hair. Each style is better than the one before. Short hair is the new trend on the horizon, so we can't wait to see what you choose.
How to Style Short Hair with Highlights & Lowlights
Following are the steps you need to follow if you want to try highlights or lowlights on your short hair.
In order to highlight your hair at home, you will need a bleaching product. Get the bleach and read the instructions very carefully. Protect the room and your clothes with old towels. Use gloves on your hands. Divide the hair into at least 6 sections and put each one up with clips. Release the one you'll be working on and start getting very thin strands of hair.
Place an aluminum foil below the strand and apply the bleach in a thin layer. Avoid covering the roots with it. Wrap the foil around the section of hair. Do these with all the sections. The smaller the highlights, the more natural look you'll achieve. Wait for some time according to the instructions. Remove the foil and you can now wash your hair.
For the lowlights, you are going a shade darker compared to your natural one. Choose a hue that is only one or two shades darker than yours. It should be a subtle look, where you can even mix a few different tones. Wash your hair days before you color it, don't do it on the same day. Prepare the dye according to the instructions and separate the hair in several sections. Cover your clothes with a towel. Put on the gloves and start working on the first section.
Cover all the strands of hair you're planning on low lighting with the hair dye, just don't apply it on the roots. If you are planning on using different colors, do the first one and wrap all the strands with foil. Do the same thing with the second color. Wait according to the instructions, then take off the foil. Wash your hair.
Watch The Following Video To Know How to Do Blonde Highlights on Short Hair
Best Blonde Highlights on Short Hair
Short blonde highlights are popular for a long time. We've shortlisted 15 trendiest blonde highlighted short hairstyles ideas for women that they can try without any hesitation.
A pixie cut will take away 10 years off your face. Do it with or without the fringe, but don't forget to add blonde highlights on your short hair.
Ideal for: This is a hairdo that works best for women who already have brown, bright red, or short blonde hair. Blonde highlights are not the best choice for black hair dyes.
How to Style: The short layered cut itself will deliver loads of volume. Your only decision is whether you should opt for a fringe or not. Use styling products that will protect the highlights and keep the hair color fresh.
There isn't a single fashionable person out there who hasn't worked the scrunchie trend. You can add it to your half-up short bob with blonde highlights.
Ideal for: If you are in love with blonde hair colors, you can really take things up a notch and get highlights that are platinum blonde. This will be really flattering during summer.
How to Style: Put half your hair up and tie it with a scrunchie. It is all done in one minute. You can opt for a straight or wavy look. Even curls will do the job. The only advice you need is that messy looks are very on trend at the moment.
3. Twists and Braids
Let those blonde highlights on short hair shine through with a boho mane such as this one. It's so basic that you can do it yourself in less than five minutes.
Ideal for: Great for a bob or a lob mane.
How to Style: Start by dividing the top part of the hair. Get two strands and braid them into regular braids. Combine them with the rest of the hair, tying everything with a hair tie. Do a fun knot to finish off.
Headbands can save the day when your hair is not looking good. Just put one on and you will be ready to go out. There are no bad hair days when you own a fashionable headpiece.
Ideal for: It's perfect for short haircuts because you can try it on in several different ways.
How to Style: Put all your hair back with the headband, or leave some messy strands in the front.
Short blonde highlights have never looked better. This is a style called babylights, where the highlights are very subtle. The hair looks as if it was sun-kissed. If you prefer to keep it simple, you will be obsessed with lowlights.
Ideal for: Great for all the gals who want a much more subtle highlight as a part of their hairdo.
How to Style: Rock it straight, wavy, curly, up, or down.
6. Messy Wavy Bob with Highlights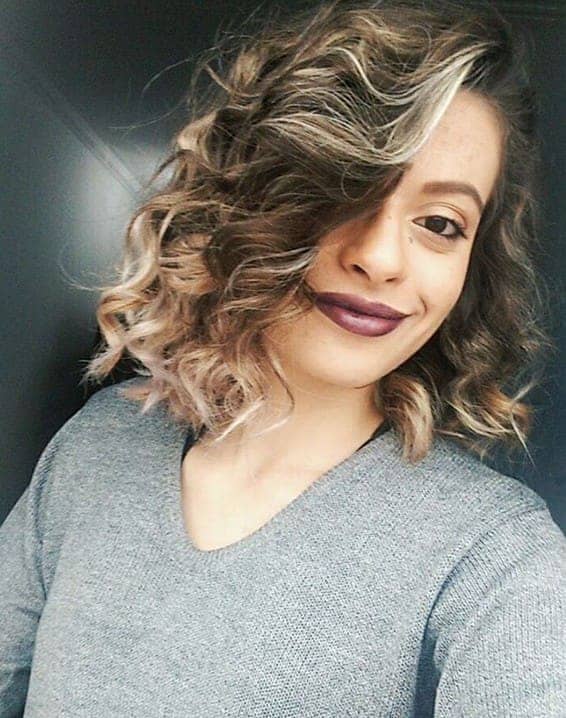 The short hairstyle with blonde highlights of the year is officially this one! Adored by hairstylists, the highlighted messy bob can now be a part of your look.
Ideal for: Everyone who wants a short crop can try this do.
How to Style: Use a curling wand to get the cool waves.
Yes, redheads can also get blonde highlights for short hair. The basic color should definitely be in a lighter red tone.
Ideal for: Ladies who already have or are planning to get a bright red hair dye can work this hairstyle.
How to Style: Cute curls will definitely score you and eye-catching mane.
Adding a side braid from time to time is the best thing you can do for your short bob.
Ideal for: This short blonde highlights style is a fun mane that is great for a night out.
How to Style: Start the braid from the part and work your way to the ear.
9. Chunky Short Blonde Highlights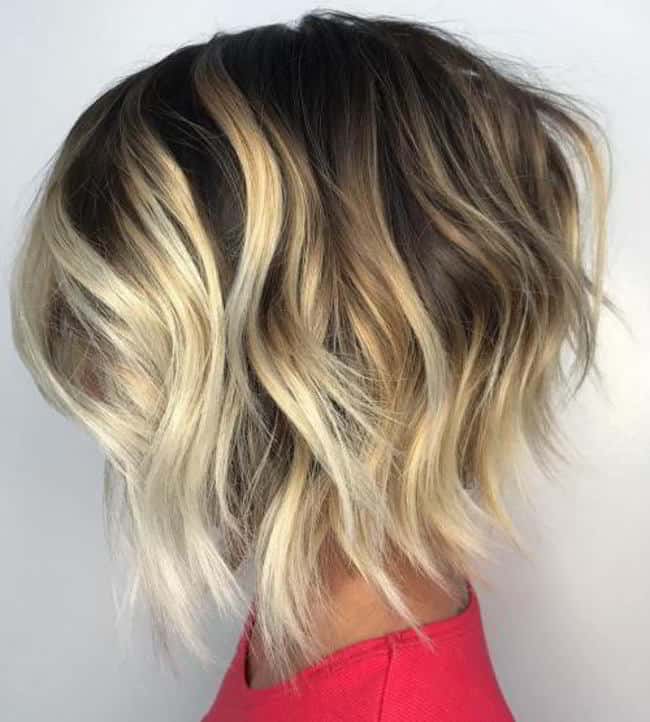 Sometimes subtle is not your thing, so you want to go for chunky highlights. This blonde highlights on short thick wavy hair is a gem.
Ideal for: These blonde highlighted short hair are more noticeable and impactful.
How to Style: When your hair is straight everyone will be able to see the new hair color. If you want to opt for a messy vibe, they will be much more romantic and bohemian.
10. Straight Bob with Blonde Highlights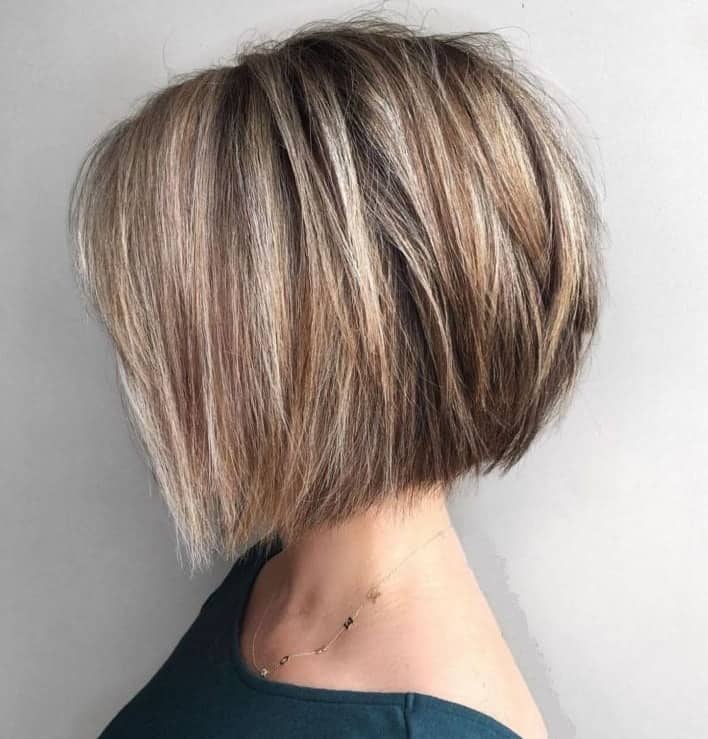 The short A-line bob is not an old-fashioned hairdo at all. Contrary to the general opinion, this short haircut with blonde highlights will be making a strong comeback in 2020.
Ideal for: Great for gals of all ages, especially the older ones who like to stick to classics.
How to Style: This short blonde highlight hairstyle is best when straight. That is actually the whole point of an A-line, seeing the clear difference between the shorter hair in the back and longer in the front.
11.
short hair with platinum blonde highlights
12.
short curly hair with blonde highlights
13.
short brown hair with blonde highlights
14.
short hair with blonde balayage highlights
15.
Whether you love a bob, pixie, or a lob, blonde highlights on short hair are always chic. All the short crops that you can think of are so much more on trend thanks to the fabulous highlights. You know what they say, blondes have more fun!