Curls are beautiful regardless of age. They are, in fact, a lifesaver for ladies with thinning tresses, especially those getting on in years, as they're voluminous, bouncy, and eye-catching too.
It's unfair to always pull those curls away from the face into boring buns and ponytails when there are so many ways to style them.
You may have spent several years straightening your coiled mane or adding curls of your choice with heat-styling tools, but we're sure you haven't tried the following curly hairstyles for women over 50 yet, which you definitely should!
Best Hairstyles for Women Over 50 with Curls
Women with curls are ruling for a lifetime now and older women aren't lagging behind as well. Here, we have shortlisted 50 of the most stylish curly hairdos for women over 50 years old that they can easily rock with minimal effort.
1. Soft Curly Faux Hawk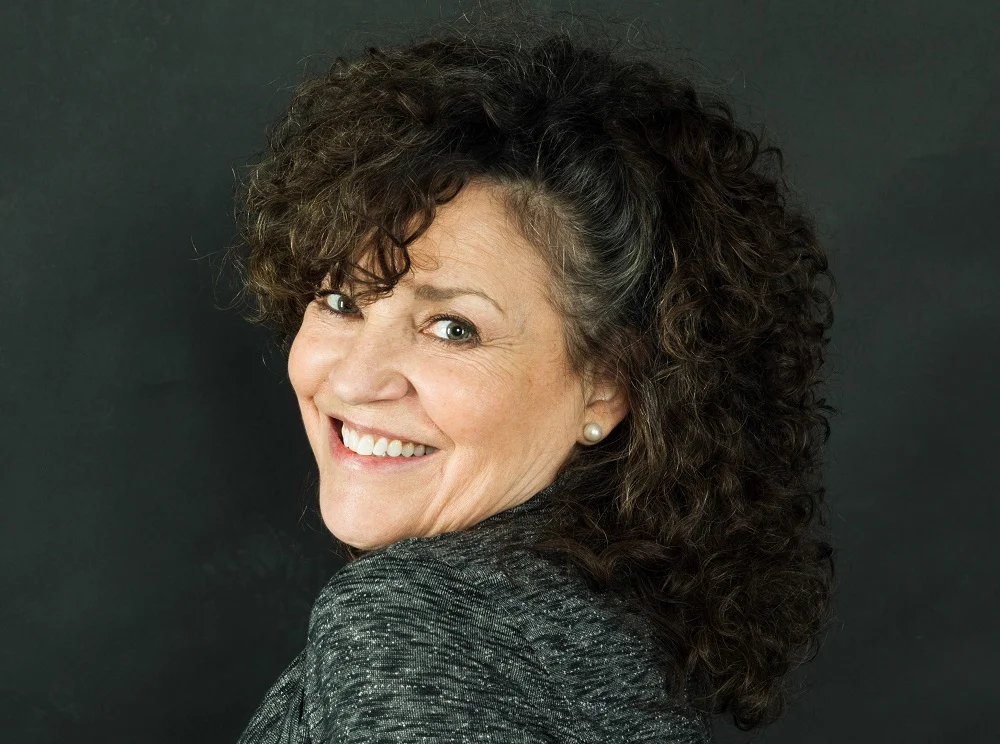 Let's start off with a bold hairdo having a touch of elegance to it for women climbing the ladder of age.
Refresh your curls with layers and pin back the sides sparing the bangs at the front to end up with a stylish faux hawk hairstyle that won't be ignored.
2. Fluffed-Up Orange Bob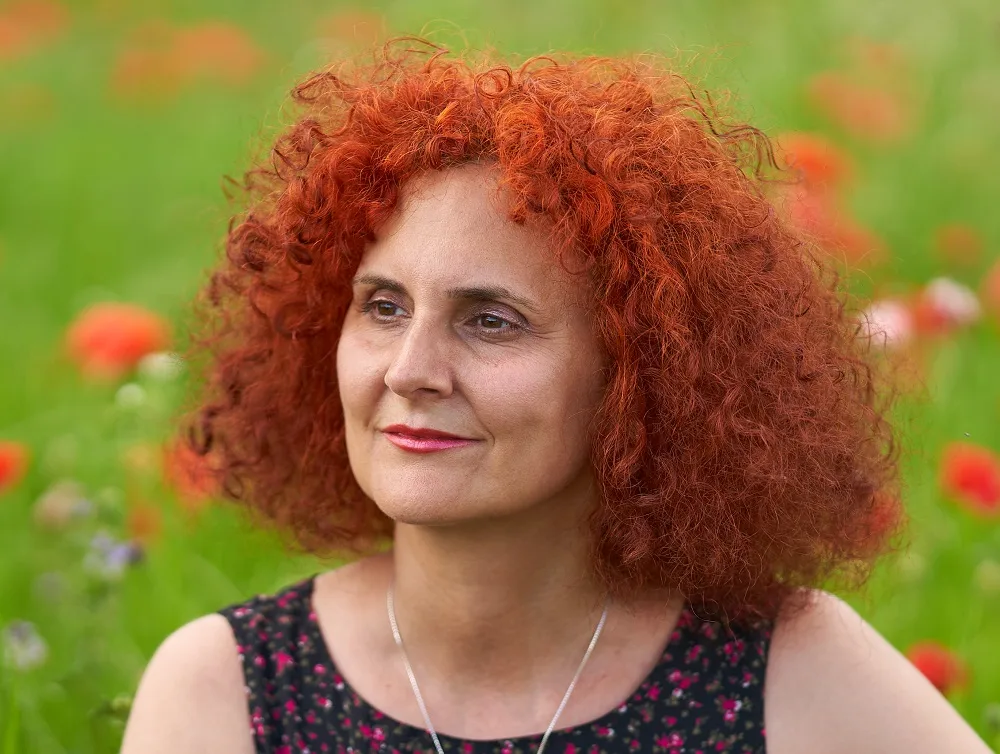 Sticking to the basics, show off your frizzy fluff with a straight-cut bob grazing the shoulders. Soften the look with barely-there fringes and a center parting to break down the bluntness of your face.
Use a good quality leave-in conditioner to keep those curls bouncing.
3. Side-Swept Mess with Undercut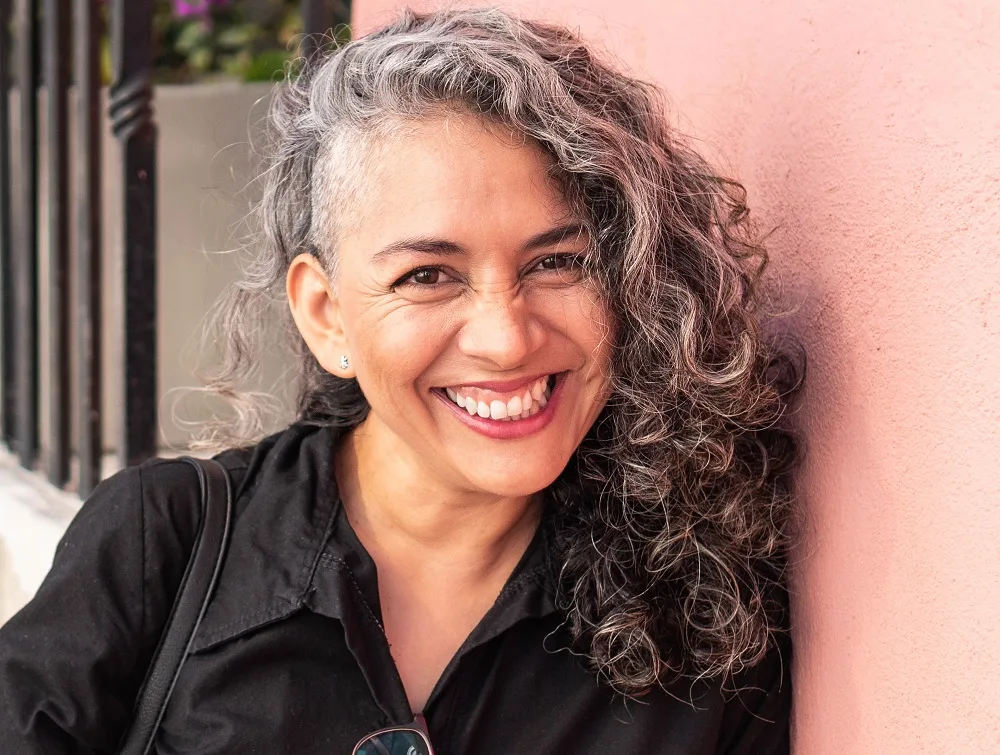 This curly hairstyle for women over 50 is for the wild ones out there. Experiment with an undercut on one side while tousling your salt and pepper mess on the opposite side for an asymmetrical look.
A shaved side design or highlights are worth a shot too!
4. Half-Up Style + Curly Curtains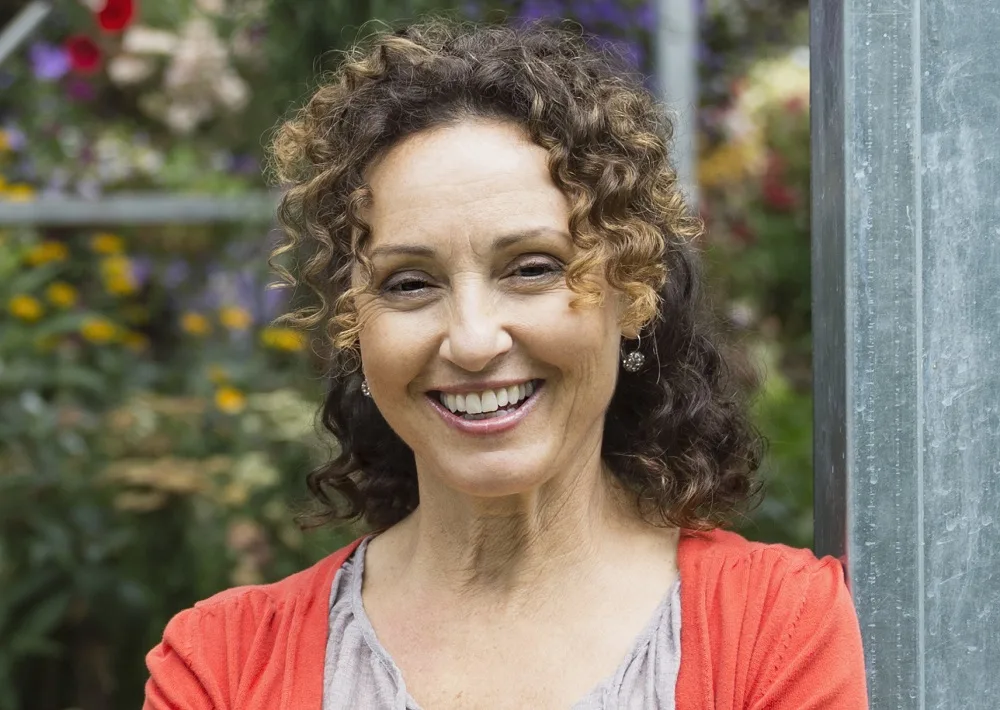 Curtain bangs are still going strong and appear super unique when tried on curly tresses. Frame your face with middle-parted fringes that elongate along the sides to merge with the remaining layers.
Make your new haircut stand out with blonde ombre tips and a pinned-back half updo.
5. Careless Side Braid
Simple hairstyles, sometimes, turn out to be the best ones like this boho-chic no-hair-tie/organic braid.
The trick lies in plaiting the strands as usual but instead of detangling the ends while knitting, leave them tangled. Pull your knitted bottom through the hole where the two braids meet and voila!
6. The Curl-By-Curl Cut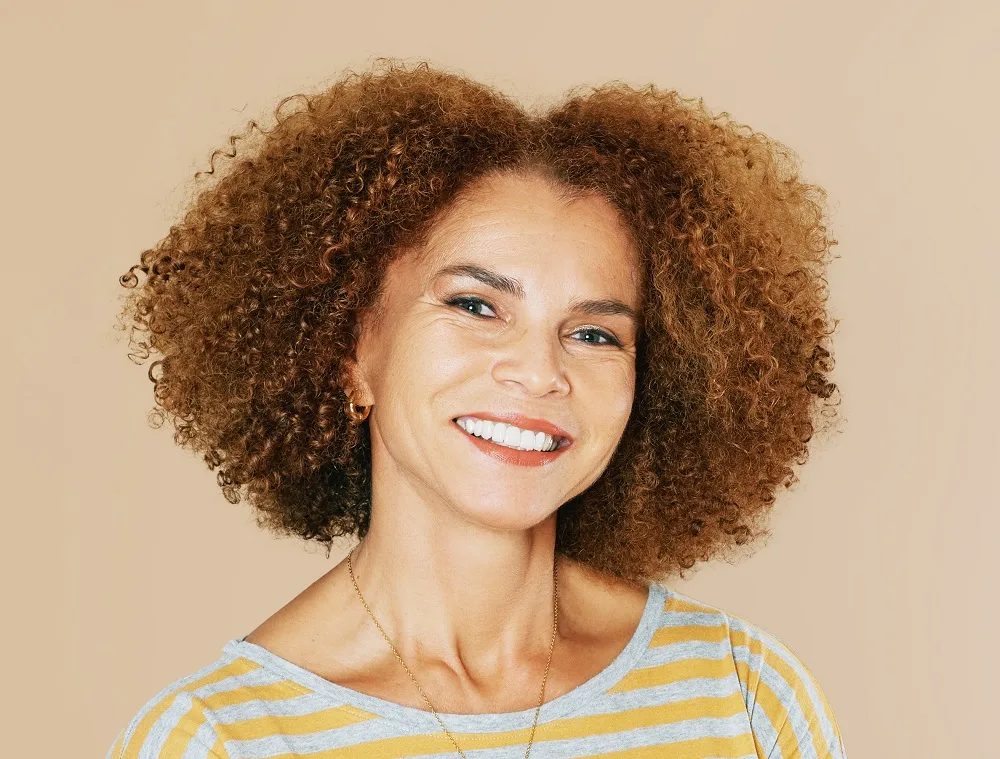 The DevaCut or curl-by-curl technique is literally to die for when it comes to naturally curly hair.
The coils are snipped when dry, instead of wet, to layer them perfectly around the face where intended in a softly rounded shape. Bangs are optional.
7. Bouncy Gradient Tresses
You don't need to chop off your precious tresses to rejuvenate your look each time. Shed off a few years with a one-of-a-kind hair color for a change.
Rather than going for the usual blonde all-over shades and highlights, try a gradient effect with your dark roots lightening down towards the ends.
8. Shoulder-Length Layers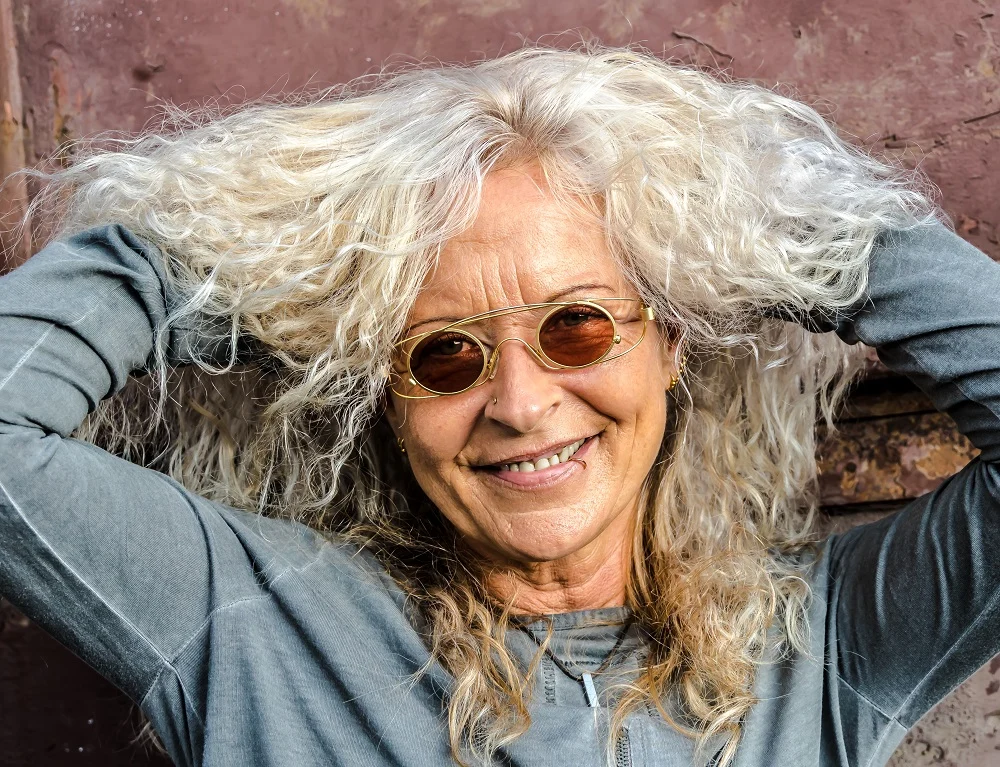 Layers work magic with all hair textures and lengths by taking off excessive bulk from thick hair while adding volume to thin tresses.
Enjoy the freedom of short hair and styling options of long locks with a mid-length haircut. An off-center parting is perfect to achieve a little asymmetry.
9. Short Wolf Cut
Wolf cuts are another curly hairstyle for ladies over 50 that are a must-try at least once.
Ask for short choppy layers on top that thin down while elongating towards the back. The disconnected side locks and back are what differentiate this short hairdo from a usual curly bob.
10. Pinned-Back Ringlets
Pinned-back hairstyles are a classic and never get old. Opt for ringlet curls, if not natural, and keep the strands away from the face, even when left loose, by twisting or braiding the side chunks and securing them at the back.
Tousle all the hair at the front or don't. Your call!
11. Relaxed Curly Updo
Relaxed messy hairdos turn out to be the best when tried on textured hair like curls and waves.
Pile up the strands on top of the head into a top knot bun or a ruffled updo with loose ends. Pull out some chunks to frame the face at the front, and that's it!
12. Highlighted Blonde Locks, Side Fringe
Bring your best features under the spotlight with a shoulder-length curly crop and highlights. Opt for a tone that's a shade or two lighter than your blonde base when adding streaks for a natural sun-kissed appeal.
Experiment with deep side-parted bangs to conceal that wide forehead without a suffocated look.
13. Trendy Lob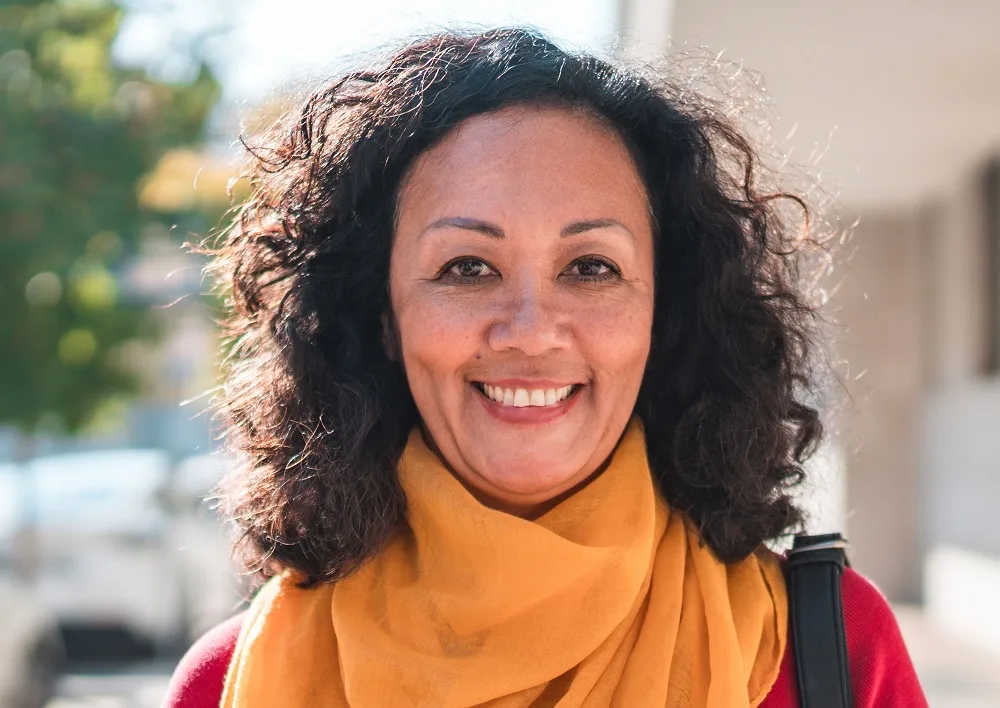 Senior beauties can embrace their natural hair texture after all these years of heat-styling with this trendy curly hairstyle for women over 50.
A long bob or lob dangles anywhere between the chin and collarbone and tends to lift up the face like nothing else. Layers are a must.
14. Curly Shag with Bangs
Keep it easy-going with a chopped-up shag to add lots of body, movement, and texture to your lifeless mane.
Go heavy on the layers with blunt bangs to hide a receding hairline while bringing all the focus to those twinkling eyes. A hand-tousle and off you go!
15. Long and Loose Black Tresses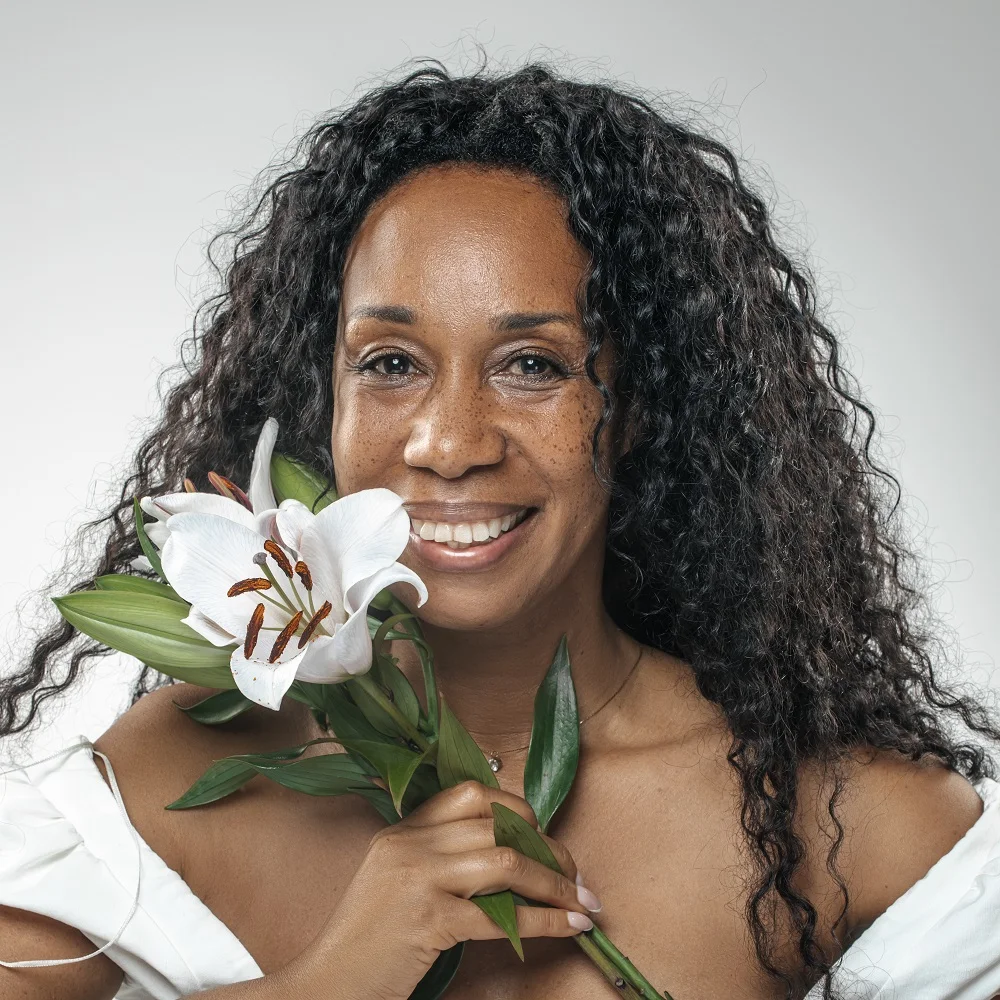 African-American ladies turning 50 or above can set their long luscious curls on full display with a layered V or U-Shaped haircut.
Go for a no-part look by blow-drying and brushing the hair away from the face when wet allowing it to fall down on its own.
16. Round Voluminous Hairstyle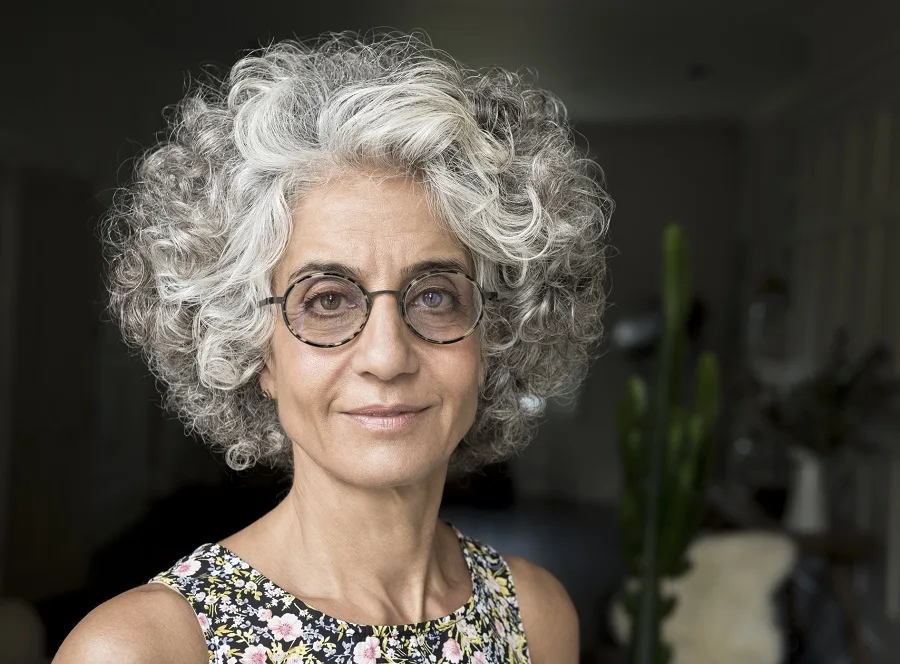 White hair never looked better! This curly hairstyle for women over 50 has layers and a rounded shape. The bangs are long and swiped on one-sided, and the white and darker threads blend so beautifully, creating a salt and pepper look.
17. Curly Pixie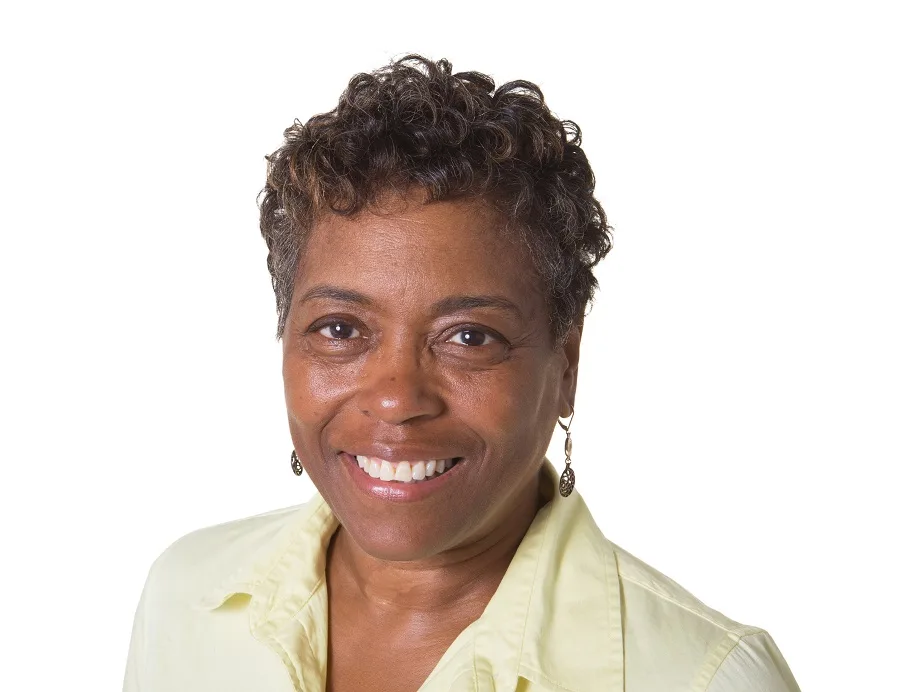 A curly pixie can suit a 16 years girl or a 50 years old lady, just like yourself. It is a low-maintenance haircut, highly versatile, and can be adapted to all face shapes. In this case, the sides are short, and the top is only a few inches longer, allowing the curls to form.
18. Back Large Bun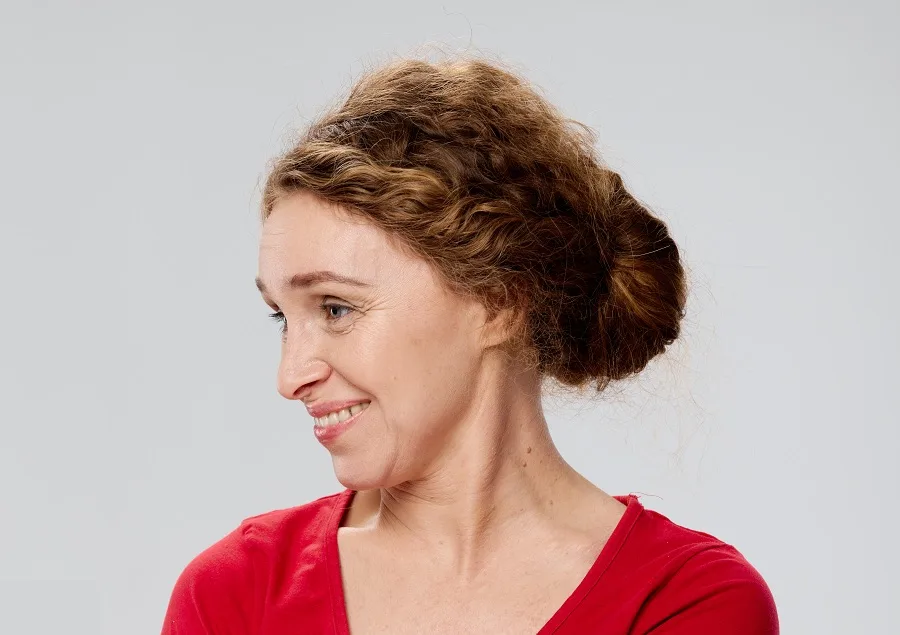 When you have long curly hair, your styling options are infinite. You can make such a good impression even with a simple bun placed in the nape area. While combing the hair to the back, make sure the hair is not pulled too tight because you need to maintain the volume.
19. Well Defined Curls
If you don't have naturally curly hair but want more dimension and volume, creating your curls is always an option. Use a curling wand and pick very small sections of hair. This might take longer, but it will certainly look better, with so much volume.
20. Top Waves and Curls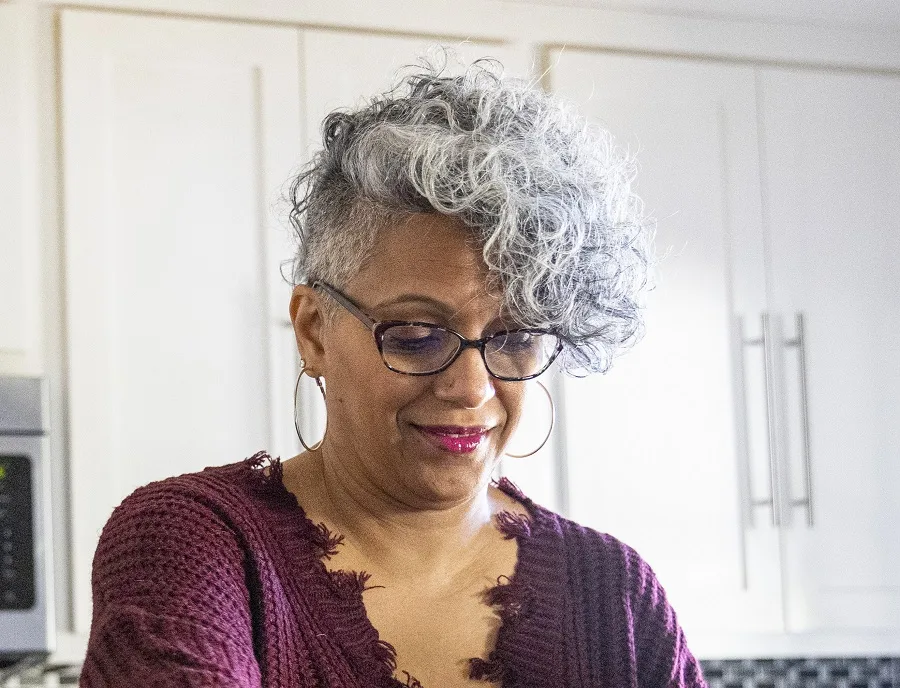 A long pixie haircut with very short sides and a rich curly top is perfect for any woman over 50. While some women prefer to cover the white hairs, others adore the blending and mix between whites and blacks.
21. Fiery Bun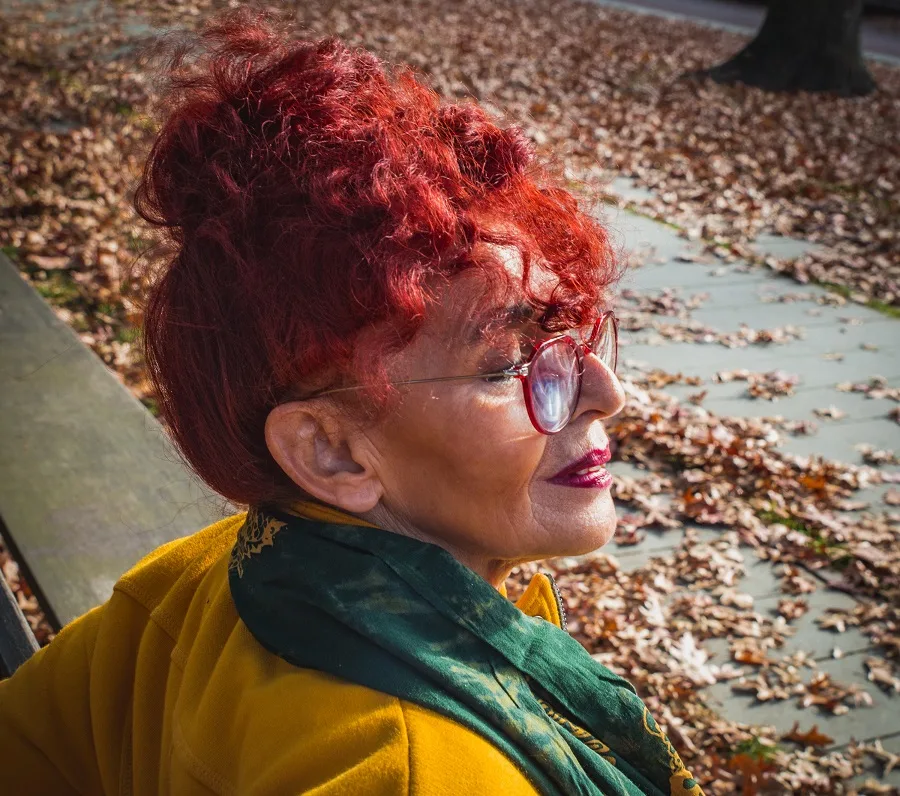 When you want to look fierce, a fiery red hair color will give you that elegant, bold look. Tie your hair on top of the head, in a bun and spare the curly bangs, spreading them on the forehead.
22. Crazy Purple Curls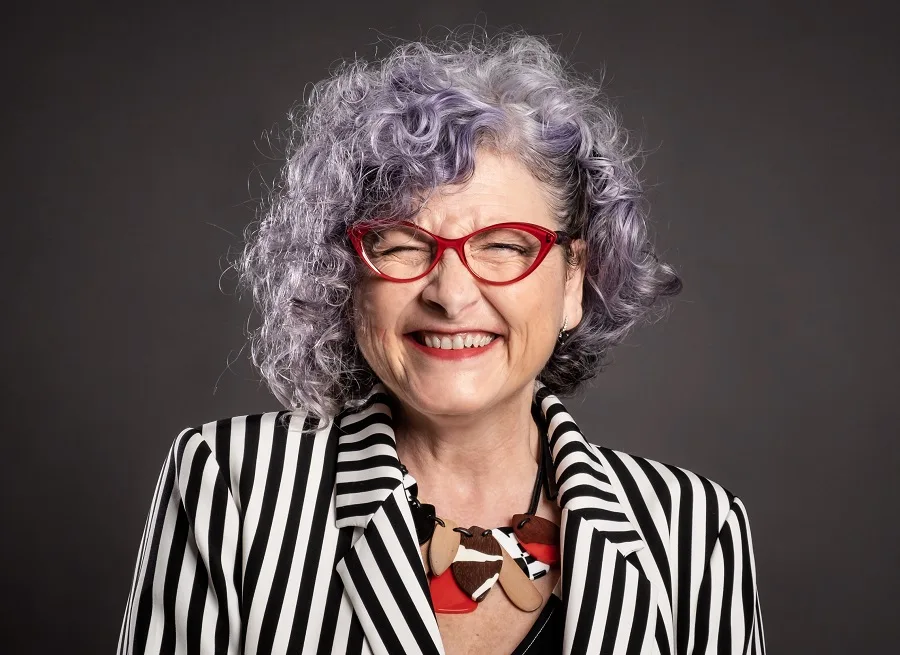 This gorgeous curly hairstyle for women over 50 makes you look modern and cool at any age. And the color is the one to blame. It looks stunning and gives the curls a gorgeous tone. If you want a fancy look, opt for red-framed glasses.
23. Black Afro Hair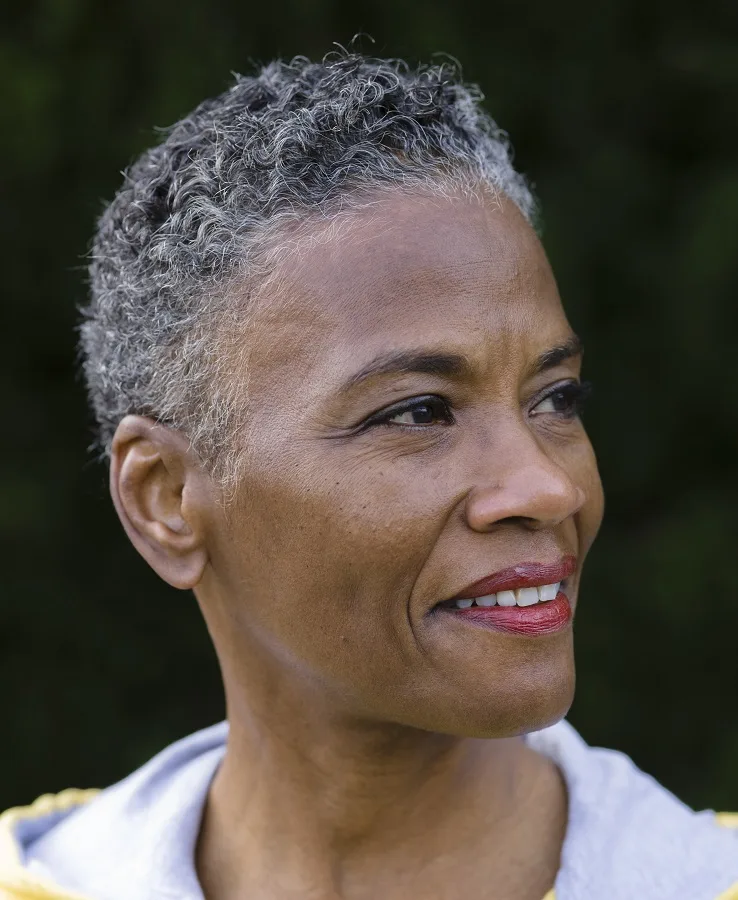 If you are a fan of short haircuts, you should definitely pull off this stunning pixie cut. For the top, keep the hair just a little bit longer. Because of its coarse texture, it will go up without too many styling products.
24. Ombre Curls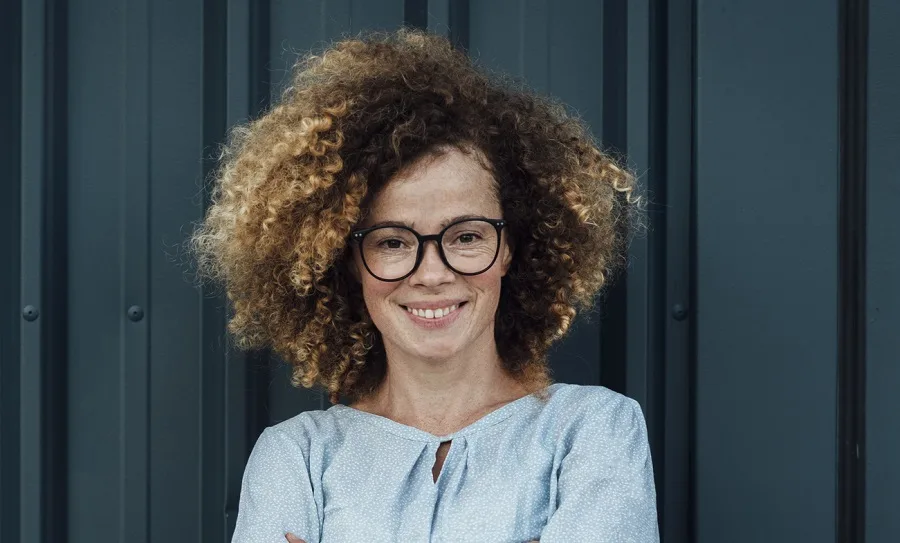 If your hair is extremely curly, you can make those tight ringlets look glamorous with an ombre that will keep the roots in their natural color and add a pop of gorgeous blonde to the ends. Wear the top on one side and use hair balm to make the curls look softer.
25. Bangs and Curls
This is one of the most practical curly hairstyles for women over 50 because it has a medium length and allows the curls to form, without getting in your way. The bangs are also curly and long, covering the eyebrows, giving the hairstyle a mysterious touch.
26. Short with Layers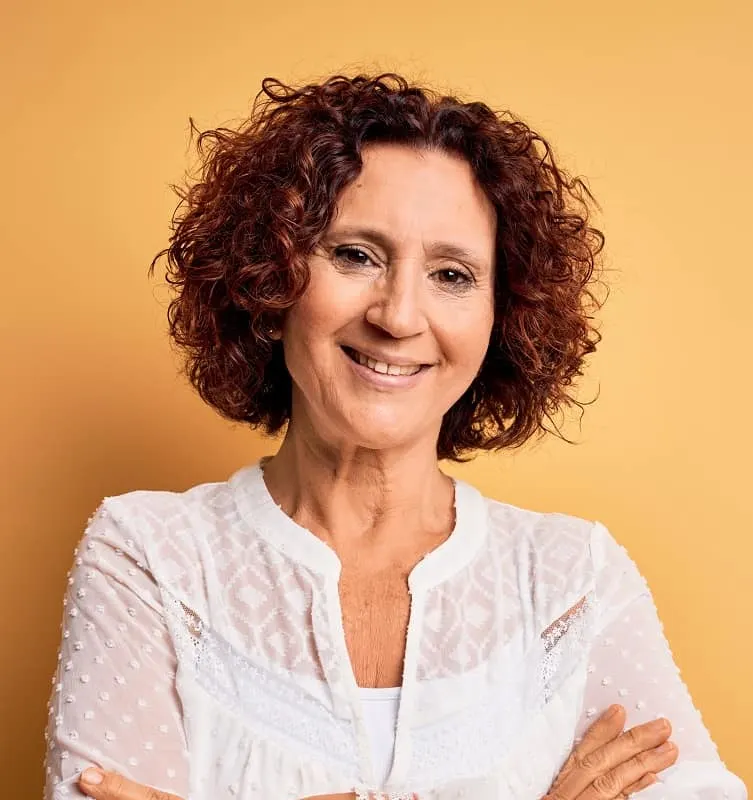 If you're going to rock a curly hairstyle, one of the best things you can do for it is add layers to cut down on bulkiness and add shape. The shorter pieces up front will frame your face beautifully.
27. Loose Long Curls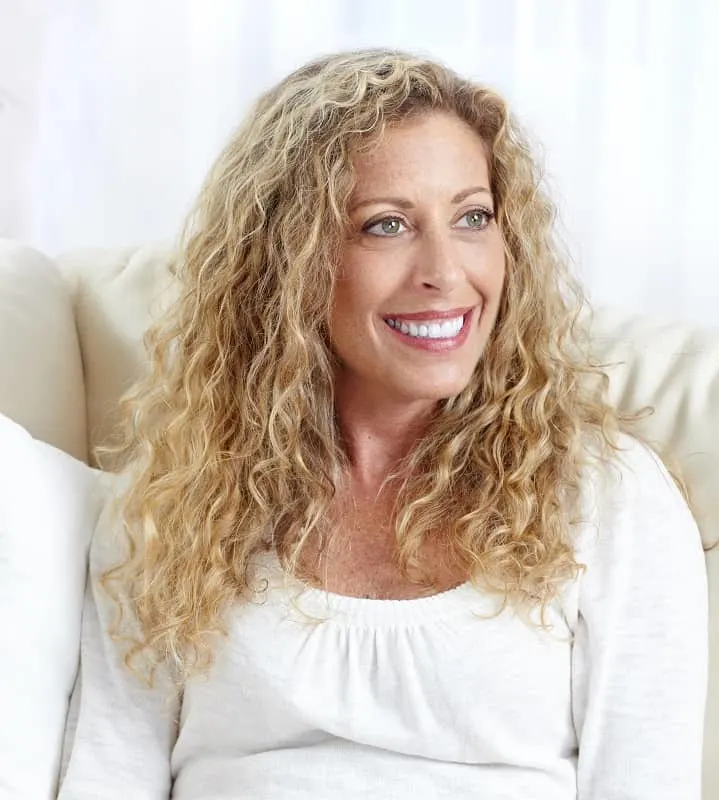 If you're over 50 and you have thin hair, wear your hair long with loose curls. The texture thickens it up and the mermaid hair is always in!
28. Short Natural Black Hair
As women approach 50 years, they become more confident wearing hair natural. If you have natural black hair, embrace those tight curls on a shoulder length haircut with an off center part.
29. Curly Bob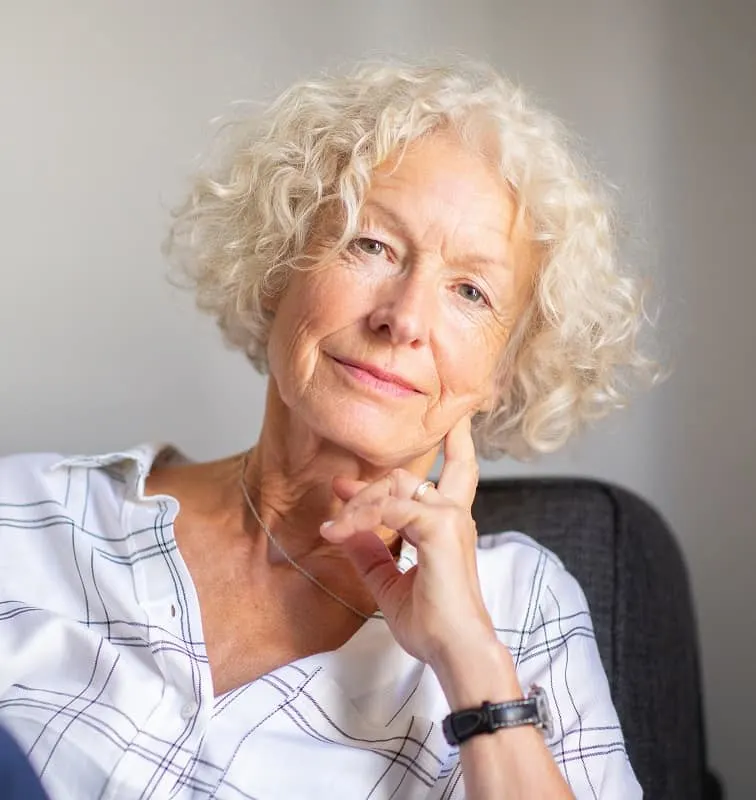 Getting older doesn't mean you have to chop hair off like many women over 50 do! We love this curly white bob with noticeably shorter face-framing hair.
30. Salt and Pepper Hair
Women over 50 finding that their hair is turning salt and pepper in color will look great in this short haircut with thick layered springy curls and a soft bang.
31. Half Up Hairdo
Long soft spiral curls are gorgeous pulled up in a ponytail for the top half of the hair. A youthful style for women over 50 that also looks gorgeous with its blonde color.
32. Low Ponytail
For short curly hair, you probably still have enough length to create a low ponytail or side bun. Keep your bangs to maintain a soft look and round out your face.
33. Afro Curls
Thick natural hair doesn't need chemical treatment to be stylish. We encourage women over 50 with natural black hair to wear curls loose, maybe with just a little help from a leave-in conditioner.
34. Thick Long Bob
A few caramel highlights on black or brunette hair is just the color to bring a long curly bob to life for women over 50. A center part is all you'll need unless you want more volume from a heavy part.
35. Permed Bob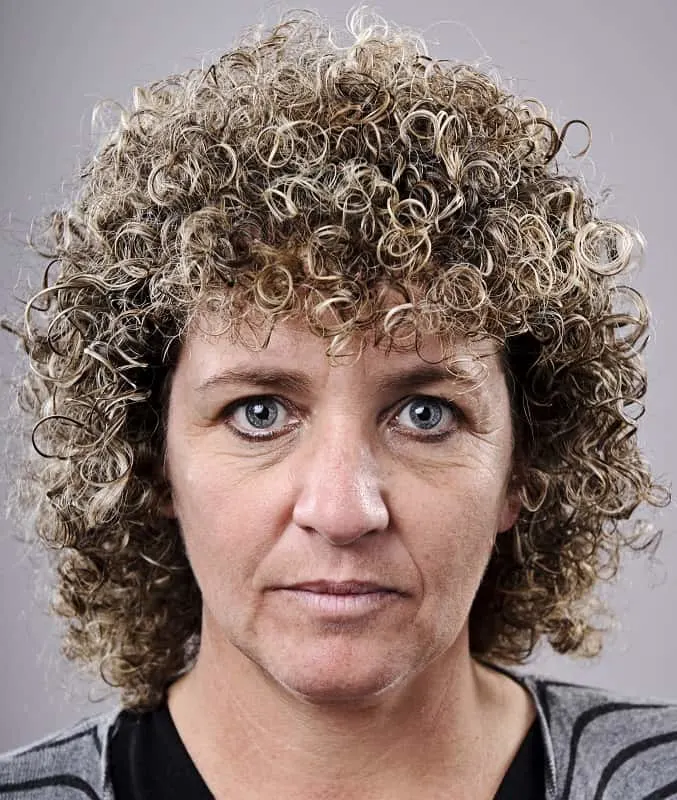 Are you a woman over 50 without the curly hair you desire? Get tight curls with help from a perm to put a new spin on a bob with bangs.
36. Short Natural Curls
Take better care of your natural hair's curls by nixing the chemical treatments when you're over 50 years old. You can start anew by going short and using a little curl creme on fingers to scrunch in for texture.
37. Long Curly Top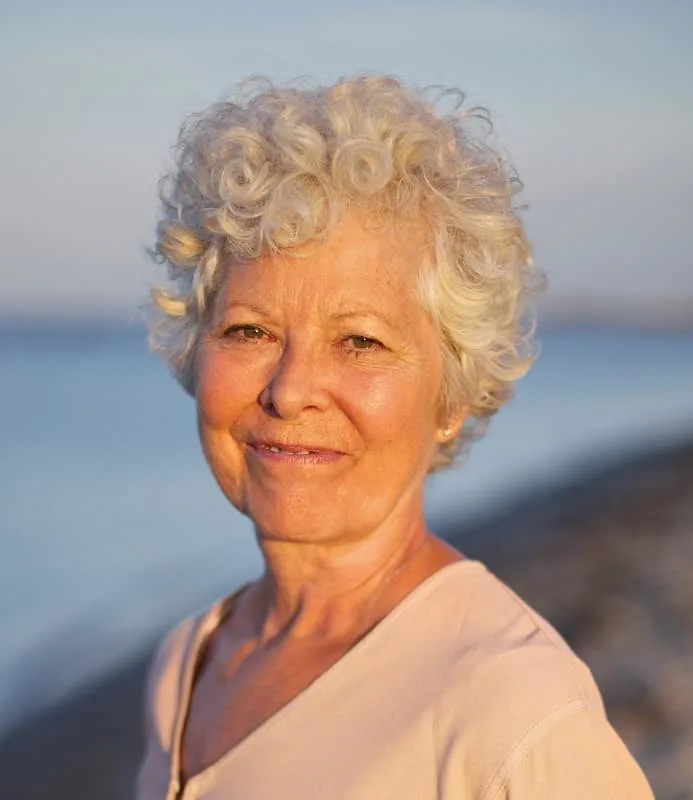 The curly hair on top here is much longer than sides, a beautiful option if you still have thick hair at over 50 years old. Work in a soft side bang to cover up a wide forehead.
38. Medium Length with Beach Waves
If tight curls aren't your thing, try soft waves. This medium length haircut suits women over 50 with its youthfulness and works for both professional work or that relaxed weekend style.
39. Strawberry Blonde Long Waves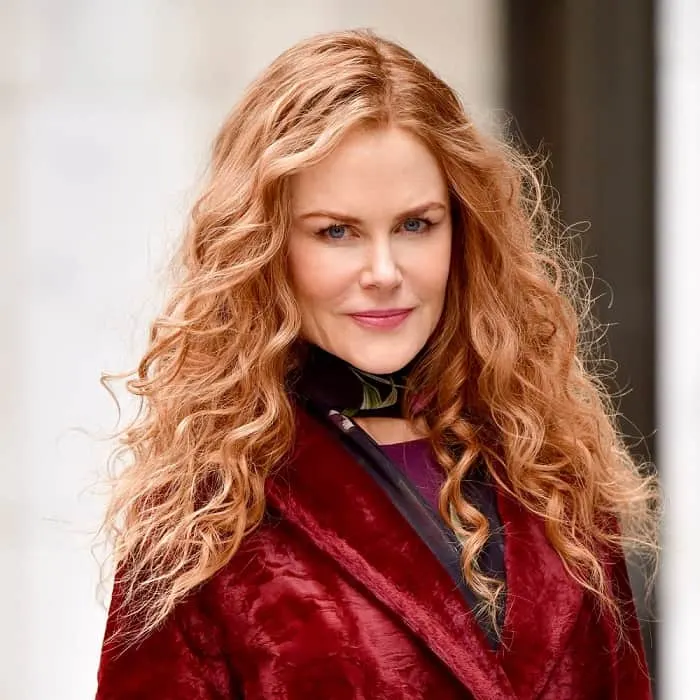 Nicole Kidman's curly hair is known for being long and soft. For women over 50 with pale and light skin tones, a gorgeous strawberry blonde is the perfect color to make them stand out.
40. Platinum Waves and Bangs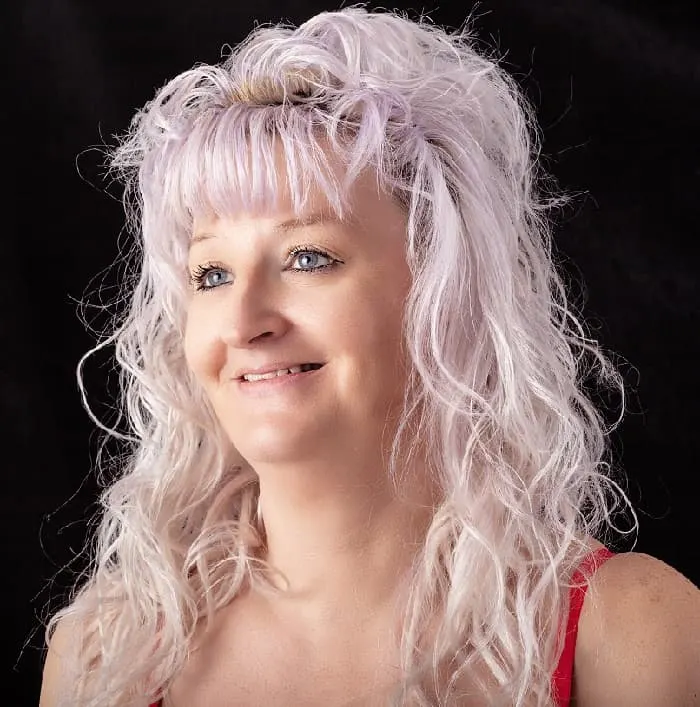 If you're a woman over 50 without natural curls, you can tease them in with a curler and hairspray, adding a short straight bang for framing. A fun platinum blonde and light pink will make your look youthful.
41. Curly Updo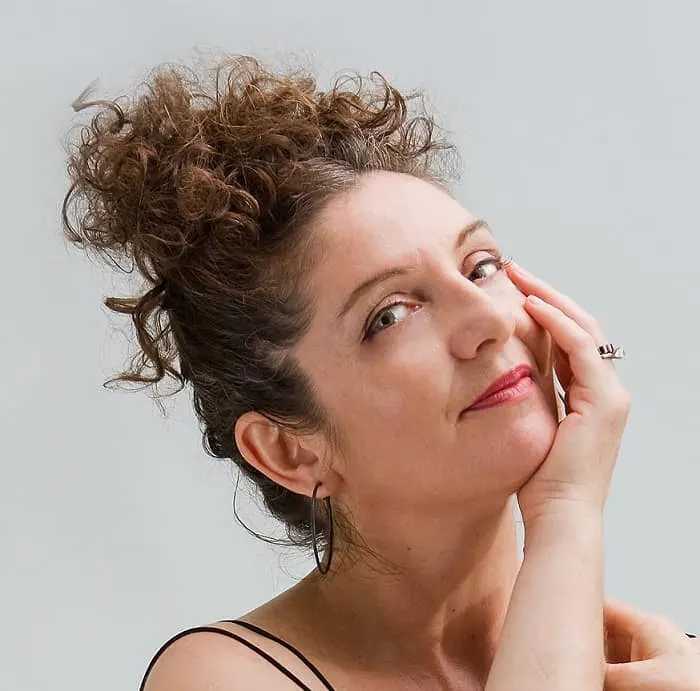 Women over 50 have to wear their curly hair up sometimes too! Here's a high slicked back bun that lets your curls be the stars of the show. Careful not to pin them all back – you want to show them off!
42. Curly Bob with Choppy Bangs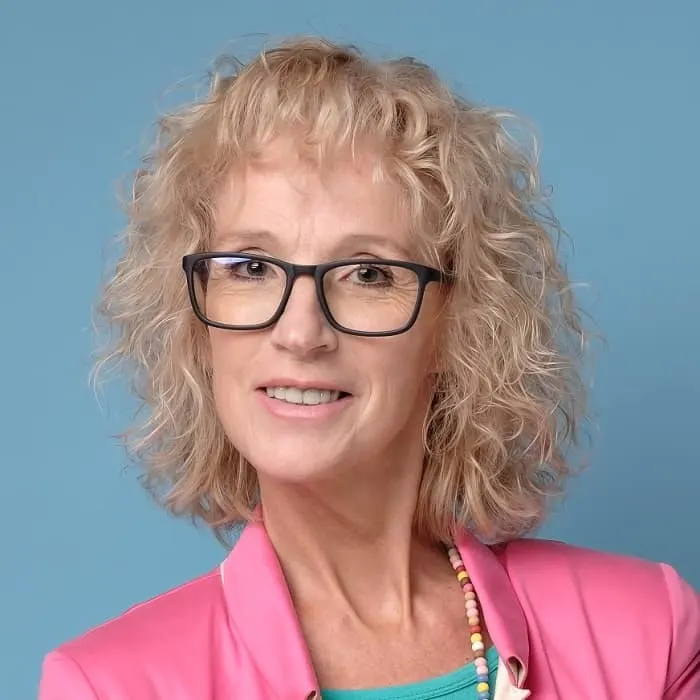 A curly bob is a popular hairstyle for older women to wear in their daily lives because it's both professional and can be worn back or up on weekends. Choppy-cut bangs are soft and round out the style.
43. Curly Hair for Black Women
Whether you're a woman over 50 growing her hair out or they've already grown to a decent length, just by running a bit of curl cream through your locks, you can get this gorgeous hairdo whose curls spiral in all directions.
44. Long Curls with a Side Part
You may be an older woman, but that doesn't mean you have to chop off your long curly hair! Try out some white highlights, then part your hair at a deep side part so that most of the hair is at one side over the shoulder.
45. Short Curly Pixie
Prefer a low maintenance style for your curly hair? This look features super short curls that accentuate both the face's and the curl's shape.
46. Curls with Perm
A perm is definitely one of the most important trademarks of the eighties if we're talking about fashion. But if you thought that it's never coming back, you were wrong. It is slowly but surely regaining its fame, and it is upgraded with a few new techniques.
If you are a practical lady who doesn't have a lot of time to dedicate to maintaining a certain hairstyle every time you wash your hair, and you also like curls, then a perm is a great option for you.
These curls are wild, voluminous and will look absolutely charming on square and heart-shaped faces.
It's a classical hairstyle – gray, shorter hair with nicely defined curls. It is no wonder why so many women after they've reached a certain age, choose this option. It is so sophisticated and flattering.
If you have naturally curly hair, we suggest you consult your hairstylist, and they will know what kind of a haircut would suit you. If your hair isn't curly, you can always use rollers, or a styling brush while blow-drying your hair.
This is a classic curly hairstyle for over 50 if you have naturally beautiful and nicely shaped curls as it would be a complete waste to hide them. The time of straightening your curls and wasting money on countless products and tools is over!
Put a little bit of hair foam on, while your hair is still wet and blow-dry it using only your hands to shape the curls. It is so simple, yet beautiful and elegant.
This curly hairstyle is made for ladies over 50 who are young inside, modern, edgy and chic. If you feel like you can pull off a bold, bright hair color, we say – go for it! Our pick is this gorgeous copper-red. To achieve the exact style, you can use hair gel to make the hair messier.
50. Natural Curls
This is one of the chic curly hairdos for women over 50 with natural curls. There is nothing that can top natural beauty, even if you are over 50. So wear those curls proudly! Suitable for square and round face shapes. You can use accessories such as a headband to style it.
FAQs
What is the best hairstyle for an over 50 woman with thin curly hair?
Short to medium layered hairstyles are the best for women over 50 with thin curls as they create the illusion of a voluminous bouncy mane. Bangs and deep side parts will further enhance the look.
Will layered curls look good on women over 50?
Yes. Layered curls look youthful on women over 50 as snipping the coils at specific lengths helps enhance the texture, movement, and definition of your kinky tresses.
Which haircut is best for ladies over 50 with frizzy curly hair?
A short textured haircut like a pixie, bob, or lob with tons of layers is best for ladies over 50 with frizzy curls to achieve a messy yet sexy bedhead look that's low upkeep.
Curls are romantic and beautiful and we hope this article will help older women over 50 with curly hair to embrace them and wear them with pride.