Sombre hair is among the most popular hair coloring techniques recently, especially by celebrities such as Jennifer Lawrence, Mila Kunis, and Gisele Bundchen. It is a subtler way of doing streaks on your hair, making it less obvious and more natural, elegant and discreet.
Hair is the first thing women want to change in a new look. Even more than an outfit or shoes, hair is what calls the most attention when it comes to beauty. That is why so much importance is given to hair color, cuts, and styles – whether it's for daily life or an event.
Every season, new hair coloring styles and trends become popular. Be it winter, summer, fall or spring, hair dyeing and bleaching techniques will be part of fashion trends.
Hair lightening techniques are the most popular choices in beauty salons. They can fit any style – from discreet to bold ones. Ombre hair, Californian style, and Highlights are favorites in this category.
However, those aren't the only lightening trends women love. Some people prefer Sombre hair to Ombre hair, its "older sibling". And what is the difference between these two styles? Why is this technique popular nowadays? If you are curious about Sombre hair, how to get and maintain it, keep reading!
What is Sombre Hair?
Sombre is a hair lightening technique that dyes hair in a gradient. It uses shades from lighter to darker, from the roots to the tips, giving the hair a natural and subtle effect. This technique is ideal for women who want to change their look without being radical.
Although it is often confused with Ombre Hair, Sombre hairstyle is a more delicate version of it. It can soften the contrast between the natural hair color and the dye, giving it a natural hair look.
A darker shade is used, similar to the natural hair color, and lighter shades are gradually added until it reaches the lightest one (without making it too light, like with Ombre Hair). Hence the name: Sombre hair, or "subtle ombre".
To create this subtle contrast, the streaks must be done on top of the head and on the bangs, not only the length. The result is amazing and natural.
Who Should Try Sombre Hair?
Any woman can adopt Sombré hair and rock blonde hair, no matter their hair color, type or length. However, if you have recently done chemical procedures such as straightening or a Brazilian blowout, be careful to not damage your hair.
It can be more fragile and sensitive because of the substances used in it. You should remove dyes or chemicals in your hair through pickling, before doing your Sombre hairdo.
Sombre will work better on virgin hair. It is easier for virgin hair to fixate the color and avoid stains, common when combining substances.
How to Do Sombre Step-by-Step
Sombré hair should ideally be done by a professional in a beauty salon. But it can also be done by yourself, at home, with the same results. To do that, you will need to be careful not to leave the dyes too long on your hair, so you don't damage it. Simply follow the step-by-step below to get your Sombre for your hair:
Step 1: Draw a straight line on top of the hair and separate the hair on top. Next, divide the hair into sections on top of the hair, sides, and back.
Step 2: Prepare the dye or the solution with the powder bleach you'll use for the Sombré hair. No matter the method you'll use, the mix must be homogenous, not too liquid or too thick.
Step 3: Start applying the dye on your hair with a brush. Use a weaving technique to obtain a bigger number of streaks.
Step 4: It is important to weave the brush through the hair so there are no hard layers. Always go from the tips towards the top of the head.
Step 5: Leave the product on the hair for a few minutes. Check each section often so the hair doesn't get too light. Remember that Sombré hair usually has darker shades.
Step 6: When the streaks reach the shade you want, it's time to rinse your hair. Wash it with warm or cold water until the product is fully gone.
Step 7: Use an anti-yellow shampoo to prevent future possible yellowish stains on your hair. Rinse well.
Step 8: After washing, apply a conditioner. Then use a hair moisturizing mask and leave it for 20 minutes.
Step 9: Wash your hair again until the product is gone. Finish your hair as usual.
Step 10: If you blow-dry or flat-iron your hair, remember to use a heat protection product. When finished, also use a restorer on the tips.
Watch The Following Video to Know about DIY Sombre Hair Color Techniques
Maintenance
Just like with any other hair lightening technique, your hair will need double the attention after this procedure. Such as:
Maintenance
It is extremely important to follow the correct maintenance period of your Sombre hair. That will make the color stay for longer and keep your hair healthy. Professionals recommend the maintenance to be done every 4 to 6 months.
Moisturizing
Hair tends to lose a lot of water and proteins during the bleaching process. It is important to deep-moisturize weekly, with specific treatment masks. This will replenish your hair's moisture and keratin.
Hair Reconstruction
As mentioned before, bleached hair loses a lot of proteins when bleached. To replenish its keratin, you must invest in restoring treatments, such as hair cauterization, every 15 days at least.
Specific Products
After getting your Sombré on your hair, you must include bleached hair-specific products in your hair routine. Those are acid-pH shampoo and conditioner, leave-in, hair oils, treatment masks, finishing products, etc.
Showering with Lukewarm Water
If you have bleached hair, never shower with hot water. That can make your hair even drier and more brittle. Ideally, you should shower with lukewarm or cold water to avoid damages to your hair.
Hair Dryer and Flat Iron
After getting your Sombre hairstyle, you should avoid using hair dryers and flat irons. Excessive heat can make your hair too dry and cause it to break and fall. If you can't avoid these tools, always use heat protection and restoring products.
SunScreen
Every woman needs a hair sunscreen handy during hot summer days. And those who have recently bleached their hair need to use it even more, to avoid damage by the sun and dryness. If you got Sombré hair, don't forget to apply hair sunscreen on it before going out.
Ocean and Pool
If you have bleached hair, you should avoid the salt from the sea and chlorine from pools, to keep your hair healthy and its color intact. These substances can accumulate in the inner layers of your open hair cuticles, making your hair dry and oxidizing its color.
If you can't avoid going to the beach or pool, wear a swimming cap to protect your hair.
Chemical Procedures
After getting your Sombre hair, avoid doing other chemical procedures on it, such as straightening or Brazilian blowouts. This way you'll avoid combining the wrong substances. Remember: your hair is more fragile and sensitive due to bleaching, and other chemicals might damage it.
Sombre Hair Ideas
This hair trend promises to be in fashion in the next season. Blondes, brunettes, redheads… Anyone can adopt Sombré hair and turn heads everywhere they go. See below the most popular trends:
Dark-skinned Women
Sombre hair color can also be adopted by dark-skinned women, or on black and brown hair. Since the bleaching and dying are subtler, there is no shock caused by a strong contrast between the natural hair color and the dyed parts.
See some photos below to get inspired!
Blonde Sombre hair looks beautiful on brunettes and dark hair but also can be used on blonde hair to brighten it naturally. See below a few pictures to inspire you!
This darker Sombre hair shade can also be used by women everywhere. This shade can be used on black and brown hair, as well as blonde hair. The desired effect is always to create a natural, subtle ombré on the hair.
See a few photos to go get your Sombre hair right now!
Short hair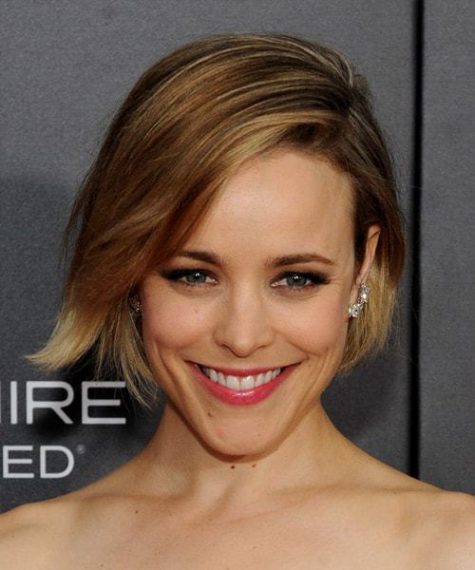 Short-haired women can also safely adopt Sombre on their hair, in several tones. It only depends on the creativity and good taste of the one doing it. If your hair is too short, like a Pixie cut, that might make it harder to bleach. But all of this depends on the experience of the professional or of the one doing it by herself.
See below a few pictures to inspire you!
If you have long hair, you can make it even prettier with dyed Sombre hair. By using a gradation of shades on the length of the hair, you can make it more visible as it reaches the tips. Everyone will be amazed by it.
See below a few pictures to inspire you!