Round faces look angelic and while there are many suitable hairstyles for them, cute bangs at the front accompanying those glasses will never disappoint.
Keep in mind that the best bangs for round faces with glasses are the ones that create the illusion of length while slimming down the sides of that cute chubby face.
Go for curtain bangs, side-swept asymmetrical ones, or textured bangs to cut down the roundness of your face, or experiment with blunt bangs instead to achieve a sharply angled look. We've included all of these in the following guidelines for your ease!
Bangs to Complement Your Round Face and Glasses
Bangs are a win-win option in the case of disc-like faces, as they're suitable to accentuate or sharpen round facial outlines and to hide big foreheads. Here are some flattering bangs hairstyles for women with glasses.
1. Wispy Bangs, Long Layers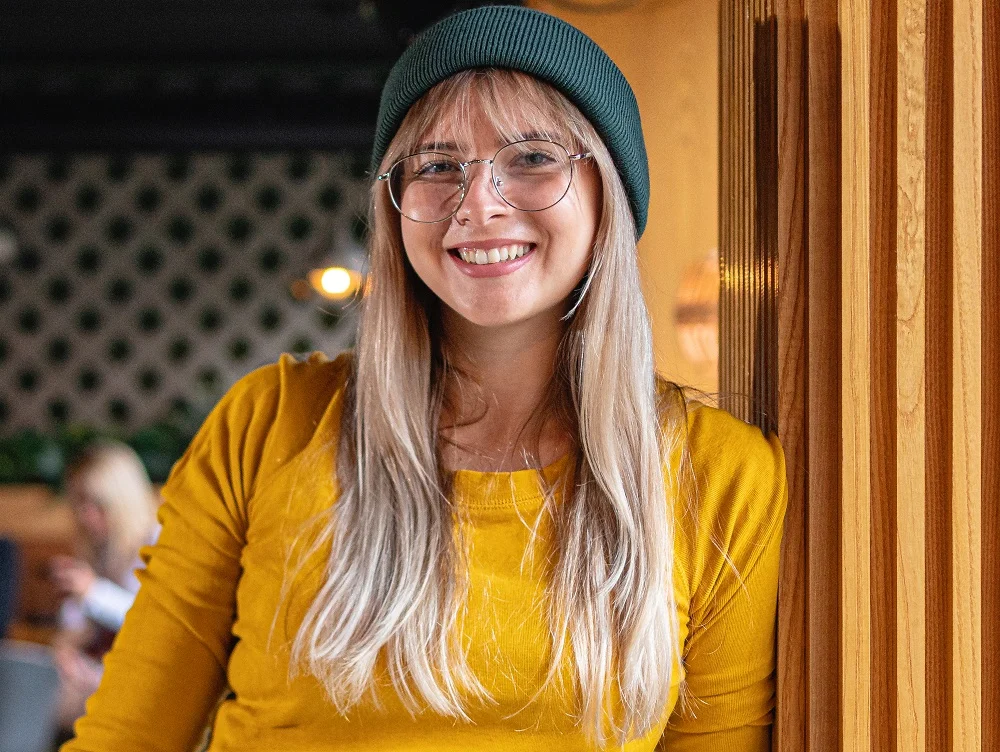 Long hairstyles tend to drag down a round face, making it appear more oval. Achieve movement with layers and opt for wispy bangs falling across the rims of your specs for a cute appeal. Light bangs don't feel suffocating and look even better with a beanie.
2. Classic Bob with Bangs
Keep it office-appropriate with a classic bob and bangs. Skip layers and ask the hairstylist for a straight snip across the back and brow line.
Opt for a neck-to-shoulder length chop as going too short will further highlight the roundedness of your face.
3. Textured Curly Crop
Straight bangs look gorgeous but curly ones don't appear any less either. Curly beauties with glasses can experiment with short, slightly arched, bangs to focus all the attention on their twinkling eyes.
The heightened top and pinned back sides create the illusion of a slimmer face.
4. 70s Curtains
Curtain bangs are undoubtedly the best bangs for round faces with glasses. The partition in the middle makes the forehead look big while the elongating strands along the sides conceal those chubby cheeks like nothing else.
Opt for medium to long bangs to tuck them away whenever you want.
5. Thick Blunt Bangs
Ladies with thick tresses can go for timeless full straight bangs as they add a subtle youthfulness to the face.
Blend in the side chunks with front layers to prevent a sharp disconnection and keep the bangs short to make those chic cat-eye glasses more noticeable.
6. Asymmetrical Chop
Add a little asymmetry to an otherwise perfectly symmetrical round face with angled bangs. Try them at home by snipping through in a slanted line across the forehead.
Experiment with jagged ends and couple them with a bob to make a thin mane appear much thicker.
7. Boho-Chic Baby Bangs with Dread Bun
Express your wild side with straight baby bangs extending up to the ears covering only one-third of the forehead.
Set the look on fire by dying the front strands and shaving your temples. The dreaded top bun helps lengthen a short round face.
8. Barely-There A-Shaped Bangs
Step into the world of bangs with soft A-shaped bangs that seem to be barely there. Snip the chunks at the front at an angle so they fall on the sides of your forehead.
Try them with a long bob, and put on your glasses with pride.
9. Side-Swept + Highlights
Side-Swept bangs look super stylish on round faces with glasses. Break down the bluntness of your disc-like face with a deep side parting and fully feathered bangs grazing those spectacles.
Get a handful of layers and highlights for a sun-kissed glow-up that won't be ignored.
10. See-Through Style
See-through bangs are suitable for ladies getting on in years as they're laid-back, less dense, and easy to maintain.
Achieve a soft appeal with a bob and wispy bangs and pinch the strands with wax or hair gel for a piece-y look while exposing parts of the forehead.
11. Edgy Jagged Bangs
Give your innocent round face a new dimension with jagged bangs featuring uneven lengths across the forehead. The result is a contemporary look that can be easily maintained at home as all you need is an irregular snip.
Ladies with thin fine hair should definitely try them out.
12. Bottleneck Lob
Bangs look stunning with glasses. Bottleneck bangs feature short curtain bangs that are pinched in the middle of the brow to create the silhouette of a bottle's neck.
Lobs look flattering on rounded faces and are a must-try too. Layers will help enhance the volume of thinning tresses.
13. Rounded Betty Bangs
Try the good old funky Betty bangs for your round face with glasses and you won't regret it.
The bangs is cut in a rounded U shape deepening into the temples. Couple them with long side chunks and a neat buzz for some carefree hipster vibes.
14. Soft Arched Bangs with Headband
This hairstyle is a less intense, rather softer, version of the Betty Page bangs mentioned above. Arched bangs are a modification of the usual straight bangs and can be curved inward or outward depending on the facial features.
Put on a bow headband to relive your childhood days.
15. Rockabilly-Style Full Bangs
Make your big chubby face appear smaller with a full thick side-swept bangs featuring shorter strands in the middle with longer ones along the sides covering the ears and cheekbones.
Style a messy side updo and put on your colored specs to look like a rock star.
16. Korean Air Bangs
Korean bangs are thin and wispy with just a few strands falling over the forehead in the most natural way possible.
You can opt for a straight bangs or a side-swept one to accompany your glasses with an elegant half-up half-down hairdo. Simply wow!
17. Platinum Pink Straight Micro Bangs
Make sure your bangs are one of a kind by chopping them straight midway across the forehead. Spice them up with a platinum blonde to pink ombre hair dye and baby braids dangling along the sides. Don't forget to dye those eyebrows!
18. Face-Framing Short Textured Bangs
Choose short bangs for your round face with glasses in the case of a small forehead. Get as much texture as possible to achieve movement while making your face appear effectively longer and slimmer. Balance out the look with narrow oval frames.
The above-mentioned list of bangs for round faces with glasses includes almost every type of bangs you can ever get to flatter your soft facial angles. While staying on the longer side is ideal to create the illusion of an oval face, you can go as short as you want!