Bangs for oval faces are quite recommended since they put your best features in the limelight while drawing attention away from your long face. Though bangs, regardless of their shape, cut, and size, work the best for any type of face cut.
How to Cut Bangs for Oval Face
It is quite easy to cut your own bangs based on the type of face you possess. Follow the steps as given below and you'll have your bangs hair ready in no time!
Part and gather your hair in the front which you intend to convert into bangs.
Place this hair in between your forefinger and middle finger.
Twist this bunch of hair once so that you have them rolled once in between your fingers.
Start cutting while keeping the length of your bangs a little longer than you intend to.
Once done, release them and you'll have the perfect shape of bangs longer at the sides and shorter in the middle.
Now tweak this hair a little to give it the desired texture. You can also make spilt cuts to give it a feathered and ruffled effect or simple even out the borders with a pair of scissors and you're good to go!
Style your hairdo with a straightener, hairbrush, and blow dryer to ensure that your bangs get into the desired shape and stay in place all day.
How To Style Bangs for Oval Faces And Big Forehead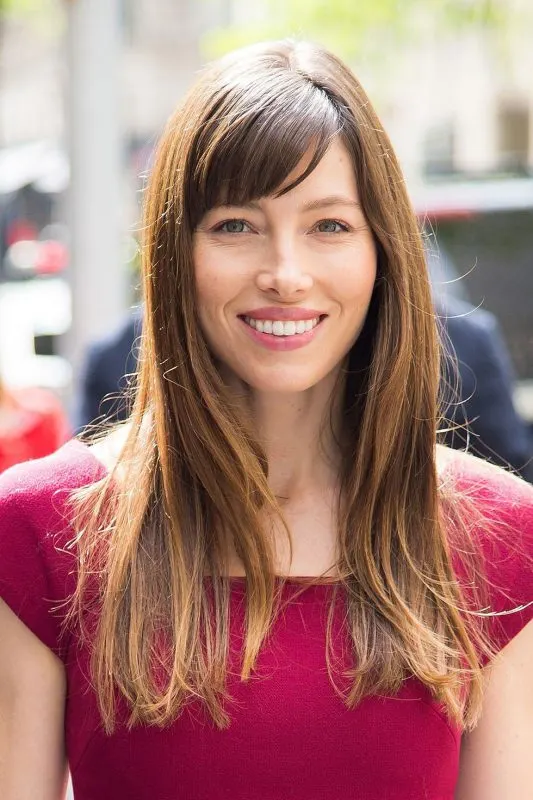 There are a couple of aspects to consider while styling bangs for an oval face or a long face:
Go for side swept, wispy and blunt bangs, or brow-skimming bangs. These work the best in covering up your broad forehead and focus more on your lips and mouth.
Bangs on oval faces make it appear smaller and rounder. Side swept bangs are specially meant for girls with long faces and big foreheads.
If you like keeping your hair straight, make sure your bangs are a bit curled and shaped towards the end while they gently graze your cheekbones. Long and straight hair makes your face appear longer. But if you add slightly curled side-swept bangs, you are bound to improve your looks by several notches.
Opt for a type of bangs that cover a good portion of the upper half of your face while leaving your lower half, like chin and lips, into the limelight.
Baby bangs and micro bangs don't flatter an oval face well. It is best if you stick to large and curled side-swept bangs instead of small ones.
Steer your way clear of curly thin hair bangs that fall unevenly on your forehead. These will only bring down your looks by several bars which aren't recommended for a stylish reputation.
Since your face is naturally oval, make sure you go for oval bangs to stay true to the original nature of your face. Rounded bangs don't work pretty well with oval and long face types.
Styling Bangs Hair for Oval Faced Women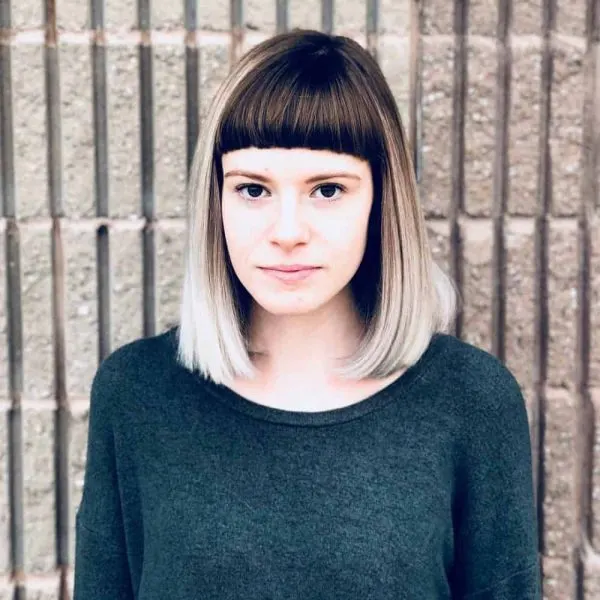 Oval-faced women can pull off any type of bangs. Be it side-swept, blunt, or short bangs. The trick to getting a good set of bangs is to ensure that they aren't too short. The perfect is having your bangs just skim across your eyebrows.
Keep your bangs and fringes a little longer at your temples to complement the sides of your face while a pretty short in the middle.
Always aim for loose and messy hairstyles along with bangs since that will amp up your look better than any other hairstyle.
It is better if you wear your hair low like in a low ponytail, braid, or bun than wearing your hair high up. If you wish to get a high hairdo, ensure that you don't go for tight hairstyles but stick to loose and freestyles that complement your oval face the best.
Bangs That Are Not Recommended for Oval Faces
Micro And Baby Bangs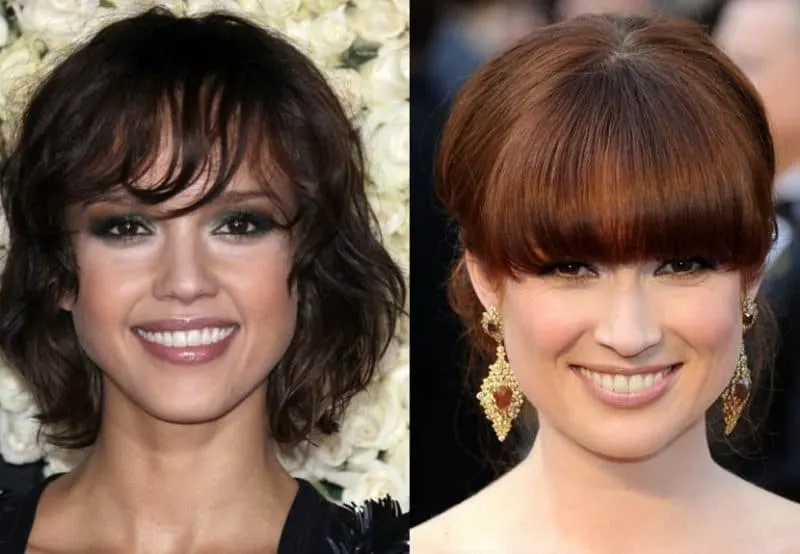 Uneven And Rounded Bangs
Best Bangs Hairstyles for Oval Faces
Hairstyles with bangs give an oval face a stylish look. If you're thinking of getting a new haircut to suit your oval face, then check out our favorite styles!
1. Highlighted Side Bangs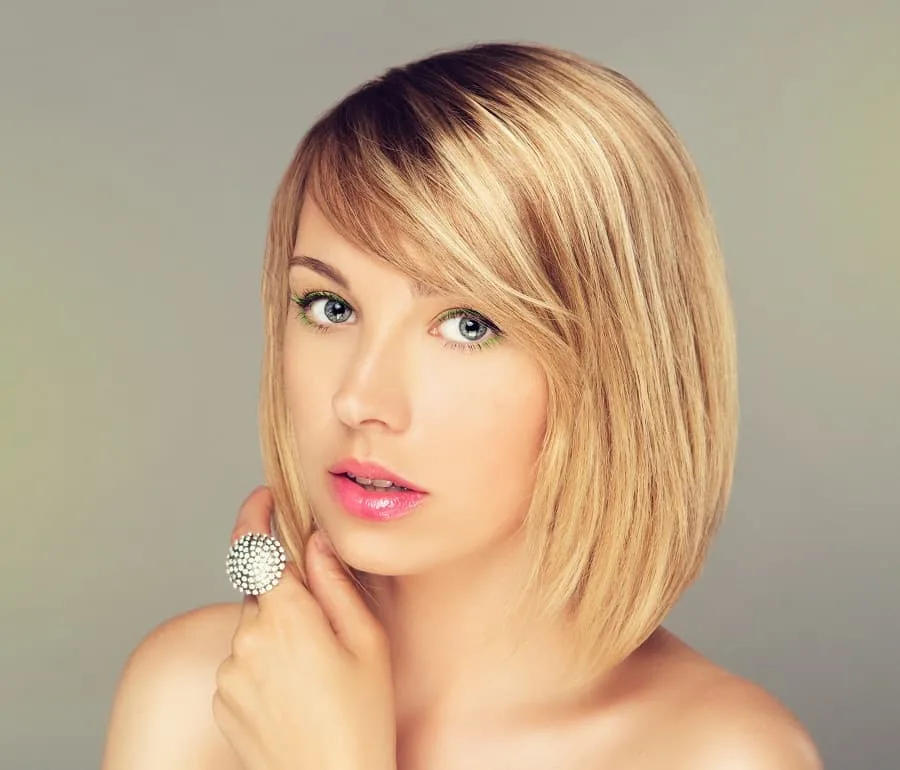 Bring a little warmth to your oval face with side bangs featuring light blonde highlights! Straighten your hair to give a short layered bob a chic finished look.
2. Long Rainbow Bangs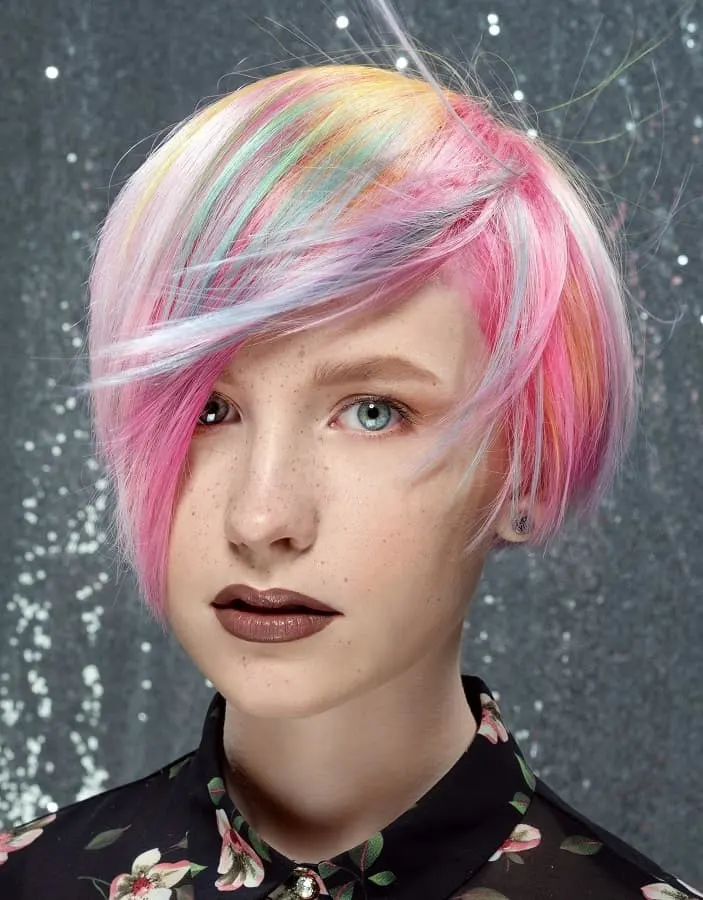 If you love playing with color in your hair, be bold and go with a rainbow hairstyle! The bangs are long on one side and short on the other, straightened for edgy sophistication and perfect for oval faced women.
3. Short Bangs with Braid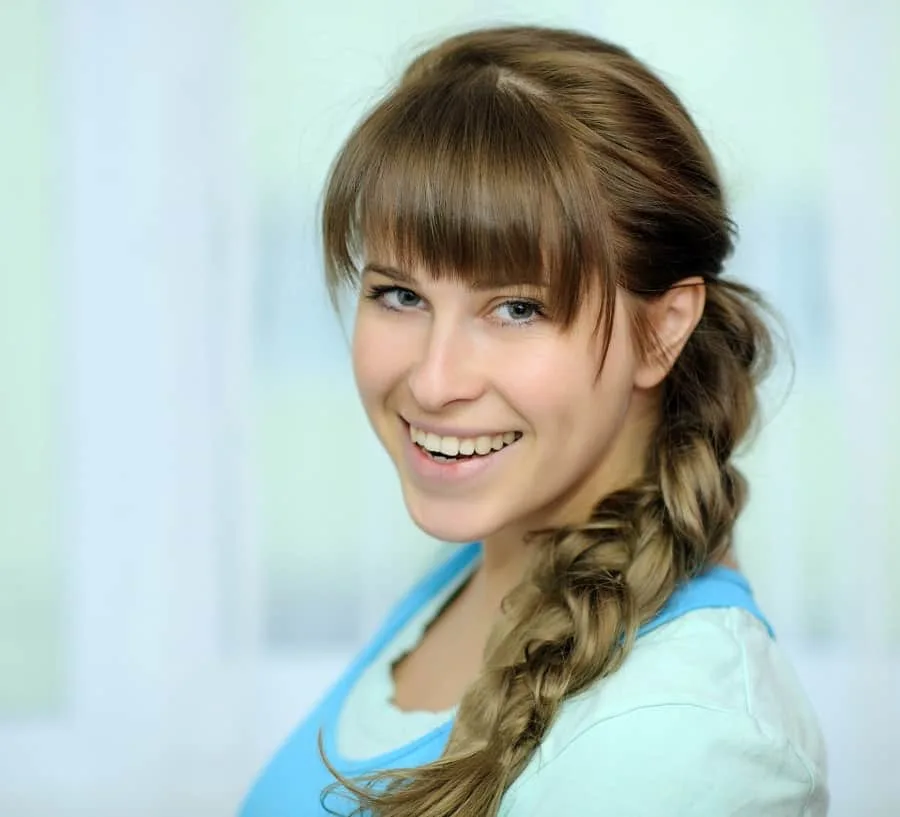 These short bangs stop just at the eyebrows and look adorable with a long low side braid. To avoid frizz or messy fringe, straighten your bangs and comb them neatly.
4. Curtain Bangs on Updo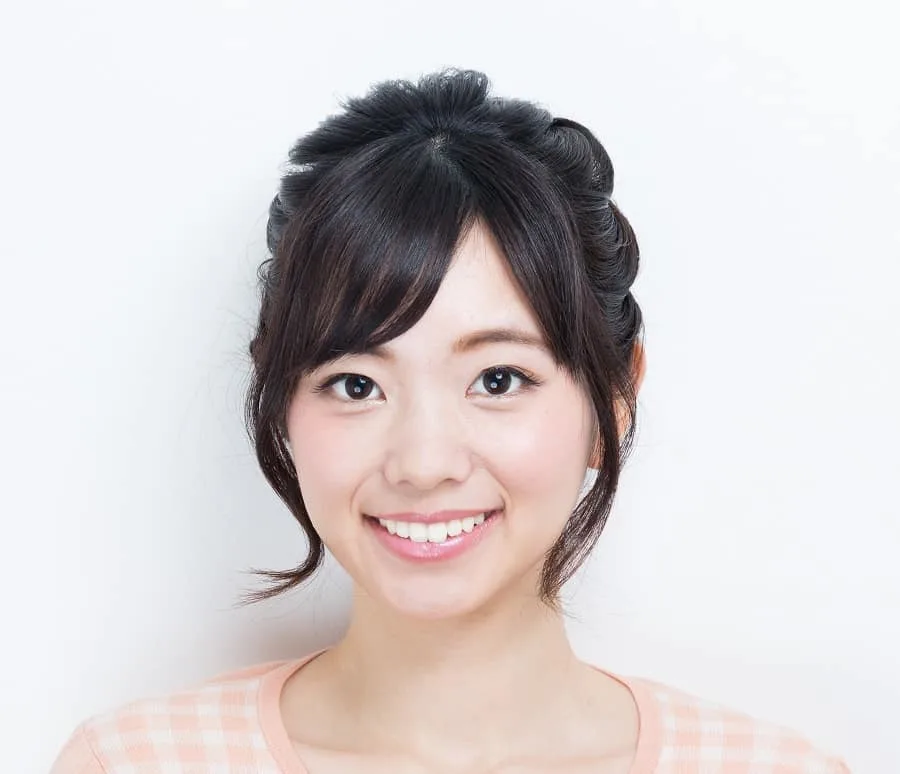 If you go with curtain bangs, part them off center to easily switch up the dimension of your oval face. On a low updo like a loose braid or bun, these bangs are the perfect touch of softness.
5. Wispy Thin Bangs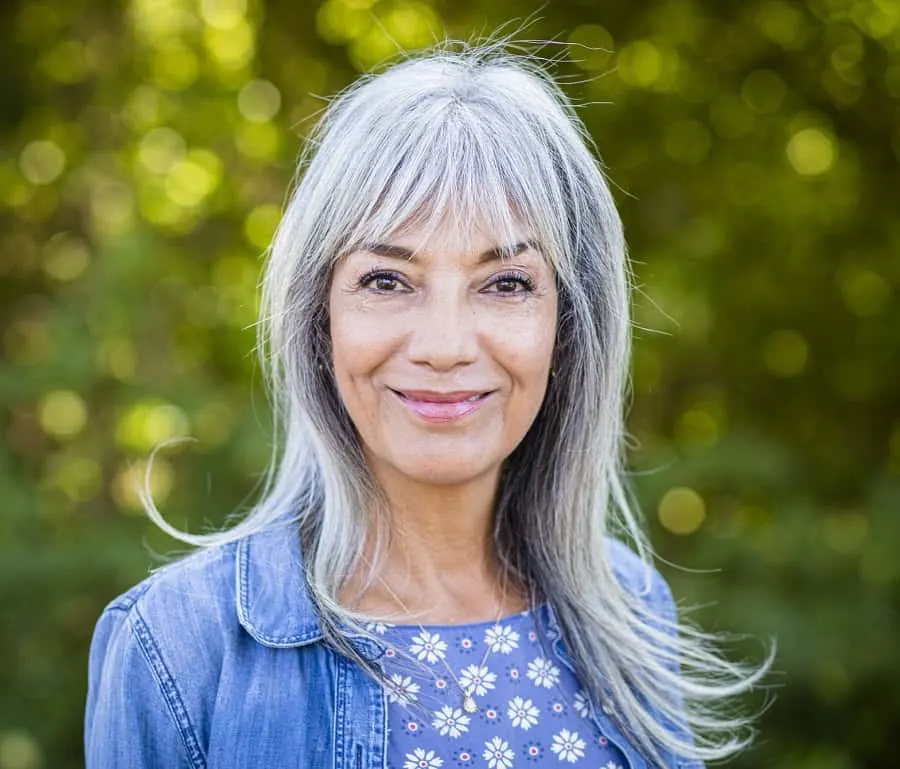 Just because you're an older woman, that doesn't mean you have to chop off your locks! Keep the length you love, but add a short bang. The wispy texture is great for women with thin hair.
6. Short Baby Bangs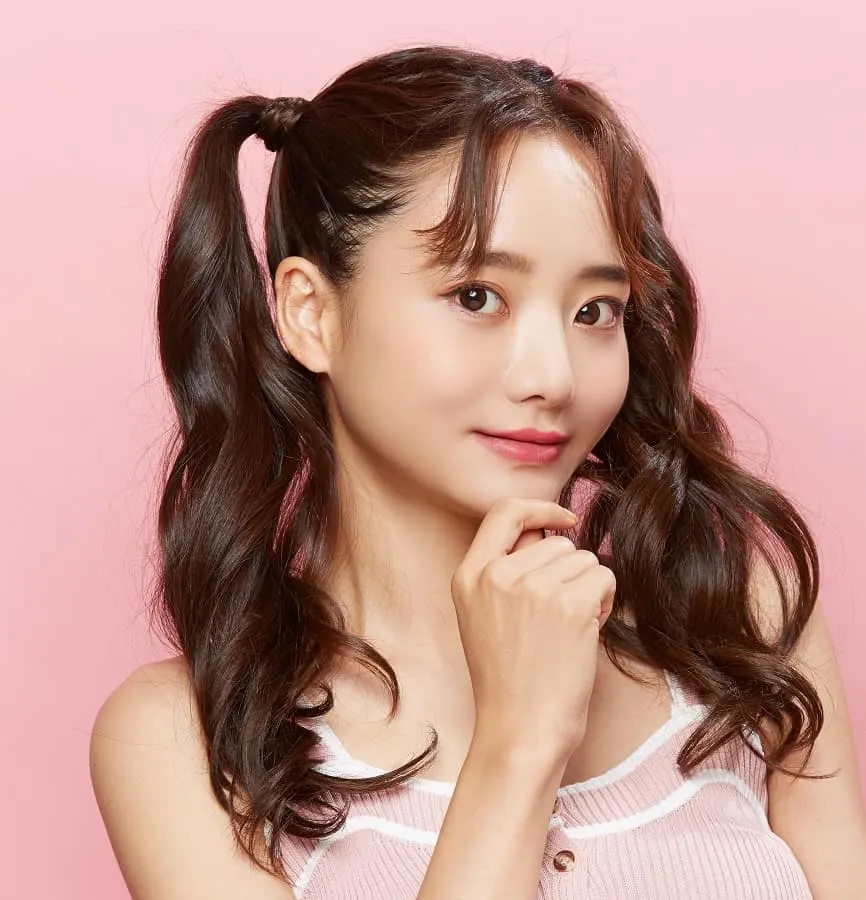 On a girly hairstyle like two side ponytails, short wavy baby bangs are key to face-framing and distracting from an oval face. They'll keep your look soft as long as you arrange them off to the side.
7. Bun Updo with Long Bangs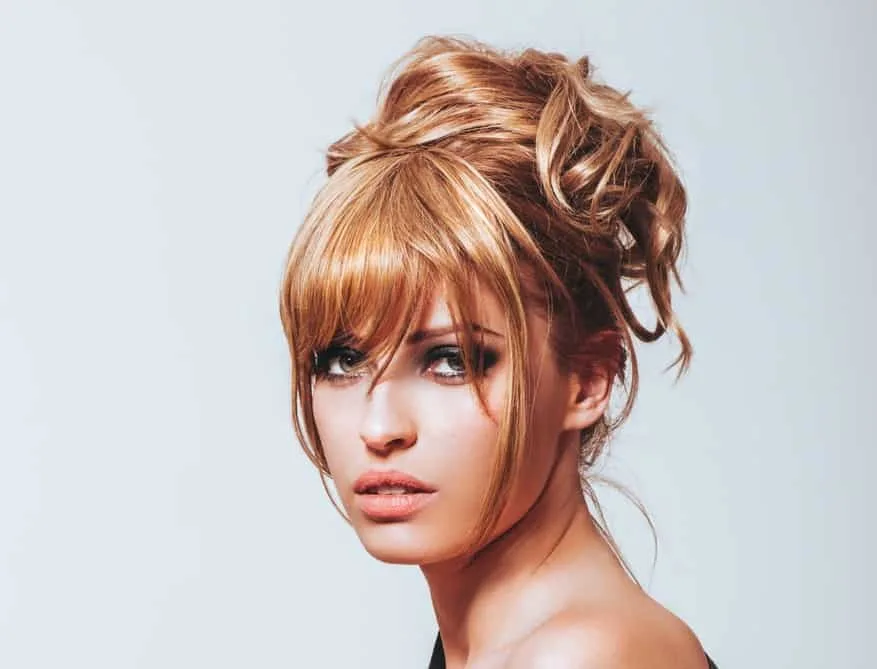 The body of the hair on this high romantic updo may be wavy, but the long bangs are straightened to offer a beautiful contrast and cover a long oval face. Pull longer pieces of hair loose near the temples to continue the face-framing.
8. Choppy Short Bangs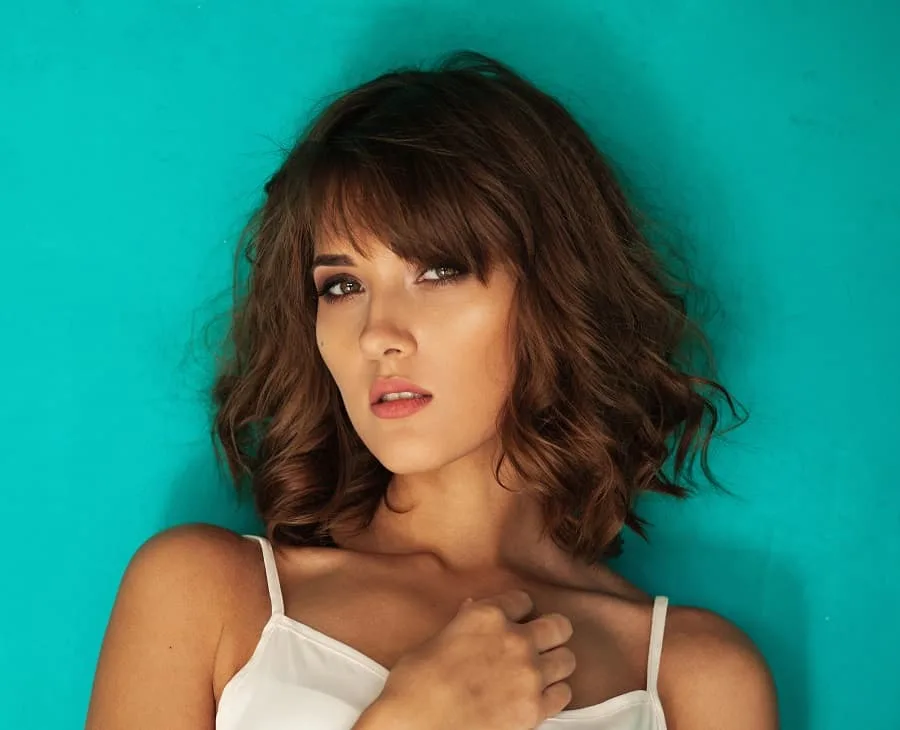 Combine short, choppy cutting with layers to get these sexy side bangs. Wear them with a voluminous wavy bob for a youthful style suitable for any woman with an oval face.
9. Layered and Pink
On women with oval faces and light skin tones, a light pink color can really liven up short layered straight bangs. A short hairstyle like a bob will wear them well.
10. Bun with Long Side Bangs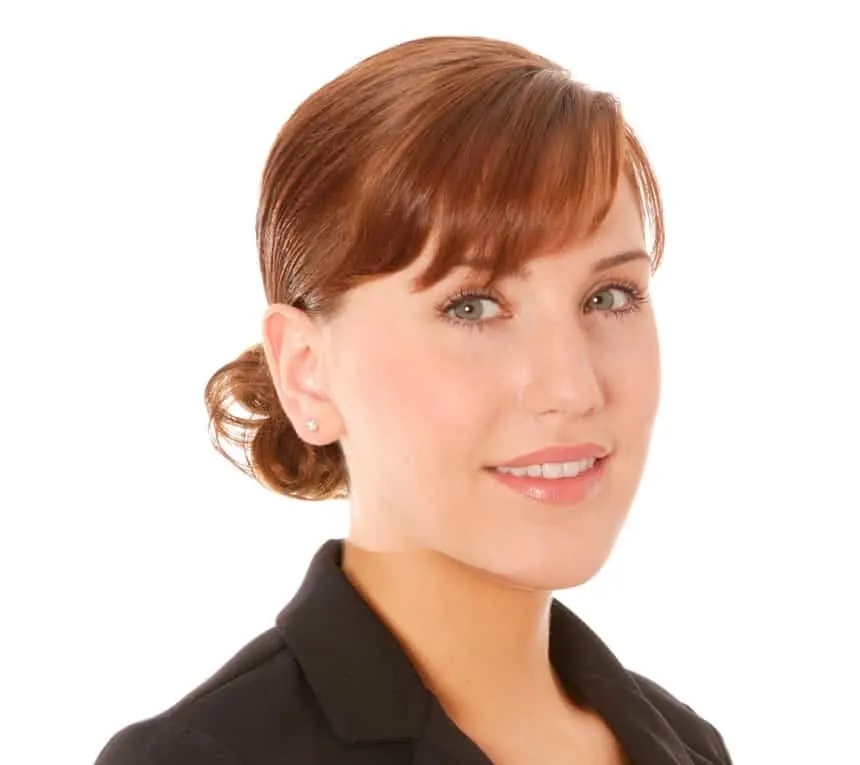 Give your office hairdo an update by cutting in long layered side bangs. They'll make a low smooth bun less harsh and more chic!
11. Straight Bangs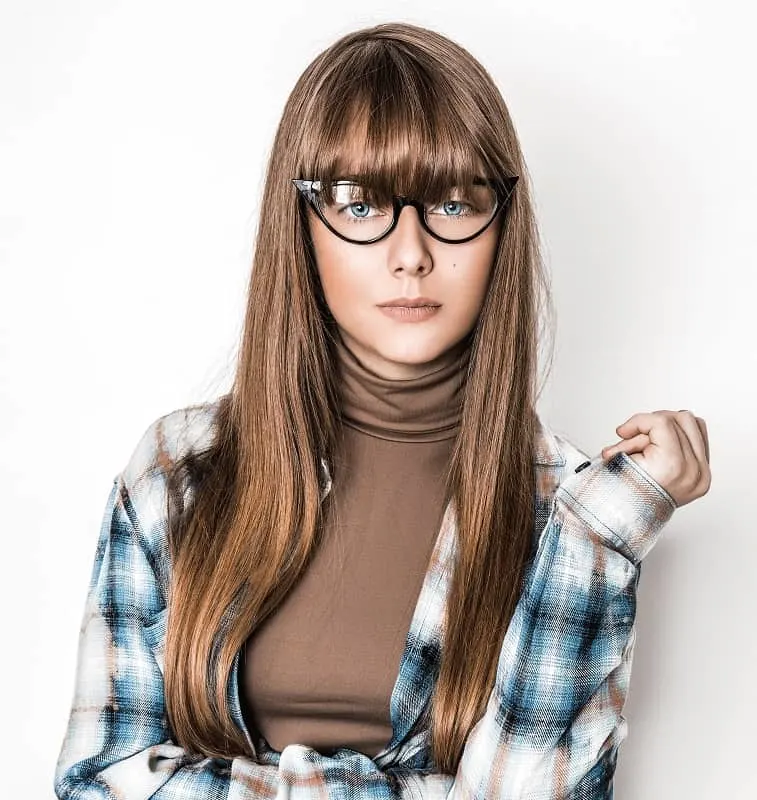 We have to say that we really adore this look! And it's not only the creamy hair color, but also those straight bangs that are perfect for oval faces, especially if you add a pair of retro glasses. That cat-eye shape is back in trends, and it would be such a shame not to try it!
12. Copper Bangs
I think there is no better bangs option for oval faces with a big forehead than this straight fringe that starts from the top of the head. The bangs are covering the eyebrows, diminishing the broad forehead and creating such a great contrast with the fair skin and freckles.
13. Platinum Blonde Bangs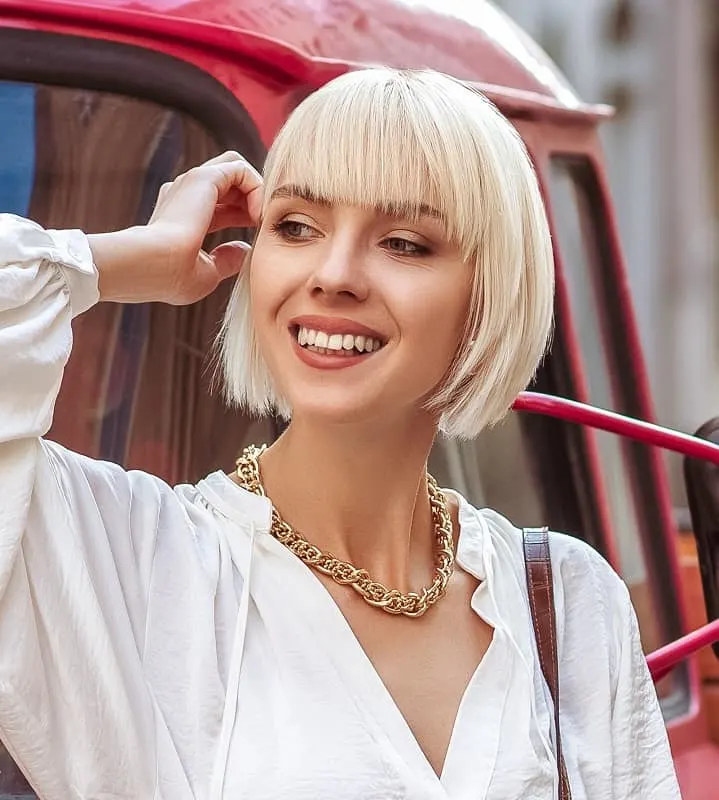 Thin hair never looked better and it's all thanks to that bob haircut and bangs that certainly suit any oval face. Also, the color plays an important role, making that platinum blonde nuance the best fit for women who want a modern and glammy look.
14. Asymmetrical Bangs with Long Hair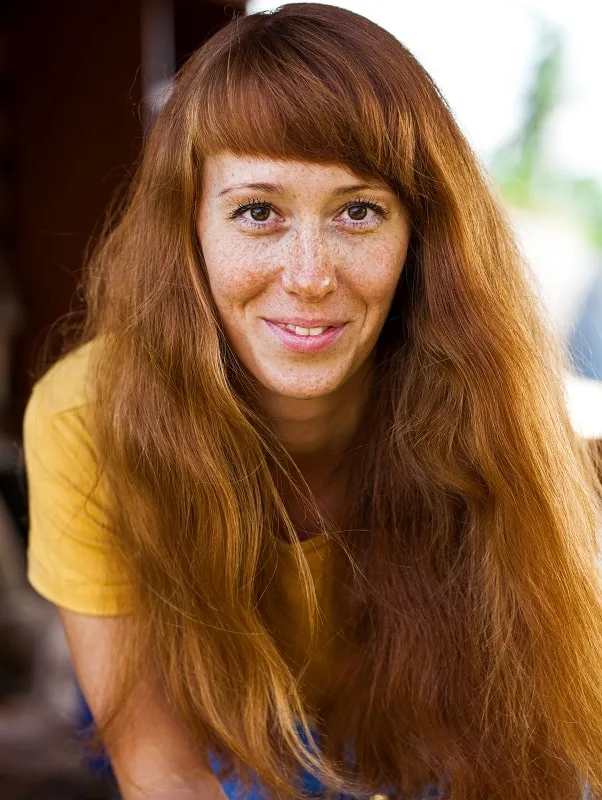 These thick bangs can flatter any oval face. Wear your hair long, in a blonde, brown shade, and style some warmer highlights that will make your mane look sunkissed. The shape and the color of your hair will beautifully fit your face shape and skin tone.
15. Side Swept Asian Bangs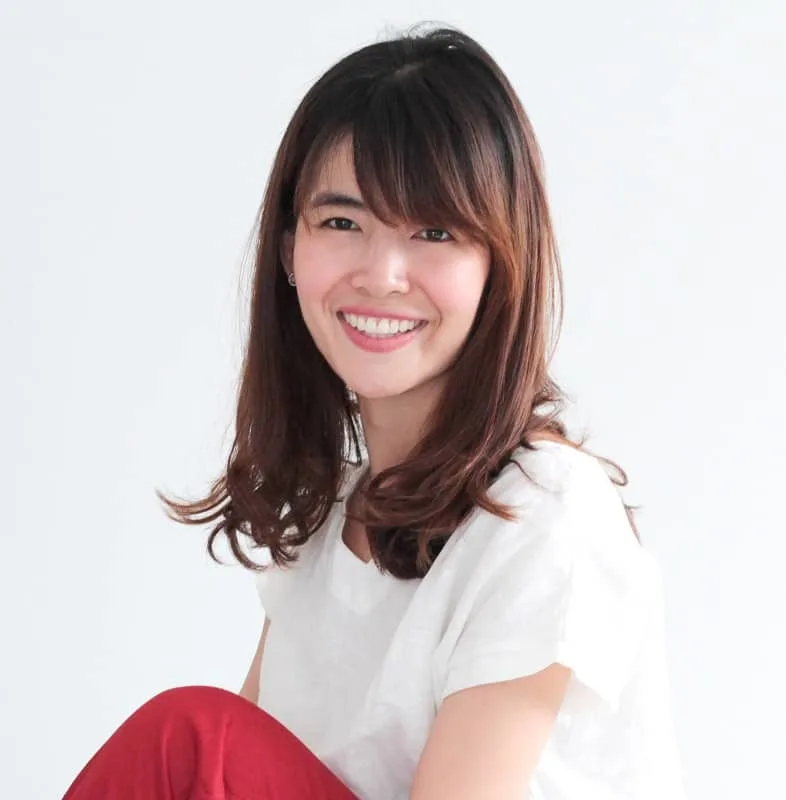 Bangs are highly requested among Asian women with oval faces. One of the reasons is obviously the trends that encourage them to make such a choice, getting their inspiration from the k-pop culture, but also their functionality and aspect.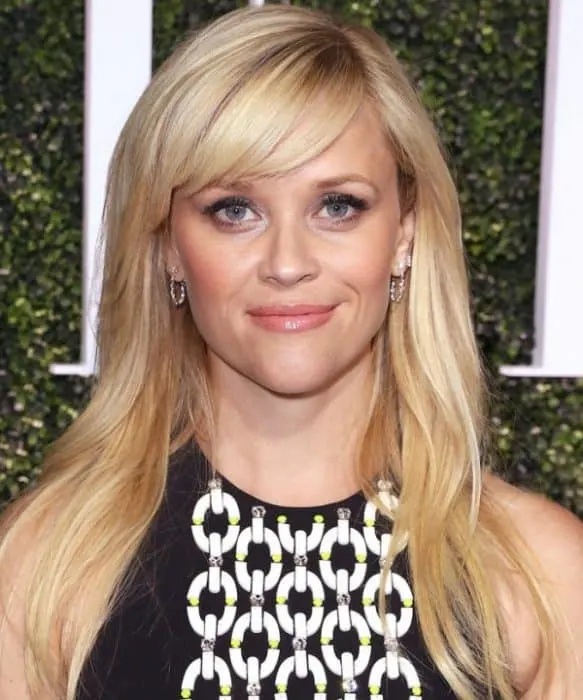 You only need a brush and a blow dryer to achieve this look in 3 minutes flat. Side bangs for oval face look excellent on both short and long hair.
Layers complement an oval face quite well. And more so, if you throw in a pair of side-swept bangs to go along with the overall look.
18. Grown Out Pixie Cut
Side swept bangs is ideal for women with oval face shape. Very few girls are experimental enough to opt for the pixie cut.
But those who do can boats of a number of stylish hairstyles until your hair grows out, the grown-out pixie being one of them. Shape your front hair into side-swept bangs and voila! You have a new look!
If chic and style had a new name, it would be 'shaggy.' A shag haircut speaks volumes about your carefree and cute personality and is only enhanced by having a pair of side bangs complementing your oval face.
Fringes just touching your eyes and longer at the sides are just what you need to spice up your hairdo in the simplest way possible. Brownie points if you have long beachy waves to go along with these bangs for oval face.
21. Messy Look with Short Hair
As long as your bangs are shorter in the center and longer at the sides, you can pretty much rock any haircut, even a short messy look.
22. Messy Long Waves with Bangs
Long wavy hair with side bangs also accentuates an oval face quite well. You can try this look on mid-length hair too.
23. Blunt Bangs
No face type can pull off blunt bangs better than an oval face. You can have long straight hair or short curly ones, but blunt bangs will always make you stand out in the crowd.
An asymmetrical bob, with the hair at the back chopped to a minimum length while the hair in the front is long, is one of the new favorites of the current generation. However, a lob is incomplete without side bangs for oval face.
A short bob, be it straight cut or unevenly chopped, is quite in trend these days. Pair it up with a bunch of side bangs, just up to your eyebrows, and you have a chic bangs hairstyle for oval face to rock!
26. Curls and Bangs
Side bangs give any woman with an oval face a mysterious look and elegance. If you also flatter yourself with some curls, don't forget to tease the roots to give your whole mane more volume.
27. Straight Bangs
A big bun and some bangs will always flatter a black girl with an oval face. Start by highly moisturizing your hair and using a fine-tooth comb, glue it to your scalp and tie it into a bun in the midsection area. As for the fringe, use an iron to make it look flawless.
28. Highlighted Curls
The proper bangs can create the right illusion for all face types, including oval faces and small foreheads. Layer your hair and dye it in a chocolate brown color.
Add some warmth and softness with some blonde highlights and cover your forehead with a curly fringe.
29. Wispy Side Bangs for Strapless Dress
Strapless dresses require hairstyles that show off the neck and shoulder lines. A short cut with wispy bangs is just perfect for women with oval faces who want to wear such elegant dresses.
30. Straight Bangs for Women over 50
As an older woman with an oval face, a pair of bangs will certainly make you look younger and fresh. The combination of flawlessly straight bangs and waves will make you feel like you're back in your 20's.
31. Side-Swept Bangs
A beautiful hairstyle with bangs for oval face women. Regardless of your hairstyle, side swept bangs with a slight curl articulate an oval face beautifully. They draw more attention to your cheekbones, lips, and chin than your forehead.
32. The Loose Hairdo
A messy and loose hairstyle, preferably with a low pony, braid, or bun, with bangs works exceptionally well for oval faces.
You can leave out bangs on both sides of your face. On second thought, pin up one side of your hair securely and let the bangs of the other side fall freely.
Keeping the hairstyle straight but not flat is the key to a great looking long hair with bangs for women with oval faces. The bangs parted in the middle add volume to the hairstyle and complete the fashionable look.
34. Long Pixie with Side Swept Bangs

This is the long pixie hairstyle with bangs which will look great on women with oval faces. The stand out of the crowd ear tuck makes an impression of youthful style and gives the hair a thick and neat look. Should be tried at least once in a lifetime!
Curly hair doesn't mean the bangs should be forgotten. Short bangs are a great addition to the curly hair of any length.
This cut is a big hit among bangs hairstyles for women with oval face shape and who is bold enough to wear long curly hair.
36. Spiky Pixie
Feel like an edgy sprite with a spiky pixie and bluntly cut bangs. The different lengths of hair featured here are flattering on oval faces.
37. Low Braids
To easily add framing to an oval shaped face, rock a low braided hairstyle with bangs. The straight edge of them helps square off the face and adds an edgy touch.
38. Ponytail with Long Bangs
Rock a gorgeous ponytail like Zooey Deschanel with her signature long bangs. They come past the eyes for a chic pairing on a high curly ponytail.
39. Teased Long Hair and Bangs
Here's another gorgeous hairstyle for oval-shaped faces: long hair that comes past the shoulders is teased for sexy volume and worn with long straight bangs. The nice thing about this look is you can just wake up and only worry about styling bangs!
40. Straight Bob
You may be an older woman with an oval face, but that doesn't mean your hairstyle can't still be edgy. We love this hot red highlighted bob with its straight short bangs and dark base.
41. Long Wavy Hair
You'll truly look like a doll with blonde long hair and soft slightly wavy bangs. If your hair is on the thin side, add layers to thicken it up. The key to this style is not straightening bangs so you get that casual feel.
42. Short Straight Hair Pinned Back
Put a cute twist on short straight hair and bangs by using fun hair clips to pin hair back on either side. Keep bangs short – above eyebrows – to draw attention to the eyes.
Related: Gorgeous Bangs for Small Foreheads
43. Bardot Bangs
Any oval face will look gorgeous with Bardot bangs. They're soft, feminine, and gorgeous on long straight hair with highlights.
44. Piecey Bangs
Bangs don't always need to be thick and dramatic on oval faces. Go for a piecey look for softness on medium-length hair. Keep them above eye level so they aren't in your face when you're on the go.
45. Side Bangs
Want to try bangs with glasses on your oval face? Rock long wavy highlighted hair with side bangs to split up face dimension. Whether your hair is worn up or down, long side bangs are the perfect touch.
46. Twisty Bun with Straight Bangs
By cutting your bangs perfectly straight and short, you'll help frame an oval face. Use fingers instead of a comb to get soft tousled fringe. Gather the rest of your hair up in a cute twisty bun – great for the office or date nights!
47. Straight Layers
A nice long bang splits up an oval face's dimension with long layered straight hair. For a chic office look, where it down and loose paired with your favorite statement necklace.
48. Half Up
These straight bangs were cut with a soft angle so they're not harsh and look adorable with a half up ponytail and short thick face-framing sections of hair. When bangs are short like this, you allow your eyes to be the center of the show.
49. Rainbow Bangs
The rest of this long curly hairstyle for oval faces may be auburn, but the short bangs pop beautifully with their rainbow color.
If you're adventurous, you need to try this style! For a super dramatic hairstyle, add equally bold makeup in rainbow colors.
50. Wavy Bangs
Let eyes play peekaboo under long wavy bangs. Long shoulder-length hair can be worn mostly straight or up in a cute casual pony.
FAQs on Bangs for Oval Faces
Do bangs suit with oval faces?
Oval faces can pull off any bangs. Long oval bangs, blunt cut bangs, and side swept bangs all look good on oval faces. However, stay away from rounded or uneven bangs like those mentioned above.
Fringes or bangs which one is best for oval faces?
With an oval face, but fringes and bangs look good. For a more customized suggestion exclusive to only your face, make sure you ask your hairstylist what type of bangs suit your oval face although there is no hard and fast rule to it.
What is the basic styling tip for an everyday hairdo for an oval face?
Keep your hairstyle low and loose. Use hairspray or serum to keep your stray hair in place, if need be. also, keep your heat styling to a minimum to avoid damage by heat.
Bangs suit all face types but especially bring up the overall look of girls with oval faces. So, if you have an elongated or oval face and you're looking for just the right kind of hairstyle to accentuate your beautiful facial features, maybe it's time to get one of the above bang styles!