When it comes to bangs for round faces with the right haircut, you can easily jazz up your look with either short or long hair. Women usually avoid short hair cuts as short hairstyles emphasize the roundness and chubbiness of their face.
Round faces are beautiful and mesmeric. Girls with round faces tend to look younger even in their 40s for it has the innocent and youthful aura that age better with time.
However, we cannot deny the fact that round faces are difficult to style because if your face is round, your facial width and length are roughly the same size resulting in a wide face, so the end goal is to always hide those flabby cheeks and create dimensions in the features, making an illusion of a longer and slimmer face.
How to Choose Bangs for Round Face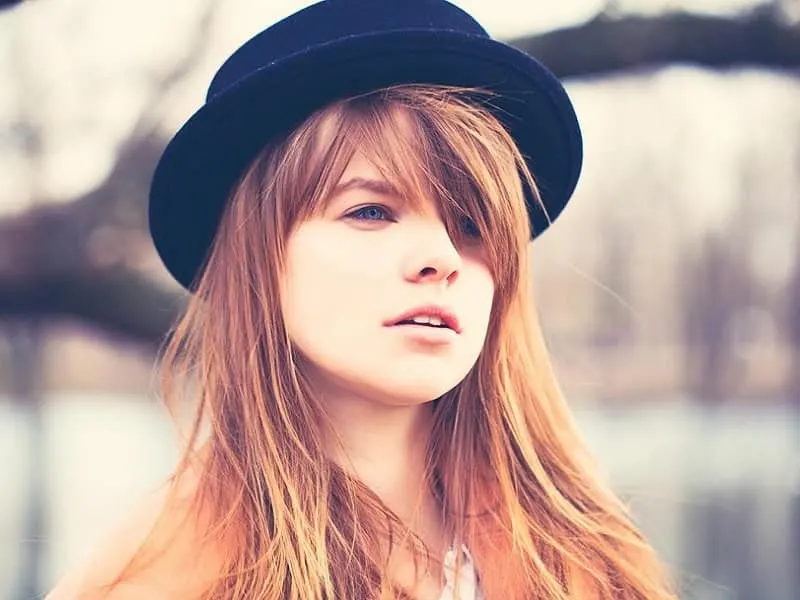 Bangs hairstyles are mod and alluring. You will be surprised to know how bangs can make a significant difference in your facial aspects. The best bangs for round faces can be a fun and ingenious way to change and invigorate your style.
Because round faces are symmetrical, you always need something asymmetrical to add angles to your facial features.
Speaking of the bangs, girls with round faces should never opt for straight bangs, as straight bangs show off your facial flaws and highlight your face fullness.
But that doesn't mean you cannot pull off bangs. Round faces look angelic with long side-swept thick bangs as they reduce the fullness of your face. You can also part of your hair to the middle to enhance your features.
How To Cut Bangs Hair for Round Faces
If you don't want to rush to a salon every time you plan to cut your hair, then you must learn how to do it yourself. Cutting bangs is a piece of cake once you know the right method and follow the guidelines.
Here's how you can cut bangs at home:
Prepping Your Hair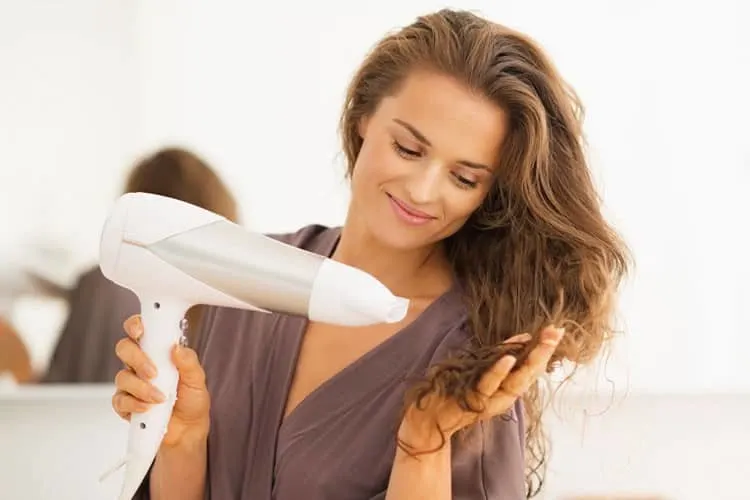 Wash and dry your hair. Use a hairdryer or let it air dry but make sure your hair is completely dry before you start styling it.
Look for Angles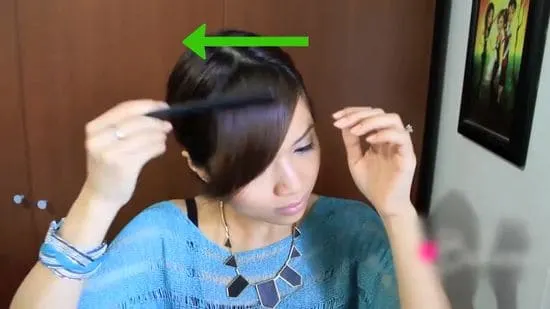 This step demands extra consideration. Look right into the mirror and tilt your head sideways, place the comb on the crown of your head. Find the spot with the comb where it starts to curve down towards your forehead. This is where your bangs for the round face will naturally begin.
Make A V Shape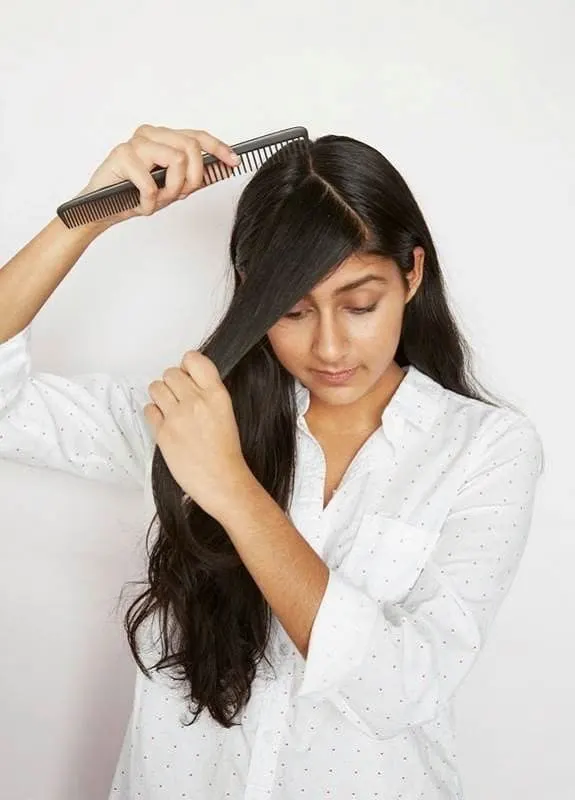 Create a V- shape by pulling your hair forward with a comb. The hair that will fall inside this V shape is what you will cut for your new fringe bangs. Make sure you take an equal amount of hair and don't go too wide.
To avoid the mishaps, pull the rest of your hair and secure it in a ponytail.
Cut Your Bangs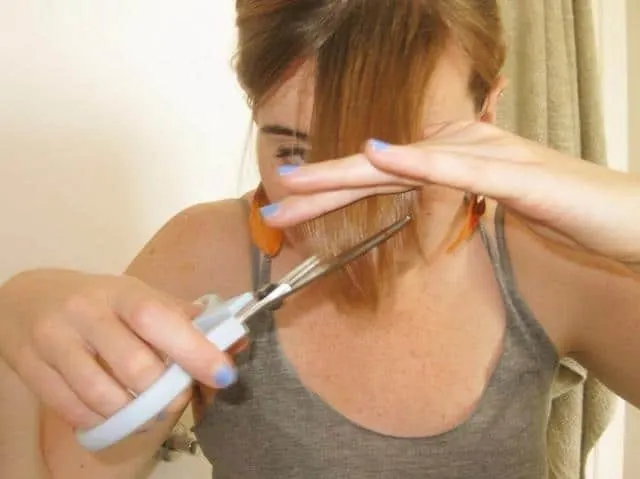 After you have decided the length of your bangs, cut the bangs while sloping your fingers down at an angle you want your bangs to frame the face.
Do not cut the bangs straight across, always cut side-swept bangs at a certain angle, this will give your bangs a natural wave and appearance.
Check Them Out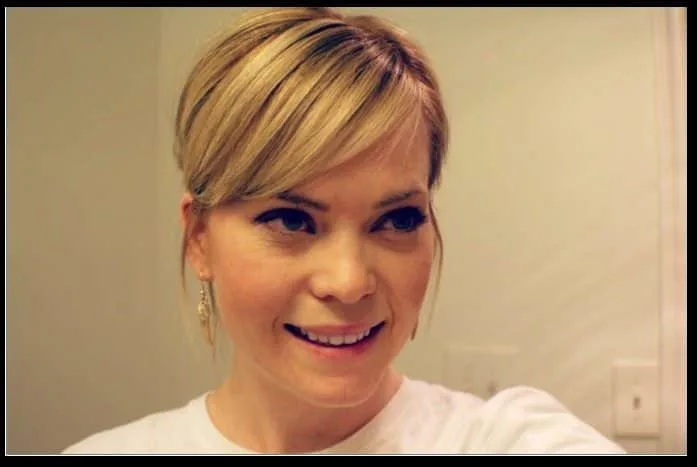 After you are done cutting your bangs hair for round faces, sweep them to your side and check them out. If you want the bangs to be a little shorter, repeat the same procedure until the desired length is achieved.
You can try see-through bangs by thinning your bangs down.
Amazing Bangs Hairstyles for Round Face
Here are 30 stunning ways to wear bangs for round faces:
1. Round Bangs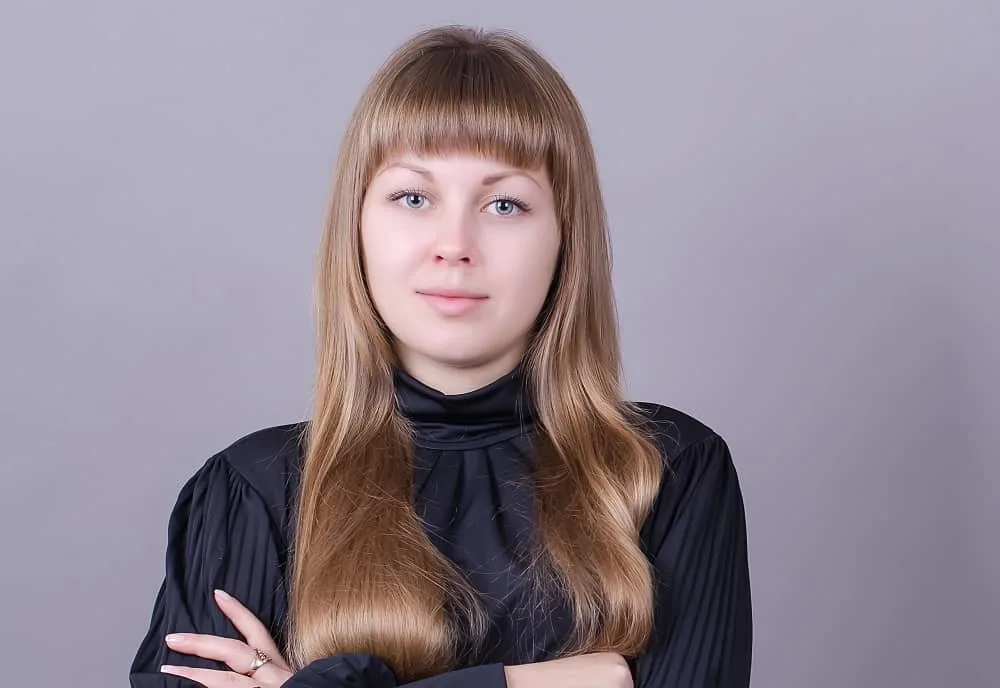 Are you thinking about getting bangs, but you want them to fit your round face shape? Search no more because this fringe is the one you need! Cut it round, just above the eyes, and use a rounded brush to give the bangs more volume.
2. Ultra Straight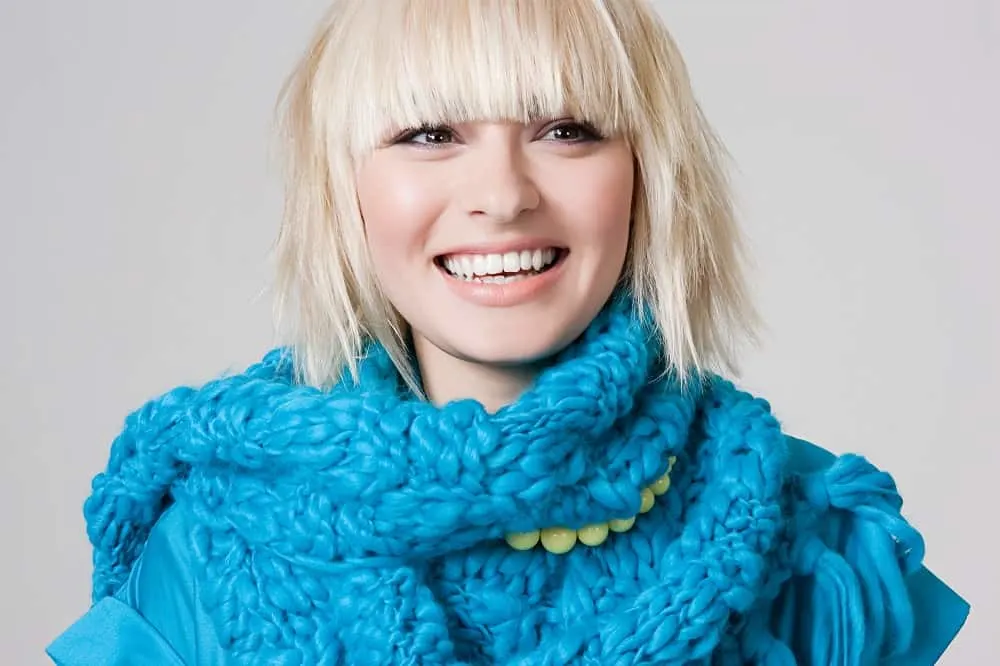 Edgy, messy, and bold! This hairstyle has them all, and if you love being in the center of attention with your new hairdo, bangs for round faces will certainly catch sight. Cut the fringe short and straighten them with an iron. Get a layered bob haircut and keep it messy.
3. Red bangs for Fair Skin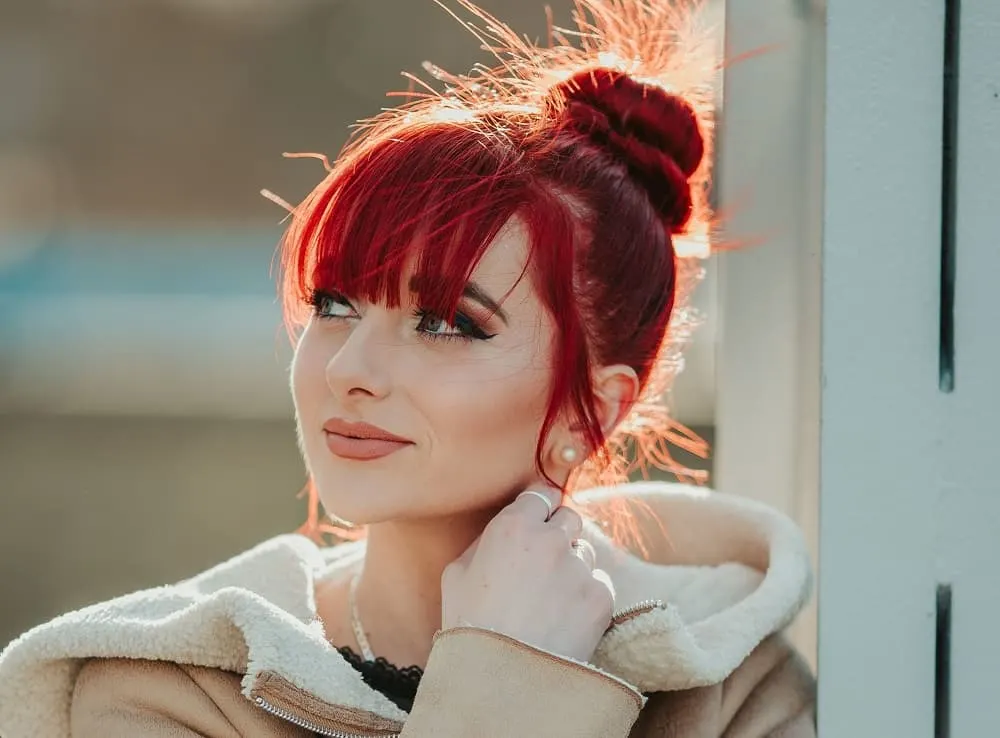 Everybody loves redheads, and if you have fair skin and blue or green eyes, this dark fierce red shade is just the thing you need. This dramatic change with straight bangs for rounded faces will work to your advantage and create a look that you'll absolutely adore.
4. Curtain Bangs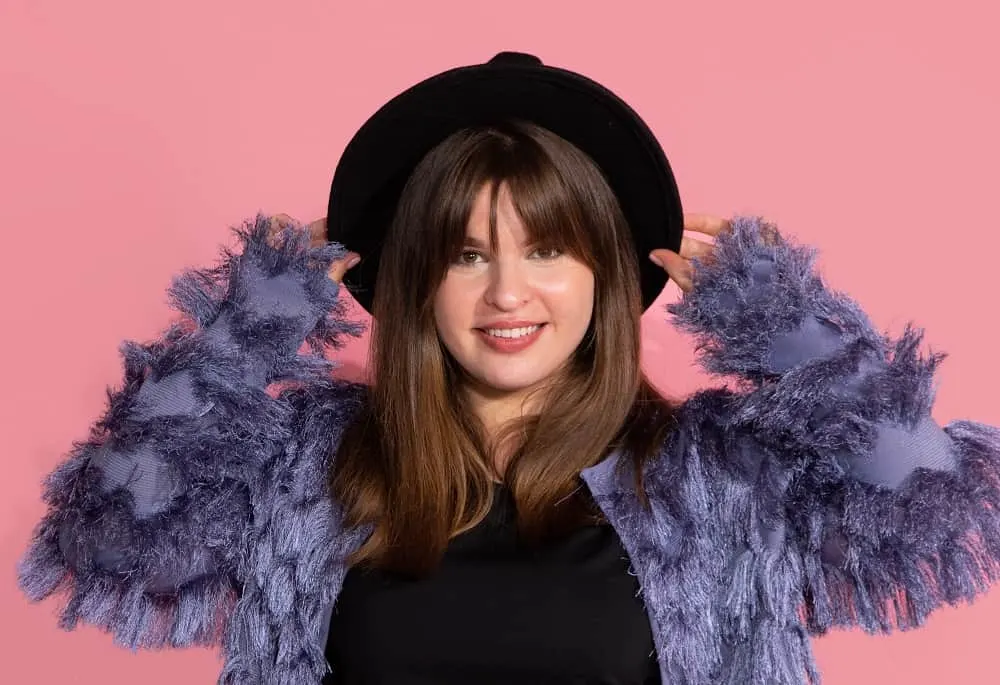 Need a trick that makes your face look less round? Curtain bangs are here to rescue you! Part the fringe in the middle and build layers that create a face contour. You can even play with your color and enlighten it just a little towards the tips.
5. Bright Copper Hair with Bangs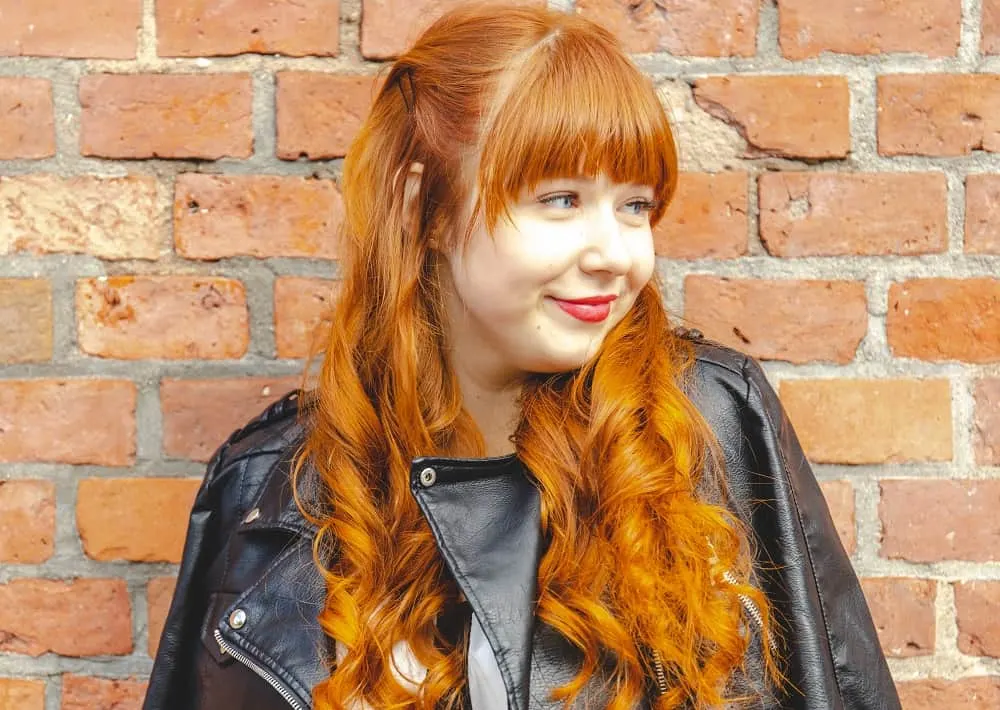 One of the best ways to get attention on your new look is to sport a unique color like this bright copper nuance. It will work so well with your complexion and if you want to cut the roundness off, go for bangs that cover the eyebrows. Keep them slightly round and longer n the corners.
6. Asian Bangs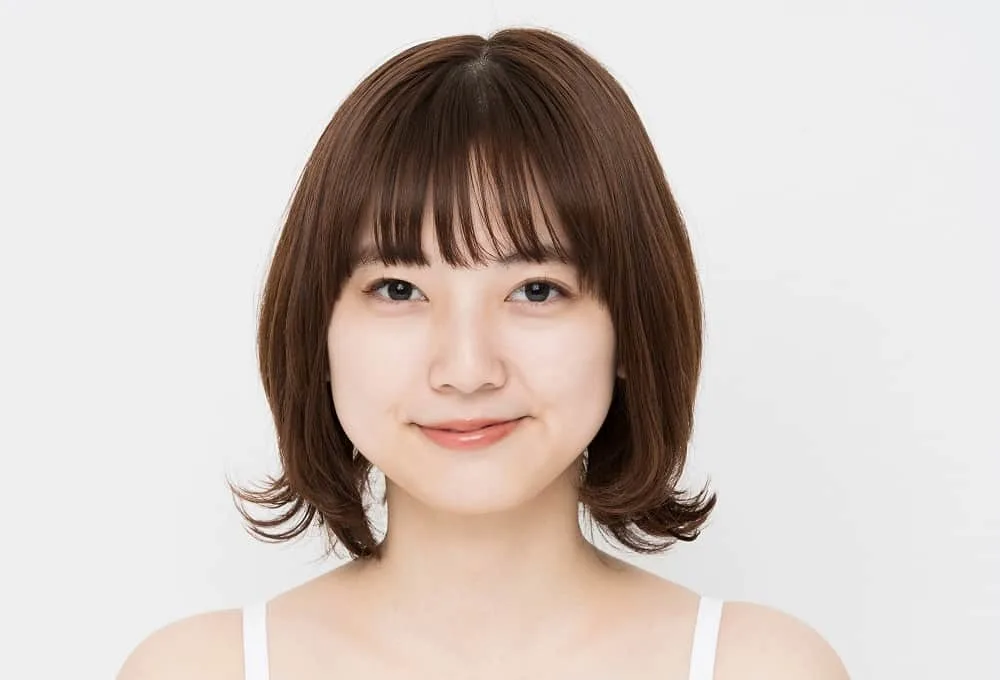 Bangs are among Asian women's favorite, and what's not to love about a good old fashionable fringe? They can be adapted and cut to suit any face shape, including women with a round face. Get yourself a bob and style the tips outwards.
7. Short Colored Bangs
Love a messy cut with layers and a pop of color? Good to know because we have the best example for you! Cut your bangs two fingers above the eyebrows, dye your hair in a platinum blonde color and add that pinch of color. Even if it's pale, that pink will create a great contrast with the blonde tone.
8. Asymmetrical Bangs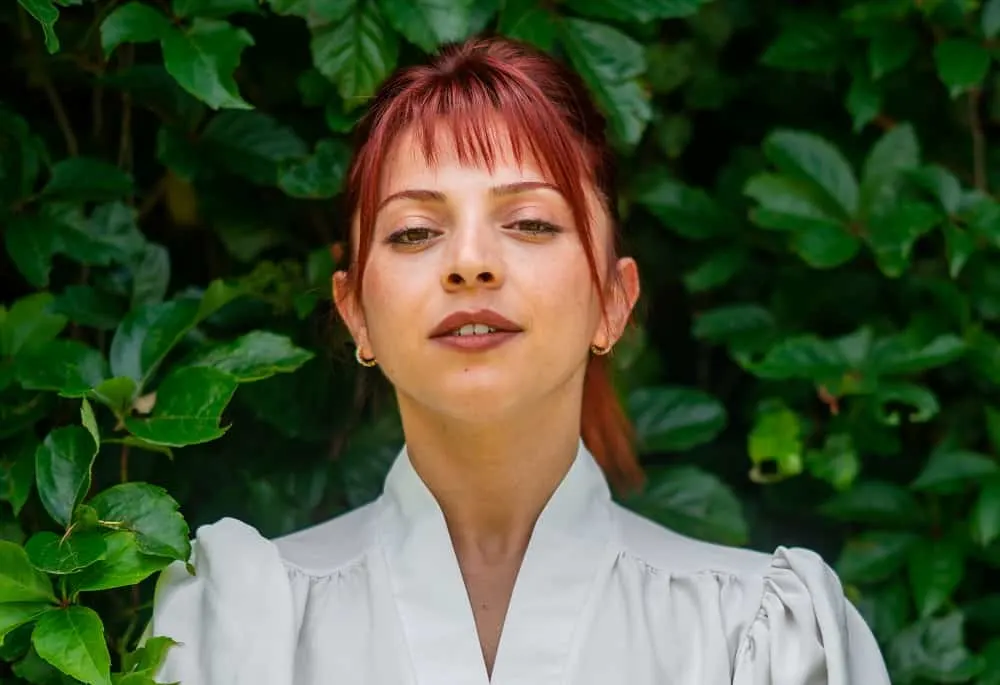 Searching for tips that help you make your face look less round? Well, having asymmetrical bangs is probably one of the most suitable answers. If you are wondering why find out that creating angles cuts the roundness of your face and makes it look slimmer.
9. Classic Bob with Bangs
Not into those modern cuts? Fancy a more old-school look? In this case, we have the recipe for you! Opt for a medium bob haircut with bangs. It comes with lots of perks! It is great for your face shape, low maintenance, and allows you to get all sorts of bangs.
10. Straight Copper Pixie
Pixie haircuts are so fun and also very versatile. As a woman with a round face shape, you need some bangs and a cut that suits your face figure. Layer the hair, including the fringe, and wear it on your forehead. Style it on one side.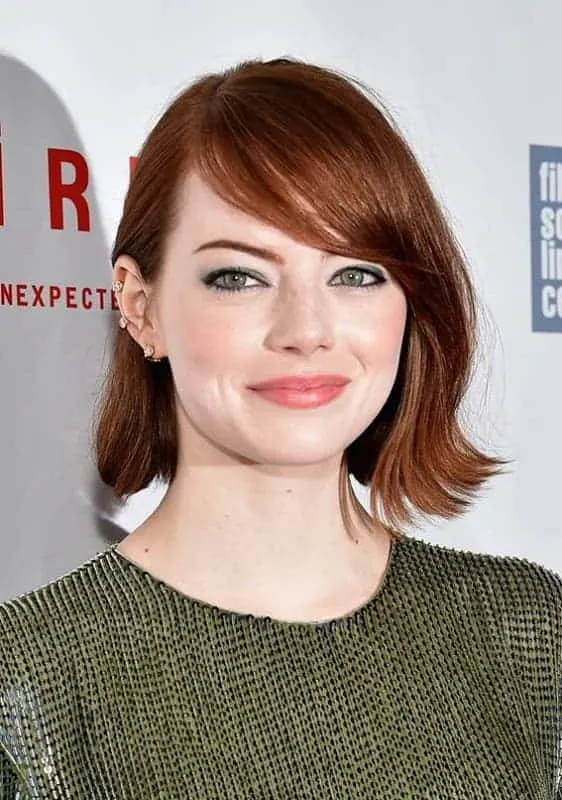 Side-swept bangs are a win-win for round faces as it adds angles and length that slims wide, round faces.
Experts say blunt and straight bangs are not ideal for round faces because they emphasize the width of a round face. This bangs style is riskiest to try for the women with round face shape who want because if the bangs are too straight and wide, it can make your face feel fuller.
If you fancy these bangs for round faces, be sure to cut the bangs just above the eyebrows as it opens up and oblongs your face.
Some people believe that a pixie cut is not the right choice for women with round faces as it accentuates the width of the face.
A perfectly styled pixie cut coupled with wispy bangs looks voguish on women with round faces. The short pixie and wispy side bangs serve the perfect edgy look and highlight the facial features.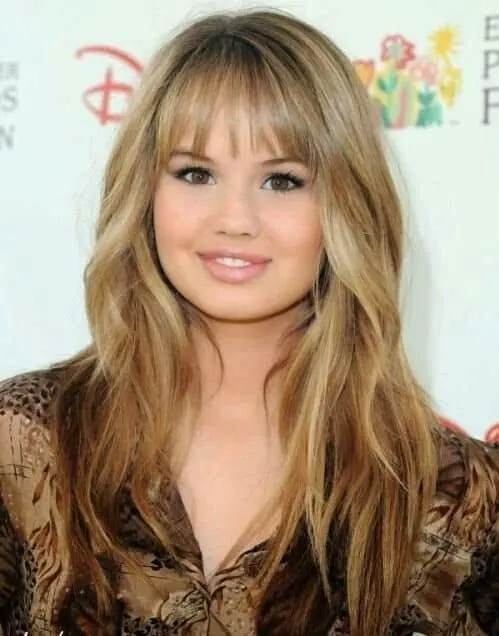 Though luscious, voluminous hair provides the most favorable conditions for round faces with fringes. Women with round faces hate having thin hair as they are tough and difficult to style. But thin bangs look lovely on broad and round faces. You can style the thin bangs as you like and it will do the work for you.
You can always opt for short layer haircut with side bangs for round faces to keep the softness of your facial features. Short layers with bangs can serve the right length to your round face.
Round faces are wider in the middle. If you are blessed with a round face, try bangs on round chubby faces like the curtain bangs that cover your cheeks and add height to your face.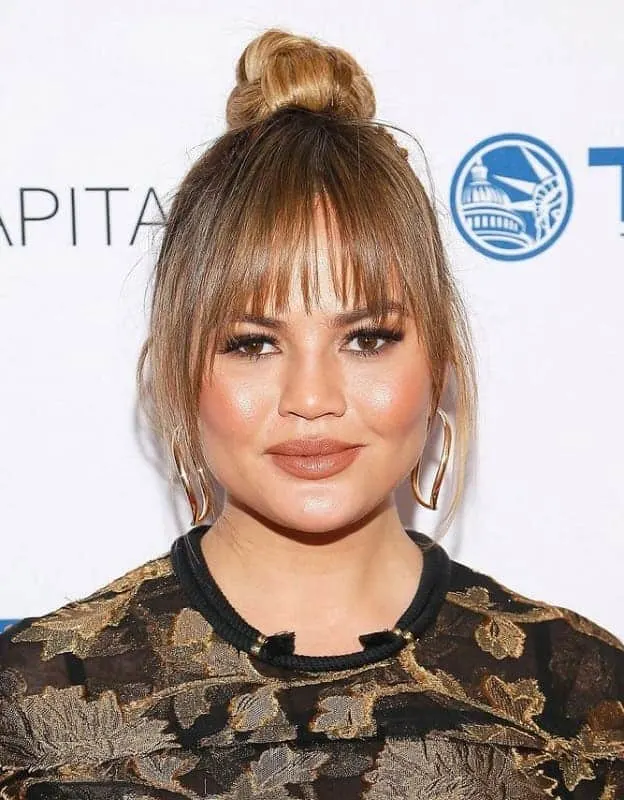 Half-moon bangs gracefully fulfill the goal of dodging the plumpness of the cheeks resulting in polished and highlighted facial features.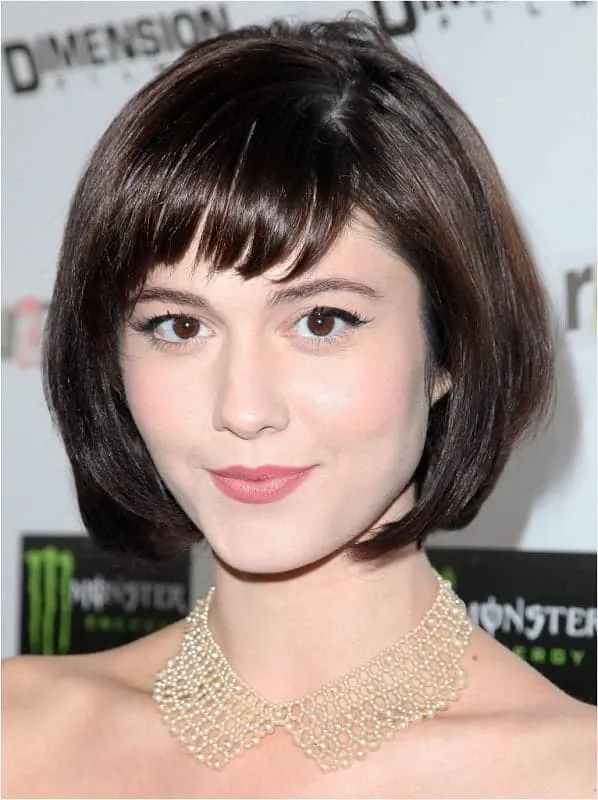 The hairstyle is phenomenal for round faces women who want bangs. The bangs are about an inch above the eyebrows that gives your face an elongated feel.
19. Pomp Bangs
The basics of hairstyling for round faces is to know that anything that creates height will make your face oblong.
If you have short hair, this is the Uber-stylish and chic hairstyle with undercut and bangs for round chubby faces you can settle for.
Because round faces are symmetrical, asymmetrical hairstyles with choppy and chunky bangs look amazing and enhance your facial features. It is a high maintenance hairstyle that requires attention to the details, but the efforts pay off greatly.
If you have a round face, layers are your best friend. Wavy and layered side bangs for round faces are the most classical hairstyles of all times. The choppy layers of the bangs add angles to your face.
If you have medium-length hair, keep the bangs below the jawline to draw out the roundness of your face.
This is a trendy and flattering hairstyle that draws attention away from round faces as it instantaneously slims down the face. Carry the hairstyle with light, subtle makeup for a more feminine look.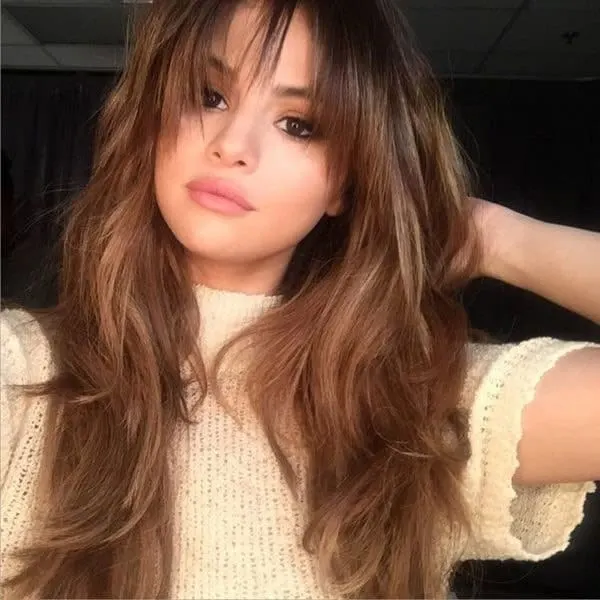 Whether oval, round, square or rectangle, wispy bangs do wonders to all face cuts and types. Wispy bangs for round faces look alluring and make your face appear slimmer, leaner and defined.
A-Shaped bang style serves the face-flattering perfection to round faces. They add a dramatic effect to your face while pulling the hairline while stressing the broadness of the face.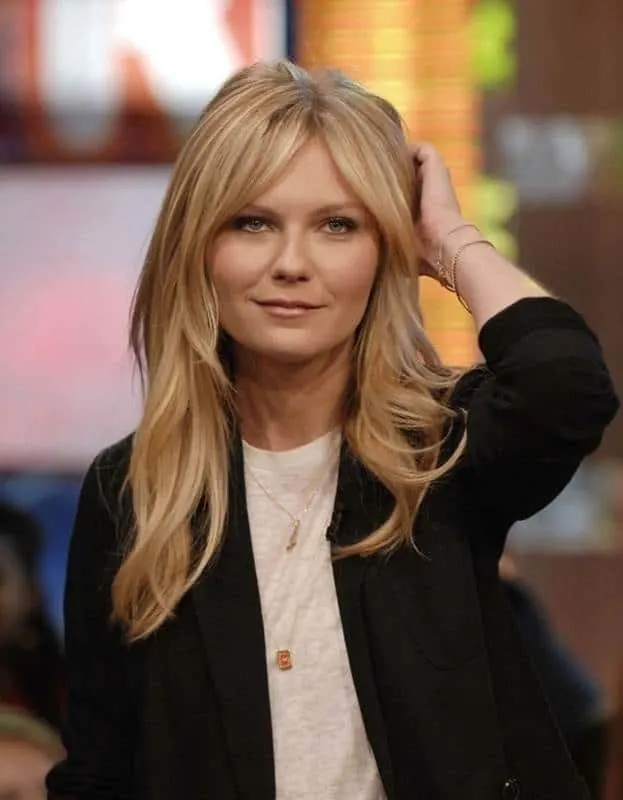 The subtle center-parting bangs style for round faces frame your face and helps give a more oval-looking and defined shape to the round faces.
Messy bangs with long hair are the classiest combo ever. Messy bangs work for every face type, but it comprehends with round faces like crazy. The long layers with messy bangs highlight the jawline by adding definition and breaking up the chubbiness of your cheeks to some degree.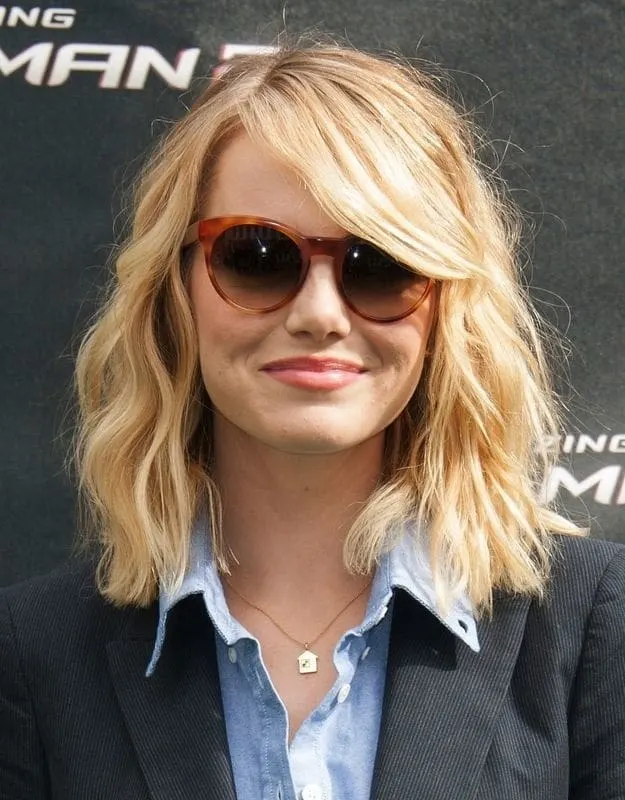 Textured side-swept bangs on a medium bob is a go-to style for women with round faces struggling to get bangs. You can also try these bangs for round faces with glasses.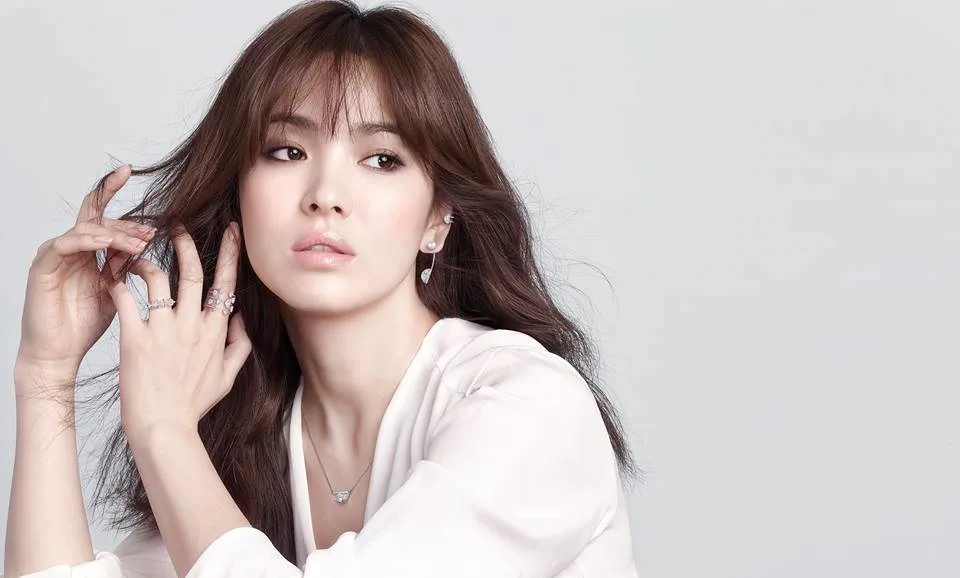 Korean inspired see-through bangs are quite popular in Asia and they are a wonderful addition to bang hairstyles for women's round faces. The hairstyle looks exceptionally stunning with long and medium hair.
Take your bang style to the next level with a dip-dyed bang style that looks absolutely regal on the chubby baby faces.
If you want to be noticed anywhere you go ace this eye-popping and attention-grabbing hairstyle to receive the compliments you deserve for bangs for round face.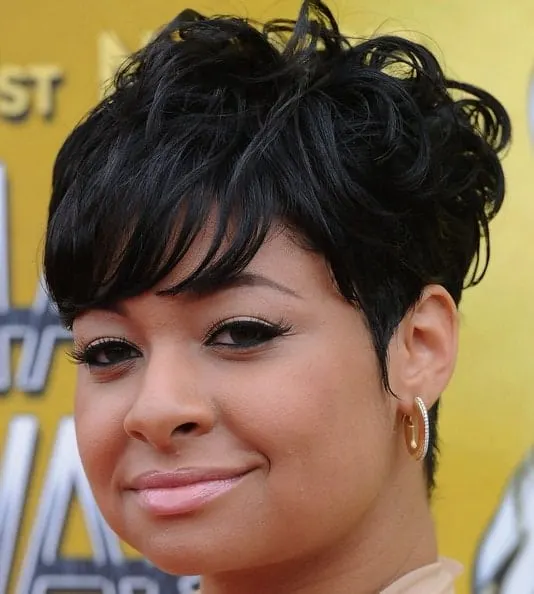 If you have short hair, you can sport it with a pixie bob and choppy textured bangs swept to the side. This hairstyle is sleek and stylish. The side swept bangs styled just above the eyebrows emphasize the allure of this hair cut especially for women with short hair who want to get bangs.
With the plump cheeks, round face and chin and symmetrical face, it is not fun to be a round-faced person at all; your look can be completely destroyed with the slightest mistake while choosing your hairstyle.
However, with adequate knowledge of the hairstyle, you can achieve perfect bangs for round faces. In the end, it's never too late to consult a hair stylist as they know the best.