When having a round face and wearing glasses, a bob haircut can give you a gorgeous look, framing your features to perfection.
A bob haircut creates the illusion of length and balances out the curves of your face. Pair it with glasses that complement your facial shape.
With the right bob cut and glasses combination, you can get a stylish look and we've got the best combo to complement your round face.
Flattering Bob Cuts and Glasses for Round-Faced Women
If you want to find out how to make yourself look stunning with a bob hairstyle and glasses that complement your round face, scroll down and check out these cool examples!
1. Wavy Bob with Wayfarer Glasses
Medium-length bob haircuts are ideal for round face shapes since they can help elongate your face. Go for a middle part and style the waves using a hair wand.
Complete your look with cat eyeglasses with thick black frames.
2. Blunt Classy Bob with Thin Golden Cateye Glasses
If you have a dark skin color, this black blunt classy bob and round face will fit like a glove. To create this flawless straight look use an iron.
Also, before applying heat to your hair always remember to use a heat protection spray. Complete the look with golden earrings and eyeglasses.
3. Asymmetrical Bangs and Thick Glasses
This chin-length asymmetrical bob is absolutely stunning, black cherry dye goes excellent with a fair skin tone.
To obtain more contrast between your skin tone and frames, you can opt for a pair of black cat-eye glasses.
4. Toffe Blonde Bob with Wayfarer Glasses
This bob has elongating asymmetrical bangs that help your face chubby face appear slimmer.
The toffee blonde nuance has a warm touch and a slightly darker shade at the top. The wayfarer glasses with a matte finish create a contrast with the hair, adding value to the look.
5. Curly Bob with Rectangle Glasses
When you have thin hair, curls can make wonders for your hair. They build more volume and can be combined with straight pieces for your bangs.
Rectangle glasses are the ideal choice for round faces because they tend to elongate your facial features. Also, you will need frames that add a little bit of width to your lenses.
6. Pigtails and Round Glasses
If you have curly hair, these cute pigtails are fast and easy so easy to get. Braid two strands from the front and tie them in the back, with the rest of the hair.
The round glasses go perfectly with the dark skin tone and the color of your hair, especially when you choose a pattern that adds some warmth.
7. Bob with Top Knot and Metal Glasses
A top knot bob is great for someone who has a round face because it creates an elongated look.
Long, straight bangs with two extended pieces from the corner, that are inwardly curved make the hairstyle look youthful and fresh. Also, the round thin rose-gold glasses give a chic aspect to your look.
8. Ombre Bob with Horn Glasses
This ombre bob falls naturally to the sides. It starts off with a dark chestnut color and has a smooth transition to a bright copper blonde.
The horn glasses that have the same shade as your hair, are a cute add-on.
9. Platinum Blonde Hair with Dark Roots and Square Glasses
A refreshing platinum blonde pixie-bob with natural dark brown roots creates a fashionable hairstyle that works marvelously with glasses and a hat.
Choose a pair of azure-framed glasses that match your blue eyes and complete the look with an electric pink lipstick.
10. Bob with Highlights and Square Glasses
Bob haircuts can be a heavenly solution for fine hair because, if combined with darker highlights, they can help you get enhanced volume.
The tiger print square glasses perfectly complement the hairstyle and enhance your eye color. .
11. Teal Bob with Round Glasses
If you don't mind getting all the attention, you can definitely rock this teal bob hairdo. Create a few waves with a hair wand and pair it with beautiful pink round glasses.
Wear your bangs on the side, creating angles that make your face appear less round.
12. Dark Red Ombre Bob with Square Glasses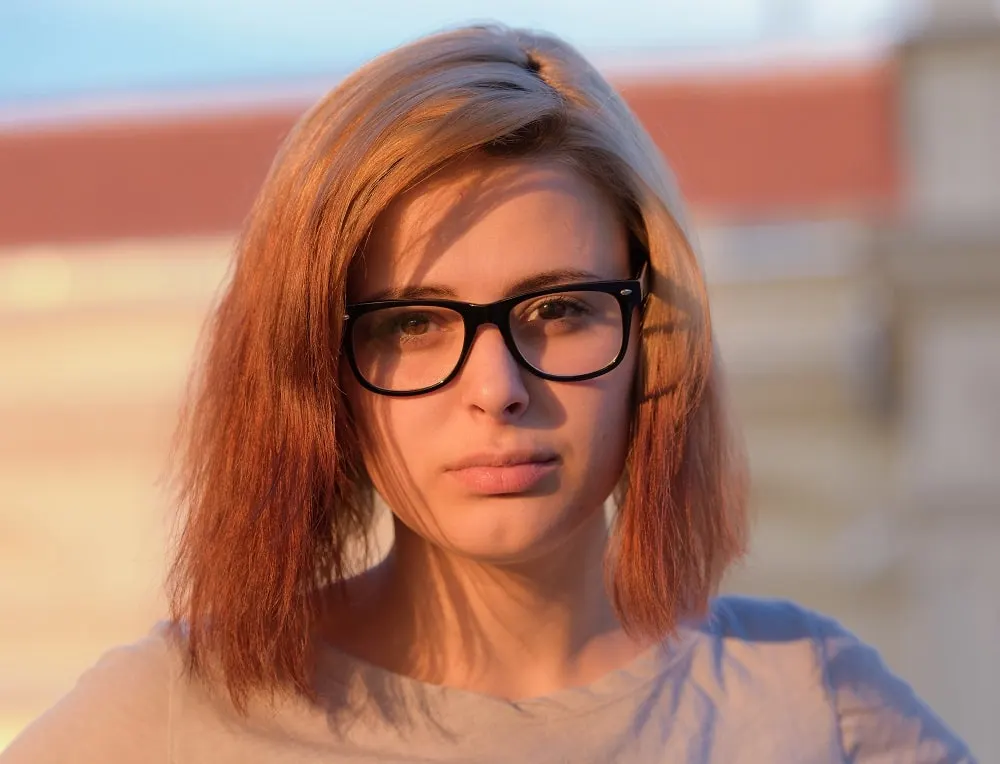 An A-line bob with a side part keeps the front strands longer, while the back is trimmed shortly, revealing the nape.
The color choice is an ombre that uses a platinum blonde color with copper reflexes and gradually transforms into a dark red nuance.
13. Buttery Blonde Bob with Oval Glasses
This is a cute girly bob for a round face with an astonishing buttery blond hue. Create a side part and curl it inwards for a classic and fabulous look.
To make this trimm even cuter wear a pair of thick black oval glasses that create an outstanding contrast between the blonde and frames.
14. Gray Bob with Headband and Retro Glasses
This layered bob that features short bangs going one inch above the eyebrows is a fabulous idea for women who want to draw all the attention on their eyes and glasses.
Wear a pair of retro square-shaped glasses with a colored pattern and complete the look with a green olive headband.
15. Parisian Bob with Pantos Glasses
Parisian girls have that "je ne sais quoi", that you'll need to embrace if you want to look good with a French bonnet and that cute wavy bob.
Delicate make-up, natural-looking loops, and a pair of round glasses will make everyone say Oh là là when entering a room!
16. Wavy Bob with Golden Rounded Glasses
Do a middle part and use a triple iron to create that wave texture. If you don't feel like applying heat to your hair, spray some water on your locks, braid them and keep them overnight.
Their delicate texture will work hand in hand with those round, golden glasses that highlight your blue eyes.
17. Ultra Curly Bob with Dark Round Glasses
One of the best bobs for round faces is one that creates angles that diminish the roundness of the face. You can achieve this by simply doing a side part. Work with your glasses and hair color to achieve a slimming effect.
Black hair color is known for giving your facial features an elongated look and great contour. Use a perm to gain tight curls that build more dimension.
18. Bob Haircut for Thin Hair and Round Glasses
Blunt bobs are the ideal haircut for women with thin hair. If you want a delicate look, that works with your fair skin, choose nuances of gray-blonde and an ombre.
Make your round glasses a statement and opt for frames that have a dark burgundy color.
When having a round face, your main goal is to gain a slimmer appearance and you can achieve that by creating angles and going for a medium bob haircut. And if you wear glasses, don't worry, there are plenty of frames that will suit you!