After the age of 50, most men see wrinkles on their faces, start to lose their hair, and get confused about beard style as it becomes gray. And while some men take this in stride, others view it as a major blow to their self-confidence.
If you're in the latter group, don't despair, there's still hope. You can take control of the situation by choosing a beard style for men over 50 that complements your look and makes you feel good about yourself.
Top Beard Styles for Men Over 50
Not everyone has the same facial hair. Therefore, if you're over 50, you might wonder what beard style is best for you. Here are a few of our favorite styles you can try.
1. Angled Box Beard
This beard style is sophisticated and stylish for over 50 men and can be easily achieved with the right tools.
To achieve this look, start by trimming your beard to a uniform length with sharp, clean lines from the bottom of your sideburns to the corners of your mouth. Finally, use a sharp trimmer to create a V-shaped point at the cheek.
2. Full Goatee
It is also a very versatile look that can be worn with a variety of dresses. It can help to give any older man a more youthful appearance and can be very flattering.
The key is to make sure that the goatee is well-groomed and not too wild. A little bit of shaping and trimming can go a long way in making this look work.
3. Stubble Beard
It can give older guys a more masculine look and can help to disguise any wrinkles or age-related blemishes.
You will need to use a trimmer to create a short, even length all over your face to achieve this look. Or you can just grow the beard for a few days after a clean shave.
4. Thick Garibaldi
This classic style conveys a sense of wisdom and experience while maintaining a touch of ruggedness.
The key to pulling off the medium garibaldi is to keep it well-groomed. This means regular trims and shaping to maintain a neat appearance.
5. Double Braids
This style is achieved by braiding the long beard on both sides of your chin, creating a unique and stylish look.
This style is perfect for senior citizens who want to add a bit of personality to their appearance. You can try these hairstyles with your long beard.
6. Stubble Box
It's a low-maintenance beard style for men over 50 that can be easily achieved with a trimmer. Simply set the trimmer to the desired length and trim away any stray beards.
7. Messy Beard
Long, slight curls and a messy style can be a great way to have a rugged, handsome appearance that can be very attractive.
A light curl-defining cream can help to enhance the natural curl pattern. And a bit of oil can keep the beard looking neat and tidy.
8. Curly Beard
For an extended curly beard look, start by cutting your beard to the desired length while the goatee remains a bit longer. Then, use a razor to create a clean line on your cheeks.
9. Beard Ponytail
It's a flexible long beard style for a casual over 50 old men look. To get the look, simply grow out your facial hair and then tie it in a ponytail below your chin. You can use a hair tie or elastic band to secure the ponytail.
10. Long French
This old man's beard style conveys maturity and wisdom and can make any man look distinguished and handsome. If you're thinking of growing a long French beard, just let them grow for a few months and keep them as it is.
11. Classic French Cut
There is no doubt that it is a timeless beard for men over 50 and great for those who want to maintain a well-groomed appearance without having to put in too much effort.
Keeping the beard trimmed and neat is the key to pulling off this look.
12. 5 O'clock Shadow
It is a clean, well-groomed look that is easy to maintain. The beard is trimmed short and close to the face. The 5 o'clock shadow is an adaptable look that can be worn with a suit or casual clothes.
13. Thick Chin Strap
This bearded men over 50 is a very masculine and rugged look that can make you look years younger. Just grow your goatee to the desired length. It is also very easy to maintain and doesn't require a lot of grooming.
14. Long Verdi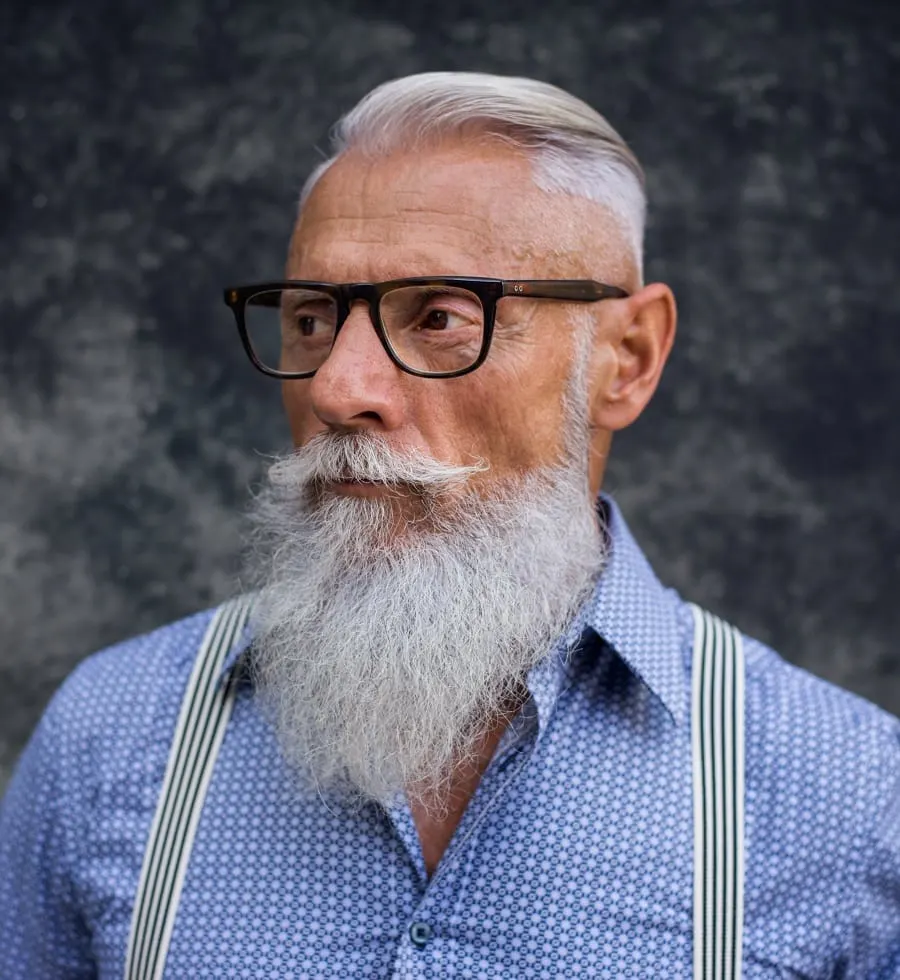 It takes a lot of upkeep to keep a long beard looking its best, but the results are definitely worth it. However, you'll need to be patient – it can take several months for a long beard to reach its full potential.
Also, take care of it by using shampoo and conditioner to keep it healthy and looking its best
15. Soul Patch + Chin Puff
This combination of facial hair styles is easy to maintain and looks great with a variety of different face shapes. Just grow your soul patch and a small tuft of hair on the chin for 30-45 days.
16. Bandholz for Men Over 50
The Bandholz beard is characterized by its fullness and length, which can make it an excellent choice for men who want to make a statement with their facial hair.
This over 50 beard style can take some time to grow out, but the results are worth the wait.
17. Disconnected Anchor
If you want to have a unique look with an anchor beard, try cutting it short in the middle. It helps to balance out your face shape and make it look more proportionate.
18. Short Chin Puff
This bearded look requires a strip of beard on the chin while the whole face is shaved clean. It is cut short in the middle, allowing your natural chin shape to show through, and it looks great on a long face.
19. Grey Anchor
To style this grey beard, simply shave the sides of your face and leave a bit of hair on the chin. You can then trim the anchor to your desired length.
This style is perfect for men over 50 who want to keep their beards short and tidy.
20. Goatee with Soul Patch
A mustacheless beard can help accentuate a man's masculine features while also giving him a more youthful and illustrious look.
To achieve this facial hairstyle, simply shave the hair on your cheeks, leaving a strip of hair along the chin. You can then trim and shape this strip of hair to create the desired look.
21. Extended Circle Beard
This style is achieved by combining a goatee with a mustache and then growing the hair along the jawline.
The key to pulling off this look is to make sure the hair is well-groomed and trimmed, as it can easily look messy if not cared for properly.
22. Ginger Boxed Beard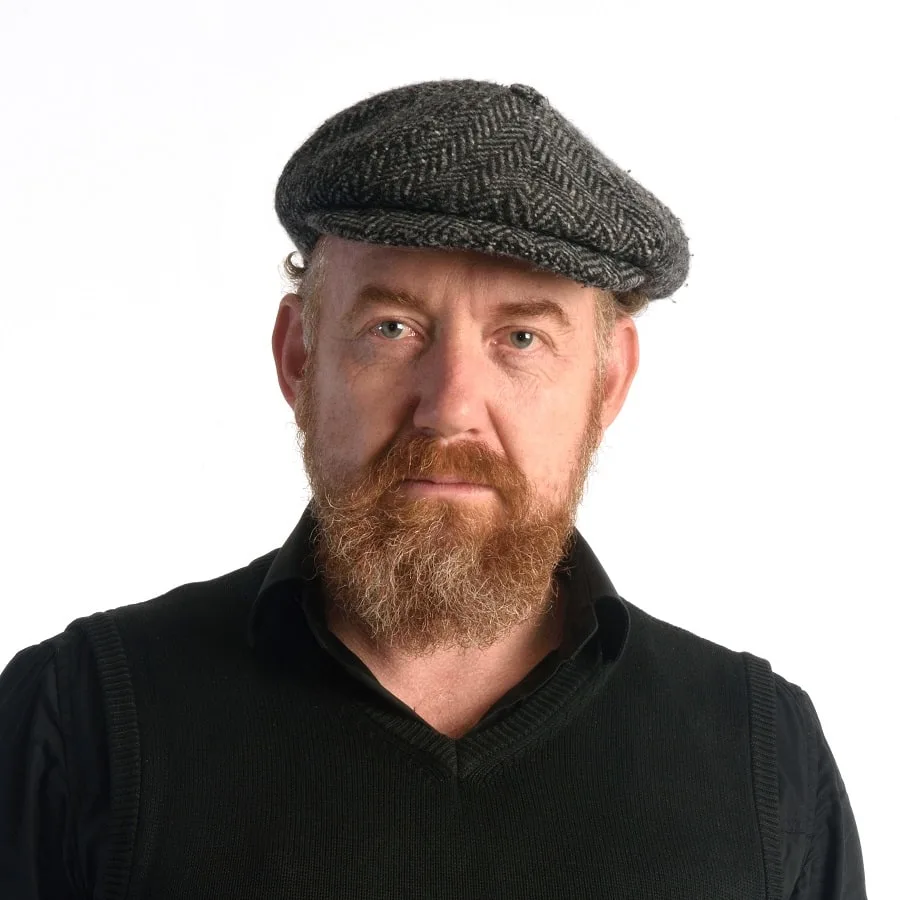 A box beard combined with a messy goatee provides a rugged yet refined look that is perfect for any occasion.
The key to pulling off this look is to keep the beard and the goatee to be a little more unkempt.
23. Thin Full Beard
A full beard can give the face a more masculine look and help disguise any wrinkles or other imperfections.
Make sure it's not too scruffy so that it can add some extra style and personality to your look.
24. Salt and Pepper
If you're seeking a classic look for your salt and pepper beard after the age of 50, grow it fully. It is a good choice for men with a rectangular faces.
As you age, your facial hair changes. The texture becomes coarser, the color may become grey, and it may become patchier.
However, you can cope with this situation by choosing the right beard style for your face shape and hair type.