When you buy through links on our site, we may earn an affiliate commission.
Nowadays, many products on the market maintain vibrant hair color without having to use dye. One of the ideal ways to achieve that is by using a color depositing shampoo.
Keeping red hair beautiful and vibrant is a challenge because the red dye is known for washing out and fading quickly. Fortunately, there are excellent color depositing shampoos specifically tailored for redheads.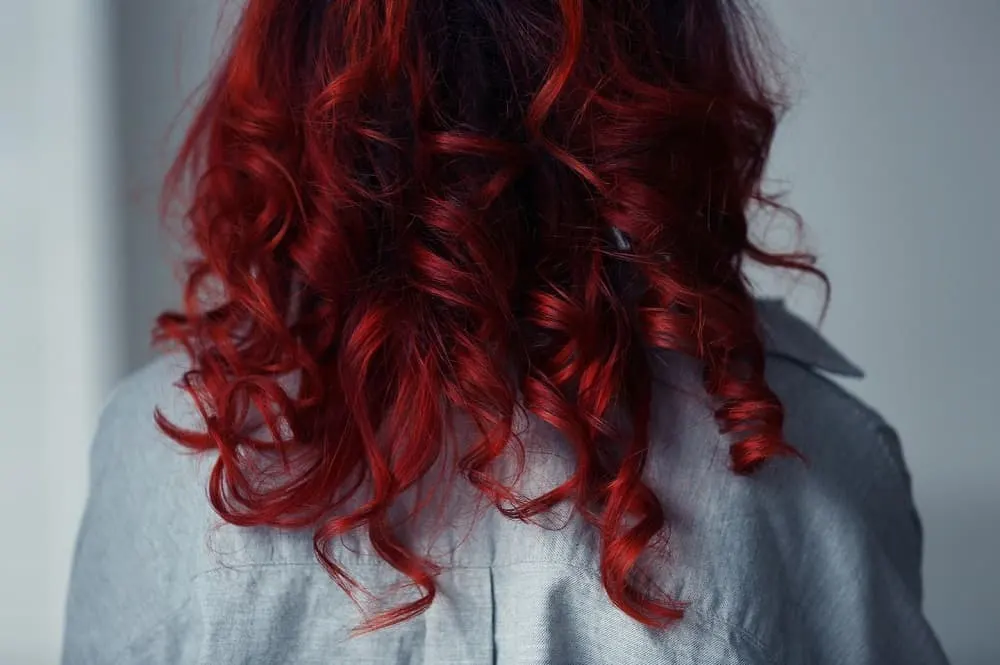 If you've been searching for color depositing shampoos for red hair and aren't having good luck, don't worry. After reading this post, you'll have an in-depth idea! Here is a list that we have compiled for you to check out.
If you're in a hurry – here are our top picks:
Title
Punky Colour 3-in-1 Depositing Shampoo and Conditioner
Four Reasons Color Mask Shampoo
Celeb Luxury Gem Lites Colorwash
Joico Color Infuse Red Shampoo
Chi Ionic Color Illuminate Shampoo
What is a Color Depositing Shampoo?
A color depositing shampoo contains hair color pigments that revitalize existing hair color. With red hair, a color depositing shampoo has enough red pigment to maximize a red dye job. Color depositing shampoos aren't as strong as a hair dye but help keep a look of fresh hair color.
Best Color Depositing Shampoos For Redheads
Sale
Punky Redilicious 3-in-1 Color Depositing Shampoo & Conditioner with Shea Butter...
3-in-1 Color Depositing Conditioner: Replace the color that has faded from your hair! This intensifies hair color while...
Keep Your Hair on Fiery Red: This color refresher enhances red tones with every use, giving you vibrant, head-turning red...
Infused with a Blend of Ingredients: Bring life back to your hair with a rich strengthening blend of Keratin Amino Acids,...
Punky Colour offers twelve different colors of 3-in-1 depositing shampoos and conditioners, including red. You can use it on bleached hair, color-treated hair, normal hair, or dry and brittle hair.
Not only will Punky Colour keep your hair looking fiercely red between hair appointments, but it'll cleanse and condition your hair, all with one wash. Leave this shampoo in your hair for 10-15 minutes to maximize your hair's vibrance, or leave in 2-5 minutes for a touchup.
Punky Colour 3-in-1 Depositing Shampoo in conditioner comes in twelve different colors, including red. It gifts red hair the bold lift it needs, all while providing hair nutrients.
Features
Made with a unique combination of keratin, amino acids, Vitamins A, C, and E, Saw Palmetto, and ginger root to provide deep conditioning, make hair shine, and give hair a healthy, brilliant look
It contains red pigment to keep red hair look fiery
USA-made, cruelty-free product
Non-GMO, sulfate-free, PDD-free, paraben-free, ammonia-free, and gluten-free
Pros
Reasonable price
Keeps hair color looking new and bright
Wonderful smell
Easy to use
Keeps hair cleaned, conditioned, and looking healthy
Cons
Requires gloves or else it stains heavily
Not as effective on unbleached hair or hair that's not already a shade of red
FOUR REASONS Color Mask Shampoo - Sulfate Free Toning Red Shampoo for Red Hair -...
UNIQUE FORMULA: Unlike other color depositing shampoos, Color Mask Red Shampoo deposits pigment while cleansing color-treated...
RED PIGMENT: Color Mask Red Shampoo deposits red pigment in colored copper, red and brown hair. The lighter your hair is, the...
VEGAN: Color Masks are 100% vegan and sulfate free, for a non-drying effect. Our packaging is made with sustainable...
Four Reasons is another respectable color depositing shampoo brand that offers red and five other shampoo colors. It's able to restore faded red hair to an uplifting, shiny red shade within minutes. The lighter your hair is, the more amplified your red hair will be after use.
For best results, use this product at least once a week and leave it in your hair for 5-15 minutes. You have the option of treating this Four Seasons shampoo like shampoo or massaging through your hair like a hair dye.
Four Seasons Color Mask Shampoo Amazon product restores and enhances red hair colors and maximizes hair health within minutes, all without the use of harsh chemicals.
Features
Vegan, cruelty-free, SLS, and SLES-free formula
Contains UV protection
Maximizes red hair color, enhances shine, and prevents hair static
Pros
Provides a fresh shade of red without needing to go to a salon
Long-lasting results
No harsh chemicals
It helps hair appear healthier
Cons
Can require a generous amount of product for maximum effectiveness
It doesn't contain conditioner
Celeb Luxury offers ruby (red) and nine other outstanding depositing color shampoos to choose from. It works best with wet hair and is designed to cleanse and refresh shades of red across the board. They also offer depositing conditioner tailored for red hair.
Not only does this color depositing shampoo restore red color, but its formula offers shine, revitalizing qualities, and hydration for a deep cleanse and to keep hair at its healthiest.
Celeb Luxury Gem Lites Colorwash is one of the best color depositing shampoos for red hair that you can find on Amazon. This shampoo is salon quality and free of harsh chemicals.
Features
100% vegan and cruelty-free
Free of sulfates, parabens, peroxide, PPD, and ammonia
Salon quality
Pros
Freshens red color
The bottle lasts a long time
Postpones trips to the salon
Works within minutes
Cleanses and revamps hair
Cons
Pricier shampoo
Dries hair out-requires the use of a conditioner sold separately
Joico Color Infuse Red Shampoo gives red hair the vibrant boost of color that it needs, all while hydrating, cleansing, and protecting hair against elements that cause it to lose color. For best results, use 2-3 times per week and let it sit in your hair for 3-5 minutes at a time.
Joico's goal for this red shampoo is to keep their customers' hair bold and eye-catching and to prevent fading as much as possible.
Joico Color Infuse Red Shampoo is a versatile color depositing shampoo for red hair, sold on Amazon, with abilities to nourish hair and maximize red tones.
Features
Sulfate-free
Designed for natural and color-treated red hair
Protects red hair from UV exposure, environmental pollution, heat from styling products, and other damaging factors
Designed to provide moisture, volume, hydration, and texture
Pros
Designed specifically for red hair
Keeps red hair bright and bold for long periods
Reasonably priced
Smells great
Makes hair soft
Cons
It stains everything around it
Contains various chemicals
It has a blue base that can turn lighter color reds a pink hue
Chi's Ionic Color Illuminate Shampoo is excellent for color-treated, red auburn shades of hair. This color depositing shampoo lifts, moisturizes, and neutralizes red tones to promote healthy hair and long-lasting color. It's also designed to prevent hair breakage and split ends.
The beauty of this color depositing shampoo is that you can mix it with other Chi shampoos to achieve your desired, customized color. Depending on your desired hair color, you can use it anywhere from daily to weekly.
Chi's Ionic Color Illuminate Shampoo is an ideal color depositing shampoo for reddish auburn shades. Easily mix this shampoo with other shades for a customized hair color.
Features
Deposits red pigment to maximize red tones
Moisturizes, protects, cleanses, and enhances color-treated hair
Uses a natural combination of ingredients: peppermint leaf, sage, lavender, chamomile, and comfrey leaf
Pros
Reasonable price
Livens up red hair color
Adds moisture
Provides shine to hair
Cons
Stains everything
Variable results depending on the shade of red hair it's used with
Sale
John Frieda is a renowned haircare brand that offers a color depositing shampoo specifically made for red hair. You can use this red boosting shampoo on natural or color-treated red hair. It boosts and restores various shades of red while making hair soft and shiny.
Depending on your desired shade, you can use it daily or weekly. For best results, purchase the John Frieda Radiant Red Boosting Conditioner to supplement this product.
John Frieda Radiant Red Boosting Shampoo is a high quality, low priced color depositing shampoo for red hair with its anti-fade technology. Get it from Amazon today.
Features
Uses anti-fade technology to protect color
Made with pomegranate extract and VItamin E to promote soft, shiny hair
Fresh, inviting smell
Pros
Low price
Smells great
Excellent for touching up natural shades of red
It makes hair sleek and shiny
The bottle can last around a month with daily use
Cons
Conditioner sold separately
Variable effectiveness with bright, color-treated red hair
N Rage's 3-in-1 Depositing Shampoo checks all the boxes with its shampoo, conditioner, and color depositing formula. Its N-Tense Red is perfect for rejuvenating any shade of red, especially color-treated, damaged redheads. N Rage also offers four other color depositing shampoo shades.
This color depositing shampoo not only enhances vibrant red colors, but it nourishes, conditions, strengthens, and cleanses hair. For best results, leave in your hair for at least 3-5 minutes. Leaving this product in 10 minutes or longer will deliver maximum results for color deposit. Be sure to rinse out with cool water to maximize results.
N Rage's 3-in-1 Depositing Shampoo restores red tones with its N-Tense Red, washes, and conditions hair. It's one of the best 3-in-1 color depositing shampoos for red hair.
Features
Natural ingredients: quinoa, keratin, Verbascum flower extract, shea butter, and Vitamin B5
Deposits color, cleanses, and conditions hair
Works within minutes
Pros
Results in vibrant red shades
Excellent for damaged hair
Reasonably priced
Heat doesn't affect the vibrancy of the color
Smells like bubblegum
Cons
Zotos Quantum Riveting Reds comes in a two-pack of shampoo and conditioner made to enhance any shade of red hair, from strawberry blonde to copper to fire engine red. This shampoo and conditioner set also moisturizes, protects, and strengthens hair with its natural formula.
Zotos Quantum Riveting Reds is an excellent red color depositing shampoo and conditioner combo, and one of the best color depositing shampoos for red hair on Amazon.
Features
It comes in a shampoo and conditioner two-pack
Natural ingredients: Vitamin C, wheat protein, and red henna extract
Enhances red tones while reducing the risk of fading
Contains UV protectant
Pros
Works well with any shade of red
Doesn't remove old hair dye
Results in vibrant red hair
Refreshes hair between trips to the salon
Cons
It stains everything around it
Can dry hair, even with conditioner use
How to Pick The Right Color Depositing Shampoo for Red Hair
Depending on your priorities, there may be better color depositing shampoos than others and individual factors to take into consideration:
Price: What's your budget? Some of these products are pricier and come in smaller bottles.
Results: Are you looking for a dramatic color enhancement or a subtle touchup? This will make a huge difference in which product you use, as well as how much of a certain product you use.
Conditioner included: Some of these products mentioned have a built-in conditioner with the color depositing shampoo. Others do not, which will cost extra to purchase separately.
Hair type: Are you a natural redhead, or do you have color-treated hair? Some products are designed for one or the other, or both.
FAQs
Read on to learn more about color depositing shampoo and how to use it.
Does color depositing shampoo really work?
A quality color depositing shampoo is effective. It contains color pigment, less concentrated than hair dye, that is distributed in your hair when you wash it. It helps combat color loss from UV exposure, hot hair tools, and washing.

This type of shampoo helps you maintain your hair color and keep it looking fresh, straight-from-the-salon fabulous.
Color depositing shampoo or conditioner – which one is better?
Although neither product is "better," shampoo is more pigmented and, therefore, more effective for a color refresh. However, a color depositing conditioner is a great product for avoiding dryness and upping the intensity of the color deposit.

Using a color depositing shampoo followed by a conditioner when your color is looking drab is an effective way to prolong a trip to the salon.
How long does color depositing shampoo last on red hair?
How long a color shampoo lasts depends on several factors, including how long you used it and your hair's porosity. Hair porosity is how well your hair can absorb and maintain moisture.

It also depends on the color depositing shampoo that you choose. Some only last through a few washes, while others can last weeks. The effectiveness of these shampoos does not vary drastically by hair color.
Should I put color depositing shampoo on dry hair?
You can put the shampoo on dry hair to absorb the pigment better and get a more intense result. However, it is more difficult to apply evenly to dry hair compared to damp hair.

Additionally, applying this shampoo to dry hair, as opposed to wet, is harder to wash out and may cause your hair to become oily.
How often should I use red depositing shampoo?
How often you should use color depositing shampoo depends on the brand and your hair. In general, you should use it a few times a week. Pair your shampoo with a color depositing conditioner for maximum results.
Can I use red shampoo on brown hair?
Yes, you can use red shampoo on brown hair. However, the results will be less vibrant than they would be on red or blonde hair. It will enhance any red tones that may be in your hair, but it will not completely dye your hair.
Are color depositing shampoos safe?
Yes, quality color depositing shampoos are safe as long as you are using them as directed. These shampoos do not contain bleach, which is often what damages hair during coloring.

In addition, color depositing shampoos and conditioners often contain moisturizers to keep hair soft, healthy, and vibrant.
How long will color depositing shampoo last?
How long your color shampoo will last will depend on the product itself and your hair. Some brands require you to use more of the product to be effective. In addition, some individuals will need more products than others to achieve their desired results.
If you're looking to save trips to the salon, but want to maintain a fresh, bold red hair color, then a color depositing shampoo is worth considering. A color depositing shampoo can kill many birds with one stone by cleaning, enhancing red tones, keeping hair healthy, and even condition your hair.
See what's selling hot:
You May Also Like