Braids with shaved sides is an upgraded take on braided hairstyles. Shaved sides came unto the beauty when Cassie and Rihanna did it. Not only was it cute but individuals created many styles from it. For example, shaved sides with exotic braids. Another beautiful hairstyle that is also trendy.
How to Style Shaved Sides with Braids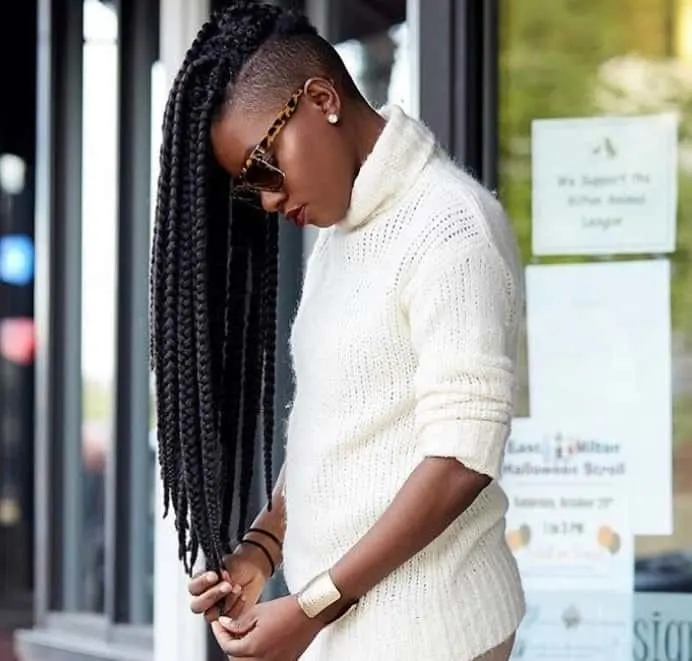 The braids can be styled in various ways depending on the look you are going for. It can be sleeked into a bun or ponytail for a formal event. As well as, let out or style into a half up half down hairstyle for a casual event.
Watch The Following Video to Know about How to Style Braids with Shaved Sides
How to Do Braids on Scalp with Shaved Sides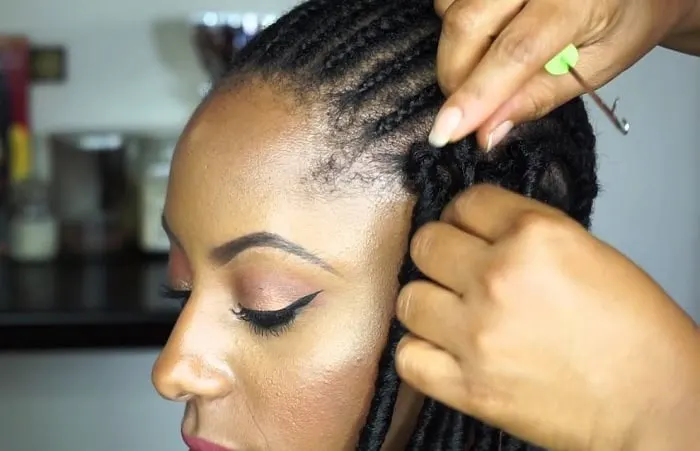 Ensure that your shaved side is not braided into. There is little or no hair there. If the braid is attached to it then it will pull against your hair follicles which will prevent hair growth. When you are braiding do it on the section with hair about 2 – 3 inches in length for grip. The longer the hair, the better.
Popular Braid Hairstyles with Shaved Sides
Here are 40 braided hairstyles with shaved sides to choose from:
1. Dreads with Braided Scarf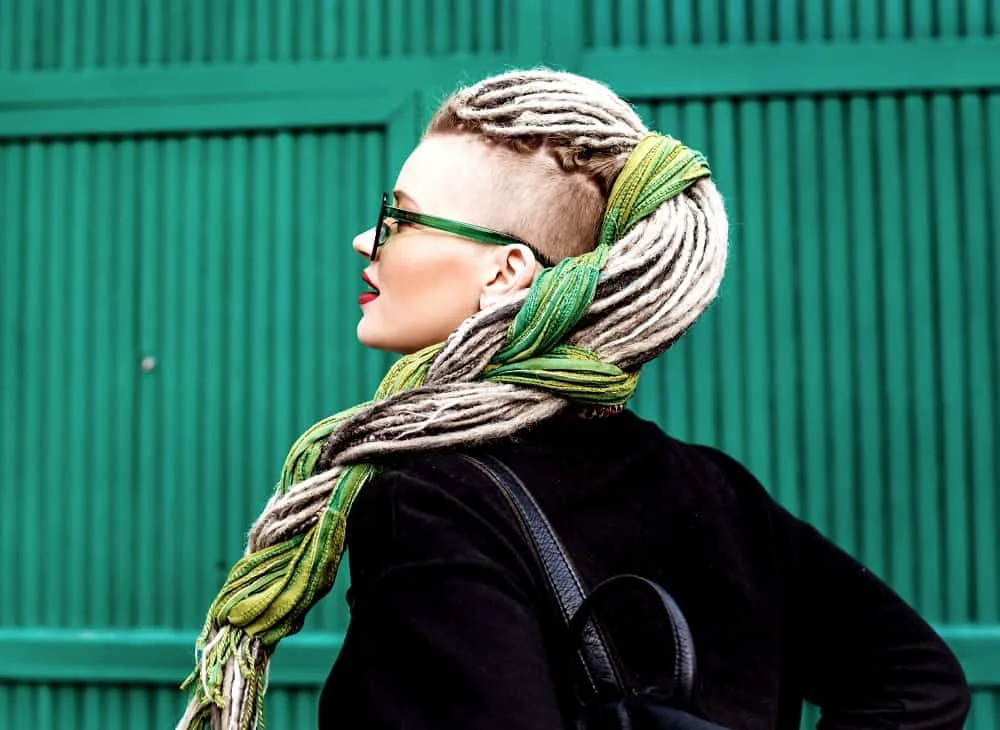 Are you tired of dull hairstyles and need something that really pops out wherever you go? Try braids with shaved sides! Trim the sides and back with the machine and attach braids or hair extensions for the crown hair. Use a scarf to create a large, bigger knit.
2. Cornrow Braids with Shaved Sides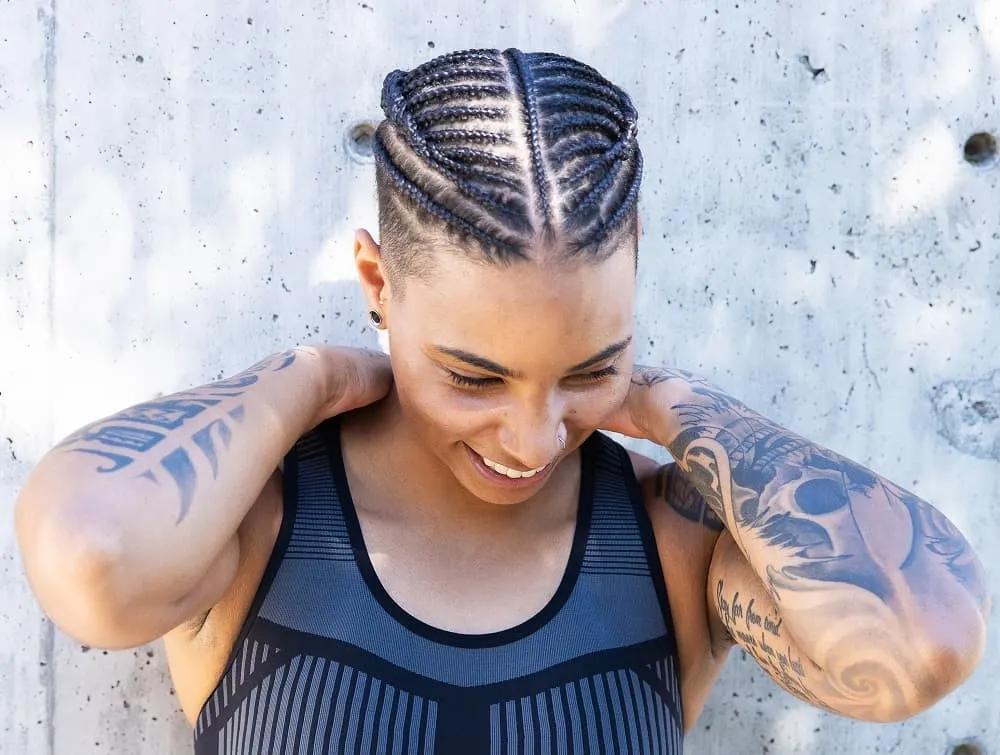 Braids are the best option every time you're craving a stylish hairstyle that keeps your hair out of the way and protects your coarse hair. Create a design by styling one braid that acts as a middle part for the left and right sections. Shave the sides and create cornrows.
3. One-Sided Braids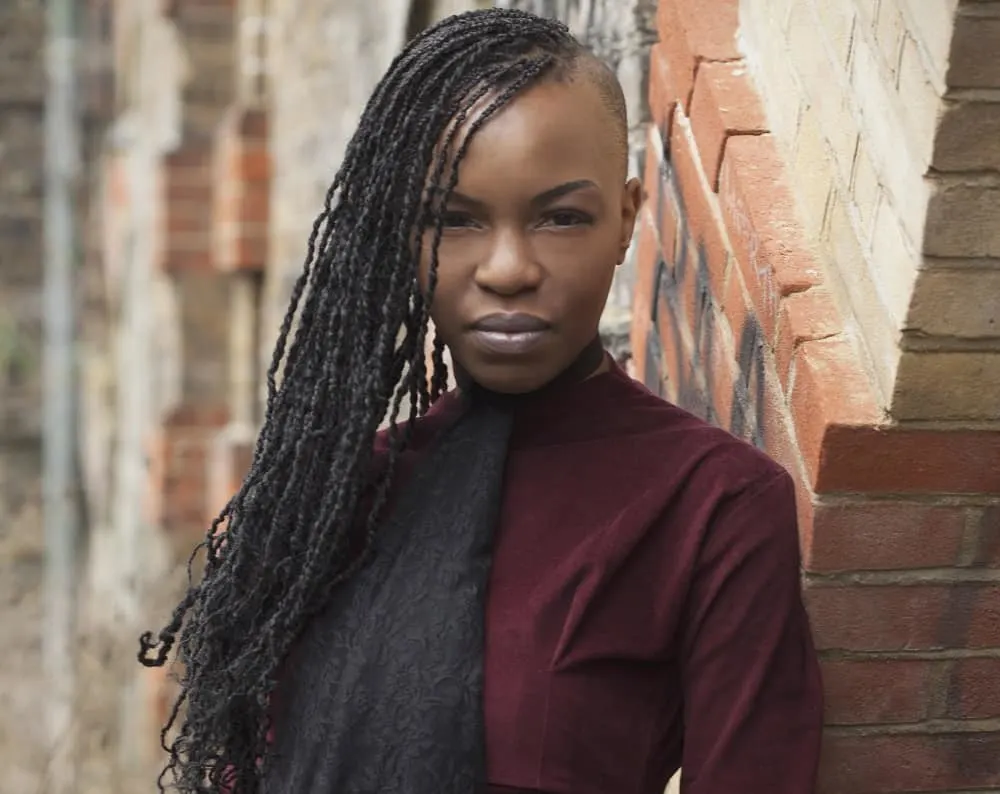 Statement hairstyles are the best for women who love to show off their personality and are not afraid to make dramatic changes. To recreate this, you'll have to shave one of the sides. Use the remaining hair to style long, black, gorgeous braids.
4. Blonde Cornrows with High Fade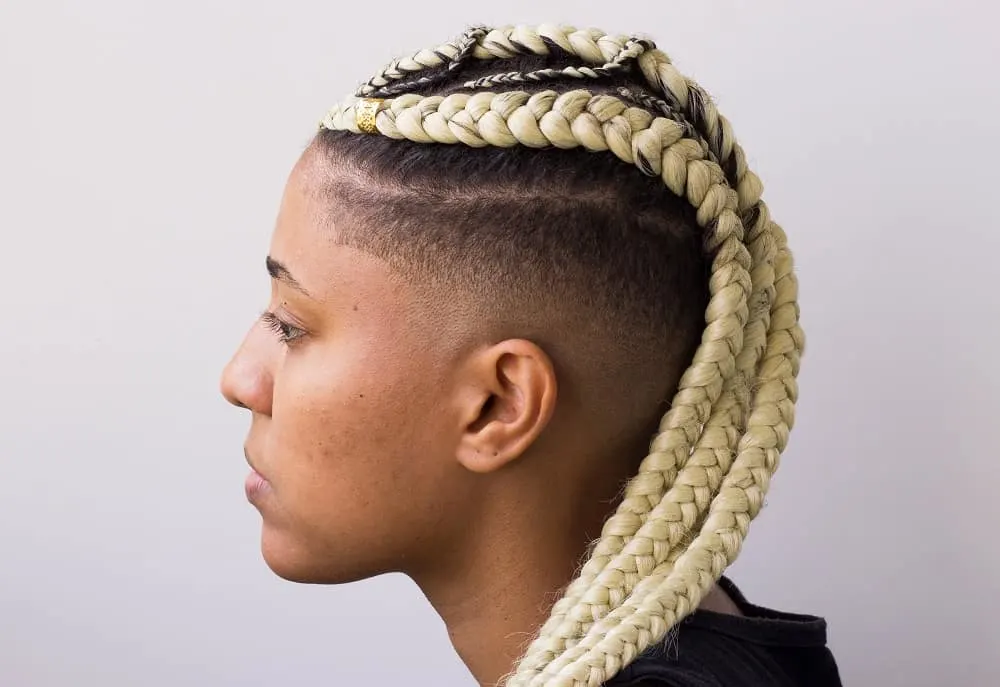 Combine cuts that usually men use to highlight the top, like a high fade, with cornrows. To get that voluminous thick knit, use Jumbo hair that you will combine with your dark natural color. Style only three or four braids.
5. Braided Top Bun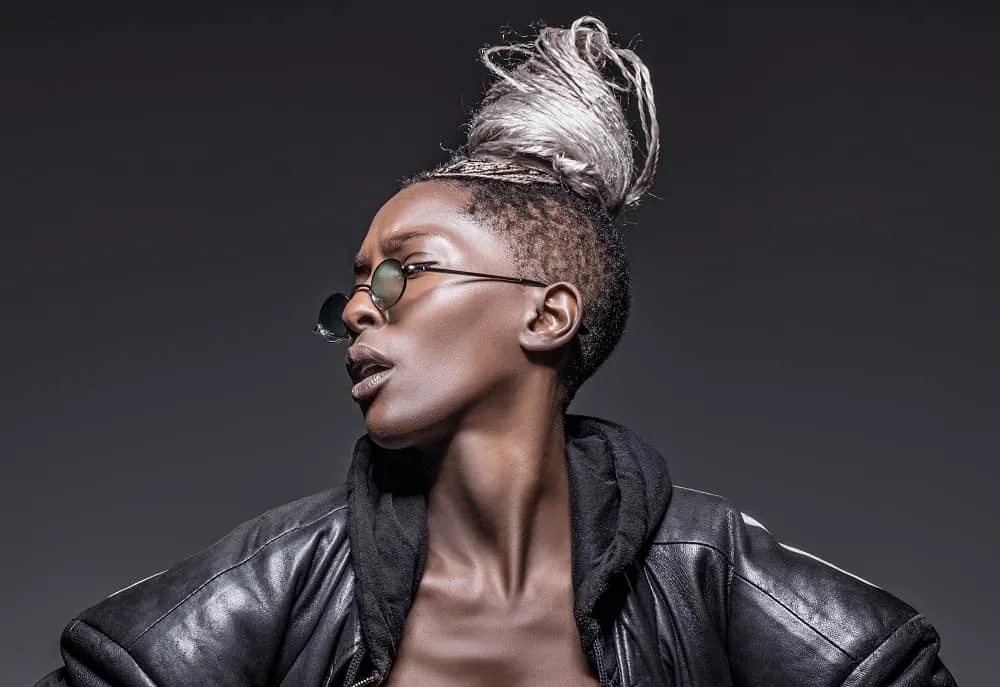 Want a look that makes even supermodels jealous? Shave most of the hair, keeping the top a little longer so that you can create braids. Use platinum gray hair extensions and don't braid the hair till the ends. Finally, roll the whole thing in a big bun on top of the head.
6. Braided Pony with Temple Shave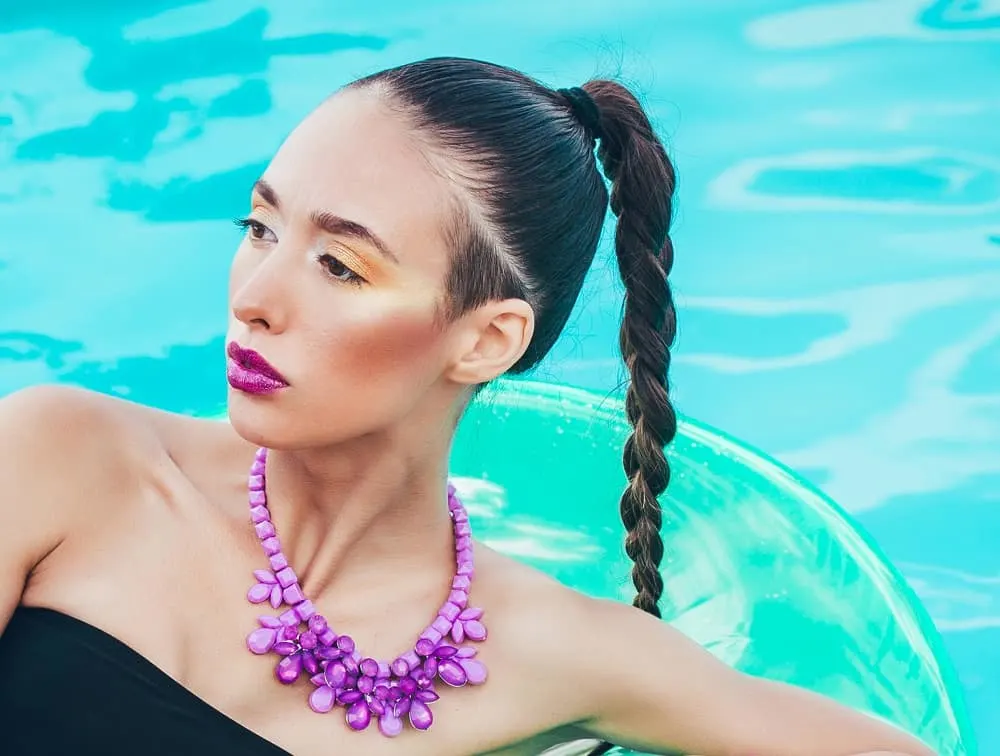 Want a hairstyle with a twist, that can look both professional and fancy? You don't need to shave big portions of your head, just create a temple trim. When you pull the hair up, you will reveal the shaved. If you keep it untied, nobody will notice the trim.
7. Vikings Braids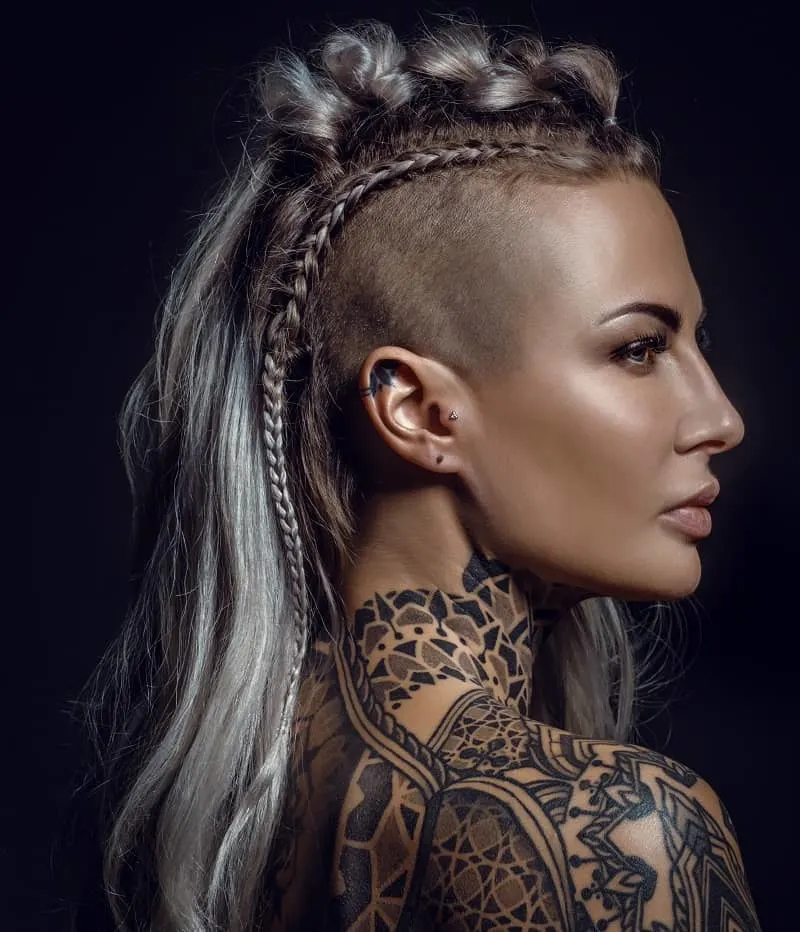 Viking's hairstyles are such an inspiration for both men and women. They include intricate multiple braids that crisscross. They also come in different thicknesses, creating a stylish and beautiful construct. To create such a look, you will heed to pull off braids with shaved sides.
8. Thick Green Braids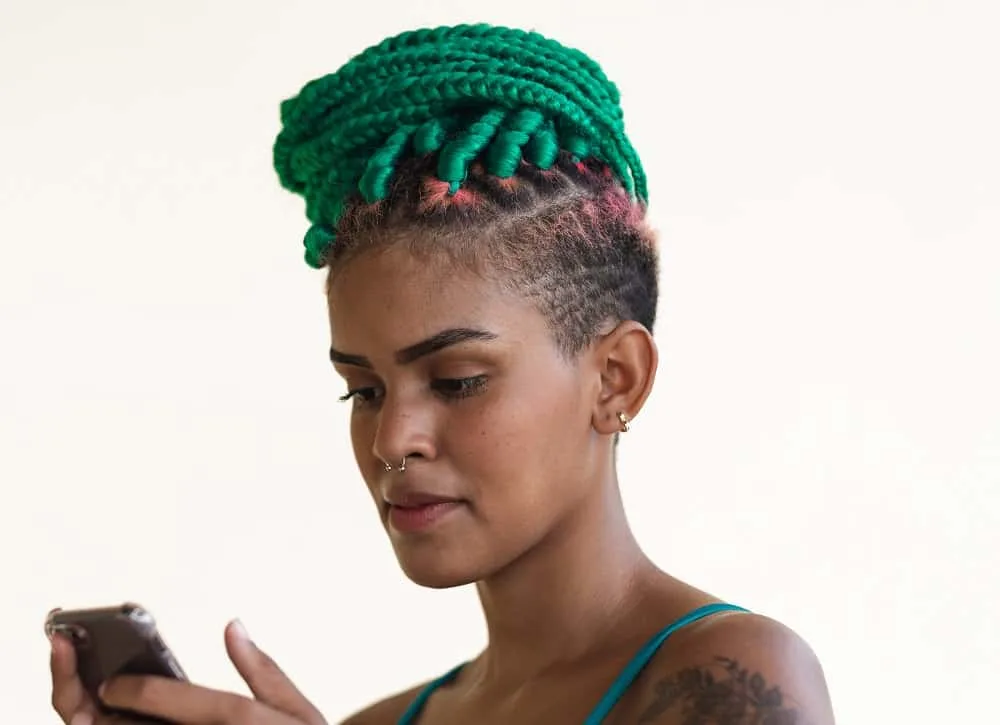 Want a pop of color and long braids? You have the best option right here and it's so easy to recreate! First, you need to style a short fade on the sides, keeping the crown hair longer. Extend that section with vivid green color. Choose Jumbo hair for your knits.
9. Braided Mohawk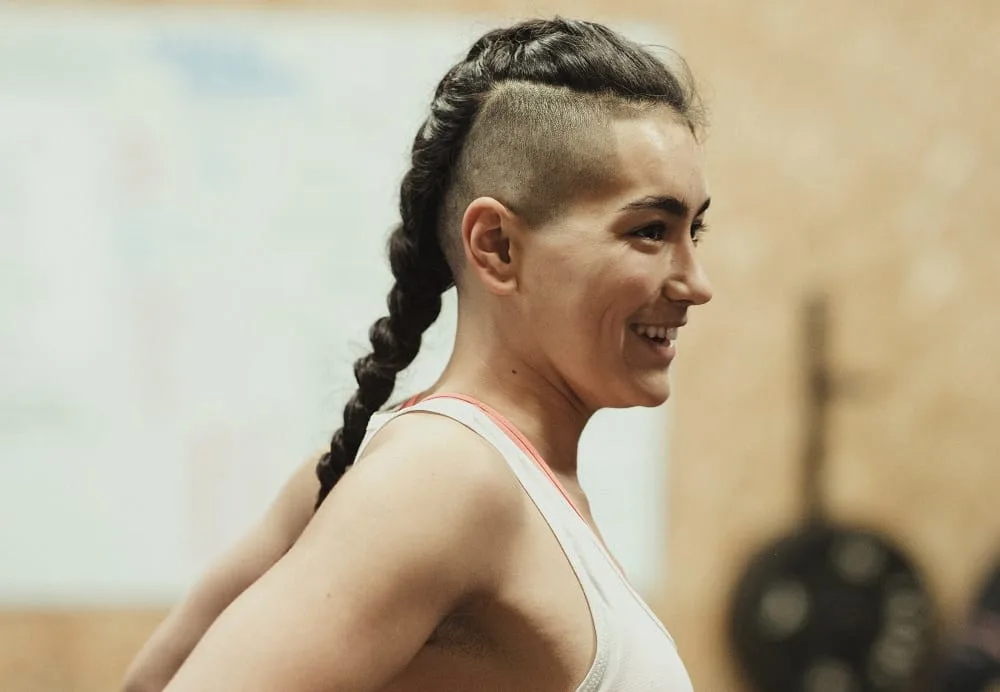 A mohawk is not for the faint of heart or those who have jobs with strict dress codes and hairstyle regulations. It involves shaving your sides and styling a mohawk that you will later braid.
The hairstyle is ideal when you are planning your workout or need a hairdo that keeps the hair away from your face.
10. Two Colors Braids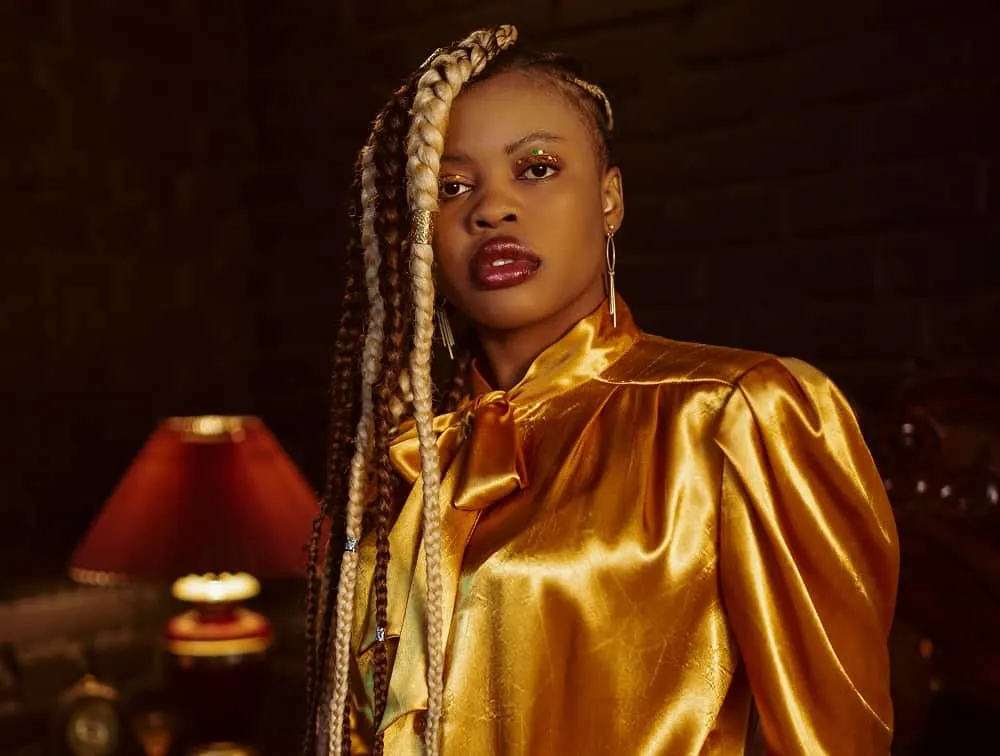 Don't go for dull options when you can pull off a two colors hairstyle! Instead of creating braids in the same nuance, buy two tones that complement each other. You will do the parting as usual, but use a different color when you pull of your braids.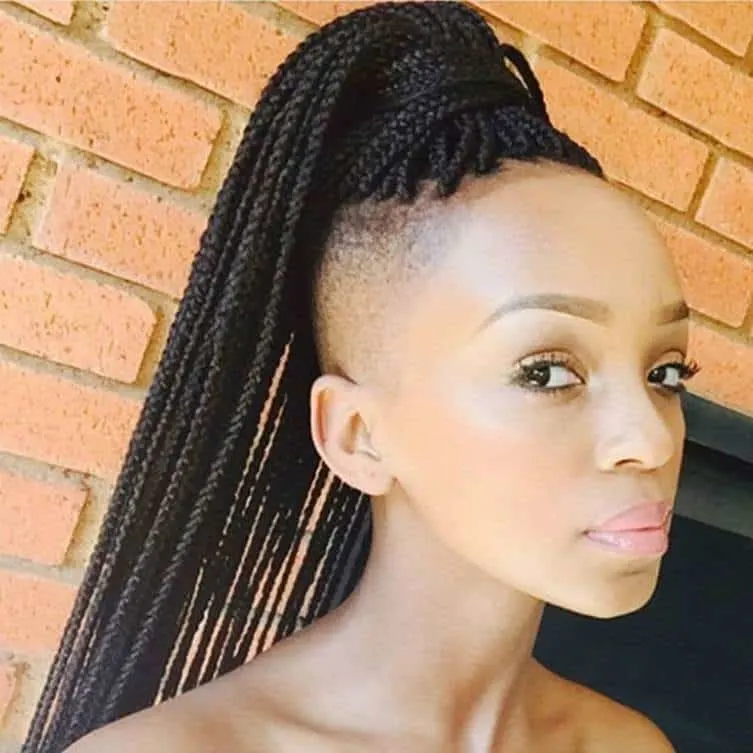 Another beautiful hairstyle was created within the community. Her sides are kept really low while the middle is in a ponytail. The top section is box braided then placed into a ponytail.
Recommended maintenance will be minimal since your hair is protected underneath the box braids. Ensure that your hair, head as well as neck will be able to manage the weight that comes with braids.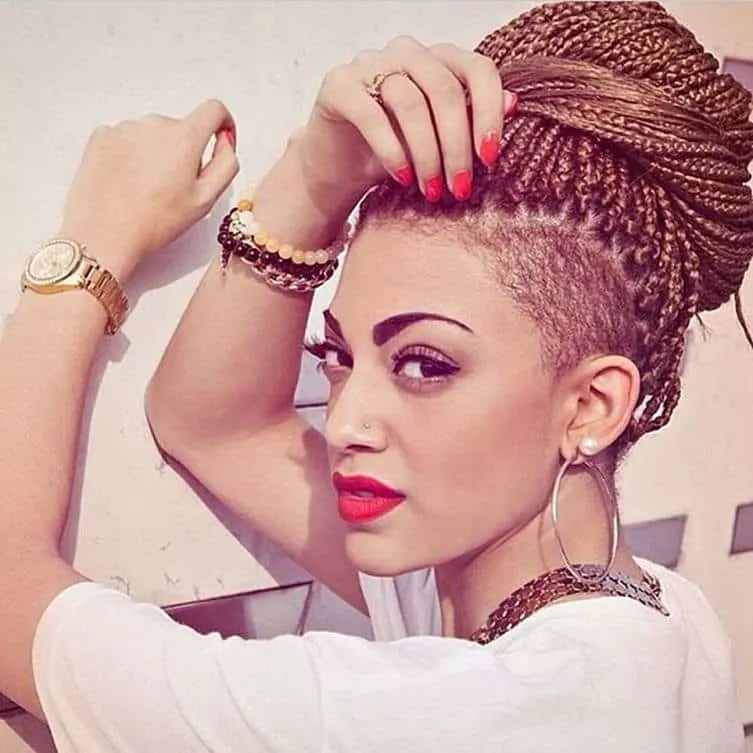 This shaved side braid hairstyle is done into a bun. It allows you versatility because you can switch between styling into a bun, ponytail as well as hide your shaved sides. The sides are kept really low while the middle is braided with blonde or golden hair.
Ensure to secure the braids at the roots to prevent your hair from slipping. Daily maintenance would be required to keep your sides low, especially if your hair grows fast. In addition, you would need to keep the perimeter of your braids fresh, especially when exposed to the public.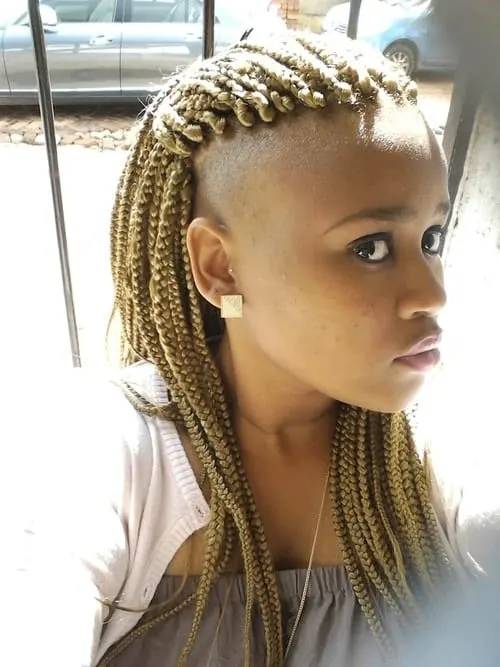 This hairstyle is different from the other braids with shaved sides because the sides are bald. However, it still looks beautiful. Then the middle of her hair is braided with blonde hair which looks gorgeous on the model.
The hair is braided downwards to fall along her back. The half up is done in a low ponytail. Maintenance will be heavily required because your hair will be growing out which you may or may not want people to see.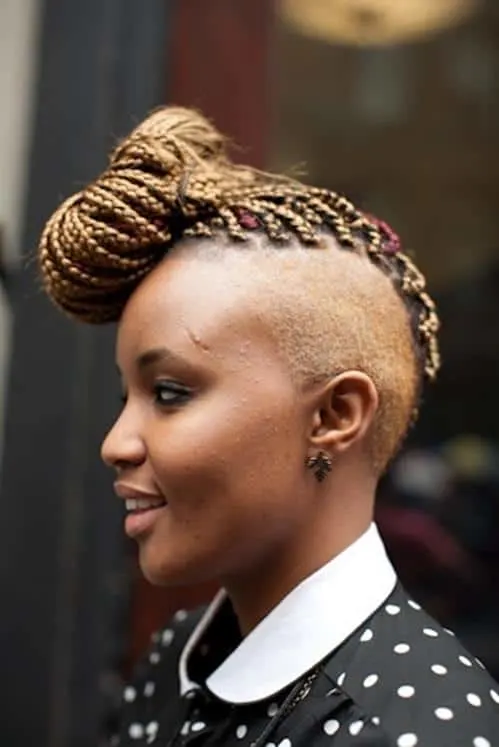 Another braided updo is done in an upside-down braided bun. You can do the exact same style or let the braids fall to your shoulders. Also, you can use different color braids to keep your hair looking playful. Her sides are blonde as well as shaved very low.
This allows her hair to blend in with the blonde/golden brown braids. Heavy maintenance would be required to maintain bleached hair while keeping your hair healthy. In addition, to mask the black hair that will appear once your hair starts growing out.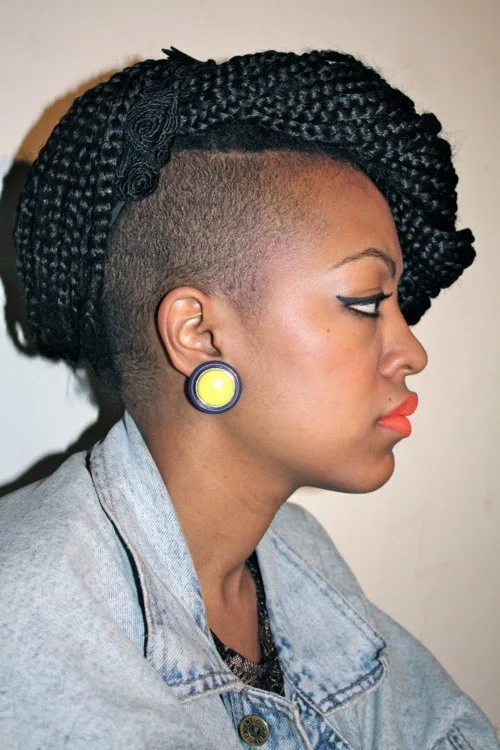 For these braids with shaved sides and back hairstyle, the braids are done using crochet braids. One side is shaved completely, and the other side is braided. Once the braids are done it is then styled into a pompadour or pin-up. This is where all of the braids are pinned in a particular direction in order to achieve a particular look.
This style will take some time to master especially if your braids are heavy. However, once pinned securely it will last for the entire day. Once your hair starts to grow out you can brush it to keep the hair maintained.
16. Side Swept Braids with Fade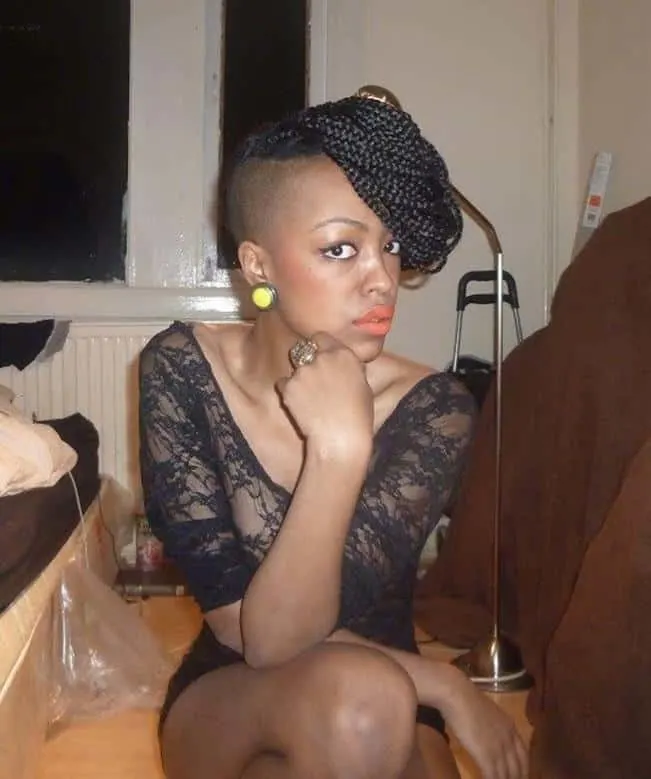 For this hairstyle, the braids are pinned into a side swept braided bangs. It adds volume to the overall hairstyle. As well as, it will look chic in any outfit. When your hair starts to grow you can brush the hair on the shaved sides down in order to maintain the overall look. Also, you can add colorful braids to your bang to add to the aesthetic of the overall look.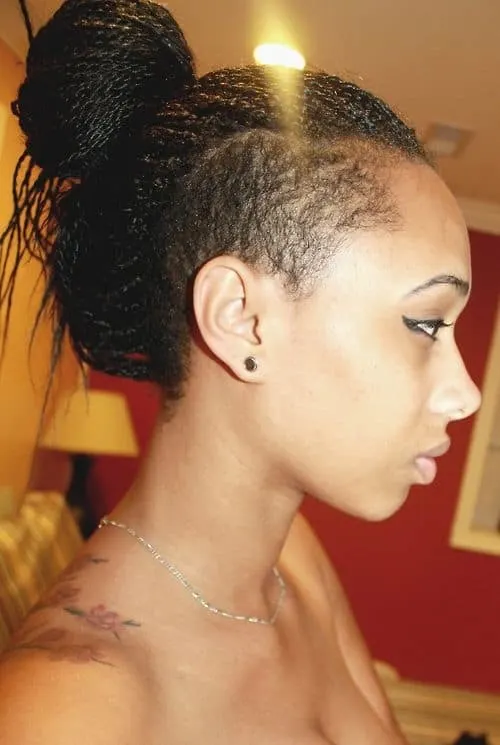 For this look, the braids are done very small. It gives the hair more volume as well as depth. In addition, her shaved sides started growing out which adds more texture to the overall look.
You can keep brushing the shaved sides as it grows out as well as use edge control to keep them laid all day. Maintenance would be required for your braids especially if your hair grows fast in order to keep them fresh throughout the duration of the hairstyle.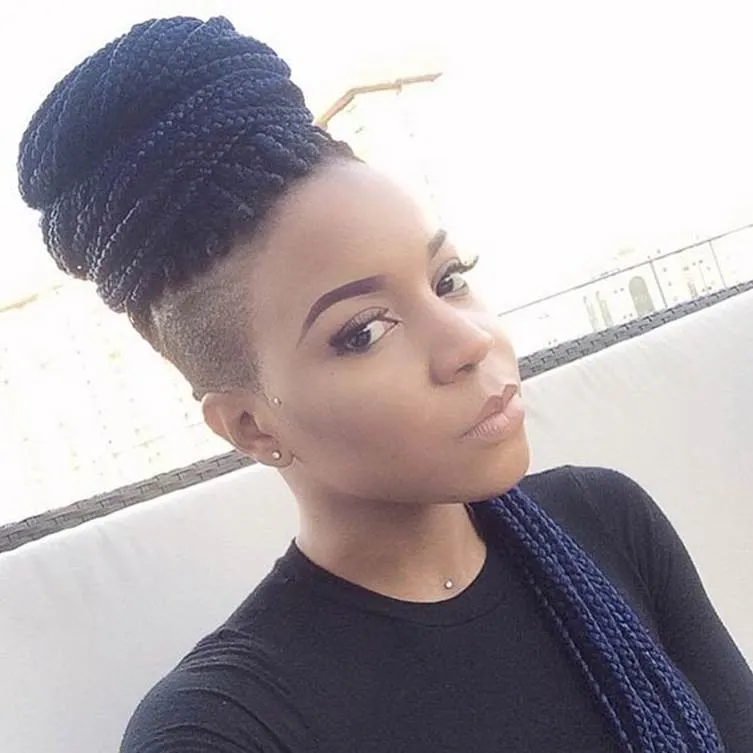 Very similar to the previous hairstyle however the braids are put in a half bun. A portion of the hair was left after shaving the side then it was braided and styled into a huge bun. Another great shaved sides hairstyle with braids that offers various hairstyles.
You can be rocking the un for formal today and looking punk rock with a ponytail the next day. You can keep your sides low by brushing them daily to keep them to lay flat all day.
The shaved side with box braids allows the hairstyle to look punk rock. In addition, it can be transferred into a high or low ponytail. And, even a bun if the model so desires. It's a very chic hairstyle that will have all eyes on you.
You can also add any hair color you so desire such as blonde, red or even blue towards the end. This will give the hairstyle a playful look.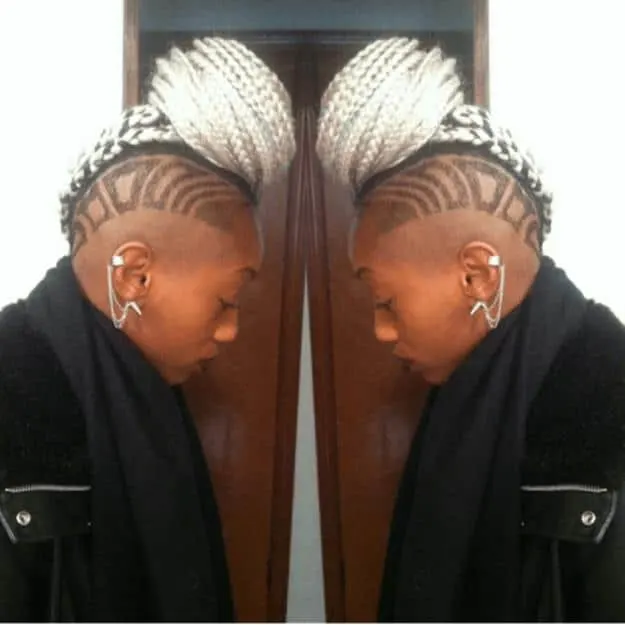 This exotic yet punk rock style is for those individuals who are really raving. The model shaved her sides leaving the middle portion for her braided hair. However, she added designs to the shaved sides to give it an eccentric look.
You can add different designs as well such as your favorite shapes or words. You can restyle it into an upside-down ponytail. The hairstyle is statement wear and should be worn with an amazing outfit. What do you think?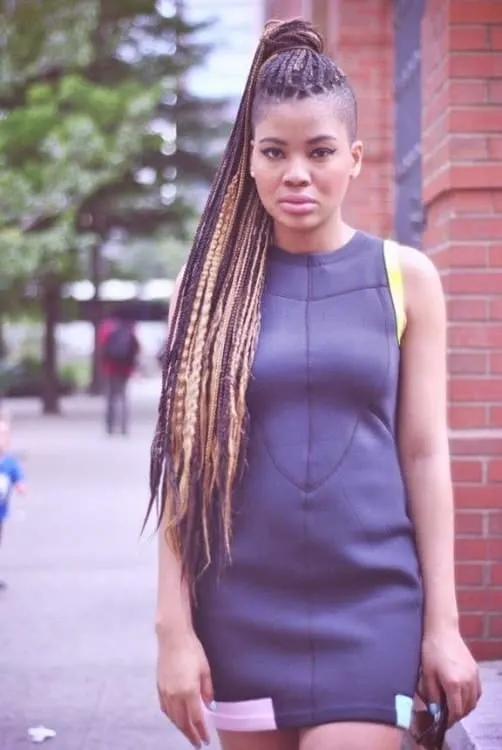 Another exotic hairstyle that will have all eyes on you. This hairstyle is fun especially if you like long ponytails. Her sides are shaved while the top portion is remaining at an angle.
Usually, the top portion would be in a rectangular or square form however for her it is in a triangle. Also, her braids aren't the typical braids they are feathered. To achieve this style, you would plait your braids but not braid to the end. Then, you can cut to your desired fluffiness.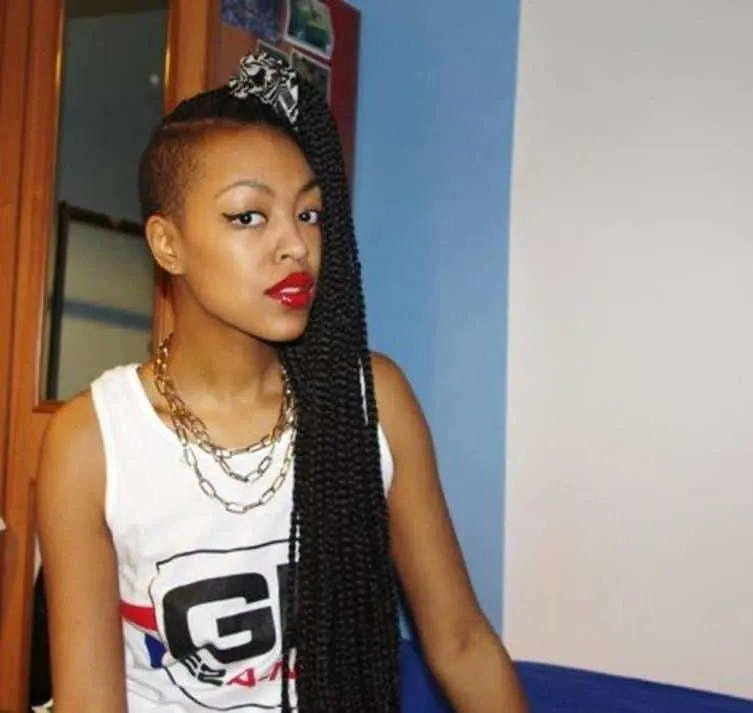 This braided side shaven hairstyle is similar to what Cassie debuted in 2010 however the difference is the braids. Her right side is shaved really low. However, her left side has braids. They are done at medium length so that it looks more uninformed.
In addition, she made a ponytail at the top to add volume to her hairstyle. Maintenance will be needed especially when your shaved side starts to grow out.
23. Braids with Side-Shaved Hair Design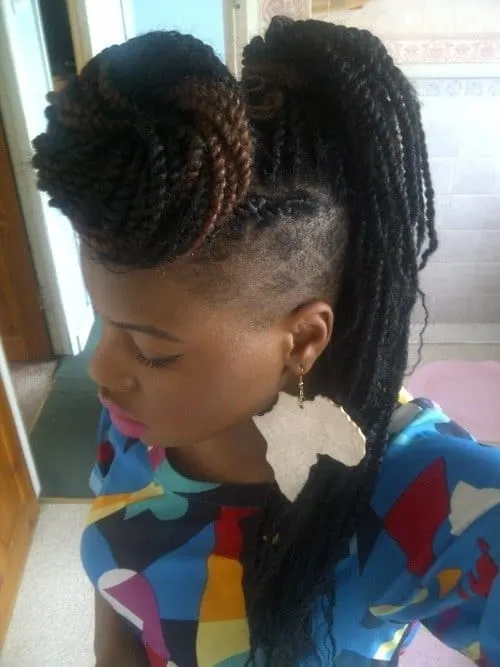 Another eccentric shaved hairstyle with braids because the sides have various designs. You can tweak it an add your own design. In addition, the hair is braided smaller than normal to add volume to the hair.
From these braids, you can style is various ways such as bun, ponytail, or leave it out or you can combine it like what the model is wearing. The hairstyle should last a long time especially if daily maintenance is done.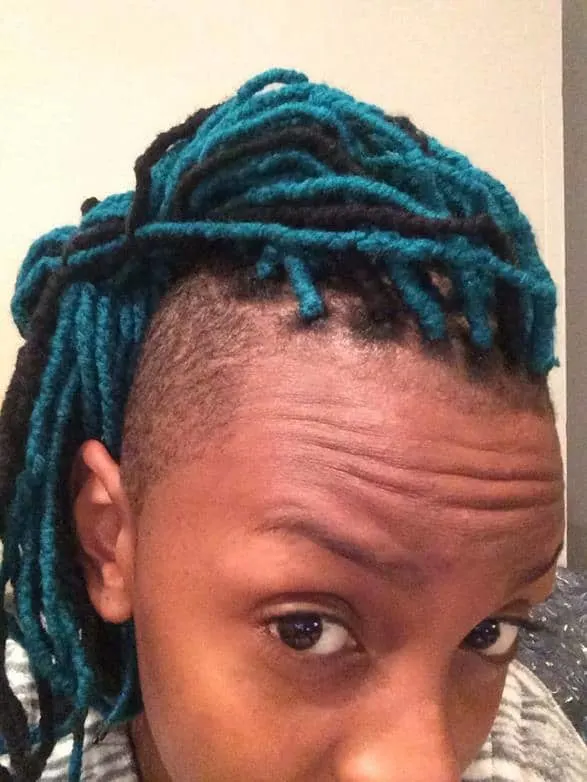 This is a very different braiding technique since crotchet hair has been used. In addition, there is a mixture of blue and black hair. It can then be styled in various ways such as a bun, ponytail, rolled up the pin and so much more.
Also, the crochet braids that are used will make styling easier on the hair. In addition, the braids will be light. Therefore, it will not strain your hair follicles or neck for the duration of the hairstyle.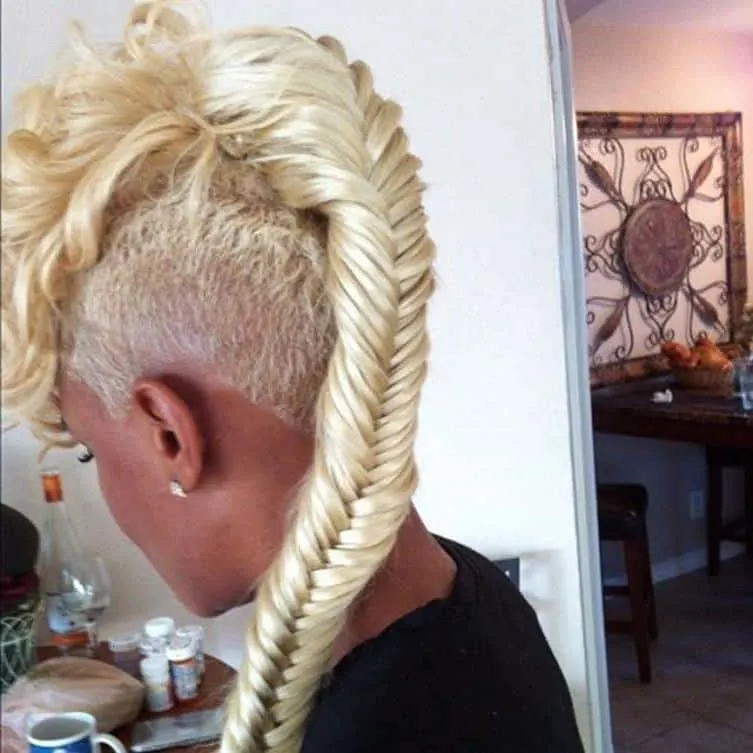 For this braids with side shaved hairstyle, the hair is dyed blonde. Then, the sides are shaved really low. And blonde weave is installed into the hair. Then a fishtail braid is done downwards into a Mohawk which adds texture to the look.
And the top portion is wand curled to give the hairstyle flair. Maintenance will be heavily needed in order to maintain as well as preserve the overall health of your hair since it is bleached.
26. High Bun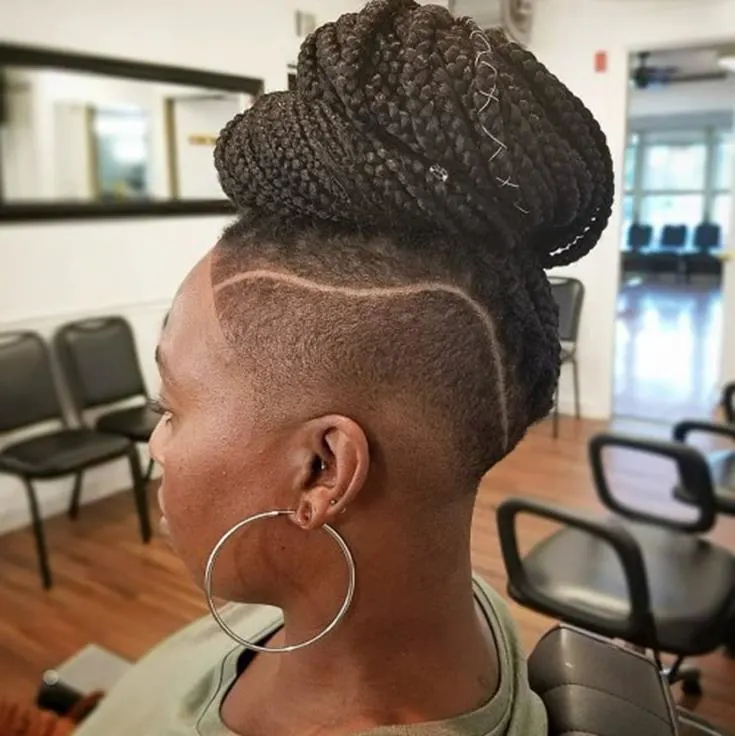 A very unique hairstyle because the deep side part is wavy. This allows your hairstyle to be unique. The braided bun is braided finely. In addition, the hair thread Is tied across the braids to add dimension to the hairstyle. In addition, hair clips are added to give the overall look a playful look.
Another beautifully braided mohawk. Braids are added to her natural hair then cornrowed down into the Mohawk. Her mohawk is very long however you can make it short if you so desire. In addition, you can add color to the braid if you want to add flair.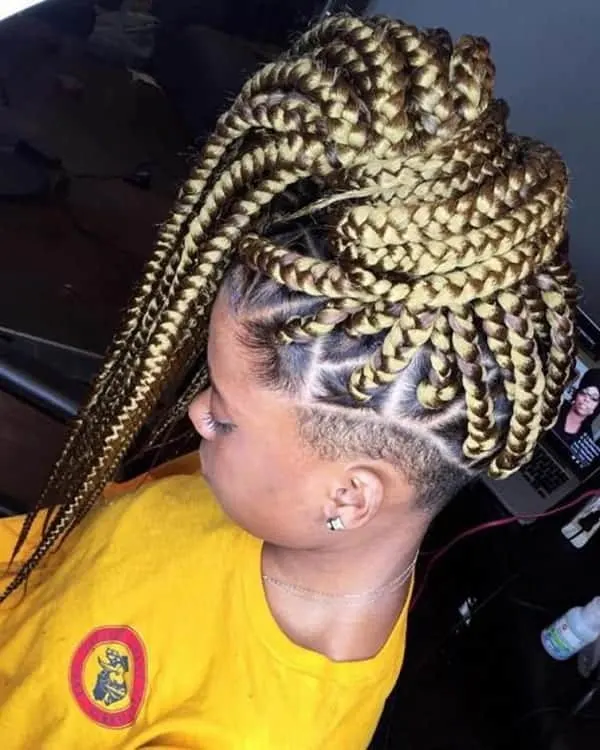 These shaved sides are very low compared to the other braids style in the list because it starts just an inch above the ears. Then, the top portion is braided using golden brown/blonde hair. Then, it is placed into an upside bun. We are loving this hairstyle because it is very shiny.
To achieve this level of glow, you can use hairspray on your braids. In addition, the hair is low maintenance as the braids will stay neat for a while. .In addition, the shaved sides are low hence little maintenance.
Another shaved side hairdo with colorful braids. It adds flair to the hairstyle. In addition, you can add hair clips, beads and straws to add dimension to the overall hairstyle. Her shaved sides have a design which adds to the overall aesthetic of the look.
Instead of the braids being plaited or cornrowed, it is twisted. Then the two strand twists are then placed into a bun. You can add hair beads and accessories to accentuate the overall look. As the shaved sides start to grow out then you would lightly brush to keep your hairs laid.
This is a cut above the rest hairstyle. The hair is braided into small and big braids then braided into one braid down the rest of the hair. The sides are shaved very low to add texture to the overall look. You can add designs to keep the braids with shaved sides unique. In addition, once the sides start to grow out you can use edge control to keep your sides looking "fleek" and laid all day.
As the name of the hairstyles suggests the hair is styled into Senegalese twists. Then it is brought to one side of her face, which is usually the model's best side. The shaved side has a cool design which is the deep side wavy part. You can do more by adding your favorite design, work or even shape. Have fun with the hairstyle!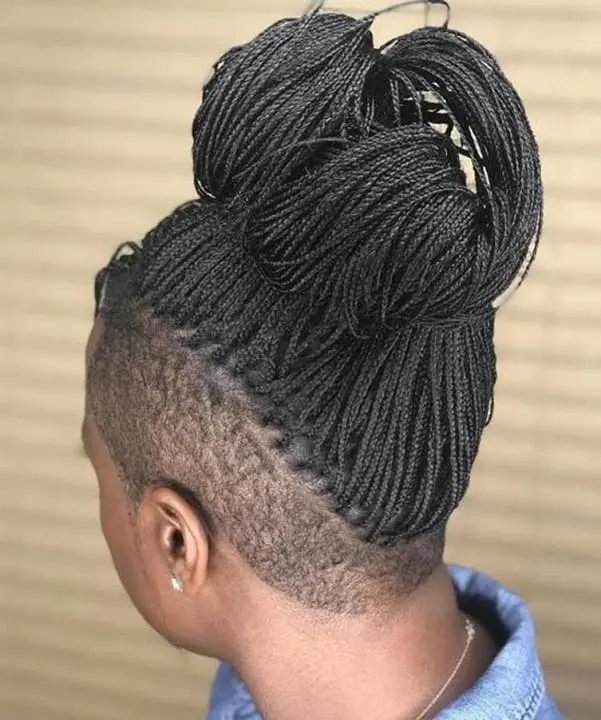 The base of the shaved side is shaped like the letter "U". While the middle of the "U" is braided very fine, also called micro braids. This allows your micro braids with shaved sides hairstyle to last longer because the messiness will take a longer time to show. The model placed into a bun however you can wear it out or in a ponytail.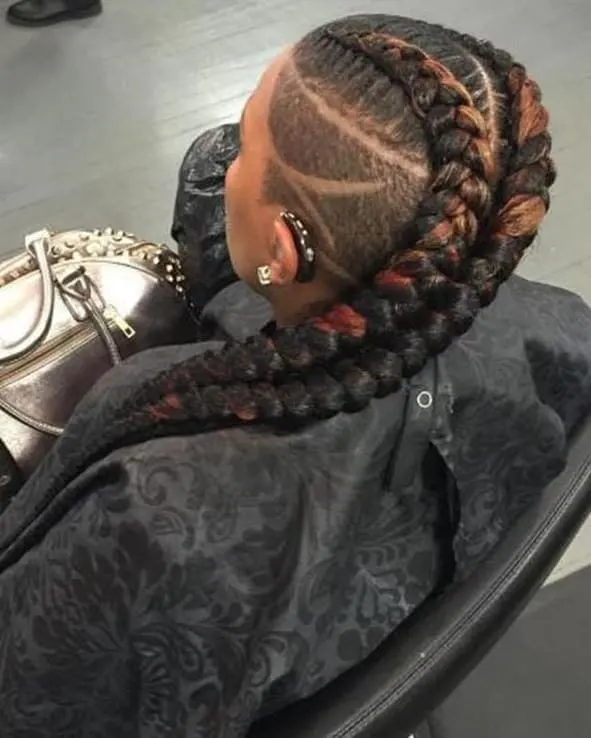 This sleek look is perfect for a night out or the club. The sides are shaved very sleek with neat designs to enhance the coolness of the hairstyles The double Dutch braids are braided down with black and auburn colored braids weaved in.
It allows you to have a beautiful contrast with this loo. In order to keep the hair glossy ensure to use hair spray and mousse.
For this exotic braided hairstyle with shaved sides, the braids are smaller. The smaller the braids the longer the style should last.
Also, her hairstyle can be restyled in many other ways. It is perfect for school, summer jobs, and family dinners. You can add cool designs to the shaved sides to keep it looking fresh.
This hairstyle is eccentric and beautiful. The sides are shaved only leaving the top portion which is then braided using silver grey box braids. And, rolled, pinned, tucked and tied into this beautiful masterpiece. Ensure to get it done by a professional if you want the exact look!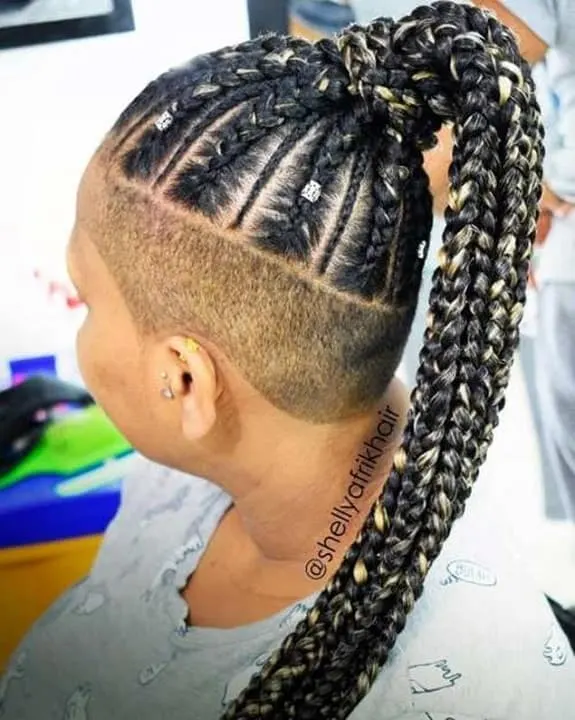 This is a very chic braids with shaved sides and back hairstyle. The big and small braids are a beautiful contrast. In addition, the beads will keep your hair looking shiny.
Lastly, the blonde highlights throughout the jumbo braid ponytail hairstyle will keep it fresh. You can then restyle into a bun. In addition, if you love waist length hair then you can braid towards that length.
The style is braided using crochet hair which looks like your natural hair. Then, you can add hair threads of different colors on the braids in order to accentuate the low. Lastly, she shaved sides can be maintained with a brush as well as your favorite edge control.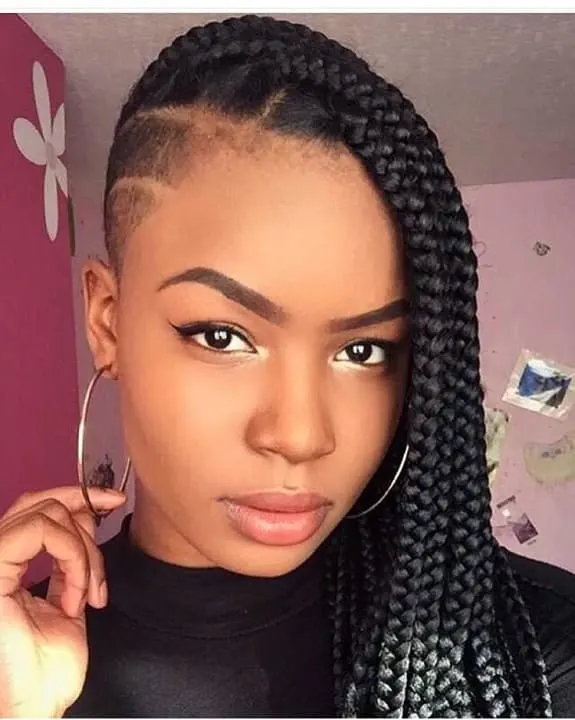 Another unique braided shaved side hairdo because the braids are triangle parted. This gives a unique design to your scalp. In addition, her sides are tapered into an undercut with a deep side part. Daily maintenance will be required In order to keep your edges fresh for the duration of the hairstyle.
If you look really close at the model's hair you would see that the ends of her braids are feathered. For this braids with shaved sides hairstyle, you wouldn't braid towards the end of the hair you would stop at a certain point.
Then, apply hot water to the ends of the braids to keep the feathers close-knit. Then, once the hair has cooled style into a bun.
Frequently Asked Questions
Can this style be done on short hair?
If your hair is the minimum 2 – 4 inches then it can be done. The braid will need to be secured which it cannot be on extremely short hair. Hence, we don't recommend you to do it if your hair is really short.
Is this style suitable for men Also?
Yes it is. Men are slowly but surely coming into this trend. However, they will do the "manlier" version. They would sport cornrows, or faux locs with the style.
Do braids look attractive with an undercut?
Yes. The braids can also be styled with an undercut and you will still look beautiful.
Which one of the exotic braids with shaved sides hairstyles will you be trying for the new year?