Braids with shaved sides is an upgraded take on braided hairstyles. Shaved sides came unto the beauty when Cassie and Rihanna did it. Not only was it cute but individuals created many styles from it. For example, shaved sides with exotic braids. Another beautiful hairstyle that is trendy.
How to Style Shaved Sides with Braids
The braids can be styled in various ways depending on the look you are going for. It can be sleeked into a bun or ponytail for a formal event. As well as, let out or style into a half up half down hairstyle for a casual event.
Watch The Following Video to Know about How to Style Braids with Shaved Sides
How to Do Braids on Scalp with Shaved Sides
Ensure that your shaved side is not braided into. There is little or no hair there. If the braid is attached to it then it will pull against your hair follicles which will prevent hair growth. When you are braiding do it on the section with hair about 2 – 3 inches in length for grip. The longer the hair, the better.
Popular Braid Hairstyles with Shaved Sides
Here are 30 braided hairstyles with shaved sides to choose from:
Another beautiful hairstyle created within the community. Her sides are kept really low while the middle is in a ponytail. The top section is box braided then placed into a ponytail. Recommended maintenance will be minimal since your hair is protected underneath the box braids. Ensure that your hair, head as well as neck will be able to manage the weight that comes with braids.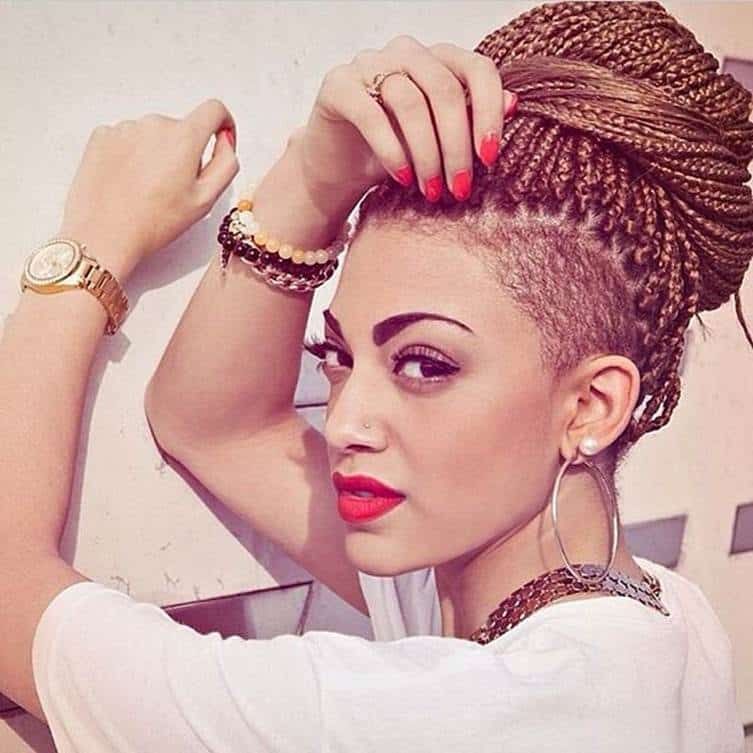 This shaved side braid hairstyle is done into a bun. It allows you versatility because you can switch between styling into a bun, ponytail as well as hide your shaved sides. The sides are kept really low while the middle is braided with blonde or golden hair.
Ensure to secure the braids at the roots to prevent your hair from slipping. Daily maintenance would be required to keep your sides low, especially if your hair grows fast. In addition, you would need to keep the perimeter of your braids fresh, especially when exposed to the public.
This hairstyle is different from the other braids with shaved sides because the sides are bald. However, it still looks beautiful. Then the middle of her hair is braided with blonde hair which looks gorgeous on the model.
The hair is braided downwards to fall along her back. The half up is done in a low ponytail. Maintenance will be heavily required because your hair will be growing out which you may or may not want people to see.
Another braided updo that is done in an upside down braided bun. You can do the exact same style or let the braids fall to your shoulders. Also, you can use different color braids to keep your hair looking playful. Her sides are blonde as well as shaved very low.
This allows her hair to blend in with the blonde/golden brown braids. Heavy maintenance would be required to maintain the bleached hair while keeping your hair healthy. In addition, to mask the black hair that will appear once your hair starts growing out.
For this braids with shaved sides and back hairstyle, the braids are done using crochet braids. One side is shaved completely, and the other side is braided. Once the braids are done it is then styled into a pompadour or pin-up. This is where all of the braids are pinned in a particular direction in order to achieve a particular look.
This style will take some time to master especially if your braids are heavy. However, once pinned securely it will last for the entire day. Once your hair starts to grow out you can brush to keep the hairs maintained.