Faux locs are great saviors for women who like volume but whose hair is not strong and thick enough to create impressive hairstyles. While they might take a long time to weave in, the result is truly stunning.
There are several interesting and more or less easy ways to style the faux locs hairstyles. Most of them have to do with braiding. Knowing how to do good cornrows and wielding a latch hook can lead you to create a truly unique hairstyle using faux hair extensions. Real locks might take years to create, faux strands take minutes to attach. Which one will you choose?
What Are Faux Locs?
Faux locs are a trendy protective hairstyle that offers the look of dreadlocks without the commitment. They're similar in appearance and texture to traditional locs but don't require the same level of upkeep and only last six to eight weeks before you'll need to take them down.
This style consists of loc extension crocheted into your natural hair, either in individual braids or cornrows.
How To Install Faux Locs
Installing faux locs can be time-consuming, depending on the number of extensions and overall volume you want to achieve. While individual braids allow the locs more freedom of movement, cornrows don't require you to wrap your natural hair.
Alternatively, you can save time and achieve a more authentic look by using cornrows at the crown of your head and individual braids along the hairline.
Individual Braid Method
Follow these instructions to install faux locs using the individual braid method:
Start with clean, well-moisturized hair that is tangle-free.
Working in 1- or 2-inch sections, use a rat-tail comb to separate your hair. Apply a leave-in conditioner to each strand, then braid from root to end.
Create a hole in one end of an individual loc.
Push an open crochet needle through the base of your braid.
Attach the hole you created in the loc to the hook and close the latch.
Use the crochet needle to pull the loose end of the loc through the hole.
Tighten the loc close to your scalp, paying close attention to how comfortable the extension feels. Too much tension along your hairline can make your faux locs look stiff and damage the hair root.
Working from root to end, unravel the loc and wrap it around the braid. Continue this process for every section of hair.
Seal the end of the loc by rolling it tightly in the palm of your hand, then burning the end with a lighter or applying a small amount of nail glue.
Watch The Following Tutorial to Learn How to Install Individual Faux Locs
Cornrow Method
Follow these instructions to install fake locs using the cornrow braid method:
Start with clean, well-moisturized hair that is tangle-free.
Plait your hair into cornrows.
Create a hole in one end of an individual loc.
Push an open crochet needle through one section of the cornrow, close to your scalp.
Attach the hole you created in the loc to the hook and close the latch.
Use the crochet needle to pull the loose end of the loc through the hole.
Tighten the loc against your scalp until it feels secure and comfortable.
Continue working down the row, leaving space between locs to avoid adding too much weight and volume to your hair.
Seal the end of the loc by rolling it tightly in the palm of your hand, then burning the end with a lighter or applying a small amount of nail glue.
Popular Faux Locs Hairstyles
Women who try faux locs keep them for a long time. This hairstyle is easy and comfortable to wear and requires very little maintenance. The impressive volume the locs provide is worth all the hassle. Black women give a 5-star rating to the faux locs hairstyle but only if they are attached correctly.
If you are not sure you can weave in the locs yourself, it would be better to ask for professional help. Since locs can stay attached for weeks, a salon visit won't take a toll on your wallet.
1. Permanent protection
Faux hair can be permanent and can be temporary. The temporary locs last up to three months. Meanwhile, the permanent ones help turn your own hair into the real locs. Go for the permanent solution only if you are 100 % sure.
2. Heavy volume
The more volume you make, the heavier your hair will be. Consider whether or not you are ready to wear this voluminous mane on your head. Too much heavy hair can lead to headaches and neck problems.
A fun way to arrange the faux hair extensions is to create micro braids. You can braid in fibers or natural human hair of a different color to create the highlight effect. This style is mostly temporary.
4. Extra attention
No matter what type of locs you choose for yourself, you need to remember to give them the most attention. Even though faux hair protects your own, don't forget to oil daily and wash it at least biweekly.
5. The thinner the better
Thin fake faux locs hairstyles are great for the volume and take a lot of pressure off your head. The thinner you make the strands, the more natural the overall image will be. Consider weaving differently-colored strands.
6. High Ponytail
When it comes to faux locs there are countless ways to style them. Consider this look for instance where deep red strands are incorporated among the black ones for a highlighted appeal. Curl the ends before securing the hair in a high ponytail and finish off with chic hair cuffs.
7. Golden Brown Side Bun
African-American ladies who are bored of their black mane can try out light-colored hair extensions for a change. Consider these golden brown locs to accentuate your piercing green eyes. Wrap the strands around with a deep side parting into a jumbo bun at the back behind one ear. Voila!
8. Frosted Tips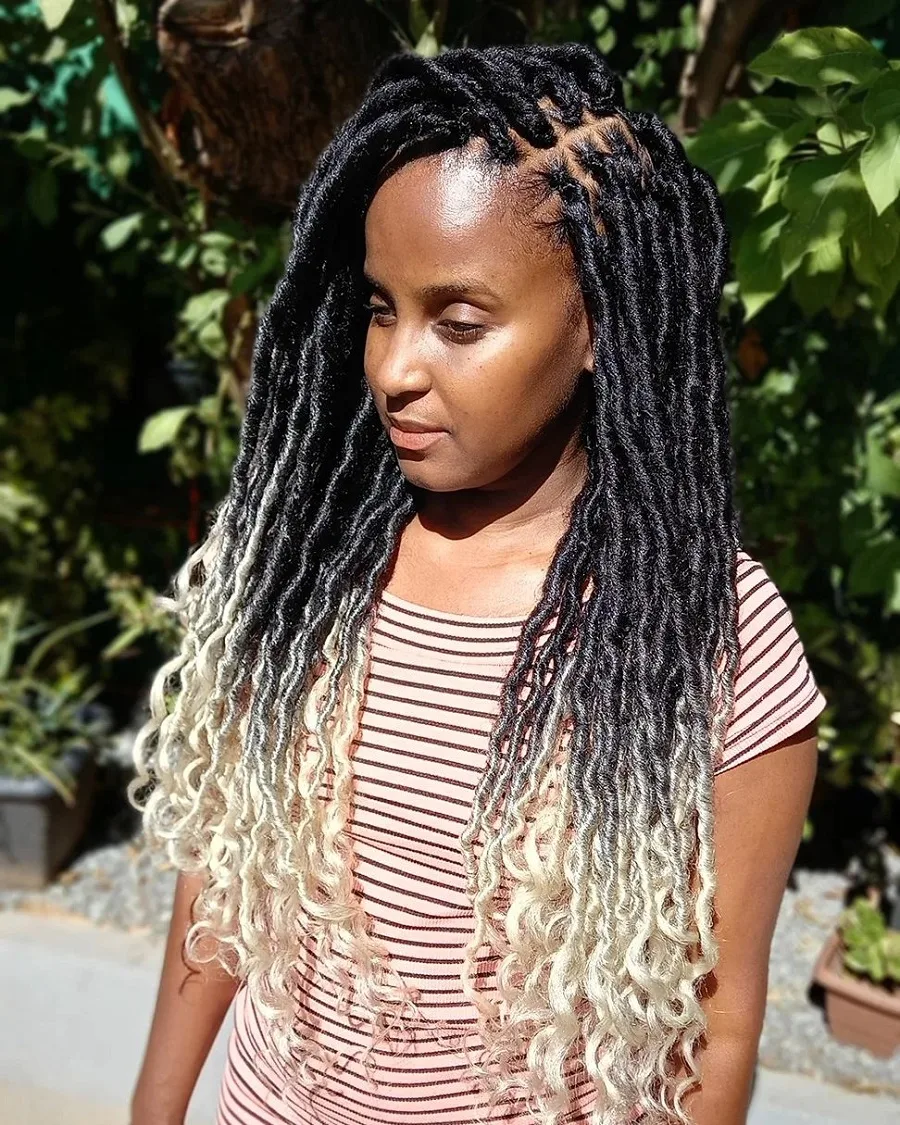 This hot faux locs hairstyle enables young girls to take part in the ombre hair trend without permanently committing to it. Choose extensions of a medium thickness with the black top transitioning into a platinum blonde tinge at the ends. Curl the tips for a chic finish.
9. Pineapple Puff
Whether the hair is curled or dreaded, the pineapple puff is the to-go hairstyle for lazy women. Clip the caramel strands up at the back with the ends falling over on the face or keep them away with a head bandana sparing one or more locs to accentuate the face.
10. Chunky Twists + Undercut
Have a glance at this bold hairstyle to sport an undercut with utmost confidence. Choose the chunkiest locs available and attach them on the top to fall over the clipped sides. Keep in mind the weight these extensions will put on your head before getting them.
11. Silver Streaks
Make an ordinary style look special by mixing shiny silver strands with the black ones for a dichromatic appeal. Go for as much length as you want and wear the hair loose with a simple center parting. Accessorize with hair cuffs and beads.
12. Messy Updo
Faux locs add considerable volume to any hairstyle. Recreate this look ideal for the summer by going for medium-thickness strands and adding tight curls to the tips. Clip them up at the back to fall on both sides of the head with a side-swept fringe framing the face at the front.
13. Highlighted Curly Tips
Black women with natural curly coils can opt for this look. It is better to get the style done by a professional in order to get a perfect mess of curls and dreads. Ask for a hint of blonde on the tips for a highlighted effect. Side-tousle the hair and you are done.
14. Two-Toned Beauty
Get noticed from a distance with this funky hairstyle featuring faux locs in two contrasting shades. Add black strands on one side of the head with milky blonde strands on the other side. Wear the hair loose creating the appeal of a two-toned dreaded bob.
15. Black to Burgundy Gradient
Don't commit to a single color when there is the possibility of combining various shades together. Pair an undercut with extra thick strands on the top, featuring a chic black to burgundy gradient, falling over on one side of the face. Short, sassy, and low-maintenance what more can one ask for?
16. Spike it up
If you are using cornrows to attach the hair extensions, you can automatically create a spiky look. The braided hair on top of your head creates a great contrast with the volume of the extensions.
17. Golden rings
There are so many accessories to be used with dreadlocks, but the most popular ones are golden rings. Enjoy a new style by adding a few rings to your mane. They look truly fabulous and suit any style.
18. Silver locs
The silver color is becoming more and more popular. Dyeing your own hair silver is not a great idea while using silver faux locs is a perfect choice. Make silver highlights or enjoy a full head of silver hair.
19. Short and sweet
There is no reason to create long locs when short ones are much more convenient. Shoulder-length fake locs looks great and are easier to manage. Try the short hairstyles and see how appealing they are.
20. The African queen
Neat locs with medium thickness and great length is what can turn a simple black girl into an African queen. If you are not afraid of the hair hassle and the maintenance time, go for it.
21. Attachment
The neat attachment is often the most important thing when it comes to faux locs. Making it seem as if you have natural dreadlocks is an art not all girls can master. You might want to consider professional assistance.
22. Style variety
When you attach the locs, you can let your imagination run wild. From buns to braids, and from messy to neat. Do whatever you wish as long as you follow the care routine. Faux locs are great for any hairstyle.
23. Faux Locs With Bangs
One of the rare approaches to dreadlocks is to create bangs. Faux strands are woven in to make short bangs. As your hair grows, the bang gets longer but the overall image doesn't lose the zest.
24. The classics
If you are not sure what type of faux locs to get and which hairstyle to create, you can always go for the classics. The length of the locs you choose is up to you. The longer they are, the more impressive you'll look.
Asymmetrical undercuts are trendy among teenagers. Shaving or braiding one side of the head and growing long hair on the other is extremely fashionable. Use faux locs for the opposite side.
26. Faux Locs With Updos
If you are a fan of amazing updos, you'll appreciate the room for imagination the locs give you. The buns become even more impressive when you make them using dreadlocks, and even more colorful when you dye them blonde.
27. Colorful Faux Locs
The best part about the hair extension is that you can try absolutely any color without damaging your hair with dyes. And the second best part is you can always remove the locs when you want to.
28. Metallic blue Faux Locs
If you want to make a statement, the metallic blue locs are exactly what you need. Coupled with golden rings, you can create an ancient Egyptian image or build a regular image. Give it a try!
If you like standing out of the crowd, classic faux locs should be forgotten. Consider shaving or tapering your side and using locs to create the most amazing mohawk crest in the world. It's up to you!
30. Experiment
Locs allow you to create all kinds of experiments without damaging your hair and lacking volume. Bangs, buns, asymmetrical mohawks, undercuts – all of these are available to a brave girl.
31. Shoulder-length faux locs
Shoulder length is the optimal size for faux locs. Since you are adding a significant amount of hair, the overall weight of your hairstyle can double or even triple. You head might not be ready for such an experiment.
Dark-skinned girls often look fantastic with light hair. Locs are a wonderful opportunity to see how blonde hair looks like the part of your image. Try all shades of blonde by using highlights.
33. Huge and outrageous
While faux locs can look absolutely mundane and become a good choice for school or office wear, they give you a chance to create something outrageous. This contrast of shaved sides and a huge bun is priceless.
34. Color Clash
Using various colors is one of the many advantages of hair extensions. You can apply the colors as creatively as you wish. For example, you can make one side of your head blonde and the other one brown.
35. Faux Loc braids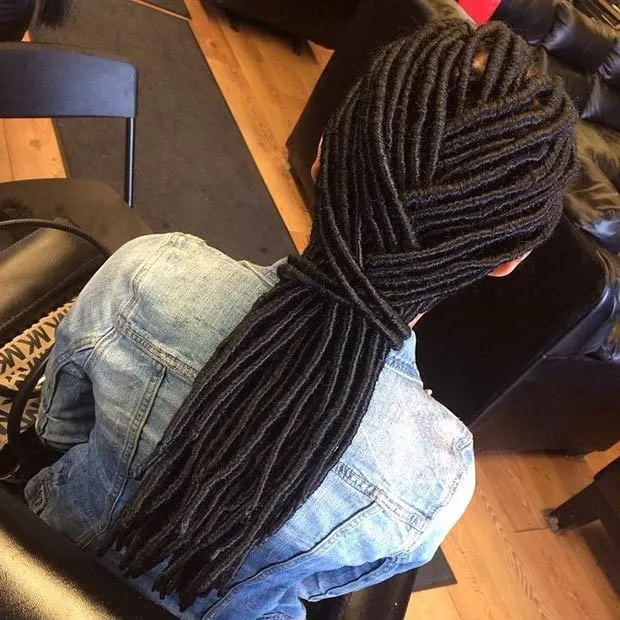 Faux locs might be hard to braid, but there are many ways to keep them out of your face by arranging the hair into a beautiful and fashionable hairstyle. If you have long faux locs, you have plenty of styles to learn.
36. Twist them
Twisting the locks into modern hairstyles is exactly what you should be doing in order to improve your image. Take a look at this side braid. It's truly impressive. Add some color and reap the benefits.
37. High hair
Faux locs are your best opportunity to create high hair just as Marge Simpson did. The higher you make the hairstyle, the more impressive it will look. But don't forget that it may be heavy.
38. Fun and mighty
Locs can be turned into various fun hairstyles. If you have a special occasion coming up, you might want to find an experienced hairdresser that can create a real masterpiece on top of your head.
39. Synthetic locs
Braiding in synthetic materials to make your hairstyle look out of this world is always a great idea. You can wear such a hairstyle any time you like and remove the extensions once you get tired.
40. Faux Locs Curls
You can create coiled hairstyles using locs. All depends on the skills of your hairstylist. You can either curl the hair yourself or make the beautiful coils at a hair salon.
41. Side Swept Faux Locs with Beads
Accessories in your faux locs hair spice up your entire look. You can attach a few beads and attain a subtle look with the side-swept hairstyle.
Toned hair colors with a bright hue grab all the attention towards your hairstyle. The stunning shade of magenta and cherry red hair shade gives you a flawless, spectacular look.
The classical faux locs styles can be side swept to achieve an effortless, casual look. It is one of the versatile hairstyles that you can opt for any time of the day.
If you have colored or highlighted hair then treat it with half hair down and half hair up faux locs hairstyle. The top knot elevates the shape of your face giving you an elongated look with perfectly attached beads on your hair.
Faux locs hair can be twisted into any of the statement styles. Twist them around in a bun and gel the rest of your baby hairs back over your head to achieve a sleek finished look.
Faux locs are the perfect type of hairdo's that can be left open and allowed to speak for itself. Just hang them loosely and side part them while attaching some beads over the other side achieving a spectacular look.
47. Blonde Locs
Style your blonde hair in faux locs style and enjoy your fabulous look. Create a fun-filled look with your faux locs in combination with your blonde hair.
48. Bouncy Curls with Faux Locs
Faux locs hairstyle with bouncy, loose curls work well for summer/ spring period. They are perfectly light-weight and go well for the long hair. This hairdo is the perfect, flirty choice for young girls. You can leave them loose or tie them up in a bun as you desire.
Faux locs styles are traditionally left long and straight most of the time. You can just side part them and achieve an impressive look. You can either keep your hairstyle simple or add beads or other accessories according to your desire.
50. Thick Bright Colored Locs Hairdo
Installing faux dreadlocks that are luscious and thick giving your hair a voluminous look. You need low maintenance for these faux locs as they are light-weight in nature. Color your faux locs hair with a bright, attractive dye that grabs the attention of the viewers in gatherings.
51. Goddess Style Locs
Maintain your long hair in the most fashionable way and shine your inner glow. If you want to grow your hair then install some faux locs to prevent the damage to your natural hair and let them grow with complete strength.
How To Take Down Faux Locs
Because faux locs are wrapped around the hair strands rather than braided in, taking them down is more straightforward than other protective styles.
Simply clip the sealed end of each loc and unravel your natural hair from the extension. You'll want to ensure your scalp stays moisturized during this process to avoid frizzing, knots, and tangles.
FAQs
Below are some of the most commonly asked questions regarding faux locs for women.
What's the difference between soft locs and faux locs?
Soft locs fall under the larger umbrella of faux locs. The primary difference is that soft locs are crocheted into your natural hair before being wrapped in soft, fluttery extensions. This method reduces the tension, increases hair movement, and makes installation faster.
Do faux locs damage hair?
Yes. Like any hairstyle, achieving the proper tension is vital. Getting fake locs that are too heavy for your hair can cause breakage, so be sure to talk with your stylist about what your strands can handle.
How long do faux locs last?
With proper care, faux locs can last up to two months. At that point, your natural growth will start to considerably show at the roots.
Can I sleep with faux locs?
Yes, you can sleep with faux locs at night, though you should protect them with a leave-in conditioner and a silk scarf or bonnet.

This protects your locs from losing product to your cotton bedding and keeps them from rubbing against the harsh fabric.
Can I wet faux locs?
Yes, you can get the locs wet, but they tend to get very heavy and take longer to dry due to the hair volume.
Are faux locs and butterfly locs the same?
Butterfly locs are a type of faux locs and another name for soft locs. It refers to the "fluttery" curls wrapped around each loc.
Faux locs are created to bring fun new hairstyles into your life. Take advantage of the temporary ones first in order to understand whether or not you like the style. These hair extensions are a great way to avoid hair damage.
Faux locs hairstyle is perfect for women who love volume in their hair. It works well for ladies who don't have thick hair. It is one of the impressive hairstyles that looks stunning on all occasions. It is comfortable and easy to maintain offering you impressive hair volume.
You May Also Like