Wrap hairstyles for black women are a great way to add style and color to your look whilst protecting your hair and giving your locks some time off from styling. Originally worn solely by African Women for religious and cultural purposes, the headscarf is now a firm feature within the style wardrobe of the modern black woman.
Not only are scarves an easy addition to any outfit to add a pop of bold color, but it is a wonderful consideration for a protective style. Great for either the summer or winter, a scarf is a novel way to protect the hair from the elements but can also be removed within a matter of seconds.
Wrap Hairstyles for Black Hair
So whether you are wanting a look that is traditionally classy such as a turban wrap, or something more quirky and unique like a headband or styled bow scarf; there are countless wrap hairstyle options for black hair available to tailor your scarf to your personality, hair type, and individual style.
Ideal for: Long braided hair for a sleek and stylish look. This black hairstyle with wrap would also work with naturally long and curly hair for a more bohemian flair.
How to Style: This look would be ideal either with a full on a headscarf to cover the crown of the head or with a bandana for a more relaxed style. Create a triangle from the scarf and place the largest straight end over your forehead.
Loop the loose ends at the back of the head and then bring the ends toward the front tying on top of the crown. Tuck any loose pieces in.
2. The Bow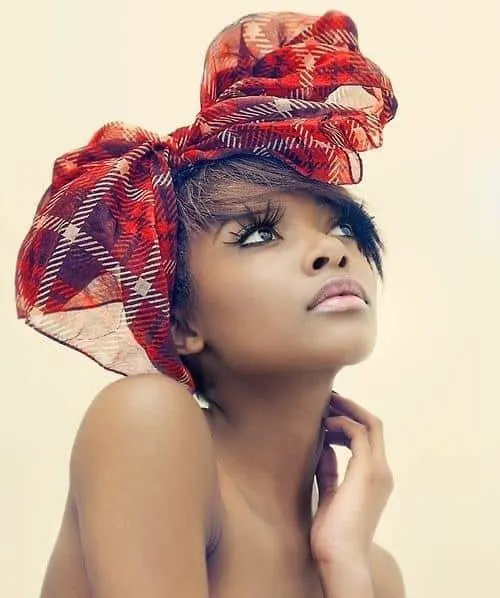 The bow wrap hairstyle is cute, retro and very playful with loose bangs and tumbling hair for women with black hair.
Ideal for: Bangs or short hair that can be brushed forward to frame the face.
How to Style: Wrap the scarf around your nape and bring the ends up to the top of your head creating a large bow tie. Tie the bow off center for a more quirky look.
3. Bun with A Wrap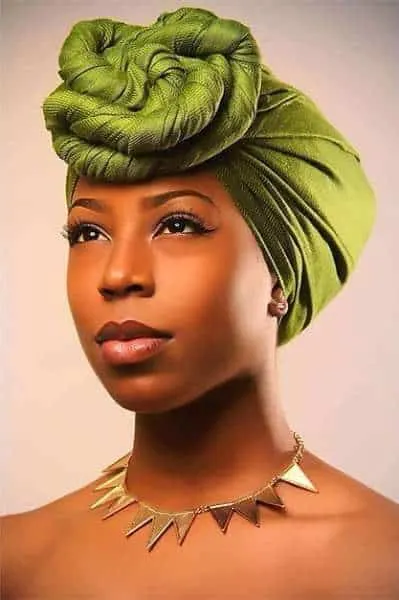 Big bun with wrap is beautiful! Opt for a scarf that will compliment your black skin tone and not wash you out.
Ideal for: Any hair type. This style will accentuate facial features.
How to Style: This look requires a larger scarf. Done in a similar way to wrapping a towel around wet hair after washing but securing with a statement bun on top.
4. Everyday Headscarf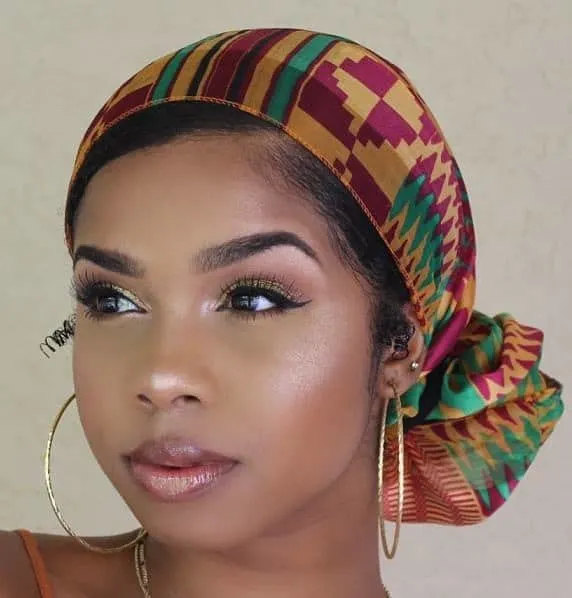 A very stylish wrap hairdo on black hair lolooksor those women wanting to cover their hair or trying to keep a bad hair day under wraps!
Ideal for: If you are wanting to accentuate your facial features or highlight your make up then this is a great style for that.
How to Style: Wrap around the head and tie at the nape. Tuck any loose ends in to create a side-bun style 'do.
5. Long Side Plait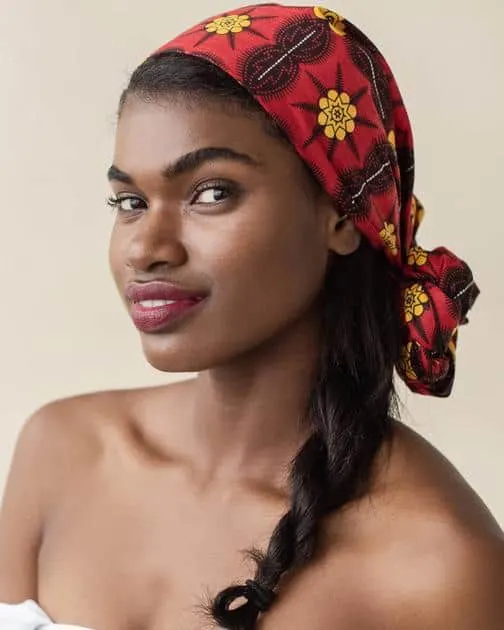 For a bohemian inspired look pair the scarf with a braid. Ideal for a chic summer wrap style for black women.
Ideal for: Natural hair or long hair that needs tying back.
How to Style: Can either be styled with a thin hairband or full triangle wrap. For a thin hairband, make a side braid and then fold the headscarf lengthways to make a narrow strip. Wrap the band around your hair, tying where the braid begins.
For a triangle wrapping, make a side braid and then fold a large scarf in half to make a triangle. Then follow the above instructions, tying where the braid begins.
6. Short Natural Curls
A headscarf is a great way to embrace the natural curly texture of your hair without too much fuss.
Ideal for: Short tight curls.
How to Style: By wrapping a hairband to the front of the head, you can add color and style but also keep your locks under control.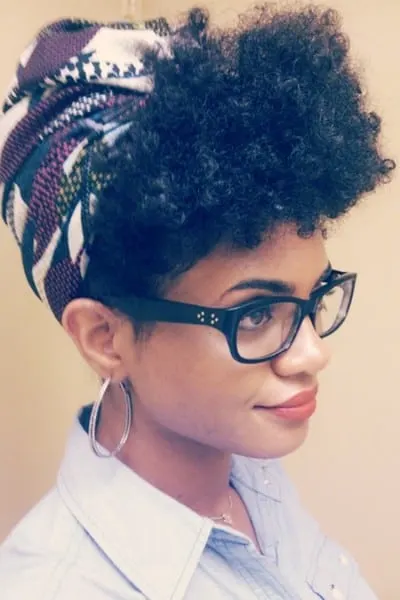 A hair scarf is a great addition for any black hair updo with wrap and there are countless versatile options.
Ideal for: Black hair with bangs or short black hair.
How to Style: By using a triangle shape headscarf (with the pointed end in the back) cross the ends around the rear and tie in a knot at the top of the head. By leaving loose bangs uncovered around the forehead, this wrap hairstyle is a great way to frame your face.