Shaggy hair boys are trending on Instagram! Whether you have long, short or medium length hair, a perfect hairstyle plays the most crucial role in defining your personality and if you are a guy, the way you style your hair says a lot about you.
Shaggy hairstyles for boys are not as complicated as women's, but every man sure wants that unique and fresh look that only the best hairstyle can lend. Nowadays, boys are considered being fashion enthusiasts and have become more conscious about their looks and hairstyles.
It is quite difficult to maintain and style hair for boys due to limited hair care options. However, with a little effort, alterations and knowledge, you get the freedom to try almost every hairstyle that interests you.
What is A Shag Cut?
Shag cut is an attractive, manageable and easy-to-maintain hairstyle. Shaggy Rogers from the Scooby Doo had this messy yet stylish hairstyle. Teenagers love it so much as it displays a confident persona. Shaggy hairstyle has been a popular choice among men and women not because it looks glamorous and cool, but also for its low-maintenance.
A shag cut was first created by a barber named, "Paul McGregor". This hairstyle is achieved by layering the hair to various lengths. Hence, the shaggy hair boys look works on every hair length and hair type.
Popular Boy's Shaggy Hairstyles
Here are 30 shaggy hairstyles for boys to try out right now for a perfect messy yet refined look:
1. Messy Shaggy Hair
Do you have gorgeous curls and want to flaunt them? Go for this messy shaggy hair? Apply a small amount of hair wax and tousle your locks to show off your curls' bounce and volume.
2. Medium-Length Shaggy Hair
When you think about boys' shaggy hair, you'd automatically think about an entire pile of hair covering your son's face. Well, that shouldn't always be the case.
After all, you can always go for a medium length shag which is cut shorter at the front for a cleaner look like this one.
3. Shag with Side Bangs
If you want to enjoy the benefits of a long shag (bouncy curls and volume) but don't want its con (hair getting in your son's face), opt for side bangs.
With this option, he can still have that adorable boyish look without any hair getting on his face.
4. Long Curly Shaggy Hair
Shaggy hair is popular among boys with long curls as this hairstyle can leave their curls bouncy and loose, allowing them to move freely and easily while looking cute and stylish at the same time.
5. Shaggy Hair with Angular Fringe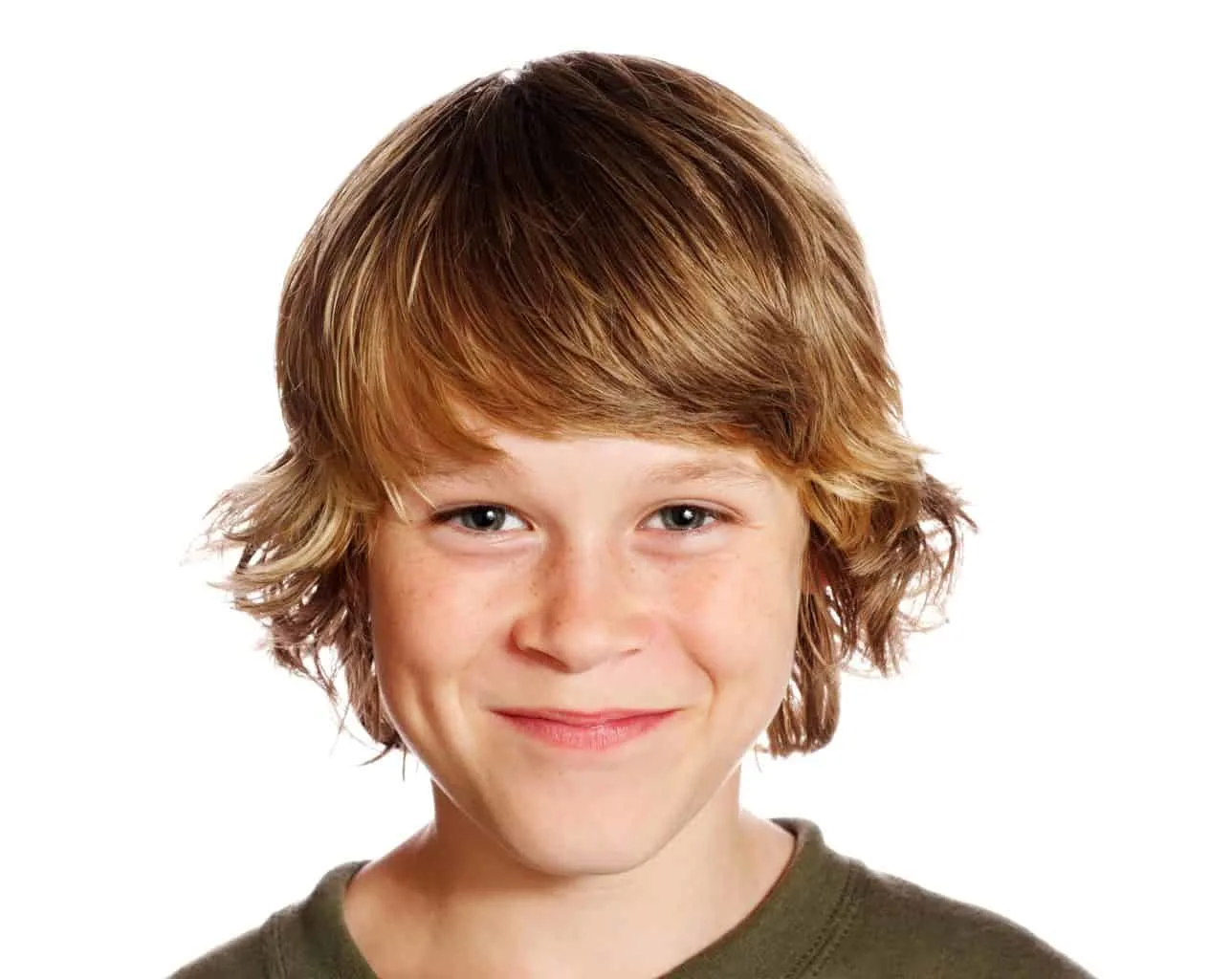 Choppy and eye-catching, angular fringe is designed to perfectly frame your face and make heads turn.
The best thing about this is the bangs are kept at the right length– not too short or too long. Plus the flicks and layers on the side make up a look that's both cute and edgy.
6. Shaggy Haircut for Thin Hair
For those with thin hair, go for a scruffy shaggy haircut with strands that seem to fly in almost every direction. All the layers and textures can make hair look thicker and more voluminous.
7. Short Shaggy Hair
For a classic and casual look, go for a short shaggy haircut that works well on all types of hair– wavy, curly, straight, and many more. The short length makes it easy to maintain while the shag design is quite stylish and versatile, so it's a win-win for everyone!
8. Textured Shag
If your son is cool and loves rock and roll, the perfect shag hairstyle for him would be the one from the 70's– a choppy, piece-y, and messy textured shag.
The best part? This hairstyle goes well with all types of fringe– side-swept, choppy, or blunt– so the sky is the limit for your little rock star.
9. Straight Shaggy Hair
Many boys believe that a shag haircut cannot be achieved on sleek and straight hair, but this is not true. Boy's shaggy hairstyle complements any hair type and length.
If you have got straight hair, you can get the hairstyle by cutting your hair in layers to different lengths.
10. Shag for Long Hair
Shaggy haircut for boys with long hair is a blessing in disguise as styling long hair can be exhausting and intimidating at times. This hairstyle looks extremely handsome and charming.
If you are graced with thick, curly hair, then shaggy hairstyle is your best friend. The charm of a shaggy hair boy look becomes more glaring with thick and curly hair.
12. Shaggy Cut for Thin Hair
A shaggy hairstyle is ideal for boys with thin and fine hair as shag cut makes your mane appear fuller and thicker.
Stay casual and dusty, but well-structured in this medium-length shag cut for boys. It might take a little while for your hair to grow, but the results are worth the wait!
Take your hairstyle game to the next level with a blonde highlight hairstyle for boys. With blonde shaggy and messy hair, skinny suit and necktie, it's like a muffled GLAM rock meets the 1970s.
15. Shaggy Haircut with Bangs
Bangs give shaggy hair boys an unkempt, messy yet sexy look. You can sport your bangs with the shags even if you have thin hair, as bangs add definition and volume to hair.
Despite, of all the problems men face while styling their hair. There is an advantage exclusive to them: facial hair. If you run out of hairstyle ideas, always go for boy's shaggy hair with the beard to spice up your look.
Shaggy hair with the short, well-trimmed beard is considered being the suavest combo for boys.
The shaggy hairstyle for boys with curly hair and highlights looks explicitly the best on men. If you want to add a little drama and spark to your shag. Dye them blonde or any color you like.
Hockey hairstyle looks provocative and rebellious and extremely appealing to the eyes when combined with a shaggy hairstyle.
If you're tired of your hair is all over the face. You can use pomades or hair gel to slick it back for a sleek and stylish twist on your curly, boys shag haircut.
There was once an era of emo hairstyles and no doubt, it looked relaxed, playful and casual. This hairstyles for boys give a touch of opulence.
The beauty of shaggy hair boys is its versatility and adaptability. Though, the shaggy hairstyle comes as a package with long hair and long bangs. However, it looks equally enticing with short hair and short bangs.
22. Spiky Shags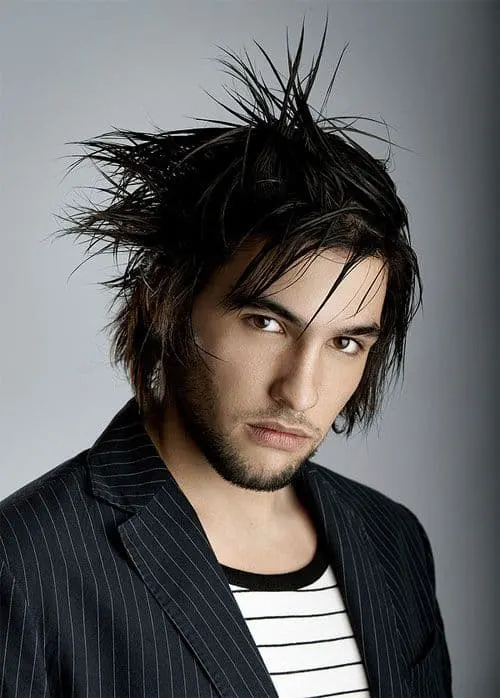 The most intense and blazing haircut is the spiky, shaggy haircut for boys. This hairstyle is a combination of two haircuts; the base haircut that achieves the messy look and the spiky haircut that leaves your hairstyle a bit edgy.
If you want to achieve a dramatic look, go for this hairstyle anyway.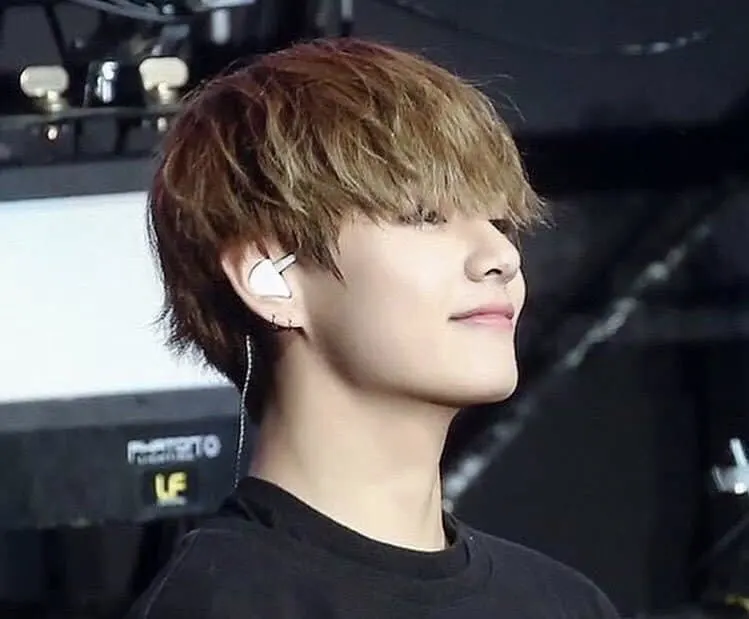 Boy's shag cut with long bangs are classical and looks sublime and superior. It can be annoying with all the mane on your face, but the hairstyle looks regal.
Long fringes, close-clipped beard, and shaved sides serve as a style statement with great panache. This hairstyle for boys with shaggy hair can be worn anywhere.
If there is any hairstyle that complements thick hair like anything is a shaggy hairstyle. Thick hair looks extra voluminous and defined in a shaggy haircut.
If you have a thick mane on your head and you hate going to the barber now and then, fancy this shaggy hair boy's look for it requires low-maintenance and care.
26. Side-Swept Bangs
Side swept bangs with shag cut is the ultimate carefree yet cool long hairstyle for boys to try, as the bangs with shags help bring your dull, boring hair back to life.
Volume has a great influence on your hairstyle. Some men enjoy natural voluminous hair while others find a hard time getting it. Nevertheless, you can achieve thick voluminous shaggy hair with backcombing it and chopping it into layers.
There are unlimited hairstyles for long hair, but afro-textured hair is troublesome, challenging and demands extra effort. No hairstyle other than boy's shaggy haircut can comprehend afro-textured long hair.
The combination of a shag with rainbow colors is the trendiest and savage hairstyle one can ever get. If you love playing with colors and are bold enough to pull off the rainbow dyes, then you should definitely settle for this eye-popping option of shaggy hair look for boys.
Caesar cut is the classic, timeless and exquisite dapper hairstyle and it is one of the most popular hairstyles of all times for textured hair that never goes out of style.
You can add layers to your Caesar cut to get the shaggy version of this contemporary hairstyle by keeping the layers messy. This is an ideal hairstyle for those who want to achieve a sophisticated yet voguish look.
The shaggy hairstyle is a rock-n-roll, casual, visually appealing and has become a staple in the hairstyle. If you are wondering why to choose this hairstyle, then you should look at the benefits of having a shag cut. These hairstyles for boys are effortless, they do not even require a blow dryer as they dry out naturally.
Altogether, shaggy hair boy looks are the trendiest and classical hairstyle suitable for all hair types and ages.