Blonde hair not just gives a cool look to black guys, but also causes a unique, stylish change in their overall personality. If we talk about the black hairstyles, you can do a lot of variation with black hairs because of their texture and thickness.
You can make enormous hairstyles with the combination of blonde hair. Here, we will delve into top 10 ideas of blonde hair for black men. But first, we will show you the easy steps that how can you blonde your black hair.
How to Blonde Your Black Hair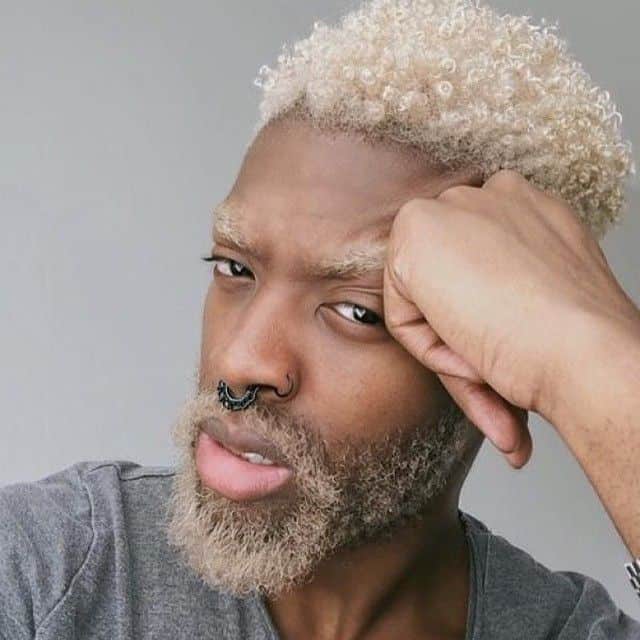 You have to use bleach in order to lighten the color of your black hair. For bleach making, add 1/3rd part of developer into bleach powder. Mix the ingredients properly. Now, divide your hair into small several sections. Apply the prepared mixture on these divided sections until it covers all the hairs.
Wait for half an hour to one an hour for a proper blonde. Check a small portion of hair before washing whole hair to ensure, whether all the hairs are bleached or not. Now wash your hair, blow dry and apply moisturizer, gel or pomade for a glossy appearance.
Popular Blonde Hair for Black Men
Black men with blonde hair comprise a boujee look. Our experts have gathered top hairstyles for black guys with blonde hair that can be paired well.
1. Wavy Blonde Mohawk with Low Fade
Mohawk hairstyle is itself a stylish and unique hairstyle. Despite its uniqueness, this hairstyle has some limits also, as this hairstyle suits on oval face black men more than the other face shape. If you do not have an oval face then it does not mean that you cannot try this haircut.
You can adopt this style with the combination of beard, as shown in the image below. In this hairstyle, the sides are shorter than the top of the head. The top hairs are blonde which later, turned into wavy Mohawk shape. This is an edgy hairstyle for a black guy with blonde hair.
2. Blonde Fade with Designs
This is a trendy hairstyle among black men with blonde hair . It mostly sits on a square face shape. The sides are faded high, giving a slightly bald look. For a stylish look, designs are made on the sides. The top textured hairs are blonde in the yellowish shade.
3. Highlighted Blonde Curls with Low Fade
Blonde curly hair gives a cool look to a black guy. As you can see in the given image, this hairstyle looks perfect on a diamond or oval shape. A beard can add an additional factor in this haircut. The sides are shorter, while the top curls give a voluminous look. These curls are blonde with brownish or reddish color.
4. Taper Haircut+ Blonde Hair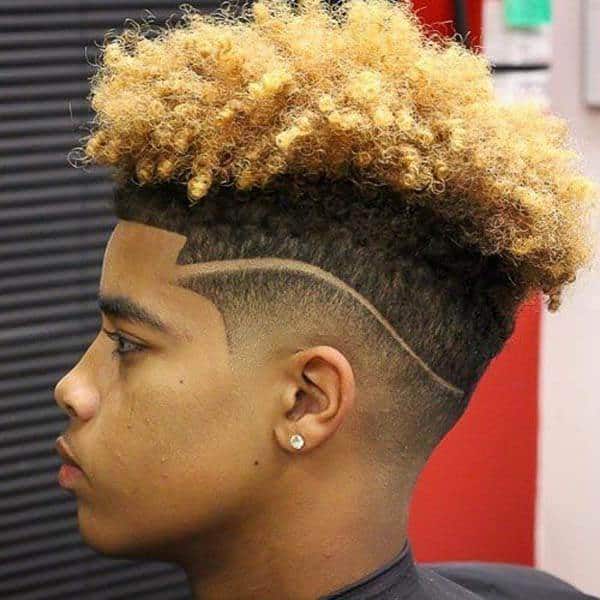 Taper haircut is one of the popular blonde hairstyles among black guy. It suits the oval face shape. The sides are low taper faded while the top textured hairs are blonde. You can also add two lines to the side or back for a more stylish look.
If you are a long haired black guy, then dreadlocks should be the first choice of yours. This hairstyle can suit the oval and oblong face as well. The long dreadlocks are blonde giving a striking look. You can also combine this style with a trimmed beard for a balanced look.
6. Blonde Buzz Cut
Blonde buzz cut gives an enchanting look to black men. This haircut suits the oval face most. The hairs are blonde and then turned into a buzz cut hairstyle.
This hairstyle gives a smooth and neat look to black men with blonde hair. This haircut looks perfect on square or rectangular face shape. The sides are top faded while the top hairs are blonde with the ravishing color combination. The sideburns are turned into sharp, edgy look.
8. Blonde Crew Cut
Black guy with blonde crew cut hairstyle gives an imposing look. This hairstyle looks perfect on an oval face shape. The hairs are cut into the shorter size and the blonde.
9. Platinum Blonde Hair with a Beard
If you are a black guy with blonde hair and want a change in your personality or in overall look then, you can try this hairstyle. If you have a darker complexion, then you can apply honey blonde to your hair. You can also blonde your beard for a balanced look, as shown in the image.
10. Braids+ Blonde Top Knot
The braids and blonde updo or top knots combination adds a winning factor to black men's personality. This hairstyle suits on men of every age group. The sides are shorter than the top hair.
The top hairs are turned into multiple braids, which are then tied into a top knot at the top back of the head. The bun is blonde for a prominent look. A stylish line is made on one side of the head for a cooler look.
So, which black men's blonde hairstyle, you are going to pick for yourself. We recommend you that always consider your face shape and color before choosing a blonde haircut for yourself. All these aforementioned haircuts need less maintenance. You can try these blonde hairstyles without any hesitation.