Men with straight hair can be quite lucky chaps. There are a variety of hairstyles available now that pair well with hyper straight locks. Plus, this hair type requires less styling and upkeep than others as you will unlikely suffer from frizzy or unruly curls or waves.
How to Take Care of Your Straight Hair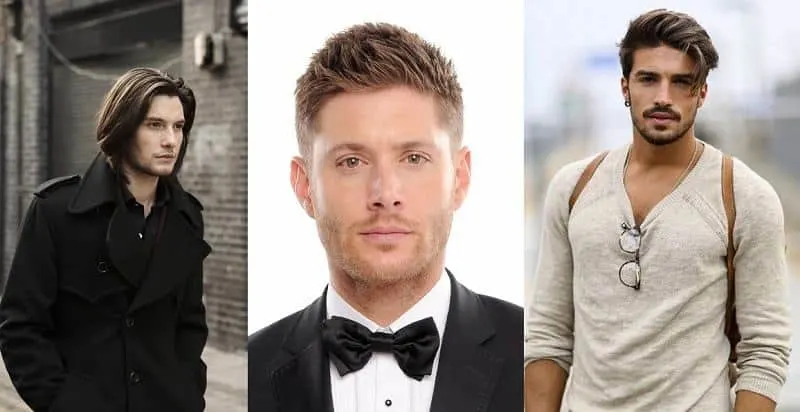 Most hair care rules are the same irrespective of the type of your tresses if you want healthy hair. However straight locks can be quite unforgiving as they will show damage and poor cutting more easily.
Here are top tips for keeping your hair in tip-top condition:
Use a mild shampoo and wash a maximum of 3 times a week or you will run the risk of stripping the natural oils from the hair.
Condition and rinse the hair with cool water to enhance shine.
Be gentle when brushing and drying hair to avoid breaking strands and causing weakness.
If using a hairdryer then gently dry the hair around 6 or more inches away from the scalp and use a heat protection spray.
The cut is critical as straight hair will show off any unkempt edges or poor styling. Make sure you trust your hairdresser and that they fully understand your needs.
Get your hair trimmed every 6 weeks to keep hair in top condition.
Drink plenty of water and eat a balanced diet and this will be reflected in your hair health
Hairstyles for Men With Straight Hair
To get the best from your hair type, aside from caring for your tresses, you will need to opt for a great style cut. Here are some great inspirational haircuts for men with straight hair.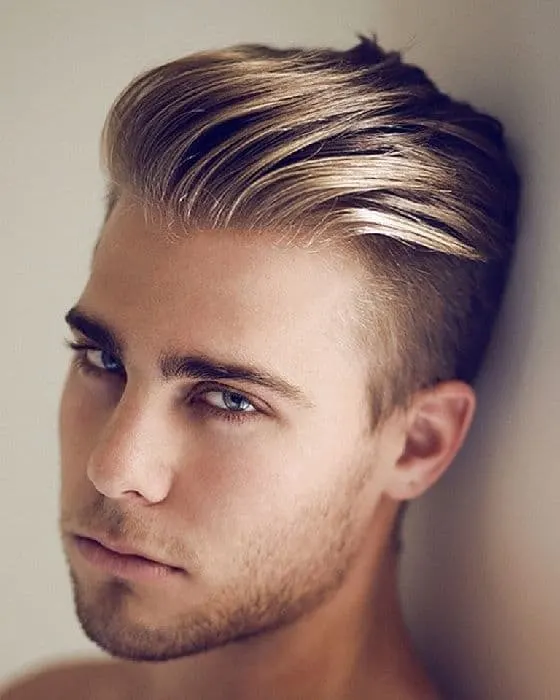 The undercut is an unfaltering and resolute staple within men's hair fashion and is a great way to add volume to men's straight hairstyles.
Ideal for: Oblong, oval and rounded face shapes.
How to Style: If you have an oval or round face then make sure you leave more length on the top of the head. To add drama, go for a sleek and short haircut at the sides and blow dry around the crown to add volume at the roots.
2. Comb Over
The comb over has been around for many decades and still continues to be a very fashionable and trendy look. It is an ideal men's hairstyle for straight hair as the key to the comb over is being sleek and neat.
Ideal for: Oval, round and square faces.
How to Style: Use a fine-toothed comb to create a defined and clean parting. Keep on top of regular trims so that you keep the back and sides immaculate which adds stylish definition.
The quiff has been around since the 1950s and continues to be a hugely popular hairstyle for men. It is an ideal hairstyle for men with straight hair as the quiff is all about volume and sky-high structure which straight hair can often lack. If you find your hair is quite lank and lifeless then a quiff could be a nice change for you.
Ideal for: Oval or round faces
How to Style: Blow-dry the hair using a big barrel brush to add volume at the roots. The modern quiff doesn't have to be sleek and neat so let the hair relax naturally and fall across the face to add drama.
4. Textured Crop with Long Fringe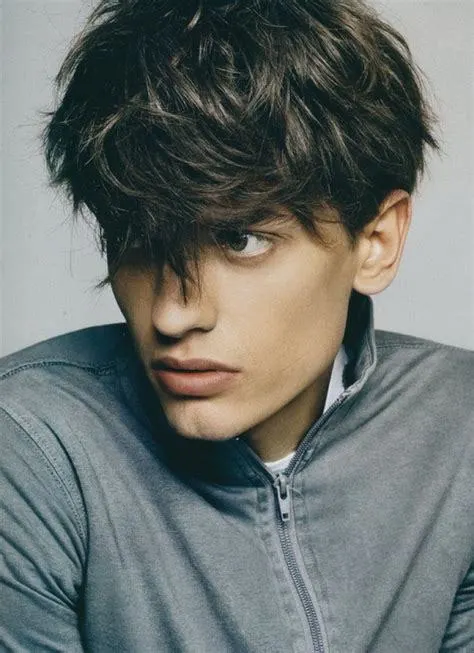 The texture is the perfect way to add interest and movement to straight hairstyles for men and a choppy textured crop with a long fringe is a trendy way to do this.
Ideal for: Looks good with most face shapes but pairs well with diamond faces.
How to Style: The less you do with this messy look the better it will be. Mousse can help add more volume and motion to the hair if your locks tend to sit very flat. Otherwise, a light serum or an upside-down boost with a hairdryer can also add height and texture.
Having a messy style chop such as this really is a personality type and may not suit everyone. Remember you are going for a styled and controlled messy 'do as opposed to just looking scruffy!
5. French Crop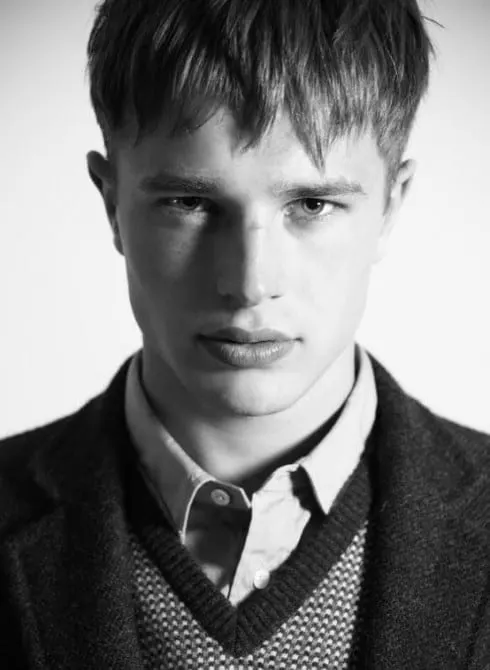 The French crop is all about bangs and texture which is perfect haircuts for straight haired men. The texture helps add motion and movement to straight hair which can otherwise be quite dull and floppy.
Ideal for: Looks good with most face shapes but really pairs well with diamond faces.
How to Style: Ensure your barber deeply chops layers into the hair. When styling roughly adds wax to define the layers and enhance volume.
The hard part really isn't hard to achieve at all! It first came about in the 40's when sleek straight hair was hyper-fashionable.
Ideal for: Oval, round and square faces.
How to Style: To create the hard part, your barber will need to use a razor to add definition to your parting. Once done this is an easy look to maintain. A fine-toothed comb will help keep your parting neat and straight and pomade will help hold the hair in position.
7. Classic Taper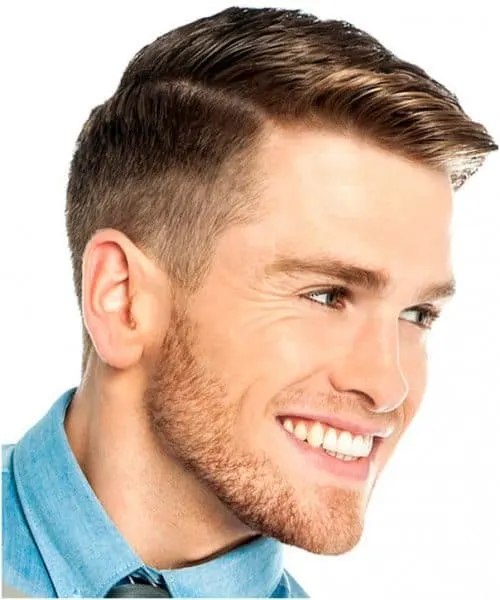 Fade or taper cuts continue to be popular as the variations on this look are infinite. Faded cuts can be any length on the sides and top so you can alter the cut to suit your needs and personality.
Ideal for: Great for round faces but choose a longer style on top to balance out the face. Good for square and oblong face shapes too. However, add more of a relaxed bang for these shapes to soften the features.
How to Style: This is a great haircut for men with straight hair, especially if your locks lack volume as the close tapered cut boosts the look of the top of the hair.
The key to a fade cut is about the definition and a sharp clean look so you will need to keep on top of your regular barber visits and you will likely need a styling product to tame any stray hairs and keep them in place.
8. Blunt Fringe
A blunt fringe is a great choice for chaps of all ages and a perfect choice if you have straight hair as you can achieve the stark blunt chop with ease.
Ideal for: Looks good with most face shapes but excels with diamond faces.
How to Style: You will need to decide how long you want your bangs to be before having the style cut. By adding layering through the top of the crown the hair should sit flat against the head and not stick up as it can be prone to doing with hyper-straight locks. By running wax or pomade over the hair you can add extra shine and control.
9. Top Knot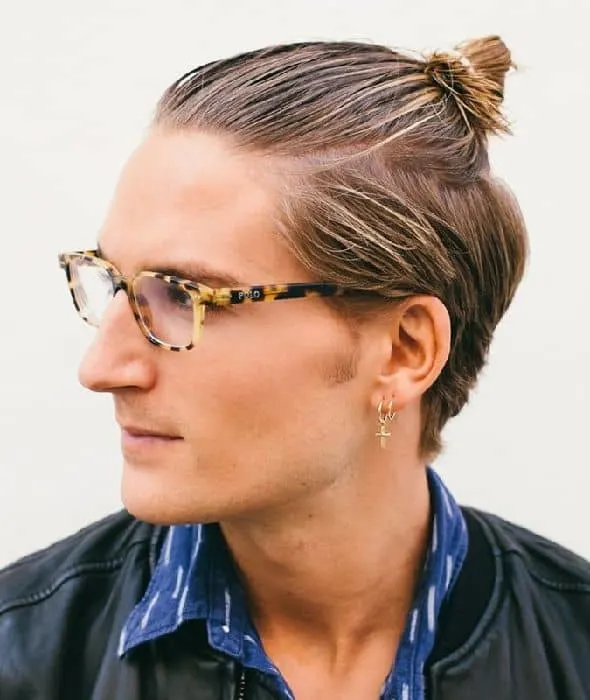 The top knots are very commonly paired with an undercut and are a great men's hairstyles for straight hair option for men who want to have a man bun style but don't want to have to grow a full head of shoulder-length hair!
Ideal for: Oval or round faces
How to Style: Some hair length is a must for this and you are going to need at least 6 inches around the top in order to tie the hair back. If you have a style that has layering, then this will affect how your hair ties back and the overall neatness of your style.
However, the top knot can be worn neat and slicked back with hairspray or casual and messy with loose hair framing the face.
The pompadour continues to lead the way in men's hair trends and is a great option for those men who have straight hair but like to have a length in their locks.
Ideal for: Oval and round faces
How to Style: You will need at least 4 inches of hair length at the top of the head to achieve this look. It will take some effort to style but is very impressive when done correctly.
This is a classic straight hairstyle for men and the key to the pompadour is volume and height which can sometimes be hard to achieve for guys with poker-straight hair.
By using a large barrel brush and blow-drying from the roots, you can create volume and drama. Make sure you use a volumizing mousse to help maintain the look!
11. Men's Long Straight Hairstyle
A great look for men with straight hair features gathering the top half into a low ponytail. Avoid it looking too harsh and sleek by making it loose.
12. Black Man with Straight Hair
Wondering how to rock your black straight hair? If it's already chemically straightened, it'll be easy to poof up the top to this thickness. Leave the sides short.
13. Braids for Men with Straight Hair
Straight hair is easily braided and looks great with just the top part styled. Go for an undercut and medium fade to keep the manliness of the style.
14. Short Straight Haircut for Men
When your hair is straight, it's easy to get this shaved crew cut. The length is even all over and the front is subtly pointed.
15. Men's Straight Thick Hairstyle
When your hair is already thick, you don't need much help from hair product to get this smooth volume. Just add a high fade to keep the look edgy.
16. Thin Straight Hairstyle for Guys
To give thin straight hair more volume and texture, ask your stylist for short layers. Then use a bit of mousse to work in with fingers.
17. Men's Straight Dreadlocks
The best way to prevent dreadlocks from looking trashy is by getting them professionally done and maintained. Then you can wear them straight like the above look without frizz.
18. Messy Straight Hair for Men
The surfer look on men is always in. This men's hairstyle features straight blonde locks straightened every which way for a style full of texture.
19. Straight Slick Black Hair for Men
Need a freshen up for your daily hairstyle that will look professional? Shave the sides and leave the top hair long, then comb it straight back.
20. Asian Men's Straight Hairstyle
Asian men tend to have thin hair, but this side swept hairstyle is full of volume. Add a deep part to straight hair and smooth with a bit of mousse.
21. Man Bun for Straight Hair
Straight hair on men is easily smoothed back into a man bun hairstyle with little to no product. Smooth it free of bumps and frizz for a polished, dapper look.
22. Straight Spiky Hairstyle for Men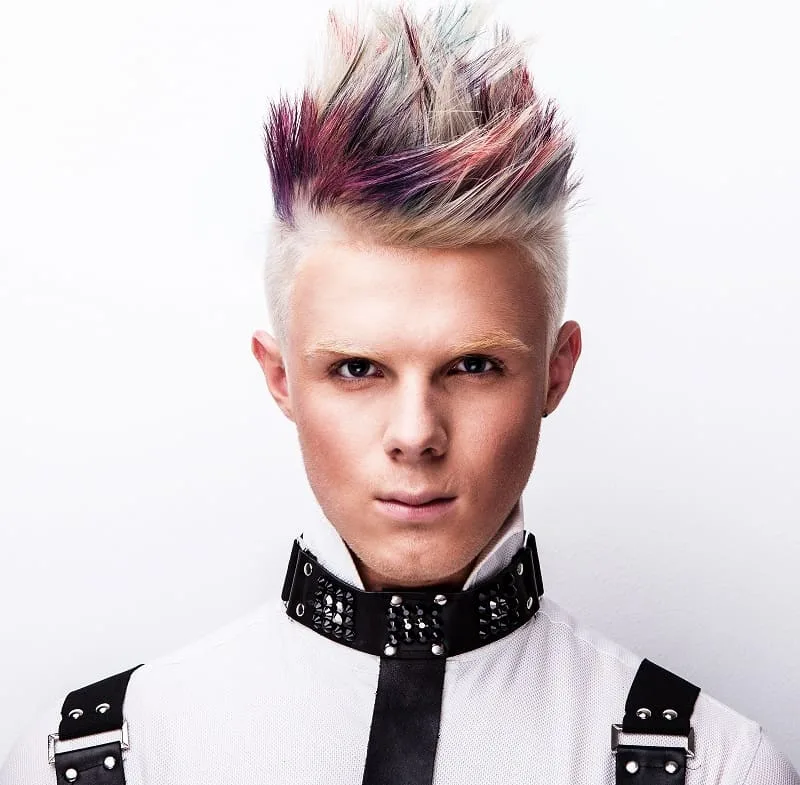 Looking for a way to make your straight hair emo or rockish? With platinum locks, bold colors pop on spiky sections of straight hair.
23. Straight Hair with Beard
The combination of a smooth top of long straight hair contrasts perfectly with the bushy beard for a ruggedly handsome finish. Keep the sides short to avoid an overly bushy look.
24. Straight Ivy League Hairstyle
The Ivy league hairstyle features longer hair on one side and a gradual shortening of the hair on the other side. On the short side, you can even shave in a cool line design.
25. Straight Medium Haircut for Men
For hair that is straight but not long enough to reach shoulders, you can pull off this slightly messy hairstyle. Run your fingers through it to tousle it naturally.
26.
27.
28.
29.
30.
31.
32.
33.
34.
35.
36.
37.
38.
39.
40.