Ponytail hairstyles for boys are trendier than ever and if you've been debating whether or not to try this hairstyle for yourself, now is the time! Ponytails and long hair may be associated with females but guys all over the world have worn their hair long for time immemorial.
How to Tie A Ponytail on Boys Hair
Tying a ponytail on boys hair is simple. Depending on how high you want the ponytail, gather the hair back, away from your face using your hands.
Keep the hair gathered in one hand while using your free hand to smooth or comb the hair on the crown on your head back towards the ponytail.
Once your hair is smooth all the way around, and the hair is gathered at the back of your head you are ready to secure the ponytail.
Put the hair through the rubber band, then twist the rubber band so that it tightens around the ponytail. Repeat this process until the rubber band is tight enough to hold the hair in place. You can style a topknot by following similar steps.
Watch The Following Video to Learn How to Do Boy Ponytail
Latest Ponytail Hairstyles for Boys
Following are the 10 most classic boy ponytail hairstyles that are widely accepted and trending
This ponytail hairstyle for boys is trendy and perfect for boys who are confident and like a clean look. The sides are kept very short at an almost shave that fades slightly before reaching the temples.
This boy's ponytail resembles a short mohawk with fade and can be styled as such. This look is modern and great for boys who love to be stylish.
Boys looking for a casual ponytail hairstyle that is low maintenance should try this hairstyle. Above the temple, the hair is gathered into a short ponytail with an undercut.
This boys ponytail is great for men who don't want to go to the barber weekly to keep close shaved, clean cut sides.
3. Relaxed Low Half Up Ponytail
Some boys can rock a layered look that frames their face and a low, half ponytail. This boy with ponytail look is easy to achieve by just gathering up the hair just above your ears and securing it with a rubber band in the middle of your skull.
This hairstyle with sideburn can make you appear studious, relaxed, and smart. You also don't need to see a barber as often or use hair products to achieve this relaxed look.
4. Long Side Ponytail
Boys who have long hair but are on the go and can't bother with hair in their face or a ponytail swishing back and forth. To achieve this ponytail on boys hair, begin with parting your hair down the center and brushing out all tangles.
Next, gather all hair at the base of your skull and secure with a rubber band. Add additional rubber bands every few inches down the length of the ponytail.
5. Curly Ponytail with Shaved Side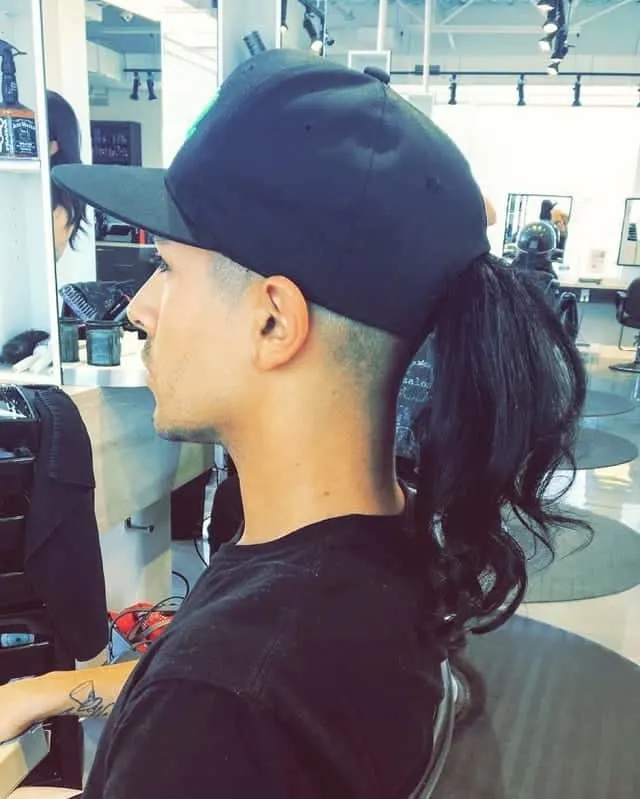 Wearing your boy's ponytail through a baseball cap is a popular way to keep your long hair tucked back but maintain a masculine look at the front. You don't even need a rubber band to secure your ponytails for boys when you thread your hair through the back of the cap.
The style above features a close shaved side that fades into a ponytail that starts at the midpoint of the skull.
6. High Ponytail for Boys
If you aren't ready to cut your hair but are tired of the messy long hair. Pull back your hair into a high ponytail to keep hair out of the face. This boy ponytail hairstyle is actually gender-neutral and can be achieved easily.
Guys with long thick hair love being able to put their hair into a ponytail for sports and swimming. Sweeping all the hair into a ponytail in the middle of their skull keeps hair from getting into your face and being a distraction.
8. Dreadlock Ponytail
If you fancy dreadlocks, remember that there are a lot of ways you can style them, including a low ponytail. All you need is a hair elastic, and you are good to go!
9. High Pony for Little Boys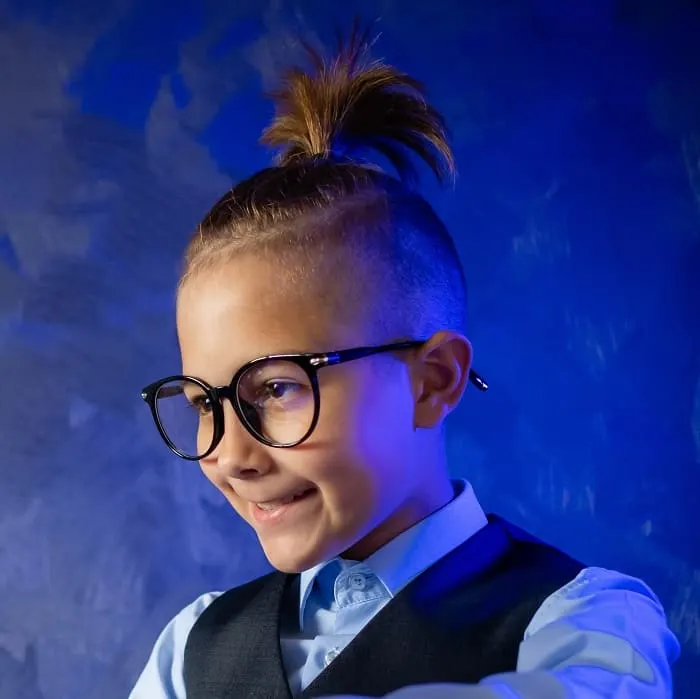 If you have a little boy, style him a ponytail on top of the head. This hairstyle is perfect, especially for those who have a faux hawk haircut. Also, the glasses will provide your little man a smart casual look.
10. Pony for Braids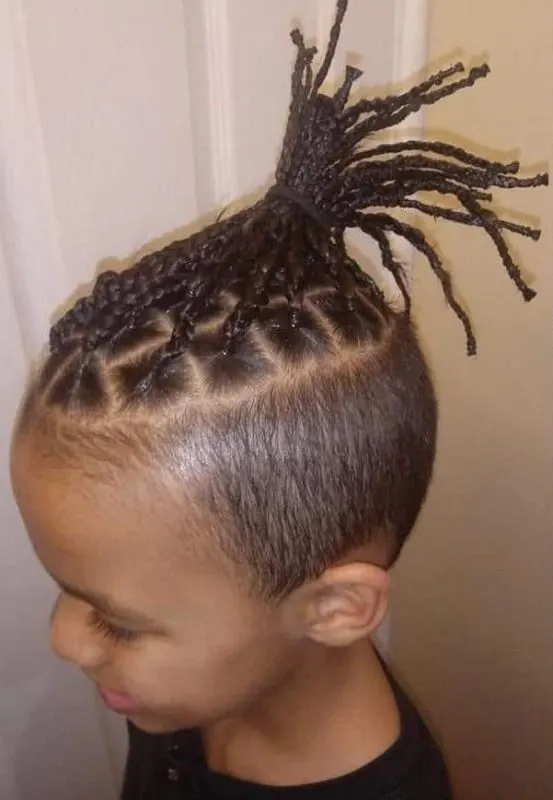 This little black boy rocks his ponytail! Get your little gentleman a short cut for sides and back, and for the longer top, some box braids will make him look so cool. If you want to tie those knits, a top pony is such a marvelous idea.
FAQs on Boy's Ponytail Hairstyle
How long to grow my hair to tie a ponytail?
Depending on the ponytail style you are looking for a ponytail for boys only needs a few inches of hair to secure back.

Ponytails at the top of your head can work with three inches of hair while pulling all hair back usually requires at least six-seven inches of hair.
Is boy ponytail allowed in school?
If you want to know if boy ponytail is allowed in school, you should check the school dress code by calling the school or reading the school handbook for parents.

Some schools do require boys hair to be cut above the ears and be well groomed to a maximum length. Other schools are more flexible in their boy hairstyles.
Boys ponytail hairstyles are easy to achieve and make having long hair painless and fun. If you are a boy with long hair, consider one these outlandish ponytail hairstyles for boys.