No matter where you're going, whether it be to the office, or a party, knot braids are one of the most popular hairstyles out there. They're popular for a reason, though.
At best, they can offer hair growth, flexibility, uniqueness. They are also completely free of pain and one of the easiest types of hairstyles that you can wear. At worst, a knot braid looks beautiful and can be one of a kind depending on the individual.
So let's find out in how many ways can you wear a knot braid and find out which style is the best for you.
Knot Braids
Knot with a Ponytail
Once you've mastered the technique, try this more elegant version of the said braid.
Ideal for: Square and oval-shaped faces.
How to style: Finish braiding your knot braid right at the crown of your head and tie it. Then curl the low ponytail hair into romantic waves.
Braids with Knot for Beginners
Beginners should know that even if their knotted braid didn't turn out exactly perfect, it can still look kinda great combined with urban and chic outfits!
Ideal for: All face types.
How to style: Leaving it a little bit messy has its charms.
Those who want to show off their skill and create something really special should definitely try this four strand braids with knots.
Ideal for: Square and oval-shaped faces.
How to style: Similarly to the previous one.
Half Updo Braids
Those romantic girls who are patient and creative enough to wear a knot braiding on an everyday basis will find this half up half down style just adorable.
Ideal for: All face shapes.
How to style: From one side of the head, start braiding two-knotted braids, and tie them with a hairband after 6-7 knots. Take one piece of hair from the other side and wrap it gently around where you've tied the knotted braids so that you get an asymmetrical half-updo as shown on the picture.
This is probably not a hairstyle to wear to work every day. Except maybe if your work includes appearing on the red carpet. Otherwise, you can use it as an inspiration for a special night out or some other special occasion.
Ideal for: Oval and heart-shaped faces.
How to style: Incorporate the knot hair braid into an elegant low updo. Be careful to make it sleek and neat to achieve that chic yet simple look.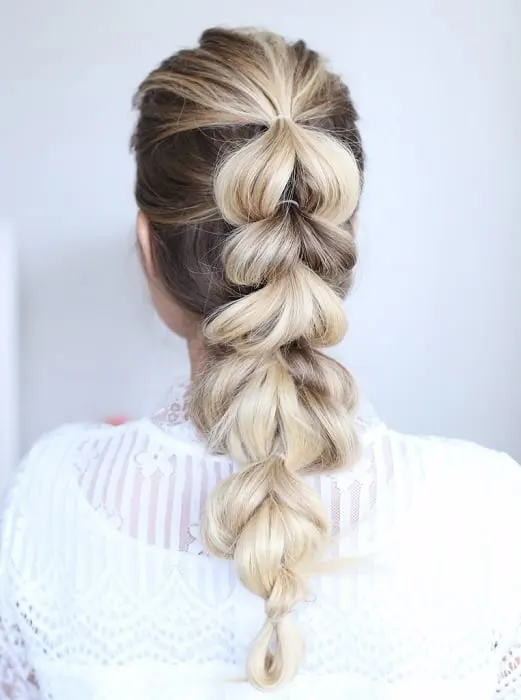 Want something more extra for your braid hairstyle? Try pulling the strands outwards so that the whole hairstyle looks more grandiose.
Ideal for: Square and heart-shaped faces.
How to style: Once you've braids with knot, try gently and neatly pulling out the outer strands to stretch them and achieve this rich and original braid.
Celtic Knot
A Celtic knot is a special trick in the hairstyling world. Maybe it doesn't look like a real braid, but the technique is the same, and it looks so elegant.
Ideal for: Round and heart-shaped faces.
How to style: To practice mastering a Celtic knotted braid, we suggest keeping the rest simple. Just make sure that all the hair from the sides of the head is in the knot, and once you've made it, you can curl gentle waves from the rest of the length.
Celtic knots look better than any hair clips. So why wouldn't you try this beautiful decorative ponytail enhanced with Celtic knot braids?
Ideal for: Round and oval-shaped faces.
How to style: This gorgeous ponytail with Celtic knots can be enhanced by nice hairbands, preferably in a similar color to your hair color so that everything looks natural.
Thinking of a good hairstyle for brides and bridesmaids is not the easiest thing in the world. But we know this – we love them romantic and sensual. And for those of you who like updos, this one will take your breath away.
Ideal for: Round and square-shaped faces.
How to style: This romantic knot braid updo is a challenge to the most skillful of hairstylists, but once they've succeeded, the results will swipe you off of your feet. And once they're done, you can decorate the knots with little flowers, pearls or other accessories of your choice.
If you think French headband braids are just adorable, add the knot braided headband style to your collection of favorites.
Ideal for: Round and oval-shaped faces.
How to style: Start braiding from the crown of your head all the way around, just like a typical French or fishtail braid.
Loose Braid
Why should hair extensions only be used for those typical long straight hairstyles? Here's an idea of a modern twist to the use of hair extensions that includes a knot braid!
Ideal for: Square and heart-shaped faces.
How to style: Tie your hair into a medium-high ponytail, making sure that you leave it relaxed bangs falling loosely around your face. Braid the ponytail using really big chunks of hair. After a few knots, tie it with a hair band.
Top Knot Braids for Little Girls
A braided top knot is as much fun for kids as it is for adults. Plus, they have so many benefits when it comes to the little ones. First of all, you have so many different styles to learn from and copy. Second, the hair of your little girl will be away from her face at all times.
We have compiled some lovely top knot braids that little girls will look cute.
Multiple Braids
This braided hairstyle is such a trendy way to elevate a topknot. If you notice that your trendy lady likes the hairdo, you should definitely copy it. It won't take too much time, plus features only the basic type of braid everyone knows how to do.
Ideal for: This braided top knot can easily become a little girls' favorite look to flaunt at school.
How to Style: Don't worry about making it perfect. With this hairstyle, you have plenty of space to be messy. Divide the frontal sections for the braids and start braiding. When you're done, put the hair in a braided topknot and include a cute bow.
You probably remember this chic braided updo trending all over Instagram. The chances are that you've probably even tried it yourself. You can now do the same for your little fashionable lady.
Ideal for: The reverse braids into a top knot bun is great for everyone, even shorter lengths of hair. It's so simple and easy to pull off. Plus, there are many variations you can work on.
How to Style: The best way to do it is if your girl had her head facing the floor. You can now start braiding from the neck up. It can be Dutch French braid, whichever one you prefer. Put the rest of the hair in a topknot.
The more unique the type of braid is, the more people will be impressed. Rope braids are literally so easy to do and you can master the technique just by watching a short tutorial.
Ideal for: So good for a young lady with a strong personality.
How to Style: You can do this mane with a single braided top knot or two, it's all up to you. Divide the hair properly and create the double buns. Work on the rope braids and once you're done secure everything with bobby pins.
There is a strong reason why young ladies are so obsessed with half-up messy topknots. This means that you don't have to decide between having your hair up or down.
Ideal for: The half-up topknot with braided Mohawk will definitely be so flattering for so many ages. Keep the hair straight, curly or wavy, it doesn't even matter. It will be fabulous either way.
How to Style: When you need to attend a special event you can even curl the hair of the young lady. Braid the section in the front and put it up in a fun topknot.
A single topknot can become dull at times, so double the trouble.
Ideal for: Whenever you feel like your daughter's hairstyles have become boring, this is an easy option to experiment with.
How to Style: Leave a section in the front and start decorating it with colorful elastic ties. Gather the hair and divide it into two parts. Put them up in ponytails, and create two braids. Set the braids in double top knots.
Pull-Through Braids for Kids
You don't always have to opt for the classic types of braids. This version of the pull-through braided top knots for little girls is so fun to look at.
Ideal for: It will work for literally any occasion that you can think of.
How to Style: Get loads of colorful elastic ties and start recreating this chic hairdo. You don't actually need special skills, just go step by step starting from the front.
Can someone be so young and so cool you might ask? Definitely yes. Little girls can really stand out with their hairstyles. If you have some extra time on your hands, you have to try this top knot with braids.
Ideal for: It's so cute for medium and long hair.
How to Style: The first step is to start braiding the hair starting in the front. Take the braid to the back and secure it while you're doing a messy bun. When that's done, you can go ahead and finish off the braid. Take it all the way around the topknot. Finish off the braided top knot hairstyle with a cute bow.
Whether you are just looking for something fun and new to try out in your spare time, or you want a very original hairstyle for a special occasion, hopefully, some of these knot braids can give inspiration.